Check out my vlog here! Travelling alone shouldn't be scary- have fun! You really get to know my personality in these blogposts, and the type of person I am. Continue reading to find out more about the racism i experienced, the hotel i stayed in and the people I meet! You can find my original blogpost here. Please let me know what you think! Would you ever?
Wanderlust. It's a funny word. Implies that you have an impulse to see something different, be somewhere new.
Impulse.
The idea that you don't have control or have any handling over anything. A sudden, strong and unreflective urge to act on something.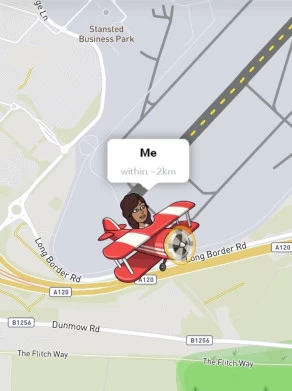 Off to where though?
I woke up and decided I needed to get out of the neighbourhood. The entire city. Seeing the same buildings day in and day out is tediously mundane and will certainly reflect on my perspective of the world. In my eyes, the more of the world you see and experience, the wiser you are. The more you recognise doors around you, the less one stays in the fissures and crevasses inside your own head. You really begin to live, I think.
Although I've travelled alone before, its been a minute and I needed to dust off the cobwebs.
It's Tuesday 14 th May 2019. I'm making my way to Stanstead Airport, alone @ around 5:22AM. It's a 50-minute journey door to door so only God knows why I've left so early for an 8AM flight. Rucksack hugging my back firmly, all the eye creams in the world packed under my eyes and armed with only a Czech metro map, I felt like Dora off to explore new pastures of the world. Headphones off, boots off, watch inside the basket. No beep on the machine.
Security still frisked me down anyway, no surprise.
Everything on, and I strolled through the airport to get find gate 48. Its 7:10AM - the gates have opened.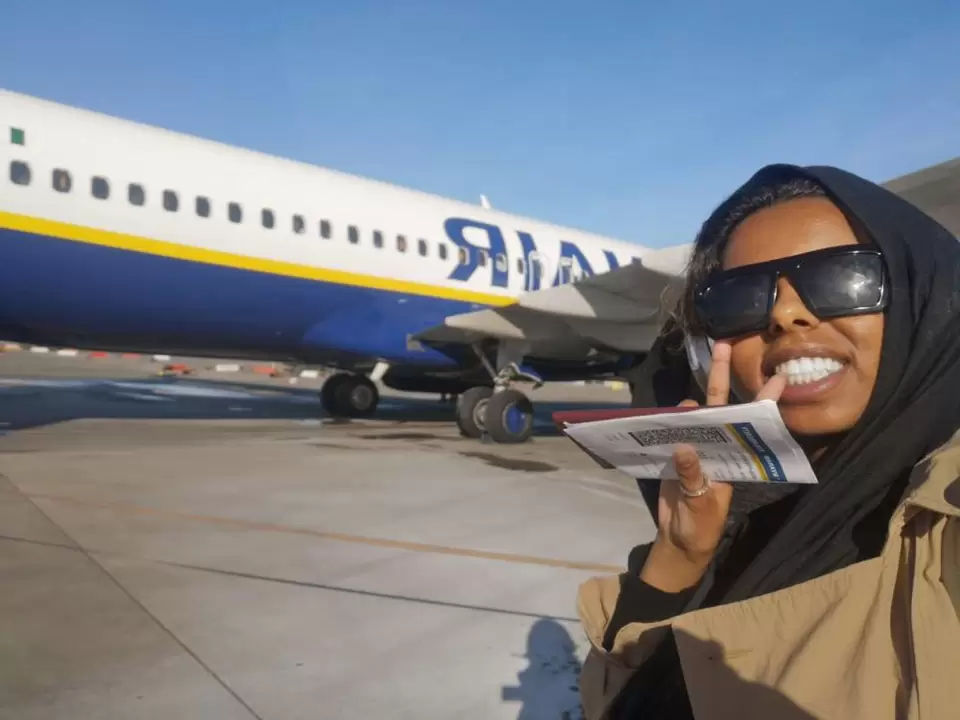 Aisle seat. The lady sitting next to me keeps fidgeting. She has brown hair, blue eyes and tuffs of hair escape between her nose and upper lip. She looks exhausted, probably from the wafts of alcohol I can smell every time she opens her mouth to apologise for the hassle. She looks Slavic Russian.
Her shoes are off, and she keeps putting her feet on the chair, and then down, and then up, and then angling herself towards and away from me. This'll be fun. The aircraft hums with life, and people talk and push and move and wait. The seats aren't too comfortable, as though they've specifically been engineered with the most uneven and rigid texture possible.
I've never used RyanAir before, so I'm not too sure what I expected. Someone once said to me in passing conversation "It's the difference between someone driving a Honda Civic and a Mercedes." Not to imply anything is wrong with either- but I now understand one gets you from point A to B - that is its entire and only purpose and the other provides you gratification... peace of mind. It's smoother.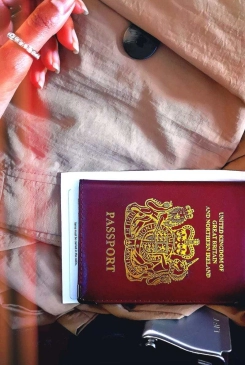 I get it now, I understand.
The blonde on my other side was trying to sleep in this chaos... and failing. I kept myself busy but updating myself on her progress. On a scale of Faking It to Making It, she was certainly fooling everyone to think she was asleep. Dressed in a Tom Ford Trench Coat, I find myself complimenting it a few times to her when her eyes are open.
Her make up is done, well-manicured nails and only Mark Manson's "The Subtle Art of Not Giving a F*ck" on her lap. Clearly off to do some serious business.
I take the book from her lap when the first snore escapes her, an hour in. I get through 5 chapters before she stirs, and asks why I have it. I shrug. She laughs. We exchange details.
Goodbye Rain, Hello Sun... More Rain
We arrived promptly in the Czech Republic's capital city at around 10AM. Praha, or Prague. Nicknamed "The city of a Hundred Spires", its known for its Old Town Square, the heart of its historic core, with colorful baroque buildings, Gothic churches and the medieval Astronomical Clock- providing some sort of animated hourly show. The weather is around 16 oC and the local time is only one hour ahead of the Local London GMT I'm used to. Not much of a difference so far. By the time everyone stops to find their luggage, and pause to regroup with friends, I'm at the Arrivals Gate and off into the city. I'm ready... and I'm not - Pojďme na to! ( Let's go!)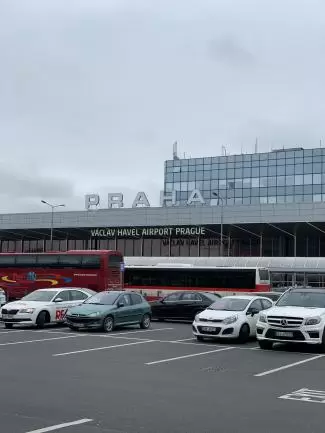 Transport is conveniently super easy. It certainly helps that the city is so small, but modes of transport - if not a taxi - are limited. The metro, the bus or the tram.
The metro is underground and unlike the complicated web that is Transport for London (TfL) underground service, the whole underground network is divided into 3 main lines in Prague. Line A is Green, Line B is Yellow and Line C is Red.
I printed off this very simple map to use. The metro operates between 5:00AM to midnight and takes about two to three minutes between trains departure and arrival - by far the best system I've ever seen in any country in Europe. The people on the platform look busy, in their own worlds.
I do notice the prolonged stares as I walk past, and the group of kids that look like they've seen a ghost.
I'm tempted to snap my fingers across their face or do a real-life Houdini on them and disappear as far as I could. Khalid's "Better" is ringing in my ear, and for this moment right here, I take a deep breath in and wait for the A train towards Skalka.
Racism? or just plain Naïve?
My hotel is at Vyšehrad station and a change over at Muzeum had me come across a small, quaint little store inside the station's quarters.
Two ladies are having some conversation at the counter.
The shop is alien to me, everything is written is huge fonts and colours, a strange outlandish language.
I wait. The ladies casually exchange slow conversation, probably about something ridiculous like what they should name their plants or the old chicken and egg adage. I wait. Ever so patiently. I kid you not, 5 whole minutes later, the lady in front of me shuffles out the store. Behind the counter, suddenly, this hunched cashier begins to stand. The Caucasian Czech lady, an old yet very heavily built, tall person stood looming over the counter, staring down at me through thick rimmed glasses.
I'm tired at this point. You made me wait. We aren't about to exchange polite anything. I hand over some AAA batteries and packet of crisps. Beside it, I place a crispy clean 1,000 Czech Koruna note. Fresssssh. You can't make this up, I wish I am.
She, without hesitation and so much as any eye contact, took my items and placed it swiftly under her counter.
Bending over, she leaned onto the wooden counter, took out a stashed newspaper and began a crossword. Like I wasn't standing there. It took 5 seconds. She'd dismissed me without dismissing me at all. I asked "English?" and without looking up, in a deep tone, I heard a mumble.
Alone, I walk out.
Second store. This one just opposite the first. Adamant now, I take the same items to the counter. Without so much as an acknowledgement, the lady stacking the M&Ms and Kinder Buenos, looked up and then, got back to stacking.
"English?" I ask. Nothing.
Nobody was behind the counter. Nobody came round to serve. The lady restocking continued to do so. Standing here, I'm not too sure what to do. Is this normal? I haven't considered the possibility that it may be the colour I wear on my skin, or how I'm dressed. My thoughts race to just rude people. Rude Rude people.
If you're of coloured skin, stay away from the Muzeum area- the locals aren't so friendly at all.
Room Please.. Pronto
I arrive at the extravagant Corinthia Hotel establishment at around 2PM.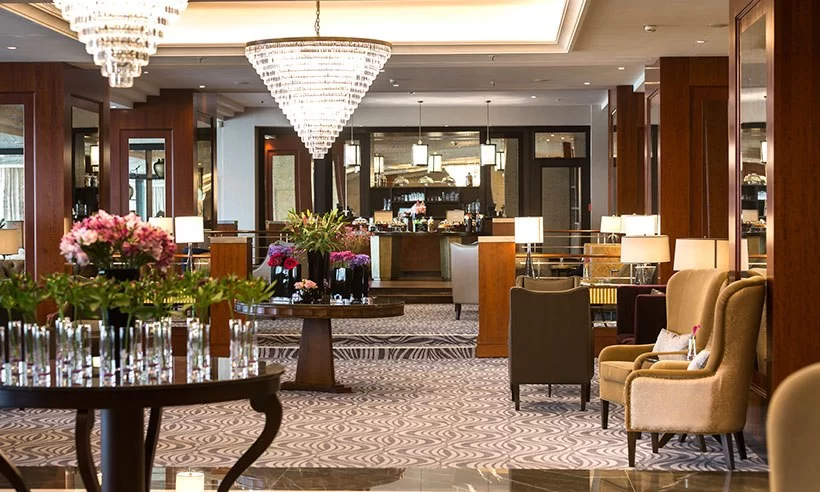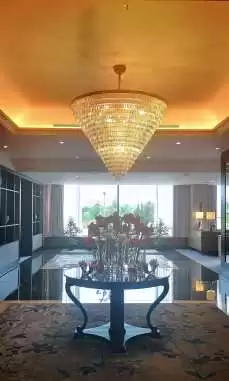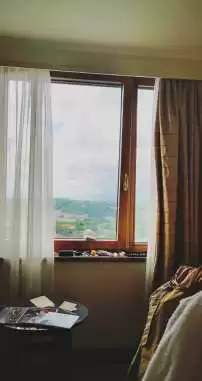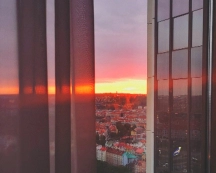 It's heavily raining, my 20 th floor window overlooks most of the city's business area and busy freeways. It's a pretty cool view, I can't lie to you.
The room is spacious enough, but small in size. Two single beds are crammed together for me to make a double, and a TV in the far corner is switched on... addressing me by name with a welcome animation. Its cute. It'll do.
The hotel boasts a 25 th level Panoramic pool with floor to ceiling glass windows, sauna, steam rooms, therapy rooms, sunbeds and plunge pools.
I've never been in a steam room or sunbed so when I'm not decked out near the pool, I'm in either of these.
6 hours pass. Its nearly 8:30PM. I head into the city.
The city below looks insane. Colourful rooftops as far as the eye can see. First stop is the Old Town. I've never been one to be interested in just staring at a building, but I'm intrigued at the historical relevance and the detail in architecture.
The Old Town is an area made up of many historically pertinent creations, and
one of the oldest and by far, the most beautiful districts in the Czech capital of Prague.
The core of the historical centre is the Old Town Square, which started as a marketplace in the 10th century and has been the site for many political and cultural events that have shaped the history of Prague. The ancient lanes of cobblestone form a mysterious maze in which even the most orientated is bound to get lost... I definitely did.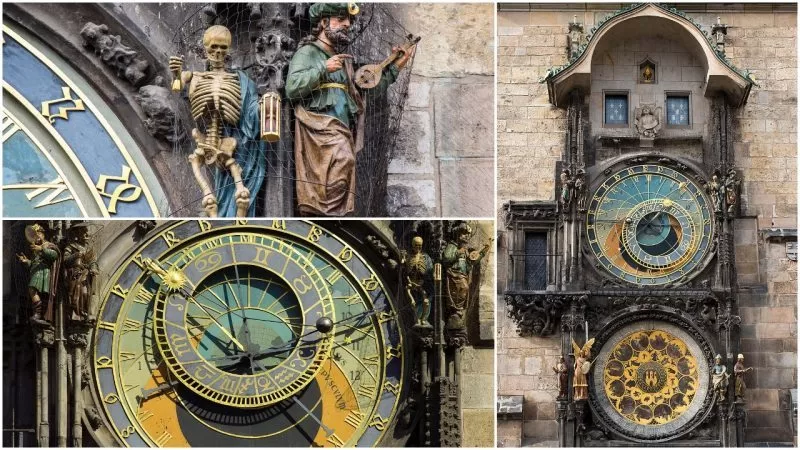 I'm eavesdropping on a local tour guide who speaks English, surprisingly well. The Old Town City Hall hasn't been used in years and now, and its more famous today for its catering to weddings and celebratory functions.
I can see that happening, its grand in structure and meticulously detailed in design.
The oldest part of the same building consists of a Gothic tower with a bay chapel and the unique astronomical clock - known as the Orloj. Its open to the public all year round, every day of the week from 09:00 till 22:00 (Mondays 11:00-22:00). A quick 250 CZK transaction later, I was climbing up the tower and behind the chiming's of the clock. I predownloaded this leaflet here and just used this the rest of the Old Town experience.
My phone chimes numerous times, a WhatsApp message.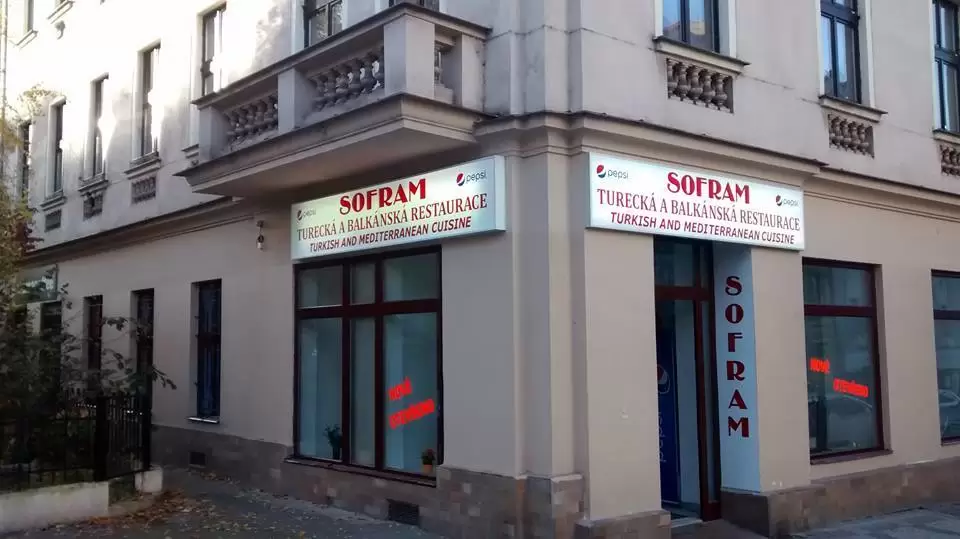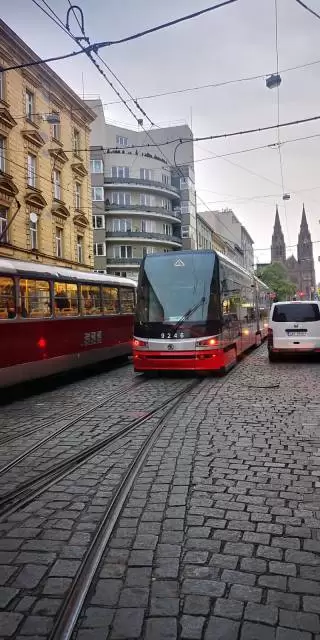 "Hi, Its Emily from this morning. I've finished my meetings for the day. Are you around?"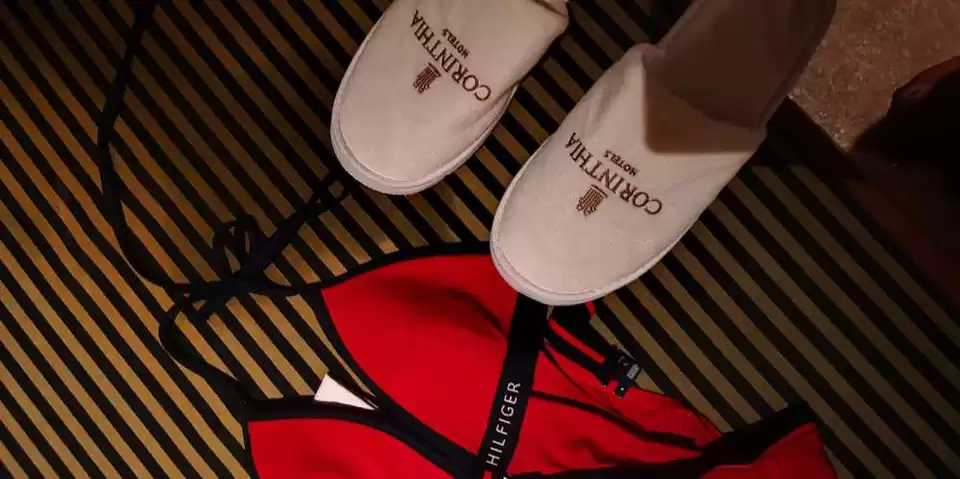 Day 1 in Prague. Quite the experience. I met some pretty cool people out there with @traveleatslay and we did some pretty amazing things!! Stay tuned for Part II of my Prague review, as well as places to eat.
We head to Sofram so that I can break my fast. It's a quaint little halal Turkish place in the Rumunská area and is super easy to find. We've got transport day passes; the nearest station is I.P Pavolova and so we march on down to the metro station and make ways.
Have you been to the Czechian Capital? How was your experience in Prague? Stay tuned for Day 2!
Belly full, we separate ways. Its 10:30PM and I head back to the sauna and steam room and waste away my day.
Or Check out my Youtube video of my entire stay here!