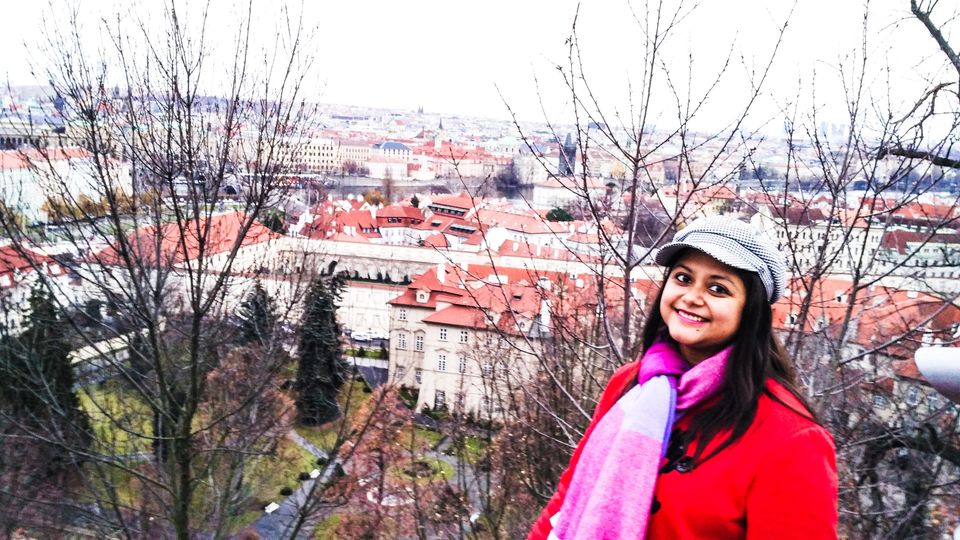 The roaring winter breeze was bustling with colourful Christmas vibes. The European streets and shops were adorned with vibrant fairy lights, stars and Christmas trees. Elegant people were at their best to flaunt winter fashion statement while going to work, roaming around the market or sipping coffee at roadside cafeteria. I was in a great dilemma. Whether to tick off Paris or Prague. A glass of wine on Christmas night at Paris with that giant Eiffel Tower dazzling in the backdrop is something like 'The best of Europe'. But the naive, mysterious charm of Prague is also too alluring to ignore. Finally the Paris Yellow Vest Protest in 2018 winter made my choice easy. So the Christmas Cake would be baked in Prague.
Before starting with my 3 days itinerary let me summarise the preliminary tips.
How to reach Prague: Prague is internationally well connected to all over world. There are number of flights available that fly to Vaclav Havel Airport. Prague is also connected to all major cities in European countries through bus route.
Mark Your Calendar: If you are planning to visit Prague in Summer, don't be afraid of heavy touristy footfalls. Also make sure you have booked your flight ticket in advance or you can be ripped off buying over pricey tickets. But it's undeniable that Europe feels just love in Summer.
Fall is another season when you can plan your trip. The city and park are all covered with trees and the leaves and flowers are in their richest shade. The tourist crowd is significantly lighter at late October. The streets, markets and sightseeing spots would be relatively peaceful and would make your trip a lot more enjoyable.
On Christmas season Prague receives fair amount of tourism, I admit. But you absolutely need not to give it a second thought if you are planning to spend your Christmas vacation in Prague. On this time Praha turns into doe eyed princess to absorb you into her fairytale charm. Praha has life. She breaths. She smiles. She dances. She twirls her silk gown on the narrow cobblestone streets. It can hypnotise us so strongly with her magical spirit that for a moment we forget our dull, realistic entity. We end up merging our very real existence into its wits and wilderness.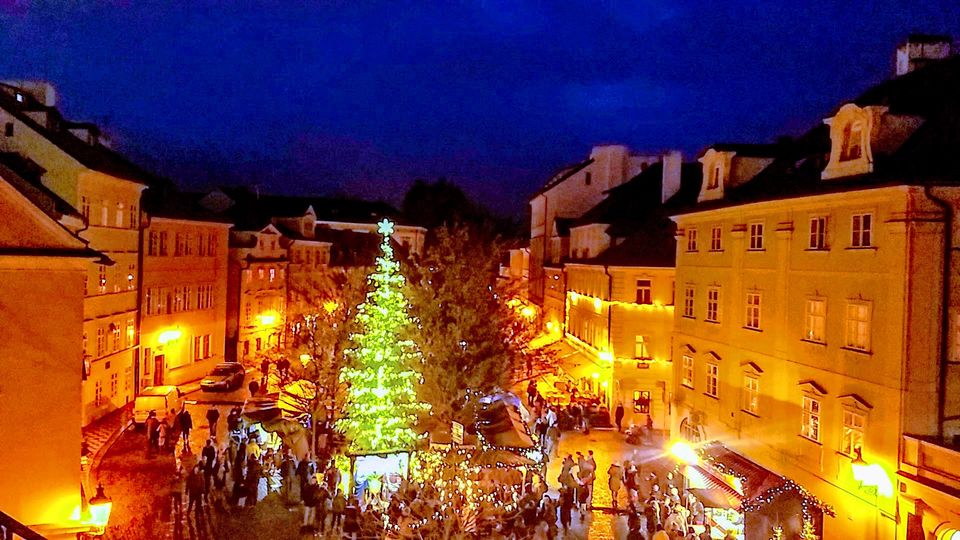 Transport: Getting to the city centre from Europe needs taking both a bus and metro. So it's recommended to take the Airport express bus unless you are on budget constraint. The ticket costs 60 CZK and can be bought directly from bus driver. The bus leaves at every thirty minutes. Cab service is also available on a little costlier end and generally ranges from 15 Euro to 20 Euro. But I personally would suggest to avoid cab service in Prague as there are number of drivers who cheat tourists by charging exceptionally high tariff. Uber is another cheap, hassle free transport mode in Prague.
The old town of Prague can be best explored on foot. Prague is a compact city and you can explore every nook and corner by walking without getting too tired. Walking is the best way to breath the charming air of Prague. But if you are not that into walking then you can easily opt for public transport. A single ticket covers all types of public transport (tram, bus and metro).
Money Exchange: Money exchange in Prague is the biggest, dirtiest tourist trap that you can fall into. Do not exchange your money at airport. They will give you extremely bad rate with so many hidden fees. In fact such scams have mushroomed all over the city and for foreign tourists it's extremely difficult to identify an honest exchange centre. So I would strongly recommend to use your multi currency credit card in Prague. Cards are accepted in most of the restaurants, shops, ticket counters/machines and is the safest option. But still there would be some local shops that don't accept either card or Euro/Dollar and you need to pay in Czech Crowns (CZK). One of the best tricks to get good exchange is to buy something from big outlets like Starbucks coffee, Costa Coffee, KFC, Burger King or some big family super market. They generally refund you the balance with CZK at transparent rate without any hidden fees or scam. If still you are very much desperate to exchange money, be very careful. Always ask before changing and try to keep in mind 1 Euro ~ 27-30 CZK. Don't accept any exchange policy that pays you less than 20 CZK for 1 Euro.
Satiate Your Taste Buds: When it comes to Czech Food, I must say, the soul of Czech cuisine lies in the street food. Prague serves its tourists heart melting, delicious food on the cobblestone streets. The street food may not raise the bar of your idea of perfectly healthy food but they are extremely delicious yet cheap. You can have all your three meals in a day from the colourful street food carts in old town. Some must try items are Tredelnik Pastries, boiled vegetables and mushrooms served with spicy mustard sauce, chicken/pork/beef sausage, fried cheese sandwiches, sauerkrauts.
Your Prague trip is literally incomplete if you haven't sipped the local beer for as low as 1 Euro. I know it sounds too unrealistic to believe but you truly can buy beer at such low price. If this 1 Euro Beer doesn't match your standard, you can also visit some posh breweries, bars and pubs that can serve you some of the finest beers in world.
No matter which part of Europe you are in, the magic always lies on the European cobblestone streets. Whenever I visit any European city I spend a big chunk of my time lazing around the main streets, squares and sleepy narrow back streets. In Prague the most gorgeous and lively place is no doubt the old town square and Wenceslas square. These two are charmingly adorned with most cliched stuff all around- the cobblestone street, quaint medieval houses, shops spreading the aroma of freshly brewed coffee, wooden carts stacked with street foods, souvenir and Christmas items. Prague is a stunningly beautiful city. I meandered through the winding streets. Randomly found markets, churches, restaurants and cafeteria. Sat there for hours and watched people go by. Shopped few Christmas decoration items, fridge magnets, post cards and guide books.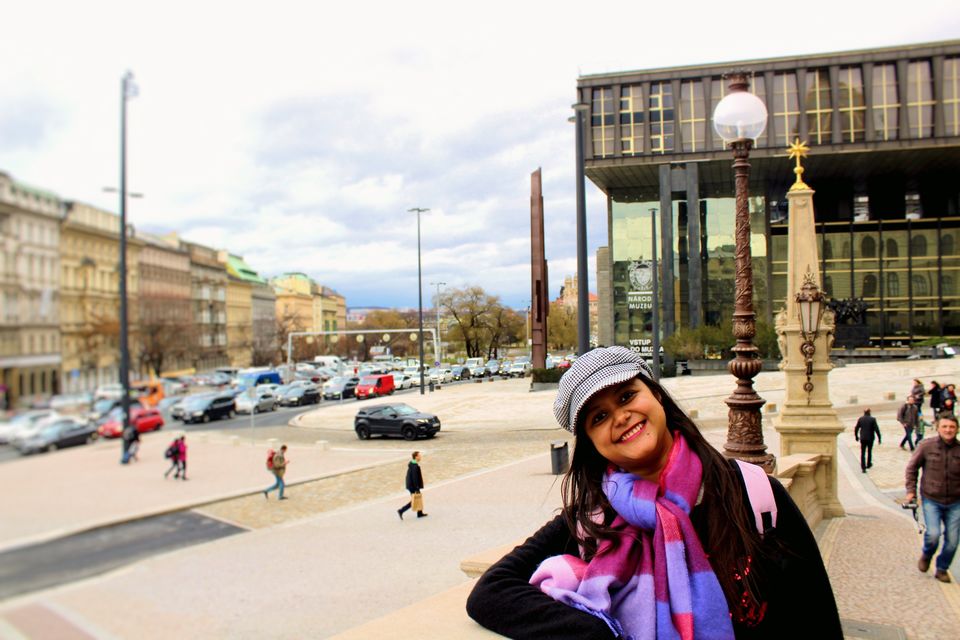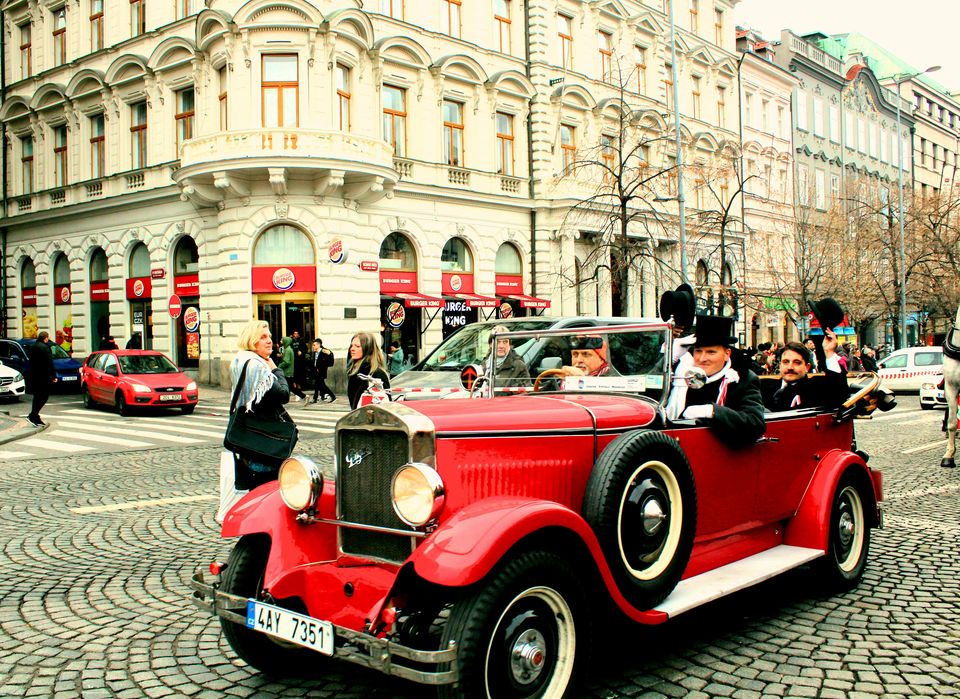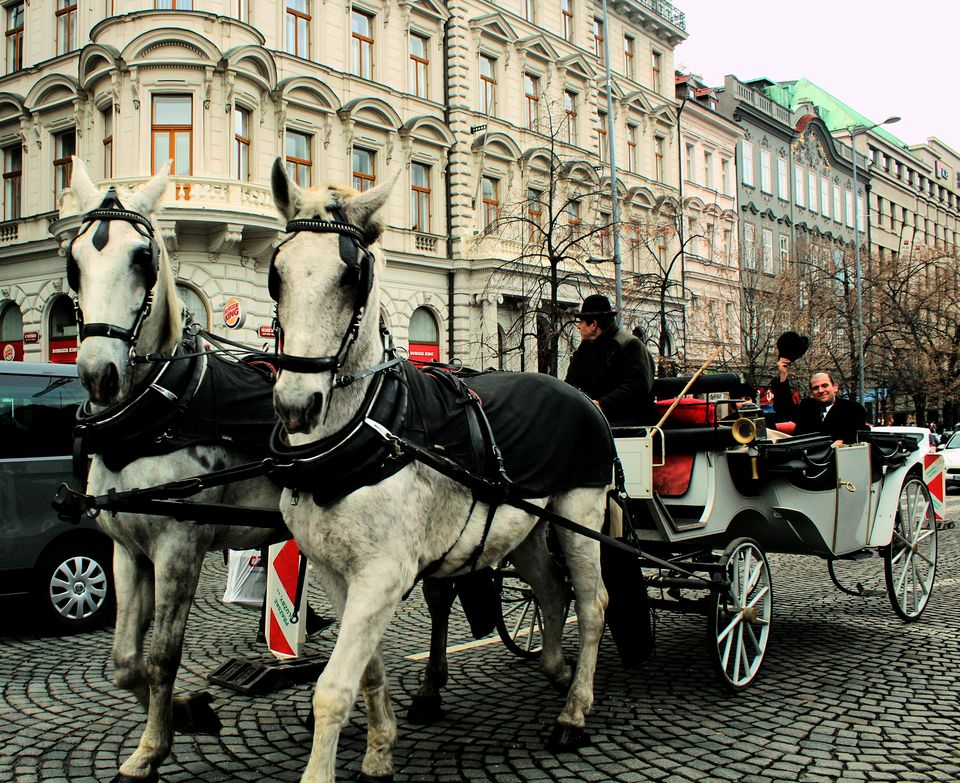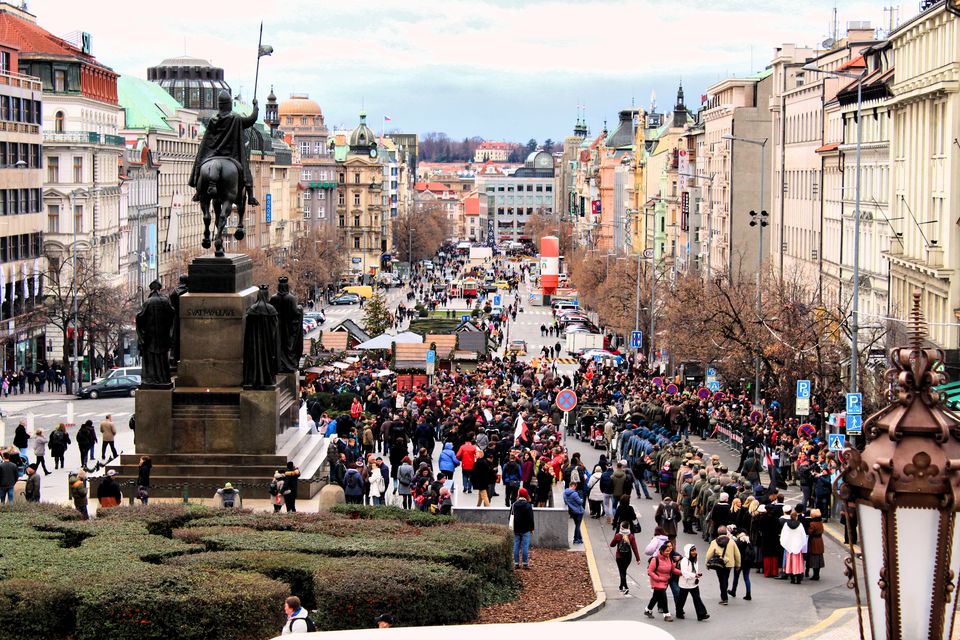 Charles bridge is a historic, gothic bridge and one of the most beautiful bridges in entire Europe. This 516 meters long bridge stands on 15 pillars and connects the old town to Lesser town. In the glamorous era of king Charles IV this bridge was known as Royal route. This bridge spans over the Vitava river and rich in statues, decorative lamps and eye catching gothic bridge towers.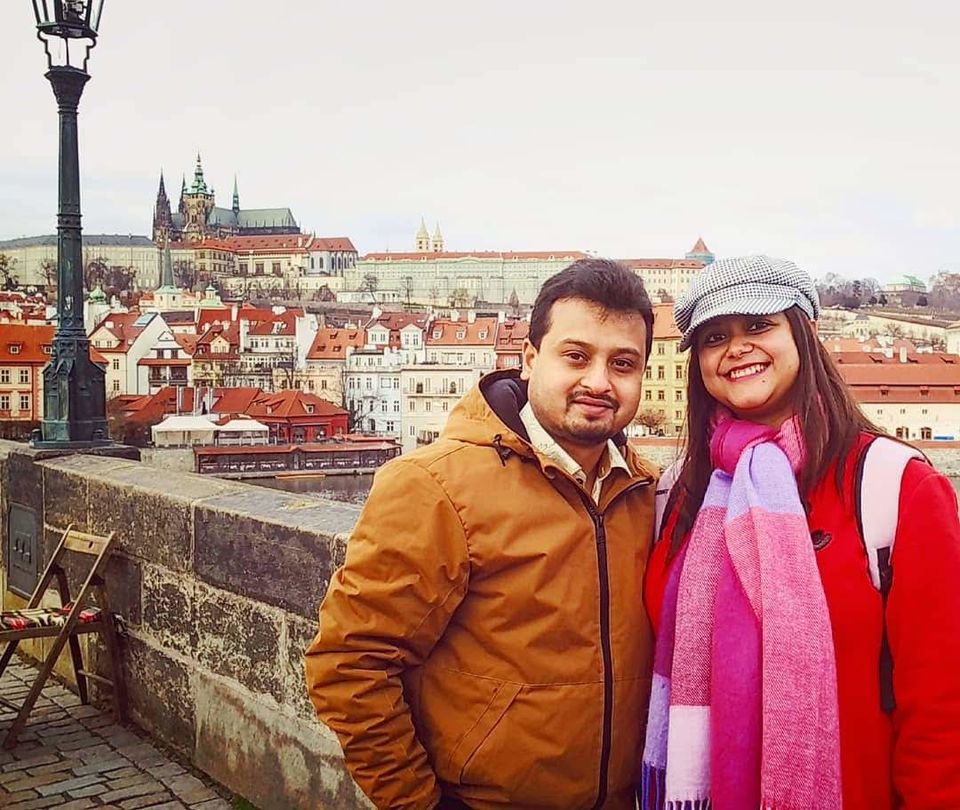 Two of of the most interesting statues on Charles bridge are statues of St. John of Nepomuk, St. Vincent Ferrer and Procopius. There is a column with sculpture of famous mythical Bohemian Knight Bruncvik with a golden sword and lion at his feet. This corner is probably the most praised piece of art on the bridge. Another artistically brilliant section is the sculpture group of St. Lutgarde. It shows the Chezch saint and blind nun Lutgarde's vision of crucified Jesus. Strolling across the Charles Bridge is everyone's favourite activity.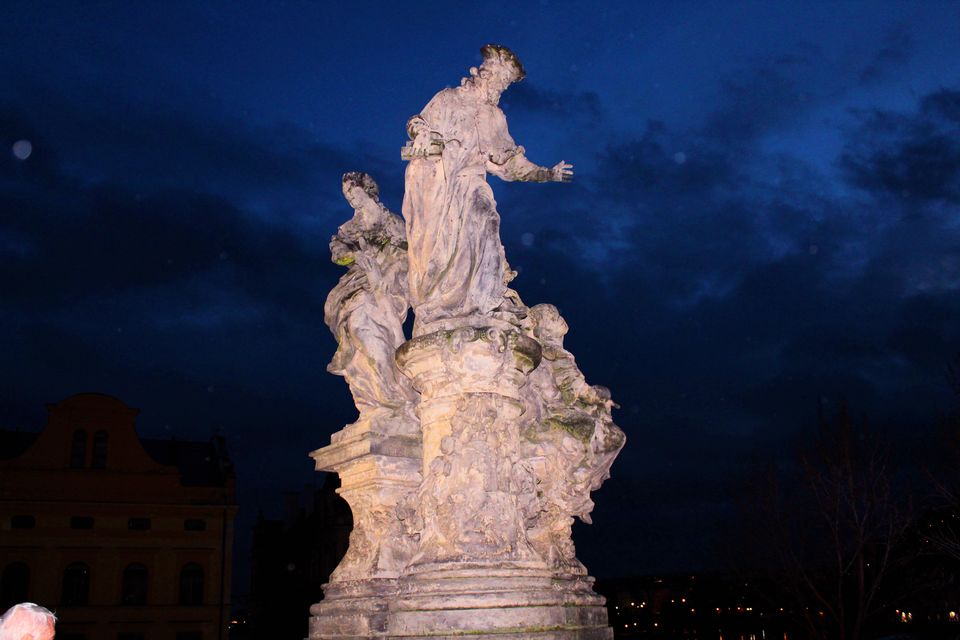 However squeezing through tourists, hawkers and buskers and finding a peaceful corner on the bridge is a next to impossible task. So if you want to experience the bridge at its truest sense try to visit at dawn.
Credit: Saheli Bera
Astronomical Clock Tower is one of the most compelling landmarks and it is the third oldest astronomical clock in use. Its age and authenticity are two prime reasons why people gather where this clock tower gracefully sits in old town. When it chimes the hour the window of the upper shows 12 apostles moving. Simultaneously the sculptures that adorn the tower are also set in motion. One of the moving figures that carry an hour glass represents death. Another moving figure with a mirror represents vanity. Other figures such as philosophers, astronomers, chroniclers appear to be motionless.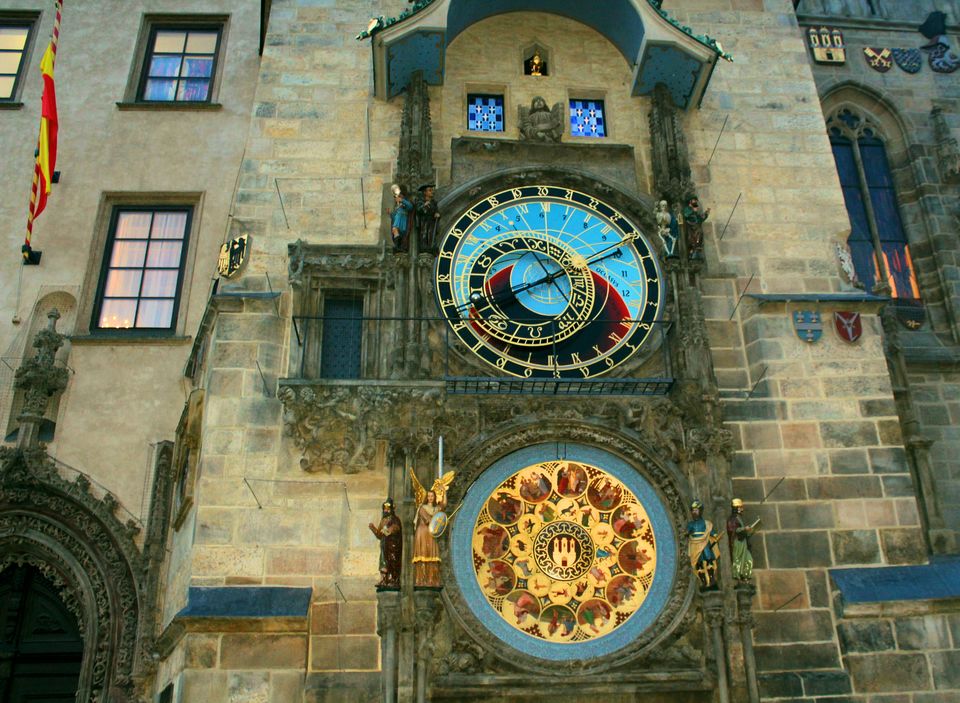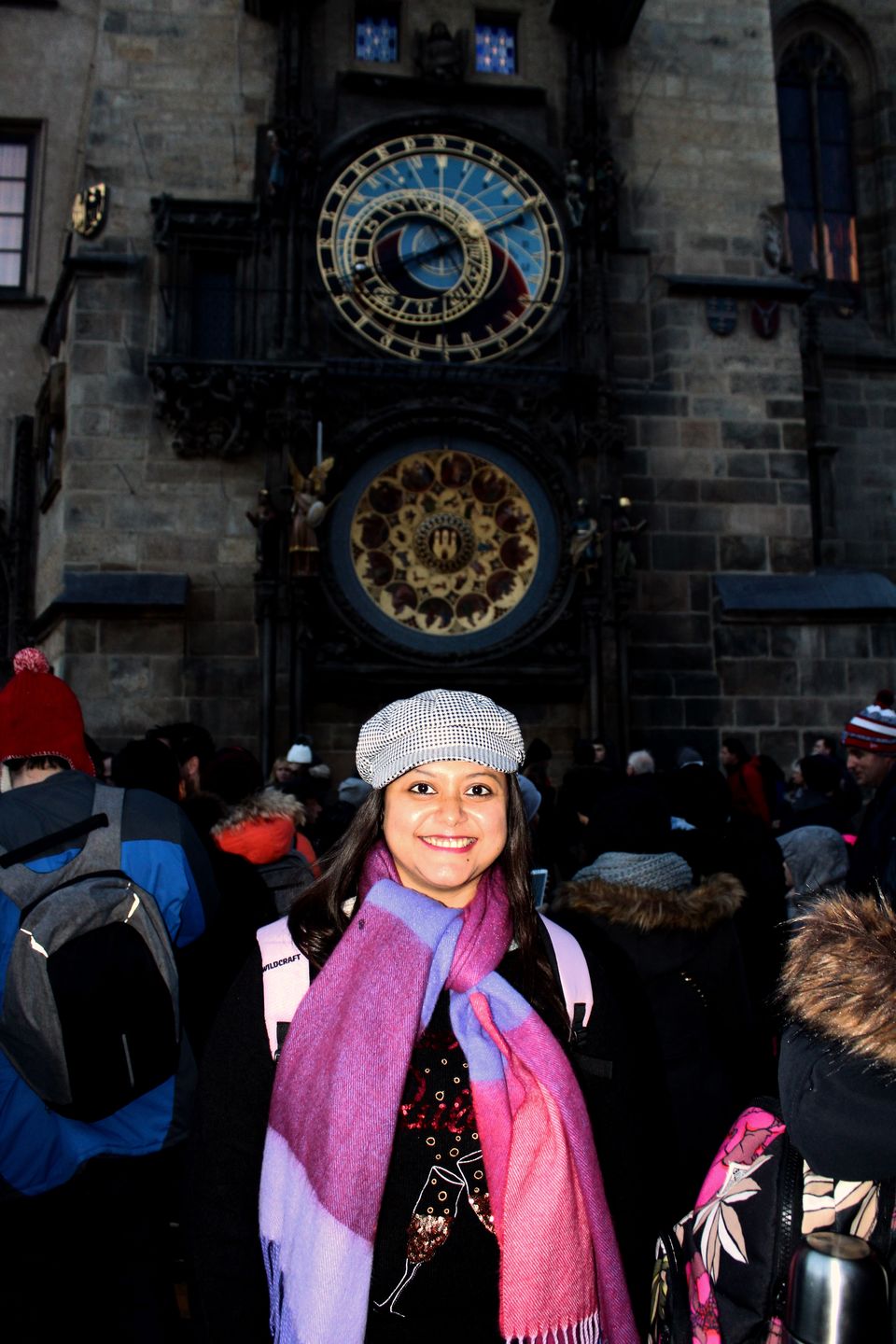 However most of the figures are just replicas as the original ones are severely damaged by the Germans in World War II. The main reason why this Prague clock is so unique is because the elements of this clock tower illustrates the way people observed this entire universe in the medieval era. The centre part of the clock represents the earth. The blue part at the edge stands for the sky beyond the horizon. Whereas the brown counterpart is for the skies below it.
Credit: Saheli Bera
Prague castle is a place that makes this city look like it was pulled straight form a fairytale page. This largest medieval castle was founded in 880 AD. The castle's operation time is from 6.00 am to 10 pm. Tickets are available for different tour circuits in the castle and the prices vary from 70 CZK to 350 CZK. I would always recommend to walk to the castle. You can take the picturesque, steep street of Nerudova, or you can take castle stairs. If you can climb up the romantic old castle steps you will be rewarded with the most stunning view of Prague city.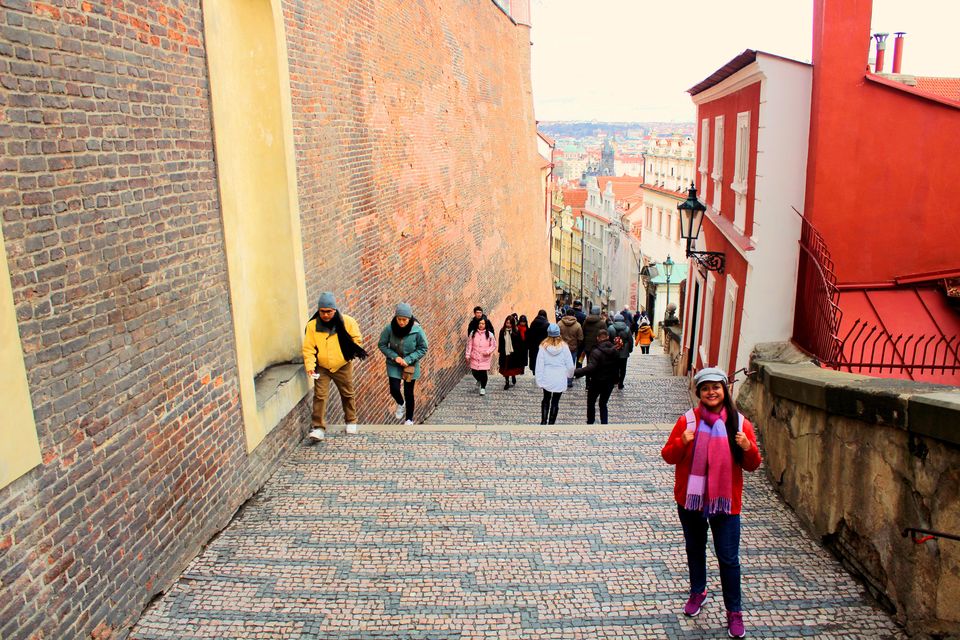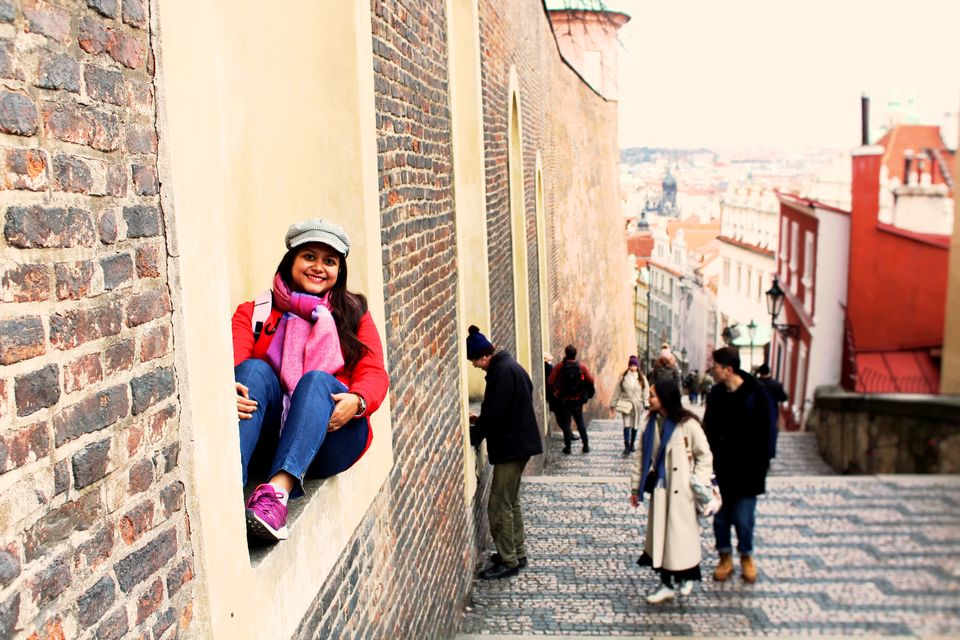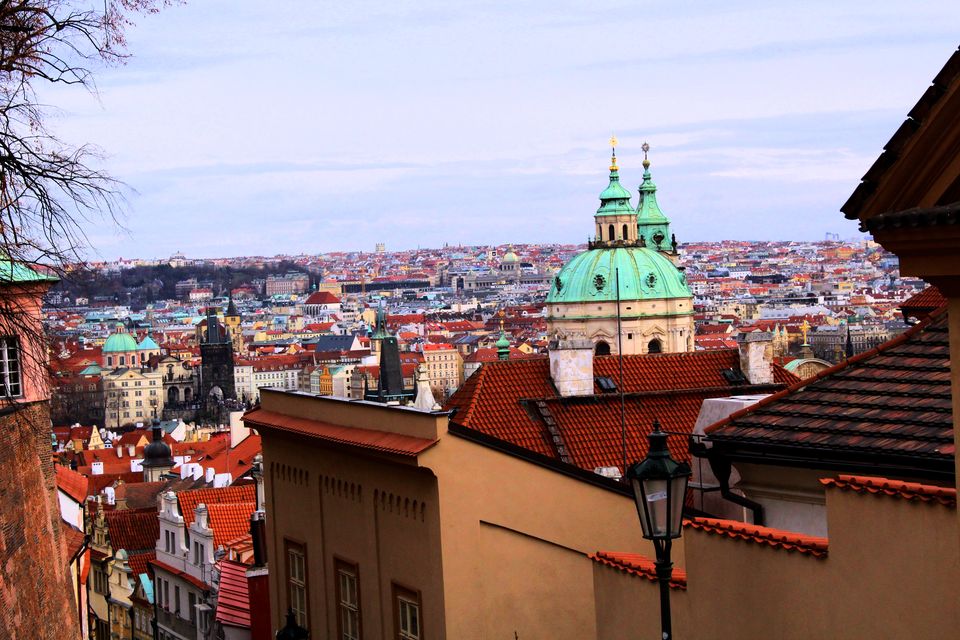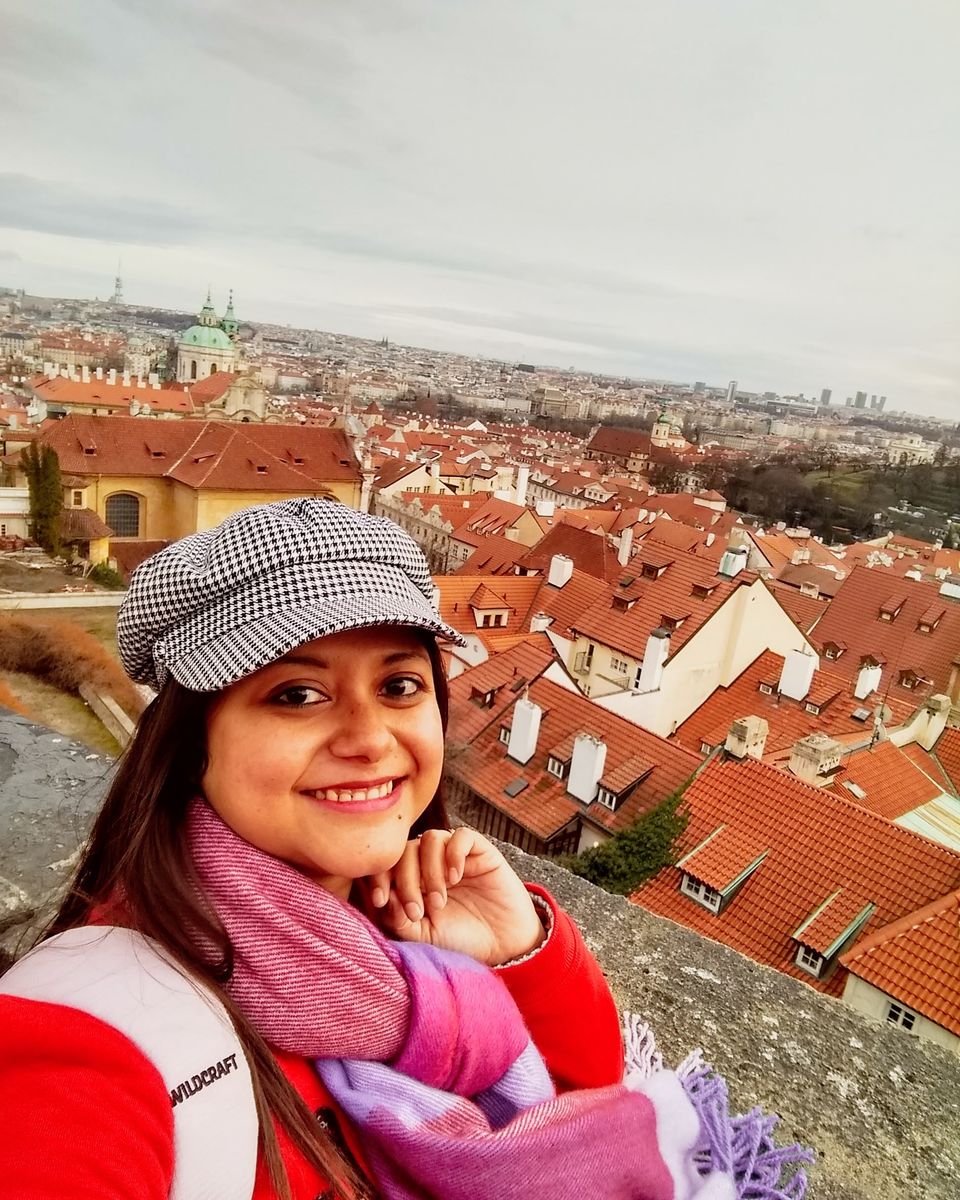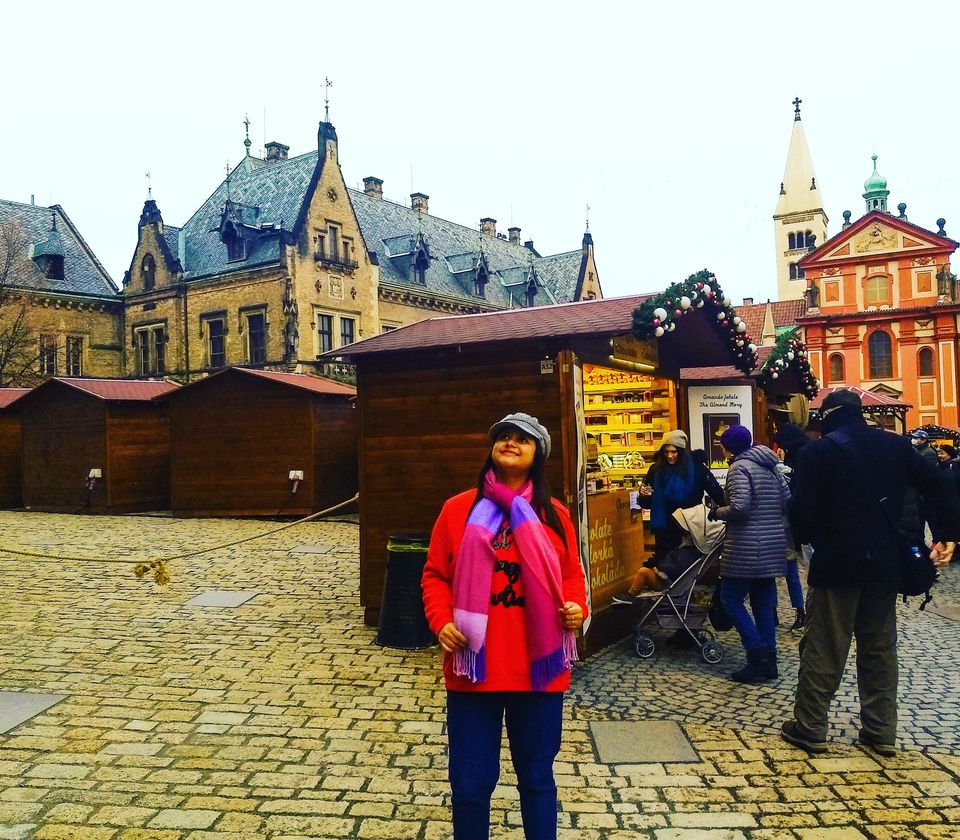 Don't miss the the grandiose and brilliant architecture of St. Vitus cathedral at this castle. This majestic gothic masterpiece is a symbol of pride of Czech Republic and took centuries to finish.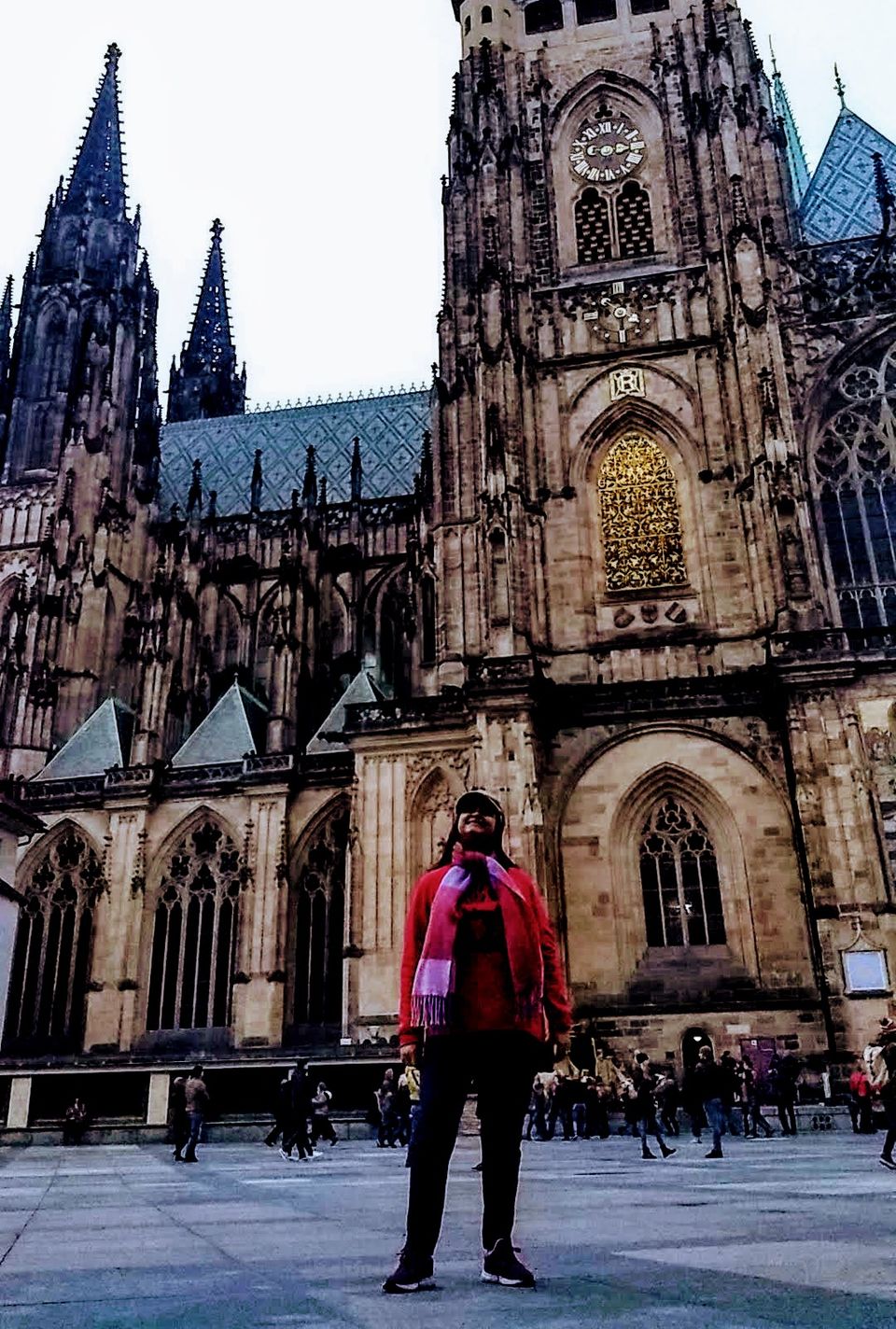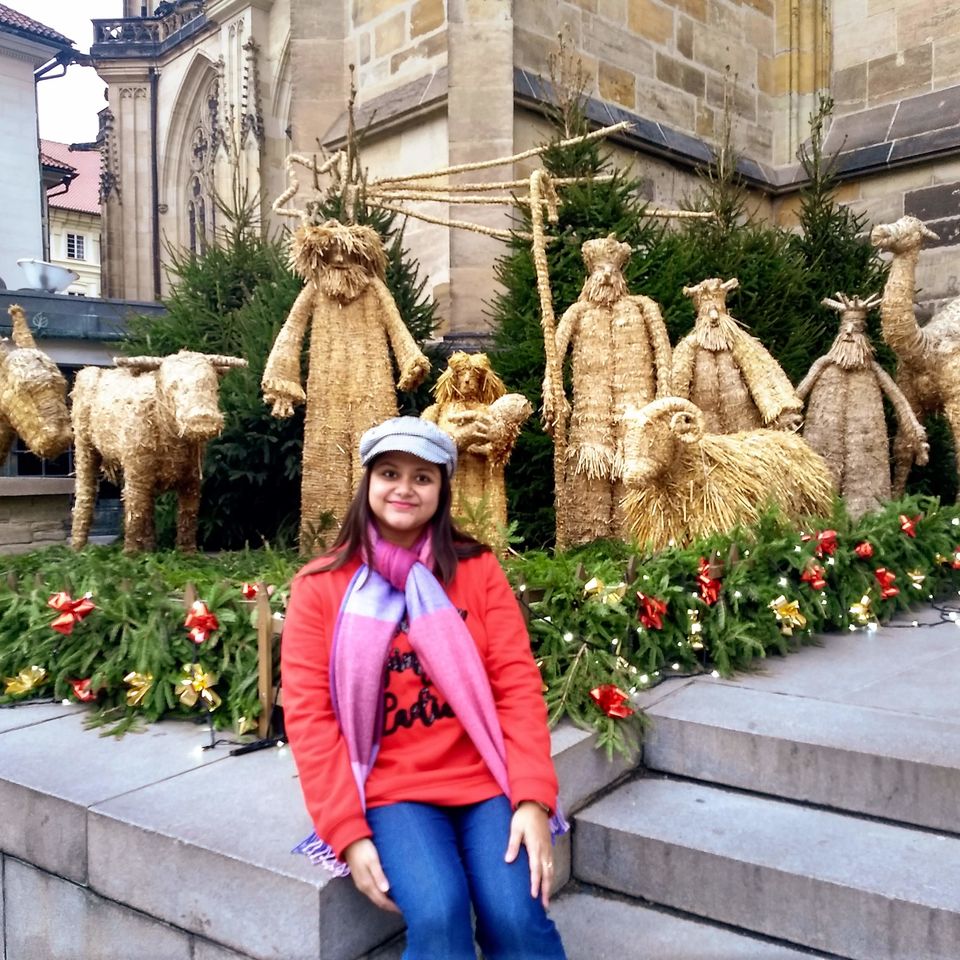 Swans! Swans! Swans!
After climbing down the steep stairs of Prague castle I landed up to this fairytale place on the bank of Vitava river . The daylight was retiring back behind its cloudy den. My DSLR ran out of charge. With limited manual settings in my mobile camera ( unfortunately my mobile camera doesn't work that well in night mode) I managed to picture this scene. These majestic birds were gracefully playing against the gentle waves. The golden lights from Charles Bridge was reflected in zigzag patterns onto the river water. My eyes were grasping every ounce of energy of This place, with my heart whispering 'Praha, you're Love '.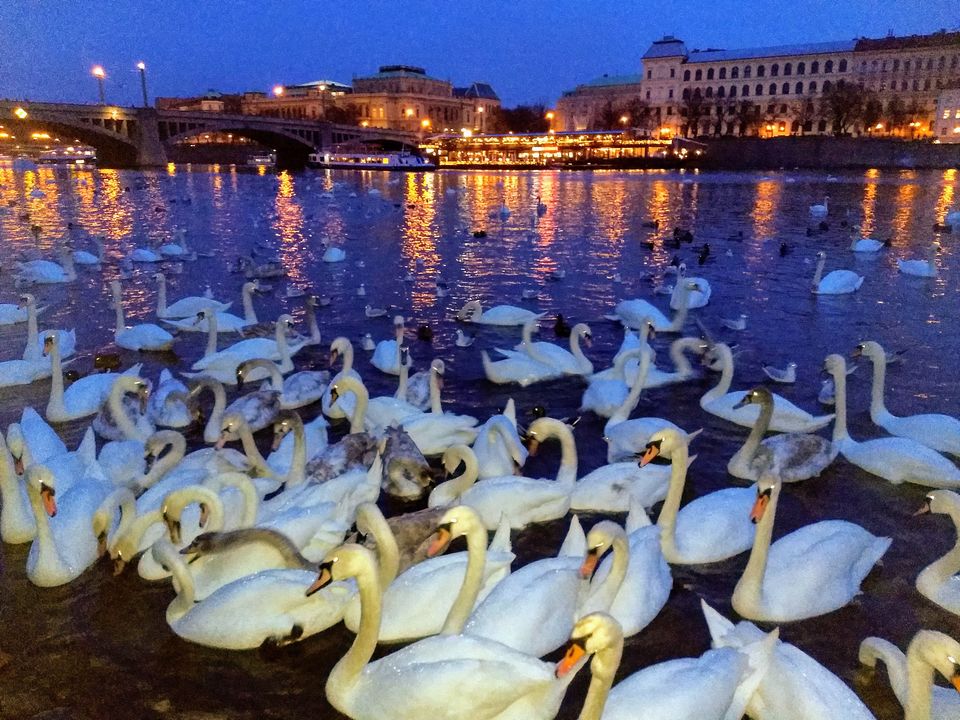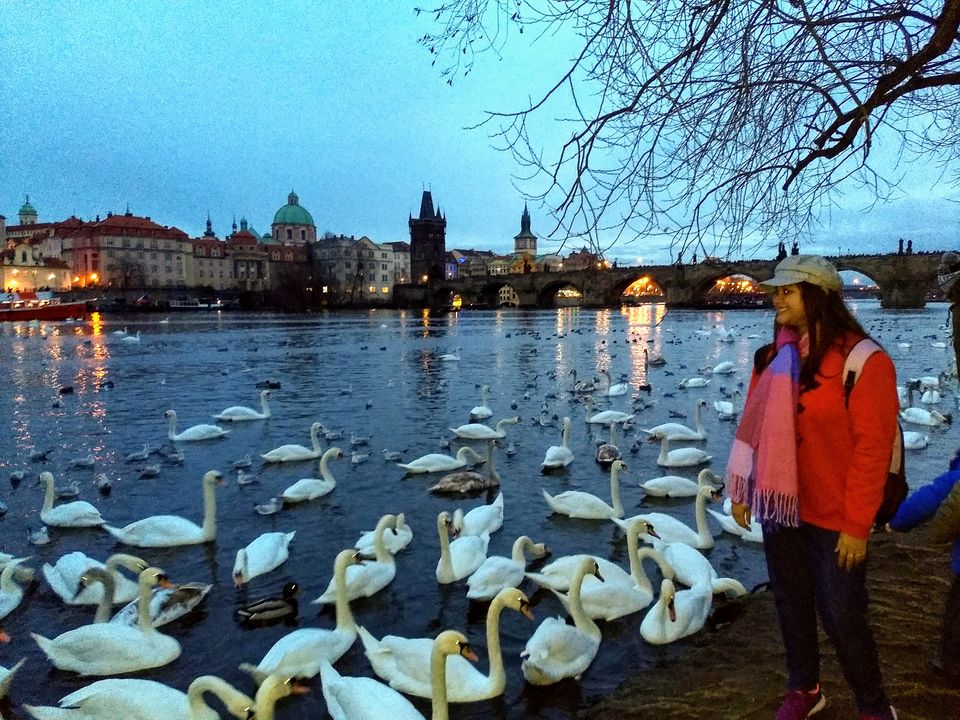 Prague zoo is a massive zoological garden in a unique rugged landscape. In current days this is the second most visited tourist destination in Czech republic after Prague Castle. The entry fee is 200 CZK. There are 13 pavilions to be explored. The main attraction of the zoo is elephant valley which is a home to sizeable herd of Asian elephants. They also have the critically endangered Chinese's salamander- the largest amphibian. The African house with an adjacent meadow inhabited by antelopes and giraffe is worth attention.
Lovers Padlock Bridge is surely a romantic spot to make your love everlasting. Lovers from all age group, all nationalities stroll over the bridge and place locks inscribed with their names on bridge, monument or fence, lock it and throw the key into river. All these are done in the name of everlasting love. On surface level it may look so much romantic and innocent but the locals detest this love lock trend. Accumulation of so many locks remarkably increases the weight and threatens the safety of the bridge. To take care of all these problems there is now an active organisation which regularly removes all the locks from bridge. Being a responsible tourist I decided not to entertain this practice.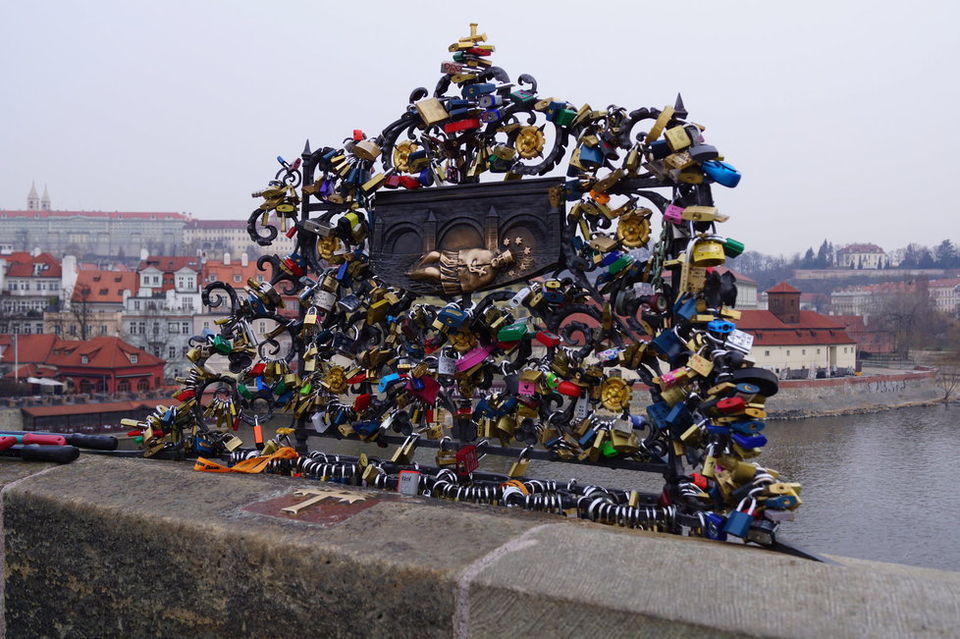 Dancing House or otherwise known as 'Fred and Ginger' is an exceptionally brilliant piece of Czech architecture. Inside this building there is a restaurant, a gallery and a conference centre. Most importantly the terrace itself is a sightseeing spot where you can get a panoramic view of city Prague.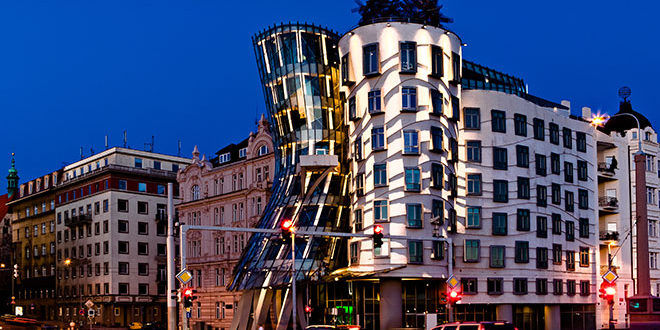 I'm not at all a museum person but a pure street hopper (at least in Europe). But the only feature that invited me to visit this museum is the stunning architecture of the building. Otherwise I found this place not at all interesting. Some exhibitions were going on with not so rich collection of painting, sculpture, ancient items from the period of world war. There is a giant whale skeleton in one room and a small dinosaur by the museum cafe. But that's it. However the large open marble hall at the centre and beautiful stairways on both ends is a perfect spot to click some amazing pictures. The pillars, the dome, the fresco art on walls and huge chandeliers were impressive enough. So if you can ignore the history geek inside then you should go there just for the building.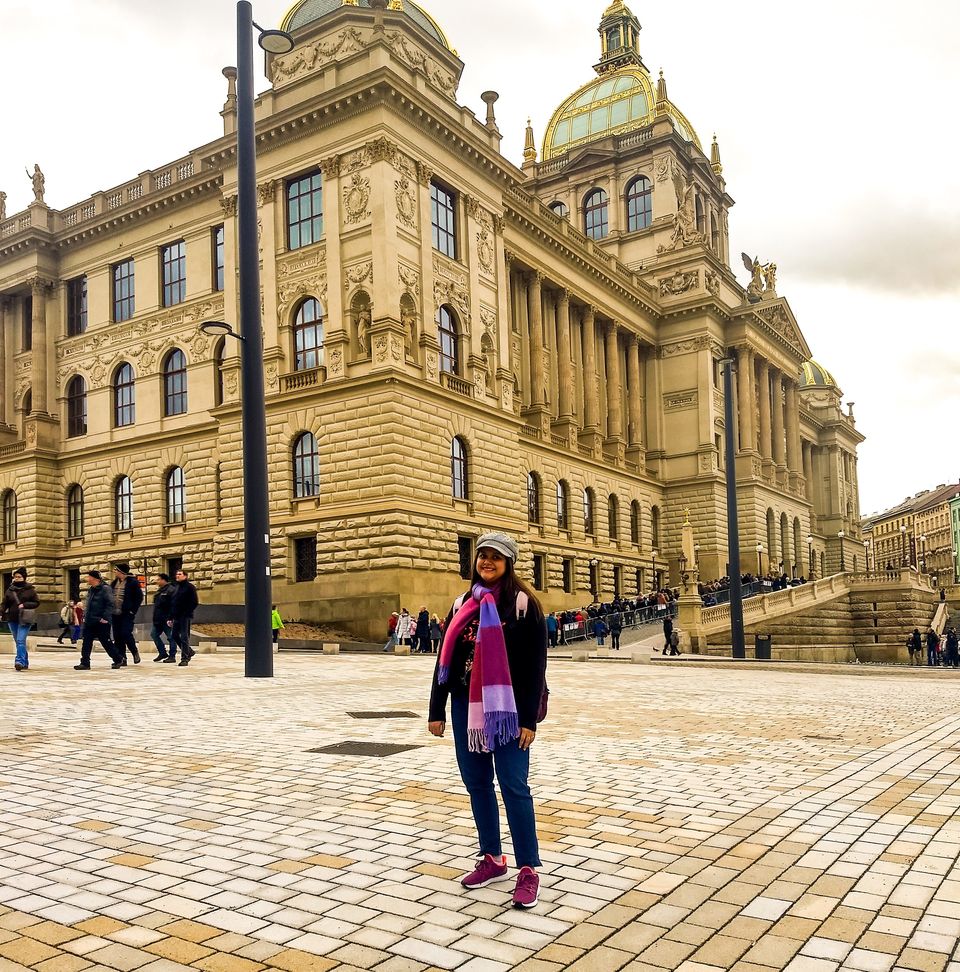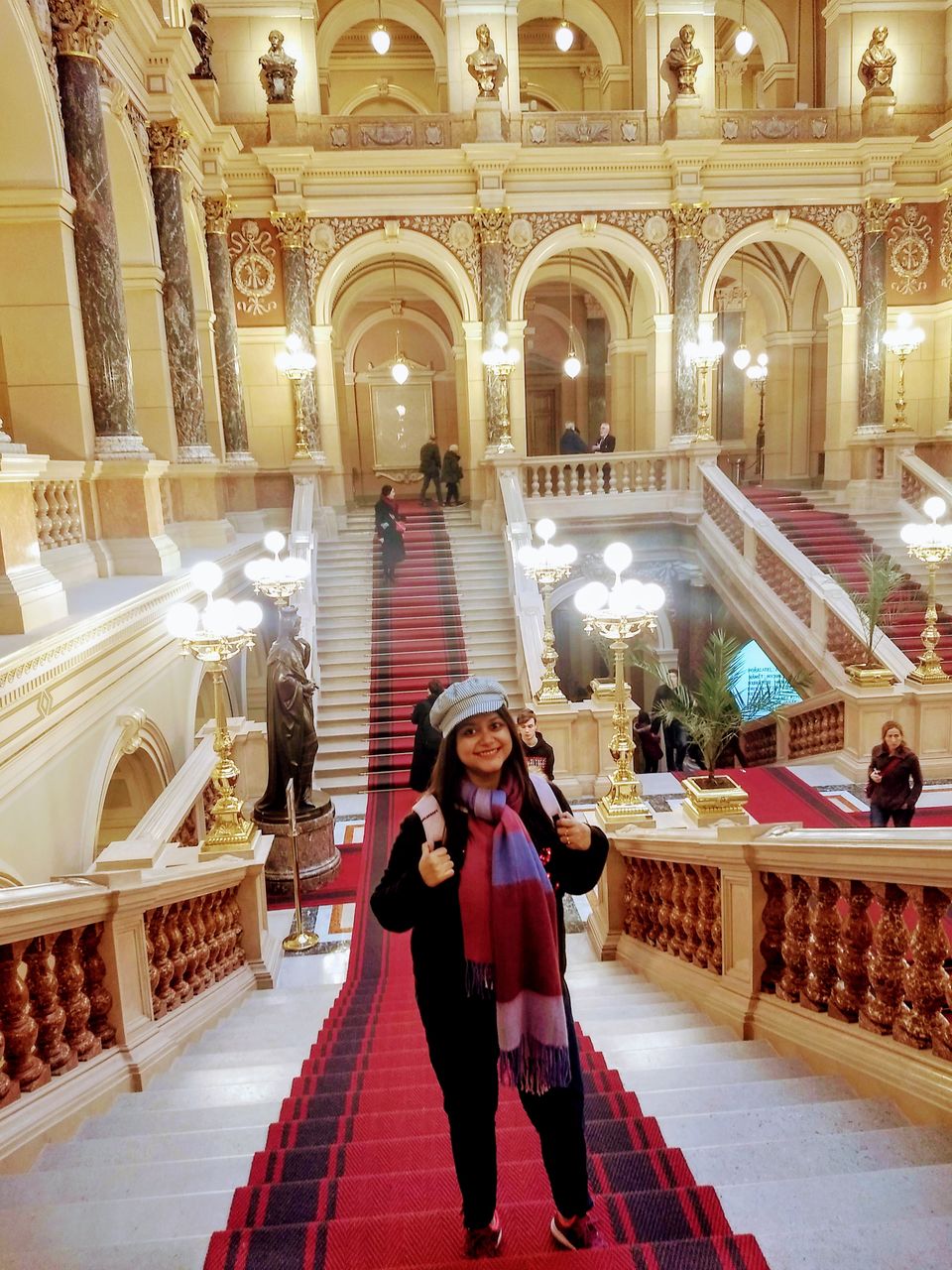 Credit: Saheli Bera
This is how my three fairytale days were spent in Prague.
But when I close my eyes, I still can feel the enchanting energy of this Country. Such a mysterious beauty this city carries with it. This magical town never really tries to impress or seeks attention from anyone but always comes up being so effortlessly gorgeous. I don't think there's a single tourist on this globe who hadn't got transfixed with her elegance, class and sophistication that comes so naturally, so spontaneously.
Thanks for stopping by. If you like the blog please share and Wishlist my blog. If you have any queries reach me on my Tripoto/Instagram profile.
To see more photos and stories of my itchy feet follow me on Instagram at Saheli Bera.