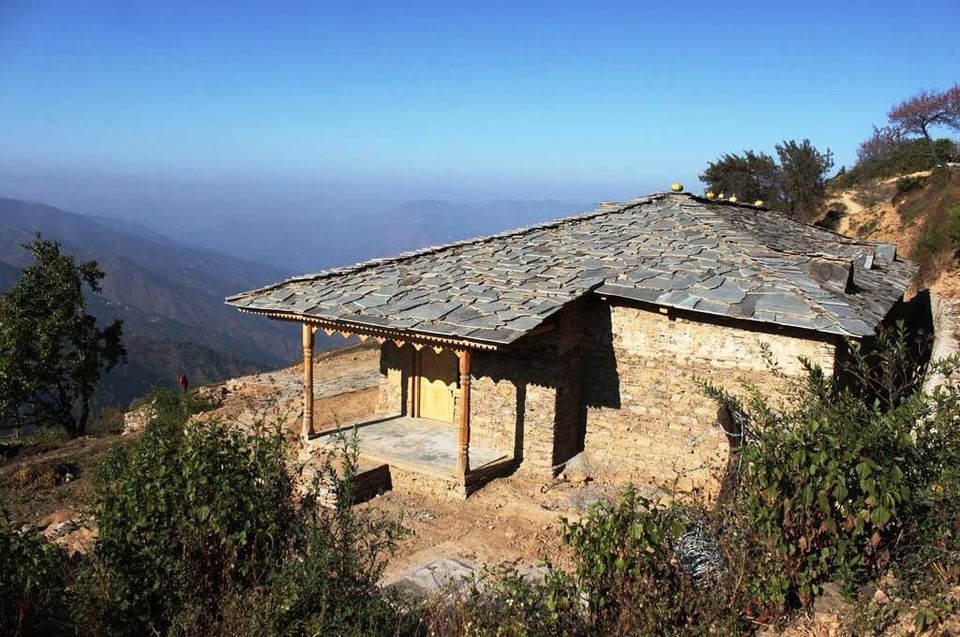 The hectic everyday life at work and at home makes us all crave for a holiday where we can spend some quality time and come back with more energy. But in modern times when all hills, beaches and plains are overpopulated with tourists, it seems almost impossible to find a place that promises to be a solace.
For those who wish to take a break from the hustle and bustle of city life and wish to spend some time in the lap of Mother Nature, the Goat Village is a perfect choice. The Goat Village by the Green People is a gleaming example of sustainable and environment friendly livelihood in the hills. In the lush green surrounding, the Goat Village offers unique location, pollution less environment, peace, culturally rich and diverse experiences and a range of outdoor activities.
The Goat Village
The Goat Village is a bouquet of farm retreats and homestays and offers basic lifestyle experiences to visitors. There are several cluster of accommodations, all of which are engaged in goat farming and several other agro practices. They provide better livelihood to the locals as well as tourists.
The infrastructure of these accommodations has been carefully crafted using earthly colors and rural concept. The soothing traditional cottages are built in mud and stone and have huge glass windows that offer phenomenal view of the surrounding hills and clear sky.
The Goat Villages have been set up by an organization called the Green People. These villages are located at Kanatal, Nag Tibba, and Raithal in Uttarakhand.
Disconnect to reconnect
In order to reconnect with yourself, you have to disconnect from technology and luxury sometimes. In the same line, the Goat Village has opted to offer its villagers a laid back life where technology does not even seem to exist. With an aim to minimise the carbon footprint of the traveller, the village runs on the concept of no electricity, no televisions and no internet. In a world where losing mobile phone is the biggest nightmare, surviving without phones and internet might seem a big challenge but it is totally worth it.
You have to leave behind technology, power banks and mobile data once you enter this village. Loud music and inorganic food are a complete no no! Hot water has specific timings and visitors are even expected to carry your own towels and toiletries to avoid wastage. No inorganic food or beverages are served here. In short, you are transported back to times when humans survived with minimum needs and maximum happiness.
Organic treat in eco-retreat
Their food is another specialty that keeps visitors happy and healthy. They offer wholesome local meal which includes homegrown leafy vegetables, delicious chutneys with freshly pounded chillies and tomatoes plucked from their little gardening patch. They serve hot mixed grain rotis, and red rice, all produced in tune with the retreat's eco practices. The meals served to the visitors are purely regional and created from local produces. Guest can also join the farming practices and gain the rare experience and memories.
They even serve their organic produce under their brand Bakri Chaap.
Why should I go?
Puzzled and disturbed by the fast forward life, we all need a short break once in a while to relax. While most of us choose to book expensive resorts and hotels for a break, what we actually need is a strong connection with five elements that form this world i.e. earth, water, air, fire, and aether. This rural atmoshphere with absolutely no technology allows us to feel grounded, breathe fresh air, live in the open sky, drink clear water and feel the fire within us.
The entire concept revolves around encouraging and promoting evolved and progressive population from cities to spend some quality time with villagers. It helps the visitors have a quality life full of oxygen and happiness. This exchange of care and respect aim to increase self-esteem and willingness to continue efforts towards rebuilding their villages. The drive also intends to popularise the uses of Himalayan produces.
"Pay What You Like"
They say the best things in life come for free and the phrase sounds apt at least in case of the Goat Village. It offers a unique offer of "Pay What You Like" to its visitors. This initiative invites travel and adventure enthusiast to visit, experience and evaluate the services at Green People Farm Retreats and homestays without any compulsion of payment. The visitors get the liberty and leverage to decide the price on the basis of their experience in the village.
Important facts
1. You may even decide to not pay anything as it totally depends on your experience of services and willingness to pay an amount for the value that you receive.
2. You can stay here maximum for 2 nights/ 3 Days.
3. A range of activities are offered including trekking, local culinary experience, farming, community services etc.
That's all about the Goat Village. If you too wish to experience peace, solitude and the ease of being stress-free then pack your bags, head to Uttarakhand and get ready to be back with a bang.
Which is your favourite type of accommodation for a relaxed holiday. Share you experience with Tripoto community here.