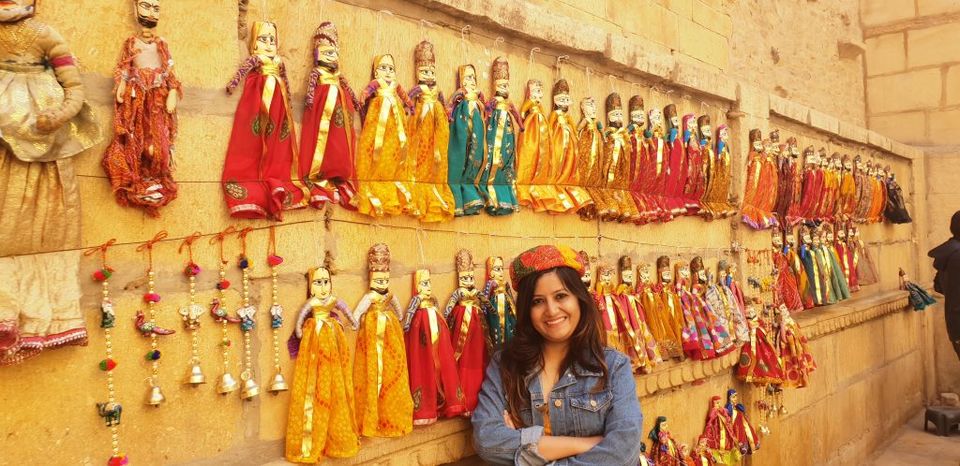 India is such a diverse country that lets you experience a totally different culture and experience in every part of the country. Every state has its own beauty, culture, food, language, etc.
Talking about Rajasthan can never be enough. It has always been in my travel list and finally, I did it. We were just 2 girls roaming around the streets of Rajasthan. Yeah, I am emphasizing it because people find it surprising that only two girls did the trip to Rajasthan alone. It happens in India. In fact, we met an elder fellow in Jaisalmer, he said, "Wow!! That's really great. I have seen foreign girls traveling to India alone and you being Indian are doing it. I am proud of. It's good to see girls of our country getting independent."
Rajasthan is one of the many wonders that represents India as the golden bird beautifully. A "Land of Kings" surrounded by ancient forts and havelies, culture so ethical, artists, color handicrafts and indeed not so expensive.
Here in this article, you will find all about Rajasthan, places to stay, attractions, activities, places to eat. We've covered Rajasthan in 9 days but trust me, even 9 months won't be enough to find out everything about this ethical state. So, if you have more days you can visit more places in Rajasthan.
In 9 days, I visited 6 cities in Rajasthan:
As always, here in this article, I will share my experience in Rajasthan.
Here is my guide to cover Rajasthan in 9 days. Since we were traveling from Pune, we started our journey from Udaipur.
Things to do in Udaipur - The White City
Listed among the 15 best cities in the World, Udaipur - The City of Lakes definitely has its own charm and beauty. We reached Udaipur early in the morning. After relaxing and freshening up, we rented a two-wheeler. It is, in fact, the best and cheapest way to travel in Udaipur. If you've plenty of time, you can even walk around the town on foot.
Where to stay in Udaipur?
My first preference as a backpacker is always Zostel. Unfortunately, Zostel was not available due to a long weekend. So, we stayed at GoStops. It indeed is a perfect place to stay in the prime location at Ambrai Ghat with a beautiful view of the Lake.
Day 1:
The main attractions of the town are City Palace and Lake Pichola.
Start your day with City Palace, since it gets too crowded in afternoons. There are a lot of museums and things to see in City Palace but they are quite expensive. We chose to watch the main museum and vintage cars and a good long walk around the palace is worth.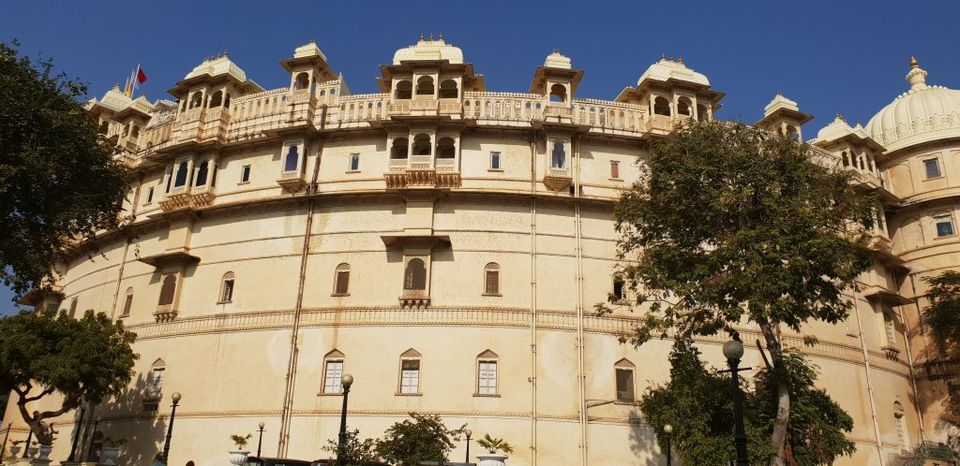 Lake Pichola was created in 1362 AD is one of the biggest and oldest lakes in town. You get quite an amazing view of the city palace. Next, we went to Jag Mandir (Lake Garden Palace) accessible through City Palace. Jag Mandir and Hotel Taj both are located in the middle of the lake and the only way to reach is through the boat.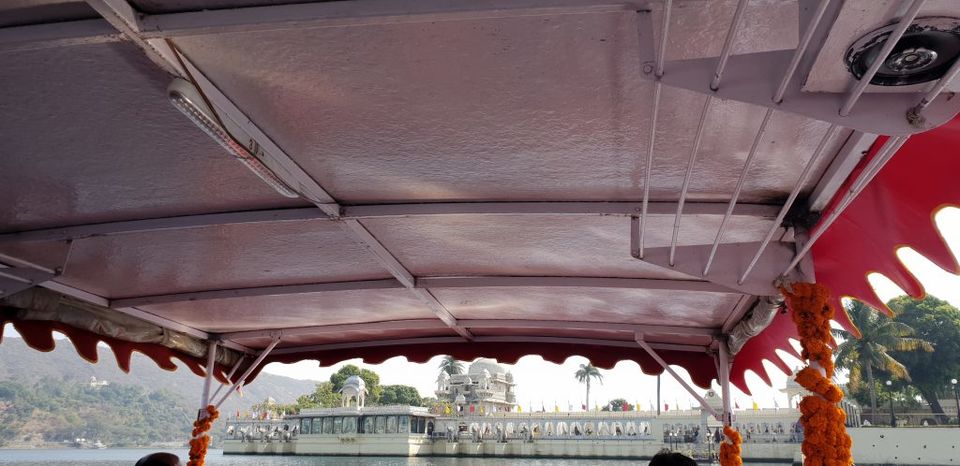 Next, at around 4:30 pm, we headed for zip lining that takes you to the Karni Mata temple located on the top. It gives you the complete view of Udaipur, The White City. Never miss the sunset from Karni Mata Temple.
As soon as we were done watching the sunset, we left for Bagore ki Haveli to watch the famous show that starts from 7 pm. There are multiple shows based on the tickets sold. You need to reach at 6 pm to get the tickets. As we were a bit late, we got the tickets for the late show that began at 8:30 pm.
Have a glimpse at the show here.
In the end, we finished our tiring day by having dinner at a rooftop restaurant at Ambrai Ghat. Udaipur looks magnificent and beautiful at night. Never miss the view of City Palace from Ambrai Ghat at night.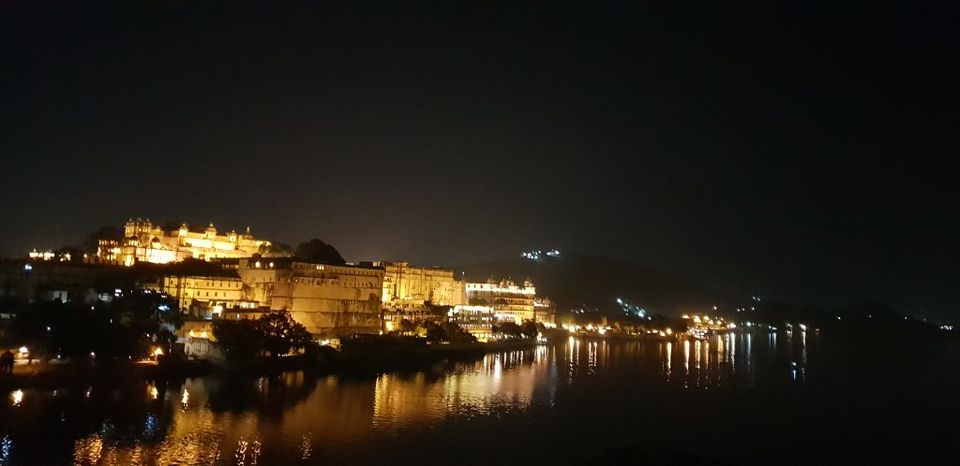 Day 2:
For the next day, we had already booked a cab. If you need the taxi service details, reach me on our Instagram Handle. We left for Kumbhalgarh Fort early in the morning.
Kumbhalgarh Fort is a Mewar fortress (also a World Heritage Site) located at a distance of 102km from Udaipur. Its perimeter walls extend up to 36km making it the second longest wall in the world, after the Great Wall of China. You can get the view of sand dunes and the Thar Desert from the walls.
Ranakpur - Jain Temple
Ranakpur village is one of the most visited Pilgrimages of Jainism. Standing amidst the serene valleys of Aravali, a lot of tourists come over to see the temple. Its pleasure to watch the scrupulous carved walls and ceilings of the temple. It is about 50kms away from Kumbhalgarh.
Open Timings: 12 noon to 5 pm only for Tourists. For the rest of the time, it is for Jain people to perform their ceremonies and worship.
Later in the evening after returning back, we roamed around Bapu Bazar (one of the famous markets in Udaipur) and visited the Jagdish Temple and spent the remaining time at Gangaur Ghat engrossed into the beauty of Lake Pichola at night
Day 3:
It was our last day in Udaipur, so we checked out from our hostel, again rented a bike for the day and visited Saheliyon Ki Badi, Fateh Sagar Lake, Mrig Mahal and ended our day with a beautiful sunset from the fort located at the hilltop - Sajjangarh Fort also known as Monsoon Palace. To reach the top, you can either take a shared taxi from the entrance or you can go by your own vehicle scooter/bike.
Things to do in Jaisalmer - The Golden City
Jaisalmer is one of the places that must be there in every traveler's list. It is the true reflection of heritage, pride, and beauty of India. Located amid the Thar Dessert, this golden city is the charm of India. After Udaipur, we took a direct overnight bus to Jaisalmer.
Where to stay in Jaisalmer?
You can stay in Zostel and many other hotels located inside the Golden Fort itself. Or if you are looking for a much-budgeted stay then you can opt for the place where I stayed at Cazza Backpacker Hostel located just behind the Golden Fort. Since it is not available for booking online, you can reach me out for direct contact of the host.
A local and a very kind guy hosted us.
Contact here: 9571559453 - Dilbar Jaisalmer
He has a very low budgeted decent backpacker hostel located just behind the Golden Fort.
He also organized everything for us. Be it an incredible experience of camel safari for 10kms in the Sand Dunes, staying amidst the desert away from the tourist area or the Day 2 cab for visiting Indo-Pak border BP609, Tanot Mata temple, Longewala War Museum.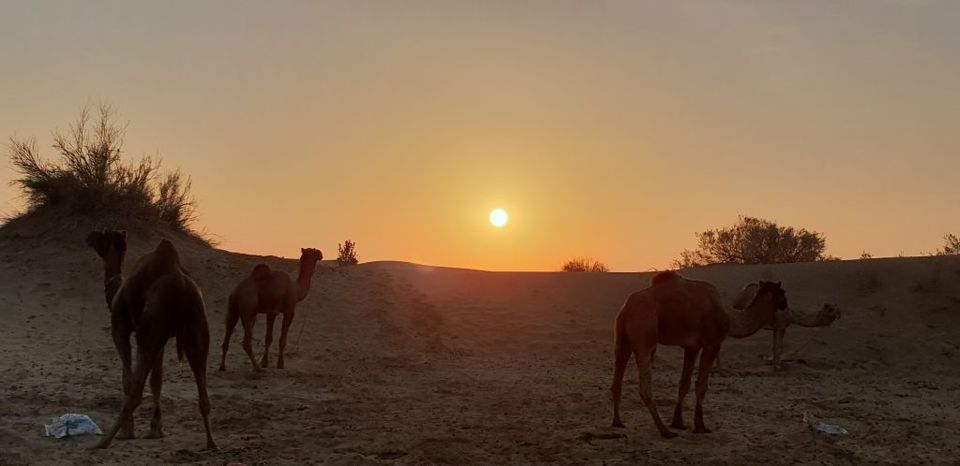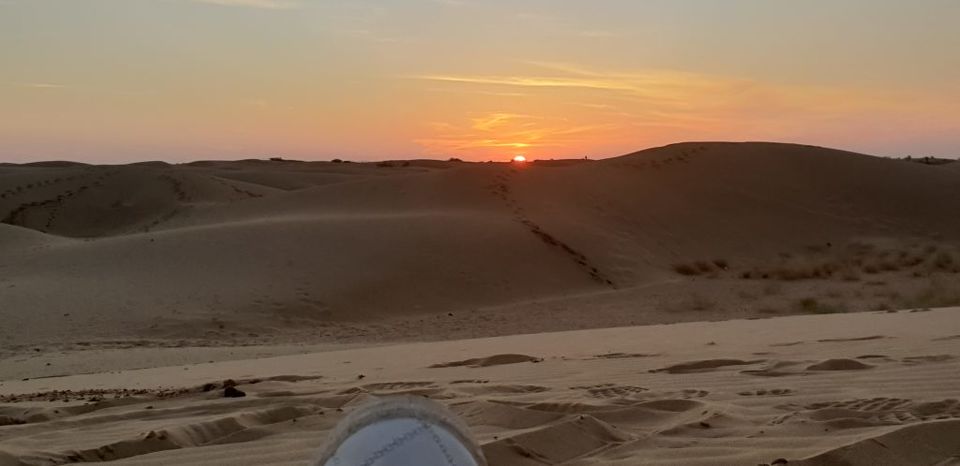 Yes, you heard it right!! We stayed under the sky with no tents and away from the hustle amidst the sand dunes.
It was just 8 people in the group and our camels that were visible in the desert for as far as we could see.
So, yes if you want to experience the solitude and peace with the company of just nature, don't go for the camping instead experience the wilderness of the Desert.
Day 1: we visited Sonar Qila, also known as Golden Fort. It is among the very few living forts in the World. There are a lot of houses, shops, restaurants inside the fort. Next, in the afternoon we left for Sand dunes and stayed overnight in the desert.
Day 2: We went to Tanot Mata temple, Longewala War Museum, and Indo-Pak Border BP609.
Read for more information - Tanot Mata Temple, A miraculous place.
Day 3: We still had half a day since our train for Jodhpur was at 4:45 pm. So we visited Patwon Ki Haveli, market around the haveli, Gadisar Lake, and the streets of Jaisalmer. Even the railway station of Jaisalmer is magnificent and is worth a visit if you have time.
Things to do in Jodhpur - The Blue City
The bustling blue city of Rajasthan, Jodhpur looks incredible when you see houses painted sky blue amidst the dusty desert.
Where to Stay in Jodhpur?
You can easily cover Jodhpur in a day and the best place to stay is Zostel which itself is a beautiful backpacker hostel covered in the sky blue theme of the city's own color.
We started our day with Mehrangarh Fort, which is just at a walking distance from Zostel and even from the city's main point, The Clock Tower (also known as Ghanta Ghar).
Mehrangarh Fort is an epitome of glory in Rajasthan. It is one of the most preferred destinations from tourists all over the World. Though never buy the audio guide here, it is quite boring and the information it provides is also there on the signs around the fort. Also, you can get the amazing view of the entire blue city from the backside of the fort.
Next, we headed for Umaid Bhawan, a Heritage Palace hotel in Jodhpur. However, the sad part is more than half of the Umaid Bhawan is a hotel and people who have booked their table (costing around Rs. 6000) are only allowed to see it. But you must definitely visit the rest of the museum. It gives you an amazing view of the royalty of the Kings of India.
Later, we finished our day tour by roaming around the streets of Sardar Market. The shops here are all colorful and provide you with good Jodhpuri dresses and other things at an incredibly cheap rate only if you are good at bargaining. Did I forget to mention, food in Jodhpur is mouthwatering!! Never miss the famous Mawa Kachodi and Pyaaz Kachodi at Janta Sweet Home, located at the main chowk of Sardar Market.
You must also try Makhani Lassi at the Mishrilal Hotel, we missed!!
Things to do in Pushkar:
We reached late night from Jodhpur to Pushkar via Ajmer.
How to reach Jodhpur to Pushkar?
The cheapest and easy mode to reach Pushkar is to take a Rajasthan Roadways bus from Jodhpur to Ajmer (Volvo or Normal, I preferred Volvo since it takes less time and is affordable as well), then take a local bus from Ajmer to Pushkar that charges around Rs. 10 per person.
Where to Stay in Pushkar?
We had our stay in Zostel and it was truly a wonderful experience. The host, interior, food all are good here. We had bonfire, music, good food at night over the rooftop and since there were not many people staying that time, the host accompanied us and made it a wonderful experience for us.
Since we had only 2 days left and we needed to go to Jaipur on the same day. We could not truly experience Pushkar, the most spiritual and holy town of Rajasthan. I am definitely going to be there again once in my life. However, I loved Pushkar Lake and the famous Brahma Ji Temple.
And just outside the Brahma Temple, you will see the bustling street shops with colorful bangles, Rajasthani handicraft items, dupattas and a lot more. And yes, the luscious street food all around. We had a perfect breakfast with delicious Kadhi kachori, Mirchi Wada, and Ginger tea.
Things to do in Ajmer
From Pushkar, we took the bus to Ajmer and reached by afternoon. We visited the famous and holy Darga Sharif.
Later, we finished our day in Ajmer by visiting the architecturally rich Jain temple built in the 19 th century. The main attraction of this temple is its wonderful architecture done by gold making it look magnificent.
Things to do in Jaipur in 1 Day
The most fascinating town in Rajasthan is Jaipur - The Pink City of India. The history and architecture of all places here are marvelous, be it Amer Fort, Nahargarh Fort, Jal Mahal, City Palace, Hawa Mahal or even the streets of Bapu Bazaar.
In our itinerary, we had only 1 day in Jaipur and that is definitely not enough to see all the main attractions of this beautiful pink city. So, if you have only 1 day to spend in Jaipur you can follow our itinerary:
We covered:
Raja Park/Mi Road - As we reached from Jodhpur to Jaipur in the evening, we went out into the streets of Jaipur to try the street food and trust me everything on the road was amazing and we ate like a beast - we had masala dosa, chole tikki, kulfi falooda, and last but not the least pani puri/gol gappe. Albert Hall Museum -Built in 1876 as the Concert Hall, Albert Hall gets its name from the Victoria and Albert Museum of London due to the similarity in architecture. It looks incredible at night. Amer Palace/Amber Fort - Next morning, we left early for Amer Fort roaming around the Pink City. It is located at a distance of 11km from Jaipur City.
It began building in the 16 th century and finally came into existence in 18 th Trust me, it is one of the most amazing forts in Rajasthan.
The architecture of the palace is mesmerizing be it Diwan-e-Aam (Hall of Public) or Sheesh Mahal (Mirror Palace), every part of the palace is beautiful and has been carved with beautiful flowers and paintings. Amer Fort has been used for a few Bollywood movies as well due to its incredible beauty.
While returning from Amer Fort to Jaipur City, we visited Nahargarh Fort. Nahargarh means "Abode of Tigers" is located on the Aravalli hills. This place is located on the top and gives a beautiful view of Jaipur. The main attraction here is Madhavendra Bhawan, a 2 storeyed building with suits for the King and his twelve queens.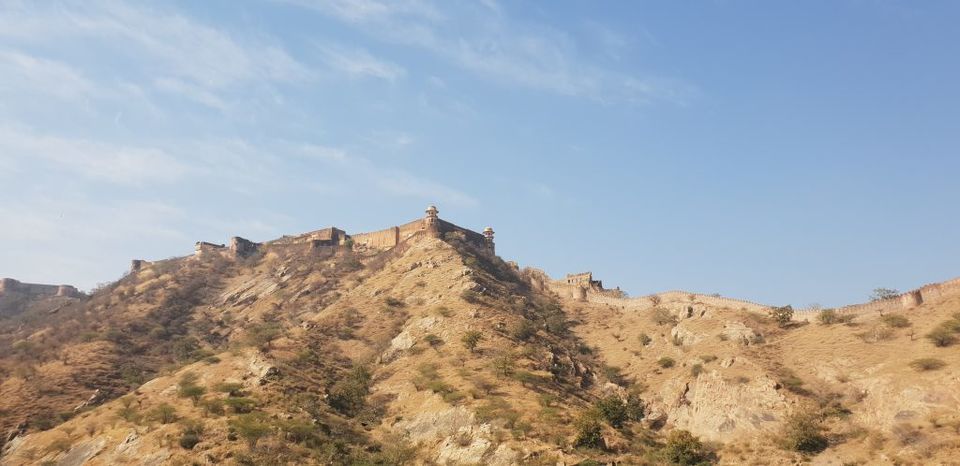 Tip: Driving to the fort by bike is an amazing experience. So, better rent a bike/scooter (only Rs.300) and visit the entire Jaipur according to your convenience.
Hawa Mahal- Constructed in 1799 using the red and pink sandstone, Hawa Mahal is made in Mughal and Rajasthani style. Standing in the middle of Jaipur City is a place that shouldn't be missed. It is shaped like Lord Krishna's crown incorporated with 953 small windows to let the wind blowing in the Palace.
The main intention was to let royal ladies watch the happenings of the city through the windows and enjoy the summer with peace.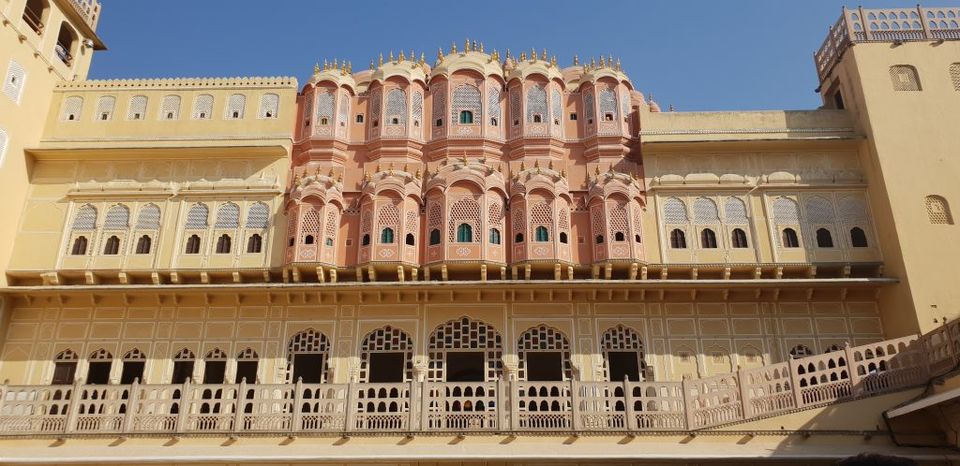 Unfortunately, we missed a few amazing places due to our time constraint - City Palace, Jaigarh Fort, Chokhi Dhani, Jantar Mantar, and Jal Mahal.
However, life is not ending here so I am going to be in that beautiful city again. ????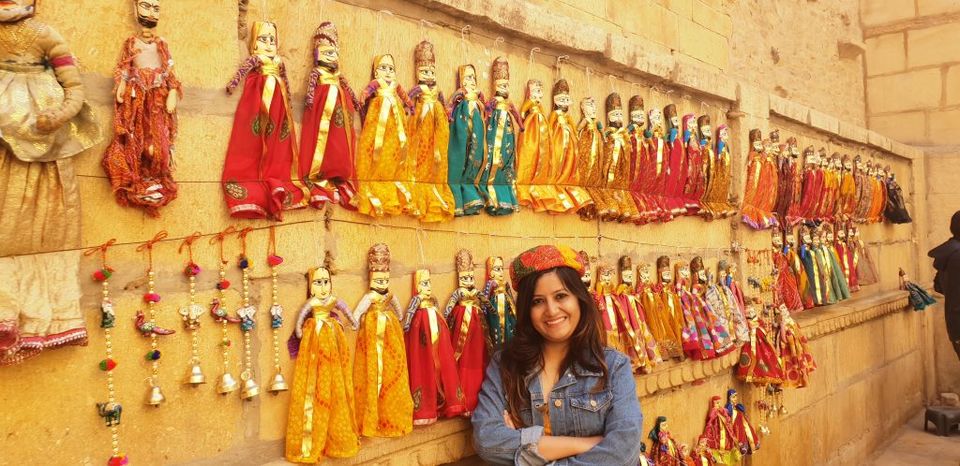 Though every place has its incredible history in Rajasthan and if you wish to know, drop your comments. I would love to share it in my next blog post.
This is pretty much about my trip to Rajasthan. Hope you can feel the beautiful vibe of Rajasthan through my words. But as said by Rumi,
It's your road and yours alone. Others may walk it with you, but no one can walk it for you.
Go ahead!! Plan your trip!! Visit true India!!
More information on How do I plan my trips?
And if you have any queries, you can always reach me out on our social media handles or leave a comment here, I will get back to you right there!! <3