Santoshi Mata Temple,Bhilwara
Text and Pictures by Rakesh Giri Goswami
This is a small town in southern part of Rajasthan, located along Ajmer-Ratlam-Indore broad gauge rail line. It is an important business center of state. It has many textile units including some famous suiting shirting brand names of the country. This district has many tourist spots including religious and historical monuments. Their description is available in govt and private tourist brochures. Because of business visitors from all parts of country come to town regularly. Town itself does not have any historical monuments. At times construction of new monuments, gardens, dams,temples also become tourist attractions. Following paragraphs describe one such new development in this town known as Santoshi Mata Temple.
It is located 2 kms. south west of town along national highway which goes to famous Chittorgarh fort,and is just adjacent to reserve police lines of this town. This temple was constructed about 25years ago by devotees of goddess Santoshi Mata, but latter on a small temple of lord Shiva was also added in this campus. There is large open courtyard around the temple with plantations and garden.In recent years it has become a major tourist attraction for tourists going to Udaipur from Jaipur. The most important part of this temple is its interior. Which has been decorated with intricate glass work designs. Wall are embedded with coloured glass pieces representing floral and geometrical patterns There are not many glass work temples in our country. The central part of temple has statue of goddess Santoshi Mata, in the main hall embossed and etched glass work statues of lord Brahma and lord Shiva are also set up.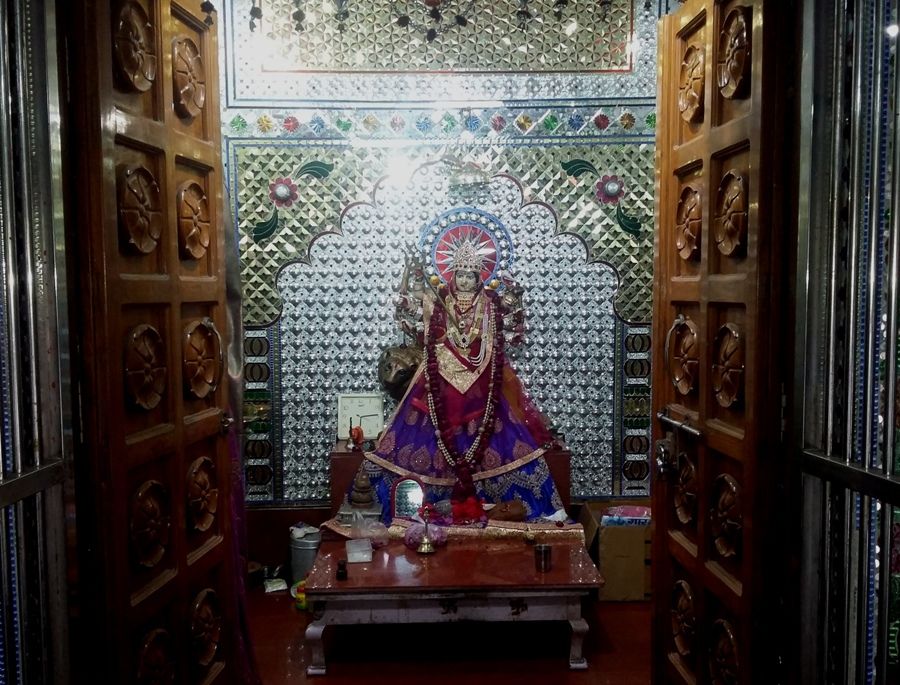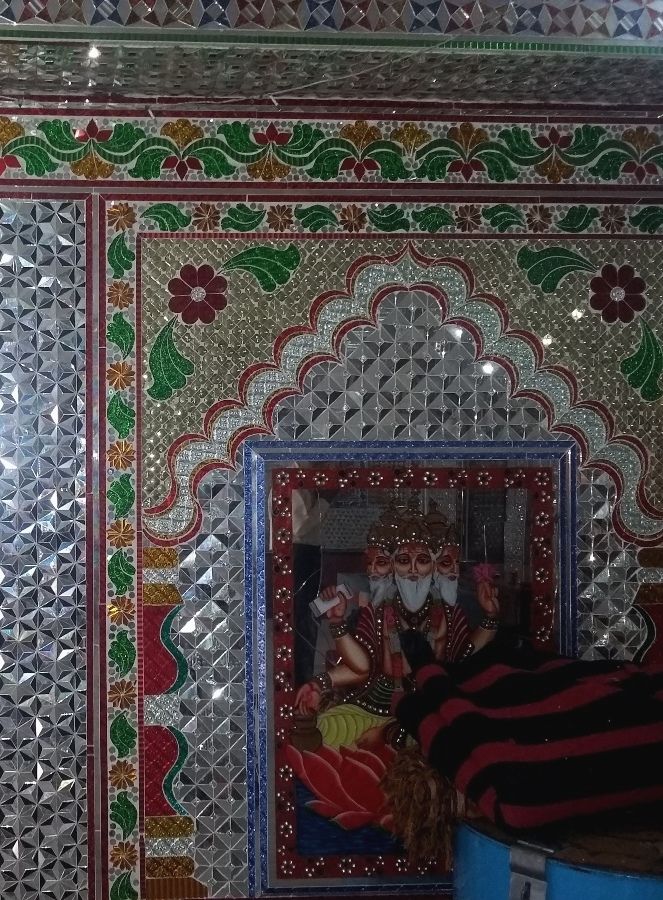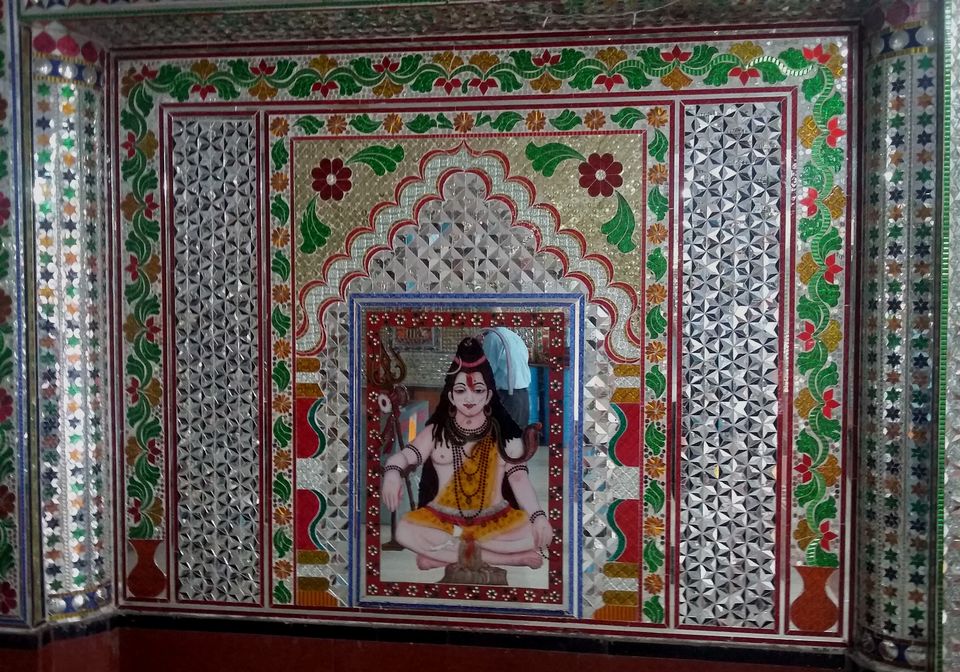 Apart from glass work in main hall, the stone pillars are also engraved with glass work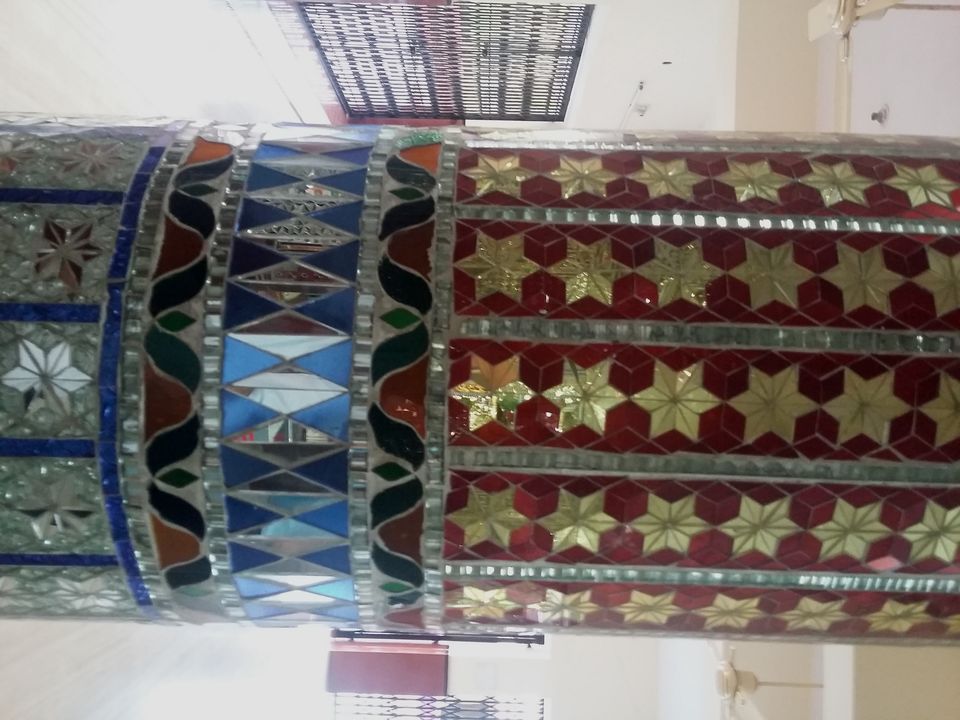 Because of its beauty, open space calm atmosphere,and easy approach this place has now become an important place for religious devotees but also being used for social get together, picnic and party programs. Of course prior booking has to be made with temple administration. You can prepare your own food there or can also bring ready made food from outside. There are no food counter with in temple or its vicinity. Regular public transport is available for this temple from all corners of town. As Bhilwara is developed town ,it has many hotels with reasonable tarrif for staying if any one is interested.There are many restaurants in town which serve Gujarati,Punjabi,Rajasthani and south Indian food.
India does not have many temples with interior glass work because building such structure requires lot of skill and patience as this work is different from normal stone carving . How ever there are few such temples in country known for their beautiful glass work.They are 1 - Glass temple in Indore, 2 - Sanwariya ji temple between Udaipur - Chittorgarh in Rajasthan and 3- Nishkalank Ramdev temple in old part of Ahemdabad. Luckily I have seen all three.