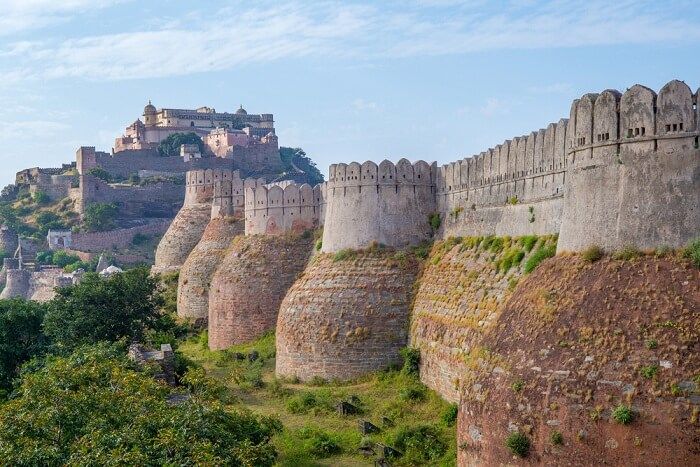 You must have heard of the Great Wall of China, right! Well you will be surprised to know that Kumbhalgarh fort also boasts a gigantic wall that is built around the periphery of a fort; it stretches over a distance of 36 kilometres. This wall is among the preserved heritage destinations in India. It is the second largest wall after that of China. Moreover, it is still unnoticed by most of the explorers. According to legends, this wall was edified to guard 3000 primeval temples located inside the fort.
Kumbhalgarh fort ("Kumbhal fort") is a Mewar fortress on the westerly range of Aravalli Hills, in the Rajsamand district near Udaipur of Rajasthan state in western India. It is a World Heritage Site included in Hill Forts of Rajasthan. Built during the course of the 15th century by Rana Kumbha, Kumbhalgarh is also the birthplace of Maharana Pratap, the great king and warrior of Mewar. Occupied until the late 19th century, the fort is now open to the public and is spectacularly lit for a few minutes each evening. Kumbalgarh is situated 82 km northwest of Udaipur by road. It is the most important fort in Mewar after Chittaurgarh.
In 2013, at the 37th session of the World Heritage Committee held in Phnom Penh, Cambodia, Kumbhalgarh Fort, along with five other forts of Rajasthan, was declared a UNESCO World Heritage Site under the group Hill Forts of Rajasthan.
With a wall over 22 miles long,[as per light and sound show held in the fort] the fort is among the largest wall complex in the world, and the second largest fort in Rajasthan after Chittor Fort.
Architecture
The massive gate of Kumbhalgarh fort, called the Ram Pol (Ram Gate)
Built on a hilltop 1,100 m (3,600 ft) above sea level on the Aravalli range, the fort of Kumbhalgarh has perimeter walls that extend 36 km (22 mi), making it one of the longest walls in the world.dubious – The frontal walls are fifteen feet thick. Kumbhalgarh has seven fortified gateways. There are over 360 temples within the fort, 300 ancient Jain and the rest Hindu. From the palace top, it is possible to see kilometers into the Aravalli Range. The sand dunes of the Thar Desert can be seen from the fort walls.
According to popular folklore, Maharana Kumbha used to burn massive lamps that consumed fifty kilograms of ghee and a hundred kilograms of cotton to provide light for the farmers who worked during the nights in the valley.