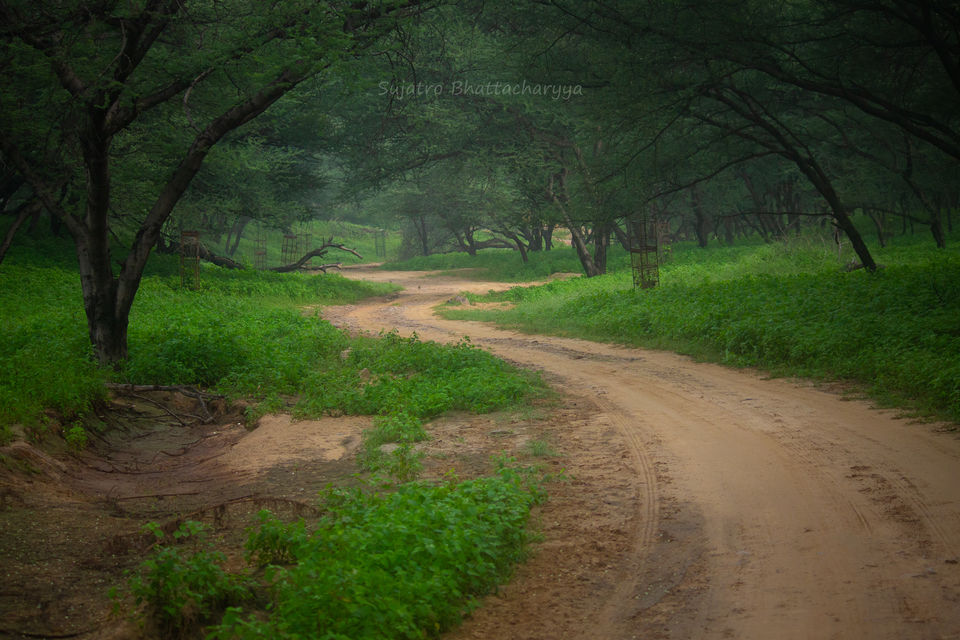 "Those who have never seen a leopard under favourable conditions in his natural surroundings can have no conception of the grace of movement, and beauty of colouring, of this the most graceful and the most beautiful of all animals in our Indian jungles."
- Jim Corbett, Man eaters of Kumaon
Rajasthan is really close to my heart, for the things it has to offer to a traveller like me. Nature, Culture and good food. Every single time that I have been to the state, it has pleasantly surprised me and I am enthralled, by the diversity of the state. From gigantic forts singing songs of valour of the erstwhile Rajput kings to the sprawling forests where the king of the Jungle, the tiger roams unprecedented for centuries now. And as you explore all this, and your stomach growls with hunger, the state satiates you with its unique cuisine. A cuisine that is a symbol of human survival in the toughest of the terrains, where food grains are hard to grow, and the next meal not guaranteed. And to top all this with a coat of sugar are the locals, to whom the guest is god, the locals who invite you to their dreamland, greeting you, "Khamma Ghani, Padharo Mhare Des."
Jaipur, the capital of this magnanimous state is a great example of the amalgamation of heritage and modernisation. The forts of the city need no introduction. Jaigarh, Nahargarh and yes of course Amber, the feather on the cap, the UNESCO World Heritage site stands tall in all its glory. The palaces, forts, old charming markets all find a place in the bucket list of the traveller willing to go around Jaipur. Wait! Are you sure you are seeing it all? What if I told you there is a forest, in the Jaipur city hardly 4 km from the airport and it has leopards? Yes, you heard me right. Jhalana Leopard Reserve is situated in the city, on the Aravalli Hills, which run north to south in the forest. A leopard reserve in a city of millions and surrounded by human settlements on three sides is a wonder in itself. The presence of wildlife in the hills of Jhalana was always there, and tigers were a permanent resident in that list until Maharani Gayatri Devi shot dead the last one way back in 1948. Ever since then leopards became the apex predator and thrived in this sprawling urban forest. I didn't know of this haven for the majestic feline until the year 2020. When the world was locked down, Covid was at large(it still is though), there were few things that one could do. My laptop screen was the window through which I explored the outside world and dreamed of getting out and exploring when things would get better. It was this window that showed me Jhalana, and I couldn't believe it was so easily accessible all this time and still so few know about it to date.
Lockdown eased by September, and with everyone stressed out, a trip was planned to Jaipur. Oh boy, I was excited and how. Jhalana was calling and to not visit it after all that I had known about the place by now, would be criminal, to say the least. Waking up early for me has been a perennial issue, and especially when I was enjoying my sleep on the comfortable ITC Rajputana bed it should have been tough. Well as exceptions are the rule of the world and I am no exception to that rule, I found myself awake at the first ring of the alarm. The sheer thrill and excitement of the early morning safari that awaited me got me up and ready. My dad was my partner-in-crime and I found him wide awake as well. Guess, leopards don't excite just me! As we drove out of the hotel out in the Jaipur's 5 am streets, it seemed like a city unknown to me. Never once in my several visits to Jaipur had I woken up so early. Everything around had a sense of mystery to it. As we drove towards the gate, it seemed as if we were approaching a distant dreamland covered in the veil of darkness. Other than me and my dad, the only other living and moving creatures were three dogs, who were dozing off after their daily night patrol. The occasional alarm call of the peacocks seared through the darkness and I was as happy as a child in a candy store; our big cat was on the prowl, probably returning from his nightly hunt.
The entry gate to one of the zones
As light emerged out of the late monsoon clouds and the chirping birds sang to their glory, our gypsy driver hurried us up. "Sir, jaldi chalo sighting ho rhi hai" (a leopard is being sighted) he said. Jhalana being inside the city has mobile connectivity and the drivers keep in touch while going around the different zones of the park. We sped off into the lush green, post-monsoon forest, leaving behind a dust storm of sorts. A nilgai strolled away nonchalantly, indicating that the spotted feline wasn't nearby. We sped off to another area where a sighting was reported, and it had been hardly 25 odd minutes, when our driver suddenly whispered, "Sir, he is lying there, under the dense foliage". Frowning my eyebrows and looking hard for a minute, revealed to me what was my first ever leopard in the wild, a beautiful sub-adult cub, known as Mrs Khan's cub. The experience was borderline emotional for me, and this only they will understand who know for a fact, how difficult it is to spot a leopard in the wild. Calming myself down I managed to set eyes through the viewfinder of my camera and capture the beauty coming out of the dense foliage. We were lucky enough to get a glimpse of her mother, Mrs Khan who was lurking in the bushes looking out for her offspring. After about 20 minutes of treating our eyes, they finally retreated into the thick bushes. We went around the jungle searching for other individuals and arrived at a point from where the Jaipur city skyline was visible. It once again baffled me how these sleuth cats were co-existing so near to the ever-bustling human habitats and were thriving, to be honest. The smile on my face stayed that whole day, and I knew I had to come back.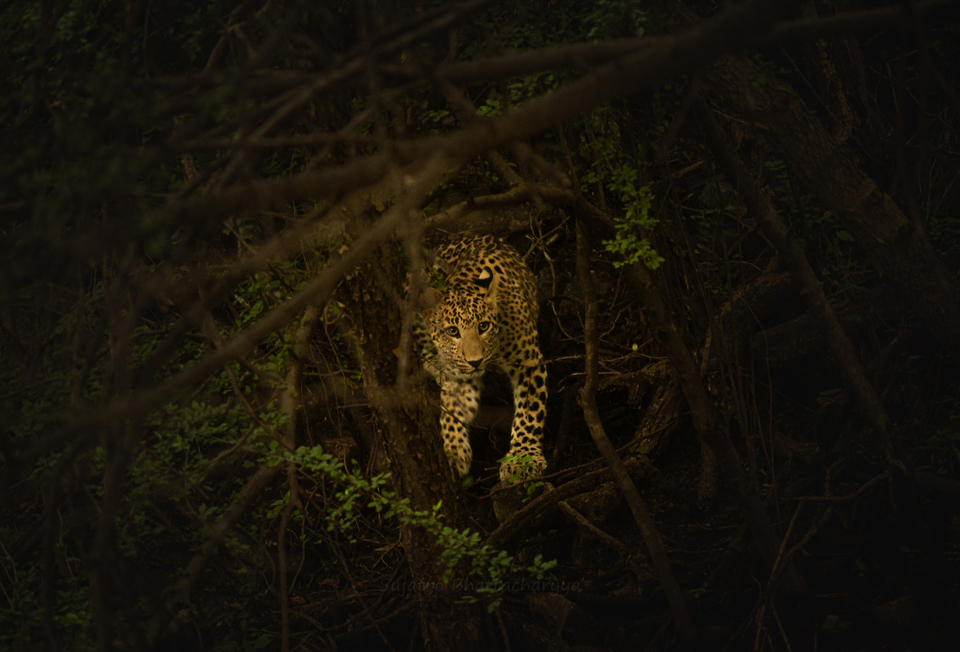 I went back as I had promised myself, earlier this April. This time around a very close relation of mine- Debasis uncle, voiced for me to persuade my parents for this impromptu trip. He, Mr Debasis Banerjee, if you follow Instagram or Facebook would know, is a brilliant and well-renowned photographer himself. It was his enthusiasm to visit Jhalana that this plan worked up. And his better half, my aunt, Mrs Mallika Banerjee, on the other hand, is an eminent vocalist and a professor of Music of the Ancient Civilisations at IGNOU. I had teamed up with two talented personalities to, say the least.
This time around it was Summers and the jungles of Rajasthan had begun to shed leaves. We were on a wildlife tour of our own and came to Jaipur after a very successful tiger sighting at Sariska. The spirits were high and I was eager in anticipation, that my mom would be able to sight her first-ever leopard in the wild too. Flouting all rules of probability I almost guaranteed her that she would see a leopard at Jhalana. And let me tell you, my dear dear Jhalana didn't let me down, and my mom could spot two leopards in a single safari.
Well for us, the sighting was decent, for our cameras, not so much. We had planned two safaris this time round and spotted 4 individual leopards, and as luck would have it, we couldn't get one decent shot. Debasis uncle and I know how narrowly we missed a shot of the leopard drinking water. Late in the night, while listening to my uncle's thrilling Masai Mara stories and how he photographed a leopard with a kill on the tree, I often got distracted by the thoughts of the previous safaris. Oh, how badly I wanted a good portrait of the spotted beauty. I was unable to sleep. We were to leave the next day and I didn't have one good shot of the leopard. Giving in to my heart's will, I opened the booking portal to discover there were only two remaining seats for the next day's morning safari. I knew I had to book and thanks to parents agreeing at one go, I did so, only to have my transaction failed. One seat now remained, and anxiety levels flew through the roof, as drops of sweat appeared on my forehead on the cool spring night. Finally, I got the last remaining ticket and dozed off. Once again I sped through the early morning streets of Jaipur, willing to be the first at the gate and manage a seat in Karthick's jeep. On my previous safari, I met this amicable personality, Karthick Sridharan, who happened to be a Canon Product expert and was here testing the new Canon R5 and gathering photos for his workshops. It was Karthick's 10 th safari and my 3 rd. What was common was we had one goal, a decent shot of the spotted beauty. The sense of hope swivelled across my head, as we heard distinct alarm calls from the jungle folks. We sped off to the hilly terrain of Jhalana, looking around for signs of the big cat. This was when our guide spotted the pugmarks! The trail was hot, and the markings were very very recent. 200 metres ahead when suddenly I looked towards my right and saw the spots, in the track below, within five feet of the jeep! We moved slightly forward, turned our jeep and out sprang, Simba!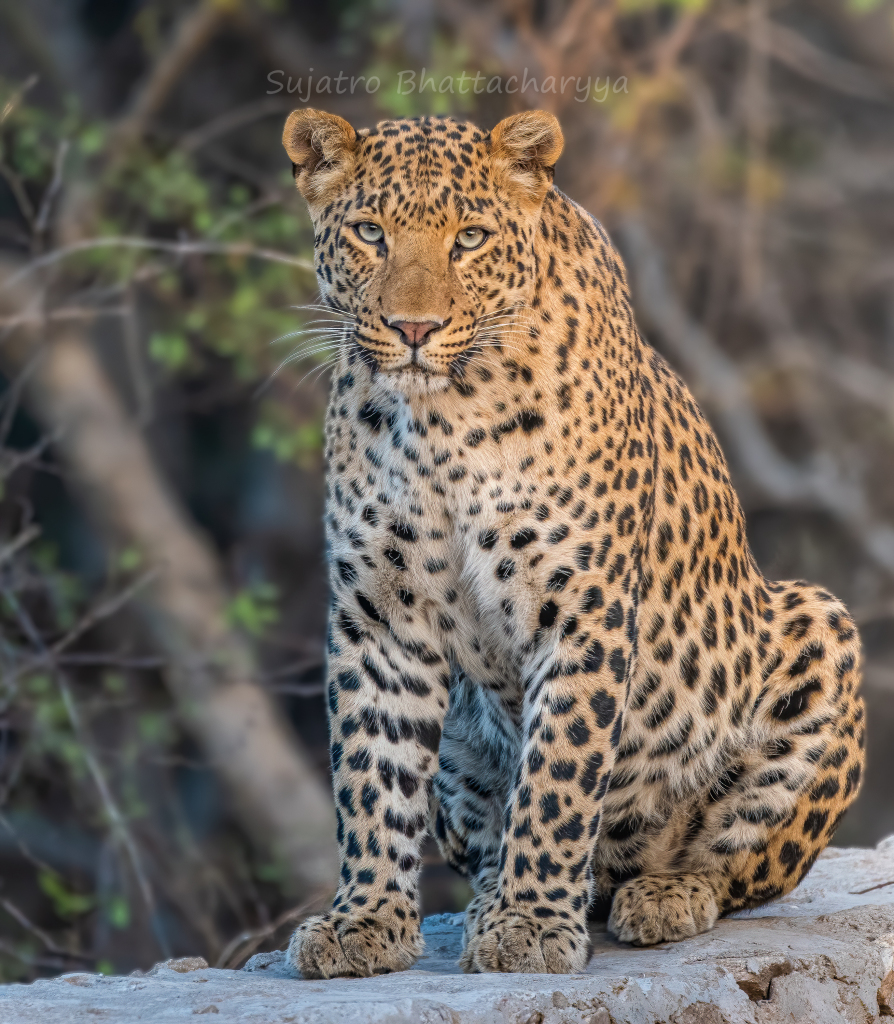 Sitting majestically on the cement guard wall, his enchanting eyes, stared right at my lens, I was left short of words to describe the immense beauty of this creation. He was no doubt a handsome leopard. He blessed us with his presence for hardly 10 more minutes before vanishing on the other side of the hillock. We searched for one and a half hours more and spotted no spots, in the remainder of our safari.
While coming back to the hotel and reminiscing about the morning's events, I felt that in moments like these, I do believe in fate. The last-minute booking and with all the tension around, only our jeep was able to spot a leopard in the whole morning safari. I can't help but think if it was Simba's sympathy that made him come out and pose for my camera, and bless the love for wildlife in me. It was like he said, "Trudge along my friend, don't let your hopes ever run low, for the forest is always surprising and rewarding for those who truly seek the wilderness"
Thanks to everyone who reached the end of this blog, and read throughout. It's your support that motivates me to bring out tales of the wild, and the unforgettable experiences it has to offer. Thanks a lot. See you again, while I gather more stories from the wilderness.
Ps: If this motivated you to visit Jhalana, and so you do, and you meet Simba tell him, I wrote about him, and that I am glad and can't thank him enough.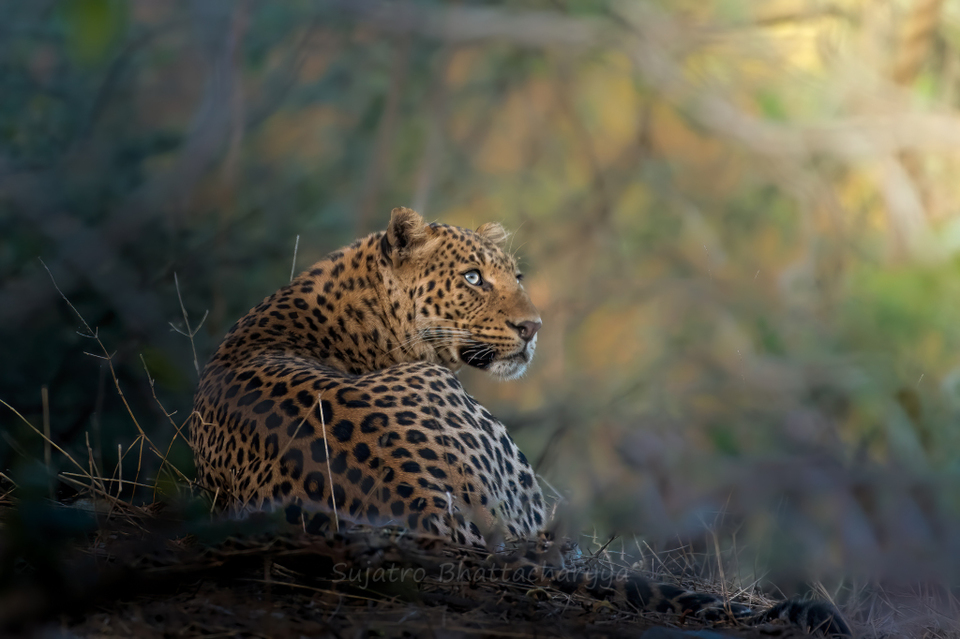 -Sujatro Bhattacharyya