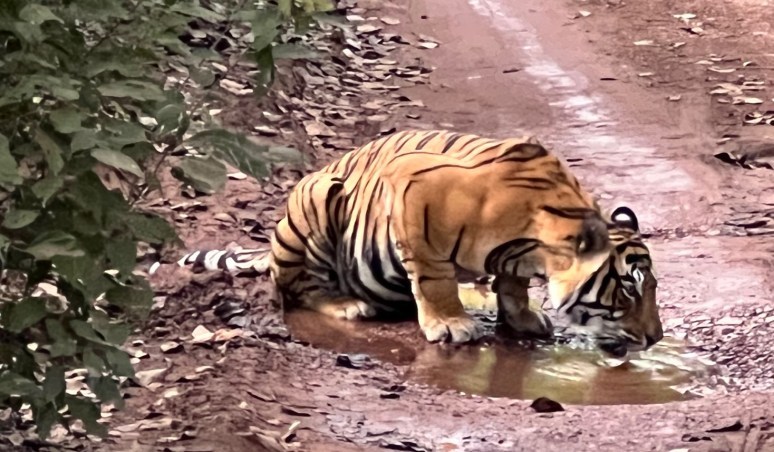 Ranthambore National Park
Ranthambore National Park is one of the most renowned parks in India for its tiger safaris. Tigers are easy to spot in this particular forest. Reason? Well, because it is the single largest dry deciduous forest left intact in India. The forest is spread across 515 sq. mi and is rich in a varied variety of flora and fauna including the most sought-after king-of-the-jungle, the Royal Bengal Tiger. As per our latest visit in December 2021, it is home to about 77+ tigers. Apart from the tigers, it is also home to leopards, marsh crocodiles, striped hyenas, sloth bears and many more. It is also home to 300+ species of birds and is popular with bird-lovers and wildlife photographers alike.
How to Reach Ranthambore National Park
Ranthambore is one of the destinations on the popular Golden Triange of Agra - Delhi - Jaipur. It is located in Sawai Madhopur, Rajasthan and is an easiy accessible destination:
Air - The nearest airport is at Jaipur 180 kms away (Approx 3-4 hours by car) Rail - The nearest railway station is at Sawai Madhopur at around 14 kms Road - The roads are well maintained and in great shape. Ranthambore is easily accessible from Agra (5 hours), Delhi (8 hours) and Jaipur (3.5 hours) by road
Best Time to Visit Ranthambore National Park
The summer season from April to June is considered the best for tiger sighting. The forests get dry in these summer months and the cats come out in the open more frequently to get their fill of water. The winter months from October to December are also good for sighting and are quite popular with tourists. Do note that the park remains closed to public during the rainy season between June to September.
Useful Tips for Safari Booking
When to book the safaris: At least 4-6 months in advance as the slots get filled out fast. It is popular with international tourists and hence the rush.
Photo IDs are required to gain an entry into the park for all members of a family.
Where we stayed: Taj Vivanta Sawai Madhopur Lodge, Ranthambore
How to book safaris: Online directly or through your hotel if they provide the service. Visit https://www.ranthamborenationalpark.in/online-safari-booking-ranthambore.html for booking online safaris or contact +91-8744012007
Cost and types of safaris: https://www.ranthamborenationalpark.in/ranthambore-safari-charges.html One can book a private safari by paying for all the 6 seats in the gypsy. The cost is around Rs 1000-1600 per person on a seat-sharing basis in a canter or a gypsy accordingly
Safari timings: Morning and evening for 3.5 hours each in sync with the sunrise and sunset at the park
Tiger Population in Ranthambore: Around 77 as per the latest census
Ranking of Ranthambore National Park in Tiger Sighting: Usually 2nd or 3rd as the forests there are deciduous and the tiger population is healthy
Recommendation: Book the 3.5-hour safaris instead of the full-day/half-day safaris to have a better chance at tiger sighting
Our Safari Experience at Ranthambore
There are 10 zones allotted for safaris in the national park. Zones 1 to 5 are considered the best for tiger sighting as they are in the core zone. Zones 6-10 are in the buffer zone. However, sighting depends on our luck and the tiger's mood on that day and at that time, so no zones are good or bad. 🙂 Also, safari zones are randomly alloted to tourists via the automated computerized booking system during the booking process ( I love this equity!).
We had booked three private gypsy safaris at Ranthambore with quite some expectations as its reputation for tiger sighting is quite good. Our luck had not been great so far with tigers as I mentioned in my previous blog on Pench Tiger Sighting and so our feelings were mixed. Our safari was scheduled at 2 pm on the day of our arrival and our gypsy was supposed to pick us up right from our hotel doorstep.
Safari 1 (Core Zone 3)
2pm - 5:30pm
Our guide and gypsy driver arrived 15 minutes before the scheduled time and waited for us. After a hurried lunch, we set off towards our gypsy armed with jackets, scarves and caps. The gatekeeper handed us some water bottles as our gypsy sped out of the gate towards the national park.
It was a short 10-minute drive from our hotel to the national park where they check your IDs and allow you in. So do not forget to get your IDs!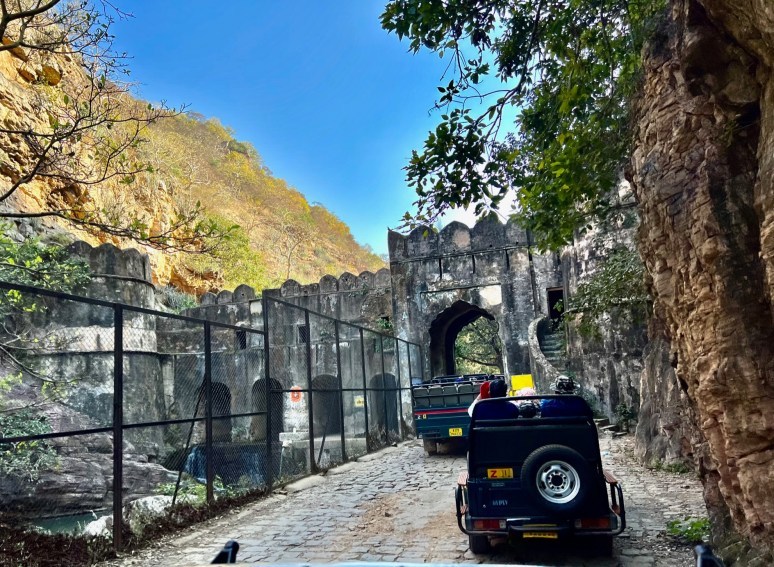 Entering the National Forest Through The Fort Walls ( A 6-seater gypsy in the foreground and a 20-seater canter up ahead)
The Beautiful Zone 3
Our safari started at 2 and was scheduled till 5:30 pm at which sharp we were supposed to leave the gates of the park. Zone 3 is considered to be the most beautiful zone in the forest with 3 lakes within its boundary and the majestic Ranthambore fort standing tall in the background. It is the zone where nature meets history. Dotted with historical structures and fort remnants, it reminds us of the days when this forest used to be the exclusive hunting grounds for the royal family of Jaipur.
We did not spot any tigers in our first safari till 5:15 pm but spotted marsh crocodiles, some beautiful hornbills, kingfishers, storks, many other birds, and herds and herds of antelopes and antlers. However, the forest enchanted us with its beauty. Here are some snapshots of zone 3: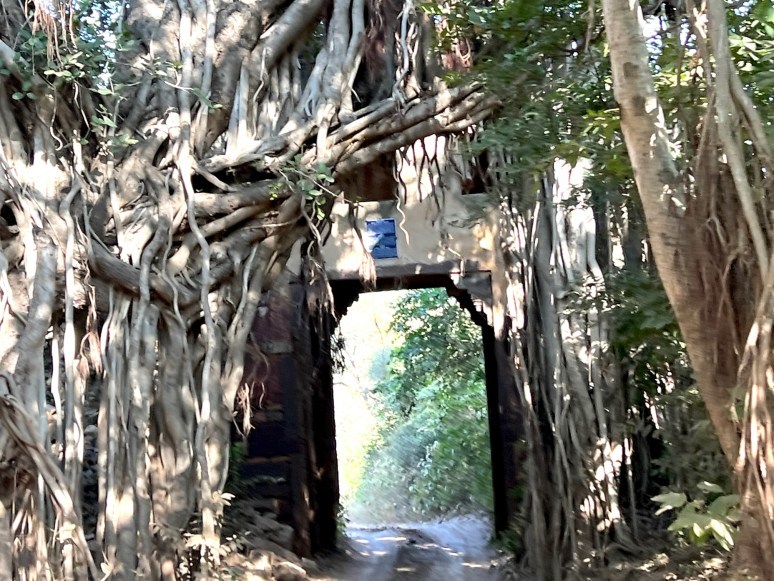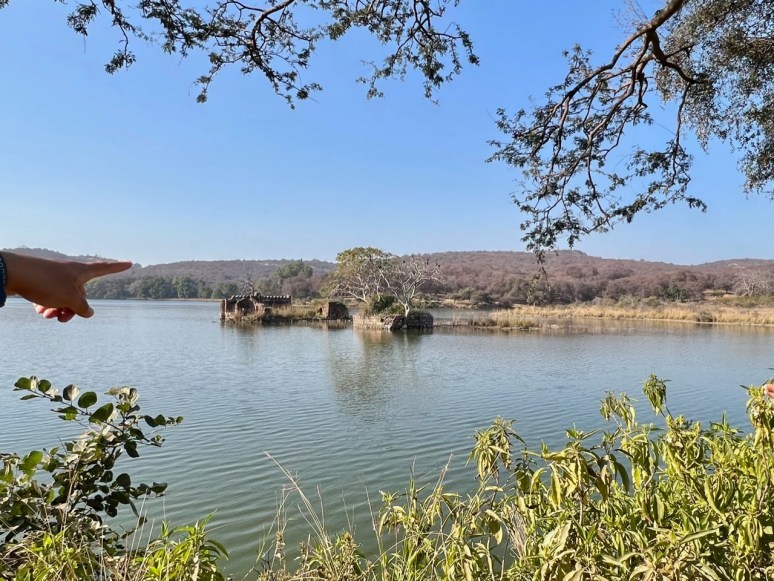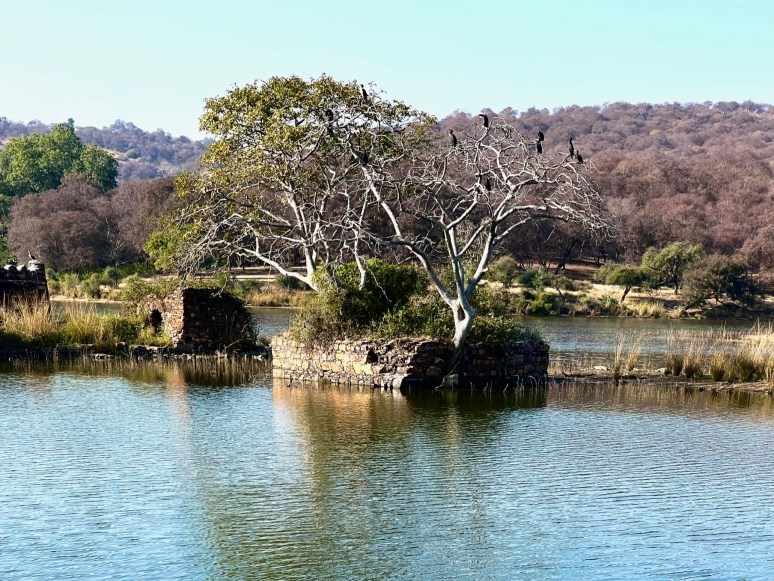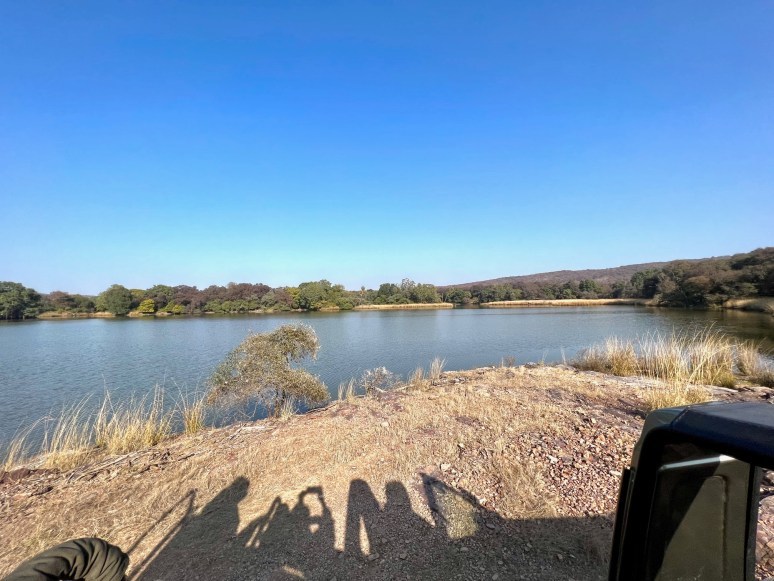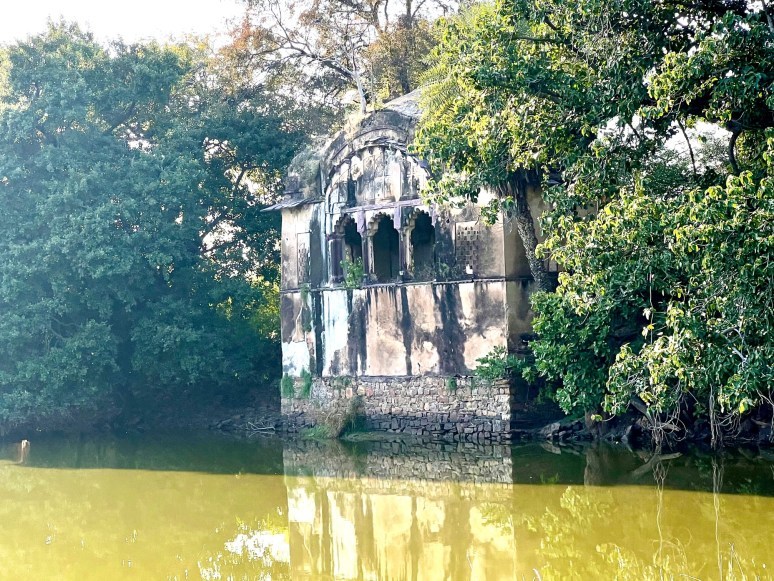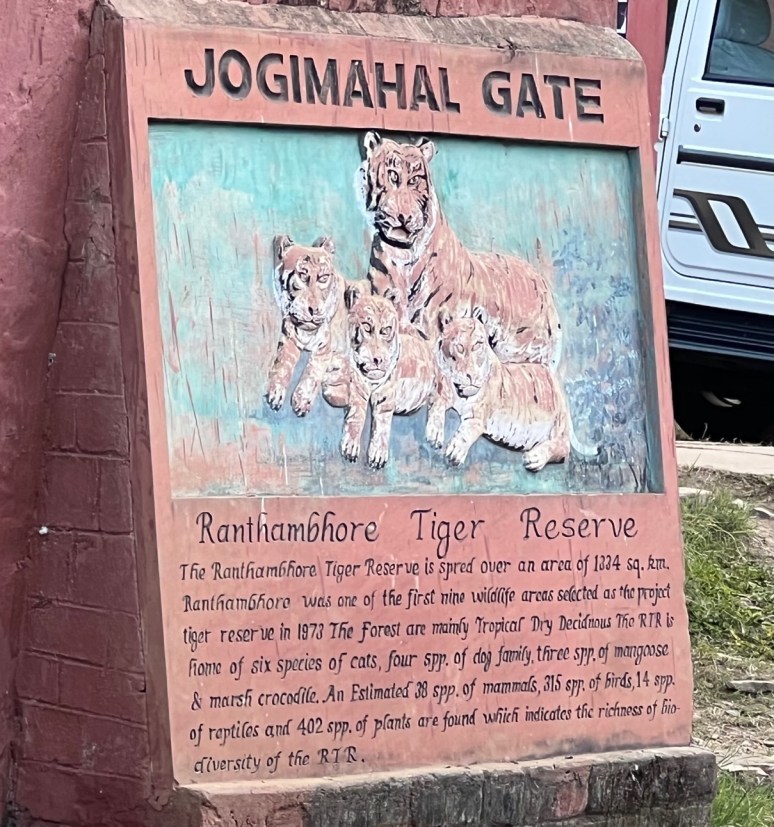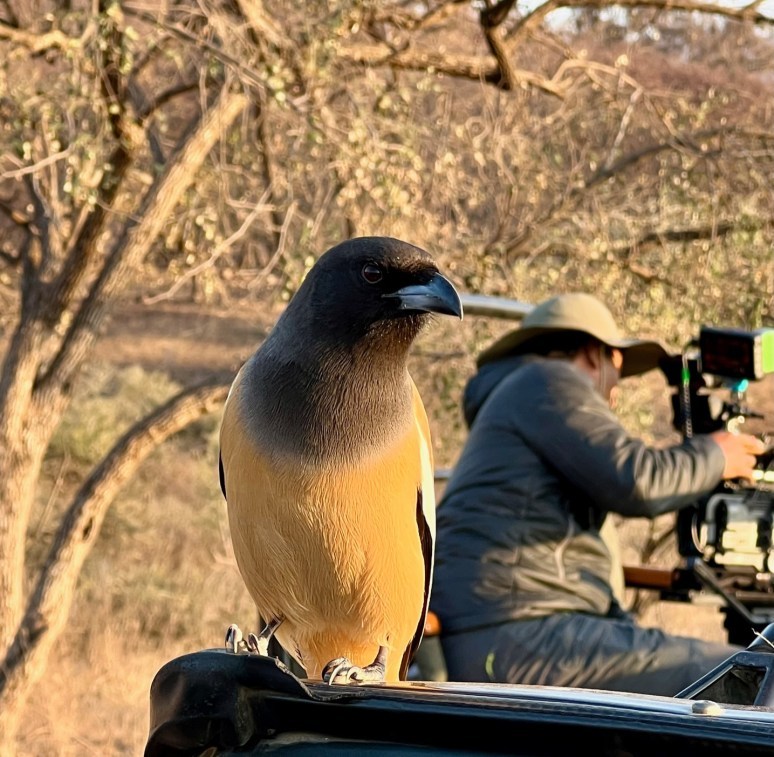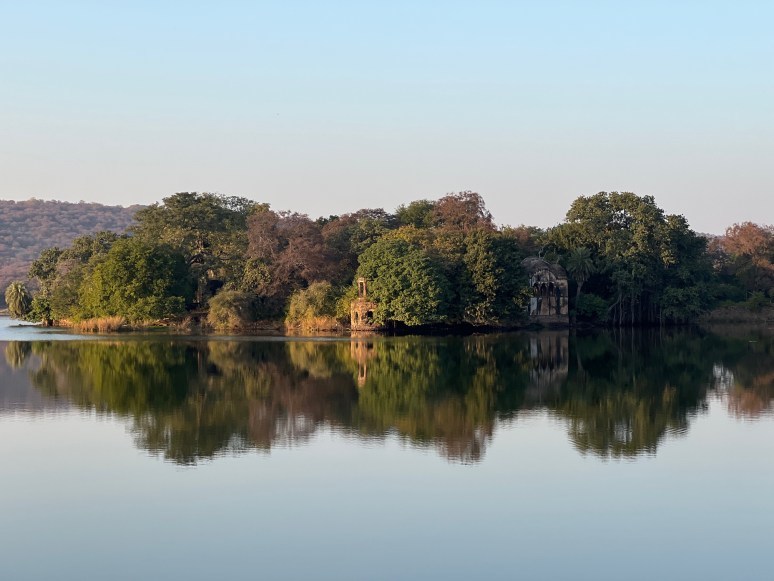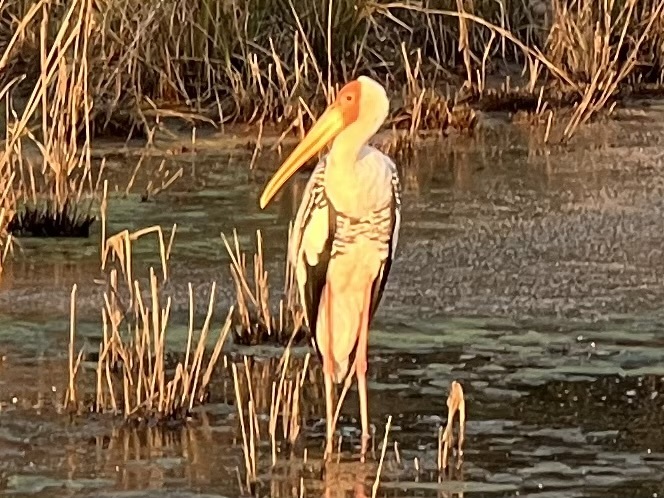 Tiger Sighting at Zone 3
Then our luck changed and we spotted this female Royal Bengal Tiger sitting near the shores of Padam lake underneath a tree. This was Riddhi, granddaughter of the legendary tigress Machli from her daughter Arrowhead. We waited for her to move as we were supposed to exit the park at 5:30 pm - and lo! our prayers were answered as she rose and strode towards the lake to have her fill of water.
Safari 2 (Core Zone 4)
7am - 10:30am
We were happy with our previous safari and were still gloating about it. Little did we know what was in store for us in our next safari:)
We took this morning safari in biting cold and started moving about admiring the sunrise across the hills. The guides were attentively listening to any calls or sounds that could point to a predator in the vicinity. At around 8:30 am, we spotted a forest officer in the jungle waiting to jump in a gypsy. He had some good news and was trying to track a particular tiger/tigress that was spotted in Zone 4.
Tiger Sighting in Zone 4
Thanks to the diligence of our guide and the forest officer, thirty minutes later, we saw the tigress, Shakti, playing with her two cubs just 200 metres off our path. A third cub soon emerged from the bushes and followed its mother. This was like hitting a gold jackpot. Shakti is again the granddaughter of Machli from her daughter Krishna (different litter from that of Arrowhead's). Take a look at the video captured:
The sightings just got better in this safari 🙂
Safari 3 (Core Zone 2)
2pm - 5:30pm
We were twice lucky with our safaris so far and were hoping to be lucky for a third time in a row that evening as we drove into Zone 2 for our last safari of the day. The path was narrow for just one vehicle to drive on and the vistas were not vast unlike the other zones. But our hopes were high.
Soon enough the guide spotted the pugmarks of a tiger (T-101) and we set following that trail. Within 2 minutes of our driving down the path, we spotted numerous jeeps and canters waiting at one spot - all excitedly pointing at a spot under a huge tree. There was T-101, sleeping in the bushes blissfully unaware that so many people are eagerly eyeing him.
Finally he stirred to the hushed excitement of us onlookers, crossed the stream of water and wandered off far away under a tree to catch upon his dear sleep. Tigers are nocturnal animals hence they are best spotted early in the morning. Usually they doze off as soon as the sun is up in the horizon. The one we spotted was no different and was keen on sleeping.
Tiger Sighting in Zone 2
The highlight of our trip was towards the fag end when we were just about to exit the park. We must have been some 200-300 metres away from the exit gate when suddenly again T- 101 appeared out of nowhere and gaped at us with wide alert eyes. We were too excited with this turn of events and happily followed this majestic male as he strode lazily in front of us for a good 5+ minutes. Here is a video captured for you all:
Our sightings at Ranthambore were truly spectacular and they got better with each safari. This was one of our best wildlife trips till date and will stay in our memoires for a long time to come 🙂
Local Attractions in Ranthambore
Ranthambore is more than just a wildlife habitat. It is a place where history amalgamates with nature and leaves us tourists enthralled, wanting for more. The landscape is straight out of a Indiana Jones movie with royal ruins dispersed out in the vast forests of the land.
Ranthambore fort is one such UNESCO protected heritage site, situated right within the Ranthambore National Park. The fort was constructed in 944 AD by the Chahamanas (Chauhans) (The exact origin date is disputed though). It passed hands from the Chauhans to the Mughals and to the rulers of Jaipur in the 17th century and since then became a part of India in 1949.
The fort houses three Hindu temples dedicated to Shiva, Ganapati and Ramlalaji. It also has a Jain temple in its precincts. The fort today is in a relatively good shape with its structures intact and is a popular tourist and religious spot.
There are quite a few attractions in its vicinity such as the Surwal lake, Padam lake, Jogi Mahal, buffer zone sanctuaries etc. When one is not on a safari in the forest, it is a good idea to spend time soaking in the tranquility of these places.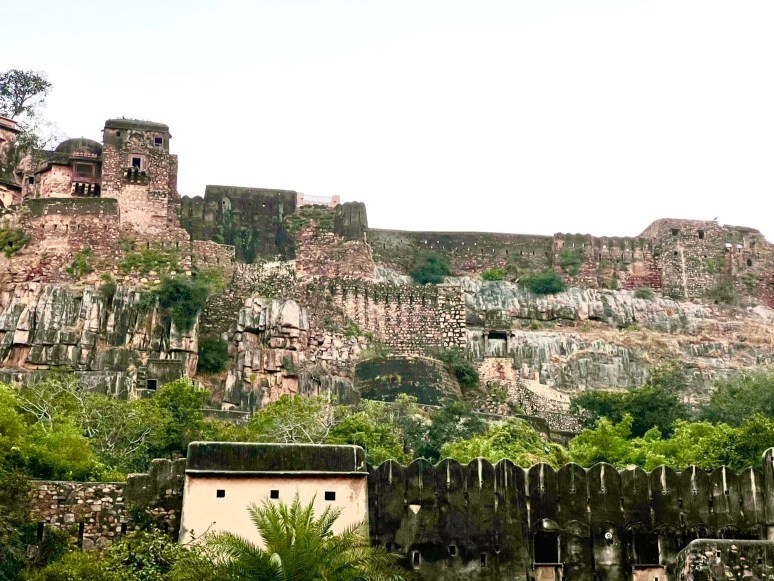 I have tried to include all the necessary information in this blog for you to book your safari soon; however, if you have any other questions, I would be happy to answer them in the comments section.
Happy Traveling!