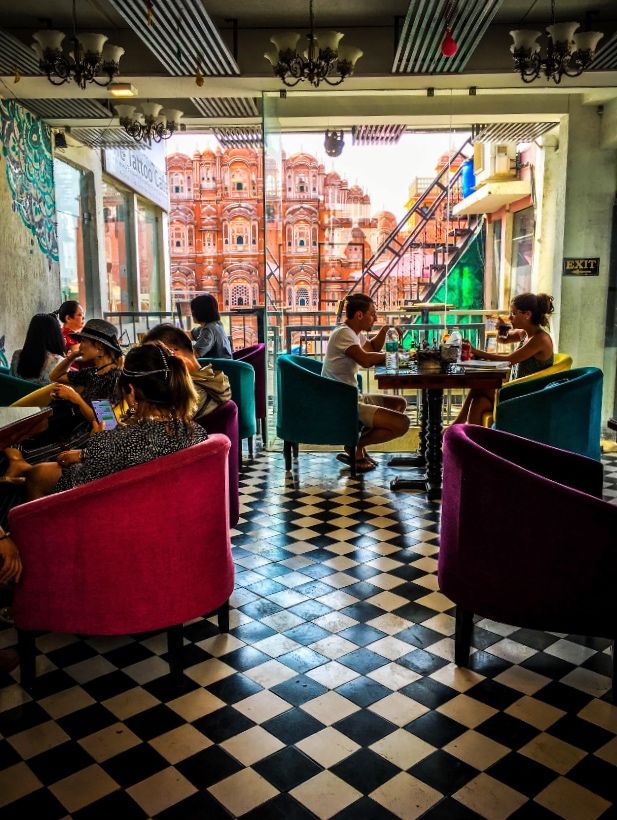 The Tattoo Cafe & Lounge.
It all began with a thought. A thought that they did not know would change everything. this thought went for a walk into the mind of Juhi & Karan which subsequently gave birth to The Tattoo Cafe & Lounge on December 24, 2016.
The Tattoo Cafe & Lounge, a rooftop cafe in Jaipur, is situated right in front of Hawa Mahal offering an all consuming & photographic view of this architectural delight. Alongwith this magnificent view, The Tattoo Cafe & Lounge also offers a panoramic view of The City Palace, The Nahargarh Fort, The Garh Ganesh and the entire Pink City.
The Tattoo Cafe & Lounge offers a peaceful and serene environment with delicious range of home-cooked food and is one of the few cafes in the Pink City of Jaipur, giving a direct view of a monument. Drop by anytime you want to relax and feel the stress flowing out of your body, or if you just want to have fun. Have the mouthful of rich coffee, piquant tea, creamy & thick american milkshakes and appetizing varieties of Indian Food, exquisite range of pizzas and pasta and much more. And the kicker, YOU CAN ALSO GET INKED WITH US! Yeah, you heard it right, get permanent tattoos by Juhi Karan.
People like : Friendly staff, ambience, Aerial View.
Pocket friendly : 600/- for two.