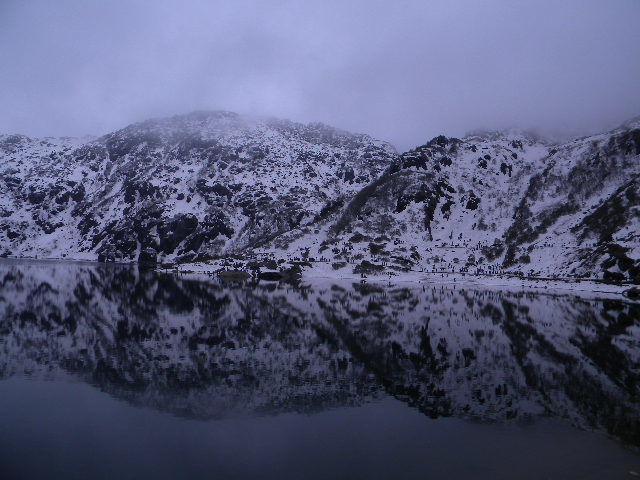 History

Chinese traveller Fa hein mentioned about port Tamralipta, now known as Tamluk in South Bengal. In the 1st century AD Tamralipta, at a distance of 900 km, was the nearest sea port from Lhasa. The connectivity from Lhasa was established through Chumbi Valley, Nathu La pass, Nathang, Zuluk and Kalimpong. Though this trade route was known as old silk route, silk was not the most treasured item traded on this route. Horses and tea were the two most important items traded, so the Chinese often referred the route as Dianzang chama gudao meaning ancient road of tea & horses between Yunnan, Tibet and India. Part of the old stone paved road is still visible on the Nathang to Zuluk sector near Lungthung. In the aftermath of Sino- Indian conflict, the entry at Nathu La pass was closed until 2006.
Planning the trip
Four of us, the Mallicks and Sarkars finalised the itinerary with the help of Ms Sachitra Subba of Sikkim House, Salt Lake, Kolkata. We decided to travel the silk route via Gangtok instead of Rongli, because the permit to visit Nathu La pass can be obtained only from Gangtok. The final itinerary was as follows-
Day 1: Gangtok: stay at hotel Mount Jopuno
Day 2: Nathang via Tsomgo, Nathu La, Baba Mandir, Kupup. Accommodation at Sonam home stay
Day 3: Zuluk. Waibaba home stay
Day 4: Aritar via Rongli. Stay at camp arranged by Silk Route Retreat
Day 5: Ramdhura. Accommodation at Jojolappha home stay
Day 6: NJP via Kalimpong

The approximate expenditure for the home stay was Rs.1000 per head per day including breakfast, lunch and dinner. The expenditure for Innova vehicle was Rs. 4000 per day. Sachitra advised us to carry sufficient stock of tea and coffee sachet, snacks, biscuits, drinking water bottles and beverages. There is virtually no market in most of these villages, as such there is no possibility of getting any item of our choice. One must also carry umbrella, torch, candles and hot water bottle and electric kettle.

Day 2: Gangtok to Nathang

We reached Gangtok in the afternoon of 30th March. We started early in the day for Tsomgo next day. Unfortunately we couldn't obtain the permit for Nathu La pass due to the inclement weather. Before we reached Tsomgo our mobile connections went off. It was a lovely feeling to be out of the civilized world for a couple of days. We felt that Tsomgo was overcrowded with cluster of shops selling souvenirs and eatables. Since it is a major tourist attraction, it is necessary to organise the shops and eateries in the form of an arcade. Part of the lake was snow covered even in the month of April. We proceeded further towards Nathu La. The number of vehicles were few and far between. From Sherathang we had to take right turn for going towards Kupup. Nathu La pass was 4 km upward journey from Sherathang. Old Baba Mandir is hardly 5 km from here. We offered two bottles of water and a bottle of coke at Baba's place. Major Harbhajan Singh who died of accident is revered as the hero of Nathu La by the contingent of Indian Army who built a shrine in his honour.
We reached Kupup, an important place on the old silk route. Kupup boasts of an ice hockey field and a yak golf course at an altitude of 13000 ft. Lhasa is only 525 km from Kupup. One army man patrolling informed us that in normal weather condition, the Jelep La pass and Chinese border could be seen from here. It is here where you can find traces of British colonel Younghusband's track leading his way to the historical mission to Tibet in 1904. In a fierce battle with the British 200 Tibetans laid their life. History apart, the scenic beauty of this place will enthrall you. Kupup lake resembles an elephant, that's why local people call it an elephant lake. The elephant has also the company of a baby elephant. The smaller lake is just adjacent to the bigger one. They are clearly identifiable as separate lakes. The scintillating beauty of Kupup lake amidst the peerless expanse of nature freshens your body and mind after an arduous and rugged journey. Our driver Kul Bahadur was getting a bit restless and nervous as the security booth at Kupup cautioned him about further deterioration of weather in the night. It was advisable to reach Nathang as early as possible.
We covered the distance of 5 km from Kupup to Nathang in about 25 minutes. Kul bahadur had to drive very cautiously due to the poor visibility. Lakpa Sherpa greeted us at her Sonam home stay with lot of warmth. We had a very sumptuous lunch with rice, dal, mixed vegetables, fried papad and egg curry. Nathang, a quaint little hamlet with a population of about 400, opens up in front of your eyes with a vast canvas of valley and mountain range with dense forest imprinted on it. At 135oo ft altitude Nathang reminded me of Ladakh. The rarity of oxygen in the air created a bit of inconvenience for all of us. But then Lakpa advised us to apply mashed garlic on our forehead and inhale the vapour of hot garlic water which worked wonders for us.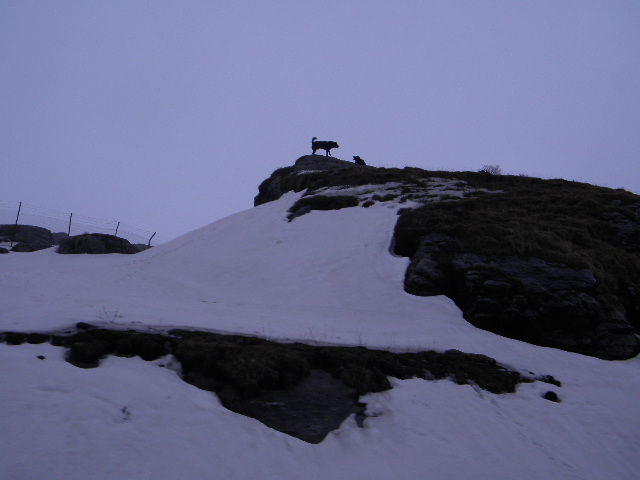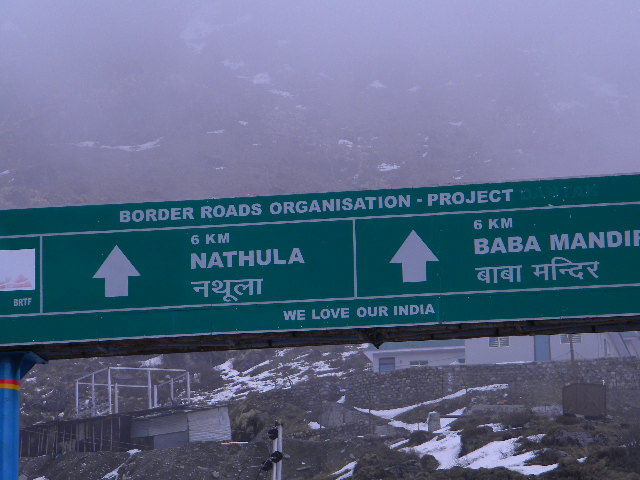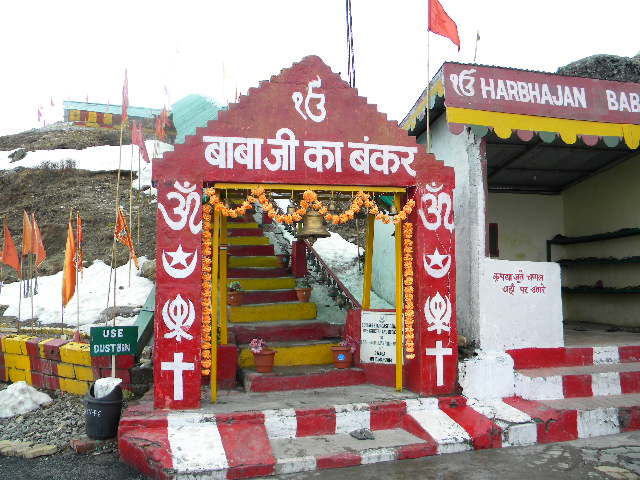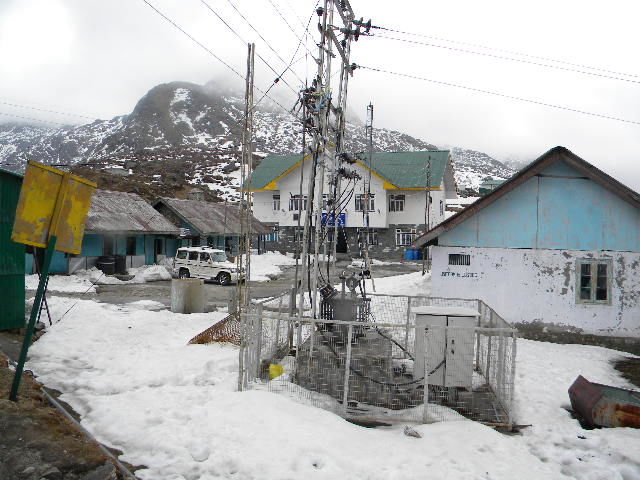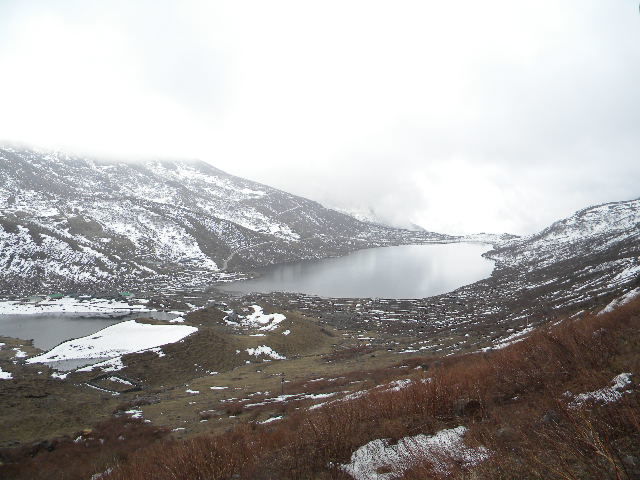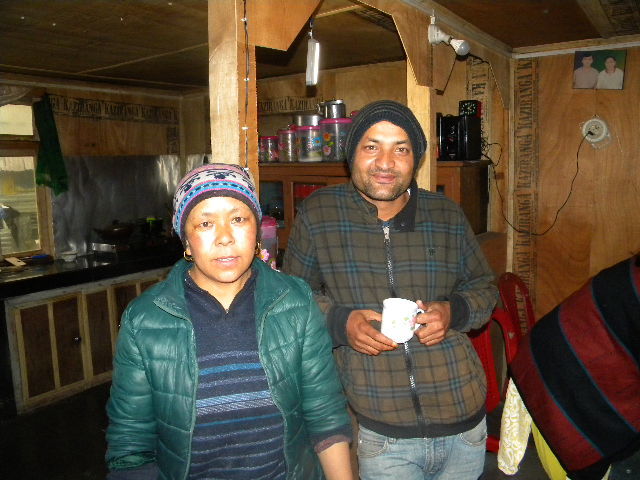 Day 3: Zuluk- a journey of all journeys
We started from Nathang after our breakfast. The distance to Zuluk is about 30 km. In about half an hour's time it started down pouring with intermittent hailstorm. The visibility was so poor that we could hardly see a distance of 5 metres ahead. Added to it, Kul Bahadur had to negotiate with sharp hairpin bend every now and then. Later on I came to know that there were about 32 hair pin bends in this sector. There was no second vehicle visible, no internet connection and we were caught amidst incessant rain. A few spine chilling cloud bursts, and we were reminded of "apocalypse now". When we couldn't take it further, Kul Bahadur decided to give a break. He parked the vehicle in a safe spot adjacent to a hill. We kept watching the fury of nature sitting inside the cozy comfort of the car. We had already crossed Lungthung and the famous Thambi Valley viewpoint was another two km ahead. Zuluk is 15 km from Thambi. I told Atreyi and Bishakha the story of yeti I read long time back. People in this region strongly believe in the existence of yeti. Some of the locals happened to come across yeti in and around Lungthung. However, the folklore of yeti would seem plausible only beside a barbecue fireplace against the backdrop of a moonlit night. Rain didn't stop but we decided to proceed after it eased out a bit. Nothing was visible from Thambi view point, therefore, we continued our journey to Zuluk and decided to come back in the morning if weather permits.
Waiba home stay in Zuluk is on the top of a hillock. We had to climb up forty steps. The home stay has a hanging balcony overlooking the vast expanse. A beautiful Shiva temple is nearby. Sitting in the balcony you get a 180 degree panoramic view of the valley. Zuluk is located strategically close to the Indo- China border at an altitude of 9500 ft. There is a strong military presence here. It is relatively new and offbeat tourist destination. We kept walking past the small village and climbed our way to the Shiva temple. The priest said that the temple could be seen, from the Thambi viewpoint also.

Our host Nema Tamang served crispy veg pakoda and fried chicken momo in the evening. Sipping roasted Darjeeling tea in our balcony in the evening, we were engrossed in the tranquility of nature. Here you can listen to the silence of the nature, touch the softness of hovering cloud or indulge in meditation in the bleak emptiness. As if time has stopped it's journey here. Zuluk is truly an oasis of serenity.
We missed the sunrise next morning from Thambi valley, but the majestic Kanchenjungha didn't disappoint us. Standing at an altitude of 11200 ft, Thambi view point offers an awesome view of the third highest peak in all its grandeur. Thambi is named after the engineer in charge of construction of this marvelous road which is known as the bhulbhulaia, because of its 32 hairpin bends. Little below Thambi is the famous Zigzag point from where you could get a clear glimpse of the zigzag road to Zuluk. We spent half an hour at road side tea shop at the Zigzag point. Two Tibetan sisters Dolma and Nima were running the tea shop. They come from Zuluk in the morning and go back in the afternoon by taking free ride in the army or tourist vehicle. They were overjoyed to locate their house through my binocular from the zigzag point.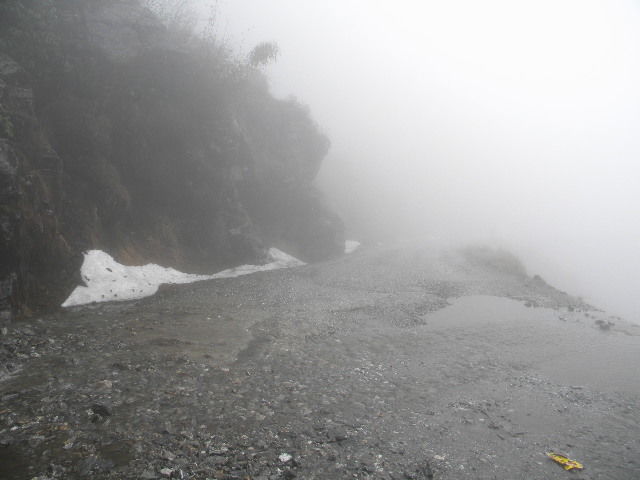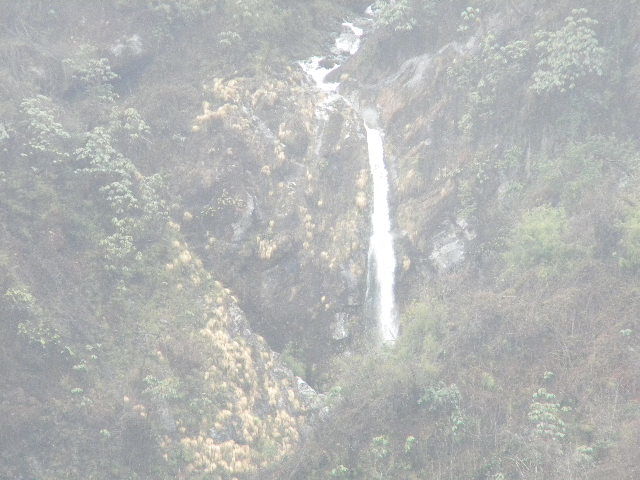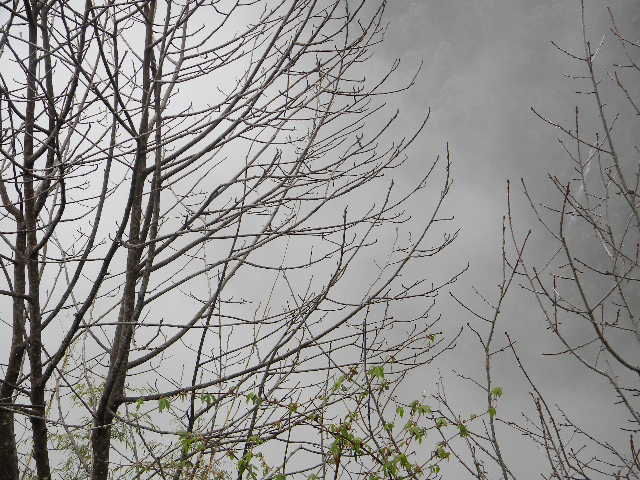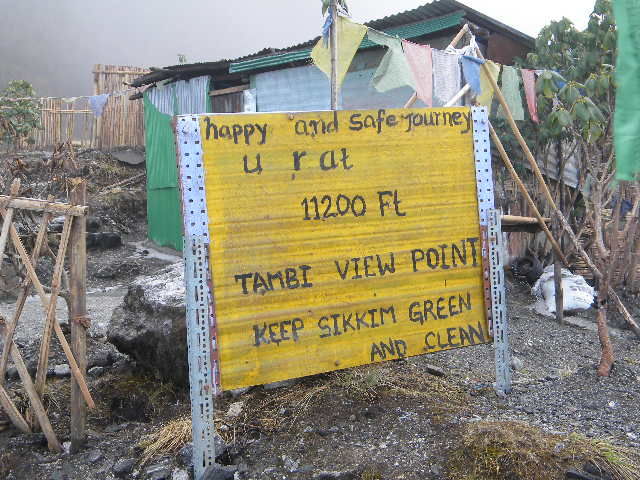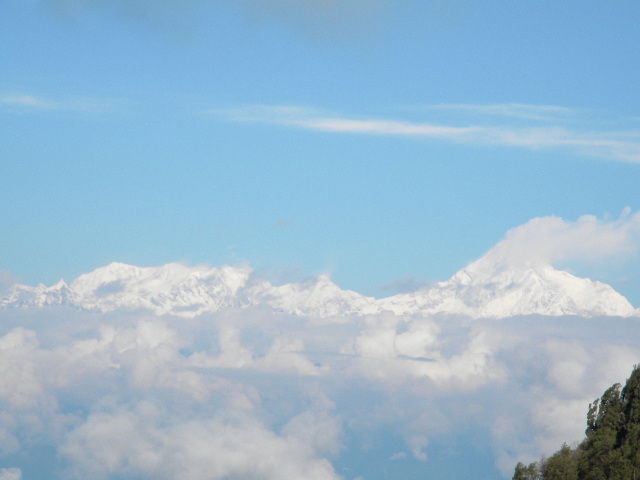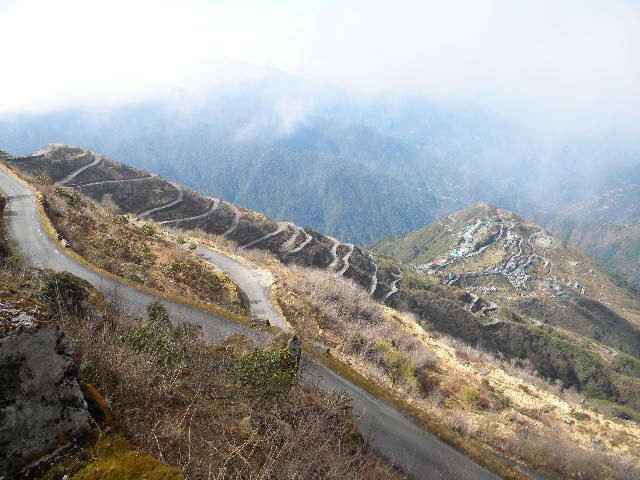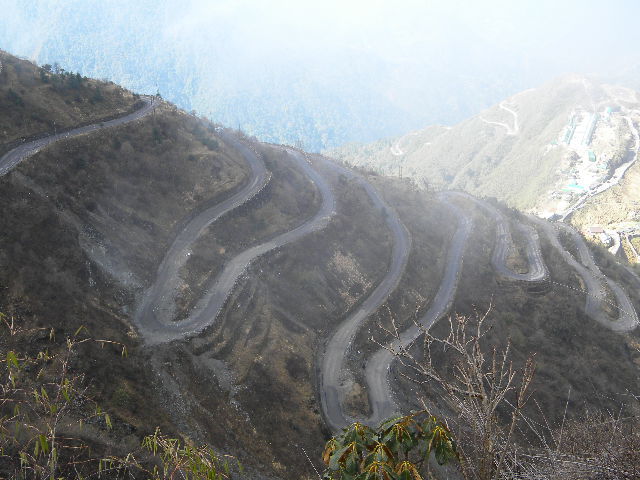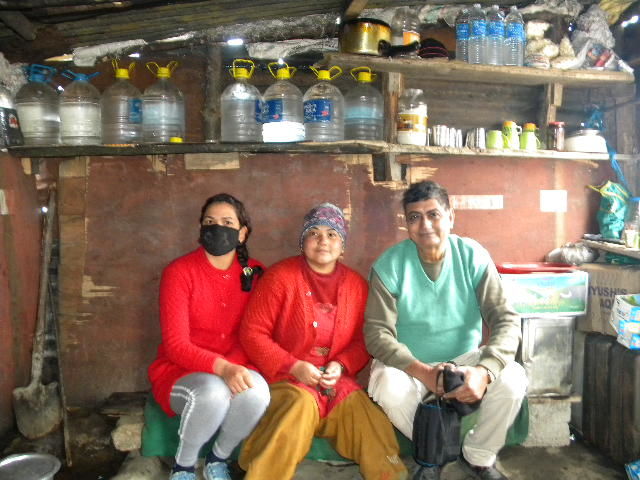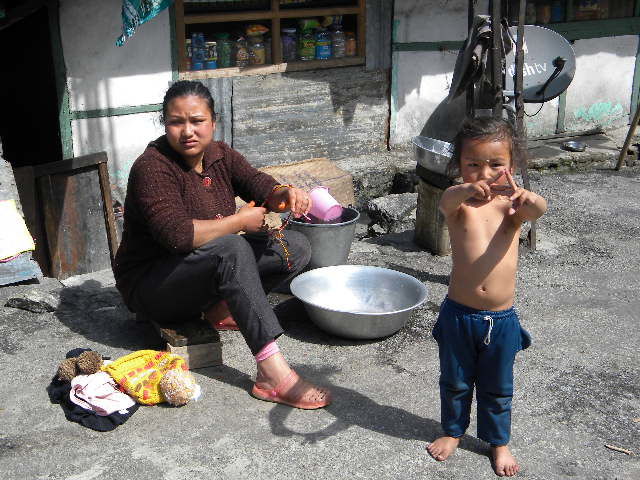 Day 4: Zuluk to Aritar
Distance to Aritar is about 105 km which can be covered in three hours. However, we decided to stop at Rongli to do some shopping. The hairpin bends continued for some more time. We have been steadily descending downhill. After Rongli, we were going to take the Rongli-Rhenock state highway and climb up another hill to reach Aritar. Rongli is a bustling business centre. We purchased Chinese umbrella, tea sets and gumboot. The cost of one pair of gumboot was a paltry Rs. 250. We reached Aritar just before lunch. On our request, Silk Route Retreat home stay arranged camp stay for us. we set up our camp adjacent to the Aritar helipad. Since this was our penultimate day of the trip, we arranged campfire and barbecue with the help of local boys. Menu included Chicken tandoori, seekh kabab and jacket potato with cheese. Sleeping in the camp under the open sky was a fantastic feeling. The night temperature at around 7 degree celsius was not too uncomfortable with two layers of blanket and quilt.
We visited Aritar lake and Buddhist monastery in the morning before starting our last lap of journey to Ramdhura which is located in the newfound district of Kalimpong in West Bengal. Added bonus was attending the local Lampokhari festival organised by Sikkim Tourism.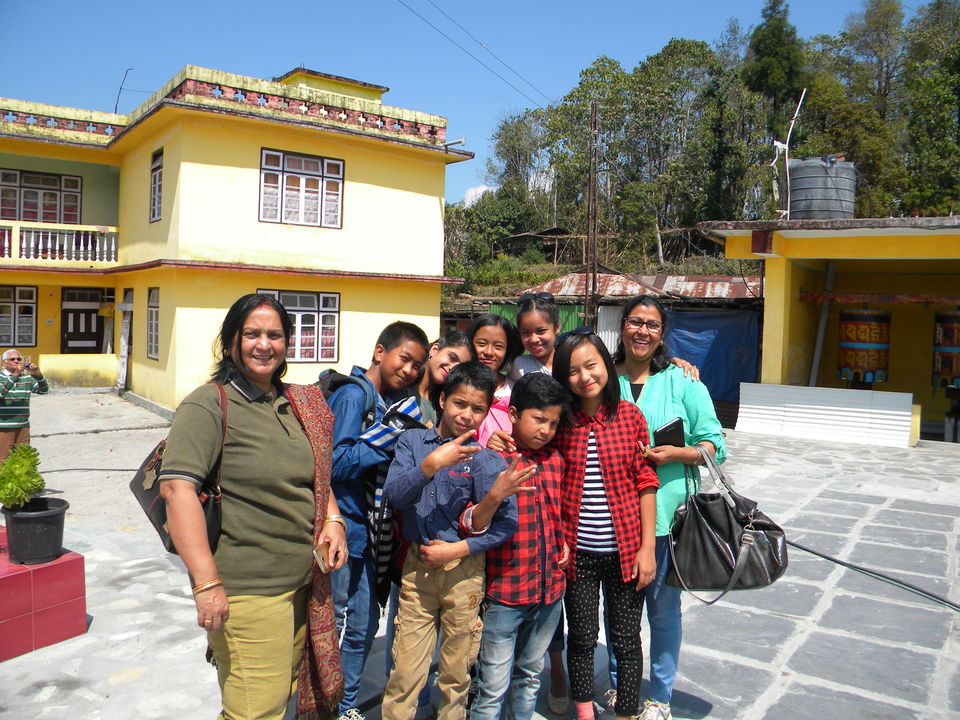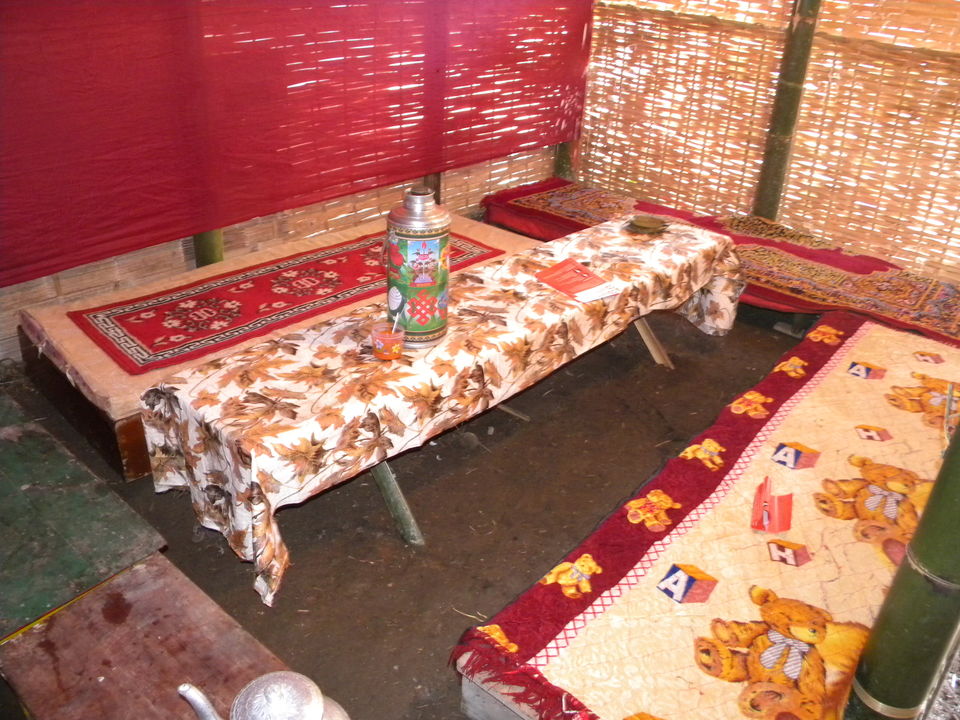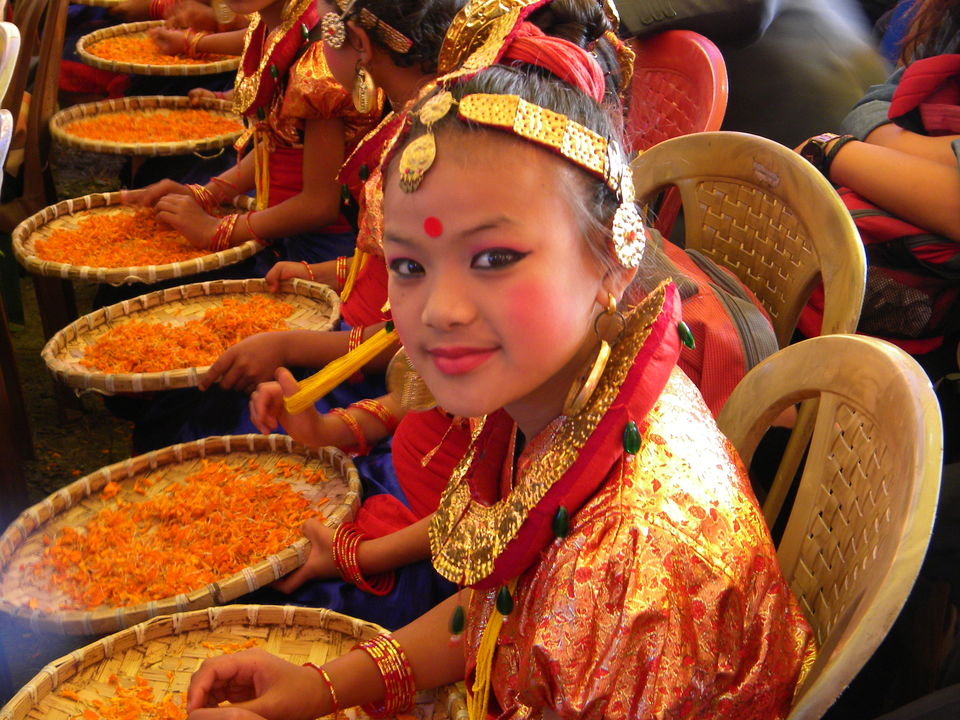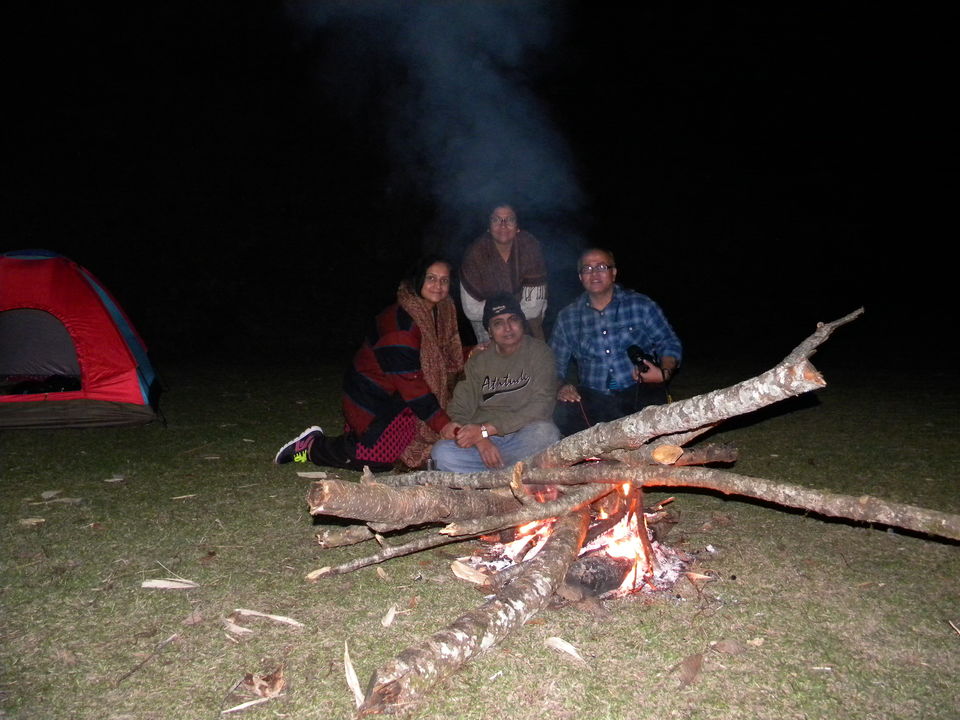 Day 5: Aritar to Ramdhura-nature's trail
Today we are going out of Sikkim and entering Kalimpong district of West Bengal. Ramdhura is located just 16 km from Kalimpong. Icchey Gaon, Delo, Silery Gaon- all these beautiful places are in a radius of 8 km from Rmadhura. Most of the home stays in Ramdhura are located on the edge of the mountain overlooking the snow capped Kanchenjungha and meandering river Teesta below. A trek to Icchey Gaon from Ramdhura through the dense forest and cinchona plantation can be fascinating. A word of caution- it's advisable to put on your gumboot to get rid of the leeches. We visited the Jalsha bunglow built by the British in 1930 on the top of a hill to supervise cinchona plantation. The bunglow has a sprawling courtyard from where you can see the river Teesta snaking through the gorges below.
Coming back to our Jojolappha home stay we enjoyed the hospitality of Nirup Pradhan. Nirup has built six rooms each facing a panoramic view of Teesta and Kanchenjungha.
Nirup Pradhan treated us with sikkimese cuisine which we have missed so far. We had two Sikkimese dish Til ko alu and Sidra ko chutney along with chicken curry, rice in our dinner. Til ko alu is a sabji made of onion, potato, green chillies and roasted sesame powder. Sidra ko chutney is made from dried fish sidra available locally.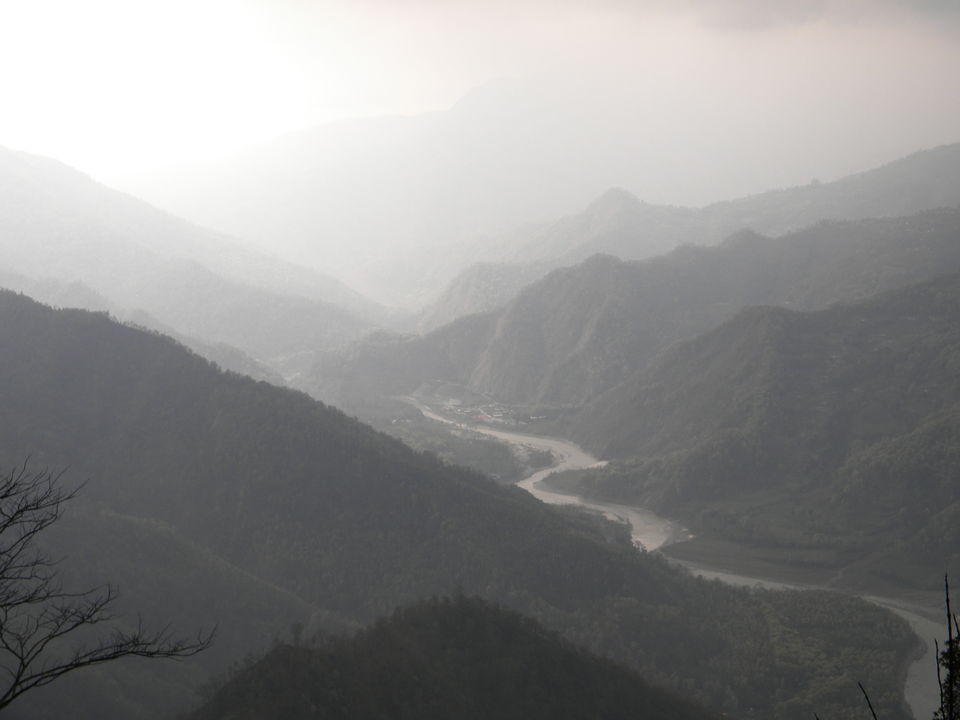 Day 6: We bid farewell to the lovely tourist spot Ramdhura and proceeded towards NJP via Kalimpong.
The snow capped mountain ranges, the placid water of Tsomgo and Kupup lake, the zigzag road down to Zuluk, the spine chilling hairpin bends, Kanchenjungha massif and the gorgeous Teesta river will go down my memory lane. It is tough not to fall in love with the old silk route.