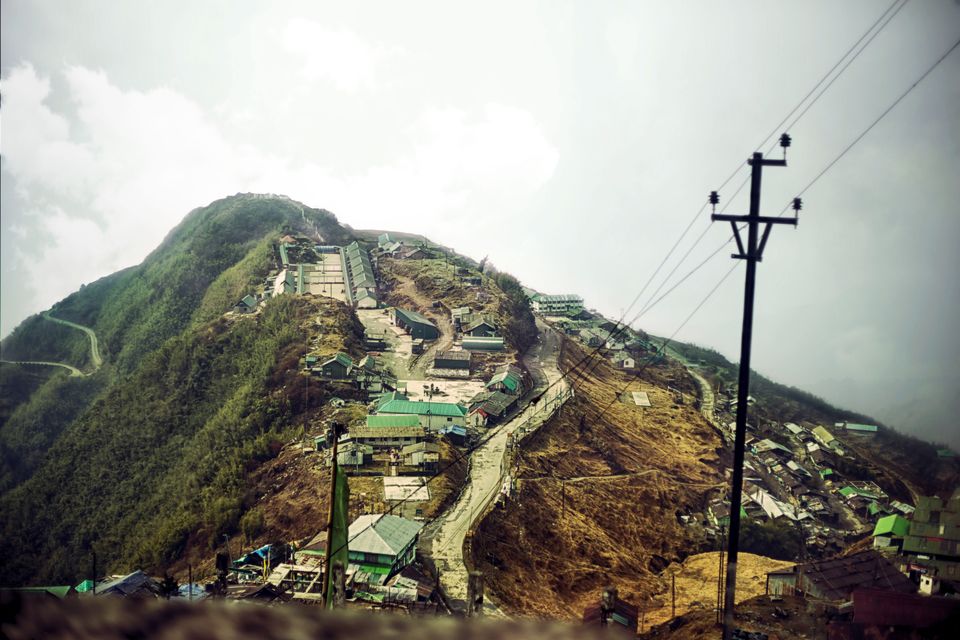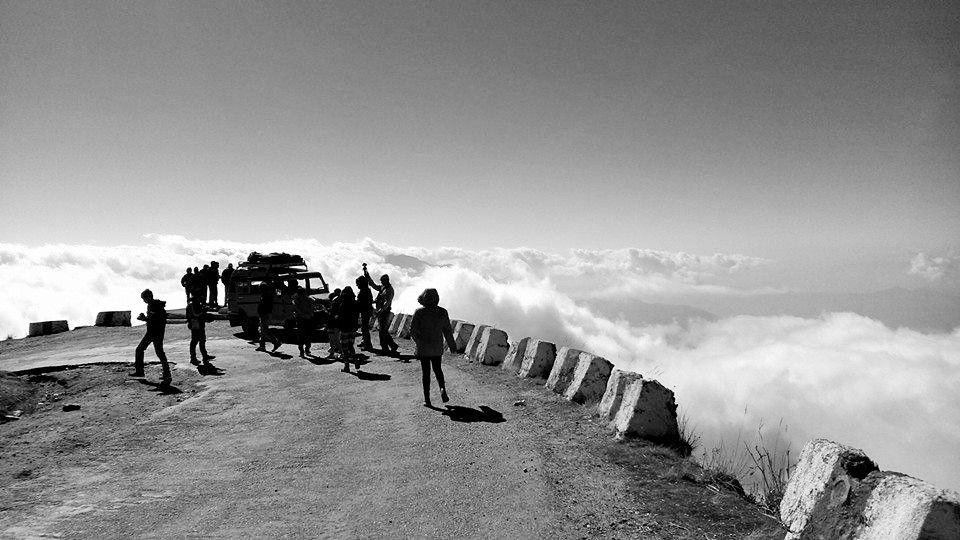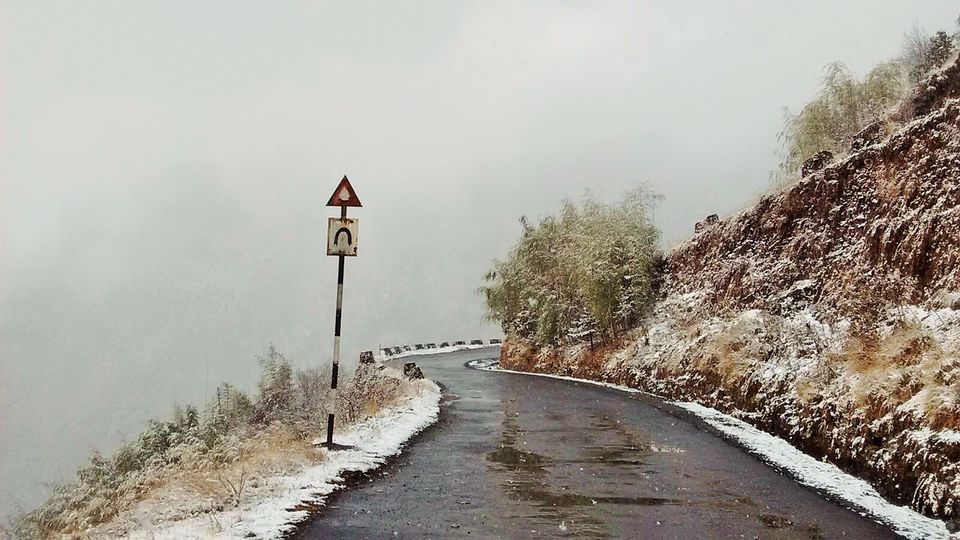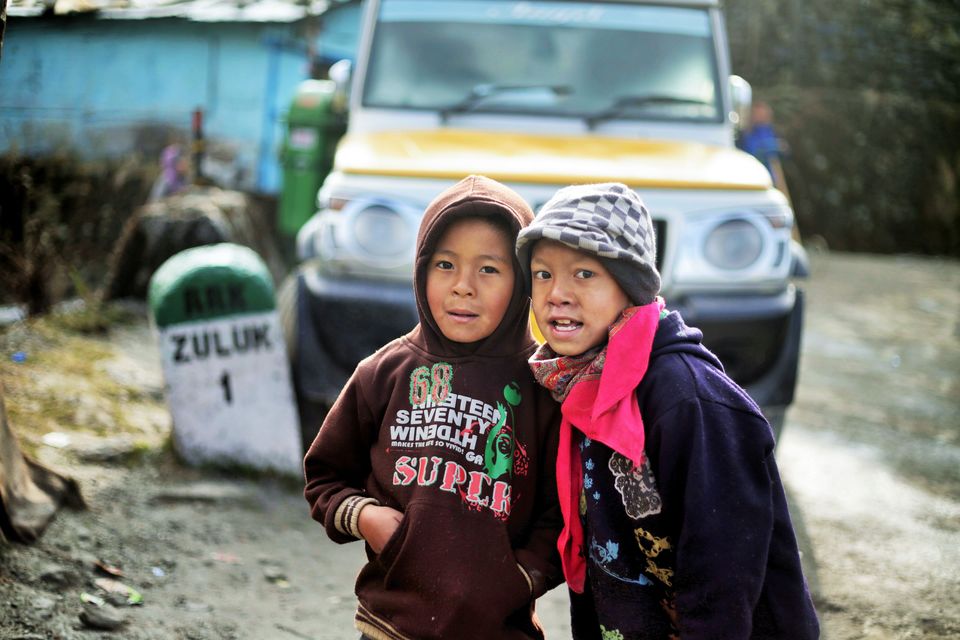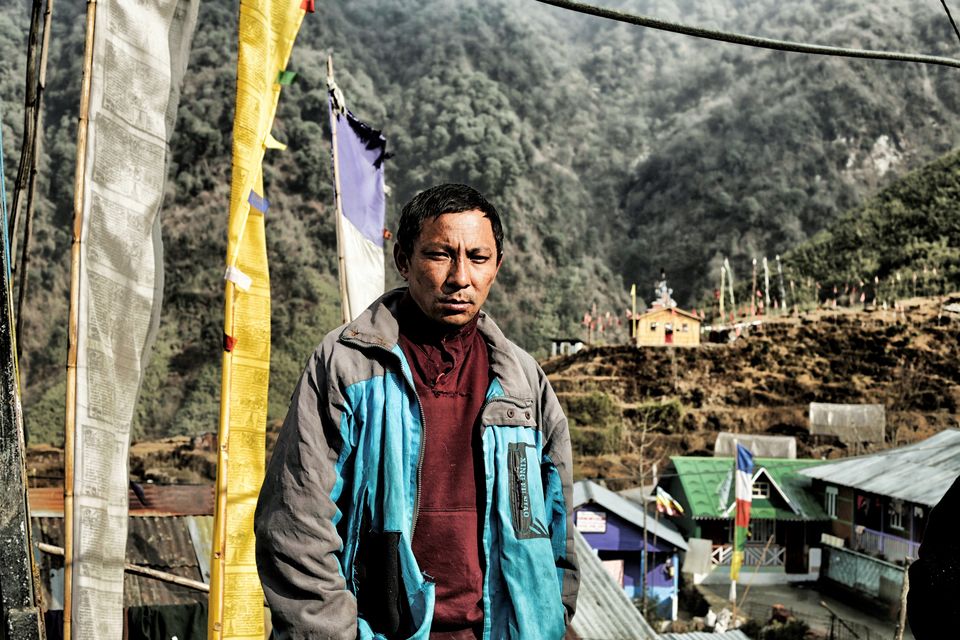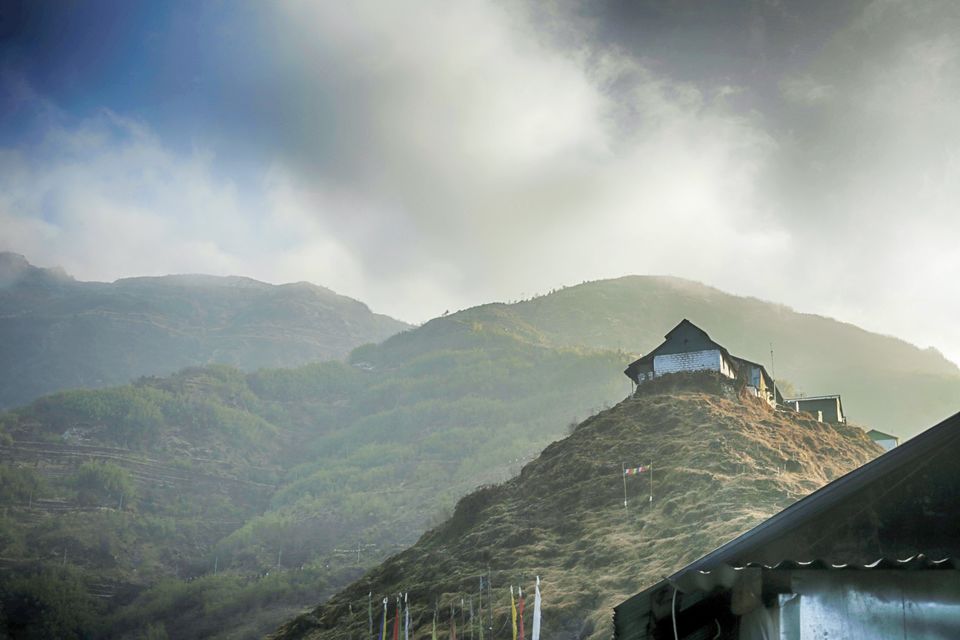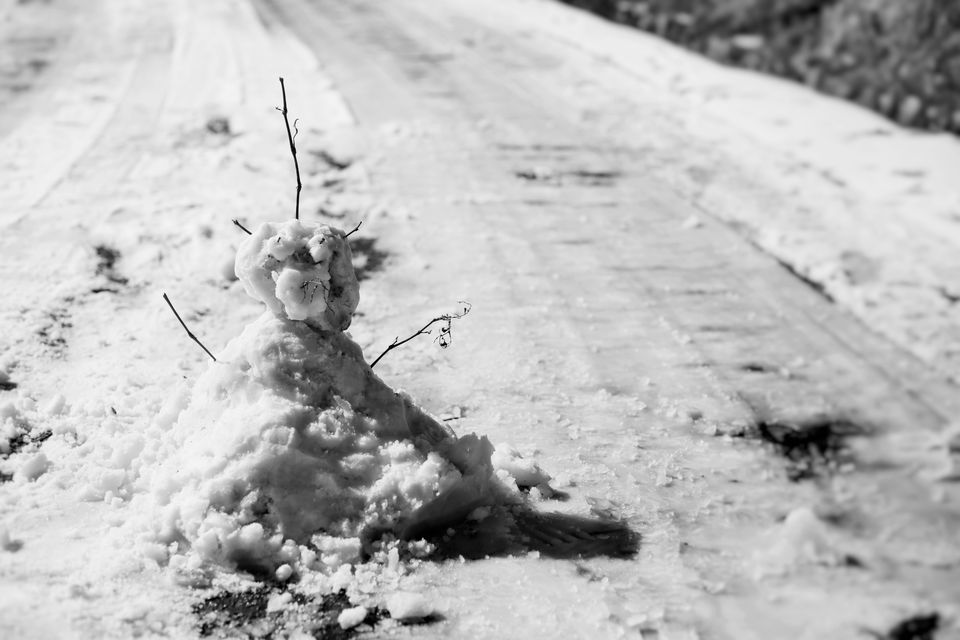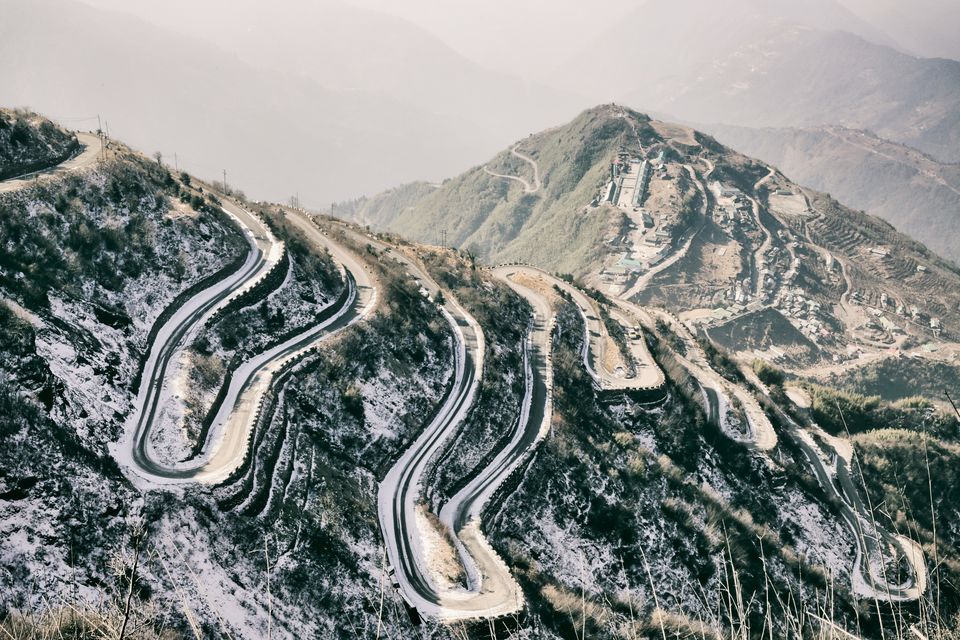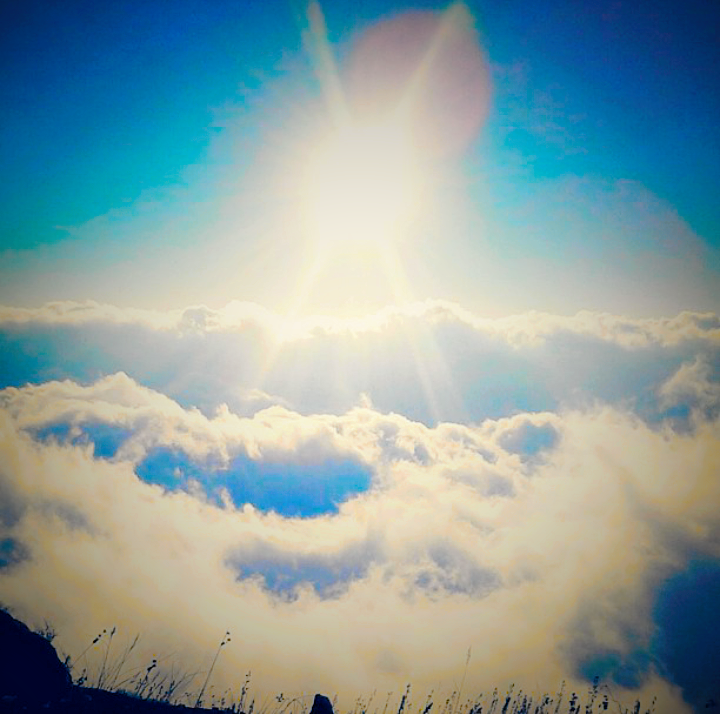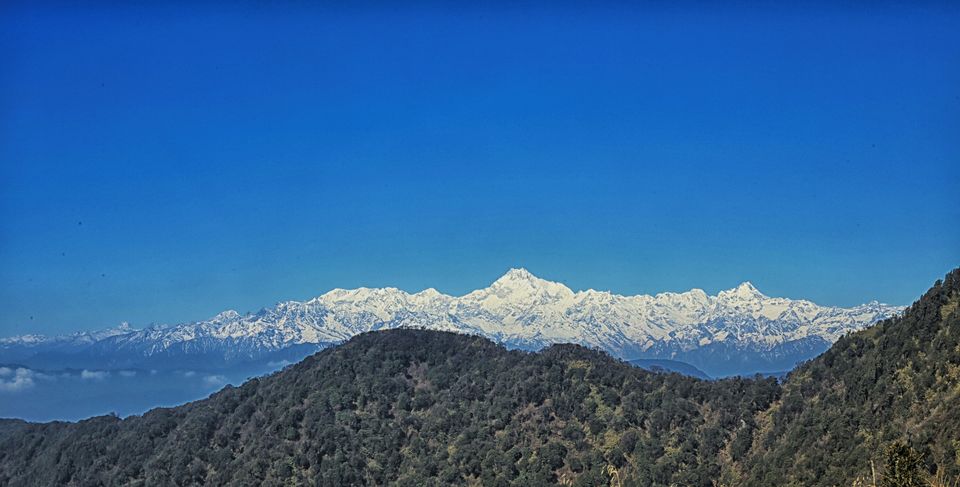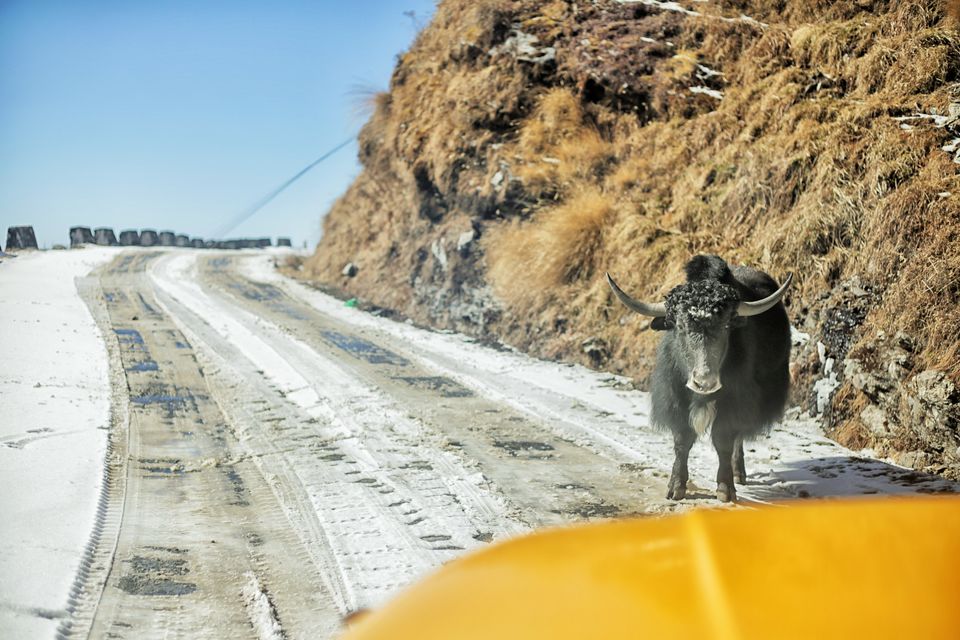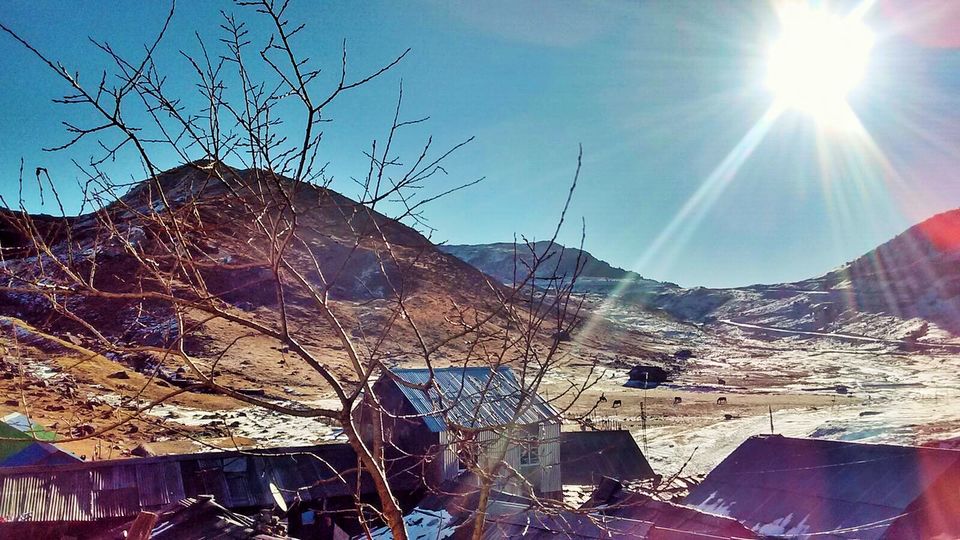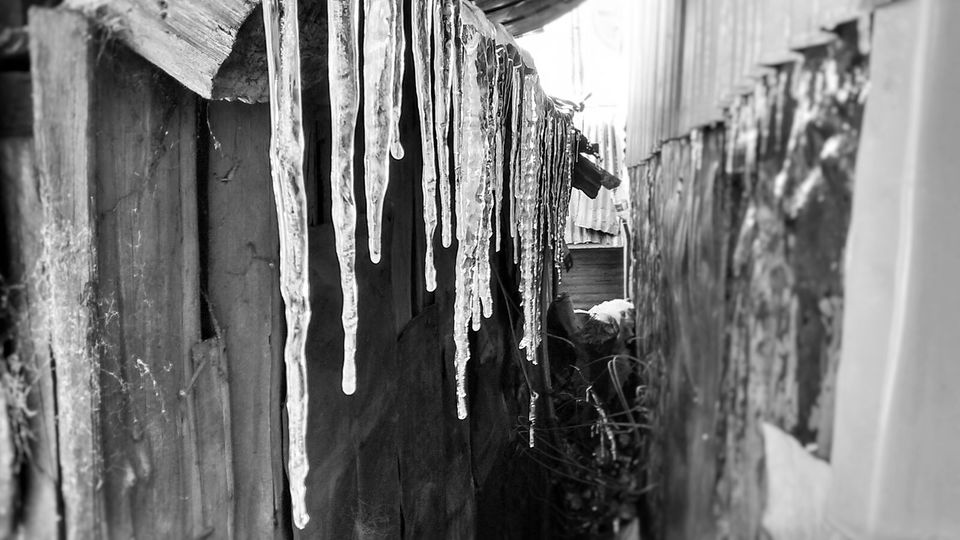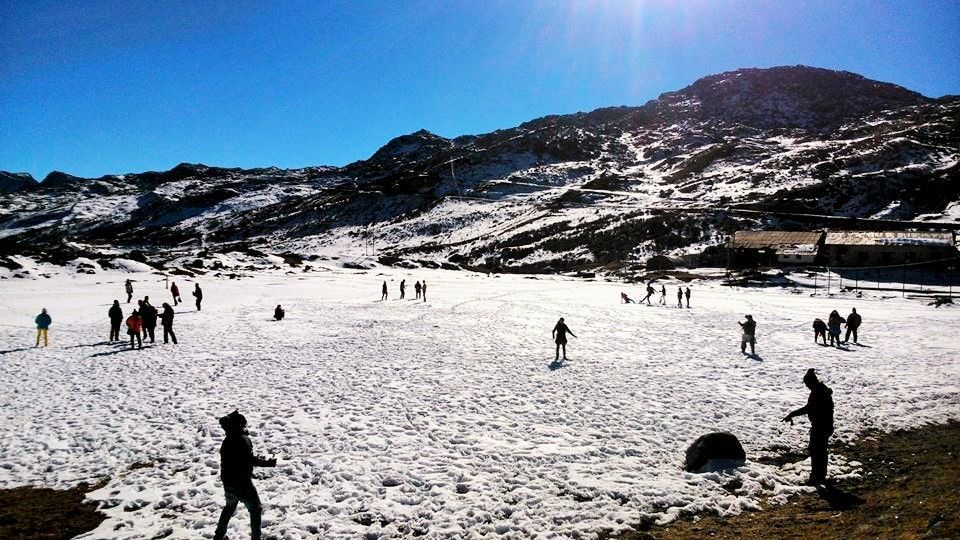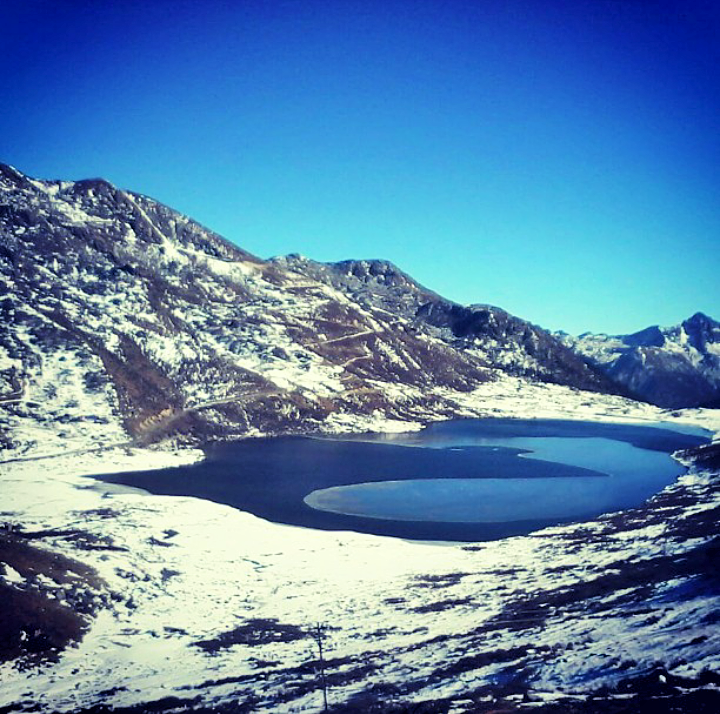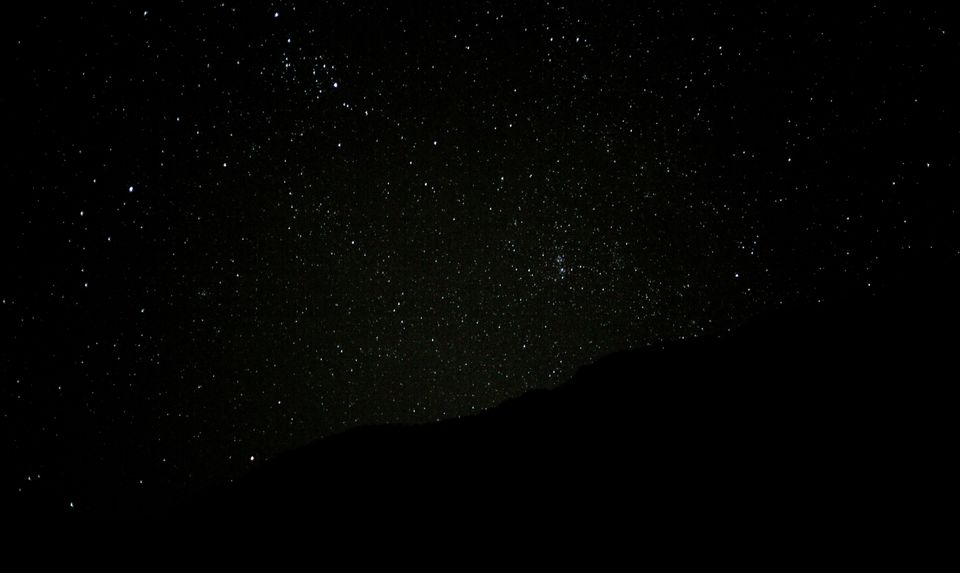 Mountains intrigue me! For us Bengalis, the North-East is an idyllic getaway to replenish our hearts, amid mountains, meadows and falls. It is almost a mandate to visit the hills at least once in a year. What binds me stronger to the land of the Lepchas and Bhutias, is not just the exoticism of the place but it's immaculate capability to connect with my soul and narrate a story, one of its kind, as I keep travelling further.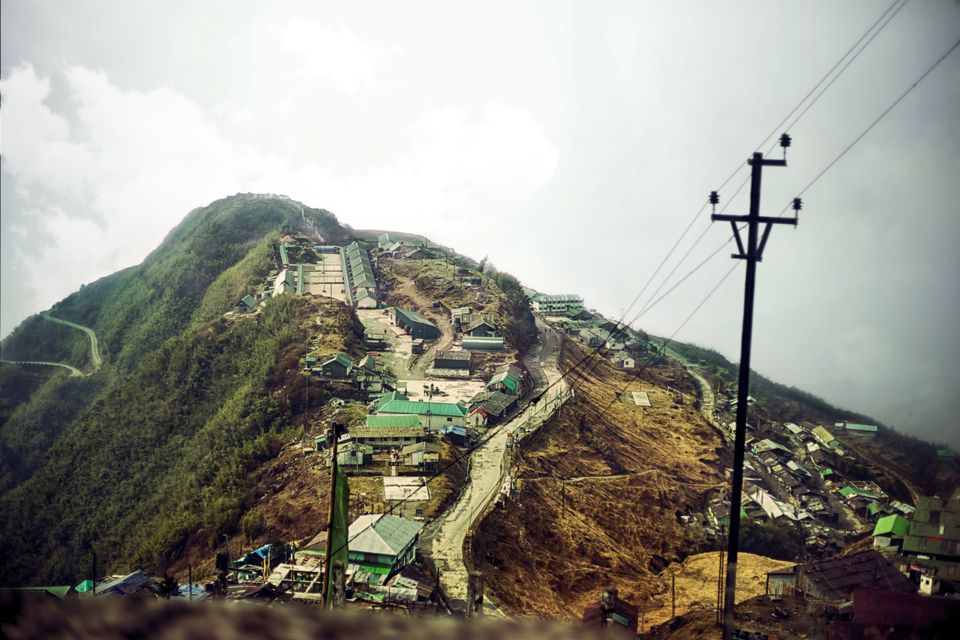 Bird-eye view of Zuluk
Photo Credit: Amir Mondal
Last winter, I had planned a short trip to Zuluk with my folks. A remote village with barely 700 people, Zuluk is situated close to the Indo-China Border, in East-Sikkim. An abode of peace, banked on the rough and rocky terrain of the lower Himalayas, Zuluk has retained its primitive essence. Earlier it served as a trade linkage between British India and Tibet. Hence, it lies on the very heart of the famous ancient Silk Route. Traders travelling to Tibet through Jelep-la, Kalimpong, used Zuluk as an overnight base. Recently opened for tourists, one needs to get special permits to tour Zuluk. Due to its international boundary with China, the route has several restricted areas, and is under the tight surveillance of the Indian Army - "Cloud Warriors".
DAY 1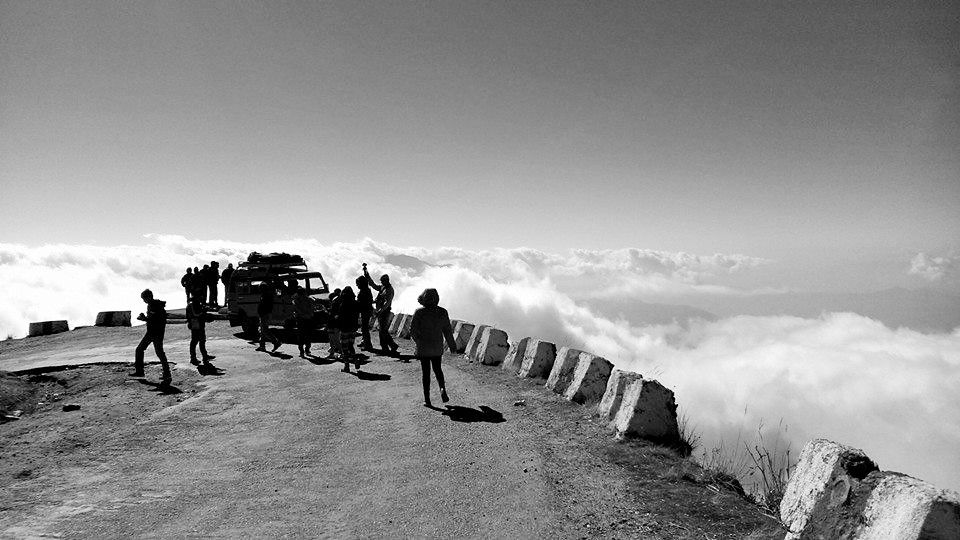 On the way to Zuluk
Photo Credit: Aditi Majumder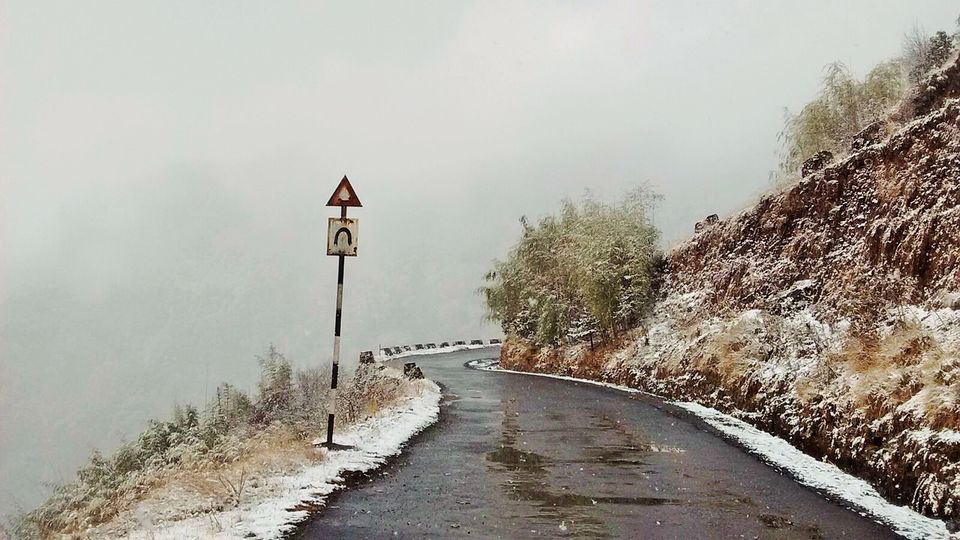 Damp, snow-clad roads nearby Zuluk
Photo Credit: Amir Mondal
We had started from Siliguri in a self-rented car, where we stacked our backpacks and only kept the SLRs and binoculars ready to hand. Needless to say, the excitement at the first glimpse of a mountain is enthralling, but driving 150 kms uphill on a cold, foggy morning was quite a task! Thankfully, our driver, Pawan Dazu had convincingly upped our expectations from the journey with his local tell-tales, and put us in the right mood by playing classic Nepali songs! Sipping chai on roadside shacks, buying fresh oranges from local vendors, or enjoying a bowl of hot wai-wai spruced with coriander and chicken, were little joys encapsulated En-Route Zuluk.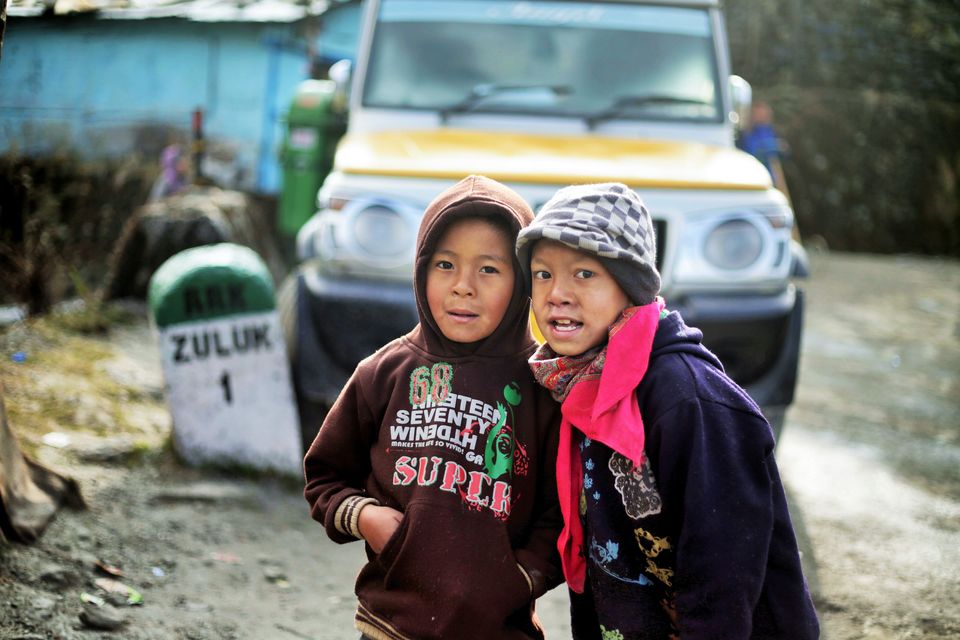 Moti and Tamba, residents of Zuluk
Photo Credit: Amir Mondal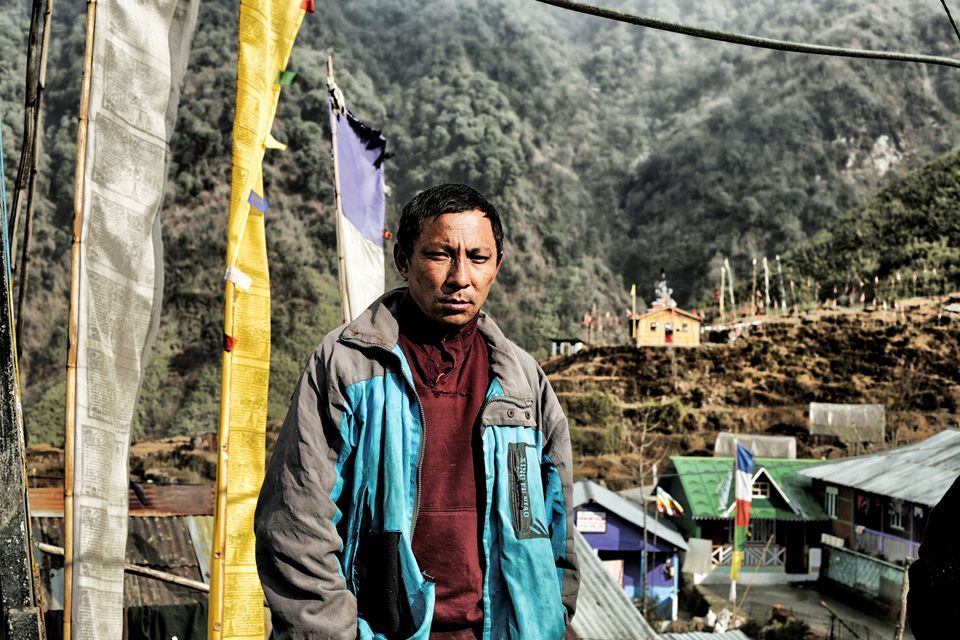 A localite of Zuluk
Photo Credit: Amir Mondal
Travelling via Rhenock, we had received our special permits from Rangli. We halted there for some shopping - gloves, woolen pants and gumboots, of course! Pork momos and Chai for lunch. Heading forward, the roads became steeper but only prettier. Braided with small, wooden huts alongside, every curve on the road had little smiling faces waving at us. These people are majorly the immigrants of Nepal, and undoubtedly, the most humble and hospitable! Every little hut had its own story. Now and then, we would stop for a small chat with localities, and I could sense a steady strength in the vitality of the people. There were different stories. And then there were different renditions of the same story. Both.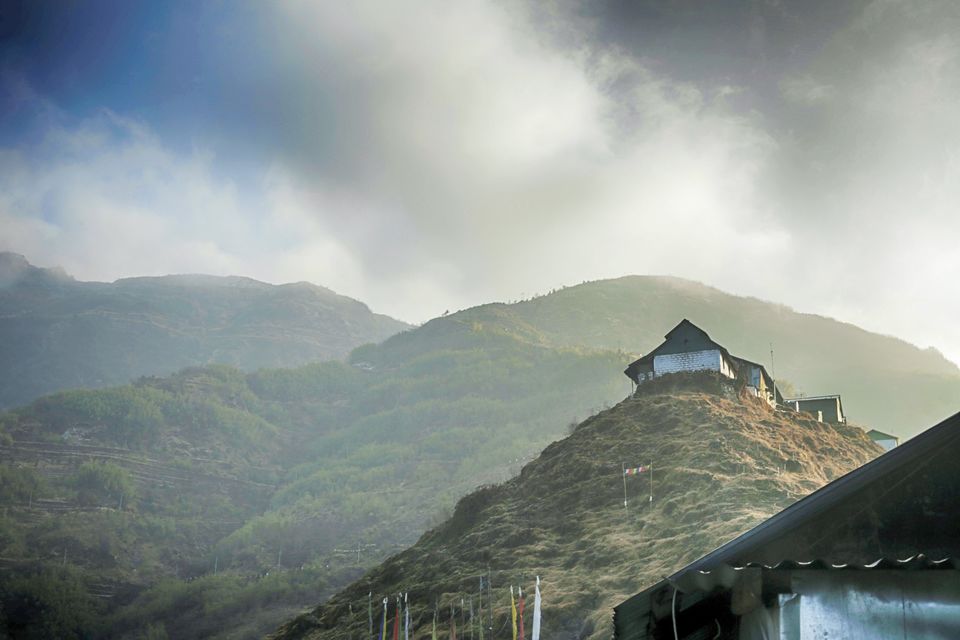 A view from our home-stay
Photo Credit: Amir Mondal
As we progressed, the weather became cooler. By the time we reached Zuluk, dusk fell. A couple of hours later, it snowed like crazy! We had put up at Mr. Sebastian Pradhan's home-stay, and the room-heaters, commonly known as Bukharis, came to our rescue. That night, he had served us some mouth-watering delicacies - steamed rice with bamboo shoot, Chilli Pork and a sumptuous amount of Yak-Chilli, specially made for us. We couldn't have asked for anything more! Later, contemplating on my first ever experience of snowfall while sipping in some brandy to keep away the -7 degrees cold, I dozed off in no time.
DAY 2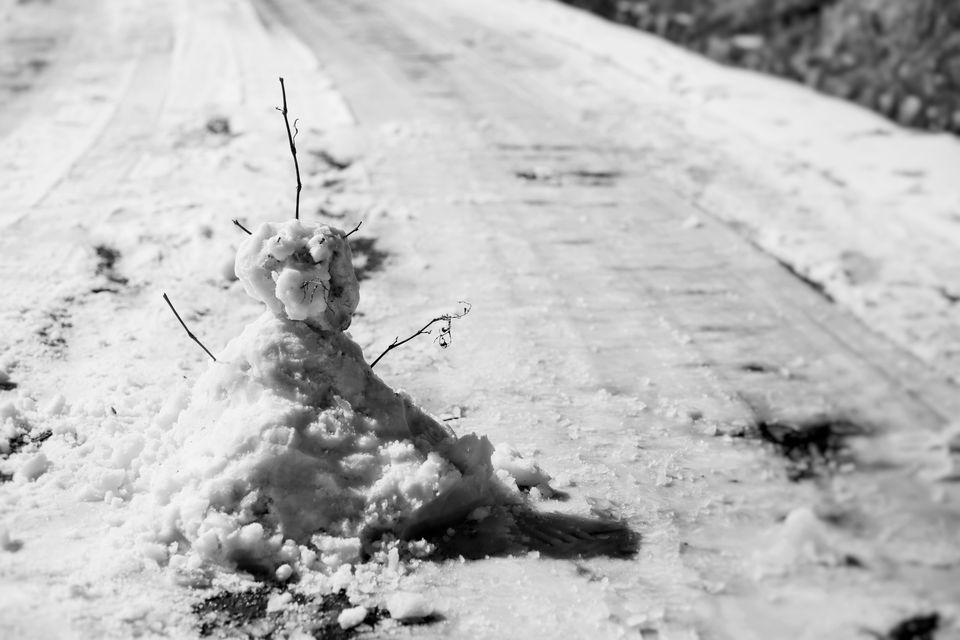 A snowman we made after the previous night's snowfall
Photo Credit: Amir Mondal
The next morning, though damp and wet, looked promising. As soon as I threw the curtains open, I was regaled to see the yellow sunshine glistening on the snow-clad wilderness and that feeling my friend, was fundamental! After the usual Puree-sabzee breakfast there, we set out for a newer destination- Lungthung and Thambi View Point. Luckily the sky was clearing, while going uphill and our hopes to see a distinct view of Mt.Kanchenjungha only grew stronger. It is said that during summers, Zuluk blooms beautiful rhododendrons. Monsoons bring in fresh wildlings. Whereas winters can offer the most memorable sunrise in one's lifetime!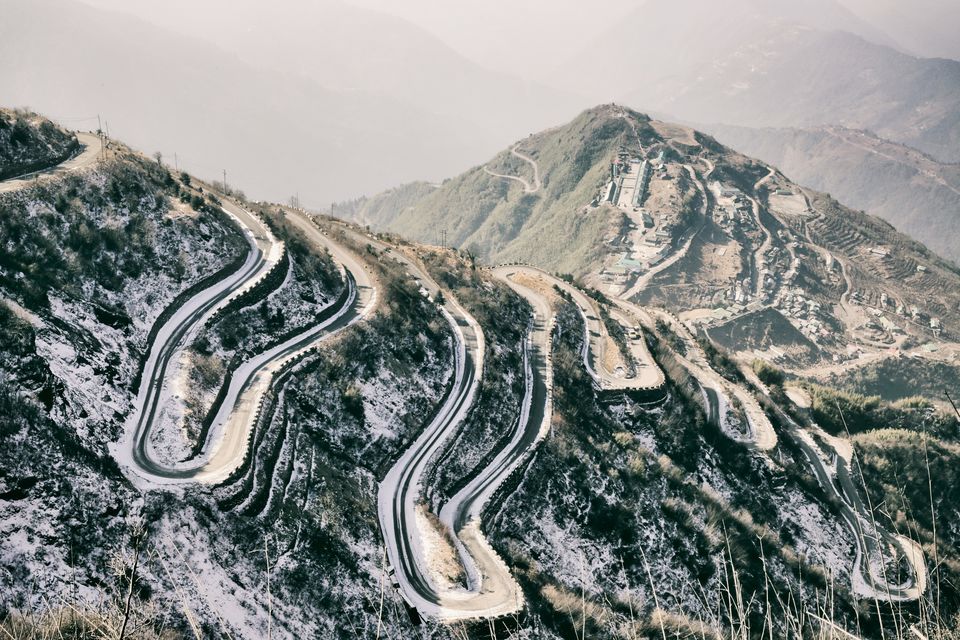 The zig-zag road, Bhool-Bhulaiya
Photo Credit: Amir Mondal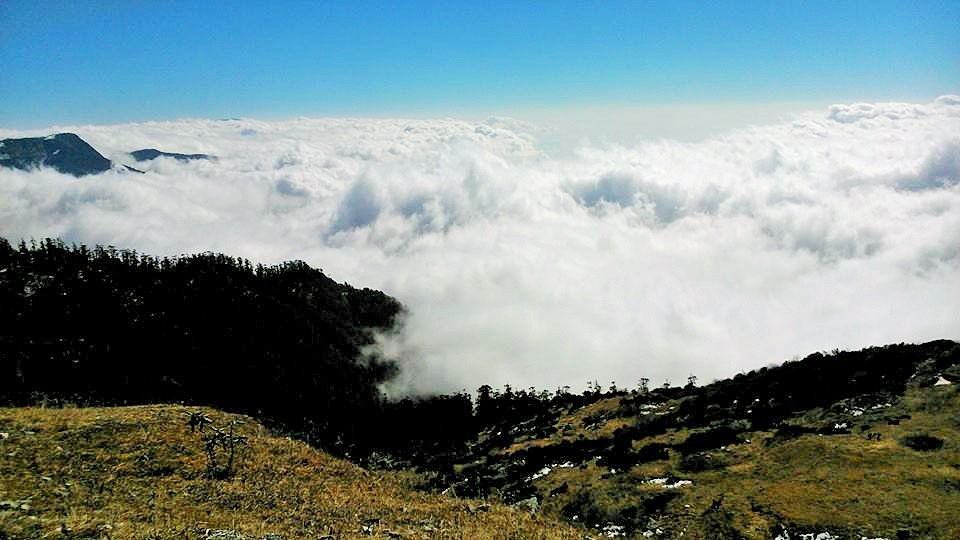 A view on the way to Thambi Point
Photo Credit: Aditi Majumder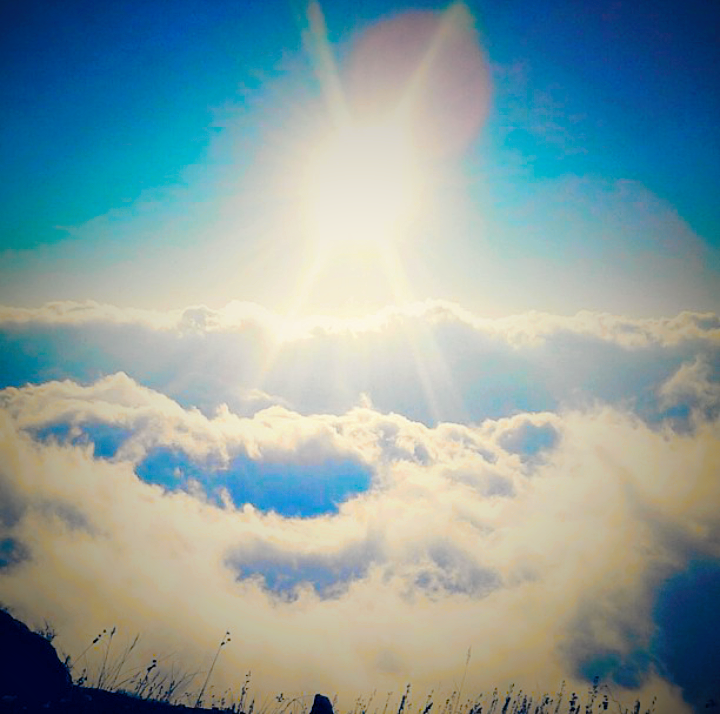 A closer view of the clouds, nearing Thambi Point
Photo Credit: Aditi Majumder
We reached the Thambi View Point by driving on a winding, zigzag road, famously known as the "Bhool-Bhulaiya". The view point is situated at an altitude of 11,200 feet and offers an eye-pleasing view of the entire Eastern Himalayas. We drove further, and at around 13,000 feet, Lungthung offered us a panoramic view of Mt. Kanchenjungha. Up above was a pristine, blue sky, and an ocean of clouds that resembled large dollops of ice-cream scoops, floored beneath us. The sunshine toiled on the clouds like prism radiations. The whizzing wind kept biting my skin, and my teeth cluttered in almost every two minutes!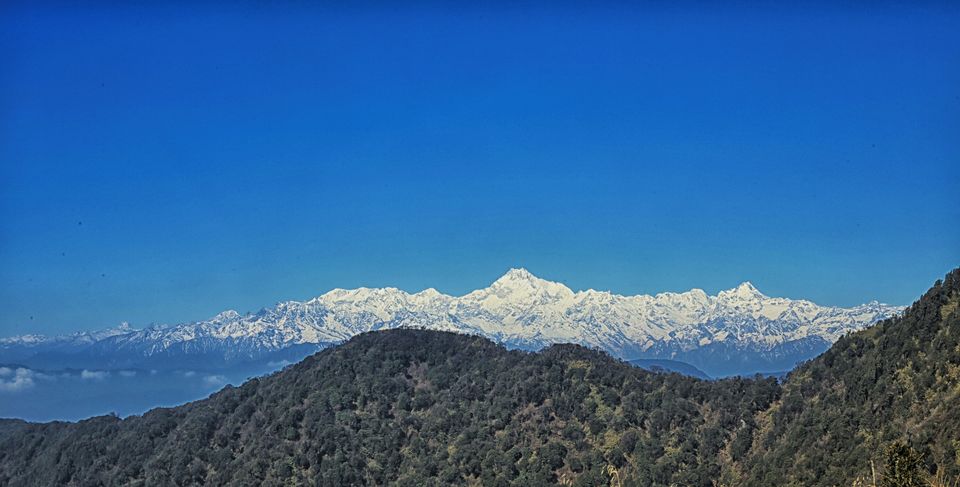 Thambi View Point, Mt. Kanchenjungha
Photo Credit: Amir Mondal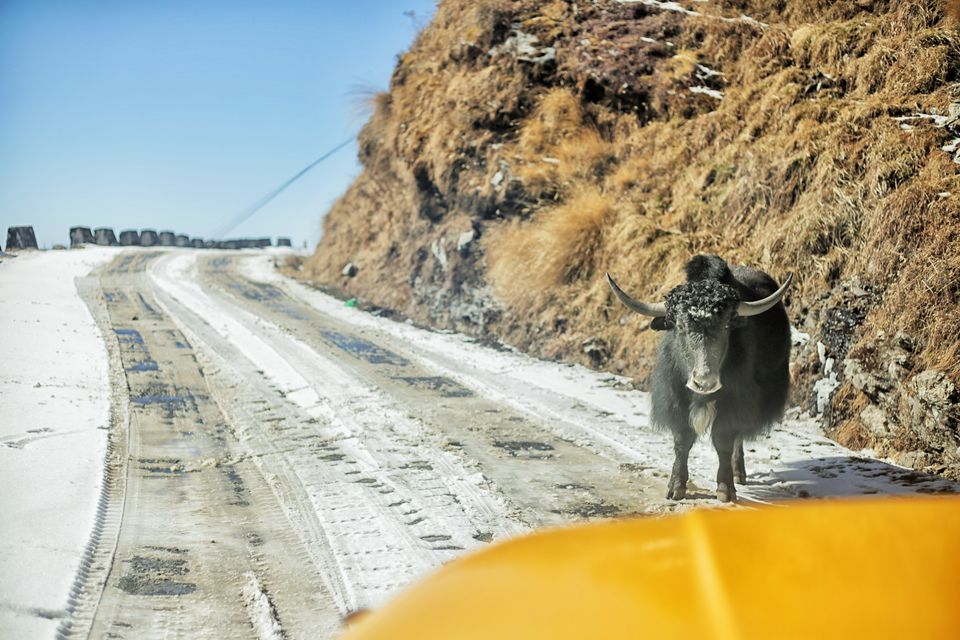 A yak, on the way to Kupup
Photo Credit: Somdeb Sengupta
Following the itinerary, Dazu drove us ahead. Next destination - Nathang Valley, Kalipokhri Lake and Kupup Lake. Though we didn't stop by the Nathang Valley, the spectacle was breathtaking! On the way, we spotted plenty of temples, and the very famous Old Baba Mandir is also one of the famous tourist attractions of the region.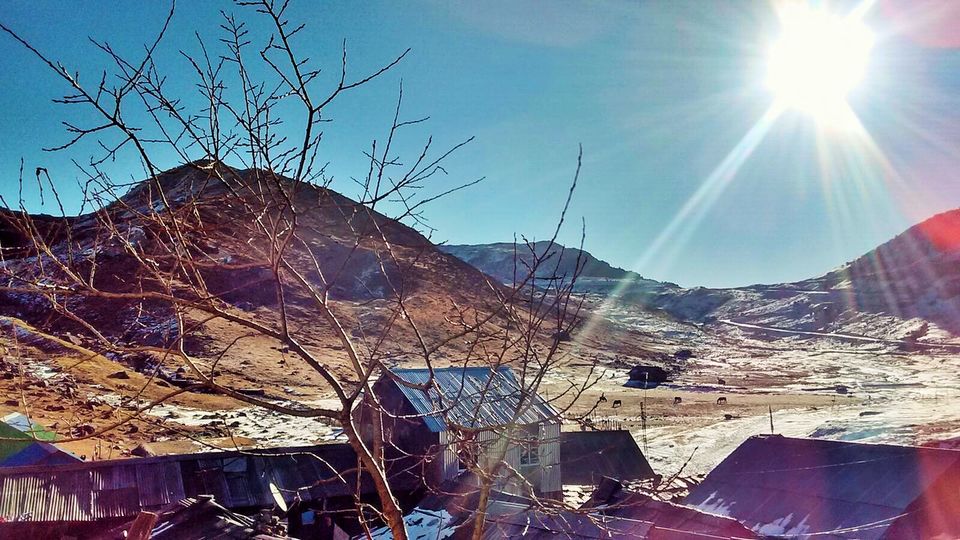 Nathang Valley
Photo Credit: Amir Mondal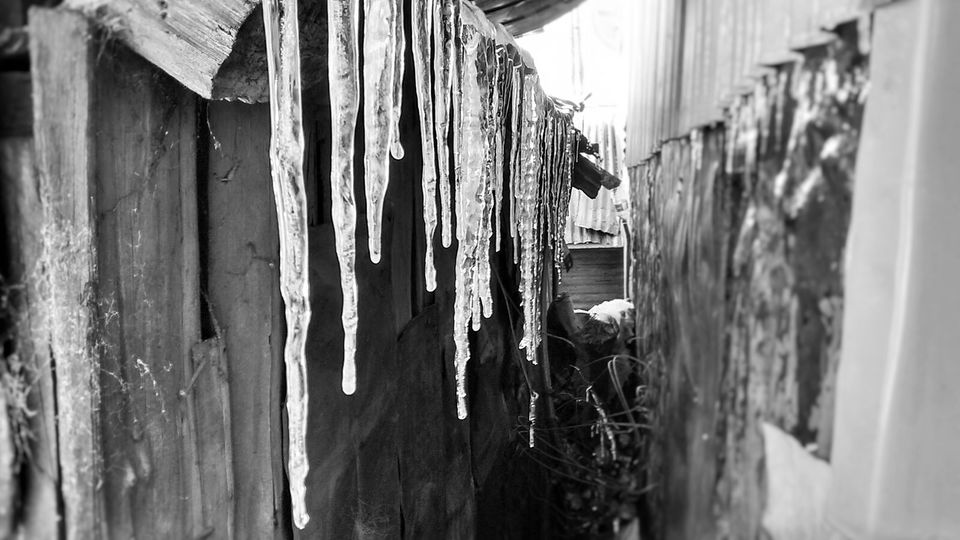 A local home in Nathang Valley
Photo Credit: Amir Mondal
Situated at an altitude of 14,000 feet, the Kupup lake is also known as the Elephant Lake due to its shape which resembles an elephant. I felt a little nauseous while entering Kupup,but the eclectic view of the half frozen lakes and the rocky mountains had soon made me forget minor trivialities. We also witnessed the highest golf-course in the world, named the Yak-Golf course, near Kupup lake. With 6 feet of snow covering the entire stretch of land, Kupup looked splendid!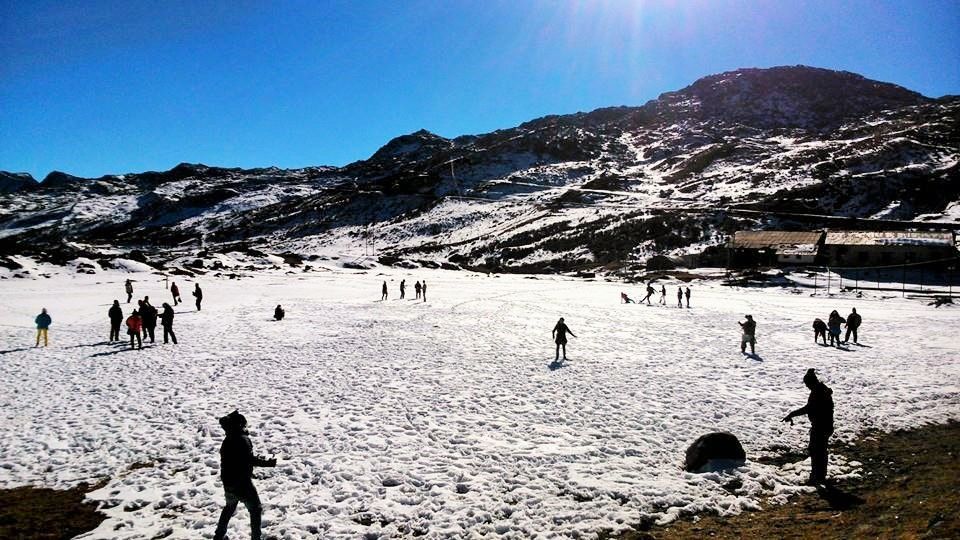 Kupup
Photo Credit: Aditi Majumder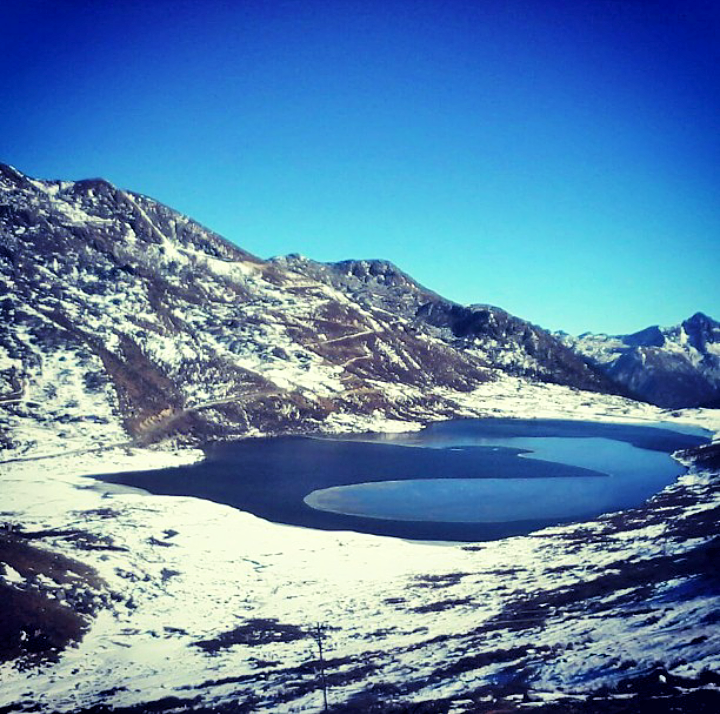 The half-frozen Kupup Lake
Photo Credit: Rajlakshmi Upadhyaya
I fed on a weird combination of raw fish and hot noodles, one of the many staple foods, from a local shop, and still felt happy! This happiness had to do with how it felt to be so close to the sky, or listen to the enormity of the tiniest of sounds and walk endlessly without any reason other than to feel the cosmic rhythm. Every breath counted. Every breath was rich.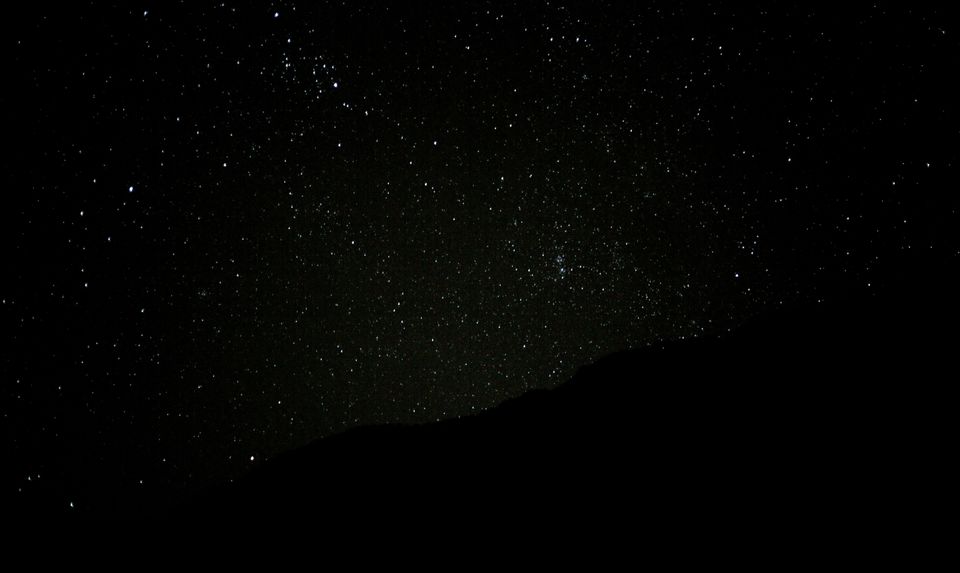 A starry sky at night, in Zuluk
Photo Credit: Somdeb Sengupta
Coming back from the ever so enchanting, and letting go of the magical air is not a good feeling. Thank God, Mr.Pradhan had made arrangements for a pretty bonfire, by the time we returned. It was a starry night. One could make hundred constellations to make hundred more within them! I have never seen such a starlit sky ever, ever before. From roasting chicken in the barbecue in such a bone-chilling cold, to singing along with my favorite Bob Dylan and Louis Armstrong Classics, the night faded as the stars died out one by one.
Homeward bound, the next morning was quite unsettling. Nonetheless, that which overpowered the sense of estrangement, were the memories I was taking back with me - in stories, philosophies and souvenirs. Deep in my heart I knew, frozen in time, in distant spaces, these images would keep coming back to me in black and white, until the folks were out on road again.
Until those blue hills beckoned again!