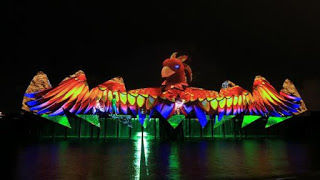 Dancing Lessons Onto "Songs Of The Sea" At 'Wings Of Time' At Sentosa, Singapore!
Traveling wide and across has always been important to me, second only to family. But then is there anything better than seeing the world with your family? Well, not! The stamped passports, plane tickets and the plans for adventure feels like the best gift that I can possibly either present them or receive from them, for I believe traveling together is one of the best family investments that one makes.
There is this strong anticipation which keeps everyone happy for months, there are the experiences which can change one's life, and then there are the memories, which binds and sustains the family for years to come. After having experienced my first international trip at Singapore with my family, I arrived at an inference that there is no tv screen or wardrobe piece that has embarked upon that kind of effect.
We live in a beautiful world that is full of beauty, charm and adventure, to which there is no end to the adventures we can have if we seek them with our eyes open. One of those mesmerising experiences for me has been that 25-minute show during the sunset at Sentosa Island known as "Wings Of Time" that tells a tale about two friends, a mysterious pre-historic bird and their journey across several landscapes and time to find the bird's home, which the combination of natural elements, water and fire, along with the pyrotechnics and lasers.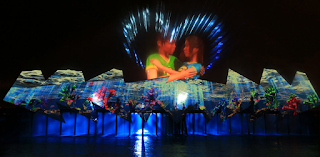 Until now those performances have been occupying a prime place in my memory as traveling sights such as 'Wings Of Time' are pleasant surprises, the colourful doors and windows to a wonderful display of the fireworks. The Wings of Time show at Sentosa is definitely worth watching with the family after a day out in Sentosa.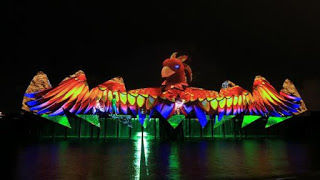 Going into the technical details of the show, it primarily features robotic fountains and pyrotechnics, which is seen to be projected against a backdrop of white, geometric panels, while the musical score of Songs Of The Sea featured familiar local oldies, the live talent performers of Wings of Time sing a modern English ditty which goes "When you're far away from home". The highly-precise laser beams which shoot out from behind the screen create an illusion and making the viewers to think that it could be daylight, or that the images are gasp.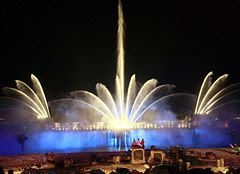 For a person with little to no interest in history, it does not turn out difficult for one to understand the time-traveling concept as to why a "bird-like creature" resembling a scarlet macaw, with its polychromatic wings, is the main character of this spectacular scene. Here in the depiction, Shahbaz, awakens from a deep slumber and swoops across panoramic vistas from the Industrial Revolution of Europe to Chinese Silk Road and to African savannahs as it attempts to make its way home.
Thus, spending our one of those Sentosa evenings by treating our eyes to the Wings of Time show in Singapore, an award-winning night show that mesmerized all of us with its pyrotechnics, lasers, fountains and storyline has been supercalifragilisticexpialidocious, yes, and that means extraordinarily wonderful.
I would rather proudly say, such travel plans are my evergreen dancing lessons, on which I would anyday love to tune in with.
Mankind has legs, and so he can wander. Being a wanderer, I have come to few quick realisations that whenever I'm somewhere I've never been before, learning goes on all throughout the day, each and every day. Also, it is something like wandering was the only thing that I ever believed in, and the only thing that ever believed in me. While crossing the ways, I've become a strong believer of the fact that my spirit gets nourished in faraway places. Sometimes I wonder if it's a biological need, or perhaps maybe a biological flaw, that compels me to seek the excitement and challenge that comes of being in a place where nobody knows me. I learn the best and most, by happily experiencing, touching, sharing, tasting, believing and wandering into the unknown. I do not remember the exact time and date when the travel bug did bite me, but all I can recall are the days when after school I used to be glued to the black and white television screen to watch the places and dreamt of vi...
"Rome is not like any other city. It's a big museum, a living room that shall be crossed on one's toes." - aptly remarked by Alberto Sordi. Rome, when one comes to talk of it, there's so much about this city. It may be a cliché, but there's no better advice for visitors to the Eternal City than the old adage, "When in Rome, do as the Romans do." This is where la dolce vita originated, after all. London? Paris? Berlin? Zurich? Maybe Brussels, center of the young union? They all strive to outdo one another culturally, architecturally, politically, fiscally. But Rome, it should be said, has not bothered to join the race for status. Rome doesn't compete. Rome just watches all the fussing and striving, completely unfazed, exuding an air like: 'Hey- do whatever you want, but I'm still Rome'. I am inspired by the regal self-assurance of this town, so grounded and rounded, so amused and monumental, knowing that she is held securely in the palm of history. Of course, after m...
I felt my lungs inflate with the on rush of ascetic scenery, lush green lands, the mystifying air, lofty mountains, luxuriant vegetation, native people; and a thought ran within me which said this is what it is to be fortunate and delighted at the same time when I began to discover the parts of me through wayfaring. This has been proven to me time and again that the clearest way into the Universe is definitely by travelling on foot, discovering the locals, nature and everything that comes across the way. The best remedy for those who are afraid or unhappy is to step out of their comfort zone and walk out, somewhere where they can be quite alone with the nature, because only then does one feel that all is as it should be and that nature has remedies and wishes to see people happy, amidst the simple offerings of nature. As longs as this has come to reside within me, and it certainly always will, I know that there will always be comfort for all of my joys and trouble, alike, whatever t...