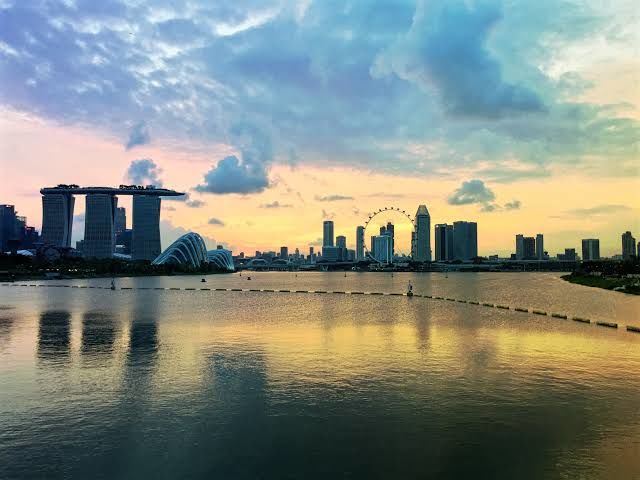 Splurging at Marina Bay
Welcome to a stunning architectural icon. Located in the central area of Singapore, the marina bay area is a treasure love for all kinds of tourists.
Wondering what's so good about the place? Follow me to explore more
1) GARDENS BY THE BAY
It is one of the most iconic places in Singapore - the main reason being the giant trees standing tall known as Supertree Grove. Spend at least a couple of hours wandering around the Gardens by the Bay, and don´t miss the Flower Dome, Cloud Forest Dome and Supertree Grove with its OCBC Skyway (a 22 m high walkway between the Skytrees) as they all are awesome!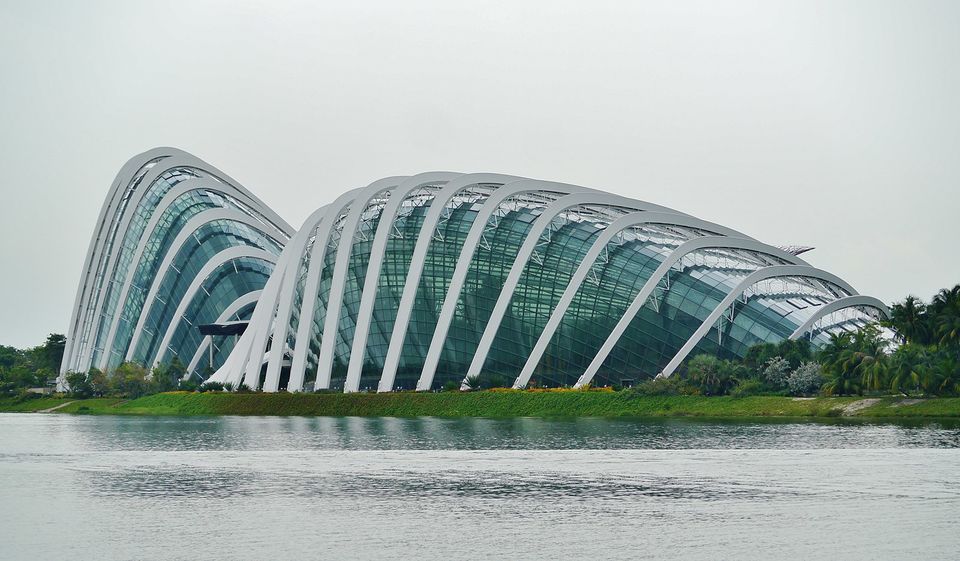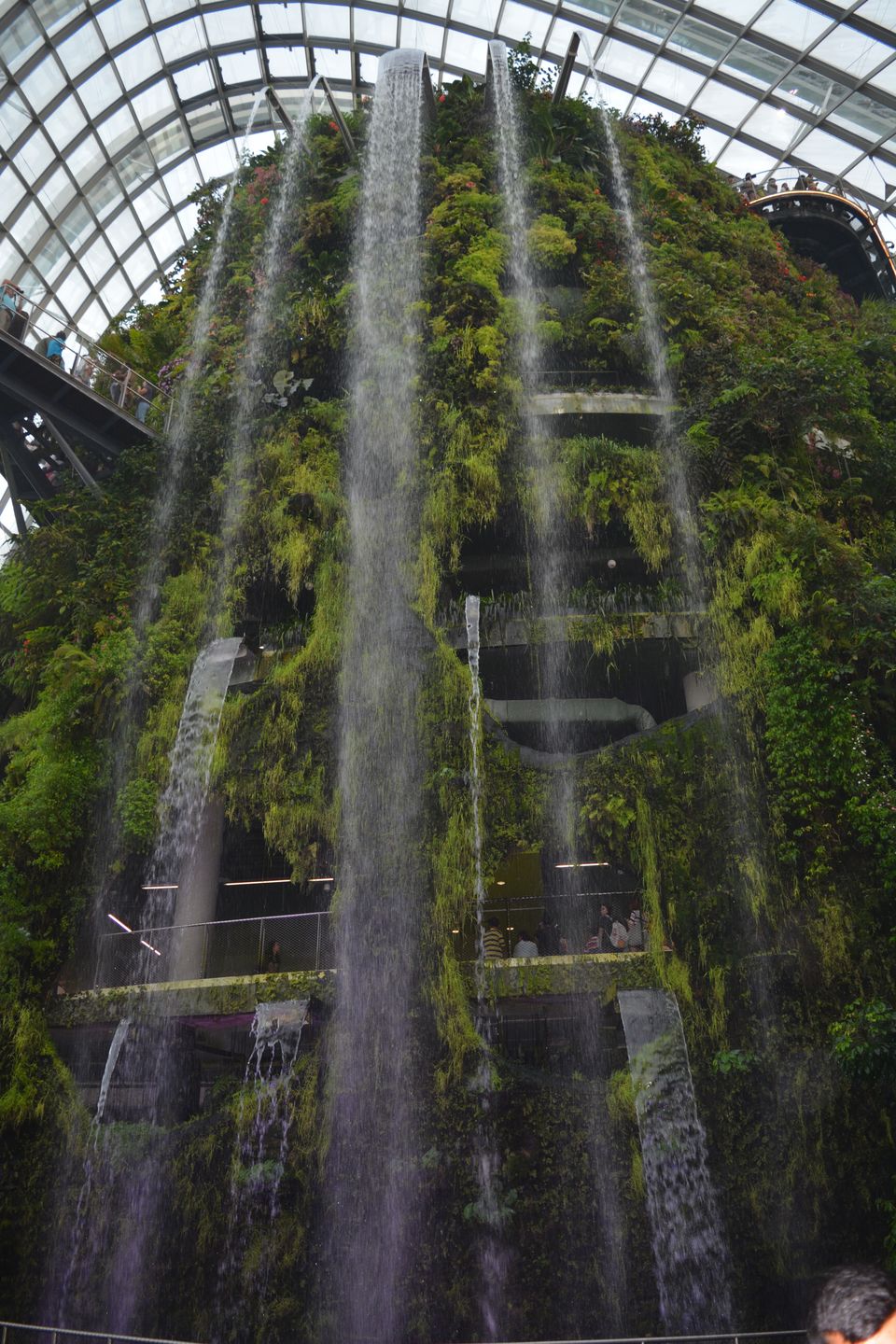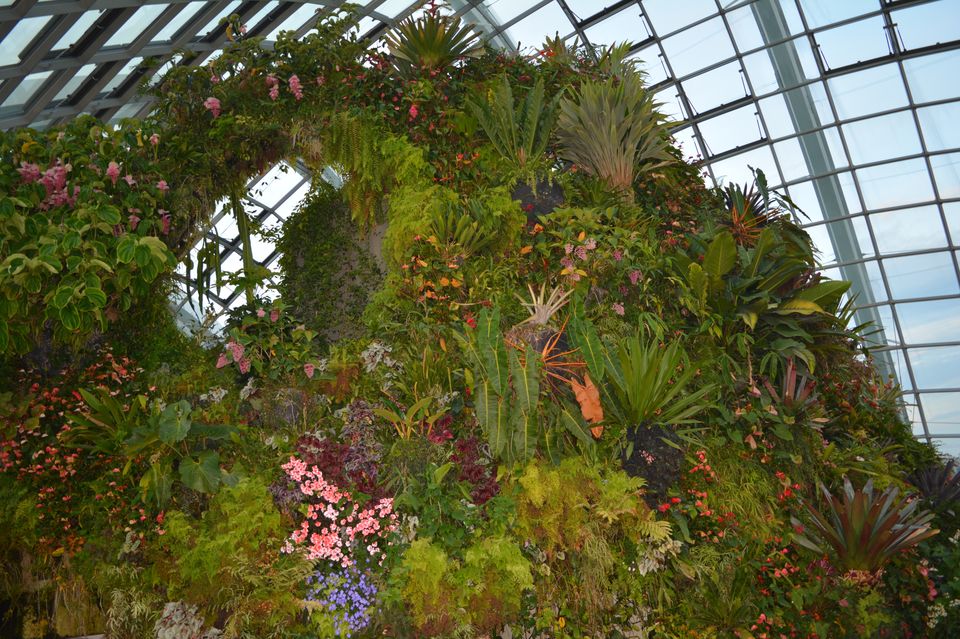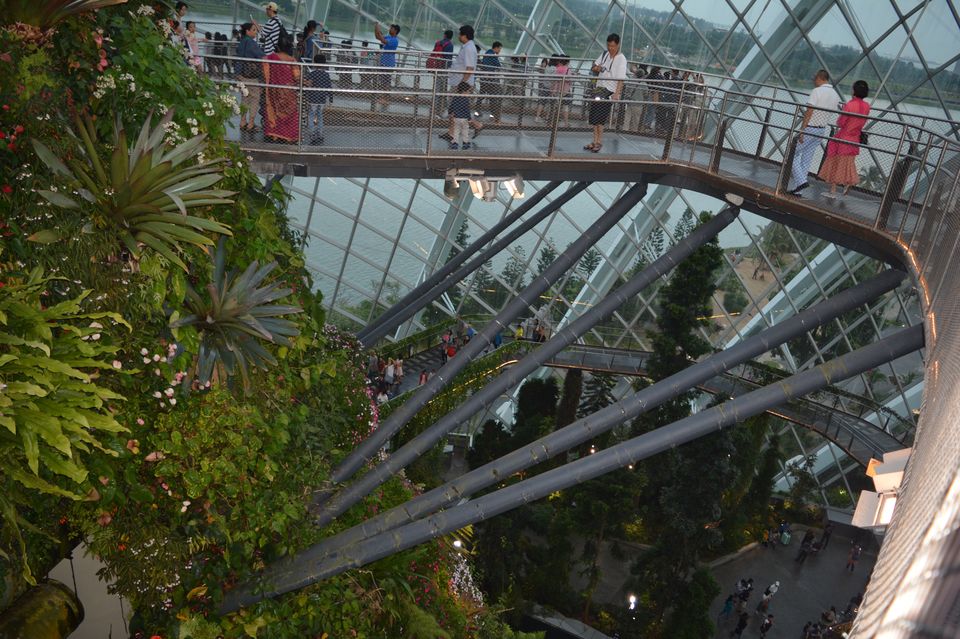 I'd recommend arriving around 4:00 pm to explore the domes before sunset, and then hit the road to Supertree grove light show – All the trees are splendidly lighted up and it twinkles in sync with the music to create a trance-like environment. It's one of the best things to do in Singapore at night, not to mention a totally magical ways to see the city!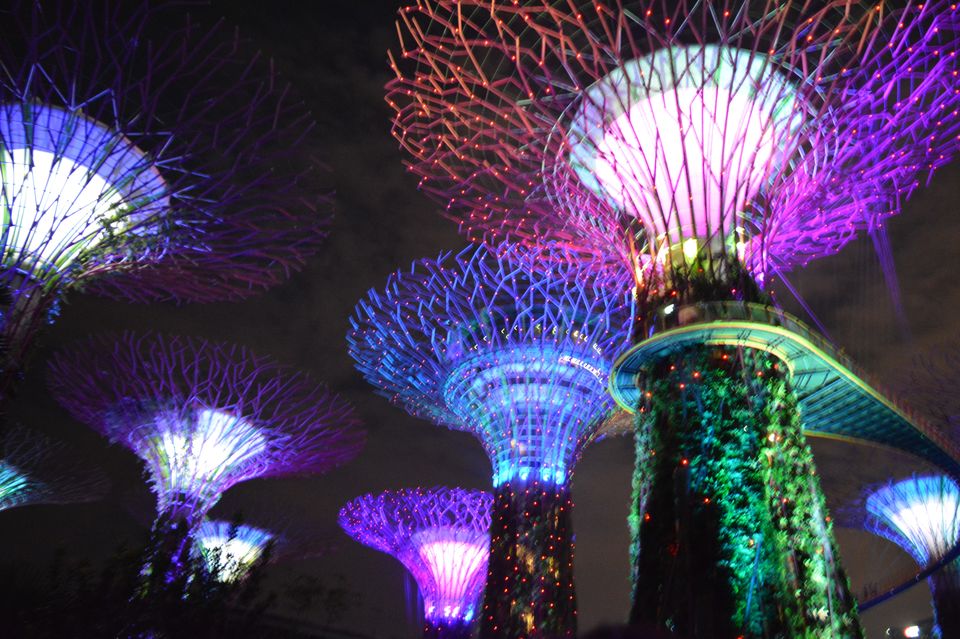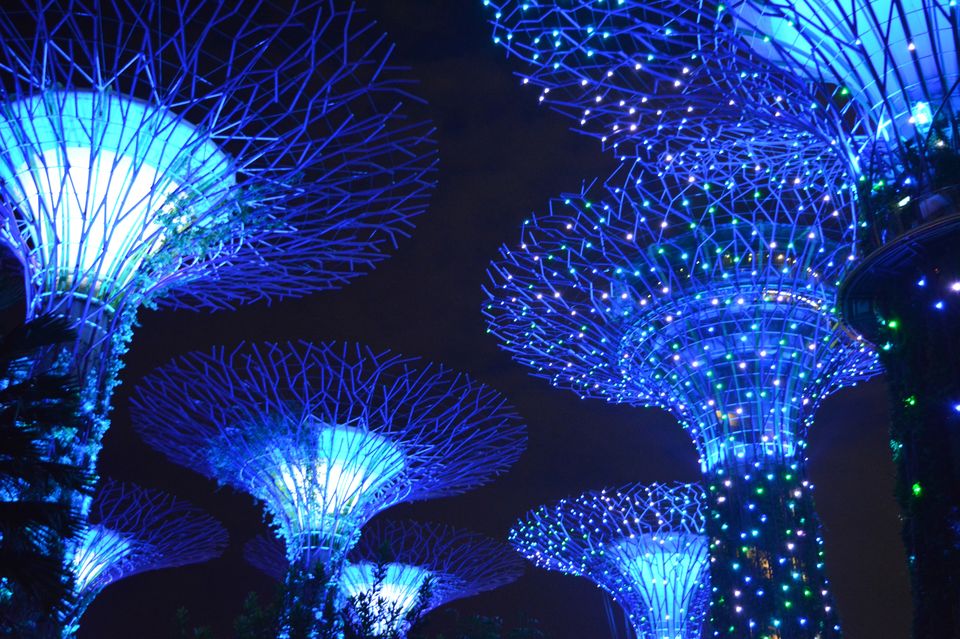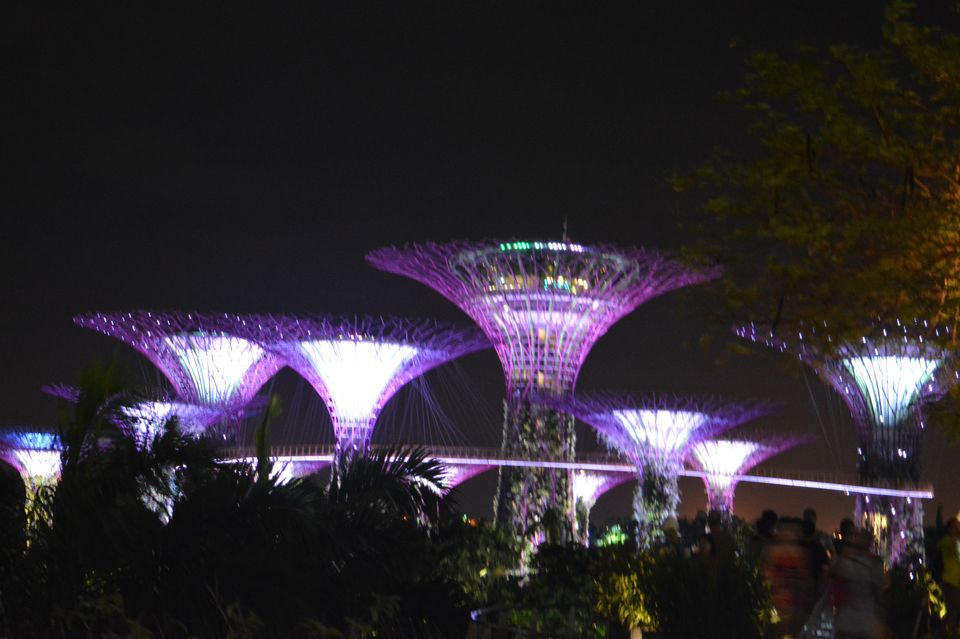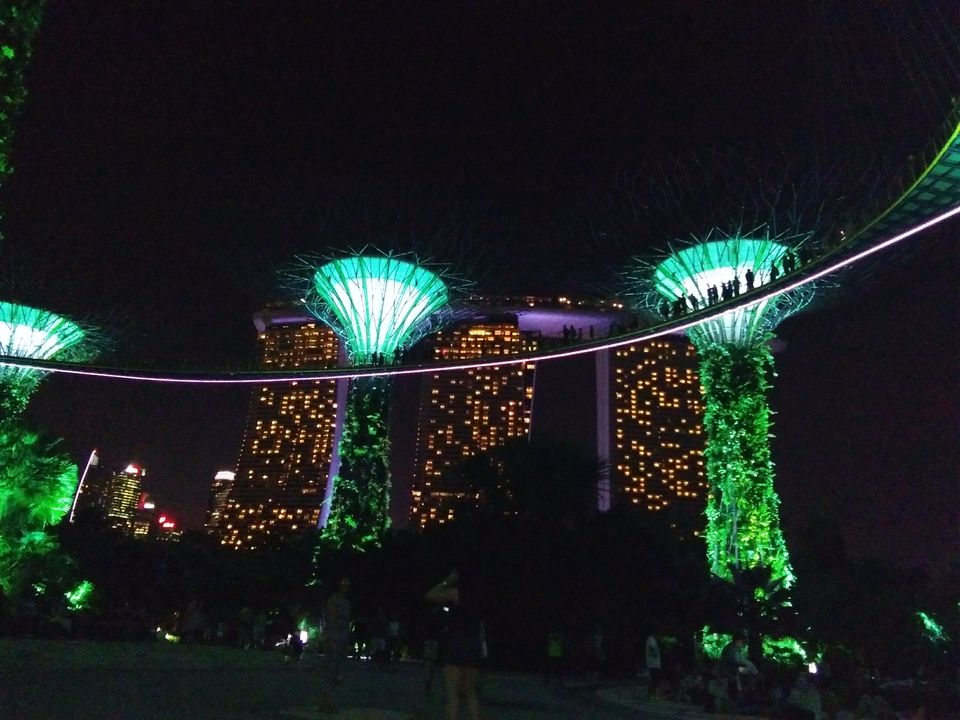 If you want to avoid the long strenuous queue you can download the Klook app for some amazing discounts.
※ Quick Tip:
• Opening hours: The Garden is open every day and the Domes and OCBC Skyway is open from 09:00 AM to 09:00 PM (last ticket sale is at 08:00 PM).
• Supertree grove light show: The show runs twice a day at 7:45 PM and 8:45 PM and it is around 15-20 minutes long. Make sure to come a bit in advance, so you can have the coolest spot with the best view!
• There are no charges for Supertree grove light show.
2) THE MERLION OF SINGAPORE
Merlion Park attracts throngs of visitors, all excited to take a picture with the iconic half-fish body half-lion head that is depicted as a mythical creature.

Don't forget to take a funny photo of yourself drinking from the Merlion to mark your visit to this icon!
3) ESPLANADE THEATRE

It is the arts and culture hub. Consisting of a separate concert hall, theatre and outdoor performance area, it is the perfect place to catch a dramatic show for all those live performance enthusiasts out there.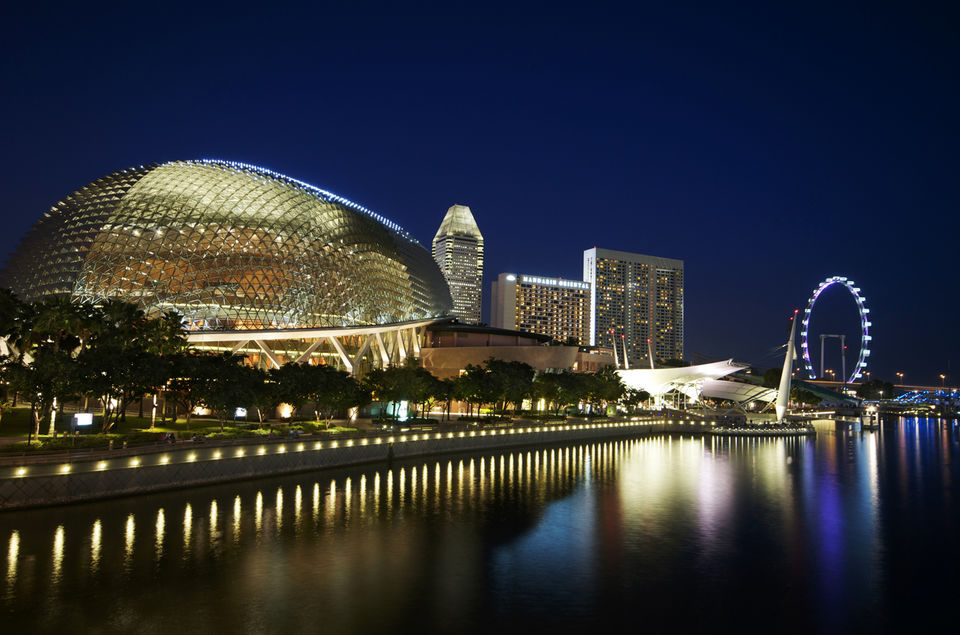 4) SINGAPORE FLYER
Enjoy a jaw-dropping panorama of the bay from the world's highest observation wheel at 165m (541ft).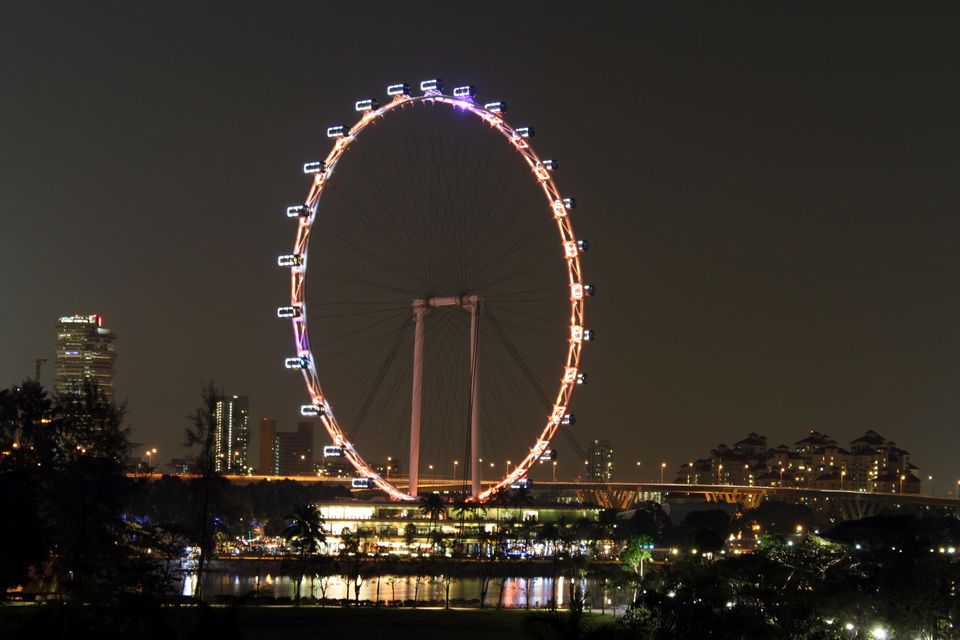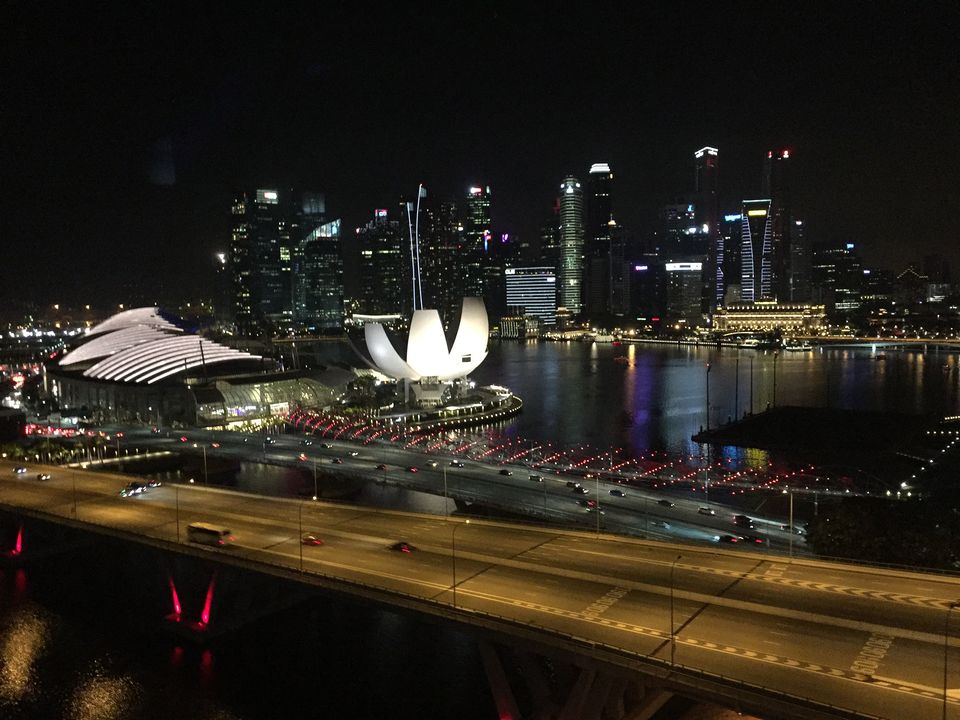 5) STROLL ON THE HELIX BRIDGE
Built-in the shape of a curved DNA structure this work of art not only makes for a great city viewing point but comes alive at night time. Then, once you've caught the city by night, hang around for the famous light show.
Bonus: This one also comes free.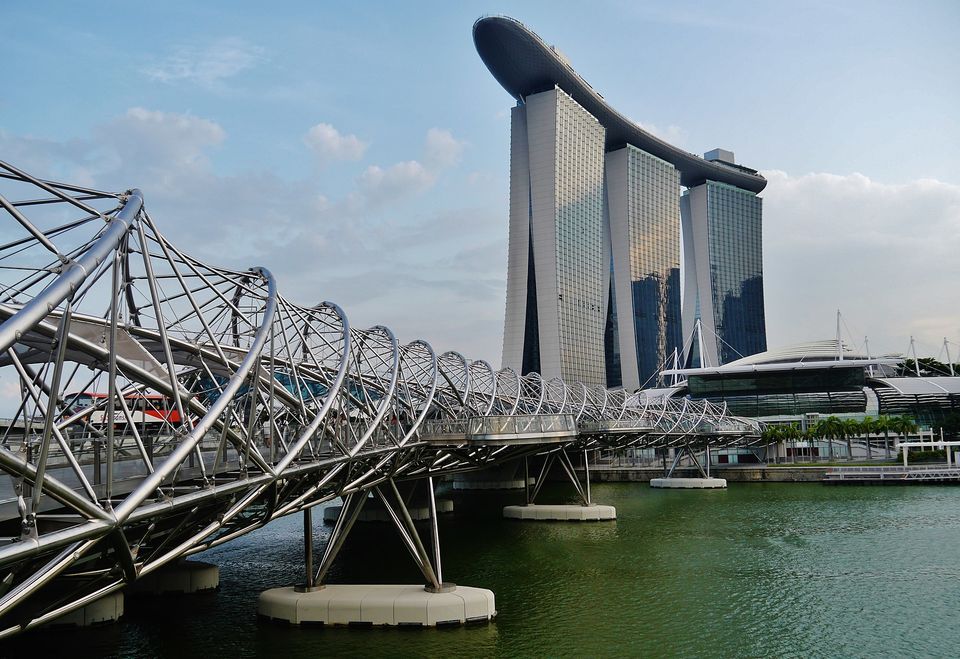 6) MARINA BAY SANDS HOTEL
This wonder is the essence of Singapore. If you have ever seen pictures of Singapore, you have possibly seen pictures of the Marina Bay Sands hotel. This place is undoubtedly one of the most renowned hotels in Asia, if not the world.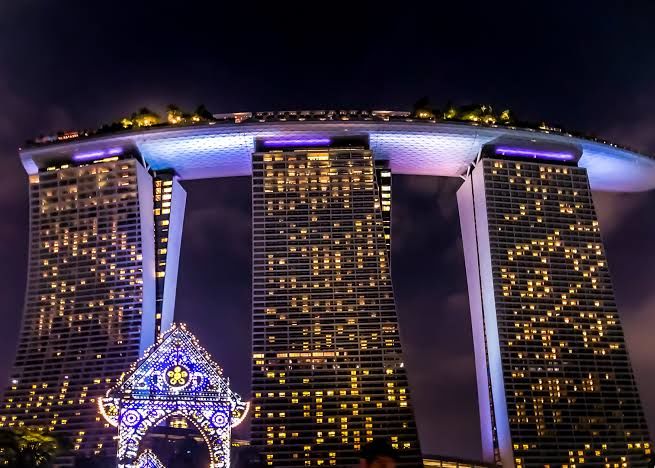 Its famous infinity swimming pool (available to hotel guests only) and many other attractions inside makes this place worth a visit.
Make sure you visit pride and crown of Marina Bay Sands property - The CASINOS and try your luck!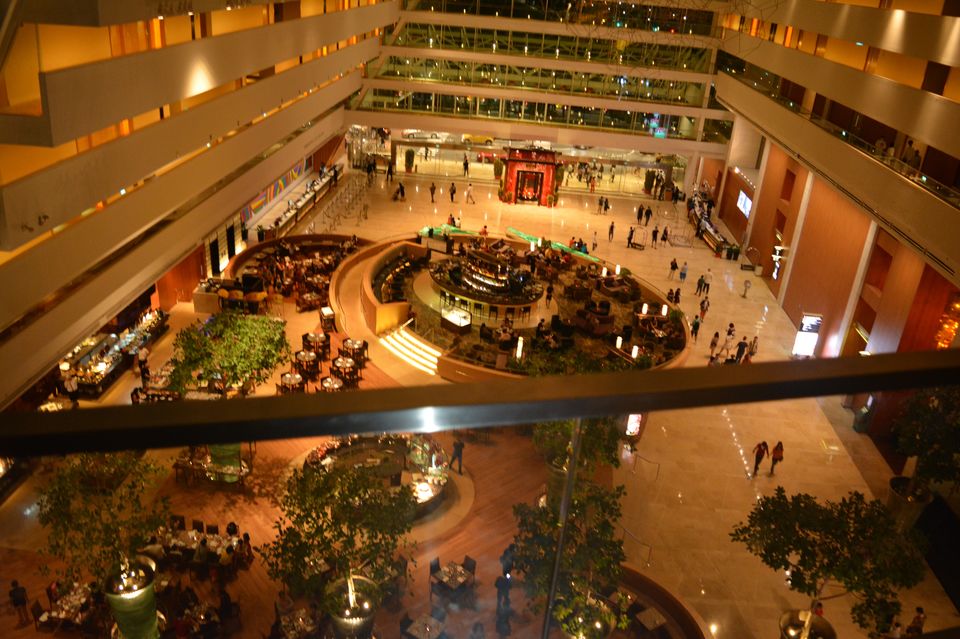 7) SPECTRA LIGHT WATER SHOW
Be wowed by the symphony of lights, music, and dancing streams of water, brightened by sensational lights and lasers at the Spectra Light Water Show. The highlight of the show is the 12 meter-high glass prism centerpiece that contains over 60 lights!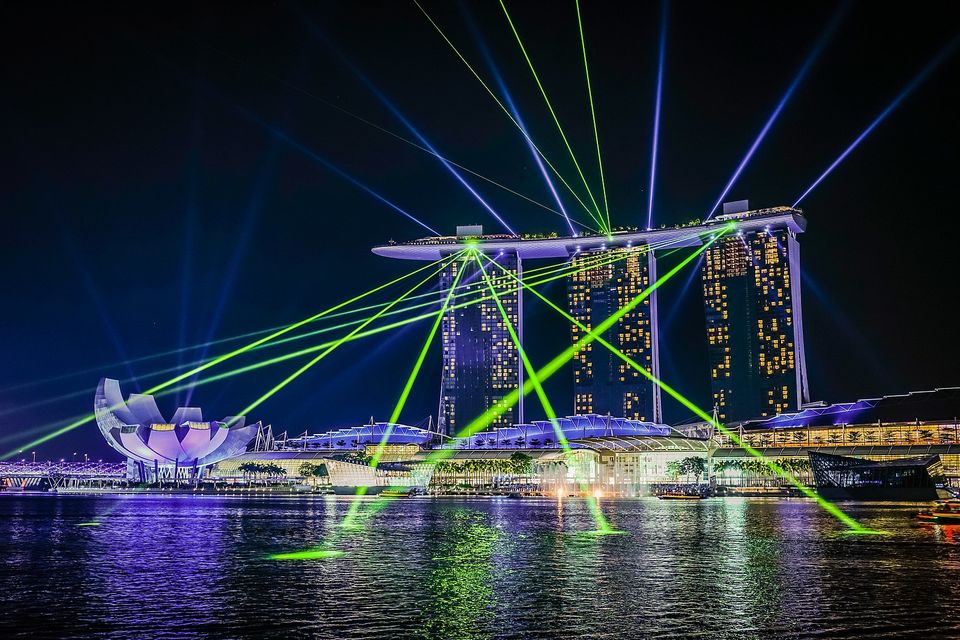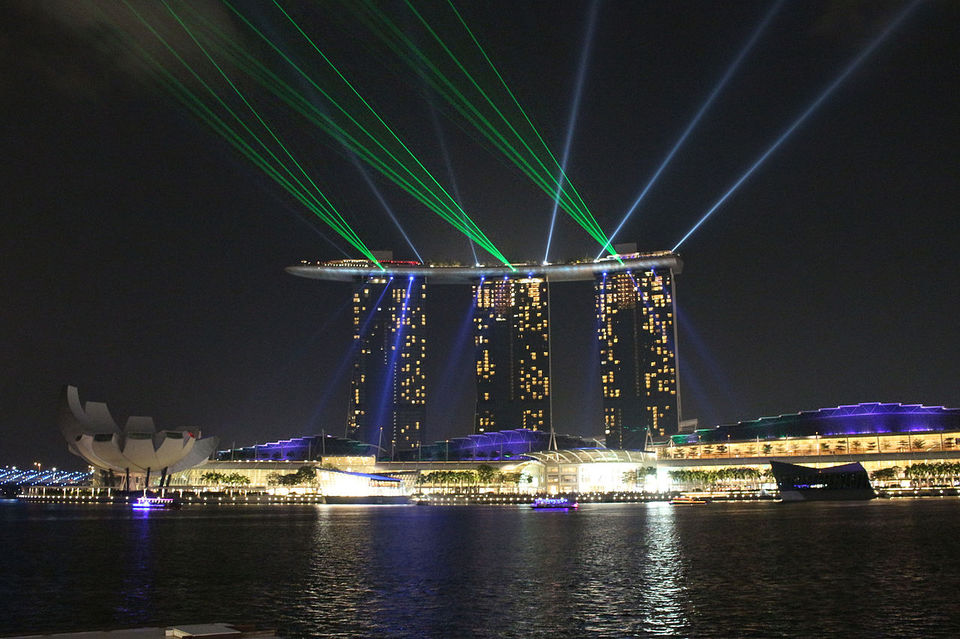 Grab a seat at the benches in front of the shopping mall Marina Bay Sands and take in the lights, water fountain, and music that will appear in front of you. The show lasts about 15 minutes and is free. You can also watch it on the other side, the city side, but I think it is more spectacular from the Marina Bay Sands side of the bay as you can also enjoy the music show happening on the boats.
Operating hours:
• Sunday to Thursday - 8:00 PM and 9:00 PM
• Friday to Saturday - 8:00 PM, 9:00 PM, and 10:00 PM
8) THE ART SCIENCE MUSEUM
The lotus-shaped building also known as the Art Science museum has become one of the top tourist things to do in Marina Bay. The Art Science Museum Exhibitions are always changing and evolving, keeping up with the trends in the art and science world.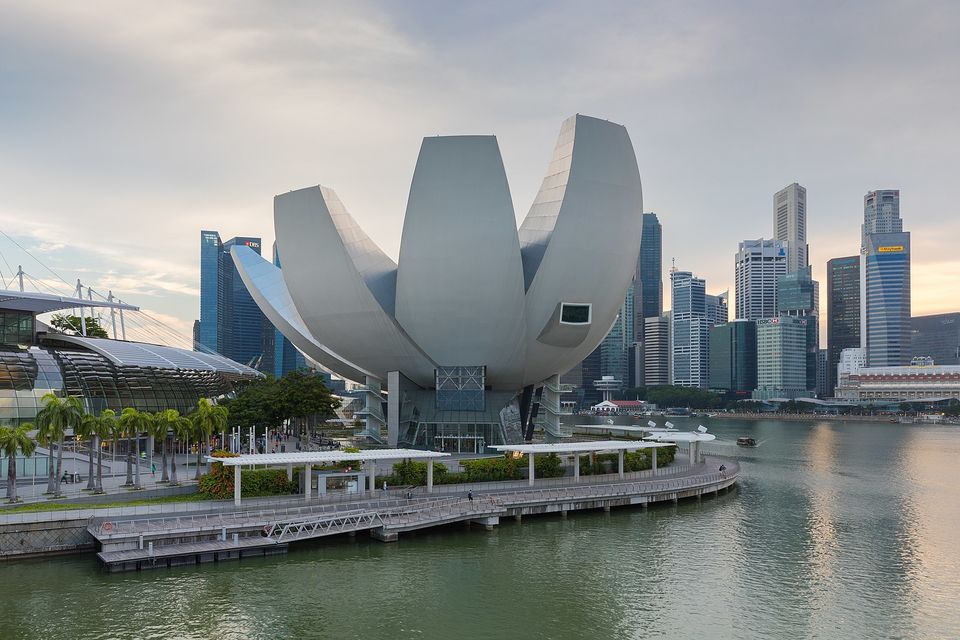 ※ Quick Tip:
If walking is not your thing, why not make your day at the bay unique by zooming around on a Segway! Rent a Segway, bicycle or e-scooter and glide through all the top destinations around the bay area at your own pace.
9) CLARKE QUAY NIGHTLIFE
The best way to wind up your day is to head over to Clarke Quay. It is the most popular and lively part of the Quays, lined with restaurants, bars, and clubs. Have some drinks and dance the night away.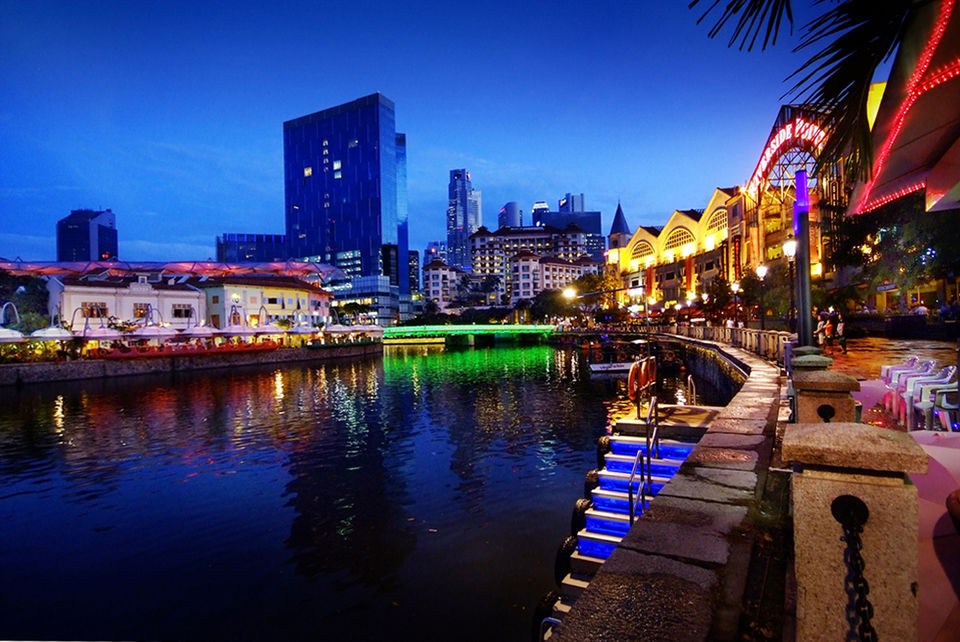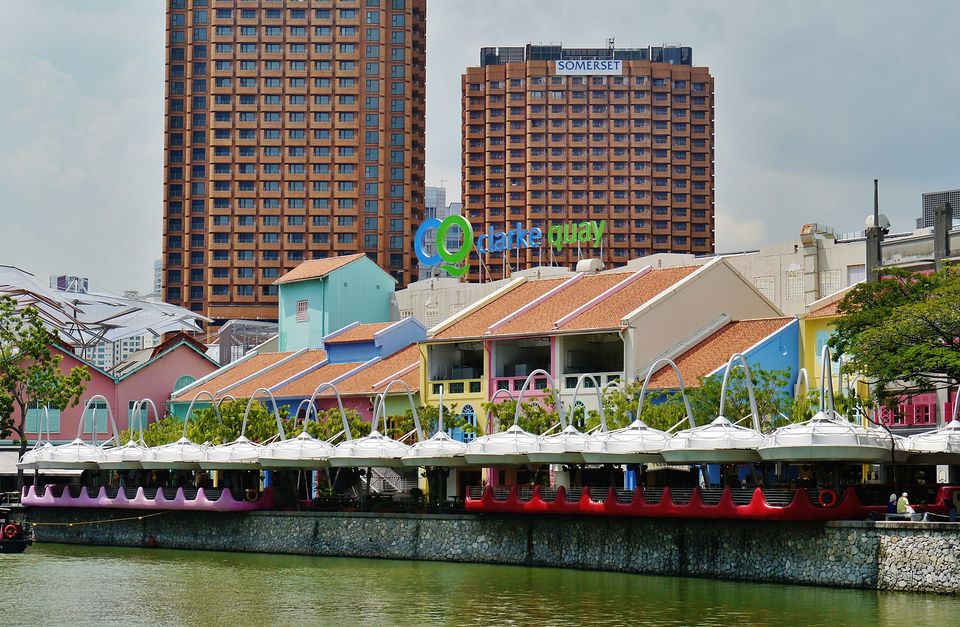 Marina Barrage
It is a huge open garden space which is mostly used as a picnic spot by the local. From here, you can get a panoramic view of the entire city. It is a good place to relax and also fly some kites :). If you want to travel by public transport, the best route is to reach Marina Bay MRT station and from there take the bus no. 400. You can also take a taxi/Grab to reach there directly. Best time to visit is during the evening just a few hours before sunset so that you can enjoy the sun setting on the amazing city skyline.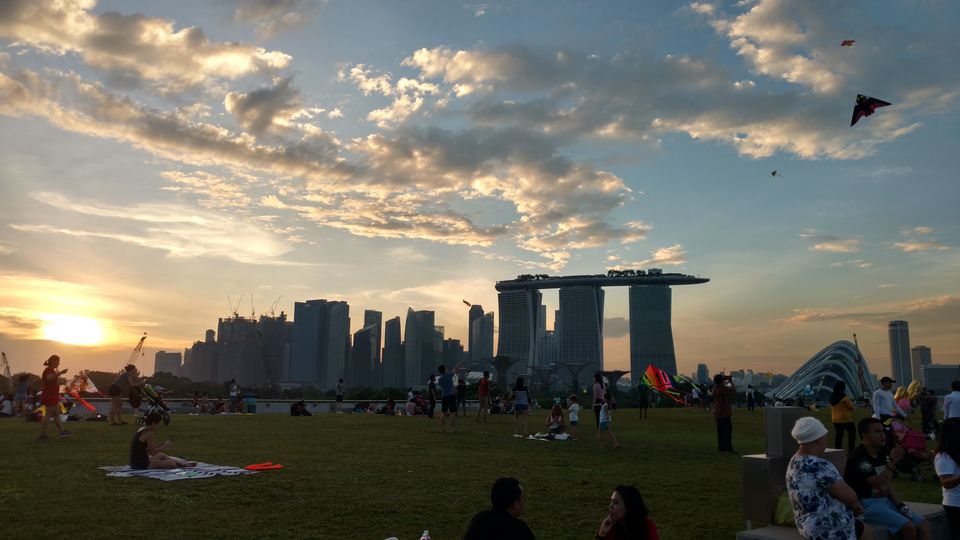 Sultan Mosque
At the end of Arab Street there is shimmering gold Sultan mosque. This striking monument is the primary worship place for Muslim community.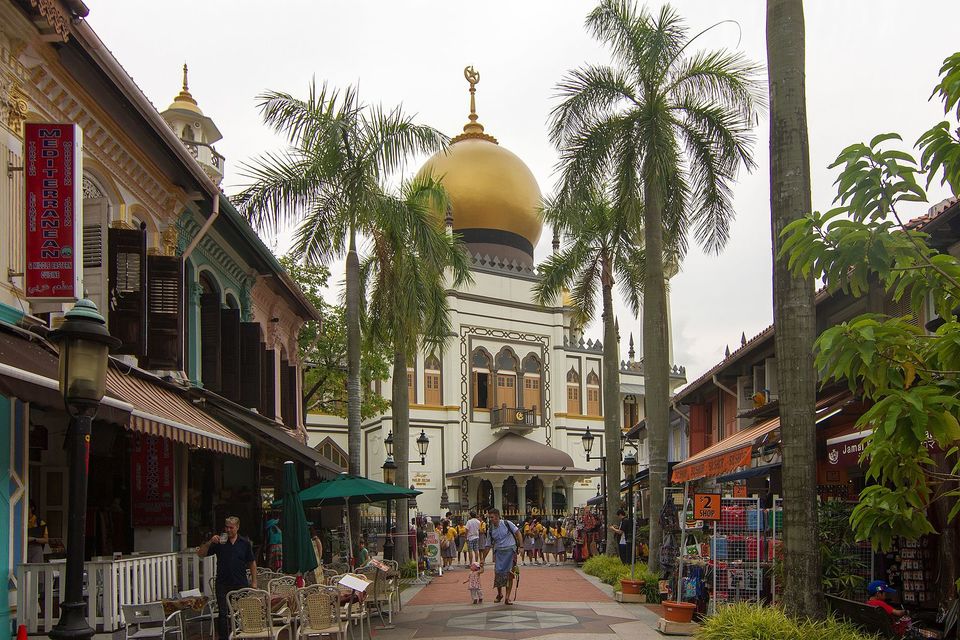 Singapore Zoo
The Zoo is a big complex with 4 options that you can choose from: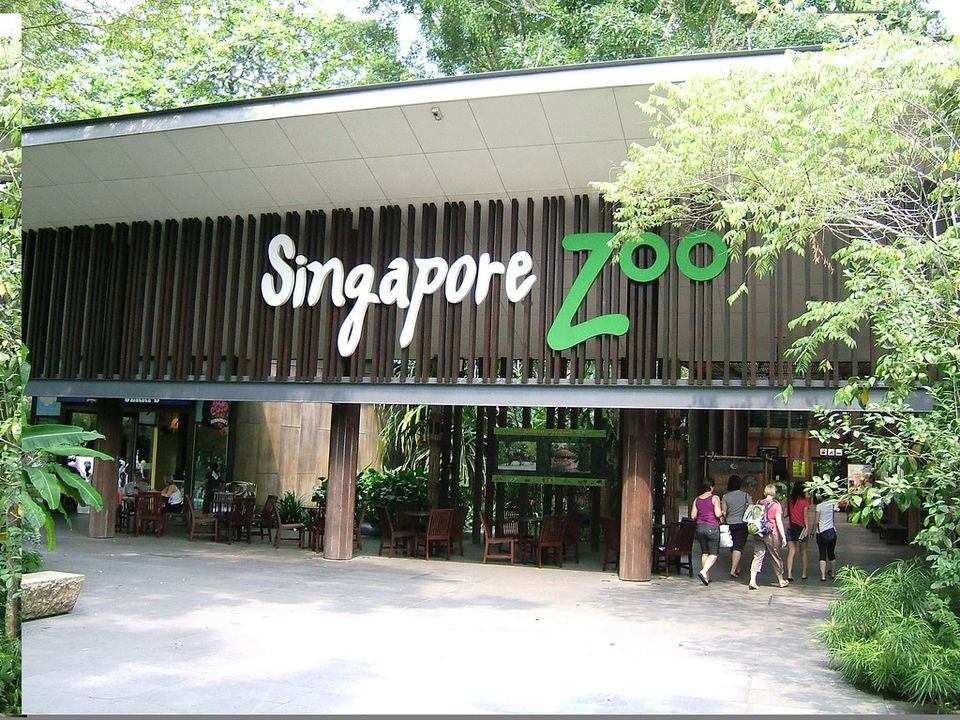 • Singapore Zoo – The place where you will see more than 2,800 animals representing over 300 species of mammals, birds, and reptiles. Can you believe it?
• Jurong Birds Park – it's the biggest bird park on the entire continent of Asia! This place hosts around 400 species of birds living in their natural habitats!
Don't miss the amazing bird shows at the Jurong Bird Park. Catch the magnificent hornbills and parrots performing various stunts in the shows!
• Night Safari – You can see over 1,000 animals in their natural nighttime habitat. The Night Safari is open from 7:15 PM until midnight.
• River Safari – one of the world's largest collections of freshwater fauna, housing more than 6,000 animals including 40 threatened species.
You can visit all of them if you have time, or you can choose the ones that excite you.
Sentosa Island
It is a perfect destination for fun and adventure seekers. It is now home to some of the world's most prestigious resorts, action-packed theme parks, fast food and fine dining restaurants, and the best sandy beaches in Singapore.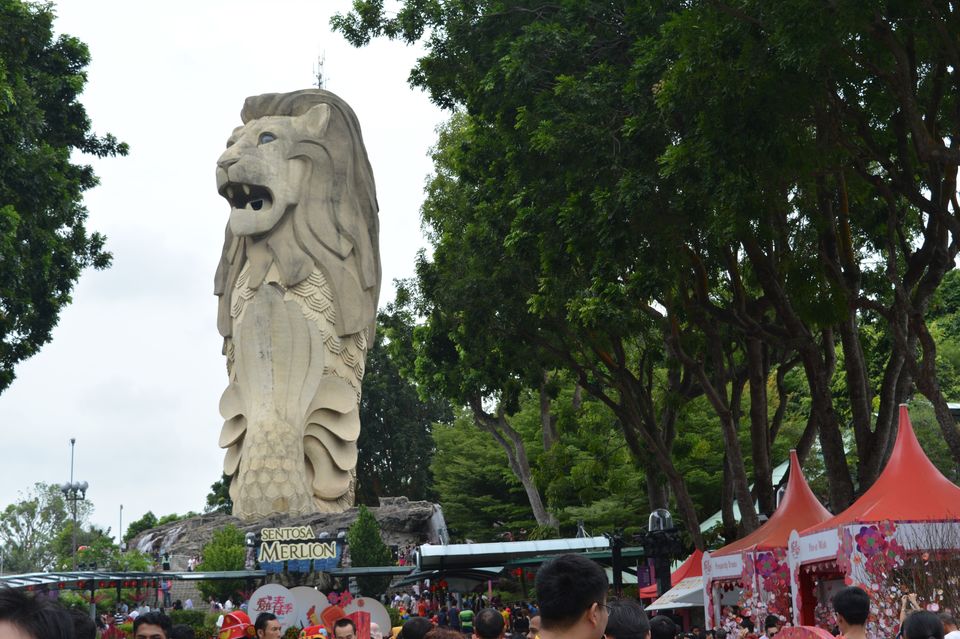 The best way to explore the island is to take 2 day pass which includes some 20 attractions. There are several ways to get to Sentosa Island. You can take a cable car, monorail or walk along the scenic Sentosa Boardwalk.
While planning your trip I would suggest to keep one day aside for Sentosa and one for Universal studios, it is all together a different world. The place is abundant with action, excitement and some really good vibes.

Theme Park
Sentosa houses many attractions for all age groups including best in class resorts, wax museum, trick eye museum, SEA under water aquarium, Tiger Sky tower, and tons of amazing attractions. You can use internal train/cable car to reach from one end of the island to another.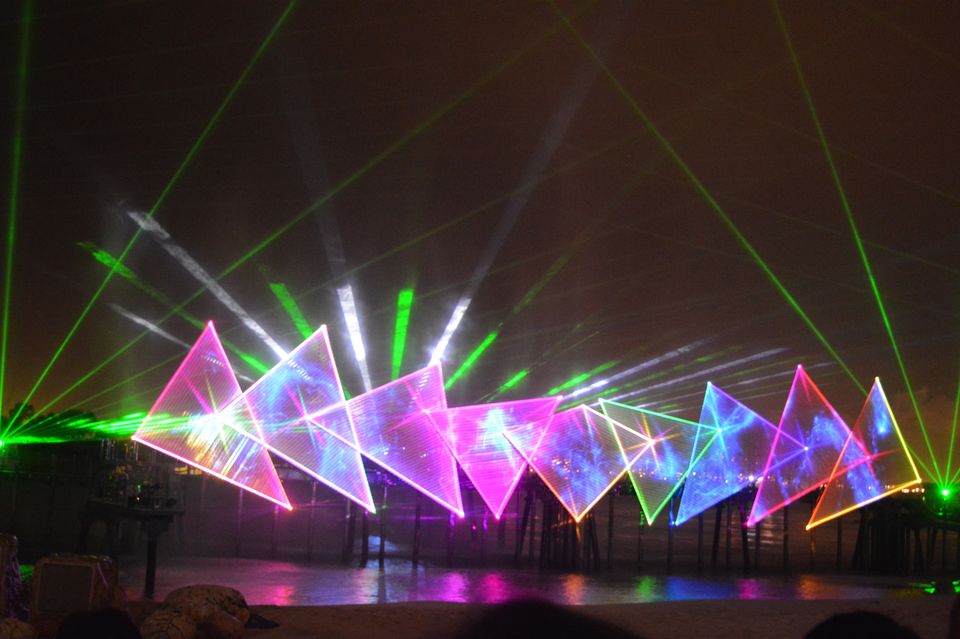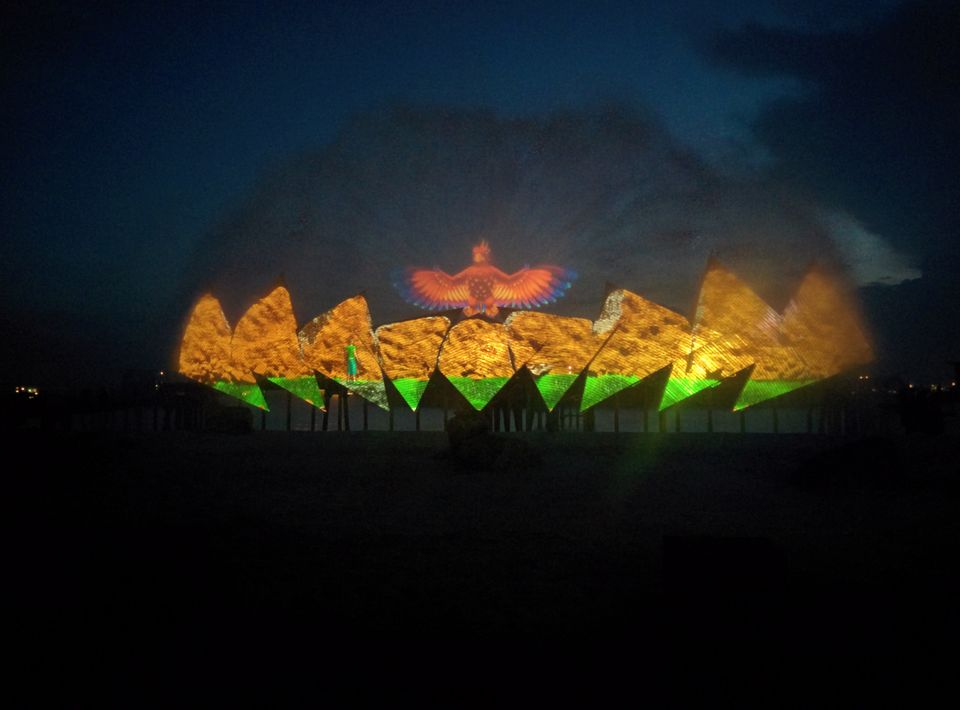 I highly recommend to watch an outstanding light+fire show which they call "Wings of Time". The timings for the show is 7:40 pm and 8:40 pm. It lasts for around 30 minute and trust me it will be your best 30 mins in life.
Universal Studios
If there is a wonderland on the earth, it is called Universal Studio Singapore, the place where all your wild-child fantasies come true.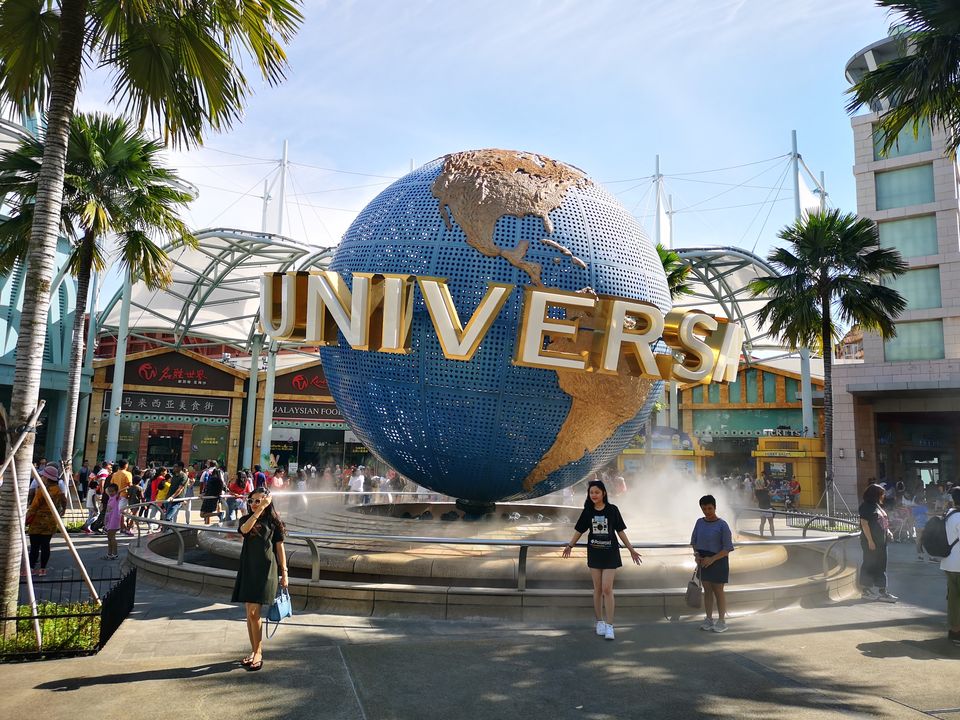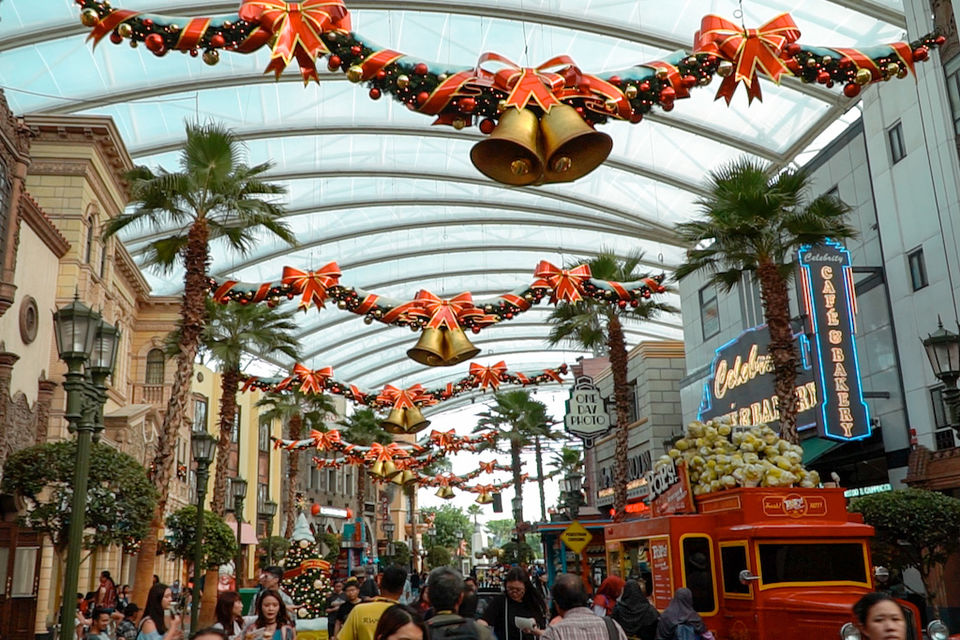 This gigantic theme park features movie-themed roller coasters, rides and attractions, if you are lucky you get the chance to meet some some of your favorite cartoon movie characters.
There are different zones to explore at the Sentosa Island Universal Studios: Hollywood, Madagascar, Far Far Away, The Lost World, Ancient Egypt, and Jurrasic Park. Each zone features its own themed rides, shows, shops, restaurants and street entertainment. If you want to enjoy the rides and avoid overlong queue make sure you set foot on way too early.

※ Quick Tip:
To save time, don't start with the most famous rides - like "The Transformer" as everyone will rush there and there will be a huge waiting time (approximately 1-2 hours wait time) to get on the ride. Instead, you can start with some less renown rides (e.g Ancient Egypt or Jurrasic park etc..)

If you don't mind enjoying the rides seating alone - there is a separate queue for singles in most of the rides. If the waiting time is way too much, you can try it out!

By no means am I an expert on Singapore but I do hope that you find this guide helpful. I'm only sharing some of the insights which I learned when I was in SG. If you have any questions or comments, then please let me know in the comment section below.

Check out how to get around and local food in Singapore.

Thank you for stopping by and reading my post. Have a shiok time in Singapore lah!