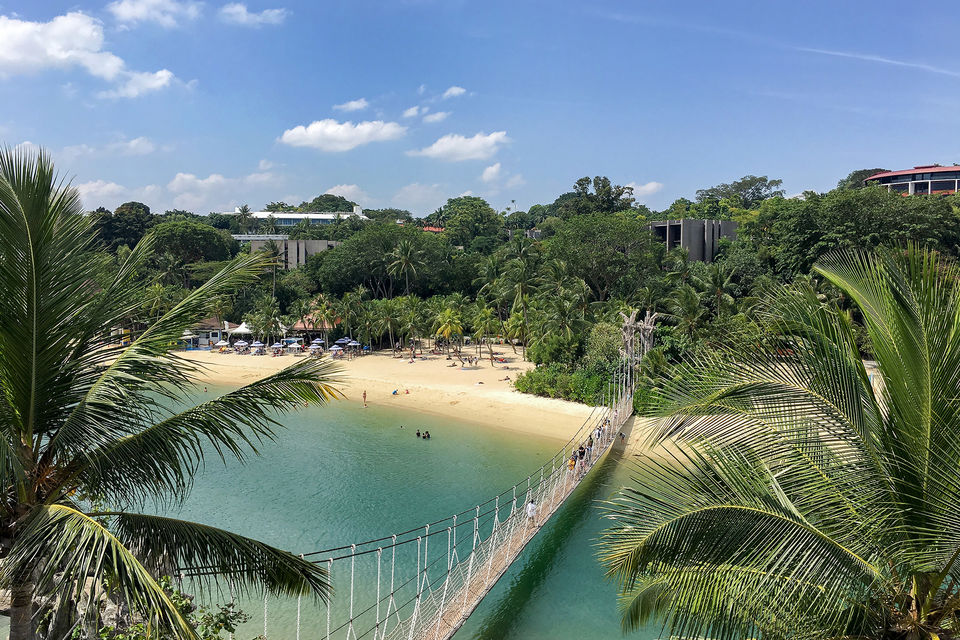 No matter how long you plan to stay in Singapore, be sure to fit in a day trip to the famous Sentosa Island. Its wide range of activities ranging from waterparks to ziplines and bungee jumps provide a great day out for all the family!
The island is located off the southern coast of the city and can be accessed easily by road, cable car or monorail. Hop on the MRT to HarbourFront station and walk through VivoCity, following signs towards the monorail. Tickets are just $4 each with a number of stops at various parts of the island. Alternatively, opt for a cable car and witness the spectacular views that Sentosa has to offer – if you're feeling brave enough!
We headed straight for Beach Station in search of Palawan Beach, ready for some relaxation after a few days exploring the city. White sand, palm trees and clear blue water – what more could you want? Being the most visited beach on the island, it surprisingly wasn't overcrowded. The sea was unbelievably calm and warm enough to walk straight into. There is also a rope suspension bridge linking to the southernmost point of continental Asia, where you can witness panoramic views of the sea and beyond.
As we only had a couple of hours to spend on the island, we didn't manage to see as many attractions as we had planned. For a fun-filled day out, be sure to arrive early and make the most of your day! Some of the most recommended attractions are; Universal Studios, S.E.A Aquarium, Adventure Cove Waterpark, Tiger Sky Tower and KidZania – something for all the family to enjoy!