" It is not the mountains that we conquer but ourselves"
- Sir Edmund Hillary
Sonamarg base camp(9200 ft.)
Lazy? Unfit? Who ever you are wake up at 6 am grab your tea and breakfast. Fall in at 8 am and the fist introduction to your course.All the pursuing mountaineers were distributed in 4 groups each group consist of army officers, air force officers, ncc cadets and civilians.On the second day we visited Sonamarg market which is 3 to 4 km from base camp and don't give a thought of going from roads. The day ended with a dinner under the sky full of stars.I would like to mention the food is of good quality but taste should not bother you at 9200 ft.
Third day was great day as we have to prepare for the trek, trek to Happy Valley. We grabbed our lunch from base camp and started our trek at 9 am trek is full of adorable scenic views and after 3 to 4 hours of trekking you will land among clouds.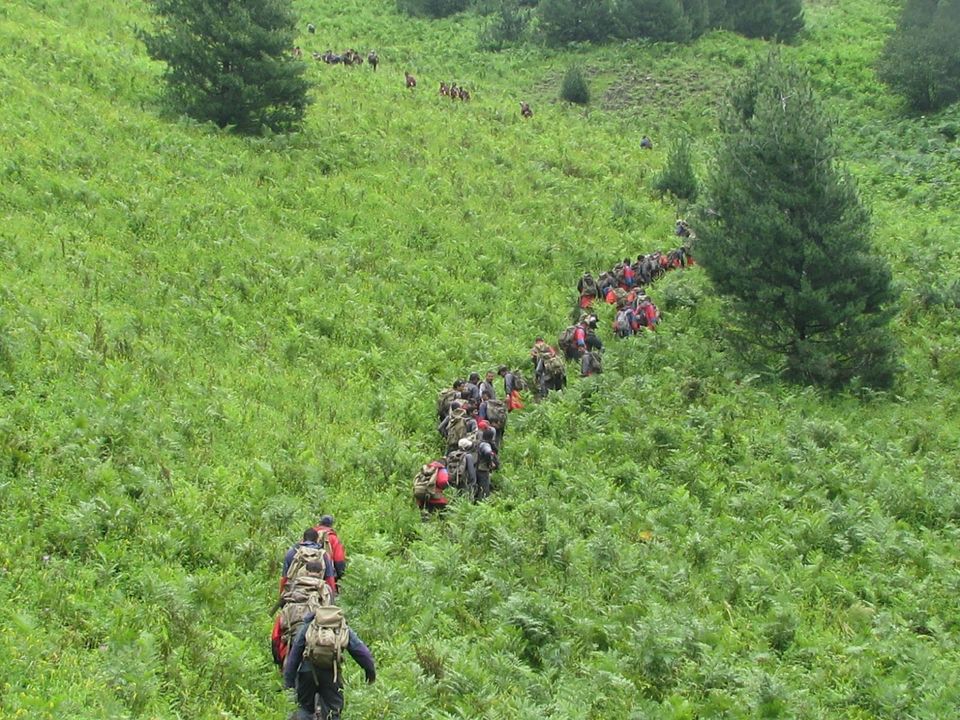 On our way to Happy Valley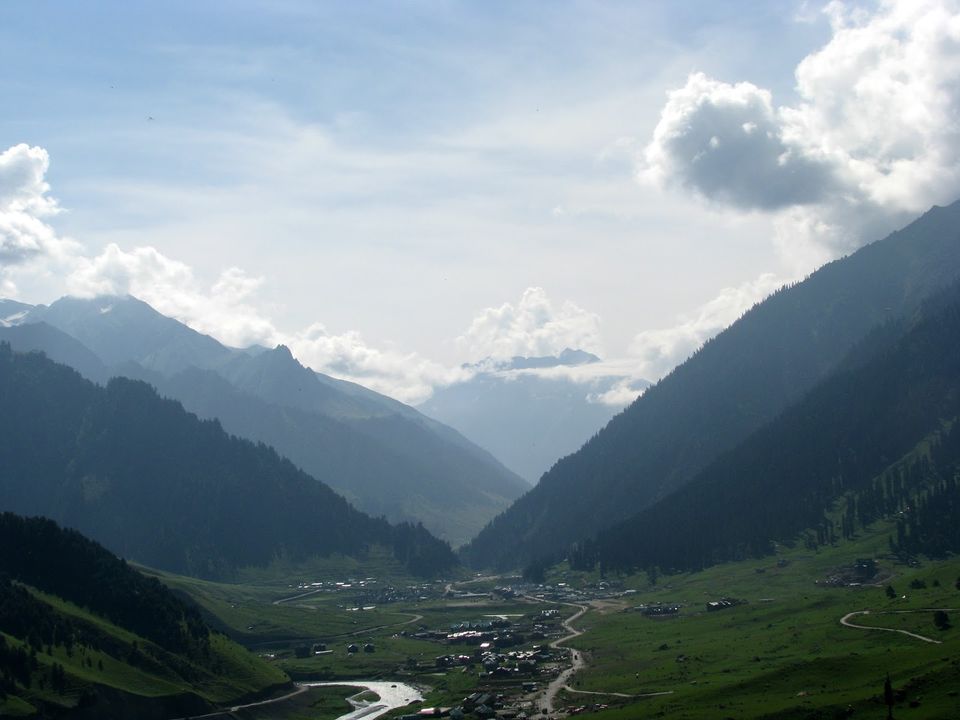 View from Happy Valley trek
Our trek ended with visit to HAWS(High Altitude Warfare School) where various mountaineering equipment were introduced to us wrapping our trek day with a tea break and dinner.
P.T. at 7 o'clock sounds simplebut the first experience was harsh as it was 5 to 6 km endurance run followed by breakfast.On 4th day we were ready for a adventure activity we all really were excited for "River crossing" were different river crossing techniques were taught. Let me introduce to that river I have never seen a river in such a pure form whose origin is Thajiwas glacier near base camp.
Starting with morning PT and breakfast we had a another adventure activity zip lining followed by lectures and practicals on rescue techniques for descending a casualty. We enjoyed the day as it was a beautiful evening in the valley . Now friendship got its root in our tent and day ended with laughter and sharing crazy experiences.
Packing our bag for another trek , trek to Table Top. Table top is on the route of Great lakes one of the most beautiful trek of India. We were tired of admiring nature's beauty and having lunch in these mountains is one of the greatest experience one can have in his life.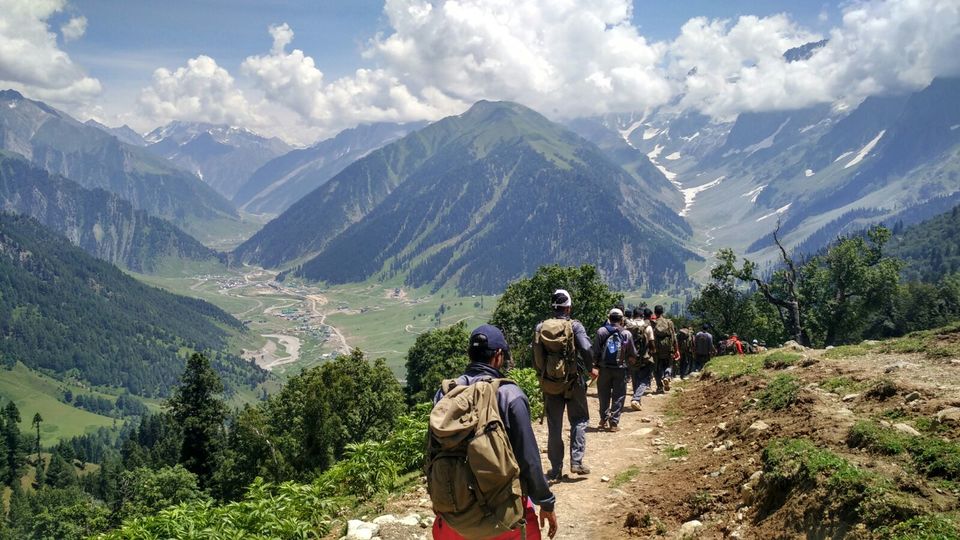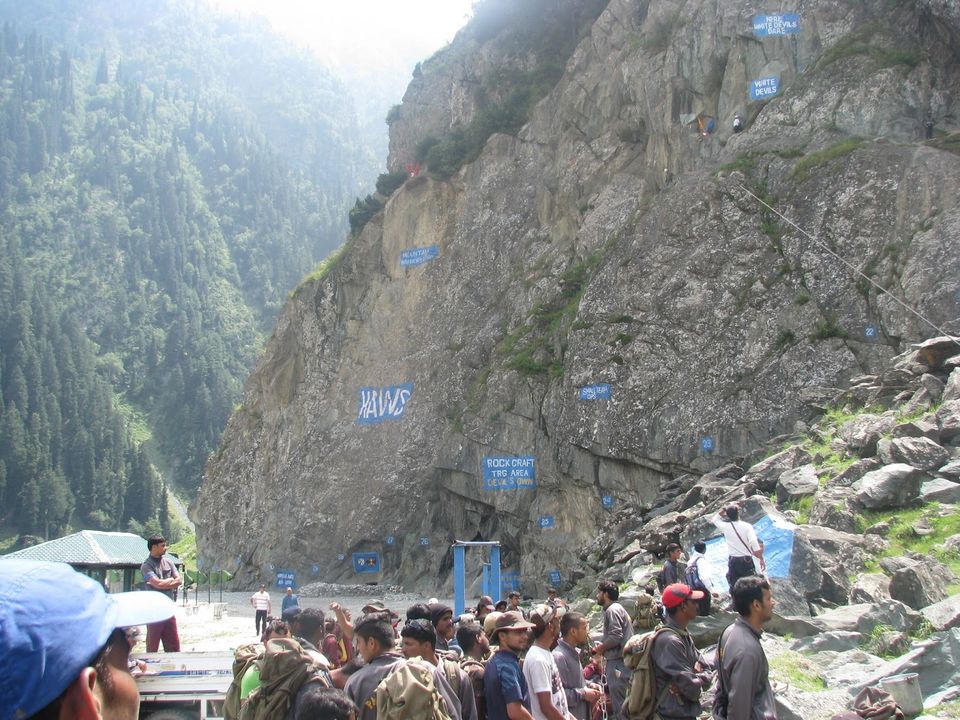 Rock Climbing training area
The previous 2 days had same routine and until we were divided in two groups for rock and glacier training.
Glacier training consist of base making,crevasse rescue and drill.
We were distributed ice axe, snow shoes and other glacier equipment. Our day usually ended with evening lecture which were very practical and fascinating.
Our 6 days glacier training ended with a practical test on drill, base making and crevasse rescue which is based on your practical learning abilities these tests were more like tasks and we really enjoyed them.
Rock climbing, base making and rappelling test. Finally, Viva in the evening and the day just vanished.
The last day started with a one hour written test and the evening which everyone of BMC-115 students will remember Course Completion ceremony which was full of laughter, dance , mimicry and price distribution ceremony.
On completion of glacier training
We were back to our rock climbing training. Morning PT breakfast,rock climbing training,evening lecture and dinner was our schedule for the next 4 days.Once you start learning to climb you will come to know there is nothing better than rock climbing.
Final endurance test with 10 kgs of load followed by last rock climbing training , documentaries in the evening and the excitement of last few days wrapped our day.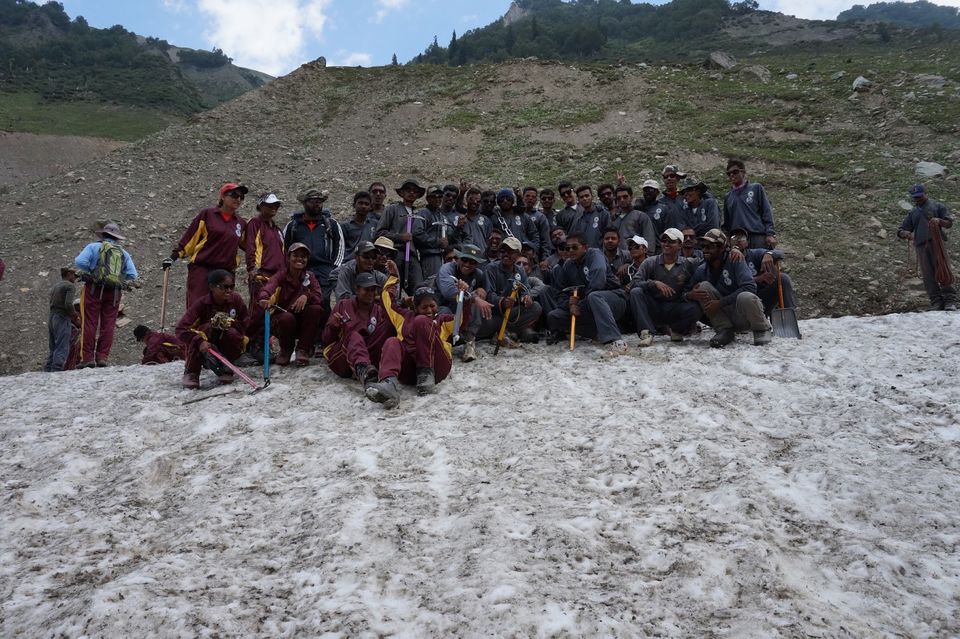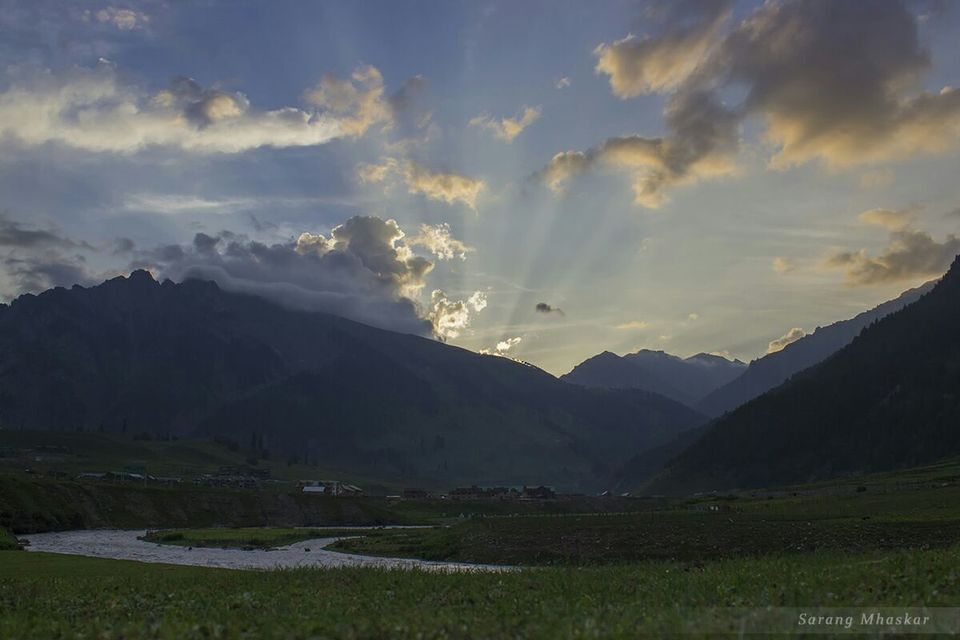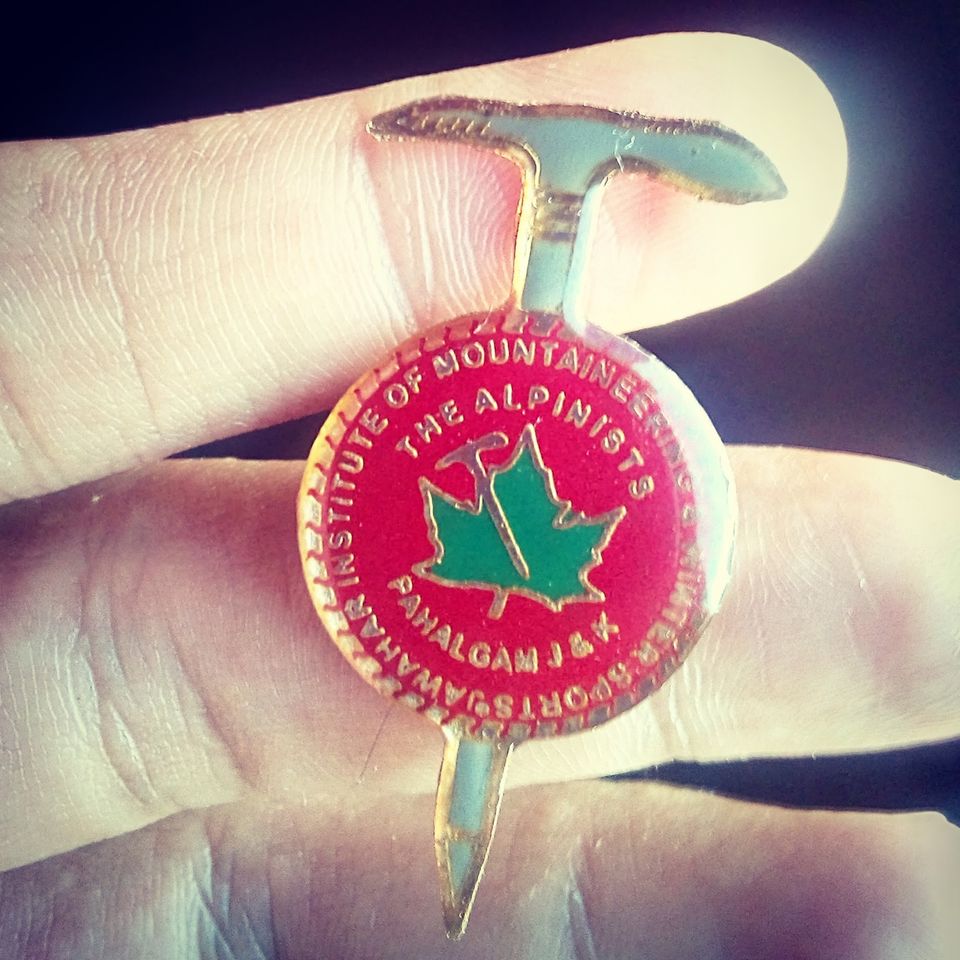 Fruit of 24 Days of training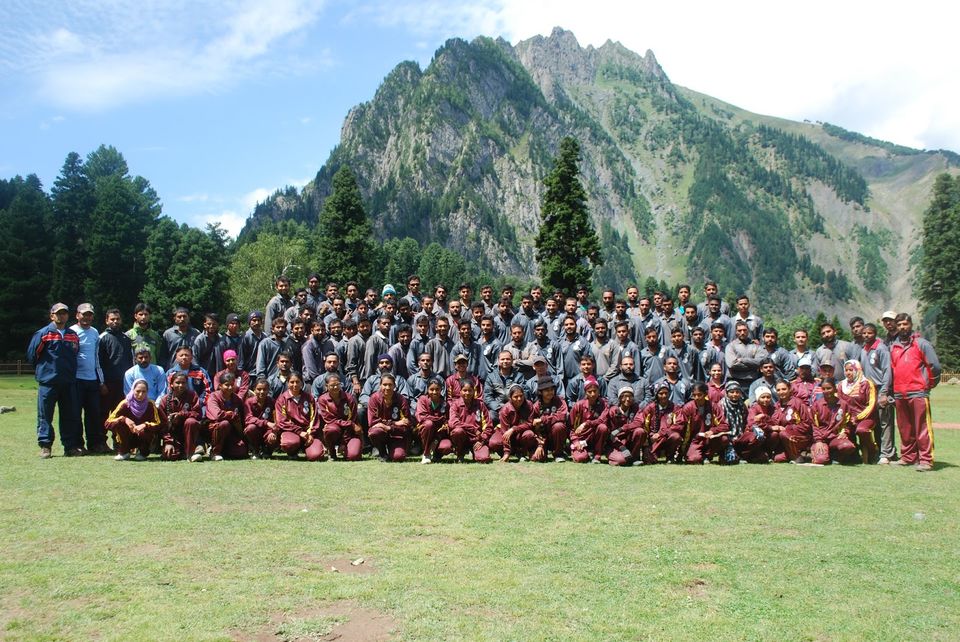 Finally Bon Voyage with a spirit of Mountaineer.
This blog was originally published on 'In my Twenties'