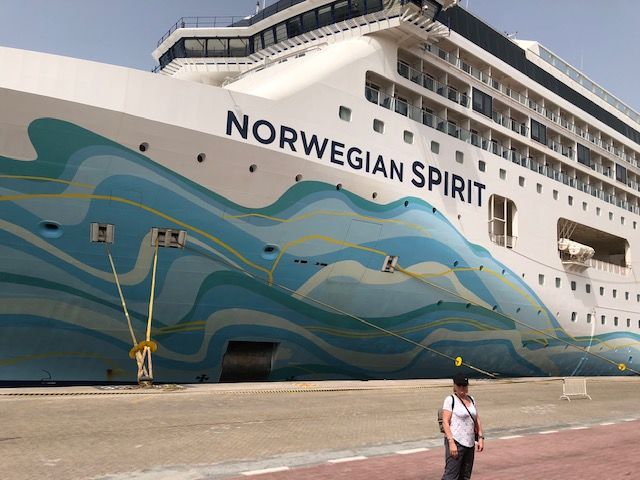 The Beginning
When the email from the travel agent came through in early May, 2019, outlining an available trip that included flying Emirates to Dubai, and then a 21 day cruise to Abu Dhabi, Oman, Madagascar, islands in the Indian Ocean and then four stops in South Africa, it really piqued our interest. It ticked so many boxes for us.
An enquiry to upgrade to a balcony was met with an emphatic 'no balconies available'. At first we decided not to go as we always get a balcony cabin, but after a few weeks of mulling it over, we decided to bite the bullet and take the inside cabin on offer. (It turned out that it wasn't so bad).
The COVID-19 virus was in the news but it was largely confined to Asia, and so we were not too concerned that it would affect us. How wrong that thought turned out to be!
Dubai, UAE
We left on February 28th and traveled on Emirates Air to Dubai. We had heard so much about Emirates and looked forward to it. They are definitely a step up from most regular airlines, and in general we enjoyed the flight.
We checked into the Hilton Garden hotel near the Mall of the Emirates. It is a decent hotel and we enjoyed our stay there. Next day we went on an organized tour of the City. What an amazing place! You see pictures and hear stories, but you really need to experience this yourself. The unique architecture of each tall building is incredible, and in general the city is amazing.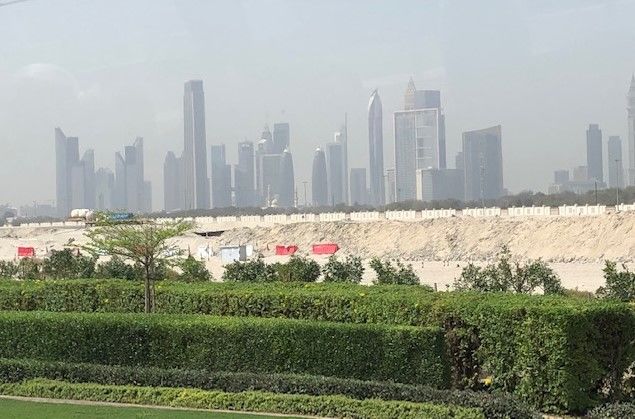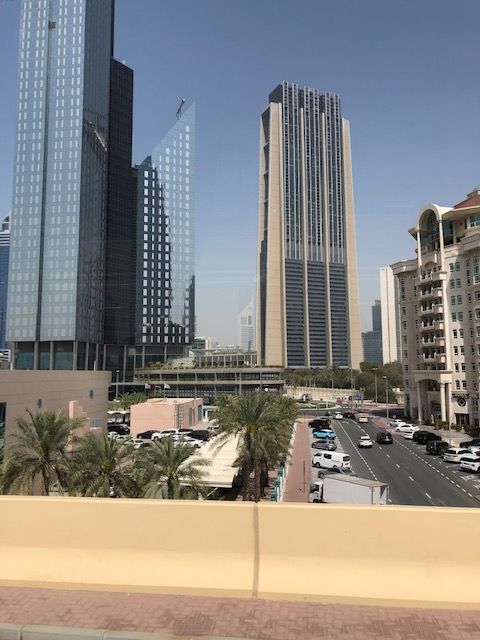 Abu Dhabi, UAE
Part of the City tour of Abu Dhabi involved visiting the largest mosque in the United Arab Emirates. Before this, we went on a water taxi and visited the gold and spice market (souk or souq), where we picked up some Kashmir scarfs and a few other gifts at ridiculously low prices.
We had been warned about a dress code, especially for women, when visiting the mosque so we wore long pants and ensured our shoulders and arms were covered. Vicki also wore one of the head scarfs she had bought and so we had no problems getting in.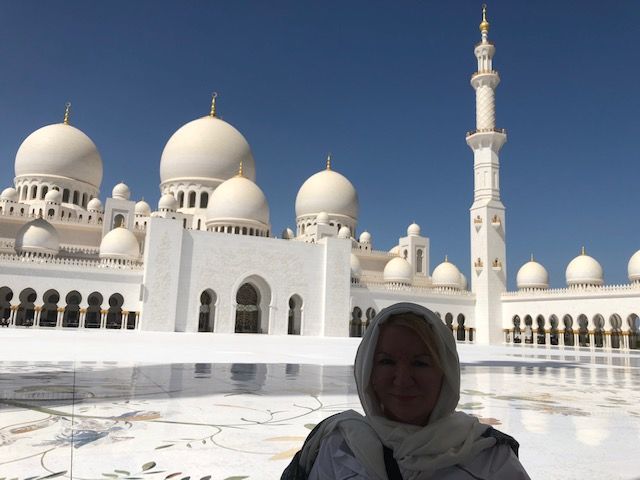 Muscat, Oman
We had a wonderful tour guide called Yousef in Muscat. A young college student who told us many stories about his life. He was not much different to college students in Canada or other parts of the western world. I won't go into details to protect the guilty.
Oman is different to the UAE – much more traditional yet still modern. Once again, we went to the market where we purchased items at very reasonable costs.
We went to visit another large mosque. This time, Vicki was not allowed in because the long pants she was wearing were exercise pants and had some mesh in them, which was considered too revealing. We had to rent a traditional 'dress' for $8 USD.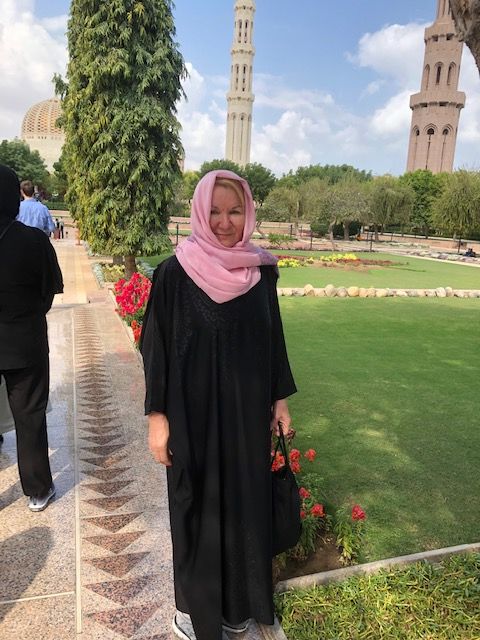 The Rest of the Cruise
We had been told when we boarded that Madagascar was off the itinerary. No reason was given, but it was a sign of things to come. Our first stop was the Seychelles, a 3-day sea trip, but we were informed that they had refused us permission to dock. Since Madagascar was off the list, we set out for Mauritius, another 5 days at sea.
Mauritius at first told us to come back in 2 days, so we headed to Reunion. They refused us permission to dock as well, and so we headed back to the Seychelles. The authorities there also told us to head back out to sea as we were not welcome.
That left South Africa, where we had 4 stops scheduled: Richards Bay, Port Elizabeth, Mossel Bay and Cape Town (our final destination). While on our way to South Africa, it was announced that the country was closing its borders on March 18th at midnight. We were not going to Richards Bay either, and there was no way we could reach Cape Town by the deadline. There was a rumour that we might head to Port Elizabeth and clear the medical authorities there, before heading to Cape Town. (We had no COVID-19 related illness on board, and had been at sea for 14 days so had effectively passed the quarantine period).
The ship was going at full speed, obviously to try to reach somewhere in time. However, it was then announced that we were heading straight to Cape Town, where the authorities had told us we would be allowed to dock on March 22nd, but we all had to have flights out of the country that same day, and we would be taken straight to the airport.
This produced a scramble for passengers, as just about all of us had arranged to spend additional time in South Africa before heading home. It brought out the worst in some people – guests were shouting at staff (it was not the staff's fault), there were lots of tears and much anguish. Keep in mind that this was, in general, a very elderly group of passengers. Most of them had booked everything through a travel agent and now they were being asked to go online and change their flights or book new ones, and cancel their arrangements in South Africa. Needless to say there was pandemonium.
There were hundreds of elderly passengers all lined up waiting to access ship computers to make their changes, most of them without a clue what to do. I had booked new flights on British Airways through my mobile as soon as I was told we had to leave, so I volunteered to help the other passengers as I know my way about a computer screen and the Internet. NCL politely turned me down, probably because of liability concerns.
As it turned out the South African authorities relaxed the conditions a little and allowed passengers to fly out up to March 24th. That meant we could have stuck with our original Emirates flights, but by that time we just wanted to get home, and we had already paid our money for the BA flights.
The Journey Home
As promised, we were allowed off the ship just after 8 in the morning and transported straight to Cape Town airport. I don't know whose idea it was to get us to the airport around 10:00 AM for a 6:00 PM flight, but it wasn't a great idea. Thankfully the food in the restaurants at the airport was very reasonably priced, especially for people from North America and Europe. Not so fortunately, they were not serving alcohol, due to the pandemic (no, I don't understand the logic either). We had so looked forward to having a nice glass of South African wine close to where it is made.
As a side note, we lived in Cape Town for 2 years a long time ago, and it has changed dramatically, especially the city landscape. I understand it is not the safest place to live these days, but it is a beautiful city. Table Mountain is still as gorgeous as ever.
We finally got on our flight which would be the first leg of the journey home – a 2-hour flight to Johannesburg O.R. Tambo airport. Once again, having lived in Johannesburg for a few years, we were shocked at the changes in the airport (it was called Jan Smuts when we lived there). The airport is huge! On a par with some of the large international airports in Europe and North America.
The layover in Jo'burg was short, and soon we were on the second leg – an 11-hour flight to Heathrow. Although the flight was long, at least we were fed and had a couple of glasses of wine (French, not South African).
We had a 4 hour layover in Heathrow, where just about everything was closed. We did find coffee at Weatherspoons – takeout only, but it was delicious! We managed to get some duty-free shopping in, and soon we were on the last flight of our journey – Heathrow to Toronto.
This was about an 8-hour flight and once again was more than comfortable. We were a little worried as we had a connecting shuttle bus to drive us home, and if we didn't make it on time, we may have been stranded in Toronto airport for many hours if not overnight. We did make it however, in plenty of time.
We got back home about 7:30 PM, where our son and son-in-law had delivered our car to the shuttle bus depot. Making sure to keep a safe distance, they handed over (threw) the car keys and we headed home to be met by our two dogs who hadn't seen us for almost 4 weeks. You can imagine the welcome we got.
We were finally home after 42 hours of travelling. What a relief – and then we headed into 14 days of self-isolation.
The Ship's Crew and Staff
I have to talk about the Norwegian Spirit's crew and staff throughout this voyage. To say they were amazing would be an understatement. There is one small exception which I'll briefly talk about later.
As more and more ports turned us down, we were running short of supplies. (At least the ports did let us refuel). They changed the protocol at the buffet restaurant, and instead of serving ourselves, we had to ask the staff behind the counters, and they would serve us. As time went by, we started to notice that some things were missing, such as some vegetables. At the speciality restaurants, many passengers had to have a substitute meal rather than what they had selected. They were also running out of some wines and other alcohol.
Nobody was getting off the ship at ports of course, and so staff had to work excessive hours (they already have to work a 70-hour week) and they were becoming exhausted. However, for the most part, they remained pleasant, friendly and polite, smiling at the guests and pouring drinks at an amazing rate. I really hope they were tipped well by everyone, but sadly, I doubt it. We doff our caps, as they say, to the amazing staff and crew of the Norwegian Spirit! The one exception was the Captain. First of all, he was invisible throughout the cruise. Second, when he was making his announcements, nobody could understand him as he was obviously using a microphone from his office. The Cruise Director always had to follow the Captain by restating what Captain Mumble had said, and it was always clear when he announced it. Last, during the final few days when we were heading to South Africa, the communications dried up completely. This resulted in rumours and speculation spreading around the ship. This was so different from the last cruise we were on with NCL, where the Captain kept us informed all the time (we sailed through a hurricane on that cruise) and he also was very visible talking to passengers and crew throughout the voyage.
The People
The Norwegian Spirit can take just over 2,000 passengers, and it was completely full. We were told (unofficially) that the breakdown in terms of largest number of passengers was Americans, then Germans, then Brits, then Australians, then Canadians and a smattering of other nationalities.
We met very few Americans, and they were largely quiet. We only spoke to one German couple, and they were from what used to be East Germany (very nice couple). We met a few Brits but for the most part they stuck together. The only time we spoke with other Canadians was while we were in Dubai on the tour before the cruise began. They were largely invisible on the ship.
By far the most friendly bunch were the Ozzies. We made friends with a couple of groups of them and usually had breakfast with one group, and sometimes met at the Champagne bar in the evening with another group. Delightful people they were, and we saw a bunch of other Ozzies having a great time. They helped make the cruise a fun time for us, and of course themselves.
The demographics of the passengers were interesting. My guess is that the average age was well over 70 years, with many older than that. As a result, there were many canes, scooters and other walking/riding aids. My wife said it was a bit of a busman's holiday as she looks after seniors in her job.
A demographic like that can result in illness and worse. We did see one body (completely covered) being removed from the ship. We assumed it was a death although no announcement was made. At Reunion, although the authorities would not let us dock, they did allow a medical evacuation of one passenger who was obviously seriously ill. Note that we had no cases or symptoms of COVID-19 on board at any time.
The Entertainment
Having been on Norwegian cruises before, we have always thought that the on board entertainment could be improved upon. This cruise was more or less the same, with one very notable exception - a singing group called Ancora. They are 4 classically trained singers (3 from the UK and 1 from Finland, 2 male, 2 female) who sing a combination of opera, pop and songs from famous musicals. To say they were outstanding would be an understatement. We saw all 3 of their shows and they were superb.
The ship also has a feature show called Elements, which is a scaled down version of Cirque du Soleil, with music, dancing, acrobatics etc. It was very good.
I'm not a fan of karaoke, but my wife persuaded me to go to it one night. It was so funny we went back quite a few times. Some of the singers were so bad we felt sorry for them. One singer brought a full set of karaoke outfits on the cruise. He must have needed a suitcase just for those alone!
The rest of the entertainment acts were average at best, but the staff organized a lot of games and trivia contests. We took part in the trivia as they were very well done.
Summary/Update
Despite the disappointment of missing all the ports, and not being able to spend time in Cape Town again, we feel very fortunate to have returned home with apparently little effect on our health. We have all seen the horror stories on the news about cruise ships being blocked entry to ports and governments having to fly stranded passengers home. There have been outbreaks and even deaths on some of these ships.
One of the Australian couples we got friendly with on board the ship stayed the extra 2 days on the ship before catching their flights home. They have just let us know that Cape Town airport was a mess on March 24th, with people checking their bags in and then getting told their flights were cancelled. They were fortunate to get home before the lock down, but another couple they knew had to pay $15,000 for two business class tickets to Melbourne.
So once again, we are thankful to be back home in Canada among family and friends (although not too close physically at the moment). Take care of your loved ones and your health everyone. Without those, we have nothing.
Photo Gallery