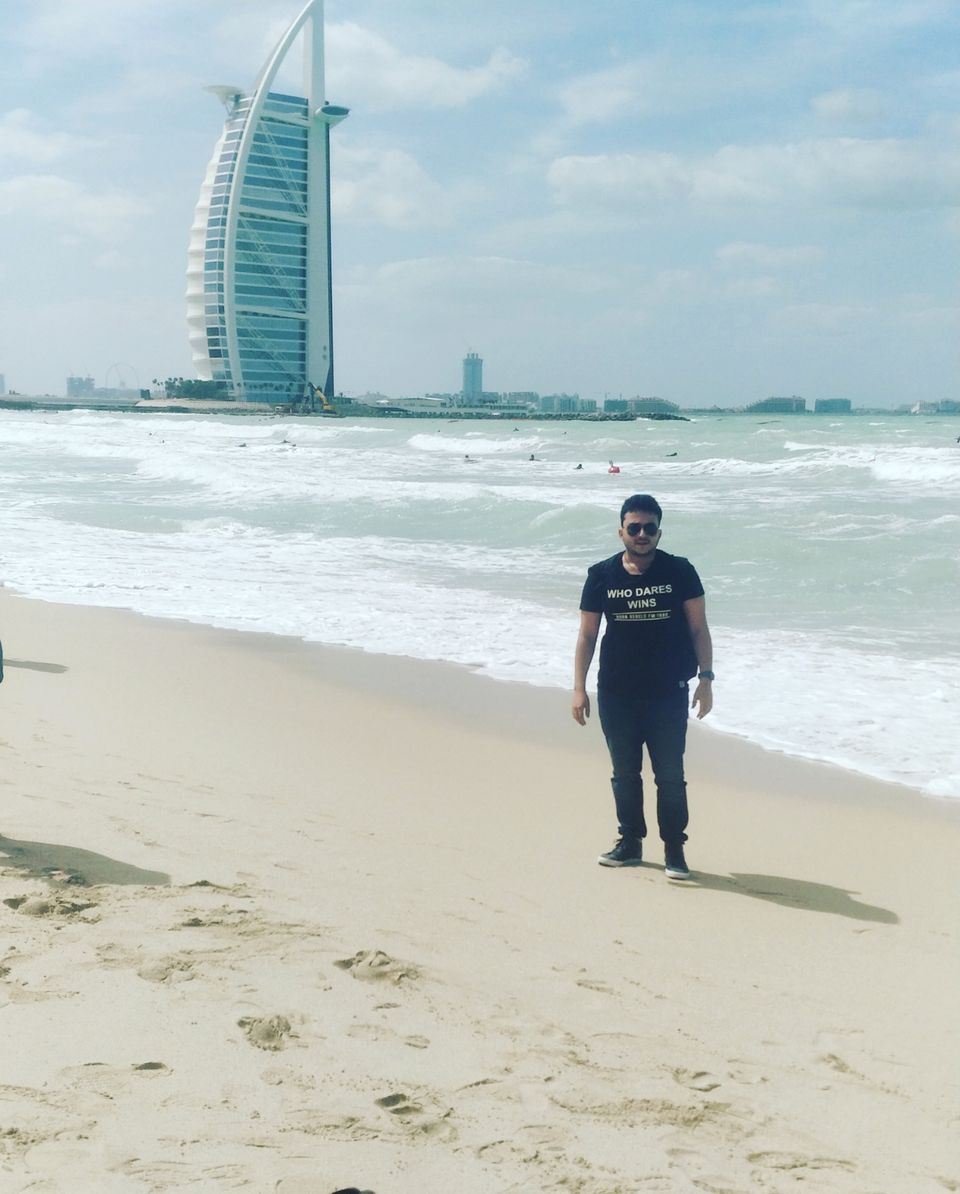 Day 1
My wait was over,Much awaited family trip had been come out my bucket list to dubai had given me a kick start of that day morning because I got the news that airlines had changed its air route, now it would take 4.5 hours instead of 3 hours.
After reaching to dubai at 3:30 pm,Firstly i had taken a new sim from outside the airport and I had booked my hotel at Barsha near by sharaf Dg metro station and mall of Emirates. I was so tired,Thus i had slept for three hours because I had to leave for marina dhow cruise dinner in evening.
Day 2
On second day morning ,I had explored Dubai city with my family.Firstly we visited Dubai museum and saw lot of ancient architect and sculptures. After that we move towards the Jumeirah beach, Where we spent two hours for snapshots in front of Burj Al arab and water surfing.
Finally we had spent a night in palm Atlantis and taste the marvelous cuisines of seven emriates in the dinner.
Day 3
On third day morning ,I woke up around 11:30 am and had taken a breakfast for cut down the last night party hangover .In afternoon ,we were visited Dubai Mall for shopping ,fun& frolic. It was so fanatic experience in front Dubai aquarium and had seen lot of dolphins moving here and there in water. In the evening we have seen musical fountain show and lost in the melodious tunes.
After that we approached towards the Burj Khalifa ticket counter for seeing the heights of architect and adventure. We had taken our tickets move towards lift cue of 124 floor.When we reached to 124 floor ,It was so mesmerizing experience to see whole Dubai at height 452 meters.
Day 4
Fourth day morning was quite interesting because today was my parents wedding anniversary and we had to celebrate it under the sky of desert.
After desert safari,we had enjoyed live belly dance ,hookah and dinner arranged for all guests.
Day 5
On fifth day morning,We woke up early and move towards Abu Dhabi. We had clicked lot of snapshots of Abu Dhabi serenity and sea side beaches. Firstly in Abu Dhabi,We have visited Ferrari world and had taken long lasting memorable rides there. Then,We had visited Sheikh Zayed grand mosque and had seen greatest architecture of all time.
There was a funny incidence was happened to me in mosque that my T- shirt was not suitable for mosque entrance , So I had to change it and wear undersize t- shirt which was so uncomfortable but I had no other option to wear it. We Were back to our hotel after spending a memorable road trip of Abu Dhabi.
Day 6
On sixth day morning my parents went to Meena bazar and I went to ski Dubai for experiencing freezing effects. I met my family at the miracle garden around 3:30 pm ,We have seen the breathtaking art of flowers in 7,80,000 sq ft area .
Thus, after a great six day trip we were back to India and now I am planning to go back Dubai for adventurous drills which I haven't done so far .But in the meanwhile I will share my Spiti valley experience with the travel community as soon as possible.