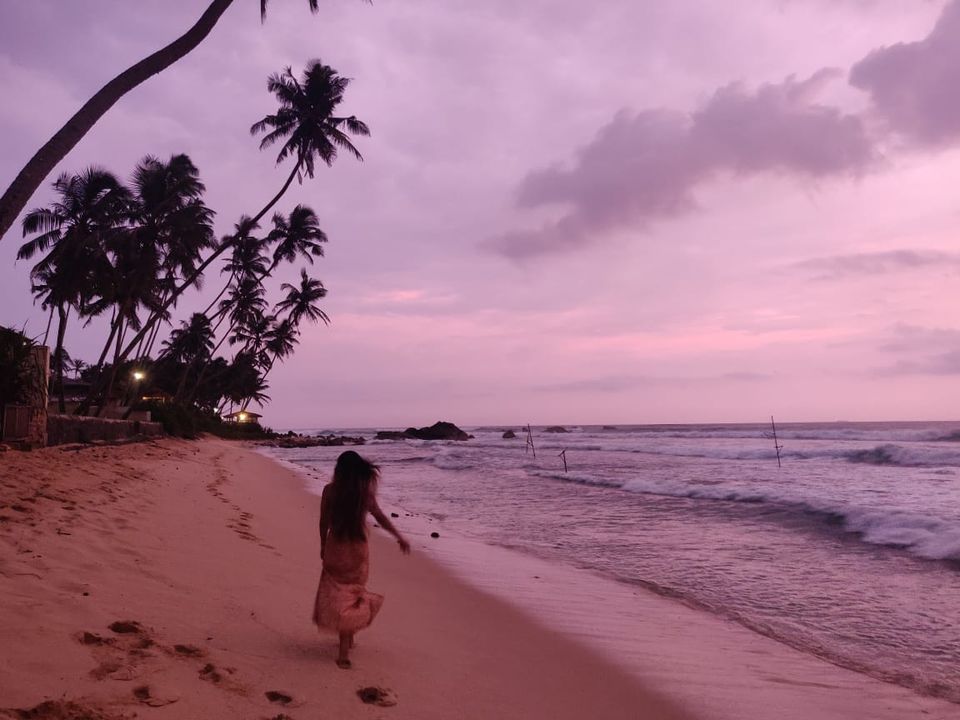 https://www.instagram.com/p/BqkmuyalgyjdRmDSE7gmVRH432A8ItbKdPk4aw0/?igshid=1cx8e1iejjpdj
This was my first international trip and that too i was going to travel alone for 8 days all alone. I was excited but i was more nervous and scared not because i would get lost but because i thought i might not have fun and get bored. But i think everyone once in their life should travel alone, its so refreshing and the best part is you get to meet new people talk to strangers that you never would do if you are travelling with someone. What i got to know in this trip was that the best thing is i wasnt dependent on one way, i could wake up anytime i want i could eat anywhere i want and i could rest for how ever long i want.
So before travelling to Sri Lanka i had done a lot of research so this is gonna help you a lot if you are planning to visit soon. Before travelling make sure to bring HDFC card with you, because in Sri Lanka you can use your HDFC card in People's Bank and they dont charge you any Transaction fee. If you use any other card on this bank or HDFC card on other bank it will charge you 400 LKR. So make sure to get one or borrow it from your friend. And also you dont need to convert your money beforehand there is People's Bank atm inside the airport. Second thing is when you are in the airport there are many kiosks where they give free tourist sim, DONT BUY IT FROM THERE. Even though its free but they charge 600-1000 LKR for recharge. Go out and buy from a mobile shop, its way cheaper even the recharge. I got mine for 100 LKR for sim and 200 LKR for internet. Third make sure whenever you buy anything from outside make sure to check out the price because they tend to charge extra for water bottle or chips or even a band aid, so make sure to check the price. Fourth if you buy Beer Bottle they will charge you extra for the bottle, so make sure to bring back the empty bottle and then they will give back your money, they dont tell this to anyone to keep the extra money. Fifth download PickMe app, its the best app that works there. I booked all my tuktuks from here its more cheaper. And one funny thing is that you can actually hire a tuk tuk in Sri Lanka to go around.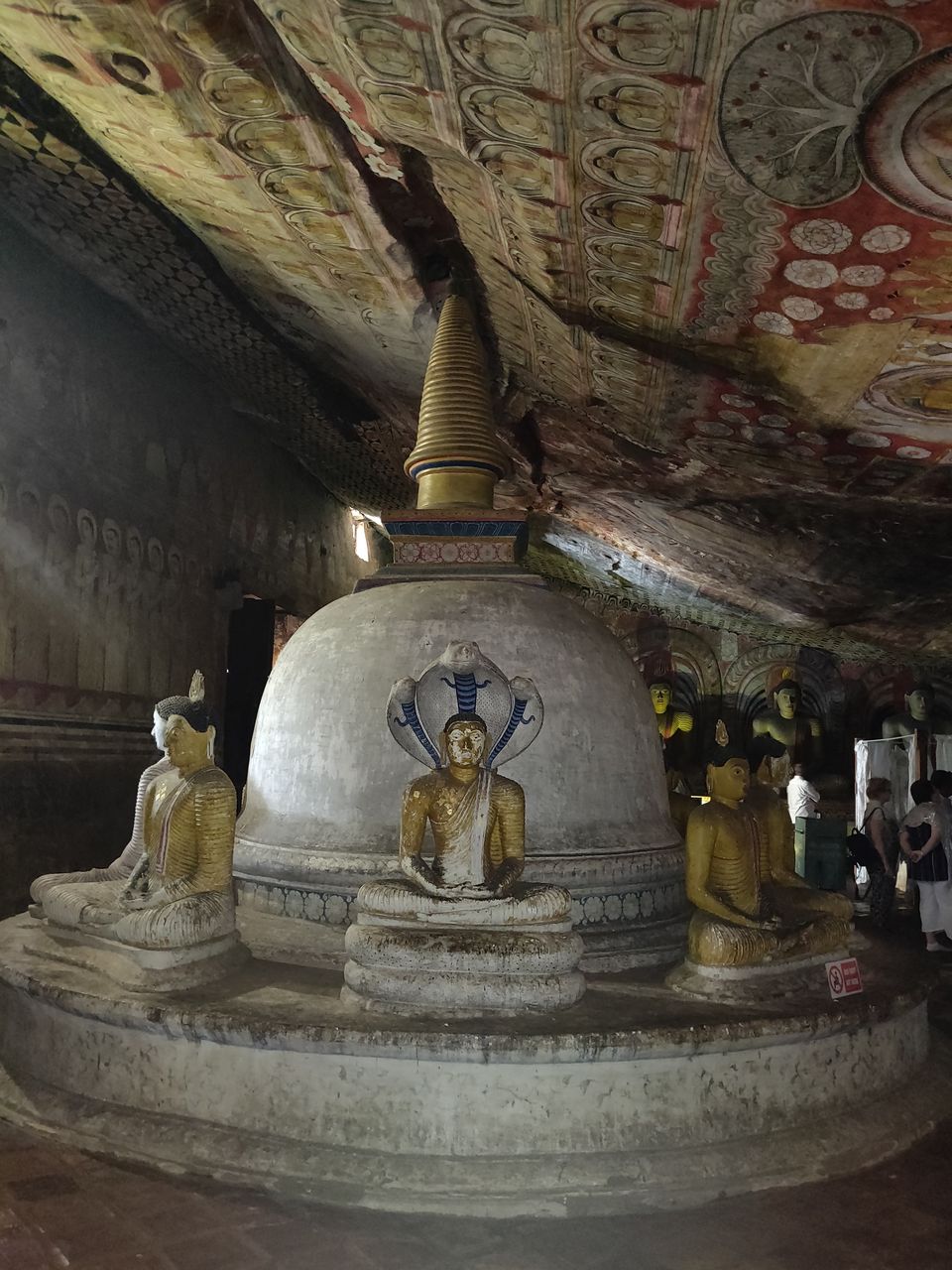 Today was New Years Eve. Most of the restaurants where closed, there were no tuk tuks. All the shops were closed. I went to Nine Arc Bridge. It was a small trek, and i fell down and got some scratches also, but thats normal with me. I went to Ravana Fall also, you can walk till there, its near by. Before coming to Sri Lanka i found some people in FB that were also coming here at the same time, we were all actually planning to meet somewhere if we were all nearby. So today one girl was going to Mirissa from Colombo. My plan was to go to Mirissa tomorrow, but i thought to go today, so i went back packed my bags and went to bus station. So its takes like 5 hours to reach by bus. But to my horror the there were no buses today due to holiday and the cab driver told me there will be no bus tomorrow also. And they were charging 5000 LKR to go there. I literally dropped my plan but they told me tomorrow also i wont find any bus. So i found a couple going till mid way and they had to go today only. so i took a cab with them and i paid only 1500 LKR for the ride and they paid 3000 LKR. I was so happy because i got a ride so cheap. I met her and we went to beach got drunk and i fell down because of the waves with my phone and my bag which had my passport and my camera, everything got went including my phone, which i had to shut down.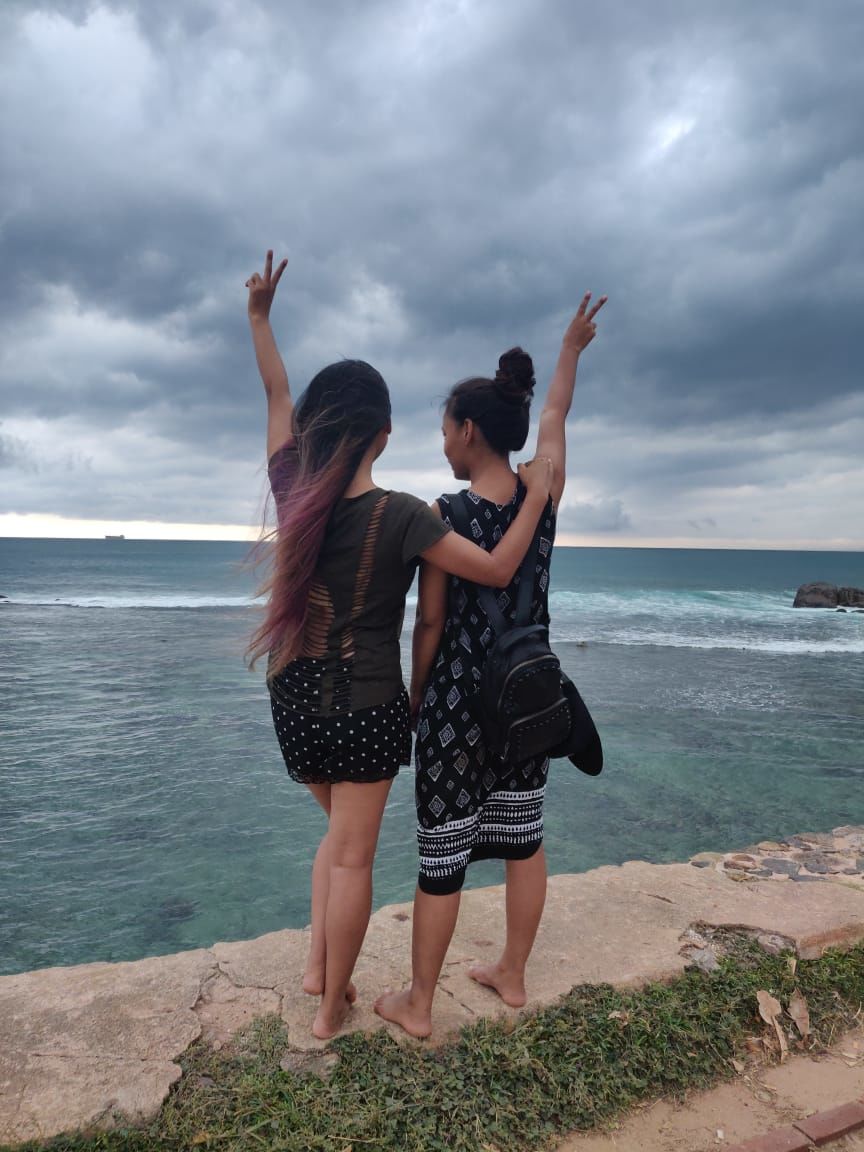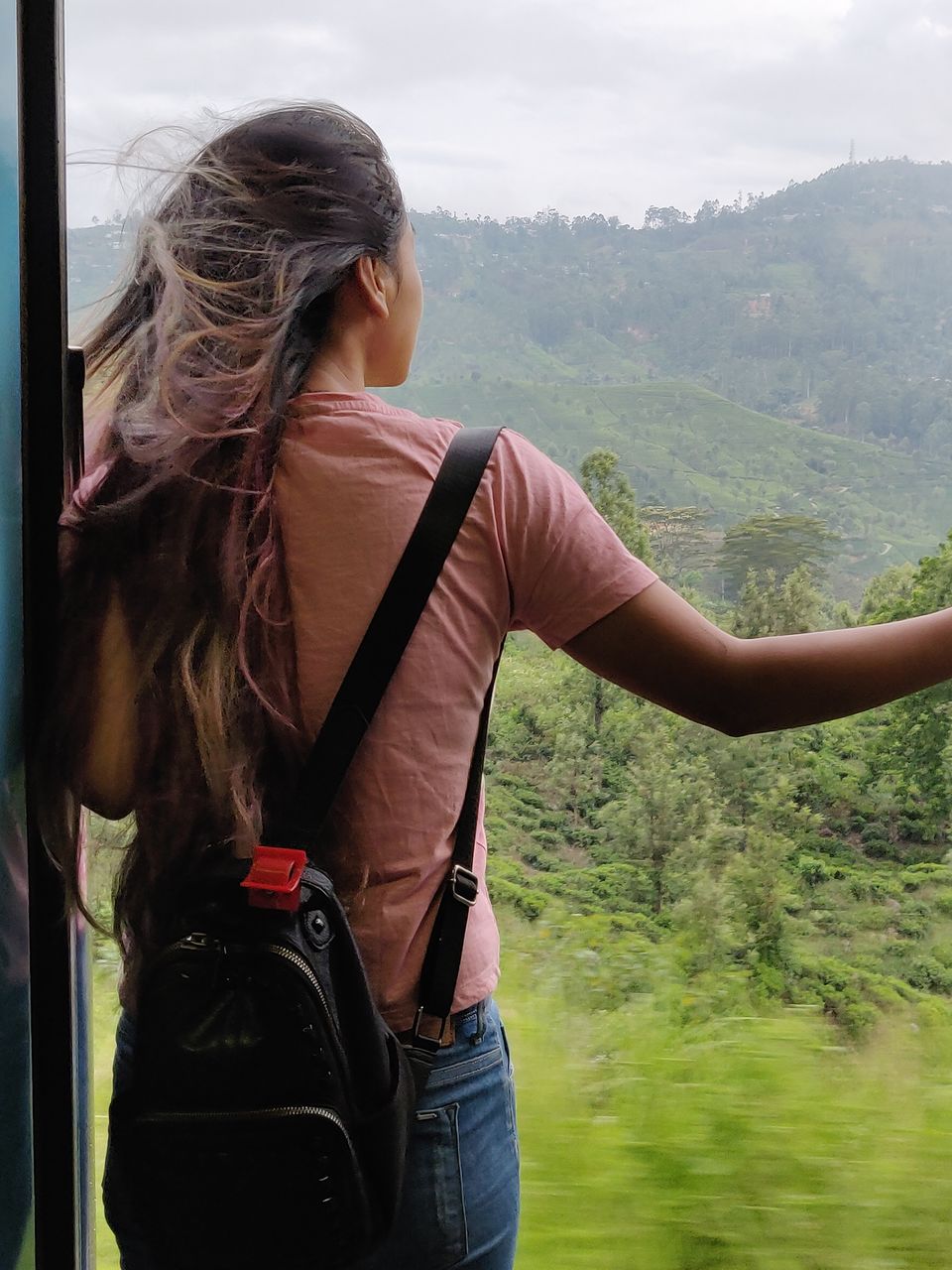 When i reached the airport, i was going to Dambulla. So to reach Dambulla i had to take an auto till the bus stand, dont go with the auto's waiting outside the airport they charge 1500LKR, just walk towards the road and take an auto from there it will just cost you 200-300 LKR till Katunayake bus stand, from there i took a bus till Kurunegala and changed the bus for Dambulla. There is no direct bus. I had booked BEDBOX hostel from booking.com and the hostel was amazing, is was literally 5 mins walking from the bus stand, but they dont have AC and its was very hot in Dambulla. I kept my bag in the hostel and went to see the Dambulla caves, shoes are not allowed inside.
The next day I woke up early to go to Sigiriya Rock Temple. I took a bus which cost me 30 LKR, it's half hour bus ride. Its a small trek to the top and the ticket price is 5000 LKR but for SAARC its half the price but for that i needed to show my passport. Which i forgot in the hostel, so i had to go all the way back to my hostel and back. I was so frustrated, But it was worth it. The whole trek took me 3 hours because i stayed at the top for around an hour. I was back at my hostel at around 1, i took my bag and went to catch a bus till kandy. It took around 3 hours to reach Kandy. I had one day for every location, so yeah it was quite hectic. So i reached in the afternoon so i went to Temple of the Sacred Tooth Relic and Kandy Lake. I didnt go inside i saw it from the oustide. And it was so cold in Kandy.
Next day i went to Millennium Elephant Foundation. I took a bus from Kandy to Kegalla which took 1 hr and from there you can walk to take a tuk tuk for 200 LKR. There were around 4 elephants there on which you can take a ride and you can even bathe an elephant and feed it. They also have Poop Factory where they convert elephant poops to paper. The ticket price is expensive around 3000-5000 LKR depending on what all you want to do. And they also have volunteering available for 10000LKR for 1 day including food accomodation. After this i went to spice garden which was nearby and entry was free as i had the ticket from the elephant foundation. I came back to my hostel in the evening and took my backpack and went to catch a bus for Nuwara Eliya. It takes 3 and hlf hours to reach there, and when i reached the bus station, the last bus was going and it was full. I had to stand the whole way for 3 and hlr hrs, and the bus was so packed there were no space even to stand because everyone's bag was lying on the floor. I was tired like hell. I reached there took a tuk tuk for my hostel.
Today was Sri Lanka New Year's Eve. I had planned to visit the Hortan Plains National Park, but my hostel were charging total 5000lkr to go by car and tickets, but i didnt go because i didnt feel worth it, and you cant talk a bus till there. and because of the holiday there werent many cabs or tuk tuk. So i went to visit the Post Office which was closed due to the holiday and then i went to Pedro Tea Estate which was also closed. I was so frustrated. But my Tuk Tuk driver told me there was another tea estate which was futher away like hlf hr away and he said it was much better than any other, i had no other option so i went there. And i was happy i went there, it was really vast and the factory was also so big and stunning. They had a free tea factory tour with complimentary tea. I am not a tea or coffee person, but their tea was amazing, i literally bought 10 packets. they had black tea in every flavor, strawberry, mango, apple, etc. I had actually planned to stay for 2 days and celebrate New Year in Nurwaya Eliya but because everything was closed i decided to go to Ella the same day. I took my bag and went to train station. The train journey from Nuwara Eliya to Ella is amazing, it was raining and the clouds were so low, the weather was so chilly with all the mountains. The ride was amazing. It was 2 hours ride. I reached Ella around 7pm and went to my hostel which was closed. Can you imagine my luck but yeah it was closed and the owner said i had to look for another one. So i went to another hostel.
The next morning we planned to stay there for 3 days, she cancelled her plans and i also cancelled to go to my next place and we stayed in Mirissa for 3 days and we got drunk the whole day, But we did go to so many places. We went to Galle Fort, Dalawella Beach, Coconut Beach. The best thing about the trip was i met so many people and today i have one very good friend from this trip. With whom i took another trip after coming back from here.
Frequent Searches Leading To This Page:-
Best beach holiday destinations in Sri Lanka, Top Sri Lanka tour package for family, Best Sri Lanka honeymoon packages from Delhi, Sri Lanka honeymoon tour packages