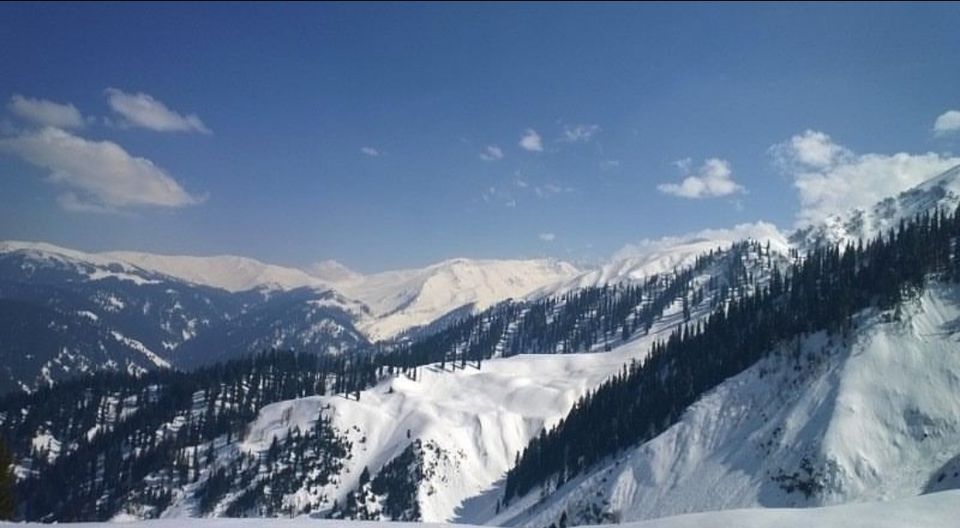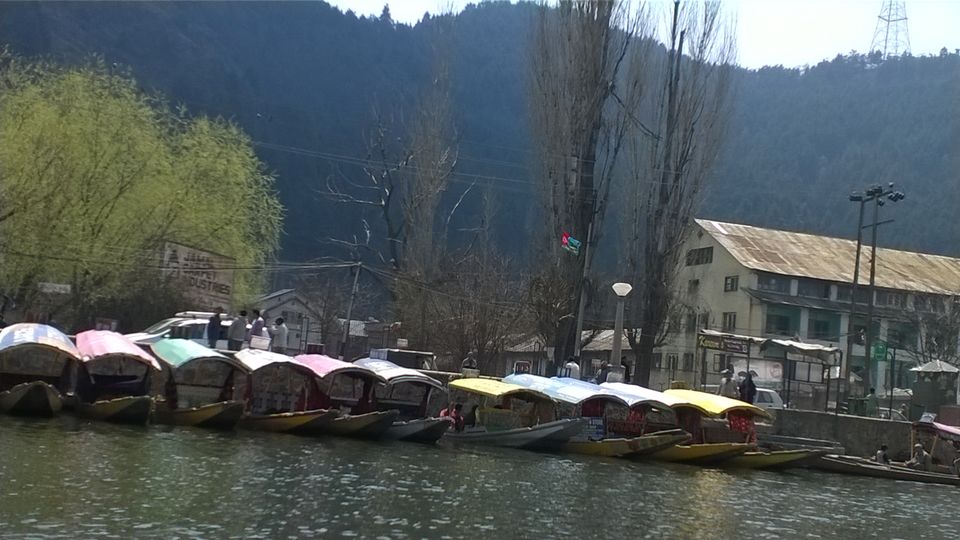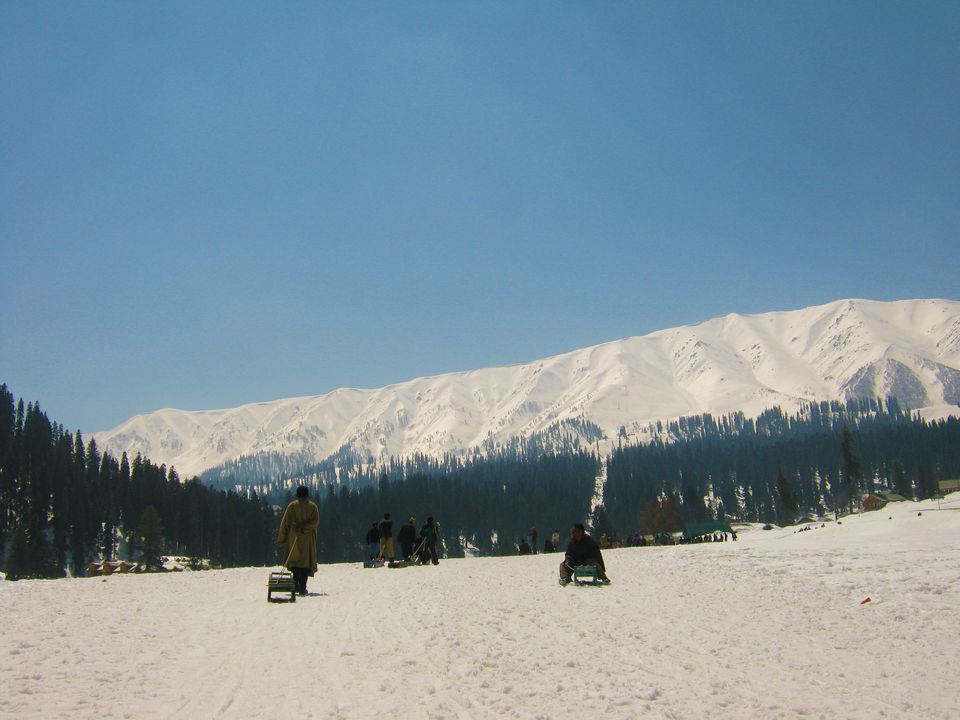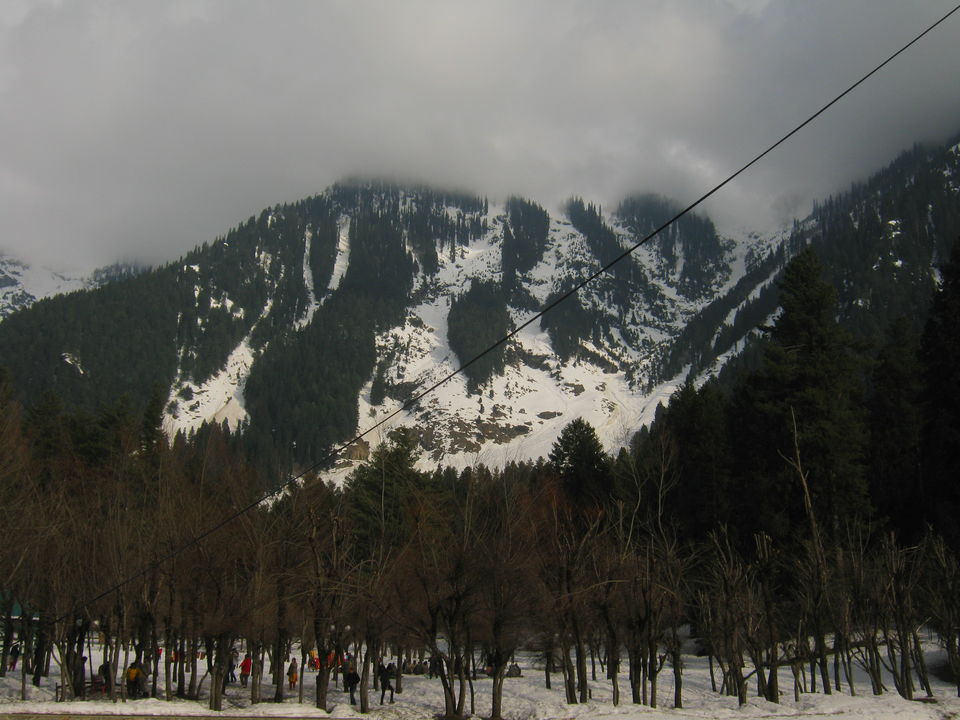 Led Zeppelin had written a song after its name to signify an 'idea of life being an adventure and being a series of illuminated moments.' To some Kashmir is jannat on earth, to others it is the crown of India, and yet others take it as a contested place whose beauty surpasses its turmoil. To me Kashmir has been a poetry that unfurled like a flower with each passing day, and bloomed to its glory in my imagination once I had bid adieu to it.
The craggy serpentine roads winding its way around the hills like a scarf batters your body to no measure. Stop at one of those road-side stalls and enjoy a plate of special Kashmiri rajma-chawal (rajmash or kidney beans with rice), before continuing further to reach the capital. It's a picturesque painting that conjures before your eyes— charming gable-roofed houses and tall poplar and willow trees complimenting the blue-green hills and the silver shimmery expanse of the lake.
A befuddled mind and a sore body needs no more rejuvenation than the breathtaking view of a lush lake dotted with shikaras and houseboats in Srinagar, while soaring snow-clad hills flanked by hotels and shops line its banks.
But beneath the mesmerising beauty of nature, lies a more complex politics of human reality. Land and water itself is torn by it. Business has compelled people on land (hoteliers) to discourage tourists to stay on water (in house boats), and once on water you would be discouraged to be on land. There are markets both on land and on water. The floating market is not atypical of Thailand alone!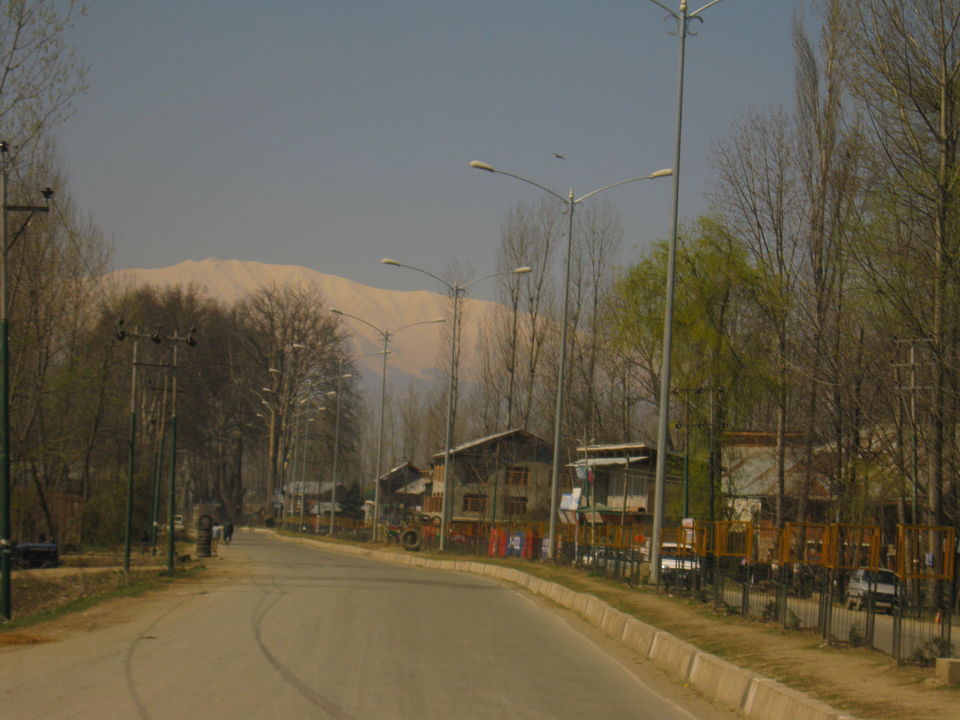 Follow the cedar-lined winding road that leads to the white mountains. The serene white mountains against the blue sky beckon you to its high gardens and beautiful springs.
One of the beautifully manicured Mughal high gardens of Kashmir, Chashma-i-Shahi was laid out in the 1600s during Mughal Emperor Shah Jahan's rule.
Follow the road further and start climbing the beckoning mountains. Moss green grass and ferns along the mountains slowly turn to powdery snow that wraps the mountain tops. Go ahead and reach Gulmarg. It's a snow village. Several feet deep snow blankets the entire village—from treetops to houses, bridges and lakes.
When the village remains still snow-clad, try the several winter adventures like taking a gondola ride, riding a sledge, motor skiing, zorbing and others. Sonamarg, further away from Gumarg, is equally entrancing and mesmerising.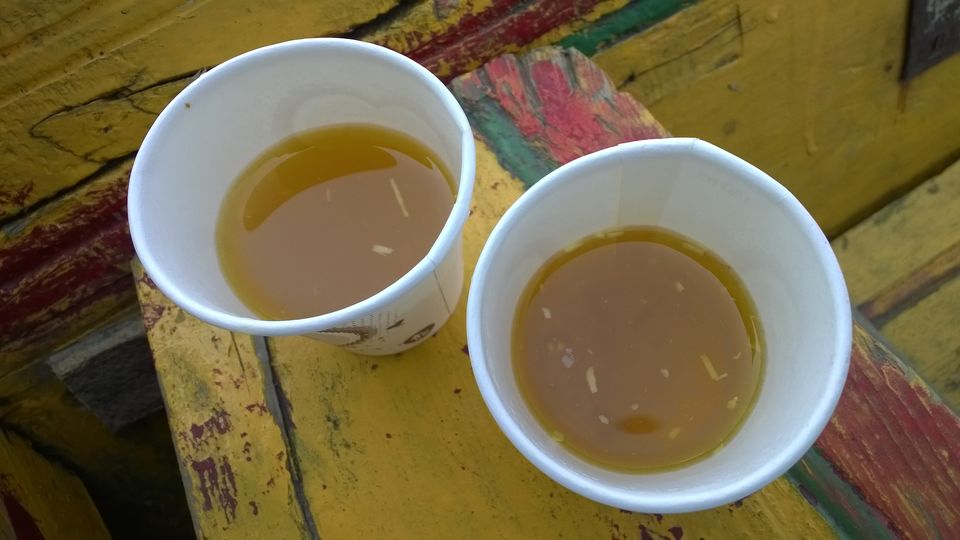 Drink a serving of kesar and almond infused local tea, Kahwa. Kesar (saffron, India's best available in Kashmir) and almond is said to keep you warm from the cold bites of the white mountains.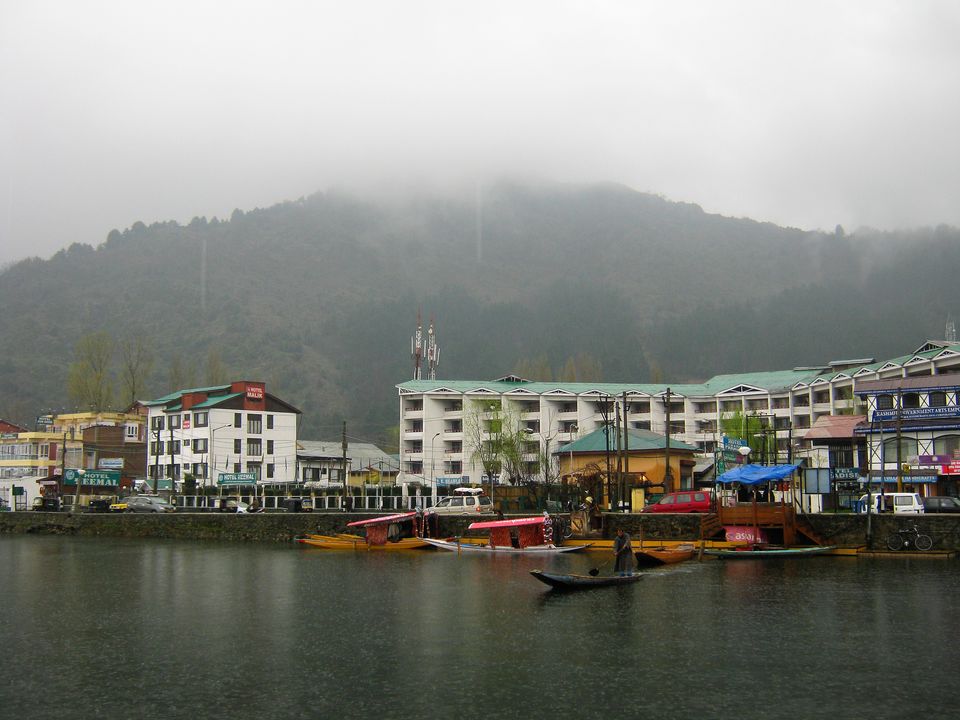 The white mountains almost become a fairy land, far too idyllic and romantic to be true, once you are in the plains of the valley. But on a rainy day the swollen lake is no less a sight to behold! The glassy lake hums a pitter-patter song as the clouds pour down on it.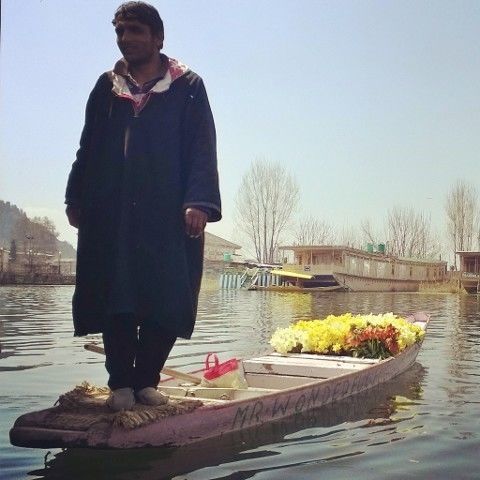 Bid goodbye to this lake city of Kashmir with a handfull of wild blooms, the lapping sounds of Dal Lake and the bustling crowd of Lal Chowk.
As descent begins, stop at Pampore if you are to buy Kashmiri walnuts and saffron.
Look to your left or to your right, the lush yellow-green fields are a gift of April. The burst of colour adds character to the muted serenity of the place.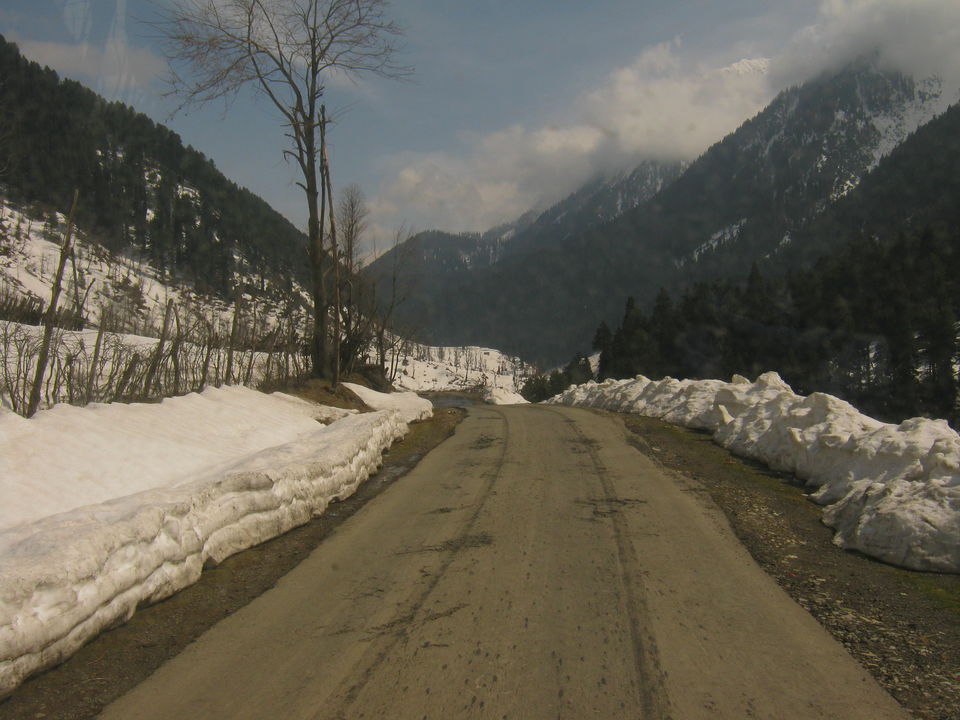 Crossing Pampore, climb higher up to reach Phalgam. Blue mountains billowing smoke and days-old snow take you to this beautiful hilly town.
Visit Betaab Valley in Hajan, Phalgam to watch the chilly stream meander by while you stand on a frozen ground.
The river is fed by the melting ice as spring makes way to summer. The grey brown of winter is slow turning towards to the sun to be washed in warm colours of summer.
Has the time to get back to the chores of daily life? Let's hide in the shadows of Kashmir's valleys till the dreams last and reality's light creeps upon us!
Frequent Searches Leading To This Page:-
best houseboats in srinagar , top kashmir honeymoon packages, distance between gulmarg and srinagar , gulmarg top hill destination for couple , kashmir tour packages for skiing, visit betaab valley kashmir