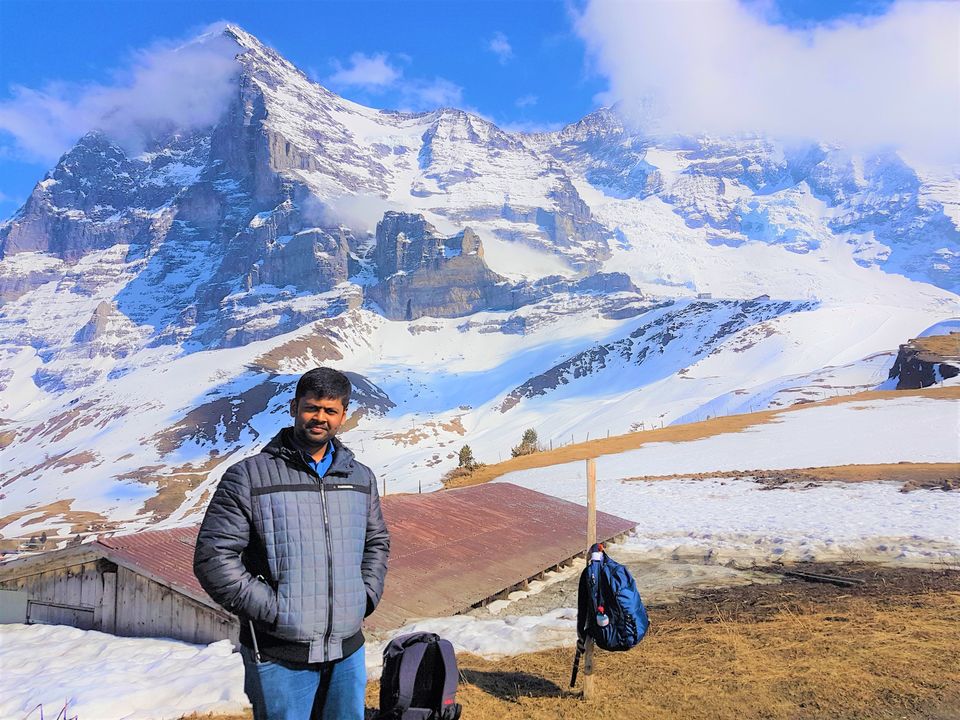 Lauterbrunnen is heaven on earth and you cannot miss this amazing walk. You dont have to be a proffesional hiker or trekker for this royal walk.
Laterbrunnen railway station-Grutschalp-Winteregg-Murren-Birg-Schilthorn
Lauterbrunnen Railway Station:
I started the Royal walk from Lauterbrunnen railway station early in the morning. You can find the gandola to grutschalp from the Railway station. It is a 17 min ride from lauterbrunnen and will cost you 18 Swiss Francs.
Grutschalp:
From grutschalp you can either take train or you can simply walk like me. The trains are small and looks extremely pretty. Just cross the railway track and you can find the way to Winteregg Village. Its a 30 mins walk (1.7 Km approx). Enjoy the beautiful scenery while you walk.
Winteregg Village:
You can take a break here walk straight up towards Murren village. It is approximately 3 KM to Murren Village. You can actually see lot of benches on the way you can sit down relax click some amazing pics and enjoy the view
Murren Village:
This is one of the most amazing villages in switzerland. Stunning views with great food. People in switzerland use lot of cheese so you can try out one of their cheezy dishes. You will get Gandola ride to Birg mountain from here. This will cost you 80 Francs (only if you have swiss pass). This ride is for 20 min. it takes you on the top of birg mountain
Birg:
Birg is amazing. amazing views and dont forget the cliff walk you will love it. Not for weak hearted people. After the walk you can go to the restaurant and enjoy amazing hot choclate. You can take the next gandola ride to schilthorn which is one the highest peak of swiss alps. The Gandola ride is for 30 mins
Schilthorn:
This is amazing mountain top. It has a rotating restaurant, James Bond museum, conference hall and a small shop which has lot of james bond goodies & accessories.