Switzerland is a dream destination for almost everyone, which never disappoints anyone.Undoubtedly, it is one of the most beautiful countries of the world.This place will never cease to amaze, the snow covered hill top mountains, the lovely lakes, the alpine ski-resorts and the fabulous shopping, makes Swiss a one stop destination for everyone.
It was a family trip so we were 11 in number ,boarded the train for Interlaken from Milan Central, Italy.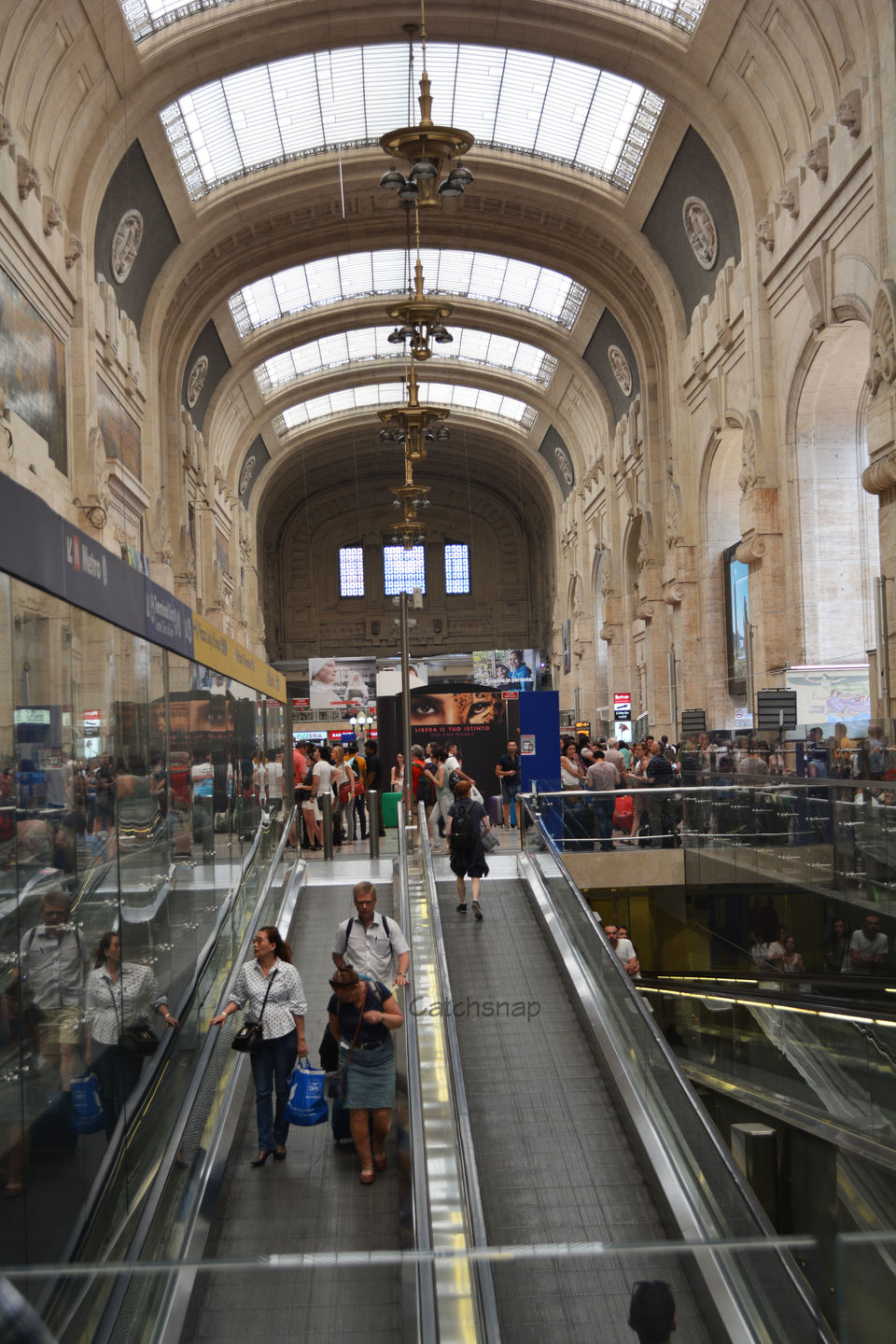 Its highly recommended to take Swiss pass for travelling in Switzerland with public transports. Passes are applicable to almost all transport means ,which also saved our time by not standing in ticket queue .
We made Interlaken as our base to visit other places. Interlaken sits between the stunning lakes of Breinz and Thun and from where it gains it's name i.e. Interlaken. We booked apartment(Beyul Apartments )through Air bnb, which was at walking distance from Interlaken west station and bus stop. Reached Interlaken around 6 in the evening .We visited in summers,hence long days.So, after reaching the apartment fed the kid and made ourselves comfortable and then went to explore Interlaken. Roamed around the streets ,markets and lake.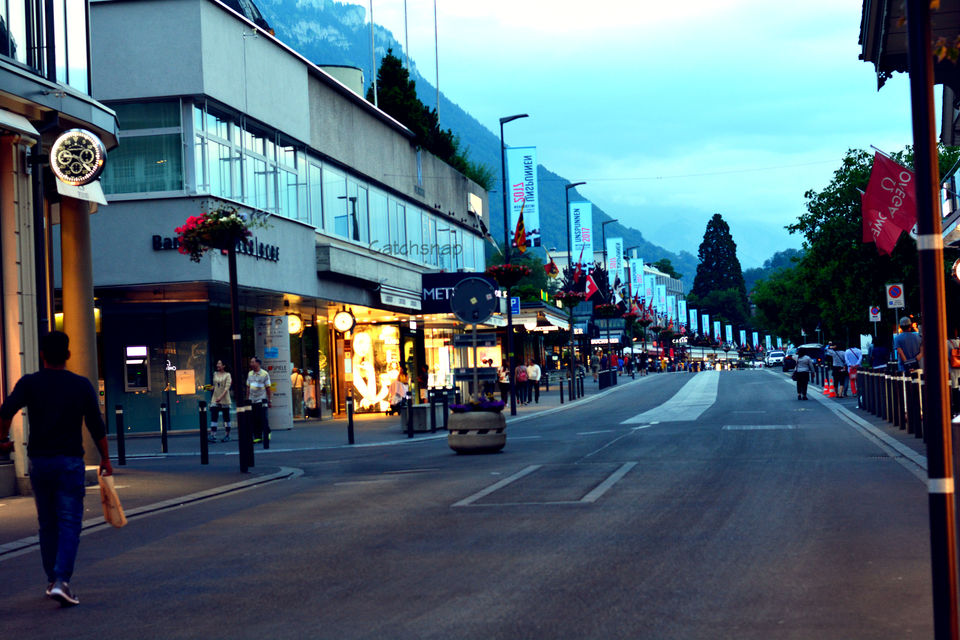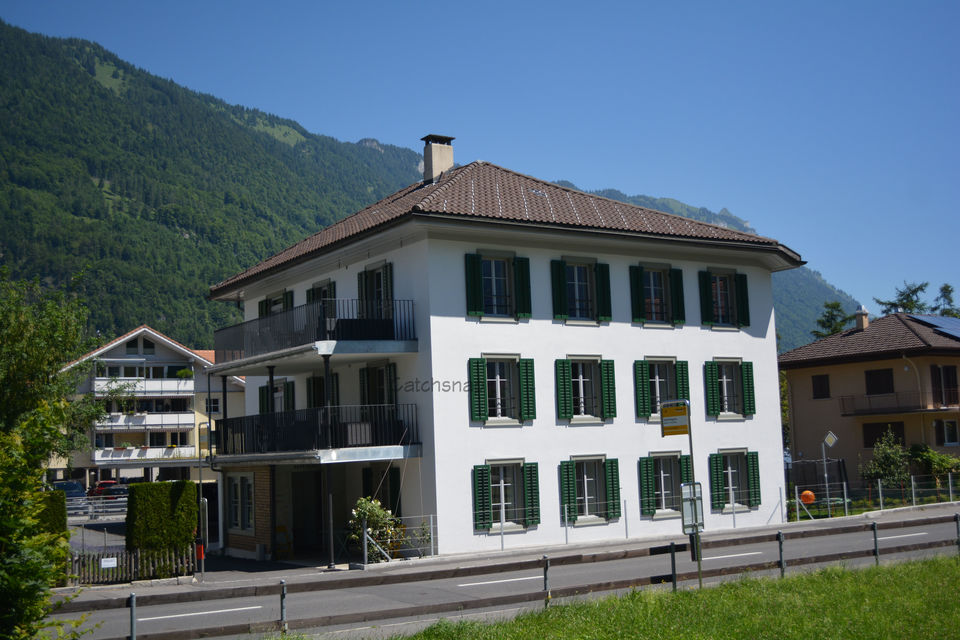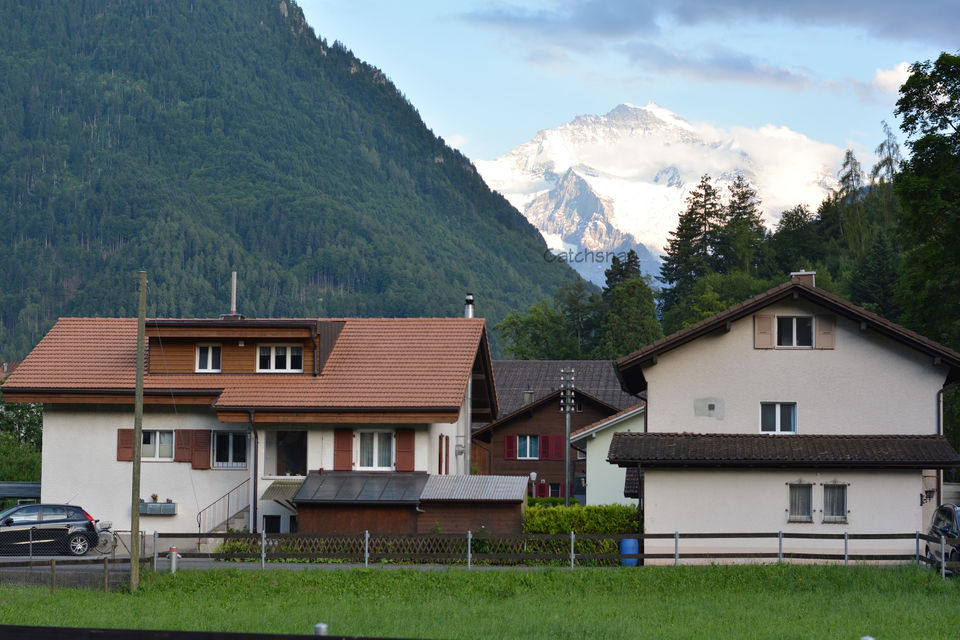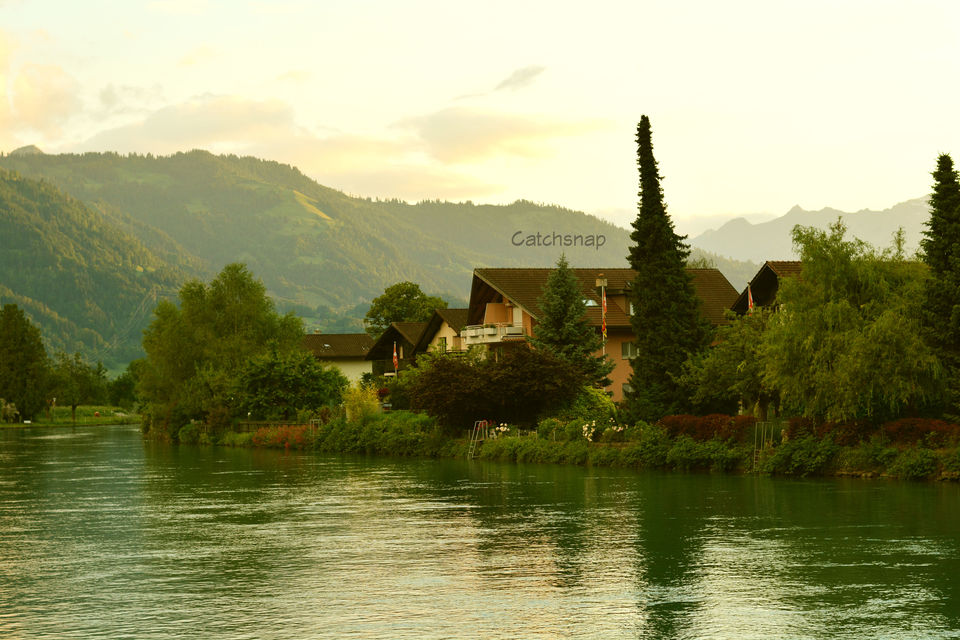 Bought necessary items from local grocery store as we had liberty to cook at our place to enjoy Indian food in Swiss kitchen...:D
We were terribly tired after such a hectic day,took rest as from next day onwards our day 1 for Switzerland was going to start.
Day 1: First day was for glacier 3000, Gstaad. We took morning train from Interlaken to Gstaad via Spiez. Reached Gstaad staion ,hopped in bus for glacier. For reaching glacier 3000 one has to go via cable car. After reaching at the top the weather was clear, but sometimes it was very windy and cloudy.Had coffee and snacks at the restaurant up there, walked on cliff walk , enjoyed alpine coaster ride ,played in snow and got tanned on first day itself.. :( .We took last bus for Gstaad station from cable car point, before that we were enjoying lush green area near to that. Took train from Gstaad and reached back Interlaken after sunset.Had dinner and dozed off.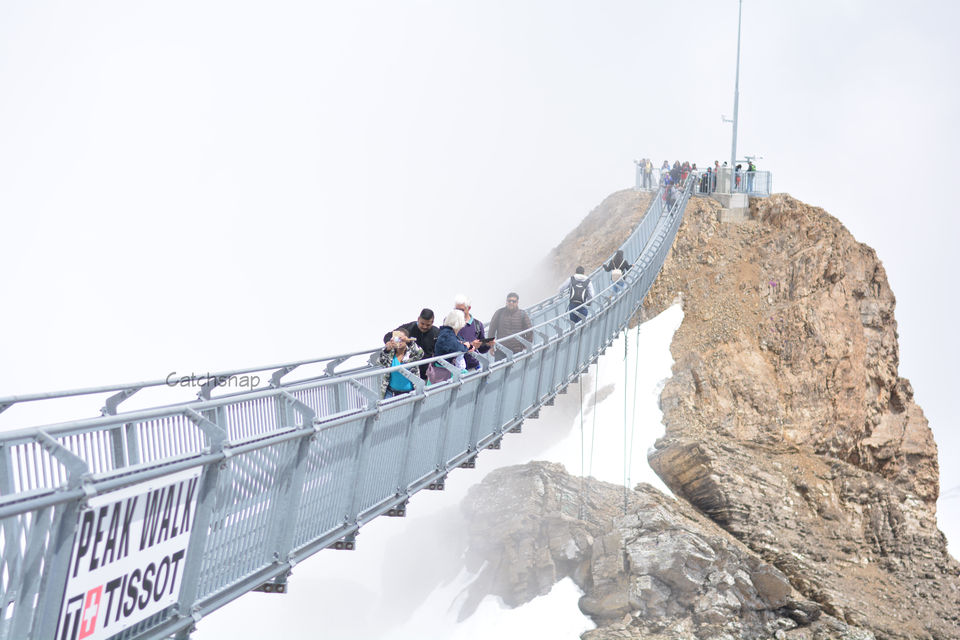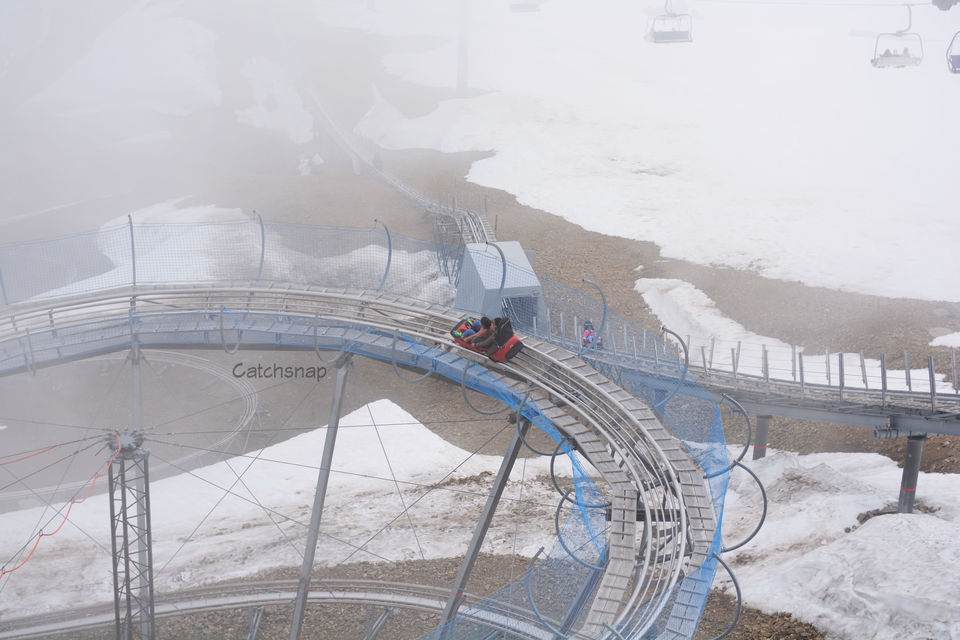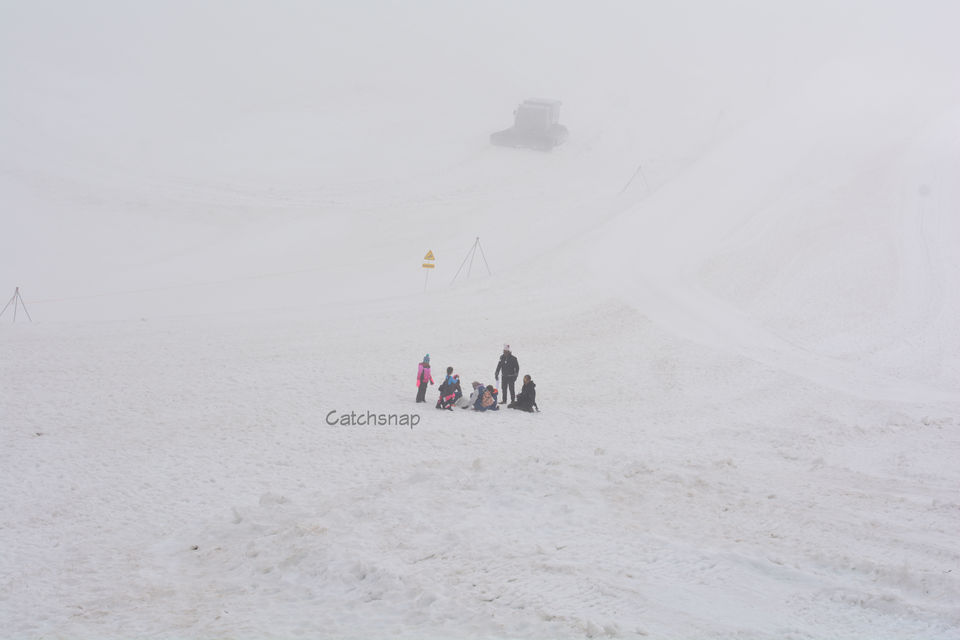 Day 2 : Next day was for Grindelwald , is a valley town, whereas Grindelwald First is a summit famous for hiking.We boarded train for Grindelwald from Interlaken. Reached our destination within 1 hour, then took cable car for Grindelwalds's first cliff walk. At the top of the First cable car, there's a short, safe, and slightly scary cliff walk with a sky bridge.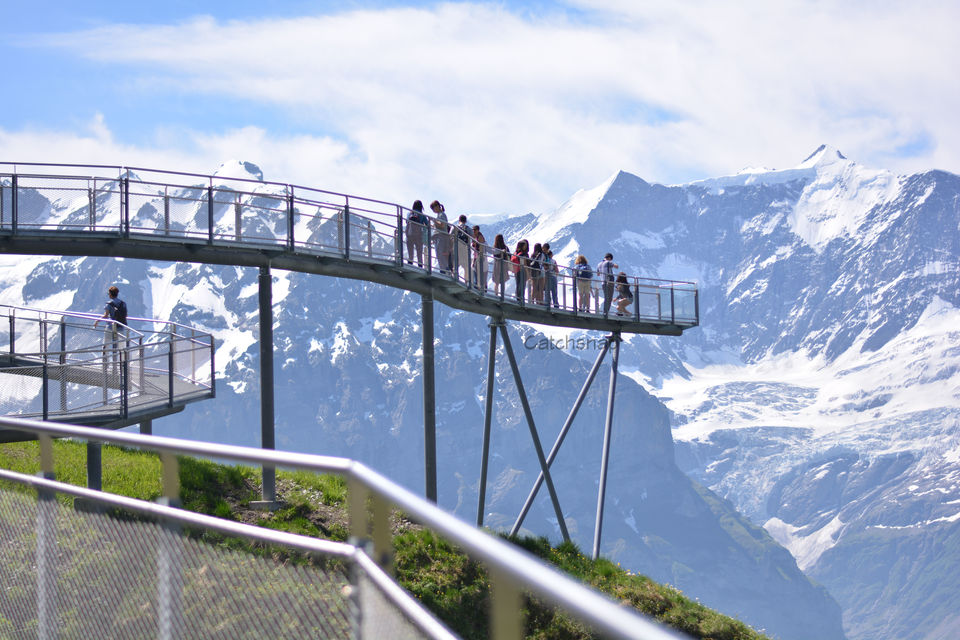 We had coffee and snacks at the restaurant .From there, it's a relatively easy hour hike to the lovely Bachalpsee, a perfect place for a picnic with lovely view of lake .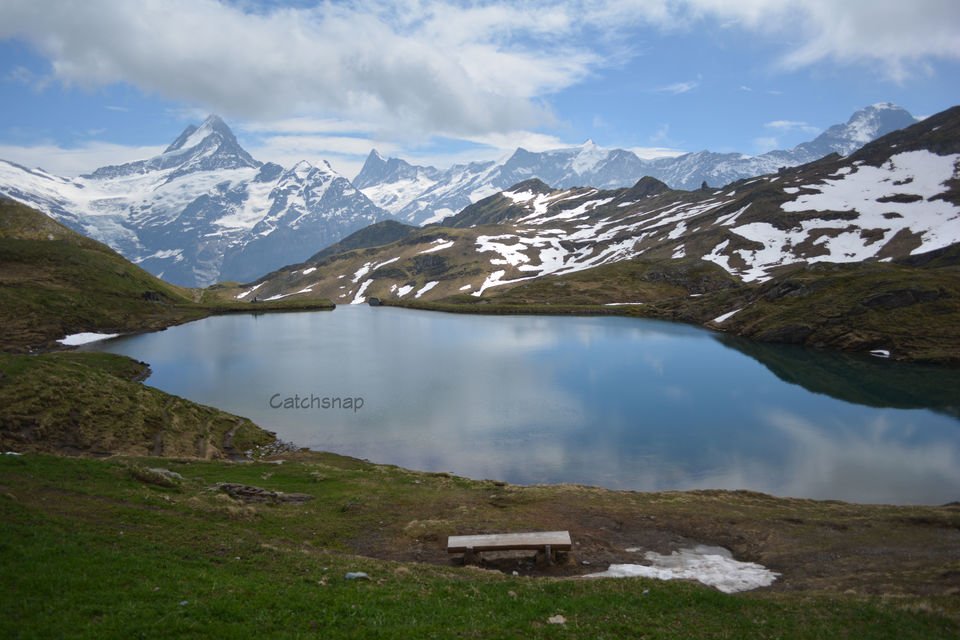 After hiking back to first we reached Bort by Mountain bike ,it was really a different fun and also there you'll find a great playground with an amazing view. Kids also enjoyed the rides. We really liked this area and will definitely come back to try more of the hikes here. After a great day with lots of adventures and fun, took the train for Interlaken. I've mentioned this before, but taking the train in Switzerland is an activity in itself. Seriously.
Day 3: Next day was for chocolate factory, Maison Cailler . This was the day for kids and they were so excited to reach the factory asap.
We signed up to an English speaking tour. For this, we waited for about 30 minutes before it's time for our departure. When our turn came, we were to enter a self-locking room with no tour guide, but mechanized exhibits, automatically spotlighted when featured by the recorded narration about the history of chocolate.
Maison Cailler is a very famous Swiss chocolate place. However, the tour for me was not really a tour as such. We walked through the story of chocolate production as well as an introduction to the ingredients but saw nothing of the real factory. Of course that does make sense as the production area can not accommodate visitors but it would have been interesting to at least look more production facilities. The tasting at the end of the tour is very nice and ofcourse we ate loads of chocolates.. ;)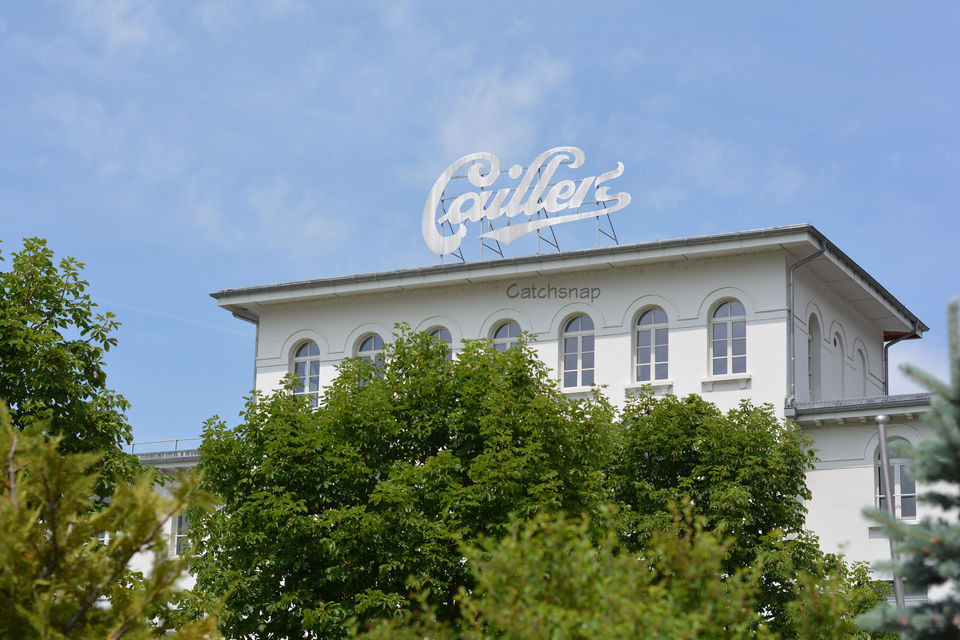 After the factory we went to Montreaux which is absolutely breathtaking.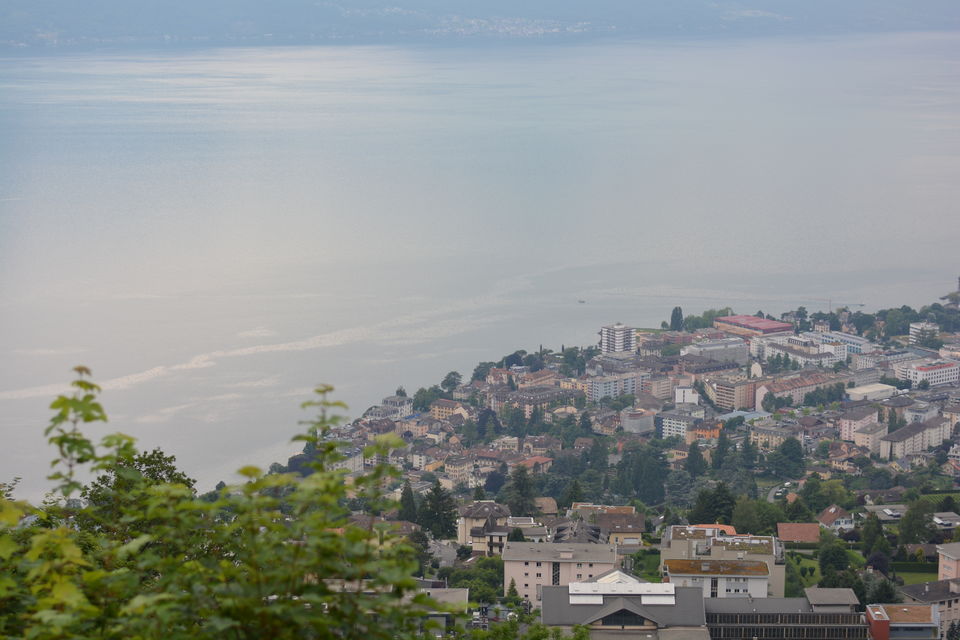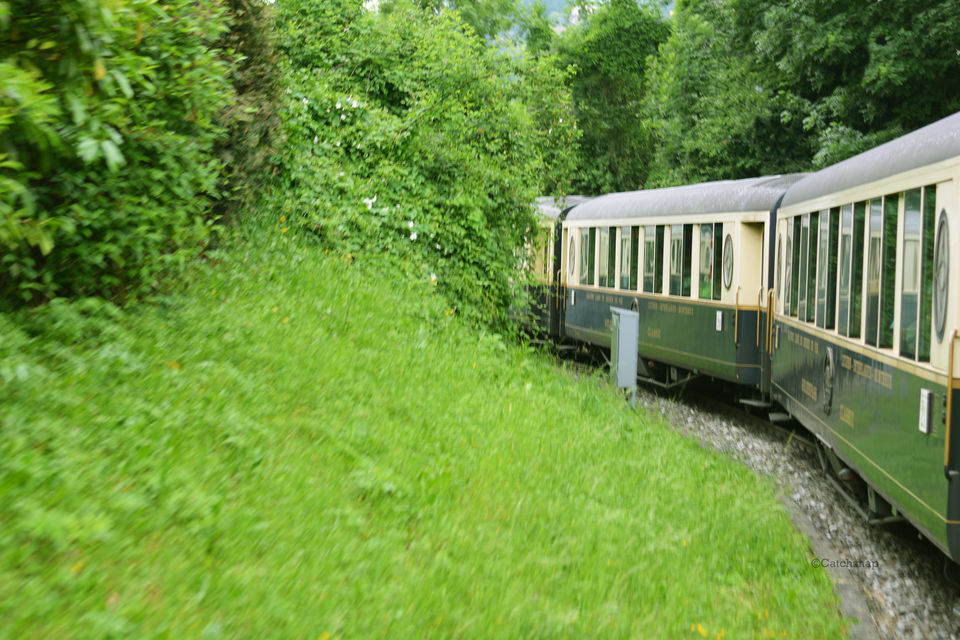 It's unlike any other place I've ever been. Took bus from station to reach Château de Chillon , a castle on an island located in the most beautiful setting imaginable – on the shores of vibrant Lake Geneva, right at the foot of the Alps. We felt so peaceful and calm . Just, relaxed and enjoyed the evening there. City is filled with colorful cafes, shops, homes, restaurants and of course flowers. My favorite part was walking along the gorgeous lake!! Reached back to Interlaken after sunset.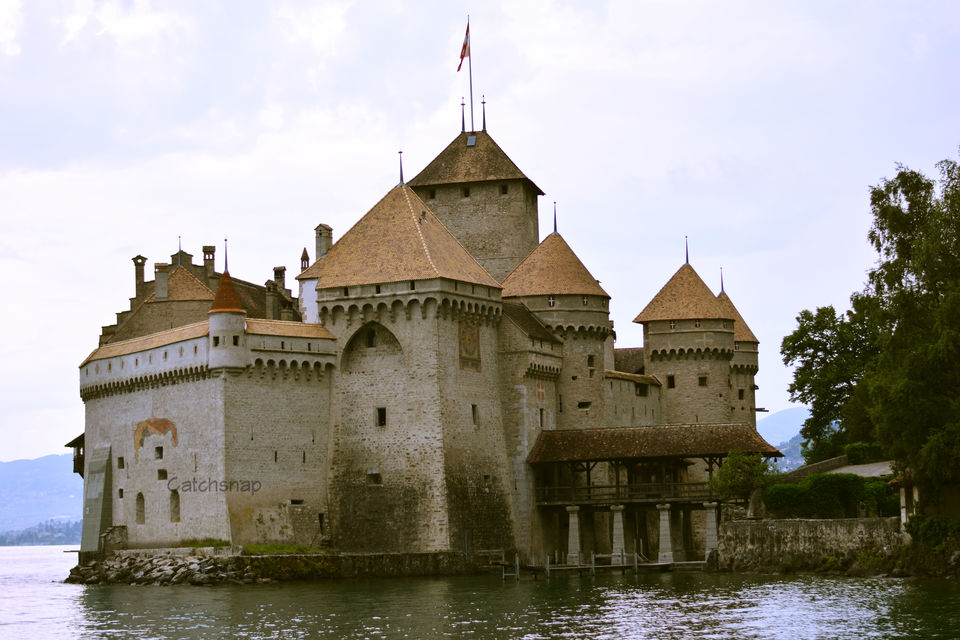 Day 4: Next day we went Harder Kulm, Interlaken . So this day we didn't dash away to board train.Had breakfast and left for Interlaken Harderbahn ,reached Harder Kulm by funicular .No where else has such an impressive view of Interlaken! and the perfect spot to scope everything out, we could even see our apartment from up there! there is a restaurant at the top of Harder Kulm ,where we enjoyed Pizza and Swiss delicacy Fondue(its quiet cheesy).After clicking all possible pictures in every angle we boarded train for Lauterbrunnen and then took train for Kleine Scheidegg.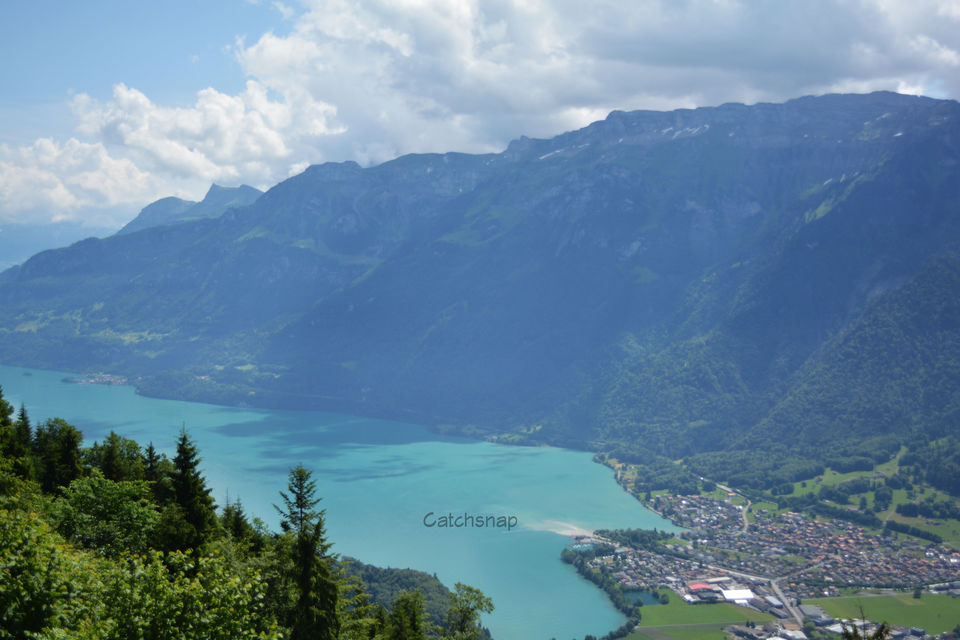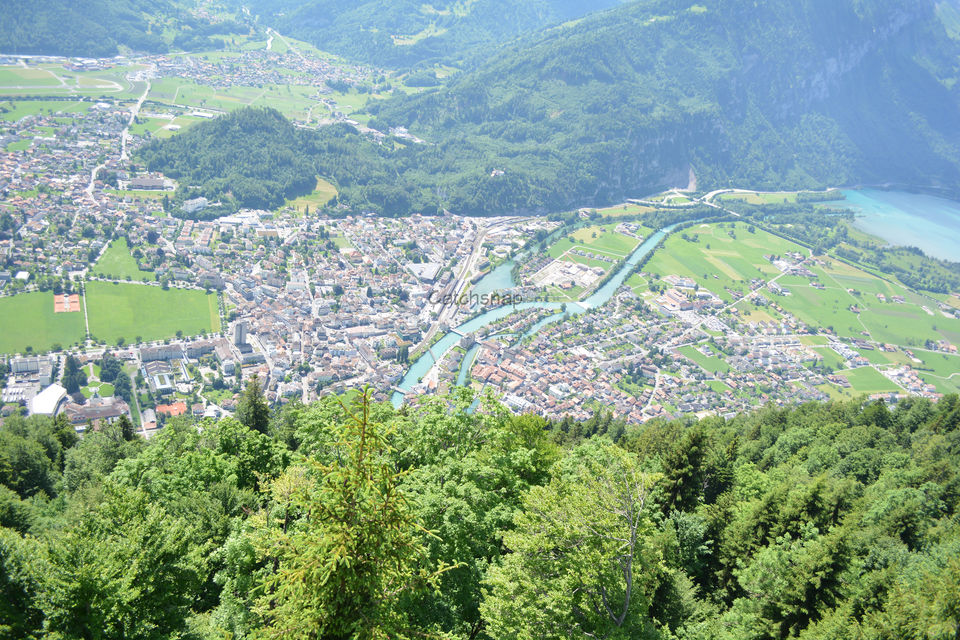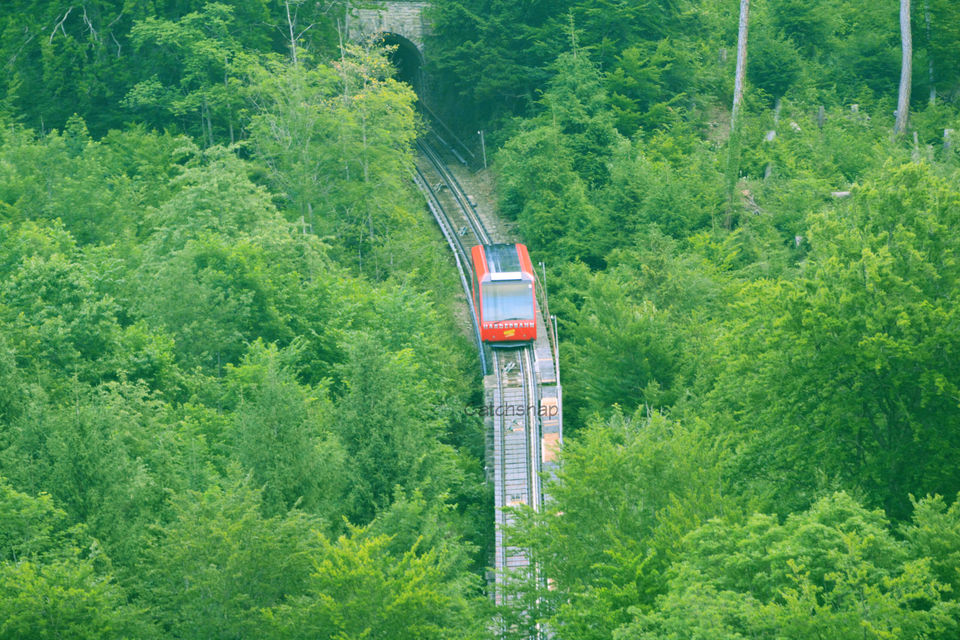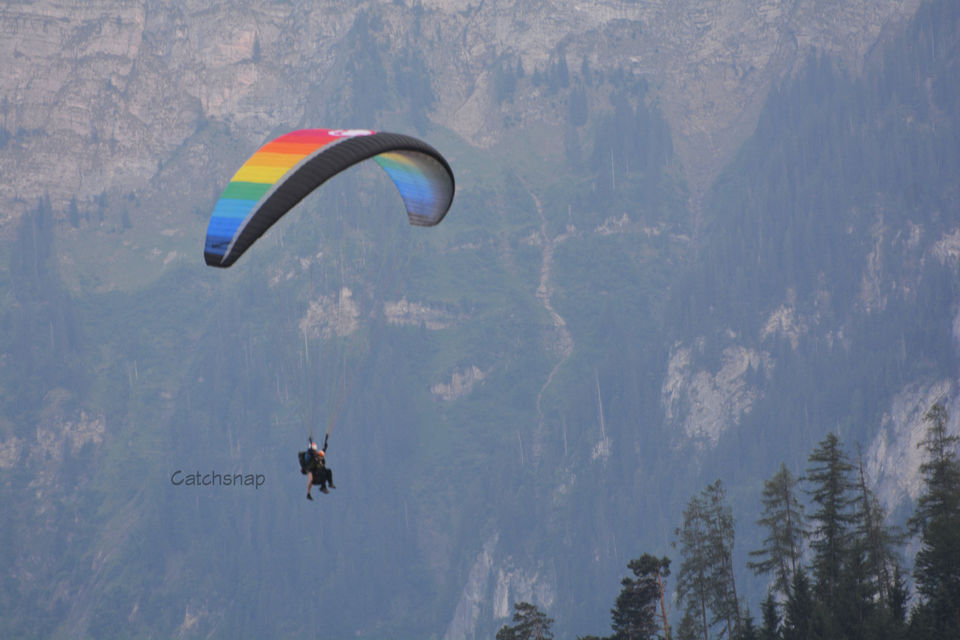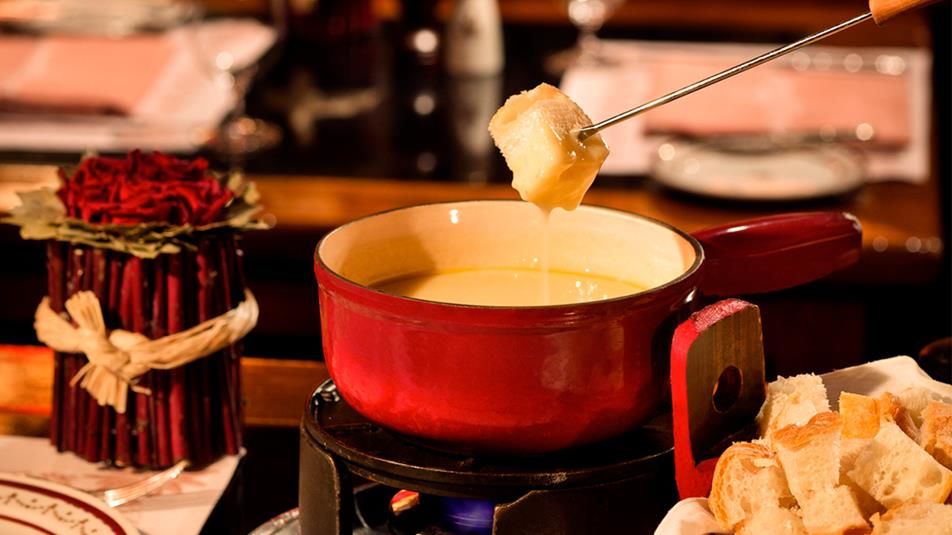 Its a small village decorated with colorful flowers and mountains with beautiful valley view. Visited church near to the station and reached back to Lauterbrunnen. We took the funicular from Lauterbrunnen up the Grutschalp, and then board a scenic train that follows the top of the cliff to Murren.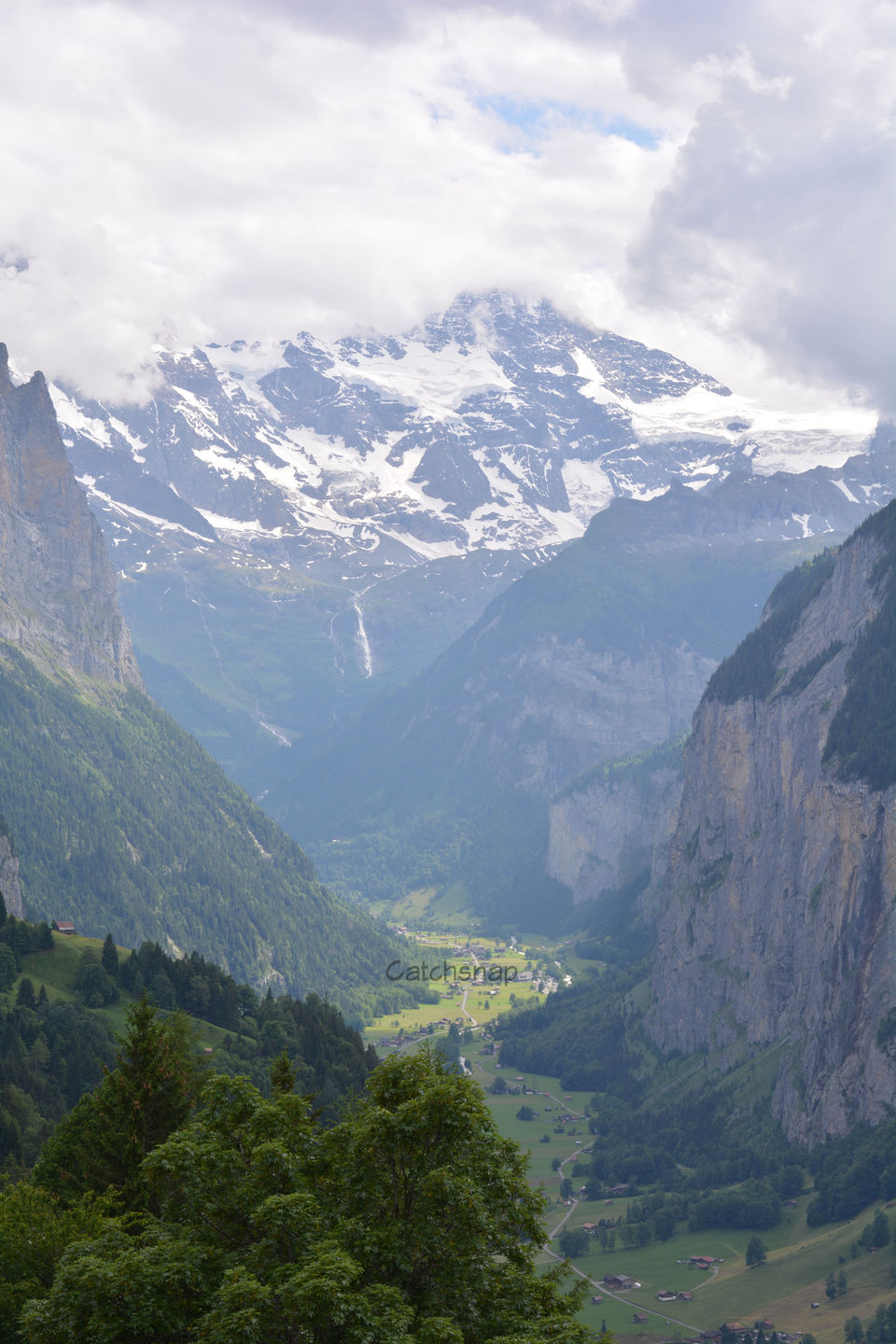 We walked through town, admiring the views at every turn. This place was my favorite ,looked exactly like a fairy land to me. After that we hopped the bus to reach Lauterbrunnen to reach Interlaken. Also enjoyed waterfalls in-between.This hop on-hop off was part of our life there.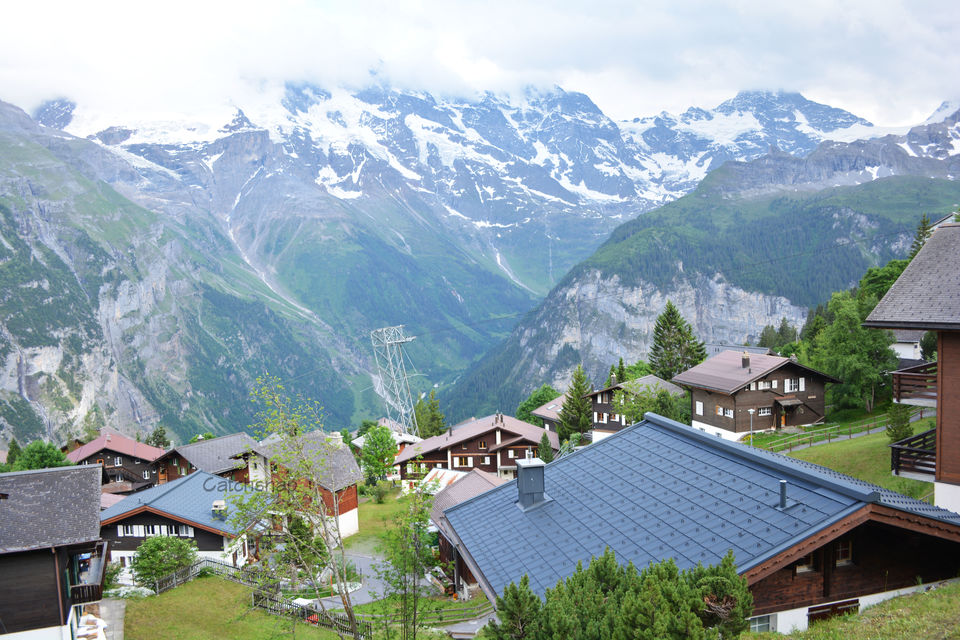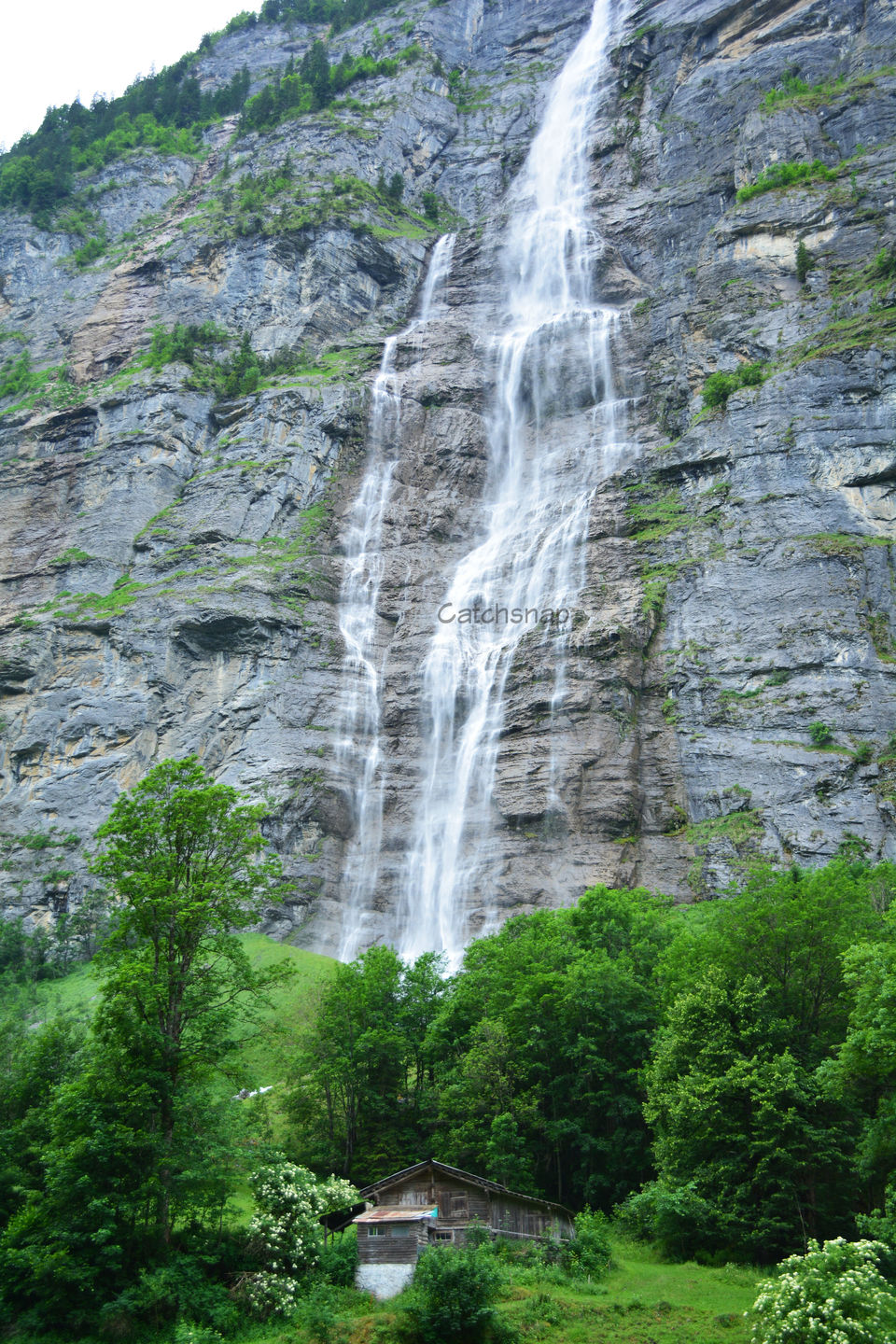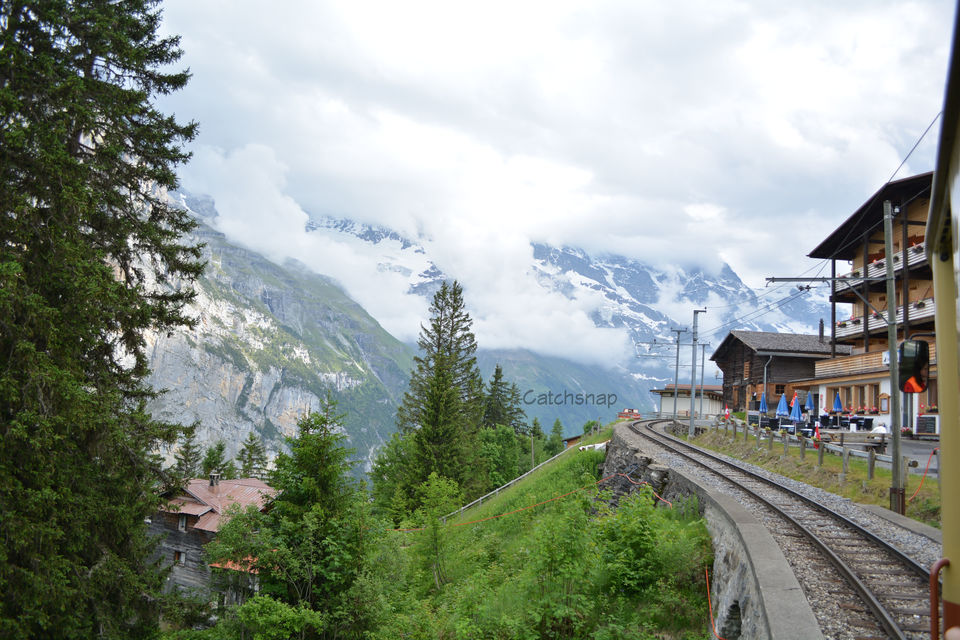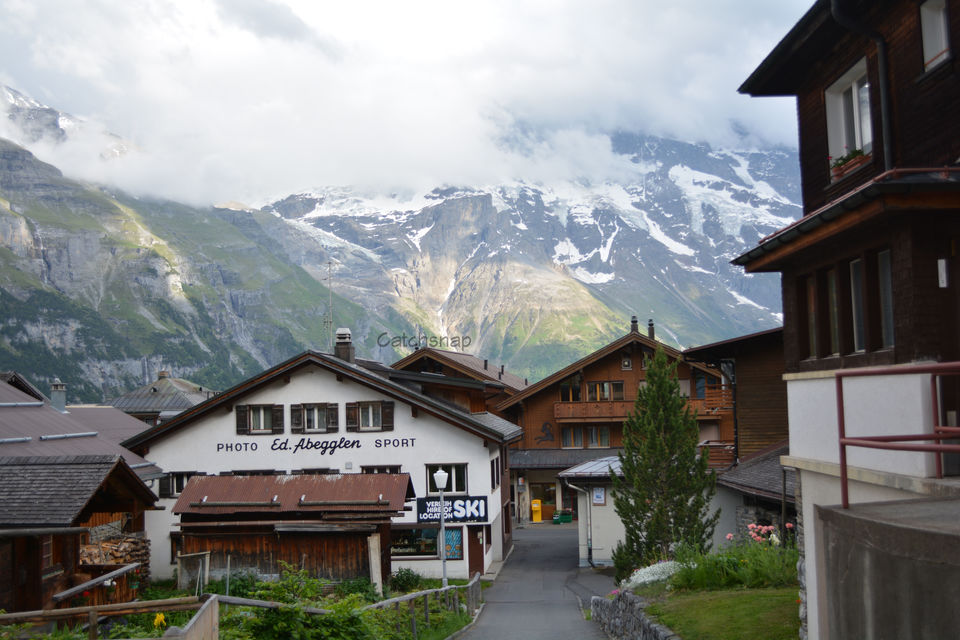 Day 5: Next day had clear sky so we decided to go for Matterhorn ,Zermatt the most gorgeous and scenic train ride, one could experience. Just two hour train journey with glacier express. Reached Zermatt station and marched towards cable car point for Matterhorn. Though weather was clear but it was too windy and cold up there. Made kids to stay at restaurant which was little cozy for them. After that we also did some acitivities and came back to Zermatt.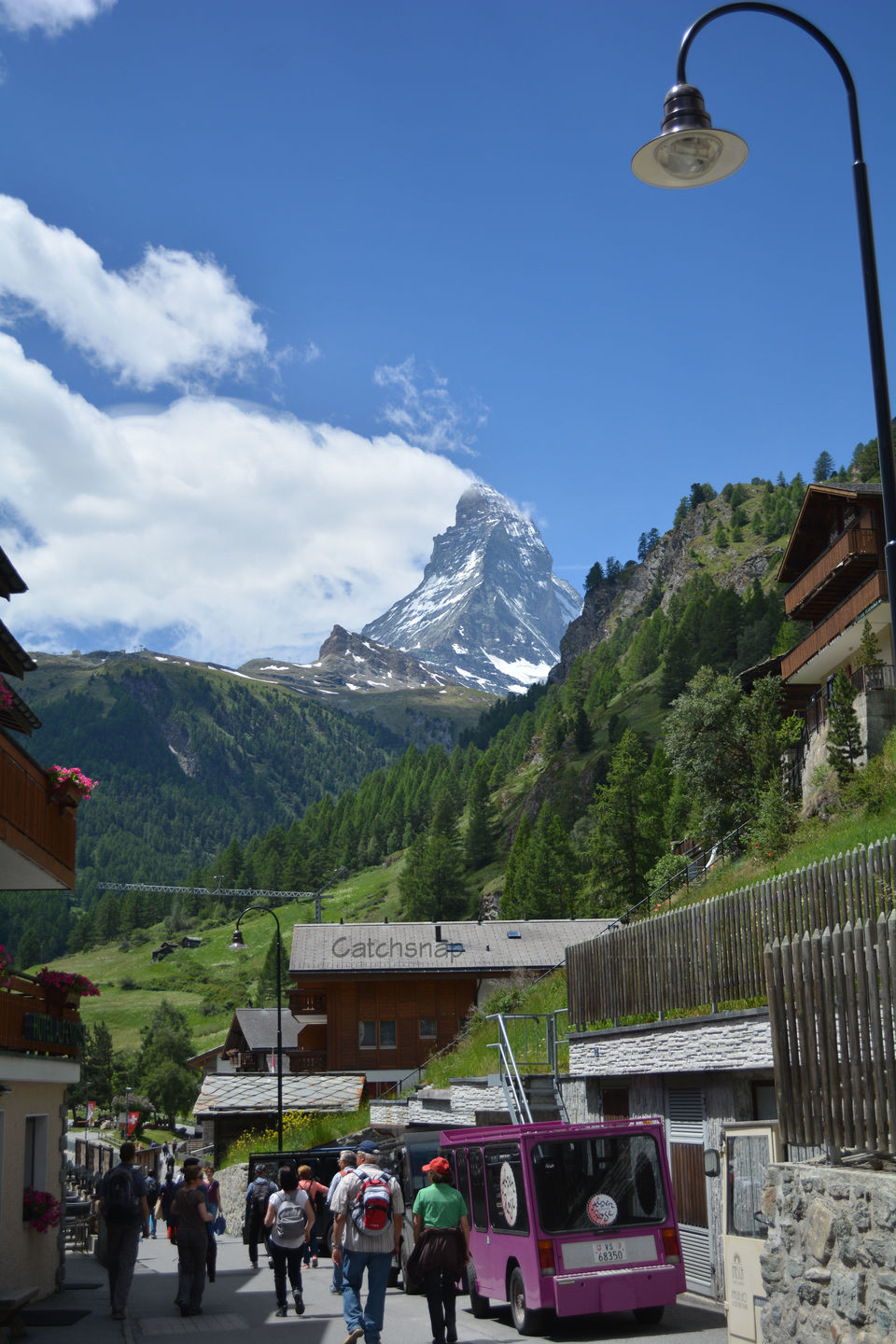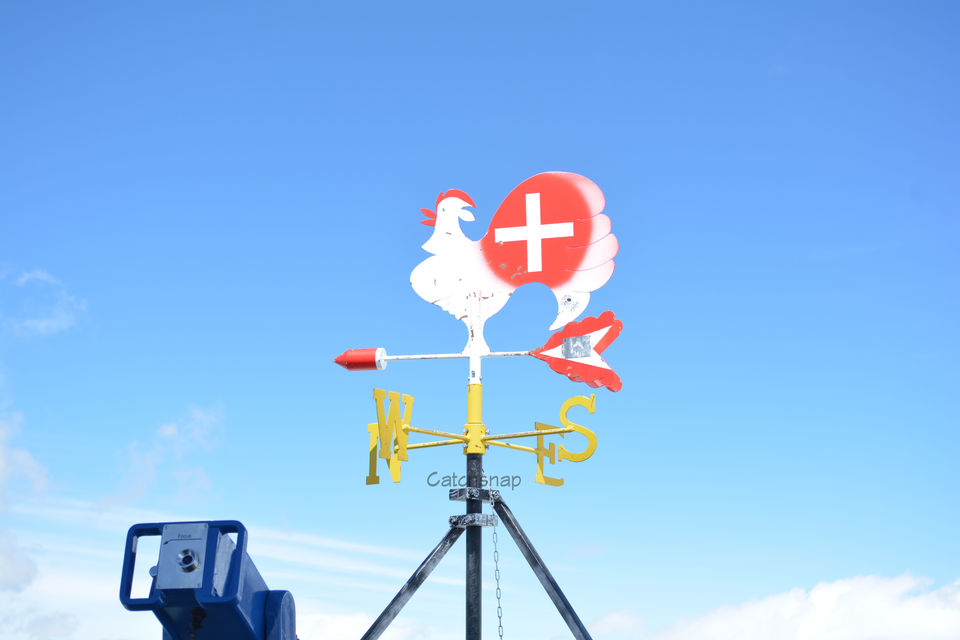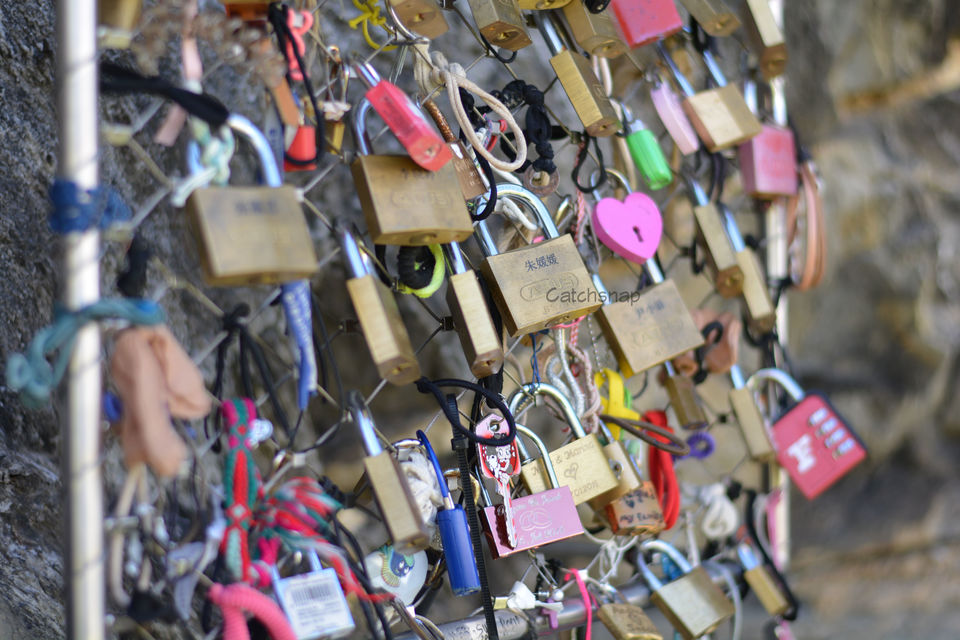 We roamed around the streets and markets.While passing by the church, we stopped at Zermatt cemetery and shot the photo below. Vivid flowers adorned the perfectly manicured grave-sites. Reached back to Interlaken early that day to take some rest and enjoy the evening there.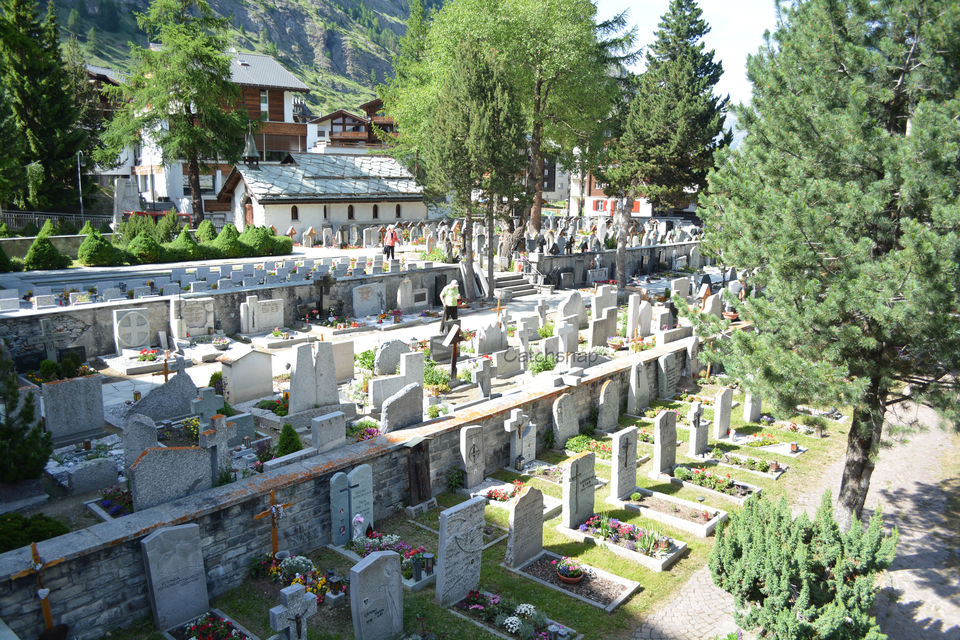 Day 6:Next day was for DDLJ point i.e. Mount Titlis. Mt. Titlis is a glacier experience (like Jungfraujoch) with wonderfull views in the greater Lucerne area.We hopped on Swiss Rail from Interlaken via Lucerne to Engelberg . Reached Mt. Titilis via Cable Car from Engelberg's base. Weather was clear sun was too bright ,did walk on the cliff and visited glacier cave. Had lunch at restaurant where indian food was available. This was the place where I saw majority of Indians. I think people still misses DDLJ era. People were clicking pictures with Kajol & Sharukh posters at Mt.Titlis.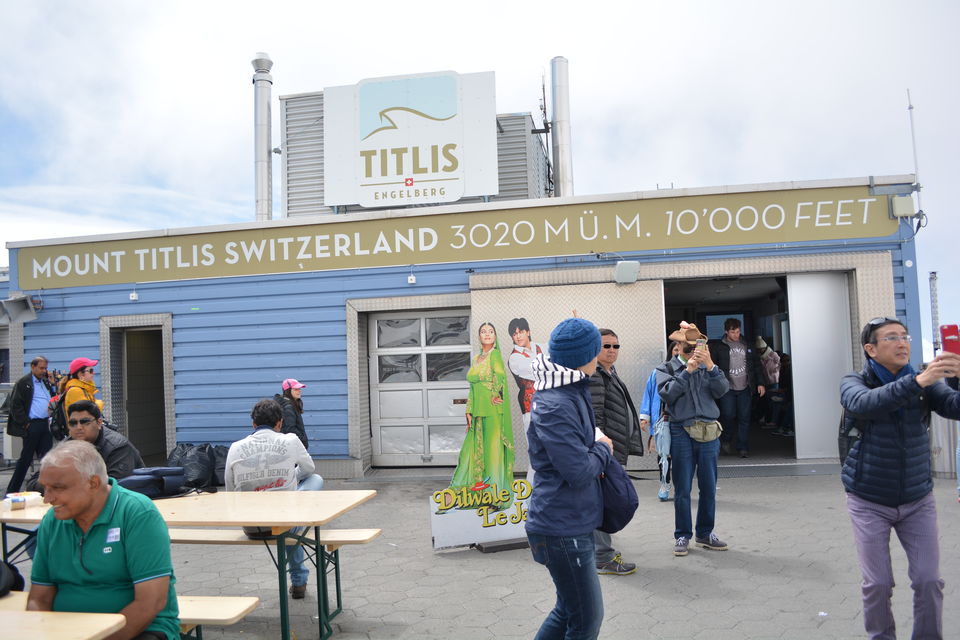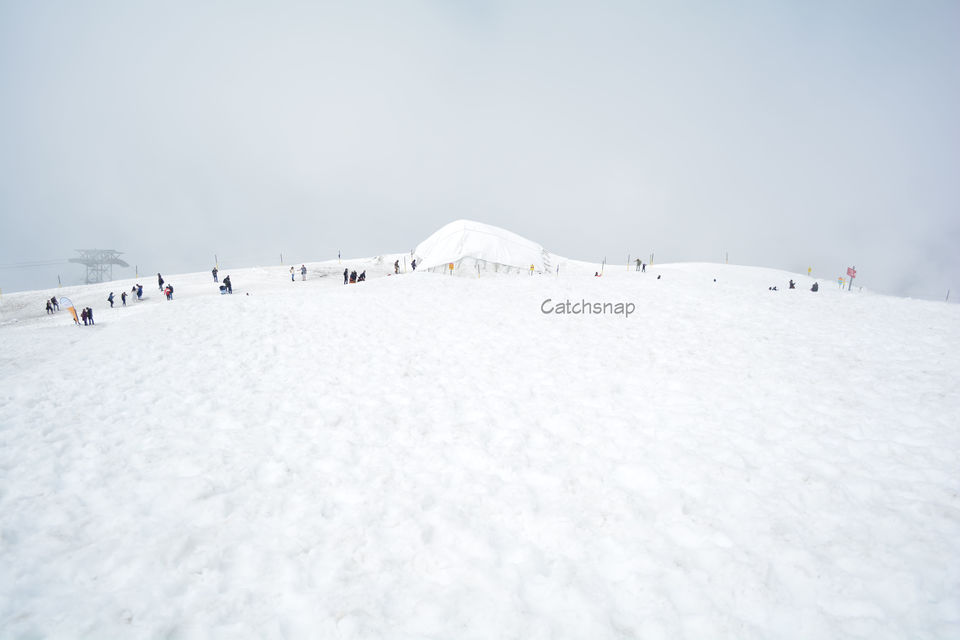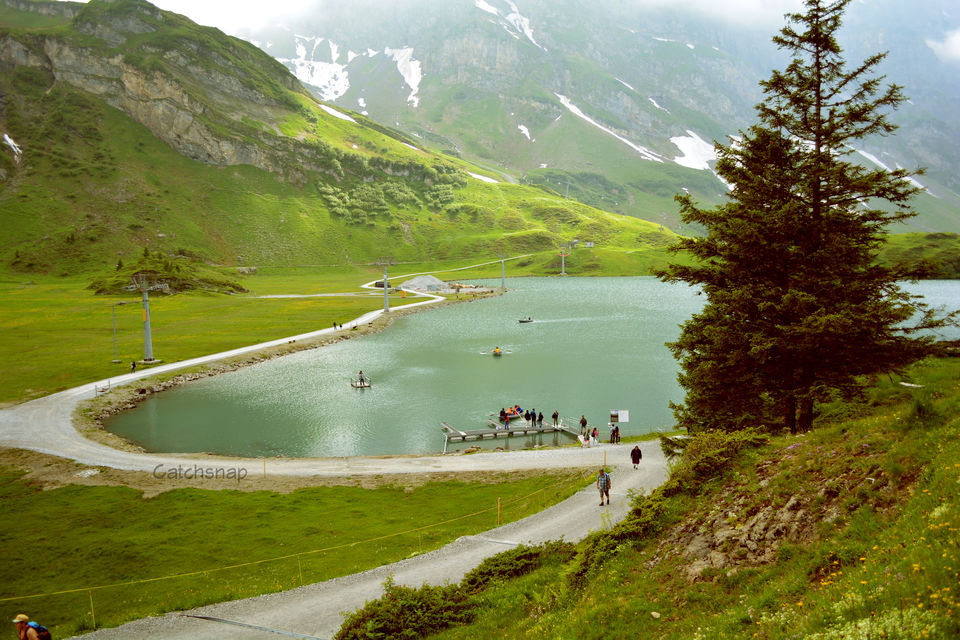 After this we went Lungern,small and very beautiful village. Surrounded with sparkling blue lake ,lush green view and colorful flowers everywhere. We spent our evening there and enjoyed the cool breeze of lake.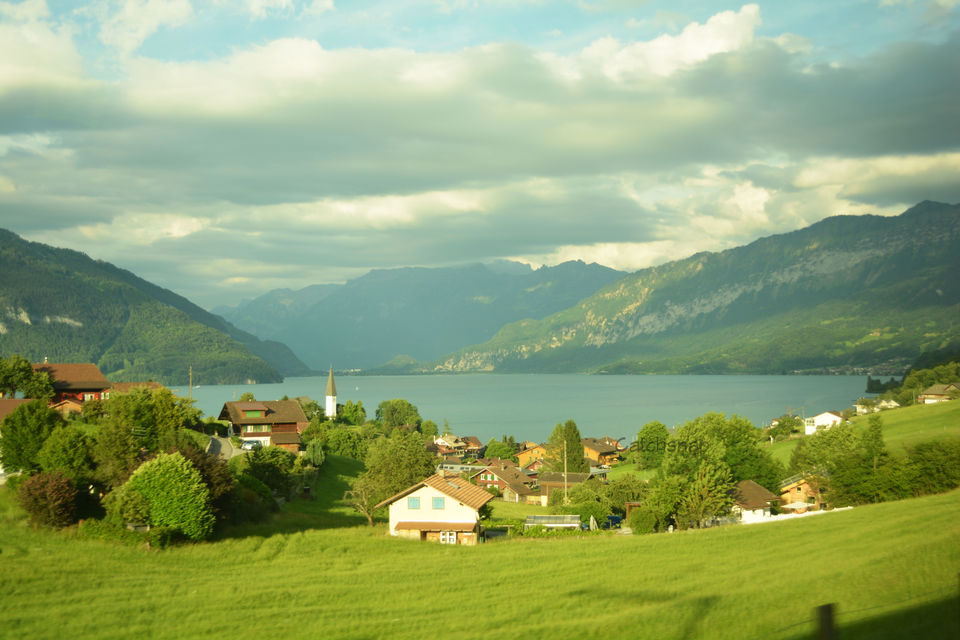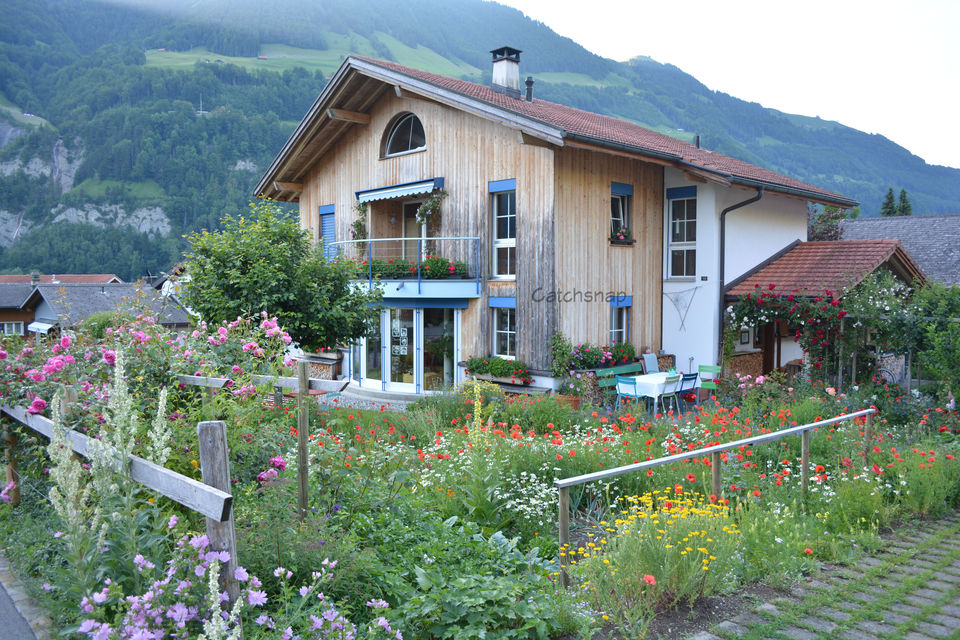 Day 7: Next day we moved to Zurich as next we had early morning flight for Mumbai from Zurich Airport. So, in short we had only few hours to explore Zurich .After hotel check-in we left for Rhine Falls, the biggest waterfall in Europe.The view was mesmerizing. Bought some chocolates and souvenirs there and left for Zurich old market. We reached bit late as all shops get closed by 7 in the evening. Enjoyed coffee and evening life of Zurich.Roamed around the streets,cafe and market with closed shops :( by the lake side. After sunset reached back to Hotel, had dinner and did packing as we were suppose to leave early morning to catch our flight.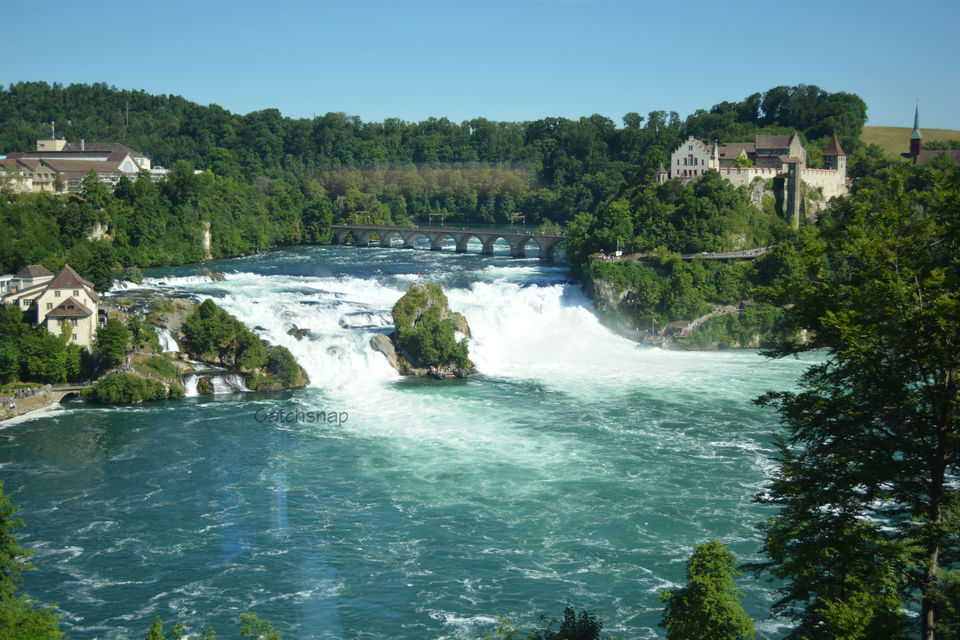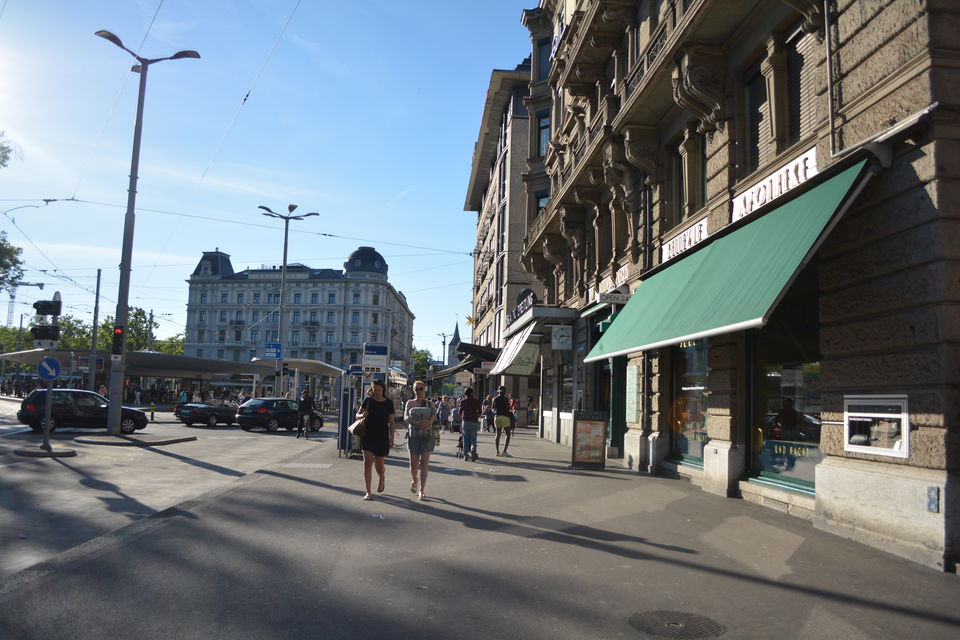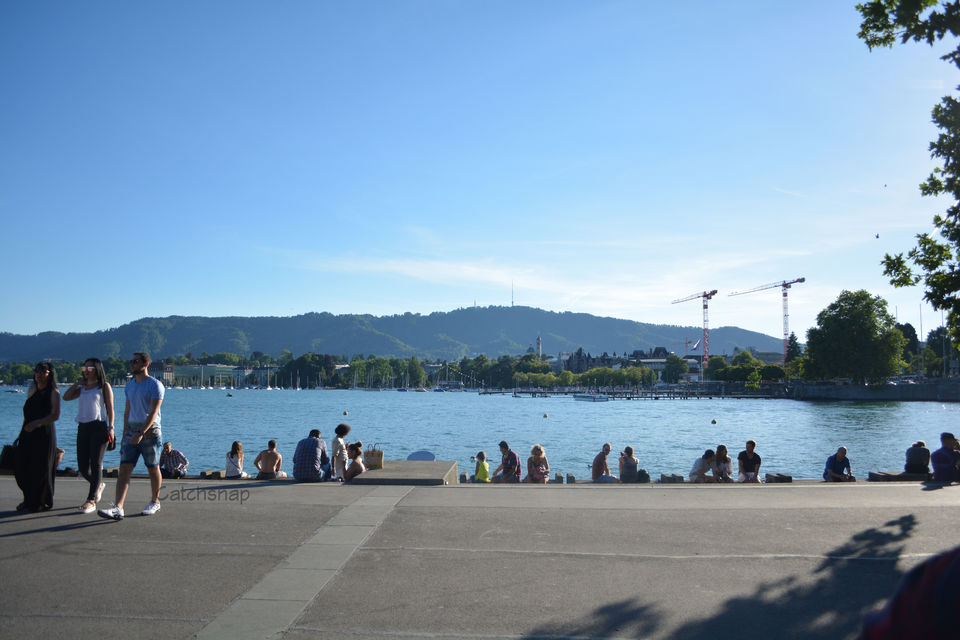 Left for Mumbai with an amazing heavenly experience. This was the best summer of my life, planning to visit in future again. All I can say is that I was totally blown away with this country, not much big but with so much to see and do. I would recommend it to absolutely everybody - cyclists, walkers, trekkers, train enthusiasts etc. A must on anybody's bucket list!
Photo Courtesy: Catchsnap
Visit us on: https://www.facebook.com/catchsnapbysonamsingh/