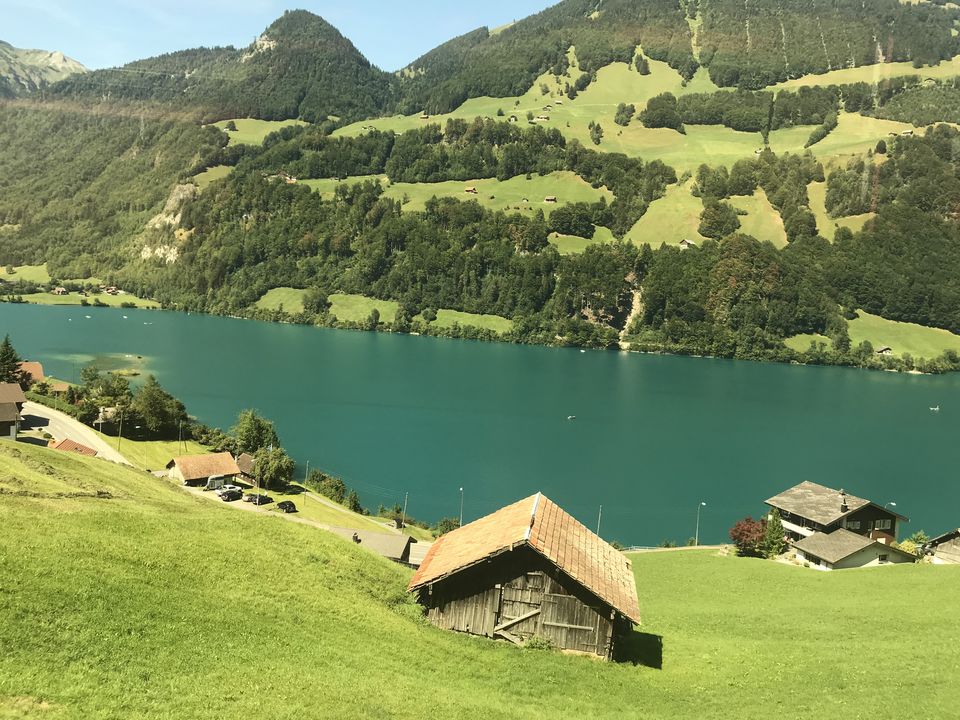 Prologue
Before I give you insight into my surreal sojourn to Swiss Bliss, Popular Paris & Amazing Amsterdam; let me dwell you a little towards preparation and detailing in the run up to this trip. Every person has a wish to visit Europe, at least once in a lifetime. So I got the opportunity to live that wish very soon, and that too, with my family. Europe is an amalgamation of picturesque locations, mouthwatering delicacies, and a modern lifestyle with a mix of countryside flavor. I can say this, at least for the places I visited, which includes France, Switzerland and Netherlands. I had the option to register myself to any of the travelling agencies and just follow their itinerary. However my endeavor was to chill-out and explore the picturesque/exotic places and not the museums where they house the great works of Picasso, Da-Vinci,Van-Gogh etc. No hard feelings for art lovers but this was indeed a family trip and children can't be ignored at any given time. Obviously, my child can go to these places during her study/leisure tours later in life to appreciate those beautiful pieces of art.
It was great fun to create the whole plan with the help of Travel advisor, Google maps and lots of Swiss travel websites. Firstly plan your itinerary well in advance (4-6 months prior) and arrive at a ball park figure for your expenses towards flight travel and transportation in Europe. For a family of three (flight tickets From Mumbai/Delhi To Paris/Amsterdam and back under ₹1.5 Lakhs all inclusive should be reasonable and comfortable. Thereafter do buy a Swiss Family Pass atleast a week prior to your visit in order to receive the pass online www.sbb.ch (Swiss train website). It depends on the number of places you want to go and trips you want to take, so do the math before deciding to buy the Swiss Family Pass. Take a printout (A4 size) unless u are ready to pay 15 € to procure at the airport/train in Switzerland. The Swiss pass is practically a VIP pass to no. of mountain peaks/museums and it enables ticketless travel in all types of transportation (Steamer, Rail and Bus) in the Swiss paradise. The hotel/accommodation prices are exorbitant and ridiculously overpriced so better to book 2-3 months in advance. My accommodation budget for one week stay in Switzerland was ₹1Lakhs approx.Airbnb offers the best accommodation. Take the breakfast option it's worth it!!! Further, better to take 'Ready to Eat' meals for the dinner. We may sustain with European lunch n dinner for 2-3 days thereafter we really crave for the 'Dal-chawal' that's how we Indians are wired.Last but not the least have sneakers/trainers with you which are a must and definitely would make your trip truly a comfortable and a memorable one bcos u need to walk atleast 15-18K steps/day to enjoy the serene and sublime climate of this wonderland.
The Journey Begins…
Geneva: Travelogue (07-09 Aug 18)
No sooner I landed from Air France flight; I was relieved that I have to walk only a few steps to Hotel Ibis. To my utter 'awe n surprise' I realized no public Wi-fi was available to assist me through my Google maps to take me to my destination outside the airport. Thus the myth of free public Wi-fi was busted within few moments of my arrival at Geneva. However, the local populace was indeed very helpful. Since I was there only for a short duration; I will give you just a few quick first impressions to paint some broad brushstrokes of the city vibe. Geneva is a very picturesque city which is the French-speaking part of Switzerland. You will notice this from the moment you enter the city centre. You cannot miss the most imposing landmark Jet d'Eau (140-metre-high water fountain) when you are circling the periphery of Lac Léman (Lake Geneva). You will feel delightful when you venture into the city and visit the second-largest UN office (after the headquarters in New York City). Most of the affiliated UN agencies are clustered around Place des Nations, not far from the downtown area, while others are located close to the airport. Since I had a hotel booking in Geneva, I was handed over free Geneva Transport Cards which entitles you to take unlimited trips on Geneva's public transportation network including bus (TPG), train (CFF) and boat (Mouettes Genevoises) services for the full duration of your stay. The Swiss Family Pass is more than adequate to ensure trouble free transportation all over the country (which also includes free Swiss pass for any child less than 16 yrs.) It's no secret that the cost of living in Switzerland is very high, that their currency is generally very strong, and accordingly the vacationing is very expensive. You better be prepared to adjust your expectations of what you can buy and what you can or cannot save on. Most places AMEX credit cards were not accepted and I had to rely on VISA cards or cash (preferably Swiss Franc (CHF)) which saved me the blushes!!! Euro is accepted all over however the change returned would always be in Swiss franc (CHF).Availability of ready cash is highly recommended for quick shopping of mementos and ice cream cones.
The next day was fairly eventful and adventurous. We landed at the Bel-Air bus station and walked across to the lake. A pleasure boat trip from Genève to Lausanne is one of the most popular day-trip cruises on Lake Geneva. Lake Geneva boat cruises from Genève to Lausanne via Nyon and Yvoire usually takes just less than four hours. The one-way cruise is just shorter than four hours and would halt en route at Yvoire and Nyon with gourmet lunch and dinner (optional) served on mealtime cruises. However, we decided to cut down on our voyage and disembarked at Nyon to march towards our next destination which was the cheese factory at Gruyere. The SBB train app exactly charted out our route, stop-overs and thanks to the diverse types of Swiss trains; we reached the factory within 2-3 hours at an amazing precision and operational efficacy. The factory was right next to the train station and we had a free Swiss pass access to the place. The process of cheese making was fascinating and intriguing. A small souvenir & cheese outlet makes you shop to your hearts' content.
Zermatt: Travelogue (09-10 Aug 18)
Welcome to Day 3 of my Swiss Bliss trip. We checked out from the hotel Ibis and charted our course towards Zermatt early in the morning. Zermatt is a municipality in the district of Visp in the German-speaking section of the canton of Valais in Switzerland. We reached this tiny village after a absorbing train journey of 4-5 hours from Geneva. Initially, we thought that Switzerland is all about Mt.Titlis and Jungfrau as the premiums and had fewer expectations from Zermatt. However the train journey from Visp to Zermatt made us realize that we have been transported to a paradise never seen before. We reached Resort Alpen Hotel which is hardly 10 mins walk from the Zermatt station. One of the finest hotels located with a stunning view of nearby mountains. After a brief respite we headed to the Matterhorn cable car station which is a 30 minutes walk from the city centre and along the stream. However the rain played a spoilsport and instead we enjoyed local shopping of traditional Swiss bells and had a hearty meal at one of the Swiss cafes. Next morning we headed to the Gornergrat rail station.The Swiss Pass holders enjoy a 50% discount upfront for this trip.
Gornergrat is one of those places that everyone must visit at least once in a lifetime. The Gornergrat Bahn is the world's first fully electrified cog railway taking travelers to an altitude of 3098 m. Europe's highest open-air cog railway brings passengers direct from Zermatt station (1,620 m) to the summit of the Gornergrat, 365 days a year. The ride takes 33 minutes and requires a vertical climb of 1,469 m. The line leads over dramatic bridges, through galleries and tunnels, across forests of larch and Swiss stone pine, and past rocky ravines and mountain lakes. At the summit station on the Gornergrat, the mountain panorama and the glorious view of the Matterhorn are indeed enchanting and unforgettable. The scenic beauty and the panoramic landscape was breathtaking and spellbound .However, the chilly winds and rains made us forget the 'Summers of Europe' and we quickly wrapped ourselves with jackets and scarves. I would rate this visit a must in the bucket list. Since we had to change trains and reach Murren before nightfall; we had checked out early in the morning and after returning from Gornergrat; we straightaway boarded the train to Visp from the Zermatt station.
Mürren: Travelogue (10-12 Aug 18)
We had to board a IR(Inter Regional) superfast train and headed to Interlaken and then to Lauterbrunnen. When you arrive in Lauterbrunnen, just walk across the street to the Cable Car station and walk up the stairs and board the next car. The Cable Car can take upto 75 persons in addition to the luggage trolley which gets attached to the cable car. It will take you to Grütschalp in about 20 minutes. When you arrive at the top, a small BLM mountain railway will take you to the Mürren BLM station. Walk up stairs to reach street level.Mürren is a traditional mountain village at an elevation of 1,638 metres (5,374 ft) above sea level and it cannot be reached by public road bcos it's a car free village. It is also one of the popular tourist places in Switzerland; the village features a view of the towering mountains of Jungfrau. Our journey to the hotel was an experience in itself. The Google maps showed me that my motel Berhaus Sonnenberg was only 1.6 kms from the station. However we didn't realize that the road to our motel is at a gradient of 10-20 deg and it would atleast take 45-60 mins walk to reach at the top. The station master was kind enough to arrange for a cab who realising our apathy quickly pocketed 30 € for a 10 minutes bumpy ride. The only thing we badly wanted was the nearest COOP (Popular daily needs n grocery store in Switzerland.) to quench our thirst and grab a decent meal. Our place was located right at the foot of the Schilthorn peak. It was indeed an uphill task in the true literary sense to get the daily provision back to the motel. At the end of the day; it had been a well earned supper and we were in deep slumber within no time.
Next day, we could spot the early morning hikers reaching the heights before the first rays of the sun touched down on this glorious village. It just takes 32 minutes by cable car to reach the Schilthorn summit located at a height 2970 m.The cable car from Murren takes you to the first stop at Birg. From Birg to Schilthorn you are just stunned by the picturesque landscape and unending blue skies spread all over like a big blanket. At the summit awaits Piz Gloria (the famous revolving restaurant which has its special appearance in the James Bond movie "On her majesty's secret service"). The place also has a gallery dedicated to James Bond 007 exhibits with a small theatre which continuously runs the clips from all bond movies. Whilst returning back one can enjoy a Super thrill tightrope walk with unending abyss underneath. That had been quite a thrilling experience since you walk on the wire rope caged from all sides just to get the feel of what kind of height you are treading. Thereafter we enjoyed the village walks and appreciated the view of multicolored paragliders encircling the skies and slowly descending into the beautiful valley.
Brunnen: Travelogue (12-15 Aug 18)
From the car free village we decided to head towards our last stop in this country at Brunnen.This exotic town is nestled between the shores of 'Lake Lucerne and Schillerstein mountains.' The house was situated at the foothills of Mount Rigi. This homestay was the best ever stay we had in our entire trip. The hosts came all the way to get us picked up at the station. Thereafter we were shown the beautiful house and lovely garden. From this lounge we enjoyed a stunning view of Lake Lucerne and our morning/evening tea-time was consumed in appreciating the beauty of Mother Nature all around. We were indebted by the hospitality and warmth of Ursula & Joe who looked into every minute detail of our stay and made it a memorable one.
Next day our visit to the most popular peak Mt Titlis began with a early morning train ride to Lucerne and then to Engelberg. From this base station we were greeted with innumerable Chinese tourists. The cable car ride was enjoyable and the propinquity of snow and ice made us really chilled n excited in the severe summers of Europe (day temperature 32-35 deg). The place was indeed 'Heaven on Earth' with breathtaking and spectacular panoramic view all around snow clad mountains and icy path welcoming us at the peak. The DDLJ photoshoot with cutouts of Shahrukh & Kajol reminisced all of us to the old memories of that evergreen movie. By the time we were descending from Mt Titilis, we became conscious that we had misplaced our backpack in the train from Lucerne. It was an agonizing moment since our phones, kindle and chargers have just disappeared and now the entire trip would end-up in disarray. We frantically reached the front desk at Engelberg and informed them about the issue. We contacted the lady Ticket inspector on our return journey to Lucerne; who was so proud of the Swiss culture and character that she was cock in no doubt that the lost bagpack would be delivered to us at the station or to our place of residence within 24 hours. Indeed, she was dead right; we found our bag at the 'Lost&Found baggage' with minimal efforts. 'Kudos to SBB personnel' and the Swiss citizens for displaying absolute honesty and integrity in preserving true character and culture in this rapidly transforming era. We had a small celebration at the Food outlets and did some shopping at the Shopping arcade at Lucerne station. Since the weather next day greeted us with incessant rains and chilly winds; we had a well deserved siesta and decided to take a day off before we embark on to Popular Paris and exit Swiss Bliss with unforgettable and magnificent memories to be reminiscent for this lifetime.