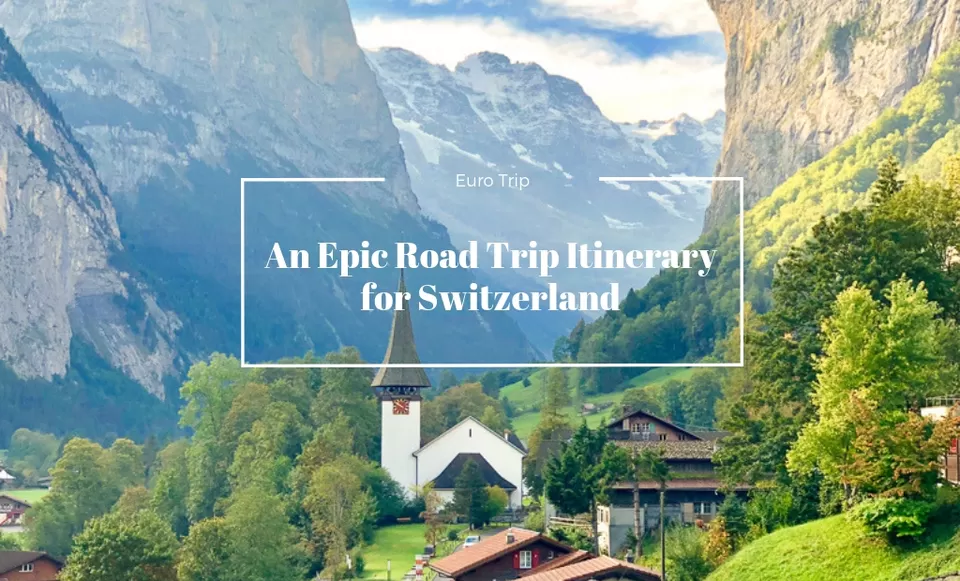 When we planned our trip to Switzerland , we had no idea the kind of spell that Swiss Alps will cast on us. We have been to pretty places before. I mean , if anyone ever asked me which is your favorite destination – it was Norway by default, without even giving a second thought. I had heard about beauty of Switzerland , I had seen it in bollywood movies but when I saw it in real I knew one thing for sure – Those favorite destination questions are not going to be easy anymore. I mean imagine a place which is an alpine wonderland filled with chocolate and cheese! Who will not fall in love with this place. While planning our Swiss getaway, the biggest challenge we had was deciding what NOT to see. Now of-course 6 days , 10 days or even a month is not an enough time to explore this beautiful country t , but i can assure you that my "Epic Road Trip Itinerary for Switzerland" will take you to the best of the mountain villages , some movie locations , mountain tops that will make you feel on top the world and some roads that will give you thrill on every twist and turn. So shall we get started.
ROAD TRIP IN A NUTSHELL
Day 1: Drive from Fussen to Lucerne. Explore Lucerne.
Day 2: Visit Mount Pilatus near Lucerne and drive to Bern. Explore Bern.
Day 3: Drive from Bern to Interlaken. Spend day in sightseeing.
Day 4: Explore Jungfrau Region – Lauterbrunnen, Grindewald, Murren.
Day 5: Drive from Interlaken to Grimsel Pass. Take endless photos of winding at Grimsel and Furka Pass.
Day 6: More driving at Grimsel and Furka enroute to Zurich. Fly Back.
Day 1 : Drive from Fussen to Lucerne. Explore Lucerne.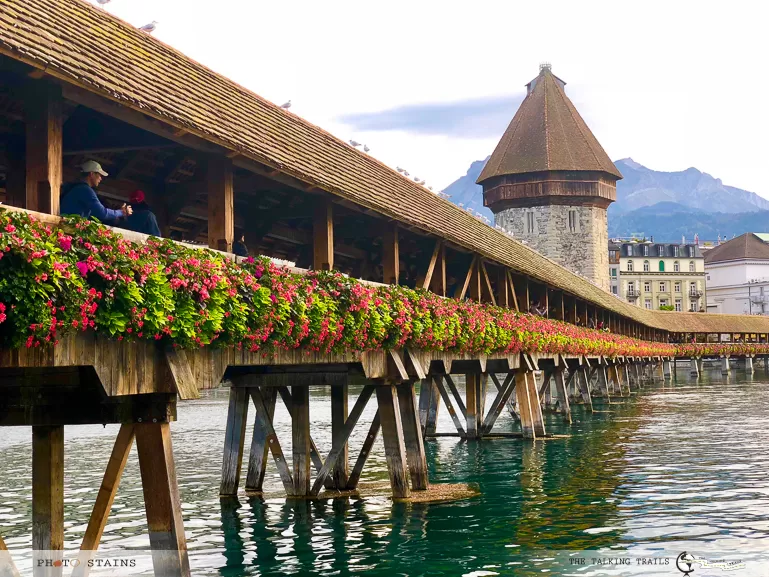 Since I was already in Germany and was exploring Bavarian Alps , I decided to drive to Lucerne. An alternate will be to fly in Zurich – here you will find the cheapest flight tickets and then rent a car and drive to Lucerne. On way to Lucerne from Fussen, you will pass through Liechtenstein and if time permits , you can spend some time in its capital city of Vaduz . Once you reach Lucerne , park your car as you will be exploring this city on foot. Enjoy a stroll through the history in the Old Town of Lucerne. Two must see sights of Lucerne are Chapel Bridge and Lion Monument ( Löwendenkmal) – you do not want to miss them. If you don't have time for a longer boat excursion, Lake Lucerne panoramic sightseeing cruise gives you Lucerne in a nutshell kind of tour. For chocolate lovers – Laderach is the place to be. They often give chocolate making classes too and their chocolate is one of the best in Switzerland. End your day by enjoying fondue by Lake Lucerne , spend as much time as you want as you will be staying here for a night.
Note : If you plan to visit any nearby mountains like Mount Titlis or Mount Rigi , make it your first thing in morning. It generally takes about half a day to visit any of these mountains.
Day 2 : Visit Mount Pilatus near Lucerne and drive to Bern. Explore Bern.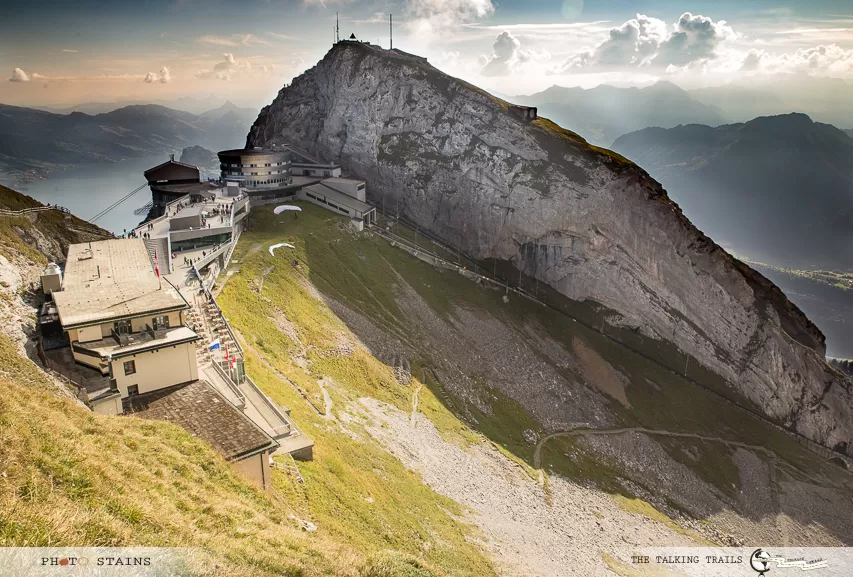 For this particular day I will highly advice to leave early in the morning for Mount Pilatus. You want to reach Kriens , the starting point of aerial cableway to Mount Pilatus as early as 8: 30 am. Visiting Mount Pilatus take about 3 to 4 hours and you do not want to rush it and also sooner you go , you have less crowds. Back from Lucerne , drive to Bern. It will take about an hour.Head straight to the old city of Bern , park your car as the old quarter of Bern is motor free. Well-preserved historic district of Bern is considered today as a single landmark; it is a UNESCO World Heritage Site. Each of the monuments presented here is unique. You must check out Clocks on the Zytglogge tower, Kramgasse street, the house number 49 , also known as house of Albert Einstein , Kleine Schanze park, Bern Cathedral and above all Bärengraben also known as "A Pit of Bears".
Note : More information about Mount Pilatus Time Table can be found here.
Day 3 : Drive from Bern to Interlaken. Spend day in sightseeing.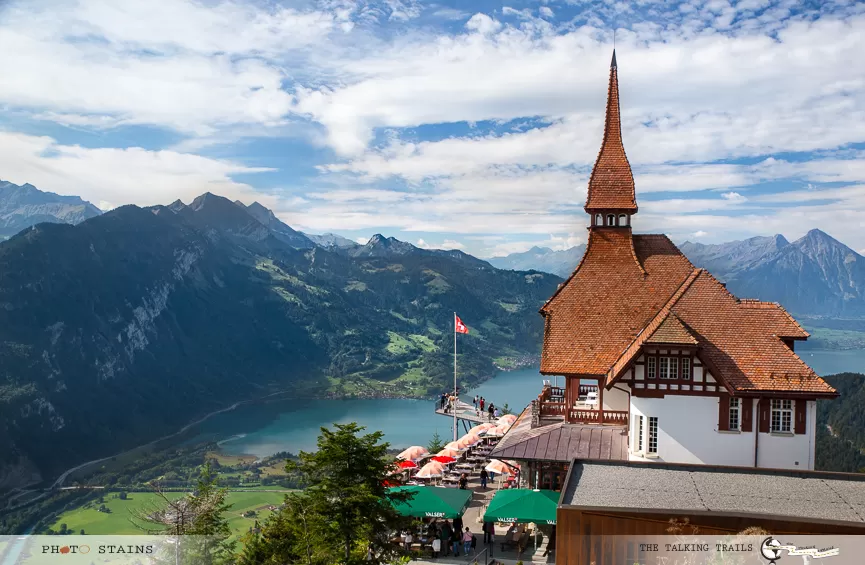 Take this day at your own pace. Drive from Bern to Interlaken. Interlaken is a place of endless possibilities. In a hot summer day , you might want to head to Lake Brienz or Lake Thun – buy some snacks from local grocery , wear your swim suits and take a dip in the crystal clear waters of the lake . This will be a picnic of lifetime. Next to Lake Thun is Oberhofen Castle. Due to its location on the lake, this picturesque castle is a popular subject for local postcards and tourist brochures . For a little more thrill seekers , you can hike up to Harder Kulm for the best views of Interlaken. If you do not want to hike up , you can also take funicular as well. In addition to skiing and snowboarding, Interlaken is also known for its adventurous sports such as paragliding, hang gliding, and sky diving. If you are visiting in summer , you can pick an activity and see the Interlaken from up above.
Day 4: Explore Jungfrau Region – Lauterbrunnen, Grindewald, Murren.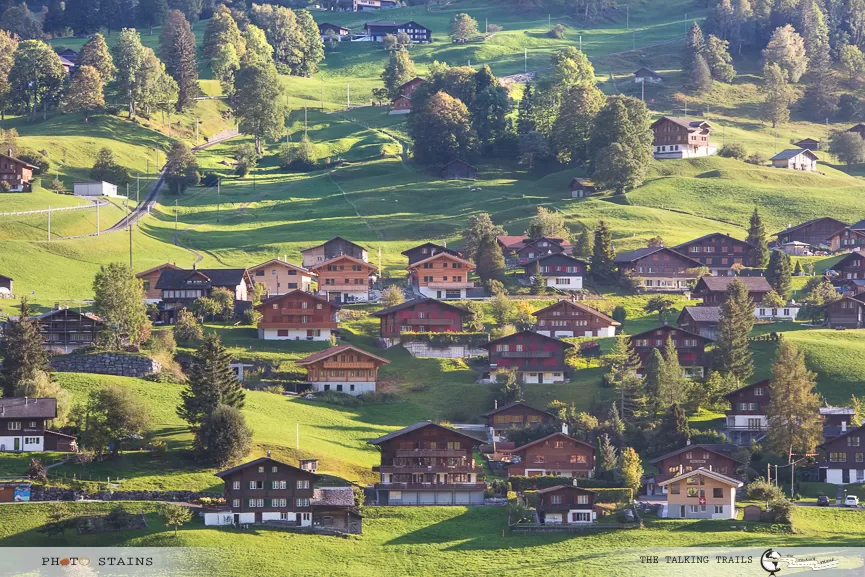 This is day of whimsy because believe me exploring Jungfrau region and its picturesque alpine villages are nothing less than a ferry tale. It will take about 20 mins to drive from Interlaken to Lauterbrunnen. Park your car and head straight to the train station. Here you can get trains and trams to Grindewald and Murren. I visited these villages in the order of Murren , Lauterbrunnen and lastly Grindewald. Murren is all about views. The village is not very big and can be seen easily on foot. Take your time exploring the winding streets and flower clad houses – you will be clicking photos every minute. If your budget and time permits , an excursion to Mount Schilthorn is a must. Once you are done , head back to Lauterbrunnen and enjoy the magnificent Trummelbach Falls. Lauterbrunnen has some amazing restaurants . Enjoy your lunch here before you head to Grindewald. You can drive to Grindewald and enjoy sunset overlooking Mount Jungfrau. Head Back to Interlaken and rest as next day will be full of driving and pit stops.
Day 5: Drive from Interlaken to Grimsel Pass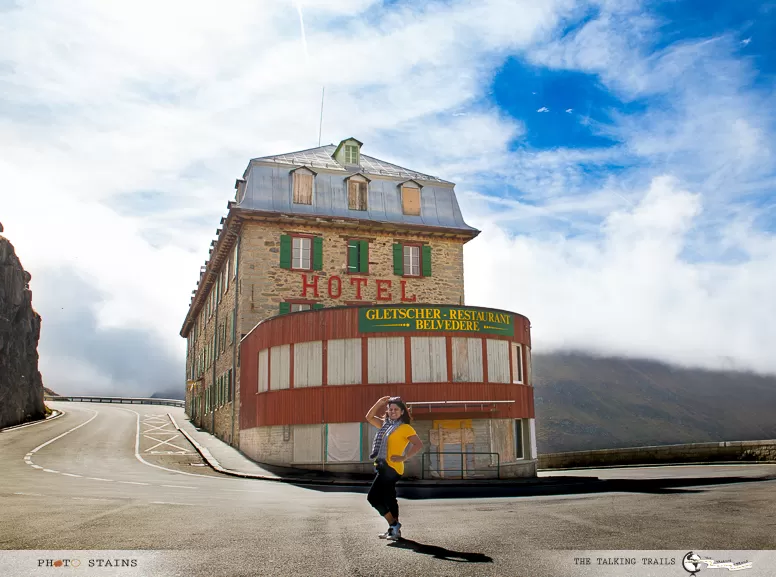 Switzerland is known for its countless mountain passes with challenging but beautiful hairpin turns and Grimsel and Furka Pass totally iconises Switzerland with unbound beauty. Grimsel pass crosses the Bernese Alps at 2,164 meters above sea level and runs for 38 kilometers linking the Hasli Valley in the Bernese Oberland with Goms in Valais. The pass road runs through a wild, sparsely grown mountainous region marked by granite rocks, reservoir lakes, and power plants. The GPS will show 1 hr as the extimated time , but trust me it will easily take 2 – 3 hours to reach Grimsel Pass. As you reach there , take some time and explore the nearby area. Altitude sickness do takes its toll , so give your body some time to adjust. There are endless hiking opportunities in this area. Do make a pit stop at Grimselsee and Totensee lake. Furka Pass is even higher than Grimsel Pass – about 2431 m high. ON your way , make a stop at iconic but abandoned Belvadere hotel – famous from James Bond movie Goldfinger. Next to this hotel is a gift shop from where you can enter to see Rhone Glacier. Thinking what is so special about Rhone Glacier ?? This glacier moves about 30-40 metres each year, sometimes more than 10cm per day. It is pretty spectacular.
Note : Even though Grimsel and Furka pass are high in altitude , they are pretty active in terms of traffic. Drive carefully.
Day 6 : More driving at Grimsel and Furka enroute to Zurich. Fly Back.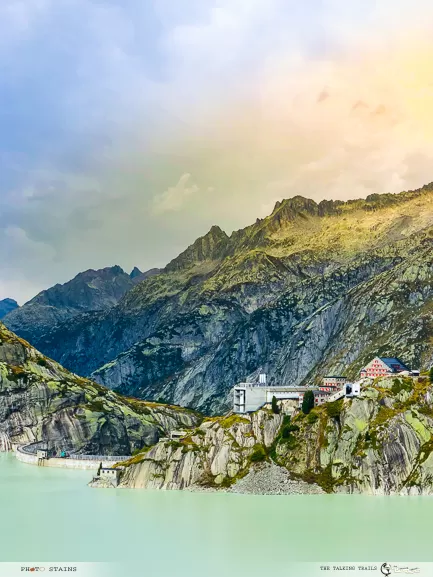 Depending on your flight time , leave Grimsel area accordingly. Do not trust GPS as the weather condition at such a high altitude are really unpredictable. When we left the area in the morning , it was so foggy that we hardly could see anything. We had to drive really slow and it took us about 4 hours to reach Zurich. Nonetheless , if you are lucky to get sun smile on you in the morning, take your time to drive and enjoy through Grimsel and Furka Pass again. Trust me morning light will make it look totally different.
So yes 6 days , I know for a country like Switzerland are not enough but from this brief visit a real love affair with this country has developed and we will return as there are so many things we could not do. It's probably our favourite holiday destination in Europe.. If you ask me what was the highlight of my trip – I must say drive through Grimsel and Furka pass. That was an experience that really left me in awe. There were moments when it was just me and mother nature and i could not believe the shades of blues and greens that I was seeing through my eyes. Pure bliss. Have you been to Switzerland? Did you find it overwhelming or just the way you had expected. How was your experience , please share with me in comments below. Thank you so much for stopping by.
Looking for more travel Inspiration - I have compiled a book listing best destinations for each month that will make your travel planning easy breasy. Grab your free copy here.