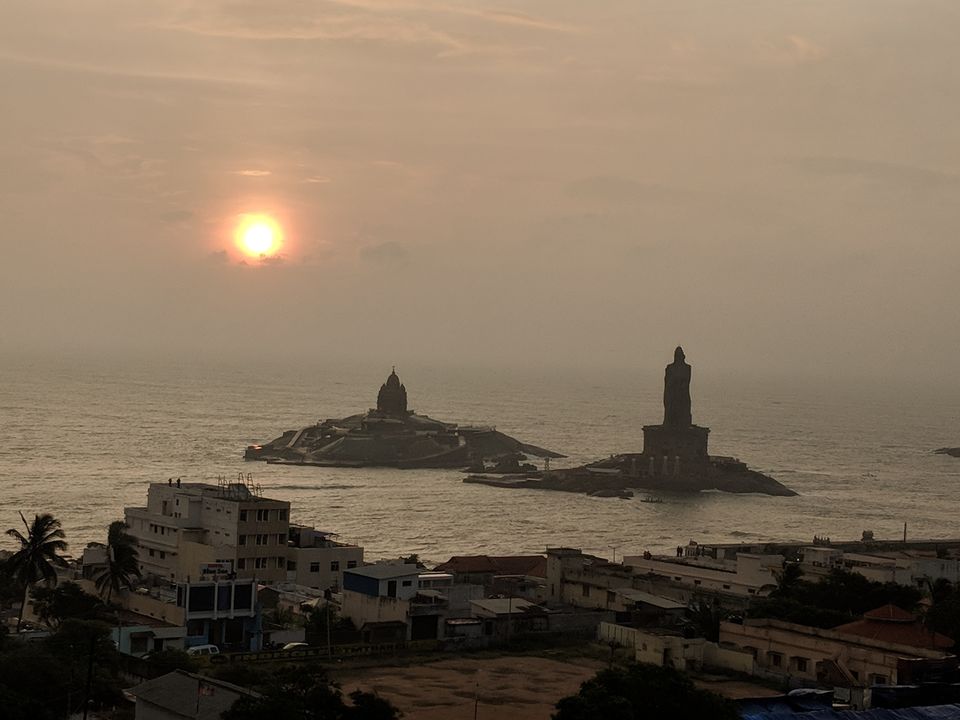 The popular town at the southern most tip of India got its name because of Devi Kanya Kumari (Kanya means – virgin and Kumari means – girl).
According to our Puranas, there was once an Asura (demon) names Banasura who was torturing the devas, saints and rishis. The Gods were not able to bear the torture and went to Lord Vishnu (the Protector of the Universe) for help. Lord Vishnu asked them to go to Goddess Parvathi (Parashakthi)- the Mother Goddess as she was the only one who could help them from Banasura. The devas performed several yajnas and Goddess Parashakthi appeared as a young girl in front of them and promised to kill Banasura in her Kanya form. She also asked them to wait until the right time comes and then began to meditate on Lord Shiva. After several years, seeing Kanya Kumari's devotion, Shiva is very impressed and, on her request, agrees to marry her. The devas however are worried as they know that Kanya Kumari can kill Banasura only if not married. Hence, they try all means to stop this marriage, but in vain. The marriage is fixed and Shiva proceeds from Kailash down south. The marriage was to take place only at midnight on a certain auspicious day, and not otherwise. The devas tried their final chance and when Lord Shiva was close to the Velliangiri mountains (near now Coimbatore) they made it appear as though the sun rose. Lord Shiva was upset that he could not make it in time and sat down on the mountains to meditate. Meanwhile, Kanya Kumari was totally disheartened and shattered, but her love for Lord Shiva did not reduce. She stood on one leg and continued praying to her Lord.
Seeing her beauty, Banasura then tried to get married to her. When she refused, both got into a massive fight and the Goddess killed Banasura. While dying, Banasura pleased for forgiveness. The Goddess forgave him for his sins and also said that anyone who dips themselves in the confluence (Arabian Sea, Bay of Bengal and the Indian ocean confluence) in this same place with a pure heart would be pardoned of their sins as well. She later continued her meditation on Lord Shiva and then left her body in the same one-legged posture.
The mountains where Lord Shiva meditated – Velliangiri mountains – are called the South Kailash and several rishis and saints have said to have meditated here. It is said that Sage Agastya (one of the Sapta Rishis) still lives here. The energy in the mountains can be felt even now by spiritual souls. You can visit the Andavar Shiva temple at the Velliangiri mountains and experience the same when felt with true belief.
Kanya Kumari had meditated in her one-legged posture on a huge rock a few hundred meters from the tip of land. The single footprint can be seen still engraved on the rock and the exact place where Devi meditated and left her body is now a temple on the same huge rock.
In 1892 - Swami Vivekananda had travelled all over India and finally reached Kanya Kumari at the end. He was extremely disappointed to see the sufferings of people. He did not know what to do for them and then swam across the sea to the same rock and sat there in meditation for 3 days- 25, 26 and 27 December 1892. It is then that he came up with the resolve – to use the help of his sannyasins for social service.
In a letter written to Swami Ramakrishnananda on 19 March 1892, Swami Vivekananda wrote:
My brother, in view of all this, specially of the poverty and ignorance, I had no sleep. At Cape Comorin sitting in Mother Kumari's temple, sitting on the last bit of Indian rock—I hit upon a plan: We are so many Sannyasins wandering about, and teaching the people metaphysics—it is all madness. Did not our Gurudeva use to say, "An empty stomach is no good for religion"? That those poor people are leading the life of brutes is simply due to ignorance. We have for all ages been sucking their blood and trampling them underfoot.
He then dedicated his life for the upliftment of masses.
In these 3 days of meditation, he also came with the idea to attend the Conference of World's Religions in Chicago which then changed the World's perception of India. There is a Vivekanand memorial now built on the same rock as well.