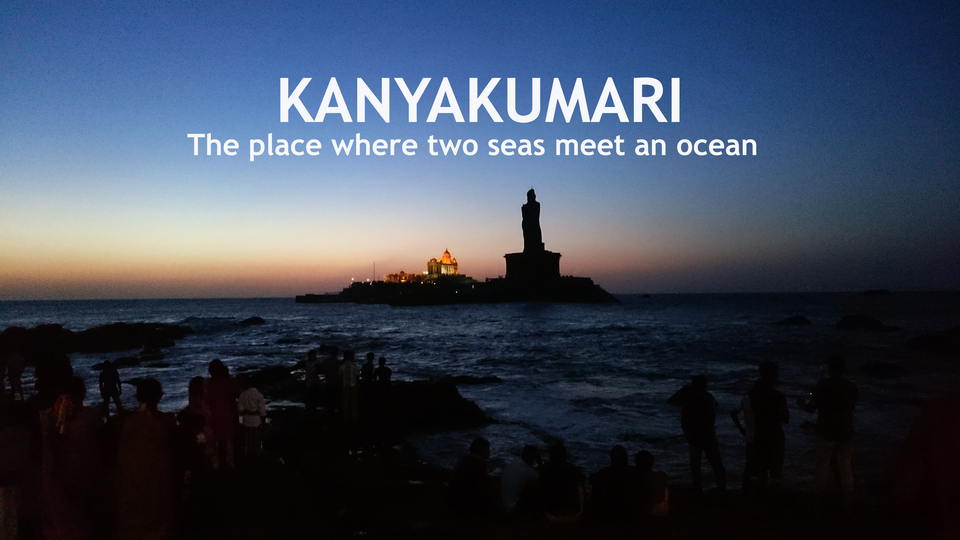 The southern most tip of mainland India is a charming city which offers very unique experiences. Kanyakumari is the place where you can witness Arabian sea and bay of bengal merging into Indian ocean and a beautiful sunrise above it. The ocean green Bay of bengal and Arabian sea with shades of pink and brown meeting deep blue Indian ocean is a mesmerizing panorama.
Kanyakumari is a heaven for backpackers and budget travelers because all the important monuments and tourist spots are within walking distance. So you are saving on transportation, all you need is a good pair of shoes to explore the city on foot. As it is a religious site and people from all walks of life come to visit Kanyakumari you will find food and stay from all range.
Top places to see in Kanyakumari
Watch sunrise at Triveni sagam
Kanyakumari offers a beautiful view of Sunrise next to Majestic statue of Thiruvalluvar at Triveni sangam. Make sure you reach early to witness beautiful deep blue sky transforming into alluring variegated red and gold as well as to grab the best seat to view the mesmerizing sunrise as it gets crowded very early.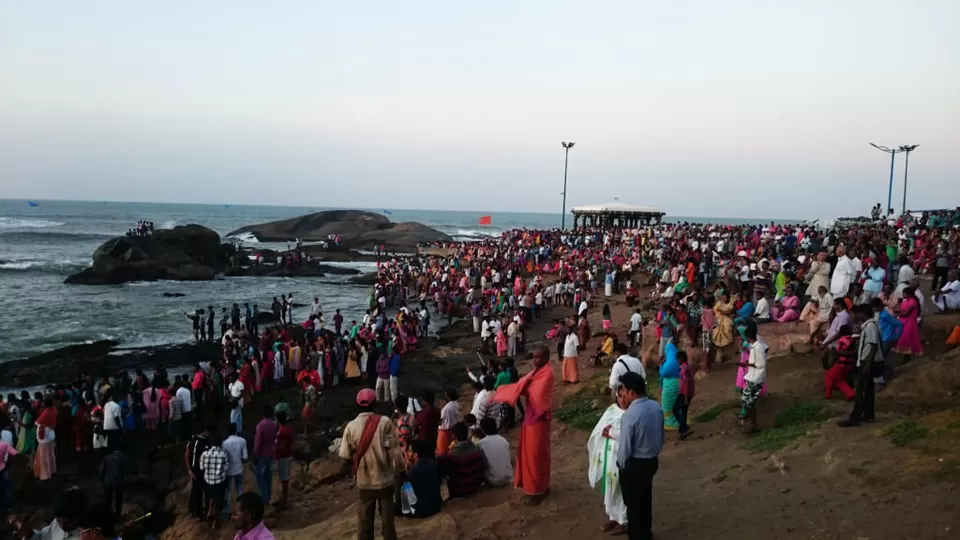 Vivekananda rock and Thiruvalluvar Statue
Located on the confluence of the Bay of Bengal, Arabian Sea and Indian Ocean Vivekananda Rock Memorial was build in honor of Swami Vivekananda who is said to have attained enlightenment on the rock. According to local legends, it was on this rock that Goddess Kumari performed austerity.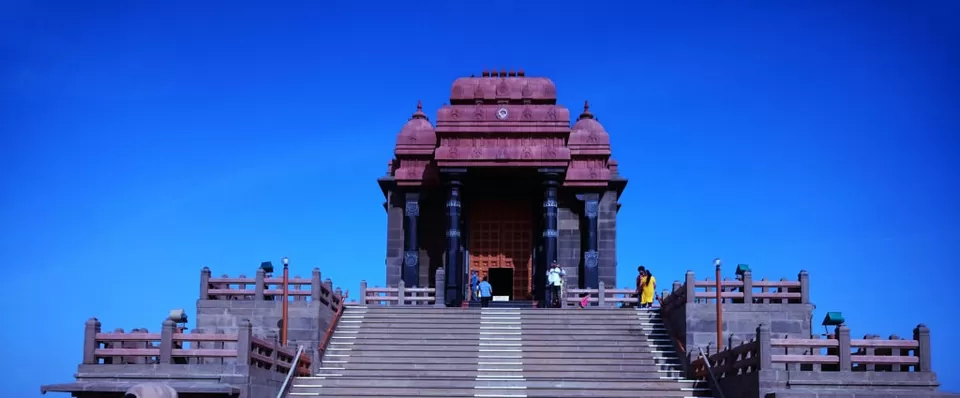 Devi kanya kumari temple
It is 3000-year-old temple dedicated to Goddess Kumari Amman.It is believed that the nose ring of Devi Kanyakumari has a ruby that is so bright that it could be seen from far at night. According to Locals some ships sailing in the sea, mistaking thought that brilliance of the rubies is the light from the Lighthouse , went off the shore and got wrecked. Because of this reason eastern side gate of the temple is kept closed. There is a mythical story linked to Kumari Amman temple that Goddess Parasakthi took form of Kumari to annihilate Banusura who can be killed only by a virgin. Meanwhile Lord Shiva arranged marriage with devi at the midnight on a particular day. To stop marriage sage Narad took form of a cock and crowed at midnight to trick that it was the break of dawn. Thinking that the auspicious time for the marriage was gone, Lord Shiva returned disappointed. Later devi killed Banusura with her Chakragudha when he tried to win her by force.
Sunset point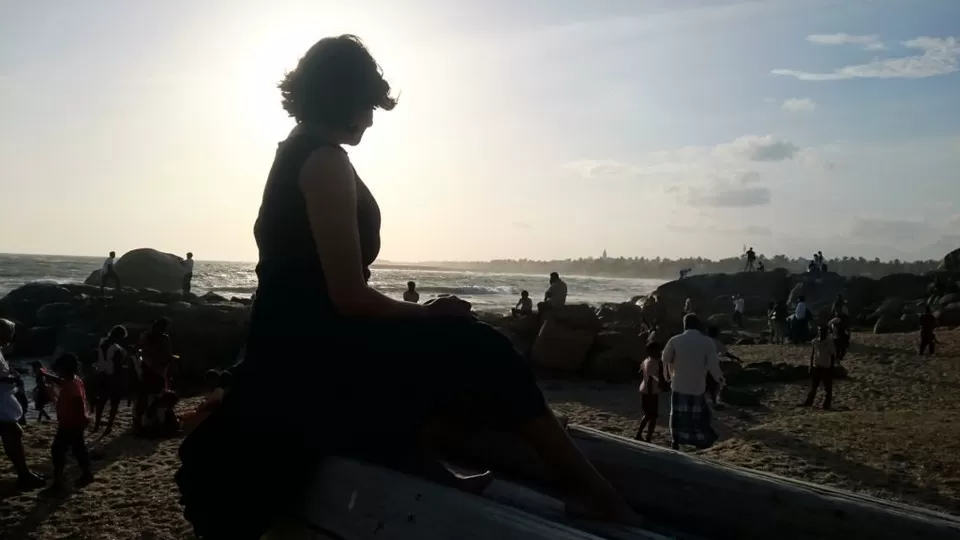 This point is around 1KM away from the city centre. So you can either choose to walk till the sunset point or take an auto or a taxi. On balmy, full-moon evenings, you can also see the moon-rise and sunset at the same time.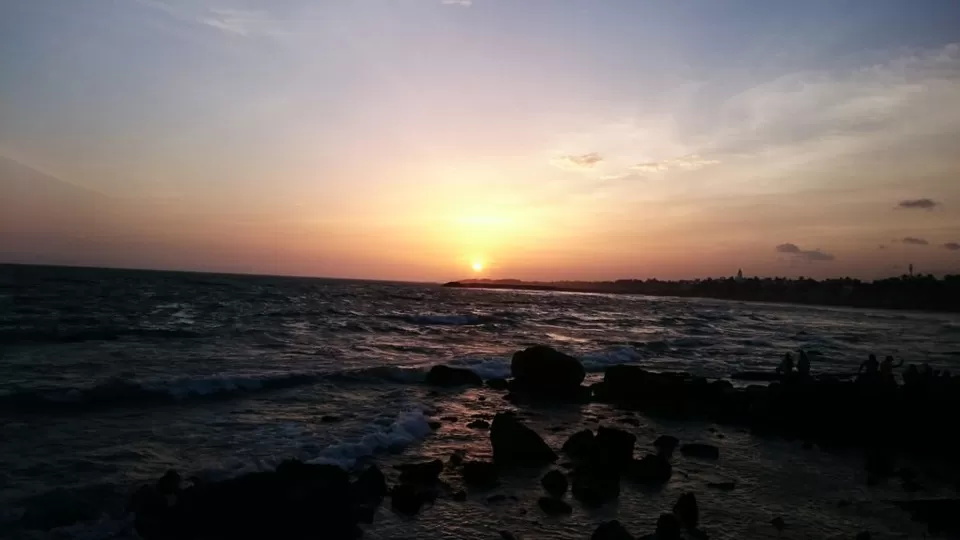 Other major attractions are Thanumalayan temple, Suchindram temple, Our Lady of Ransom Church, Vattakottai Fort, Gandhi Memorial, Tsunami Monument and wax museum.There are KTDC and few private run one day tour operators which cover all major nearby attractions at very affordable price. Costs for such tours starts from 350 rupees per person, for more convenience taxis are also available at city center.
How to Reach
By Air - Nearest airport to Kanyakumari is the Trivandrum International Airport, located at 93 kms from the city and well connected by train as well as road.
By Train - Kanyakumari is well connected by train. even two longest trains operated by the Indian Railways depart from here. It has daily trains to Chennai, Bangalore and Mumbai as well as direct trains for Rameswaram, New Delhi, Howrah, Jammu, Dibrugarh etc.
By Road - Both government and private run buses operates on regular interval, taxis and self drives cars are also available from major cities. Road conditions are good and lots of restaurants and hotels are available on the way.
Distance from major cities
Bangalore 664 Km
Chennai 708 Km
Madurai 245 Km
Thiruvananthapuram 92 Km
Rameswaram 309 Km
What to shop
Souvenirs made of Sea shells - Dakshinavarti Shankh, jewellerymade out of sea shells, colored stones, multi colored sea sand, trinkets, traditional saris and many more decorative pieces. There are lots of small shops, wagons and carts selling these items.
Spices - You can buy different varieties of spices at very affordable price. you will find different fresh spices and packets of Garam Masala which is often used in majority of indian houses.
Top Packing Tips
Sunscreen and sunglasses - Sunscreen with SPF protection and sunglasses is a must to protect yourself from tan and sun burn.
Caps and hats - As it could be quite sunny in Afternoon especially when you are visiting Vivekananda rock a cap or hat is recommended to protect you from direct sunlight.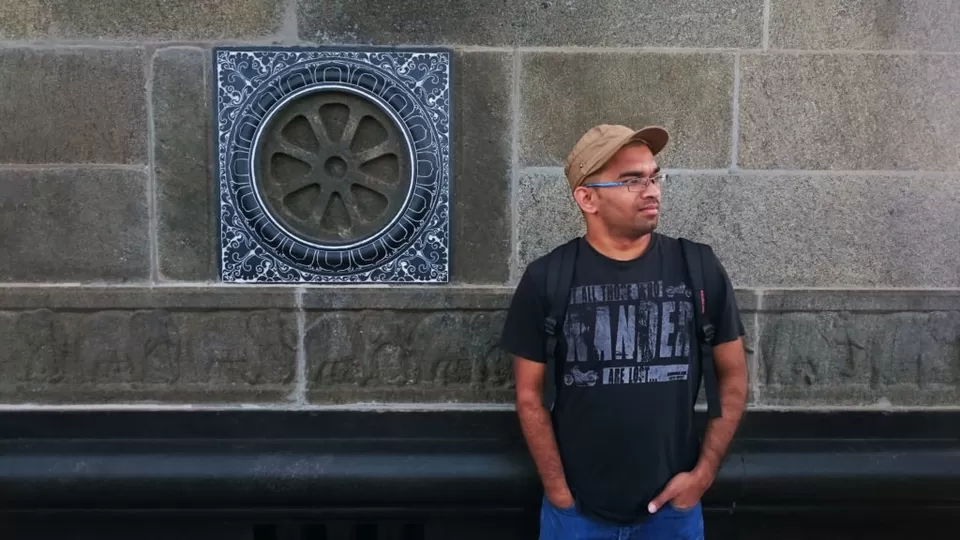 A beach footwear - A comfortable pair of waterproof sandals or slippers is a must. As most of the places are nearby you will need to walk a lot and if you are going to beach then a waterproof footwear is a must.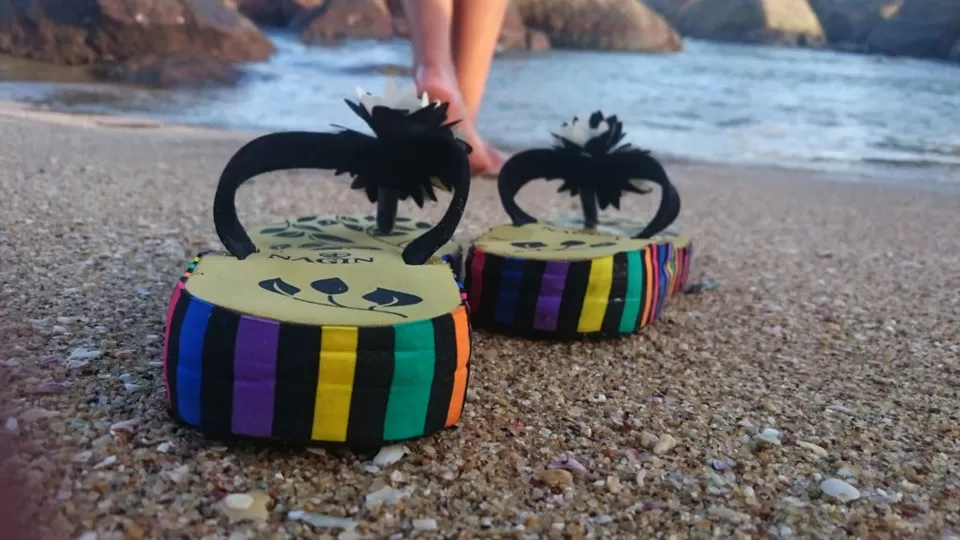 Light cotton Cloths - As there are lots of temples I will suggest to dress modestly wear light comfortable cloths. In early morning and night it could be little cold so pack accordingly.
Best Time to Go
You can visit Kanyakumari anytime of the year. Weather is pleasant throughout the year but every season have its pro and cons.
March to mid-May Humidity and temperature is higher compared to other seasons but cool sea breeze during morning and evening makes it pleasant as well as clear sky caters best sunrise and sunset views. you can also try swimming in these months as sea remain calmer.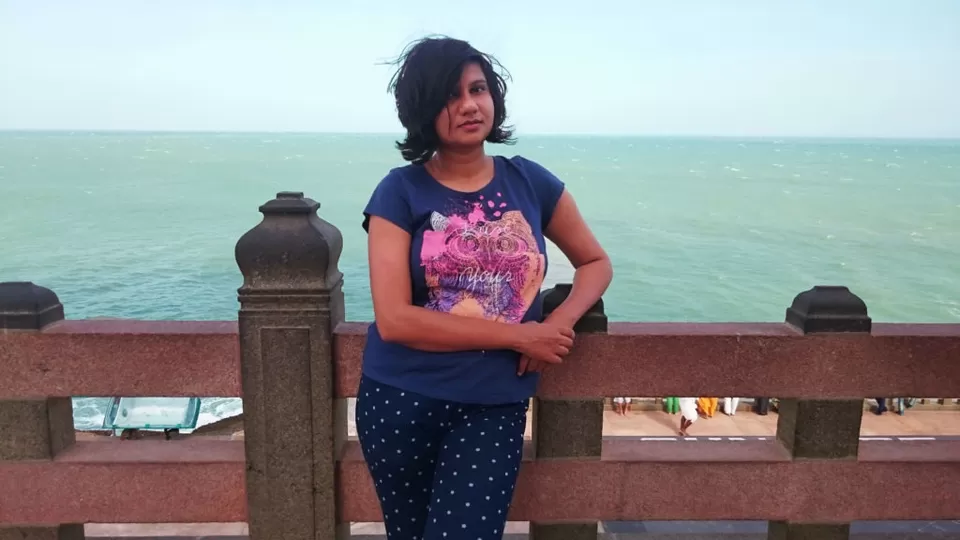 Mid-may to September Monsoon creates lush green beautiful landscapes, but a cloudy day can ruin beautiful sunrise and sunset. July and August witness heavy rainfall.
October to March Winter is a high season in Kanyakumari. The Cape festival is celebrated in October which attracts a large number of tourists from all over the world. You can also enjoy great views of the sunrise, sunset and moonrise at the beaches. Humidity is low and the temperature is also quite cool during this time.
Felicitous time to visit Kanyakumari is during the Chitra Pournima which is the auspicious full moon day and you can also see the moon-rise and sunset at the same time.
Top Tips
Reach early for Sunrise and Sunset to get best seat for bewitching panorama.
Girls it is quite windy especially at Vivekananda rock, So think twice before wearing a pleated dress or skirt.
Vivekananda rock is very crowded in morning and there is a long queue for ferry, In afternoon crowd dwindle with smaller queues for ferry but try to reach at least by 2 pm so you will have few hours to explore the area as it closes at 5 pm.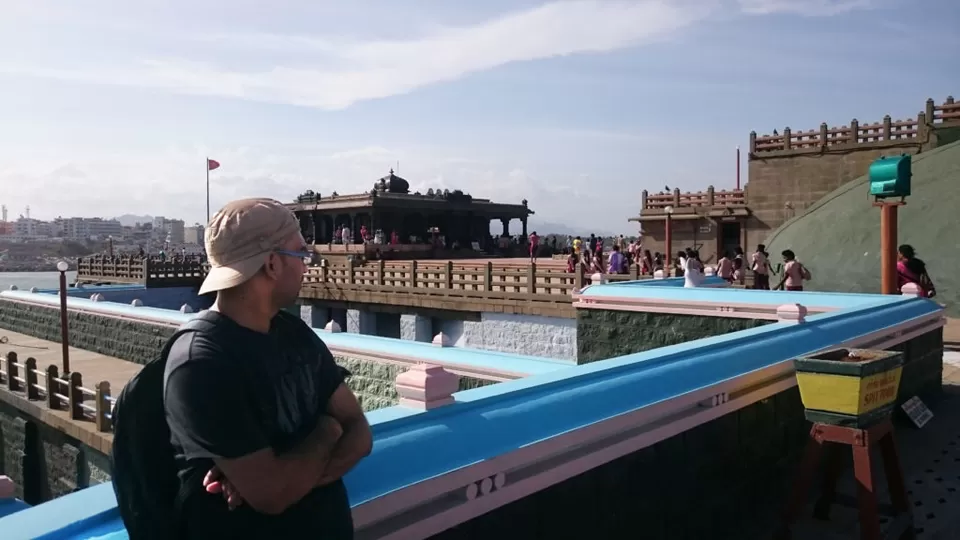 Padmanabhapuram palace is one of the best examples of traditional Kerala architecture, it is one of its kind located at the foot of the Veli Hills. Padmanabhapuram was the former capital city of the kingdom of Travancore. It is located at the distance of 34 Kms from Kanyakumari and well connected via government run buses and private taxis.
POOVAR is a hidden paradise. A boat ride through Mangroves will leave you spellbind and pristine golden beach is bewitching. There is a floating restaurant which adds another remarkable thing to do.
Other popular places are kovalum, Varakal,Thiruvananthapuram,ponmundi and sri subramanya swamy temple Tiruchendur.
This post was originally published on Do Ghummakad.