Trip : Chennai - Tenkasi - Courtallam
Trip Dates : July 6 and 7, 2013
Trip Mates : Karthik, Senthil, Pranesh, Premkumar, Ramkumar, Ilangathir, Velmurugan, Sanjeev, Harish.P, Balavasanth, Jagadeesh
Balavasanth had booked the rooms for us at Tenkasi, We stayed at Krishna Tourist Home. This was very close to the bus stand.
General Info : There are several falls in Courtallam. Only few of them are reachable for public. Tenkasi is 6 kms from Courtallam. The best time to visit Courtallam is from 15th of June to end of July. One has to know how monsoon has performed in this area and then travel. The most prominent falls are Main falls, Five falls (Aintharuvi), Old Courtallam, Citraruvi and Puliaruvi (Tiger falls).
Old Courtallam falls is located 7 kms from Main falls and Five Falls is located 6 kms from Main Falls. Tenkasi is very closely connected to Courtallam. Once can get very food accommodations at Tenkasi. Local food is good and once can take chances to taste authentic south Indian food.
Stay Options : There are several options to stay in Courtallam. Once can reach there and look for stay options. The main falls is located near to the Courtallam bus stand. The Citraruvi is 200m from the bus stand on the main road, while the Puli aruvi is 1km from the main falls. The old Courtallam and Five Falls are connects by government buses and lots of share autos. The buses are available from 4 AM to 11 PM and are there for every 5 minutes.
From Five falls, we took share auto to Citraruvi. This is a very small falls bound by walls - size of the bathroom. But, the water was speeding and we really enjoyed big time in this falls. We spent more than an hour here and had some quick lunch based on preference. We then returned to the rooms for a quick nap. We went for dinner to the Border Parotta near Senkottai.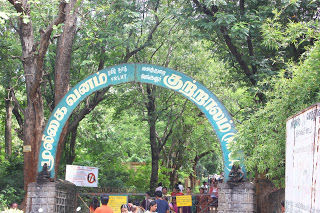 Day-1: We reached Tenkasi by Podhigai express from Chennai by 8 AM. We checked into hotel, refreshed and had breakfast. Then, we went to Main Falls. This year, looks to be the highest water in 12 years time in Courtallam. Surprisingly, we had very less crowd than we expected. Each of us took showers until satisfied. Next destination was Five Falls. Few of us had Oil massage. The crowd was too high here and we waited around 30 minutes for a 3-min bath.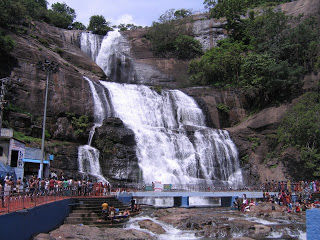 Day 2: We started the day after excellent breakfast at Dosa kadai. The plan was to goto Old Courtallam and Tiger Falls by bus. Old Courtallam was really crowded but the police have managed really well. The water was pouring in surplus and the climate was also very good. The first day was little sunny. Then, we went to Puliaruvi. This place was also crowded and we decide to go to the top and the place was very secluded and fresh. The Saral climate was amazing and we had an excellent time in the chill water. We spend around 3 hours in the water and returned without choice.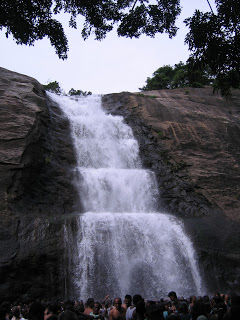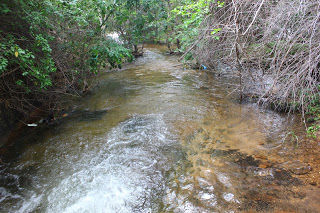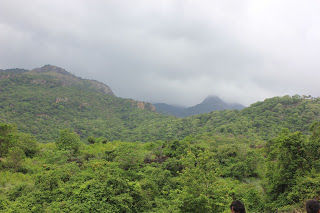 On the way to railway station, we bought some Halwa, Paal gova, Kai suthu murukku, Kaara Sev and Mixture and boarded the Podhigai express back to Chennai.