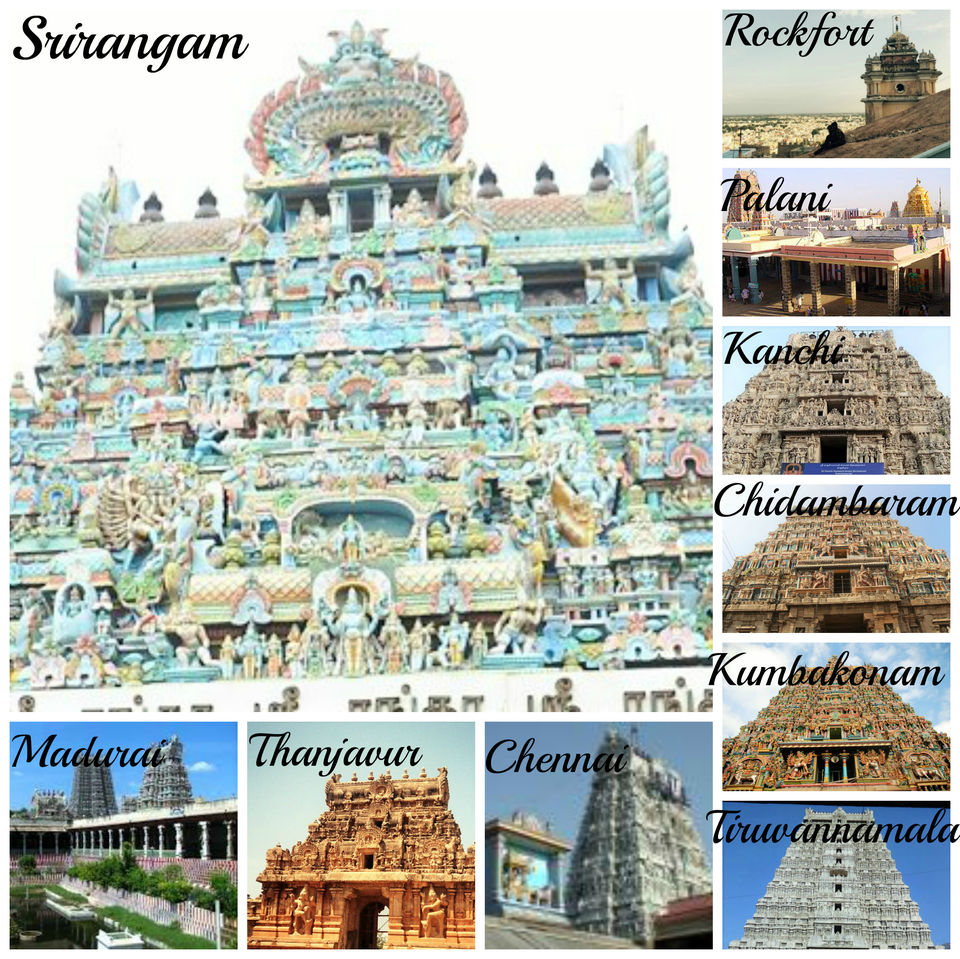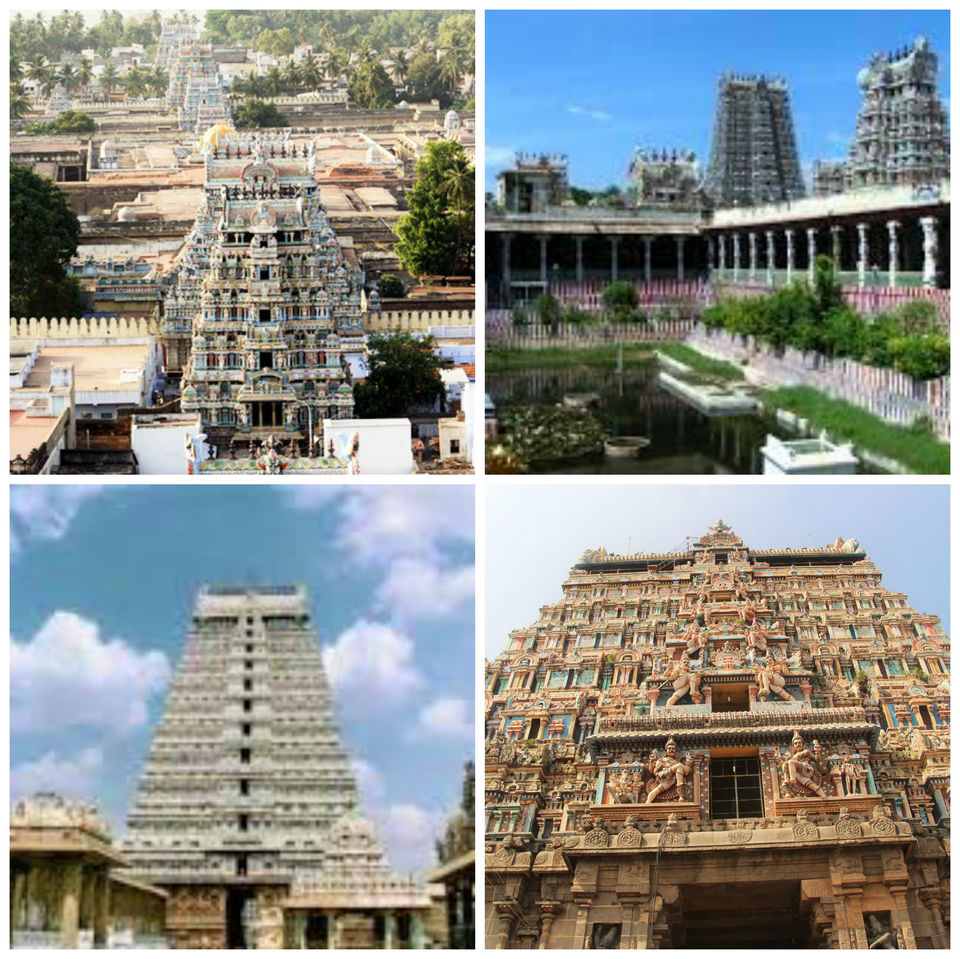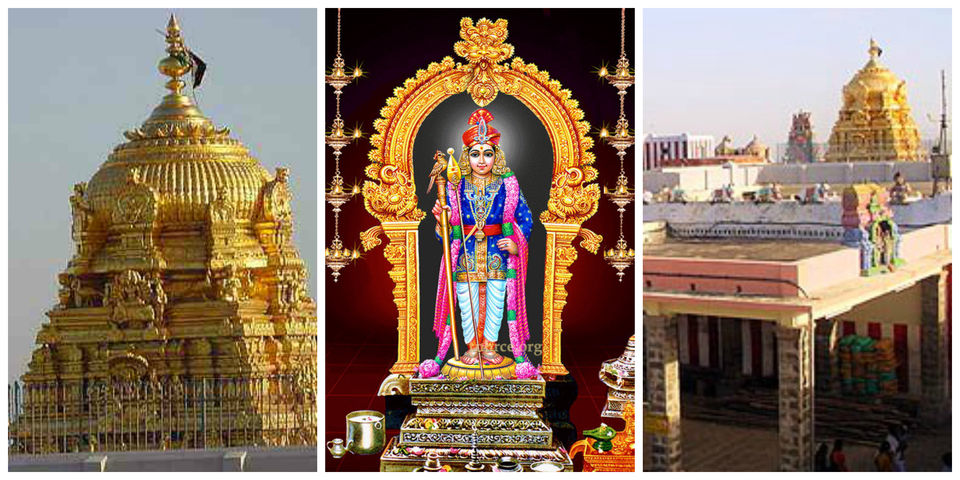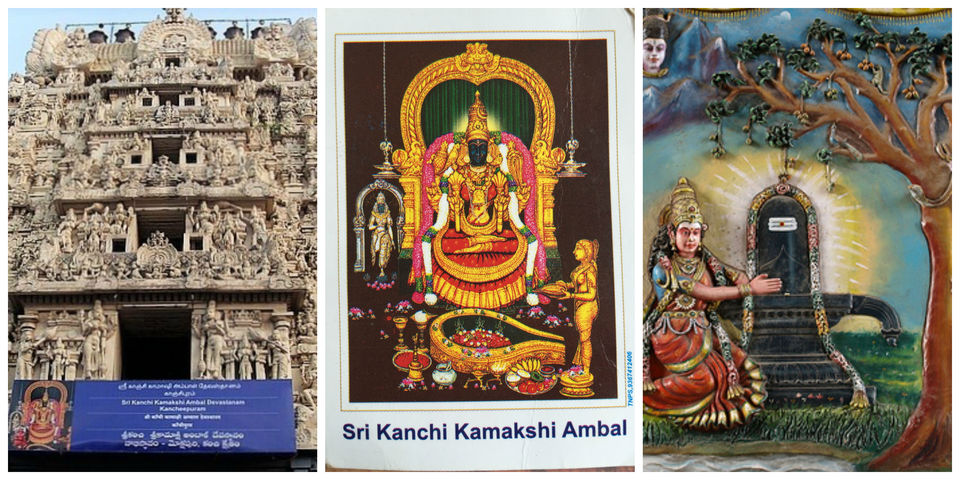 Lately, I have been receiving a lot of mails on the 'must visit' temples of Tamil Nadu. Home to some of the grandest temples, Tamil Nadu is also popularly called the 'land of temples.' So, identifying 10 temples out of the many thousands is a difficult task. But, I am game. Apologies for the delay in posting this, as I am busy moving places. Better late than never, someone said!
Coming back to temples of TN, the dynasties- Cholas, Pandyas and later Naiks commemorated wins by building magnificent temples, consecrating it with their family/ favourite deity. Not only did they up their game, but they also ensured a legacy of bigger and grander temples lived on.
What will you notice in the architectural patterns of temples here in TN? Usually, elaborate 'gopurams' (towers) and 'mandapams' (pillars) with exquisite carvings. Apart from architectural splendor, temples ALWAYS form a core psyche of Tamil life.
In this post, I will classify temples based on 'popular Gods in Tamil Nadu'- Vishnu, Shiva, Muruga, Goddesses. The most prevalent classification is by dynasties that built them- the Cholas and Pallavas.
Here's thetunictraveller's list of top 10 'must visit' Tamil Nadu temples-
10. Rockfort Ucchi Pillayar temple- Dedicated to Ganesha, Rockfort temple, located atop a hill is symbolic of Trichy. You will get the best views of Trichy during sunset. Stay back to watch the city light up. Besides isn't it easier to ascend the steps when the weather is pleasant?
9.Palani Murugan temple- Subramaniam is the 'family God' for many Tamilians and is also my Dad's favourite God (No, we aren't Tamilians). I remember first going to Palani at 5 years, and my Dad quite frequented the Vadapalani temple (a replica) while in Chennai.
8. Kanchi Kamakshi temple- What is unique about this temple is the pose of Parvati in 'Padmasana' pose (seated), while she is in the standing posture in all other temples. Adi Shankaracharya is said to have installed the 'Shri chakra' here to pacify the Goddess.
thetunictraveller's tip: Kanchi is the 'go-to' place for silk sarees (that last a generation).Combine your temple trip with shopping for that exquisite silk saree. Chances are you will find more than one here. Forewarned you ;)
7. Chidambaram Thillai Natarajar temple- The term Koil/ temple refers to Chidambaram for Shaivites. Such is the importance of Chidamabaram. Shiva is in three forms here- visible idol form, formless as Akasha, form and formless as a Sphatika Linga.What is Chidambara Rahasyam-secret: When the curtain is opened for 'arati' in the Chit sabha, there is no form there- only a golden 'bilwa' garland hangs? The secret is- Shiva is here as Akasha which has no beginning or an end.
thetunictraveller's tip: in the temple complex itself, there is another temple dedicated to Lord Vishnu. One of the few olden golden temples where both Shiva and Vishnu exist together. Is it the only one? Looking to find answers.
6. Kumbakonam Kumbeshwarar temple- Shiva is 'Swayambhu murthi'. The base of the Linga is broad at the bottom and narrow at the top as a needle point. Happy to have been here with both R&R. The younger R was 5 months when we visited this temple :)

5.Tiruvannamalai Arunachaleshwar temple- 'Kartigai deepam', lighting a huge fire atop the hill in the month of Karthik is synonymous with this temple. And so is 'girivalam' performing pradakshinam to the hill. Definitely among the top 5 temples of TN.
4. Chennai Parthasarathy temple- Krishna as Arjuna's charioteer 'Parthasarathy' is the presiding deity at this iconic Chennai temple that gives the locality its name- Tiruvallikeni (lily pond)/ Triplicane. Arrow marks on the face are symbolic of the main deity here. This is the only temple where Perumal appears with a moustache. The deity is 9" tall!!
3. Thanjavur Brihadeshwarar temple- A UNESCO World heritage temple, this needs no introduction. I first heard of this temple from my grand mum who marveled that the shadow of the Gopuram never fell on the ground! Ever since, I wanted to visit this 'Big' temple. Could do that with the girls R&R too! Tick.
2. Madurai Meenakshi temple- In a close contest for the Numero Uno position in this list is the iconic Madurai Meenakshi temple. Chances are you would have visited this temple or atleast heard of it greatly even though you might not have visited it. Such is its splendor.
thetunictraveller's tips: The Meenakshi Nayakar Mandapam/ hall of 1000 pillars, Ashtashakti Mandapam, Killi Kootu Mandapam, are some unmissable architectural sights. Visit the Madurai famous 'Chungadi' saree shops. For the foodies, Murugan Idli Kadai's 'Malli poo' Idlis translated to jasmine like tender idlis are worth stopping by. And so is their local coolant drink 'Jigarthanda'.
1. Srirangam Ranganathar temple- The largest 'living' temple in the world with the complex spread around 156 acres; it is the number one temple to visit in TN. Srirangam is also considered the first, foremost and the most important of the 108 main Vishnu temples (Divyadesams) and the 8 self-manifested shrines. To Vaishnavites, Koil refers to Srirangam.
The Srirangam temple boasts of the unique distinction of being the only temple to hold the entire city inside. 21 magnificent towers and 7 prakarams/enclosures are bound within a huge fort like structure. Enormous!
thetunictraveller's tip-The early morning 'Suprabhatam darshanam' is worth witnessing. A Live Veena performance is one of the many rituals to wake up ShriRanga. Don't miss the lip smacking 'Prasadams'. You will keep going back for more Darshans and Prasadams J!
This post took me a long time to write. Hope you liked reading it! All ears for your comments/mails. Do drop by.