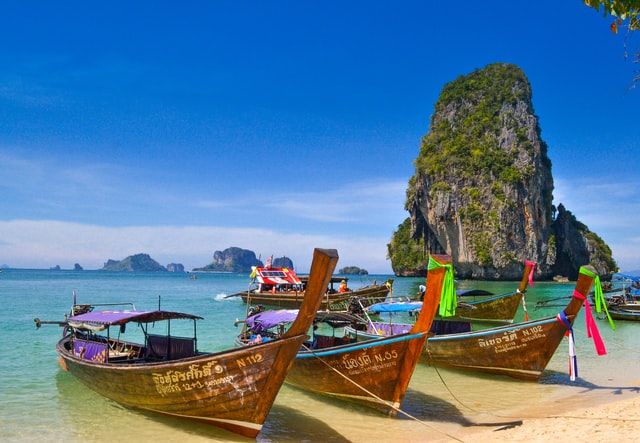 I went on a 2-week vacation to Thailand, Asia with my girlfriend and her family. (Including her younger sibling, aged 10) We went to Phuket, Railay Beach and Koh Samui. We experience spectacular beaches with coves to explore, ate fantastic green curries, got our feet eaten by fish and of course ate a lot of coconuts!
Where we went and what we did:
My experience with Phuket
We arrived in Phuket and found our way to our amazing boutique hotel. It was stunning and resembled an indoor greenhouse with crisp white walls and teal pools and showers all around the hotel. The staff were so friendly and wanted to hear all about South Africa. (That's where I'm from!) The next day we went sightseeing to the big Buddha statue, fed some monkeys and then hopped into a tour guides car to show us the rest of the city. It was very busy and there were a lot of motorcycles - which I recommend hiring if you're travelling without children as it's a lot cheaper. My girlfriend wanted to do some shopping but we struggled to find some nice places, a lot of Phuket was filled with knock-offs and counterfeit products. We were only in Phuket for a short while and skipped the main attraction - the party life, which I would really love to go back for some time.
Next, we headed to Railay Beach:
Railay beach was what I was looking forward to the most, and it sure didn't disappoint! This is a small island just off the coast of Phuket that is only accessible via a small wooden speed boat. It was quite an adrenalin-filled experience, especially trying to lower out suitcases into the boat. When we arrived at the island, it was low tide so we had to get fetched by a trailer pulled by a tractor and chauffeured to the resort. This was by far the best part of the trip! The island was not too busy, had no motorcycles or even motor vehicles, everything was in walking distance. The island was filled with local shops, tattoo shops, massage parlors, authentic Thai restaurants, stunning beaches and coves to explore, tea cafes where you sit on cushions on the floor, clubs and parties, waterfall hikes, nature reserves, bat caves and floating boat restaurants on the beach that serve you coconuts while you catch a tan.
Koh Samui:
After Railay beach we jumped onto a ferry to take us to the island of Koh Samui. The reason we chose to go to Koh Samui is because of the good reviews we read and heard from family and friends. However it was still no match to Railay beach, this island was a lot bigger and the main for of transport was motorcycle. There were a lot of interesting markets (after the trip I learnt they were wet markets) however the beaches weren't as beautiful as others we had seen on the trip and the island was very expensive due to its high tourism interest. We found local taxi drivers were taking advantage of us by surging their fees. The hotel staff was very helpful in talking to locals and not letting them take advantage of us. We did alot of shopping in Koh Samui, while at the mall we found beautiful botiques and the iconic foot exfoliating treatment - tiny fish eating the dead skin off your feet. (warning: do not try this treatment if you have ticklish feet.)
Looking back at the trip:
Next time I go to Thailnad I definitely want to attend the famous Full Moon party, visit the spectacular shows and drag Phuket has to offer and certainly visit more beaches! I wouldnt recommend doing the trip with children, if you do there isn't a lot more you can do besides visit beaches. Alot of the restaurants are over the water, on stilts and far to walk to without using a motorcycle. However, I'm looking forward to visiting again soon!