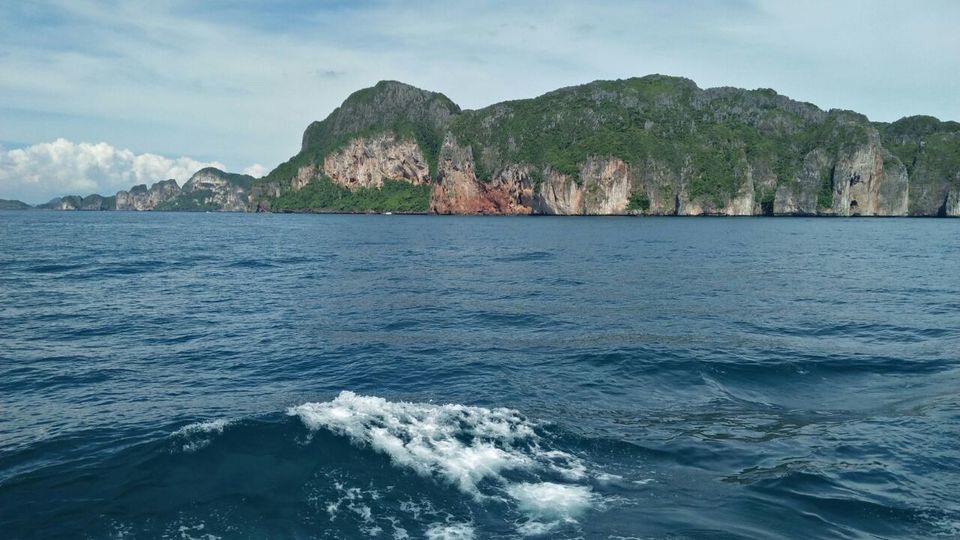 It was wonderful exploring south of Thailand. South of Thailand has beautiful islands with tall sea cliffs and pristine beaches. People are friendly and polite making it comfortable to explore places.
My first stop was Ao Nang Beach, Krabi. Drive from Airport to Ao Nang is scenic. Every now and then you come across roads approaching tall cliffs, giving a good feel of what to expect here. Typical roads in Krabi in a photo below.
My hotel was located at beach road full of good restaurants, hotels, and hostels. After a long travel with no time to explore restaurants, I picked one road-side shack and had the best Pad Thai ever.
It was 5 PM, perfect time to visit beach and capture sunset. The view of sunset reflection over the beach-cliffs was simply stunning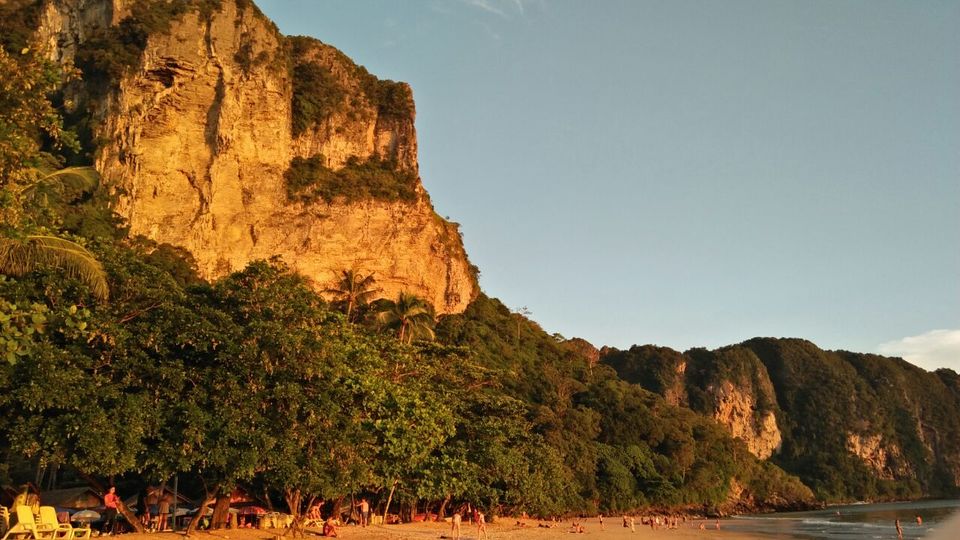 Next day, visited Railay beach – a famous beach just 20 mins from Ao Nang. The 20 min ferry is picturistique - bright green colors of sea and huge cliffs on horizon.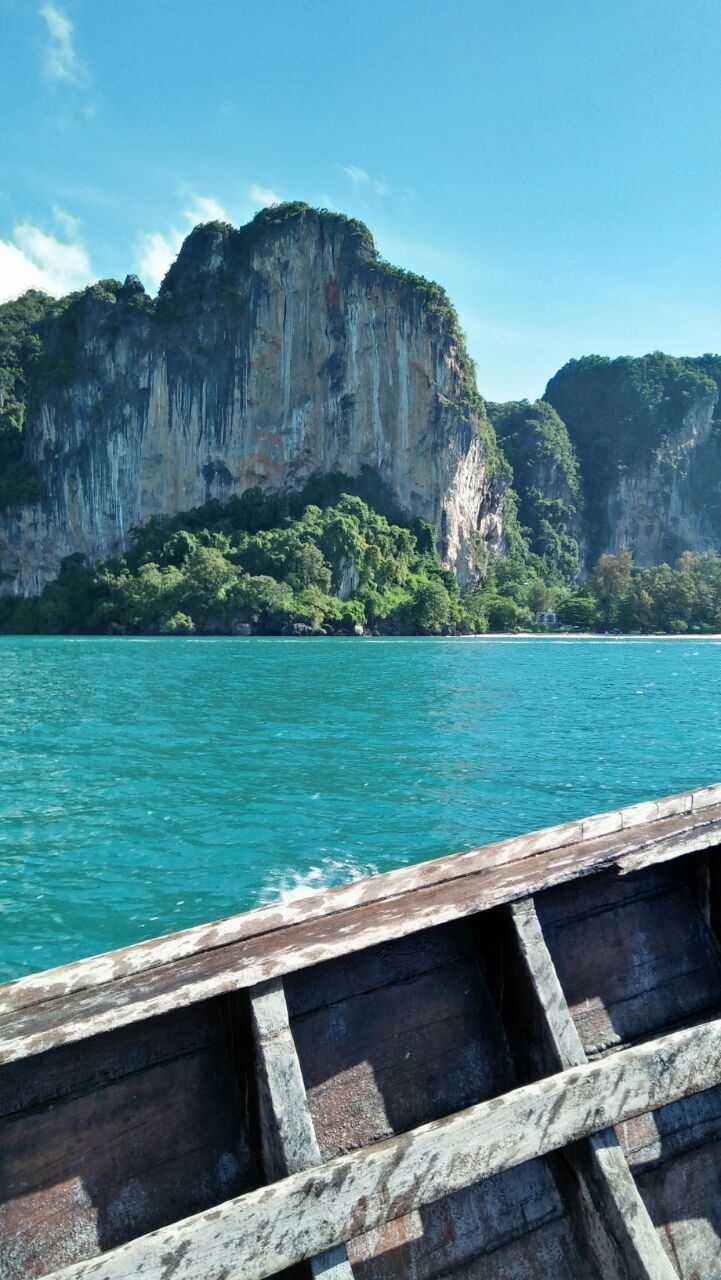 After reaching Railay beach, I took a trail going through the inlands, covering different spots. My favorite part was climbing the mountain for 20 minutes followed by a 20 minute hike to reach the "viewpoint". The climb was rocky and muddy but after reaching at the top, it was all worth it.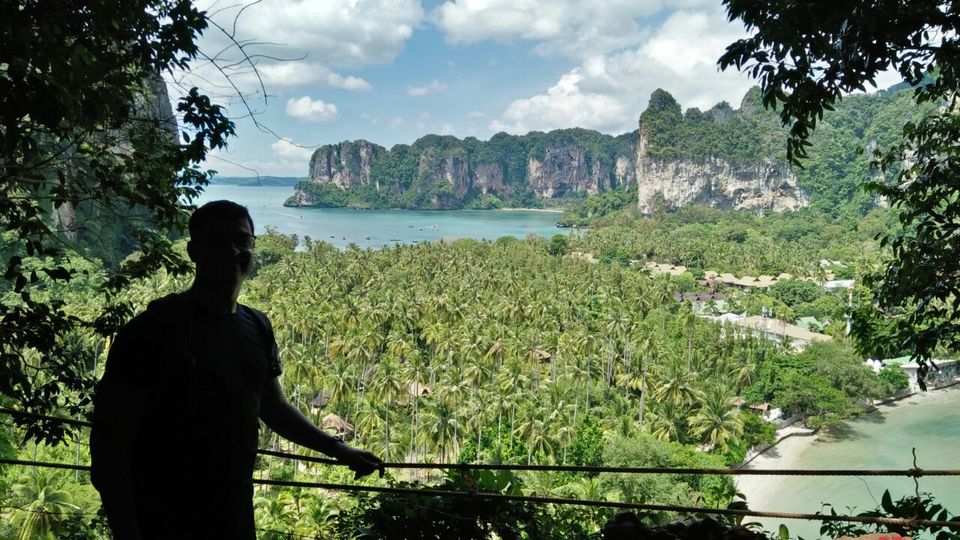 Next, I headed towards Phranang Cave beach (located at the end of Railay west). This point has majestic cliffs/caves just next to beach. After an enjoyable beach experience with warm waters and stunning views, I headed back.
Overall, Raliay beach is a beautiful beach destination with clean waters and majestic cliffs. Its little crowded during afternoons but not so much in mornings.
Tiger cave temple is located at the top of Mountain, two hour drive from Ao nang. One has to climb 1237 challenging steps to reach at the top.
The night before, while gathering information, the whole town tried to convince me that you need to take a day tour (in a shared minivan at fixed timings) OR a private taxi. Both the options sounded touristy so I looked out for local buses (called Songathew) which can take me to Tiger Cave Temple. The local bus named "Ao Nang - Krabi Town" takes you to Tiger Cave temple on request. It went through Krabi Town and bus station and finally dropped me at Tiger Cave temple. It was a fun ride, met many like minded travelers and learnt about their experiences. It took about 2 hours to reach at the entrance of Tiger Cave temple. This place is very peaceful, far away from the town. Climbing 1237 challenging steps was a great hiking experience. The steps are steep and you gain height quickly. After 30 minute climb, I reached at the top. The views at the top are amazing. On one side you see mountains/cliffs and flat plains on the other side.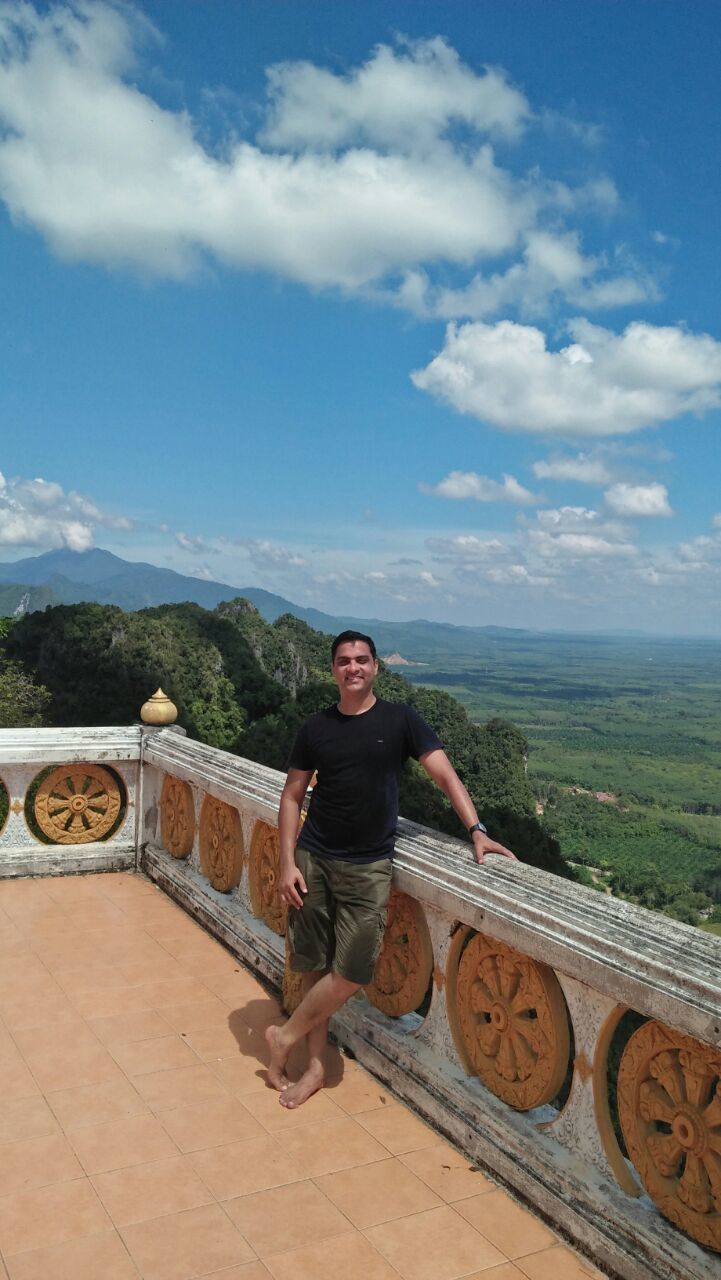 The best time to visit this place is during sunset or early morning. One has to be little careful during the descent since the steps are not broad enough for a whole foot to fit in.
The same night visited Krabi Town night market. This market had food stalls, live music and shops. It was nice to end the day with exotic foods and live music.
Day 4: Stay at Krabi was over. It was time to explore the islands further south. On day 4, I took a ferry to Phi Phi Island. Phi Phi island felt overcrowded and the main theme here is partying. I checked into hotel and went out for lunch, met other travelers who suggested visiting Koh Lanta (an island further south). Koh Lanta is less touristy and very scenic. I changed my plans immediately and took the last ferry to Koh Lanta. This ferry was filled with backpackers. After checking into hotel the first thing I did was booked the 4 islands tour for next day.
Day 5: The 4 islands tour from Koh lanta was the highlight of the trip. It took us to 4 islands – Koh Ngai, Koh Kradan, Koh Mook and Koh Chueak in a long tail boat. We stopped at two locations for snorkeling. It was a bit disappointing snorkeling experience but the highlight of the tour was swimming 80 meters through the Emerald cave in Koh Mook island. It was pitch dark and the guide helped us find the way while swimming. After swimming, you come on the other side - a beautiful beach pond with cliffs one side and forest on other.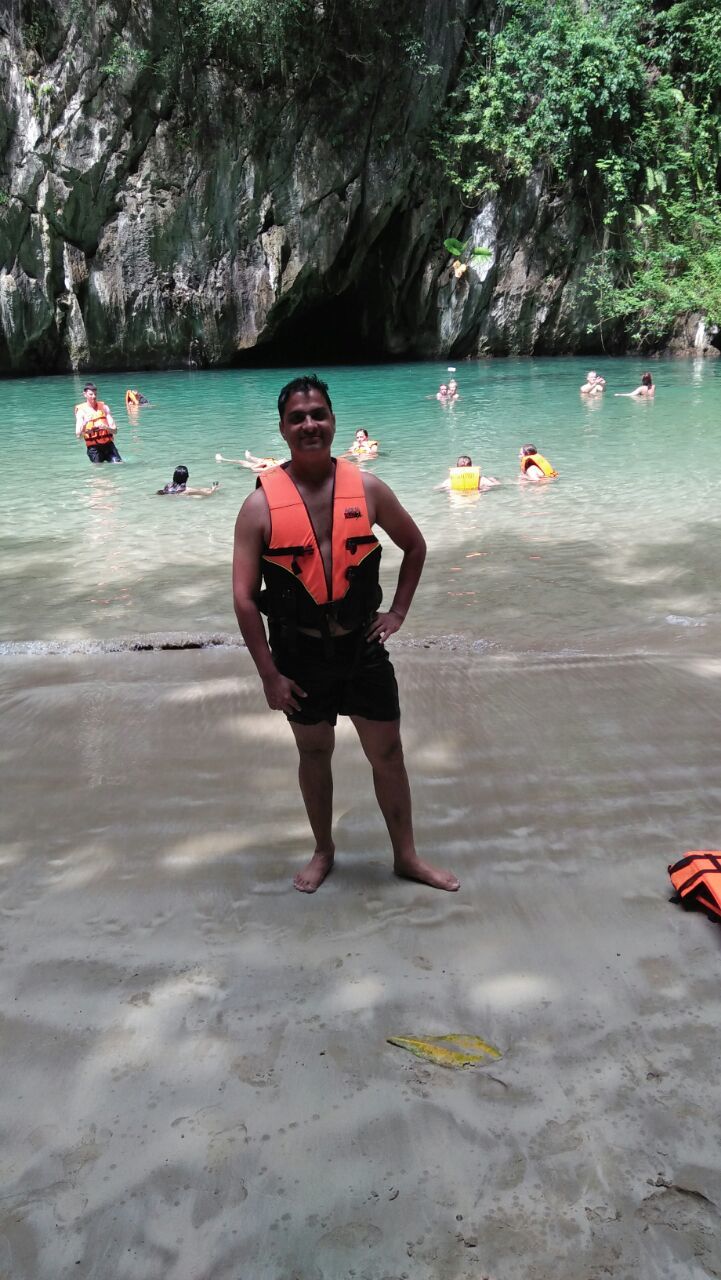 We spent about 40 minutes here taking pictures and enjoying the views. While swimming back, with just 20 meters from cove, the sunlight entering the cove created fluorescent glow in water, hence the name Emerald cave.
While returning back we stopped at Koh Ngai beach for "lunch and relax". Koh Ngai is a quiet island with clean waters and pristine beaches.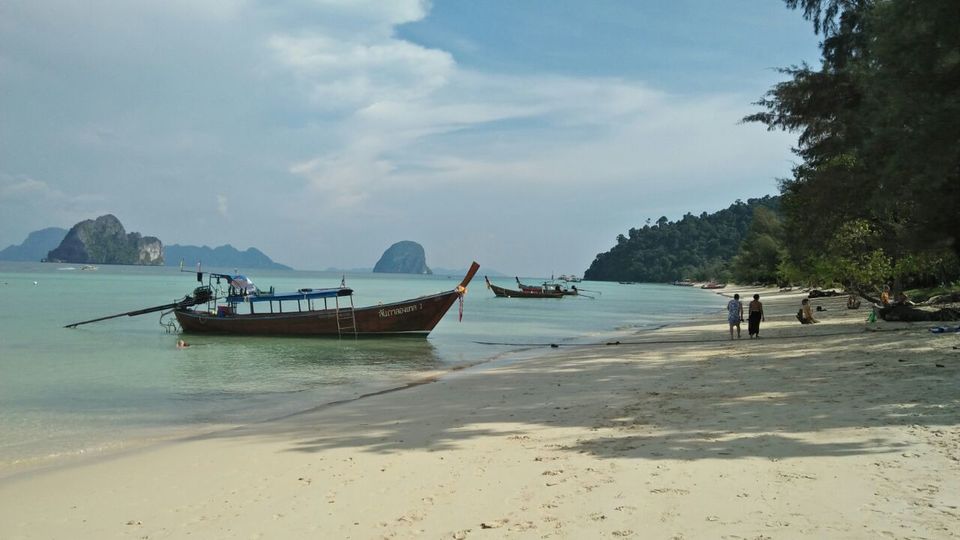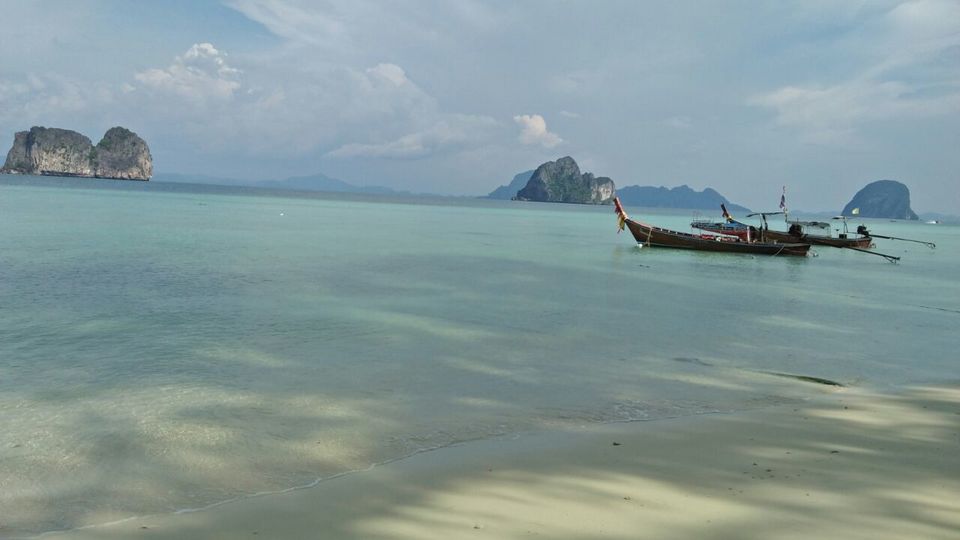 Day 6: After Koh Lanta, the next stop was Phuket. The late afternoon ferry to Phuket gave me a chance to get up late and relax at Koh Lanta. Koh Lanta is a good place to relax/read/write. The ferry took about 3.5 hours to reach Phuket and I was dropped at my hotel at Karon beach.
On my first day at Phuket, I visited Phuket old town. It takes about an hour to reach Phuket town from Karon beach in a local bus. Old Phuket Town, a historical town in Phuket City is noted for Sino-Portuguese buildings (many converted into guest houses, shops, restaurants and museums). It was fun walking around the town, especially on Thalang road, that has saved most of its old Sino-Portuguese houses. I stayed one night at a guest house on Thalang Road just to experience the night stay in the town. There is not much to do in old town after sunset (with only few restaurants and pubs open after 8 PM). Nevertheless, walking around the town at night is an experience to cherish.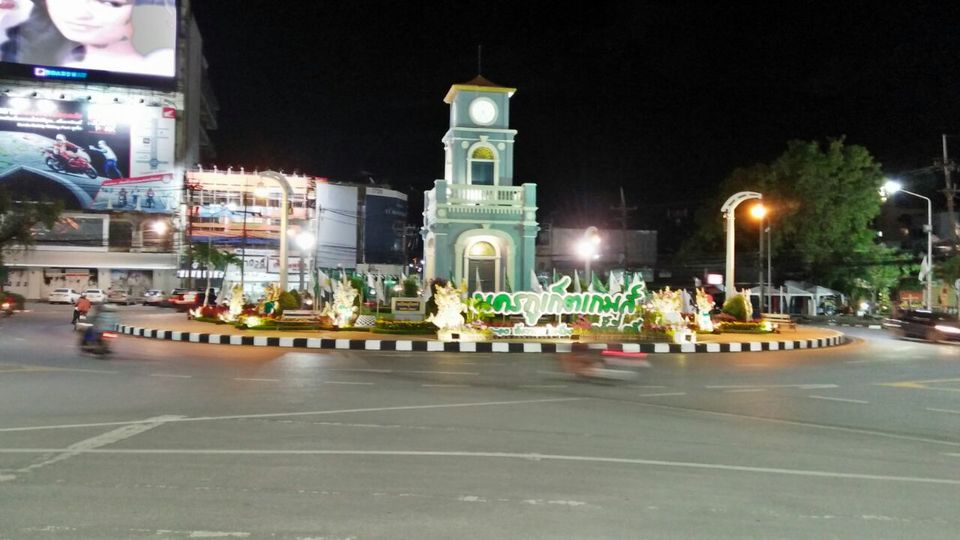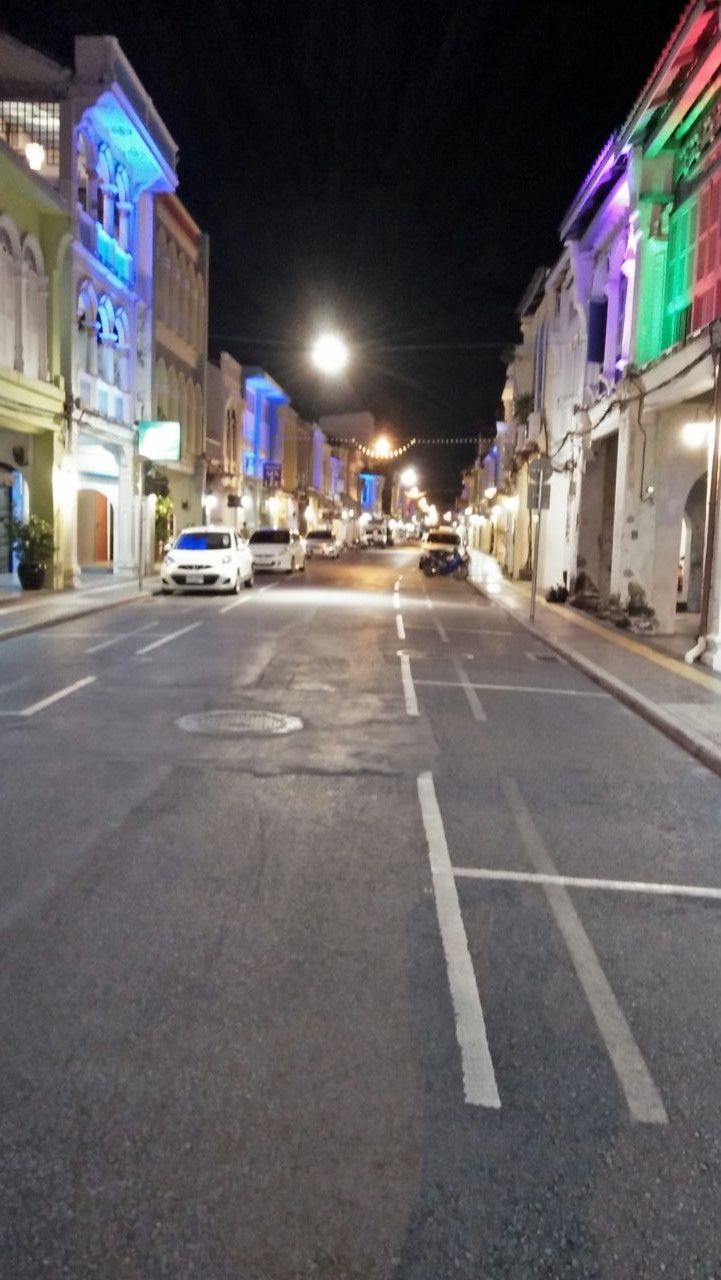 Day 8: Next day I decided to visit Big Buddha (a popular tourist attraction in Phuket). After a nice breakfast at guest house, went out gathering information on how to visit Big Buddha. Came across a blog on "hike to Big Buddha" and took a local bus from Phuket town to Karon Beach (near pineapple guest house). From there it was a 6 km uphill hike through mountains. Its was a quiet hike with very few hikers. After reaching at the top, you can't resist to stare at the majestic statue of Buddha. The place is peaceful with sounds of gusty winds and tinkling of small bells.