Thirukkurungudi Nambi Temple is 2300 year old temple, located in Thirukkurungudi village, Tirunelveli district, Tamilnadu, India. It is also known as Vaishnava Nambi and Thirukurungudivalli Nachiar temple. Nambi Rayar temple is another name for this temple.
This Nambi temple is one among the 108 Divya desams, sacred temples for the Vaishnavites, followers of Lord Vishnu. This temple is located on the foothills of the Western Ghats.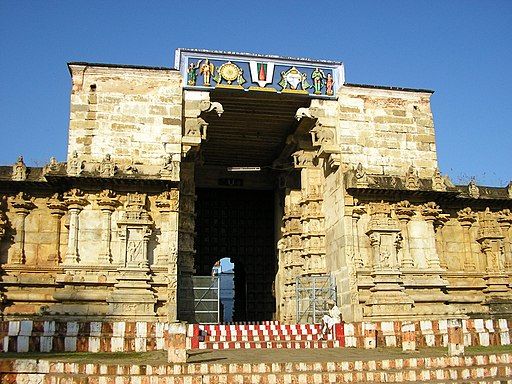 Five Nambis are there in this Nambi temple and its surroundings. Ninra Nambi, Irundha Nambi, Kidandha Nambi , Thiruparkadal Nambi and Thirumalai Nambi are these five Nambis. Thirumalai Nambi is at the Mahendragiri Mountain, eight kilometers from the main temple. The meaning of Nambi in the local language, Tamil, is the personification of beauty, grace and all virtuous and righteous qualities.
The temple is spread over an area of 18 acres. There are different halls that has sculptures from the Nayak period. There is a festival hall with pillar sculptures depicting the various Hindu Legends.
There are inscriptions dating back to the Medieval Chola Dynasty period(10th century) in this temple. 14th century inscriptions belonging to the Sundara Pandya II period can also be seen here. Southern and northern wall of the temple also has also inscriptions. Copper plate inscriptions dating back to 1456, 1537 and 1592 can also be found in this temple. Some other inscriptions are not readable or legible.
Even though the temple is for Vaishnavites (Lord Vishnu devotees), there is also a Shiva shrine in this temple complex, which is quite unusual.
River Nambiyaru is located very close to the temple, at a distance of around one kilometer.
How do I go to Thirukkurungudi Nambi Temple?
This temple is located at the Thirukkurungudi village, a village with long history to it's credit.
Thirukkurungudi Nambi Temple is at a distance of 40 kilometers from Kanyakumari. Tirunelveli town is at 45 kilometers away from the temple.