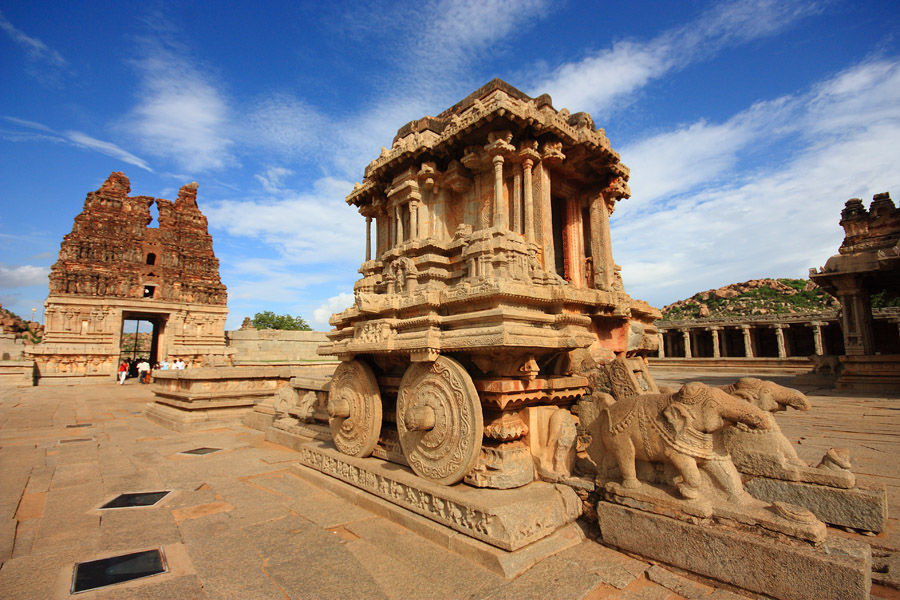 Bangalore is beautiful and the people are warm and friendly, but there are times you just want to get away from the busy life and maddening traffic to revel in something that is reminiscent of a not-so-complicated past.
Calling out to all history and architecture buffs! Did you know there are a number of splendid places so close to Bangalore, that you'll beat yourself up for not having gone there before.
Here's a list of our favourites.
An ancient village on the banks of the Tungabhadra River, Hampi is a renowned UNESCO World Heritage Site. It stands among the ruins of the capital of the ancient Vijayanagara Empire. Being one of the most popular heritage sites in southern India, Hampi, which is spread over an area of more than 26 km square, dates back to 1st century AD. Make sure you travel with snacks and drinks and soak in all that you can see, as this is one gorgeous place.
Things to see and do: The main tourist spots in Hampi can be divided into two broad areas — the Hampi Bazaar and the Royal Centre. You can also visit the Hemakuta Hill, which is located south of the main Hampi temple and contains early ruins, Jain temples and a monolithic sculpture of Lord Narasimha. Another popular spot is the Vittala Temple, located 2 km east of the Bazaar.
Distance from Bengaluru: 340 km
Daily Budget: Rs. 800-1,000 per day on average
Best Time To Visit: October to March
Also called Vatapi, Badami is a historical village in the Bagalkot district of Karnataka. Badami was the capital of the South Indian kingdom of Chalukyas from 540 to 757 AD. The place is famous for its cave temples, fine inscriptions and carvings, wonderfully structured fortresses, and breathtaking views. It is located at the foot of a red sandstone formation that surrounds the Agastya Lake. Inscriptions in Badami date back to the 6th century, while the earlier ones in Sanskrit date back to around 542 CE.
The beauty and charm of Badami is something that cannot be expressed in words and needs to be experienced personally.
Things to see and do: Make sure you visit the Agastya Lake, Mallikarjuna temples, Bhoothanatha Temple, The Badami Fort and Archaeological Museum.
Distance from Bengaluru: 457 km
Daily budget: Rs. 800-900 (approx.)
Best time to visit: September to March
Pattadakal is a UNESCO World Heritage Site along with Badami and Aihole, together known as the Chalukyan Group of Monuments. It is considered the cradle of South Indian Temple architecture, with the main complex having about 10 temples. Pattadakal is where the coronation of Chalukyan kings took place.
The monuments here were constructed between the 6th and 9th centuries. The structure here is grander and more extensive than the temples located at the other sites, in this group of monuments.
Things to see and do: The main monuments in Pattadakal are Virupaksha Temple, Sangameshwara Temple, Mallikarjuna Temple, Kashivisvanatha Temple and Galganatha Temple.
Distance from Bengaluru: 439 km
Daily Budget: Rs. 800-900 (approx.)
Best time to visit: September to March
A famous temple town in the Hassan district of Karnataka, Belur is known for its grand Hoysala Temple dedicated to an incarnation of Vishnu, Lord Chennakesava. Belur was the early capital of the Hoysala Empire. The temple here is considered to be the best of the three Hoysala temples nominated for UNESCO World Heritage Sites. The temples are known for their minute inscriptions and intricate carvings.
The Chennakesava temple is one of the finest examples of Hoysala architecture. Standing on a star-shaped platform, the facade of the temple is filled with intricate sculptures and paintings with no portion left blank. It has about 48 pillars of various shapes, sizes and designs as a testimony to the remarkable architecture and artistry.
Things to see and do: You can also visit the Yagachi Dam, Narasimha Pillar and town of Halebidu.
Distance from Bengaluru: 217 km
Daily Budget: Rs. 800-900 (approx.)
Best time to visit: November to March
Shravanabelagola in Karnataka is perhaps the most famous Jain pilgrimage site in South India. The Gomateswara Temple here, built on top of the Vindhyagiri Hill at an altitude of 3,347 feet, is the main point of attraction because of its statue of Lord Bahubali. This is supposed to be the tallest statue in the world carved out of a single block of granite! It stands at 58 feet. One has to climb about 620 steps to gain access to the temple. According to history experts, the statue was carved somewhere between 982 and 983 CE.
Things to see and do: Visit Vindhyagiri and Chandragiri hills, the temple pond and the basadis. It usually takes one full day to visit all the historical sites in Shravanabelagola.
Distance from Bengaluru: 140 km
Daily budget: Rs. 800-900
Best time to visit: September to March
Which one's your favourite and why? Share your insights with the community.
Frequent Searches Leading To This Page:-
one day trip from Bangalore, long-weekend destinations near Bangalore, weekend staycations near bangalore, weekend getaways from bangalore, weekend trips from bangalore