Things to Do in Paderno Dugnano - Itineraries
Things to Do in Paderno Dugnano - Itineraries
Trips
---
About Paderno D'adda
You will see some industrial works of hydraulic engineering that were conceived by Leonardo da Vinci. In fact, the Adda is often called "Leonardo's river" and there is an open air "Ecomuseum Adda di Leonardo" which shows the impressive contributions of the Renaissance polymath, who helped to make the rivers in the area navigable. Along the way you will encounter many stunning examples of the 19th century industrial architecture. Among them the remarkable iron bridge of Paderno built in 1889 without any soldering, all in one span. It connects Paderno and Calusco d'Adda by a road and railway, at 80 meters above the river level.
How To Reach Paderno D'adda
Book Paderno D'adda Tour Package
Relevance
Recent
Popularity
2 Days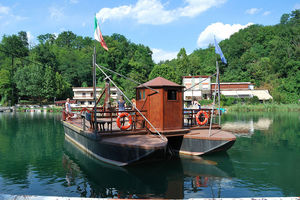 Cycling Along the River Adda in Lombardy
Cycling holidays in Italy are easy to plan as there are many well-maintained routes, especially in the North of Italy....