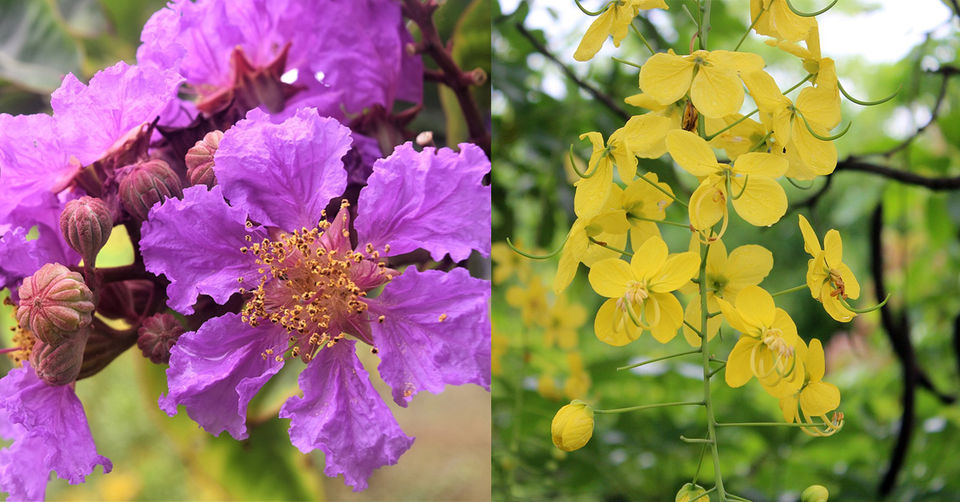 Spring is here, and the sun is out. Flowers have begun blooming everywhere, and the air is filled with fragrance. If you are a lover of all things bright, beautiful and insta-worthy, this list of the most beautiful spring flowers will bring a smile on your face:
1. Jarul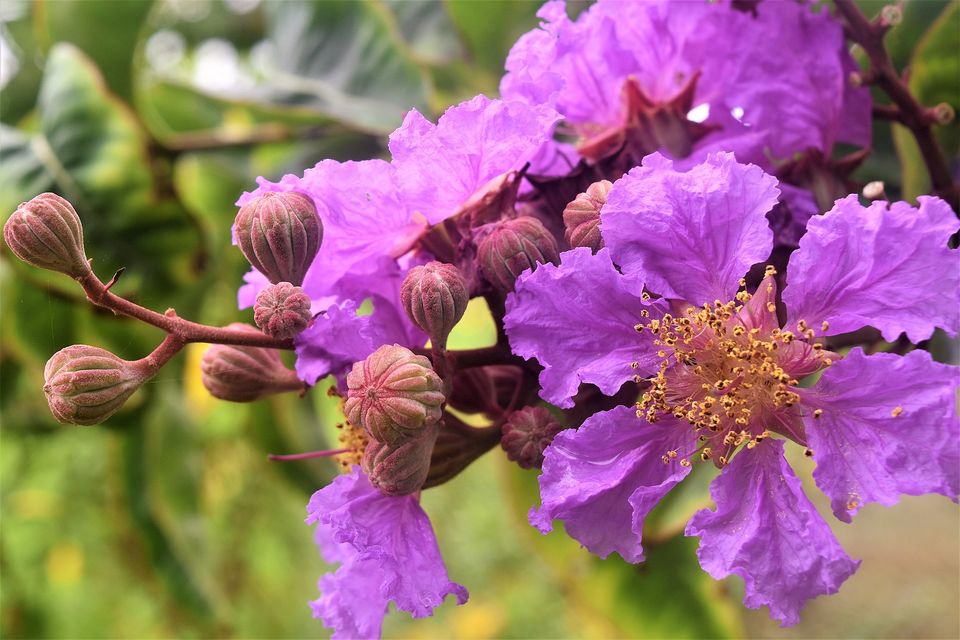 'Pride of India' is the popular name of this South-Asian native tree. It is also the state flower of Maharashtra. With bright flowers of different shades of purple and pink, Jarul can easily distract you during your early morning jog.
Where to click Jarul flowers:
The trees grow abundantly in the Western Ghats. You can easily click them in Sanjay Gandhi National Park in Mumbai. They are common on the streets of Central Delhi too.
2. Palaash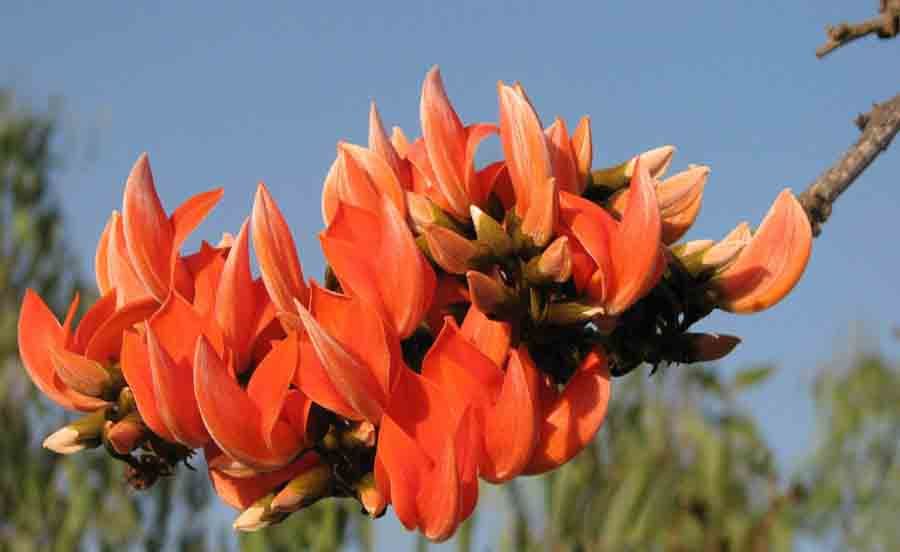 Also known as Tesu, Dhaak and jungle ki aag (flame of the forest), Palaash is a dry deciduous tree native to the Indian subcontinent. It is the state flower of Jharkhand. The bright flowers of Palaash are used to make natural colours for Holi.
Where to click Palaash flowers:
Full blooming forests of Palash can be found in Palasdari near Karjat In Maharashtra. The name of the place literally translates into the valley of Palaash trees. Other places are (i) Chutupalu valley near Ranchi, (ii) Amarkantak, Madhya Pradesh (iii) Palasamba forest, Kolhapur, Maharashtra.
3. Jacaranda
A native of Brazil, this beautiful tree has made its way to plush societies in all tropical countries. Jacaranda is also known as Blue Gulmohar commonly.
Where to click Jacaranda flowers:
You can find these trees in abundance on Jacaranda Marg in DLF Phase I, Gurgaon and Indiranagar in Bangalore.
4. Amaltas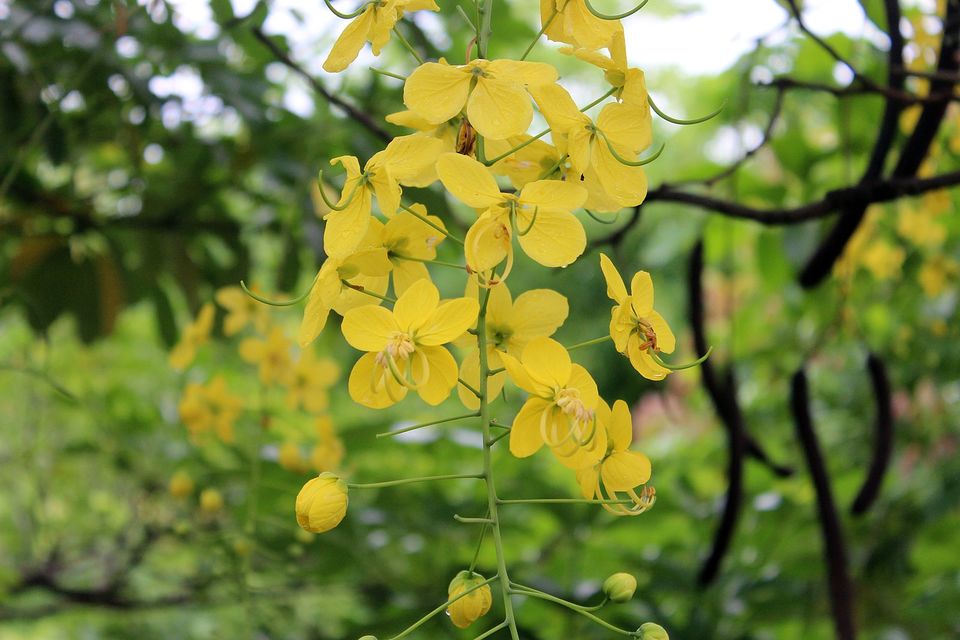 Amaltas, Kondrai, Garmalo, Sonal or Indian Laburnum, whatever you call it, these bright yellow flowers cannot escape your eyes. Native of the Indian subcontinent, this flower is also the National Flower of Thailand, and the State Flower of Chandigarh.
Where to click Amaltas flowers:
Amaltas trees have been planted widely in Delhi. For pictures you may go to Butterfly Park, Saket, Delhi and Sector 16 Market, Chandigarh. The flowers grow naturally in the forests of Kerala, Karnataka and Tamil Nadu. Biligiriranga Hills in Karnataka is a hot spot too.
5. Semal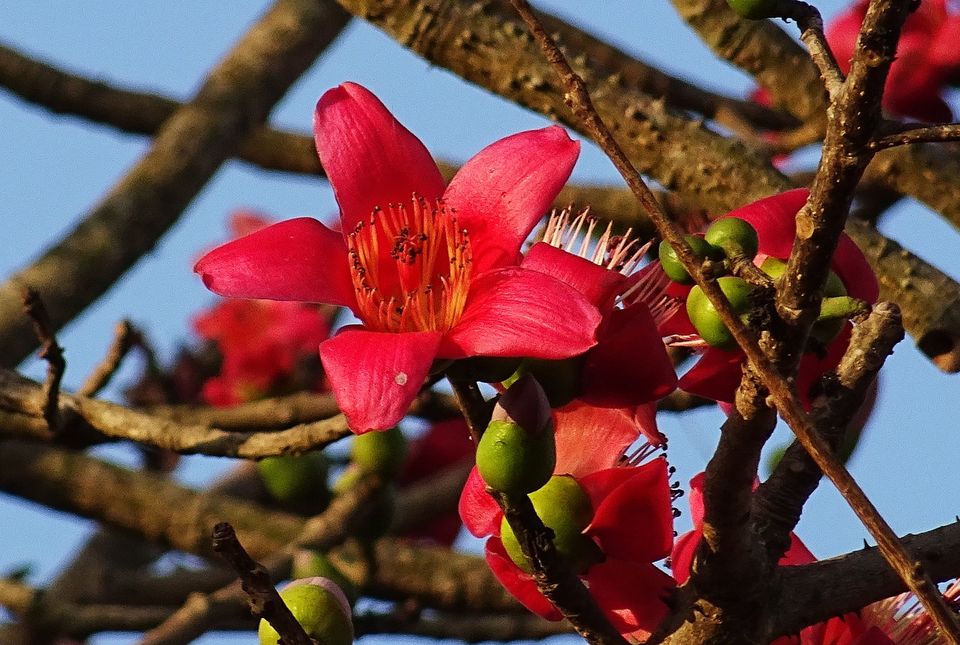 Semal or Shalmali trees grow up to a height of four-floors, with a long vertical trunk and parallel branches. These trees produce natural fibre, and hence are also known as red silk cotton trees. In spring-summer, they shed all their leaves and turn red with thousands of flowers on them.
Where to click Semal flowers:
You can find the largest Semal trees in Nandhaur Wildlife Reserve in Uttarakhand. The trees are abundantly found in the dry deciduous forests of India, notably in the forests of Tripura, Madhya Pradesh, Jharkhand, Chhattisgarh, Maharashtra and Andhra Pradesh. You may spot one on your street too.
6. Tulip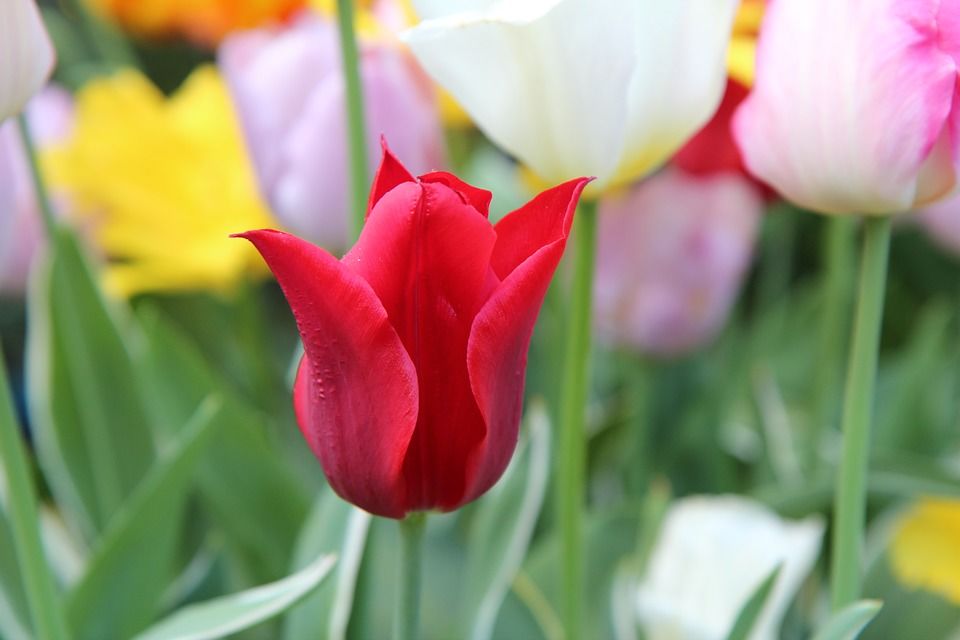 Technically not trees, Tulips are Asian highland native plants belonging to the same family as Lilies. Representation in popular media has made Tulips highly recognised.
Where to click Tulips:
Apart from the Tulip Gardens in Srinagar, Mughal Gardens in Delhi is also a popular place to click these gorgeous flowers.
7. Shirish
Also known as Rain Trees (you can hide under their huge canopy when it rains), Shirish is a native Indian tree. Its flowers can lure you towards them with their sweet-pungent smell. Shirish come in a number of colours like neon, orange, red, pink and white.
Where to click Shirish flowers:
You can find rain trees on the streets of Fort Kochi, Bangalore, Panjim and South Bombay.
8. Gul Mohar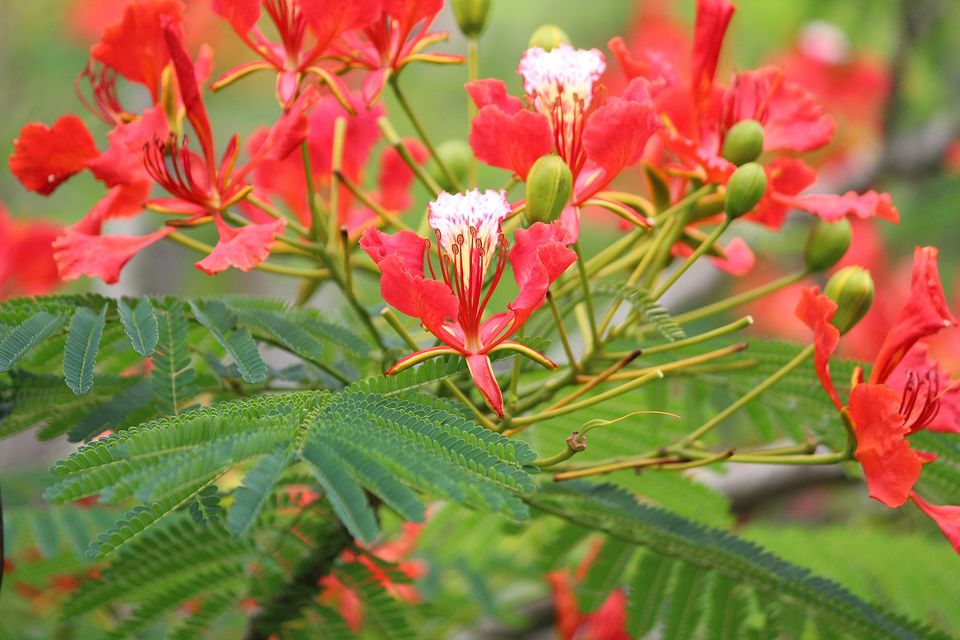 Native to Madagascar, Gul Mohar was introduced in India by the colonialists. And now, the tree is loved dearly in India. The bright red flowers of Gul Mohar mark the arrival of summer in India, and soothe a pedestrians' eyes with its flamboyance.
Where to click Gul Mohar flowers:
It is not difficult to find Gulmohar trees. These trees have been planted widely in Delhi, Mumbai, Bangalore, Kochi, Chandigarh and all other planned cities across India. Botanical Garden, Kolkata, Sanjay Gandhi National Park in Mumbai and NII campus in Delhi are good locations for photography.
9. Naag-Ling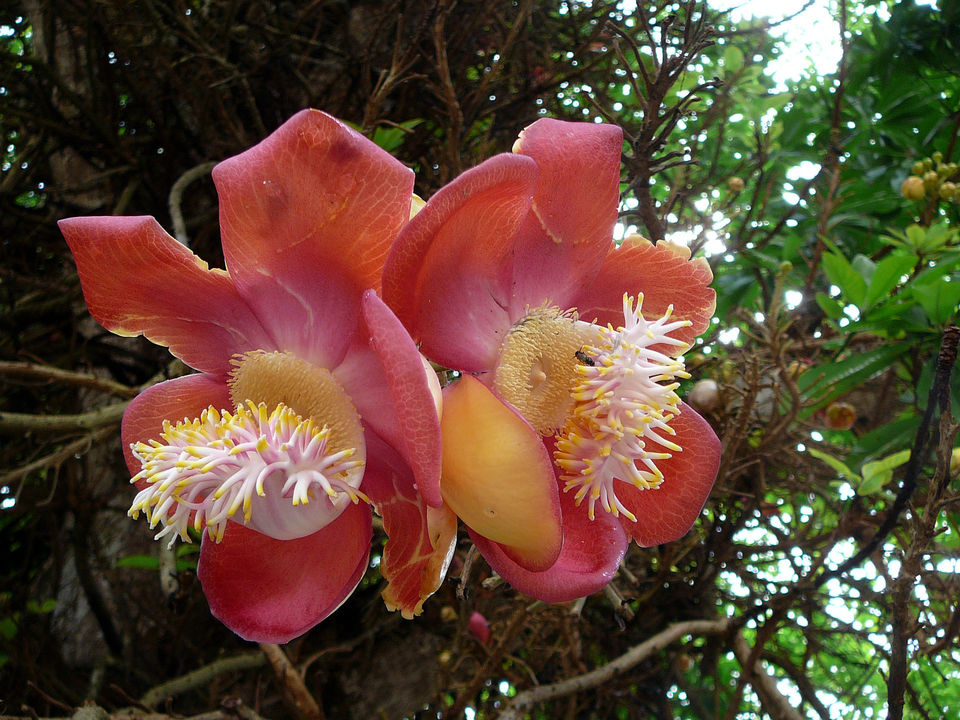 Though native to South America, the Cannon Ball tree, commonly known as Naag-Ling finds significance in Hinduism and Buddhism in India. The tree, as well as the flowers look very different from other trees in the subcontinent. Naag-Ling is also the state flower of Pondicherry.
Where to click Naga-Ling Flowers:
These trees are common on the streets of Bandra, Mumbai and Botanical Garden, Pondicherry.
10. Java Rani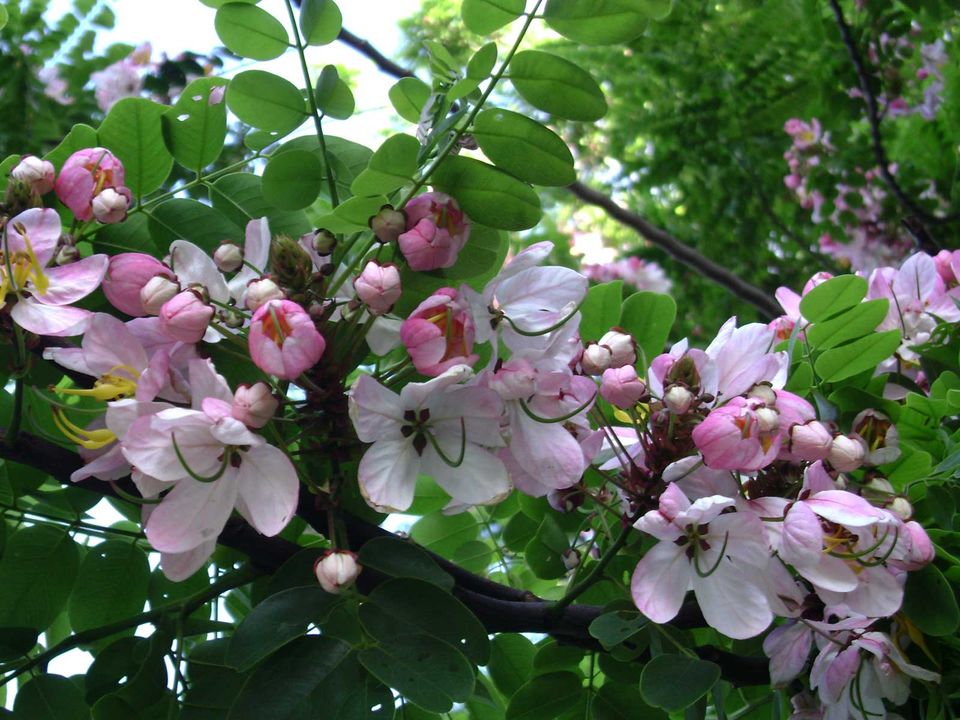 A common garden tree in India, Java Rani trees are native to southeast Asia. The pink and white flowers of the tree easily shed petals, and are easy to spot on pathways after a light shower.
Where to click Java Rani flowers:
The trees are very common to spot on sidewalks in Chandigarh and Central Delhi.
Do you know other beautiful flowering trees of India or do you know other places where the above flowers can be photographed? Tell us in the comments below.
Get travel inspiration from us daily! Save and send a message at 9599147110 on Whatsapp to start.