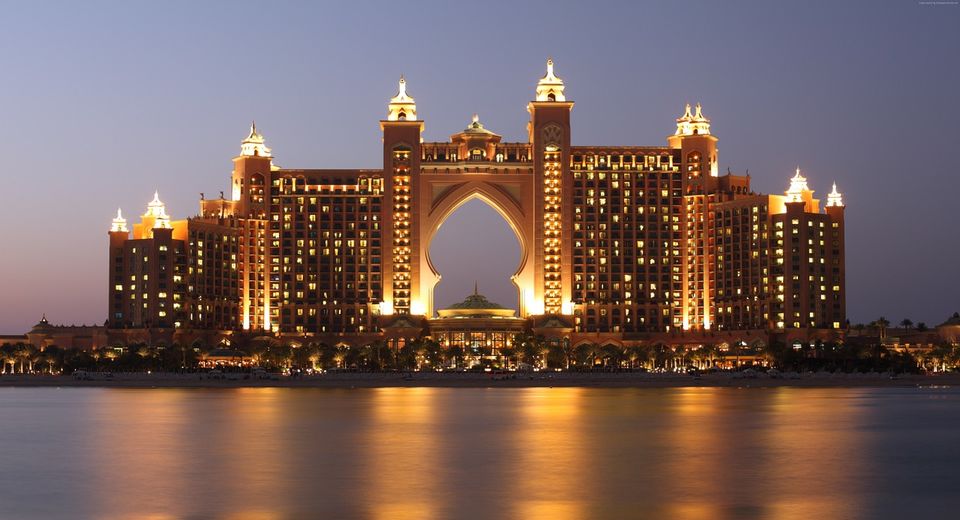 From watching sunsets over sand dunes and enjoying dinners in skyscrapers to getting your adrenaline pumping with a desert safari and indulging in endless shopping – Dubai has a lot to make you feel the romance.
There's a reason why this dazzling city is the perfect backdrop for your honeymoon or romantic getaway. Here is a list of things you can experience only in the City of Dreams:
1. Spend a night at a desert camp
Watching the sun go down and gazing at the night sky as you and partner experience live Arabian performances while gorging on a scrumptious barbecue dinner in the vast desert – it doesn't get much better than this. The overnight safari takes you on a tour of the Arabian desert and makes you camp in luxury tents amongst the sand dunes at night. 
Location: Red Sand Dunes, Lahbab
Price: Starting from ₹8,000 per person
What you get: Camel safari, dune bashing, sandboarding, barbecue dinner, live belly dancing performances, overnight stay in a luxury tent, breakfast, and a bar
2. Dine like royalty at the Burj Al Arab
No romantic getaway is complete without a perfect dinner date and the experience you get at Burj Al Arab is unlike any in the world. The classic culinary experience, called Culinary Flight, takes you on a majestic tour through the world-class restaurants and bars inside the Burj Al Arab. And what's even better? All of this happens at the atrium on the 27th floor.
Location: Burj Al Arab, Jumeirah Beach Road
Price: Starting at ₹17,500 per person for lunch and ₹22,500 per person for dinner. Keep in mind that you need to reserve the experience in advance.
What you get: Dining at some of the best restaurants and bars in Dubai which include Scape Restaurant & Bar, Junsui, Al Muntaha, Sahn Eddar, Gold On 27, and Al Iwan.
4. Go hiking on the Jabal Al Jais Mountain
This one's for the adventure lovers. Located close to the Oman border, the Jabal Al Jais mountain, the highest peak in UAE, is better known as the 'Stairway to Heaven'. About 17km long and with an elevation of over 1,900 meters, the hiking route takes a minimum of nine hours to complete. Perfect to get that adrenaline pumping in a romantic setting.
Location: Wadi Ghalilah, Ras-al-Khaimah
Price: You can undertake the hike by yourself for free. Some tour operators, however, organise picnics and ATV rides starting at approximately ₹5,000 per person
What you get: Unparalleled views of Dubai and Oman. If you opt for a guided tour and picnic, you will also get a curated lunch and drinks along with a pick-up and drop at the starting location.
5. Fall in love again at the Miracle Gardens
Have you ever wondered how 45 million flowers would look like together in full bloom? That's what you get to witness at the Miracle Gardens. Famously known as the world's largest garden of natural flowers, it is the perfect place to spend a romantic afternoon.
Location: Al Barsha South
Price: An entry fee of ₹720 per person is required to be paid
What to expect: Stunning display of flowers in various colours, a guided tour of the different varieties showcased.
6. Indulge in a luxurious couples massage
It doesn't get more romantic than indulging in some exclusive relaxation time with the one you love. Dubai offers some of the best spa experiences. Sensasia Urban Spa (UAE's largest independent spa chain) and the Talise Ottoman at the Palm Jumeirah are amongst the most popular choices for couples.
Location: Sensasia is located at the Village Mall, Jumeirah Beach Road, and Talise Ottoman is within the premises of Jumeirah Zabeel Sarai, Crescent Road.
Price: Starting at ₹19,000 for a couple
What to expect: Depending on the package you opt for, you will get honey, milk and oil based treatments followed by full body massages, exfoliations and soaks.
7. Witness the sunrise from a hot air balloon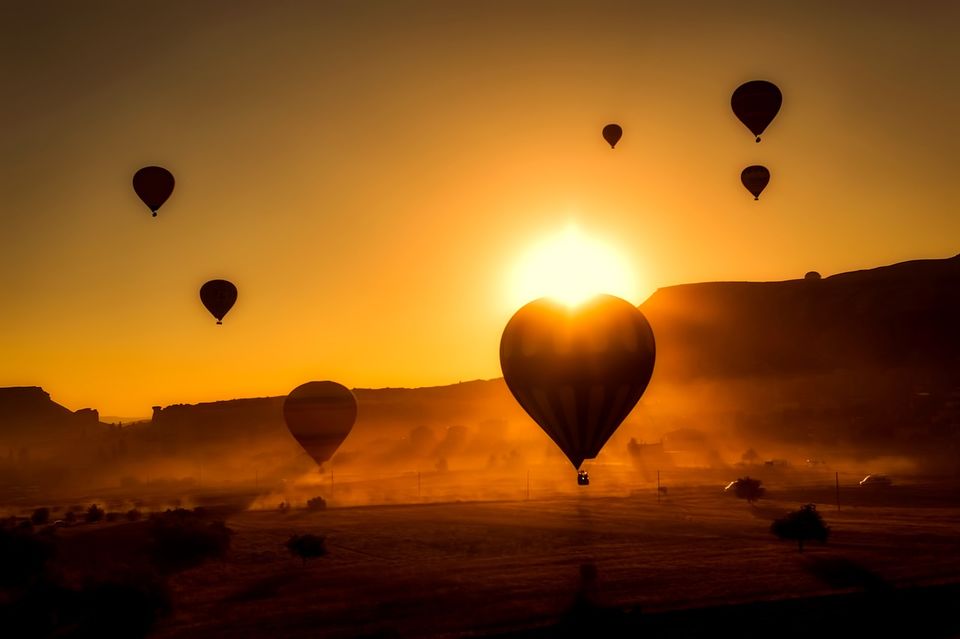 There are hot air balloon rides and then there are hot air balloon rides in Dubai. As the sun rises over the sand dunes, the sky changes colour, casting a golden glow over the entire region. And you get to witness all of this while enjoying a delicious spread right there in your private little compartment. If you don't have the budget for a private ride, you can opt for one that will have more people in the same area with you. There are a number of tour operators who provide hot air balloon rides all year round.
Location: Rashidiya, Dubai
Price: Starts at approximately ₹20,000 per person for a shared hot air balloon ride (max 24 people per balloon). If you're looking for an exclusive experience, a ride in a small private charter starts at ₹2,80,000. 
What to expect: Stunning views of the sunrise over the Arabian desert, breakfast and drinks while witnessing spectacular sights.
8. Tour the city in a seaplane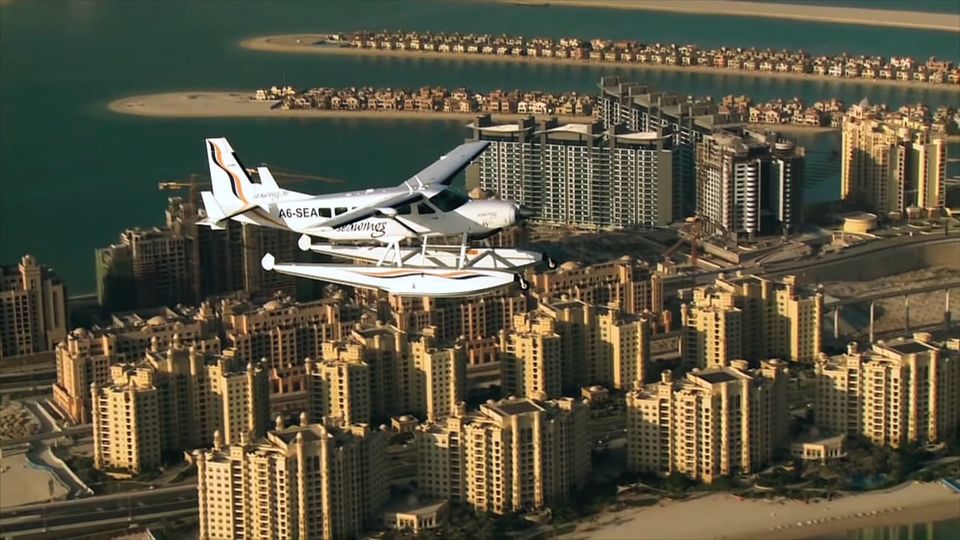 Ever wonder why the protagonists in old Hollywood films wooed their lady love by taking them on plane rides across New York or LA? Because there are very few things more romantic than witnessing the beauty of the world with your loved one from up in the sky. You can do that in Dubai, and witness the city's skyscrapers, beaches and architectural marvels from the sky in a 40-minute seaplane ride.
Location: Jebel Ali Golf Resort & Spa or Dubai Creek Golf and Yacht Club
Price: Approximately starts at ₹29,000 per person
What to expect: Get sweeping views of attractions such as Burj Khalifa, Burj Al Arab, Palm Jumeirah, among others and also get to witness how the islands at World Island mark out countries and continents
9. Watch a vintage film together at CLAW BBQ
This one is for all the movie buffs out there. Spend the night drinking and partying while you witness the magic unfold on screen as well. One of the most famous restaurants in Downtown Dubai, CLAW offers amazing food and some superb 80's Hollywood classics during their movie nights. The restaurant releases a monthly list of the films being screened along with their timings beforehand, and the screening usually begins at 8pm (local time).
Location: CLAW, Souk Al Bahar Bridge, Downtown Dubai
Price: ₹5,200 (approx) per person. The price includes all food and drinks and it is recommended to book in advance.
What to expect: The highlight at this place is not the vintage film collection, but the fact that the restaurant customises the food and drinks menu depending on the movie being screened.
10. Go on a dinner date aboard a cruise
Nothing beats a classic romantic dinner on a cruise. It is something straight out of a movie, but Dubai's Dhow cruises makes this dream a reality. When it comes to the most romantic things to do in Dubai, this is definitely one of them.
Location: Boarding is from Deira Creek
Price: ₹3,600 per person for a four-star cruise and ₹4,500 per person for a five-star cruise. The price is inclusive of soft drinks, a music and dance show and buffet dinner.
What to expect: Witness some of Dubai's famous attractions, including the Clock Tower and Al Aktoum Bridge while you sample a wide range of modern and traditional delicacies and enjoy live performances.
Does Dubai seem like a good place to start your happily ever after? Share your thoughts in the comments section below? Write about your favourite romantic destinations on Tripoto and help other travellers plan their trips.