After I booked our trip to Turkey, I started researching the lamps I was looking for. I realized that they weren't Turkish lamps at all. They were Moroccan lamps. Oh boy, I should've done my research first. So, now I had some explaining to do to my hubby. "So, the lamps aren't Turkish, they're Moroccan. We need to go to Morocco," I said. He laughed, "And you already booked our trip to Turkey? Ok, well, what are we going to do?" This is where I'm grateful to be married to a man who embraces my crazy. "We're going to Morocco, too. I'm going to add it to our trip," I replied.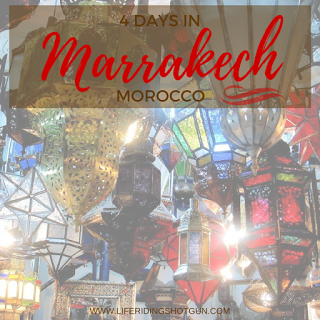 Upon arrival at the airport, we went outside to catch a cab. I knew numbers and basic pleasantries in Arabic because of the time I spent deployed to Kuwait. So, I tried to bargain with the cab drivers for the best rate and they started yelling at each other. It escalated very quickly and we had no idea what they were saying. One cab driver opened his trunk and proceeded to throw our luggage in, all while still yelling what sounded like obscenities at the other cab driver. "Get in!" he demanded while violently motioning towards the back door of the cab. We squeezed in and off we went. He sped down the highway, pumping his brakes to honk his horn and roll down his window and yell at local passers by. It was quite terrifying.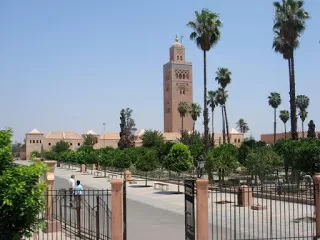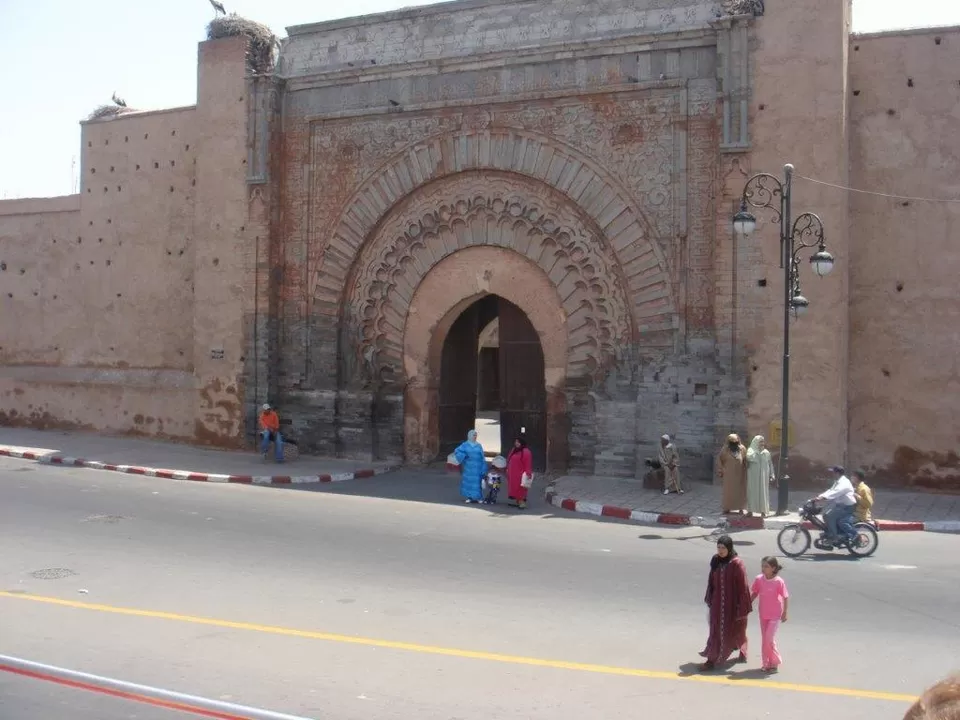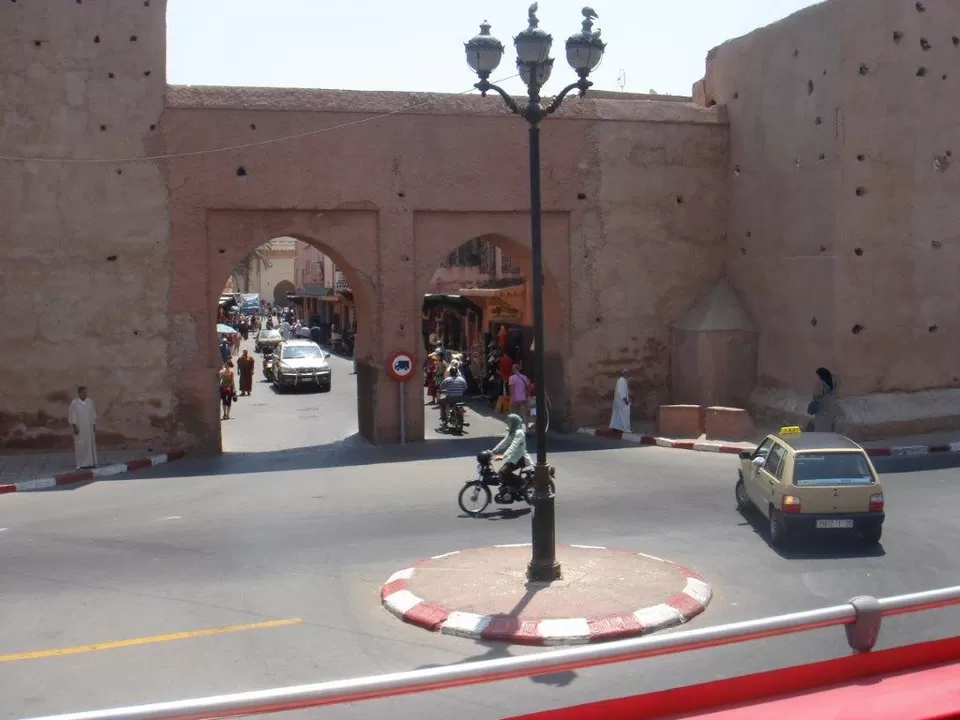 We get to the old town where our Riad is located and he comes to a quick stop, jumps out, opens our door, opens the trunk and throws our luggage onto the ground, takes payment, and speeds off. Um, where are we? Another local approaches and stacks all of our luggage on his shoulder and we follow him, having no idea where he's going. He leads us through a maze of walls - no windows, a door every now and then - just stucco walls.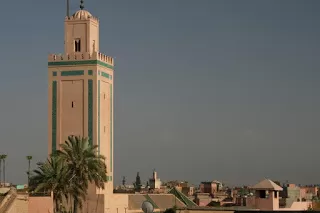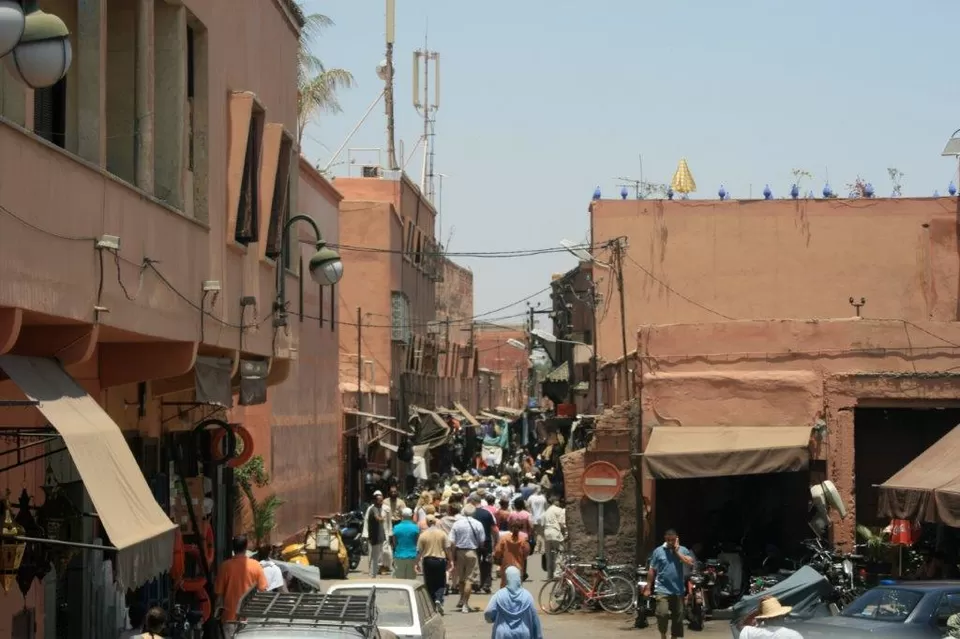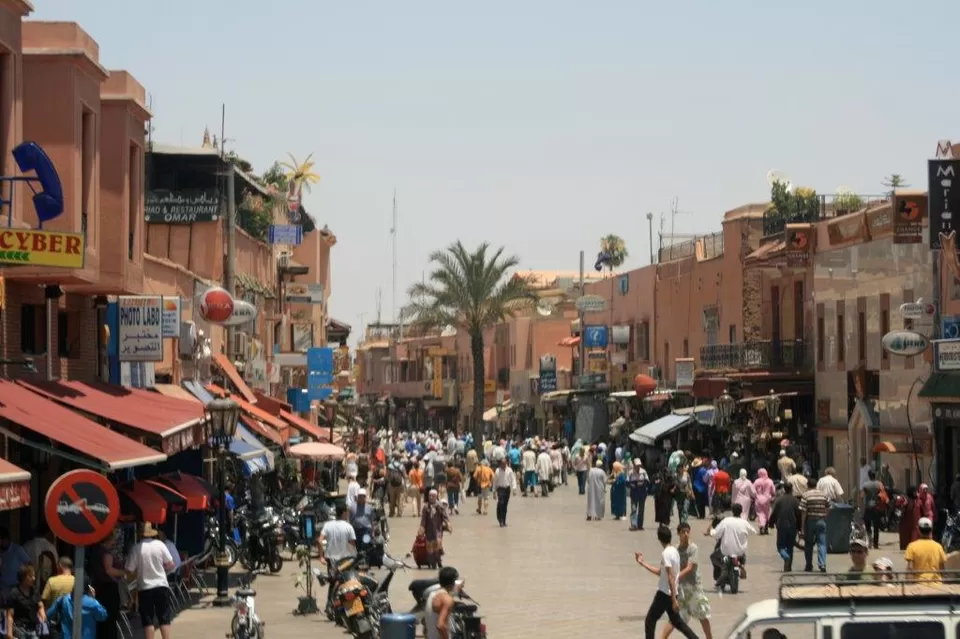 We arrive at the address of our Riad and there's a note on the door that it has closed down. We're left standing in what looks like an alley in a maze of walls in the old town of Marrakesh. We're lost. We're in a foreign country, a third world one at that. There's a language barrier. There's a culture barrier. Panic starts to set in. What are we going to do? We grab our luggage and we start walking. We have no idea where we're going or what we're going to do. This was the first time I had ever experienced culture shock.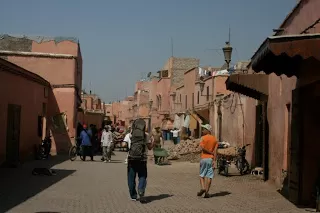 A few minutes later, a French woman on a bicycle sees us and asks us if we need help. She takes us to her Riad, which she is remodeling and it isn't open yet. But, it was so beautiful. She tells us that she knows someone who will take care of us. She escorts us to another Riad and they are happy to welcome us.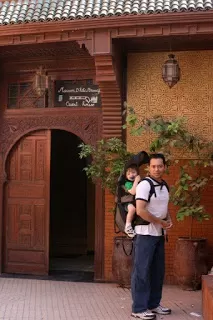 A Riad is like a bed and breakfast. They are gorgeously decorated with sheer curtains, Moroccan lamps, tons of seating, ornate architecture, and usually a pool in the middle of the open-air center, which is surrounded by two to three floors of bedrooms for guests. They made us feel so welcome.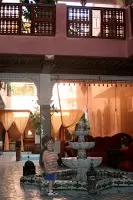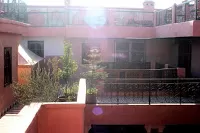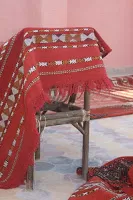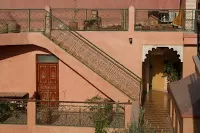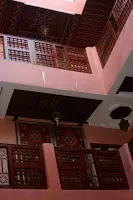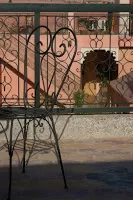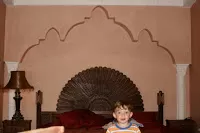 They ushered us to a seating area and served us hot, mint tea. This is the moment I became obsessed with mint tea. They played with our son, Jaden, who was two years old and kept gushing about how cute he was and how they wanted to keep him. This unnerved me a bit because they kept trying to take him into the back where their kids were (out of my sight - NOPE, not happening), but I came to learn that this is just a cultural difference that is completely innocent.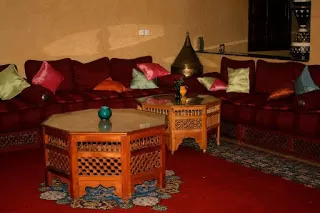 Once the shock of that initial day was over with, we began to feel much more comfortable. We decided to venture out to the "Big Square" where all the merchants are, but quickly got lost in the maze. A young boy around 12 or so told us to follow him, so we did, but he led us to the tanneries and tried to convince us to buy some leather shoes. The tanneries are where they tan the hides before making shoes, belts, clothes, purses, and such. Once I located the tanneries on my map, I had an idea of where we were so we started walking back towards the Big Square when we met two Australian guys who were backpacking. They knew where the Big Square was and took us there. After that, we had no problems finding our way around.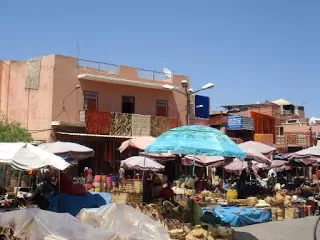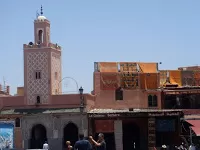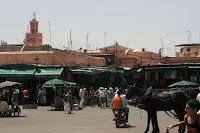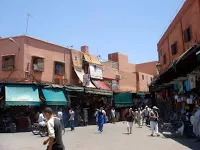 The Big Square is sensory overload. There were tons of vendors selling orange products, food, basically anything you could want, even doing henna tattoos and performances.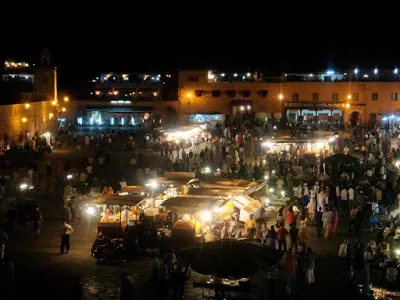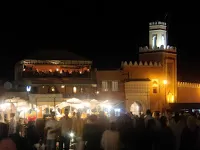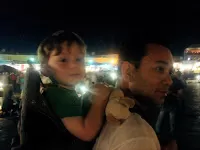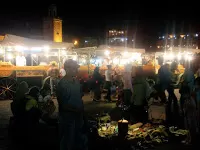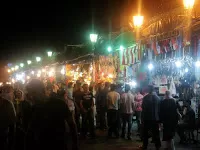 I went on a search for my lamps and I didn't have to look far. They were everywhere. In all colors, shapes, designs, materials, I wanted them all.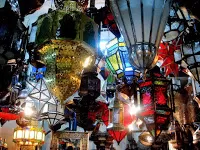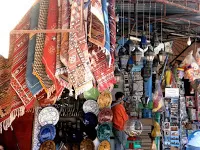 I asked my hubby if the cobra musicians actually exist and we found out that they do and they're called snake charmers. So, I told hubby that we can't leave Morocco until we see a snake charmer. Not long after I said that, the sound of a flute started filtering through the air from a distance. Is that? Could it be? Follow that sound! It was!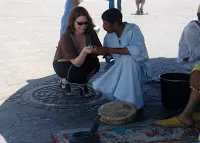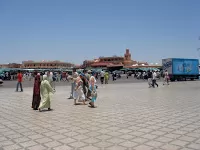 Jaden was at an age where he would get mad and throw a temper tantrum and when he did, he would throw his pacifier in protest of whatever he was so upset about. As we were on a double-decker bus tour of the city, he decided that he was sick of sitting down and threw a fit and the pacifier went flying out of the bus into the desert. "I hope the camels like your paci, because that was your last one," I told him. That didn't help, then he started crying about it.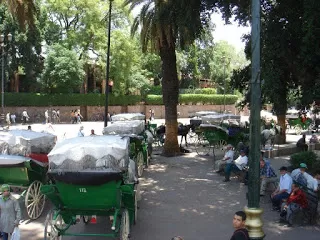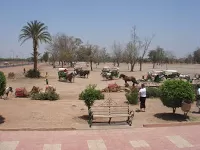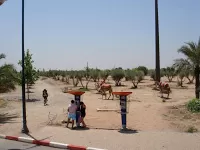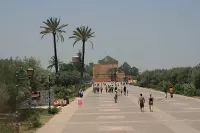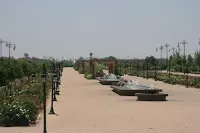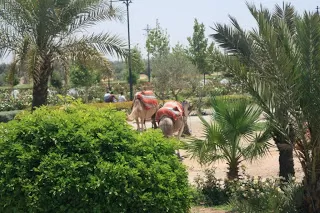 So, when we got back, we went on a frantic hunt for a pacifier in the souks and let me tell you, trying to explain/describe to Arabs what a pacifier is was very difficult. I used every word I could think of - pacifier, paci, binky, nub, bottle. I finally found one and this convinced me that yes, the souks do have absolutely everything.
The newer side of Marrakesh has most western, modern amenities, but wasn't nearly as interesting as old town.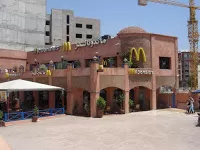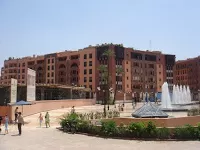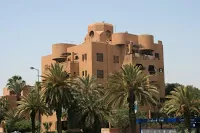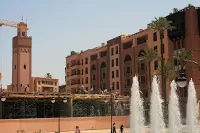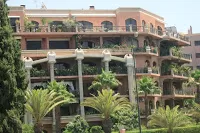 A friend who used to work at the US Embassy in Tunisia and was married to a Moroccan woman suggested that we go to Chez Ali, a dinner performance attraction similar to Tournament of Kings. It was a traditional Moroccan style dinner with an Arab horse performance and belly dancers who came around and danced at all the tables.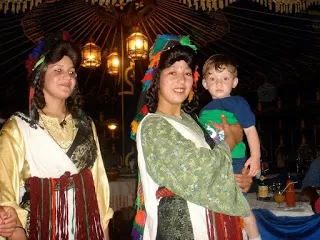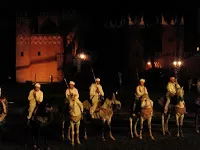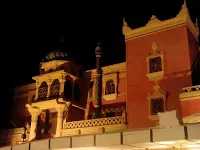 Just when we started feeling comfortable here, it was time to go home. Alas, Morocco stole my heart and my lamps were one of the few prized possessions that I kept when we began our RV journey. Yes, they're now hanging in our RV and go everywhere we go.