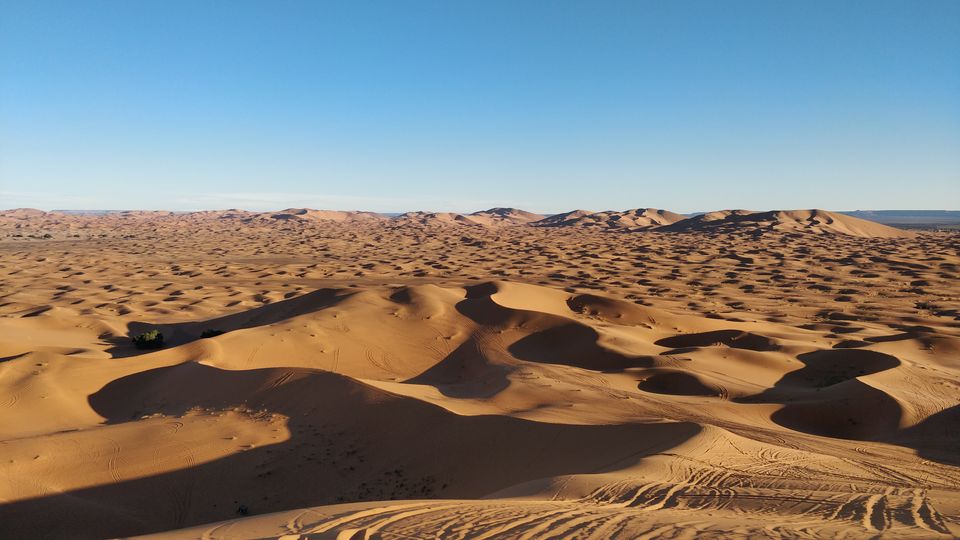 There is an unexplainable mesmerizing charm associated with some countries. It can often be attributed to the history of the country, or the culture, or the stunning natural beauty of the place. Morocco as a country is a fine mix of it all. Situated in the north-western part of Africa, this country is host to a variety of landscapes ranging from desert to alpine mountains and beaches to hill stations – all packed in a relatively small area. My fascination with this country built up over time – first when I read about the Atlas Mountains back in school, then when I wanted to visit the largest desert in the world (Sahara) and ultimately when I learnt that a portion of Game of Thrones was shot in this country. The fact that nobody from my friend circle has visited this country was also another reason why. End of November 2018 it was for a 12-day backpacking trip to the Kingdom of Morocco. This certainly was a very different experience from my earlier trips to New Zealand or South Africa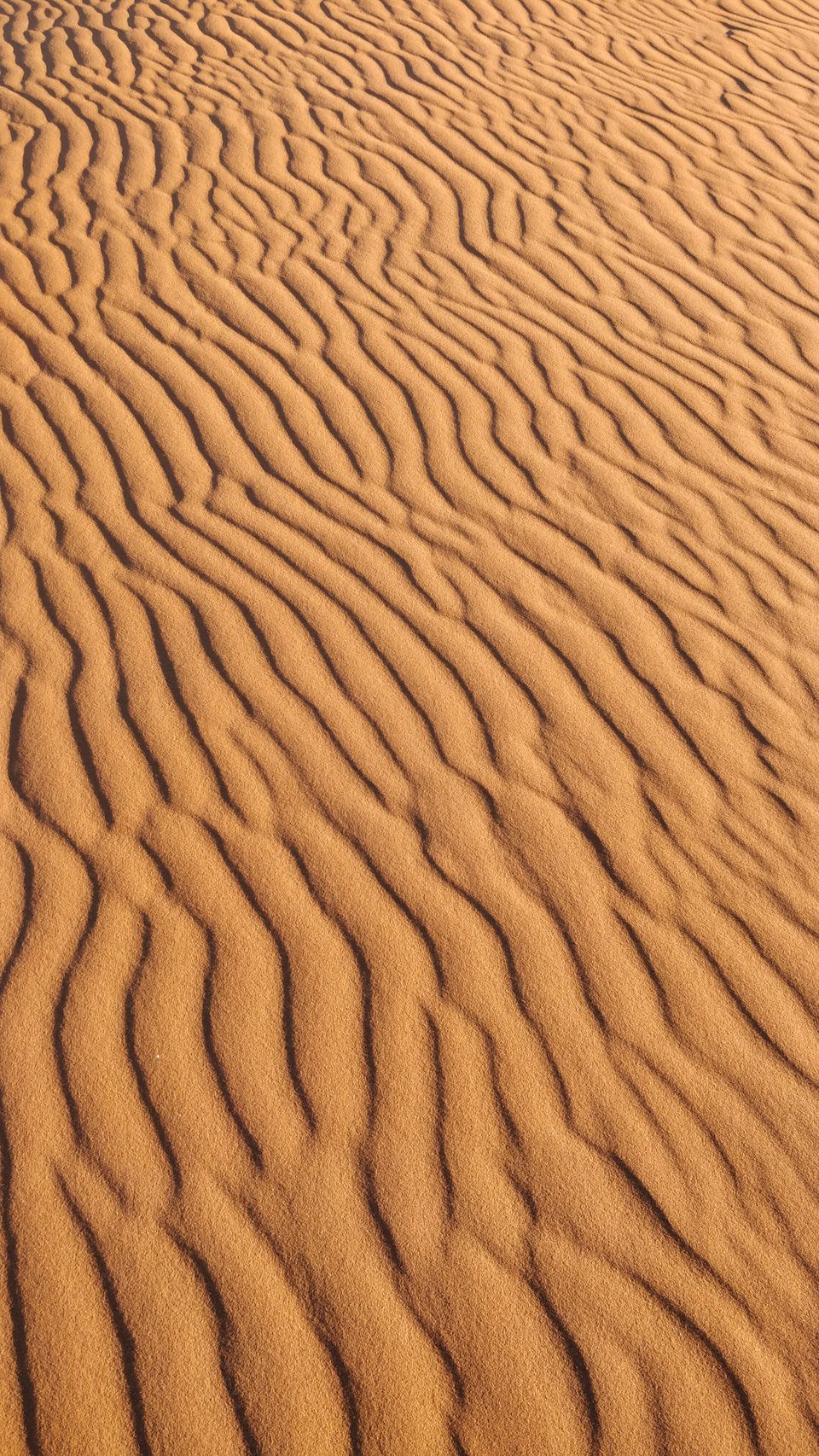 Visa
Cox and Kings Global Services provides Morocco visa services for people having an Indian passport. The process takes some time (mine took two and half weeks). You can check the list of documents required on this site (CKGS Morocco Visa Site) and submit your application at one of their centres. I tried submitting the form online but for some technical reason it didn't work and I had to take the offline route
Day 1 (Casablanca to Chefchaouen)
I booked my flight on the Skyscanner website, which usually has the best prices for international flights. My flight was via Jeddah and I arrived in Casablanca at 8 30 am. My plan was to reach Chefchaouen (which is around 330 kms away) by afternoon on the same day. When I was planning my trip, Google showed that the journey takes 3.5 hours. But on day one, I realised that trusting Google on the streets of Morocco is not really a great idea. After getting used to driving on the other side of the road and a speeding ticket within 2 hours of taking the car, I reached Chefchaouen only by around 5 in the evening.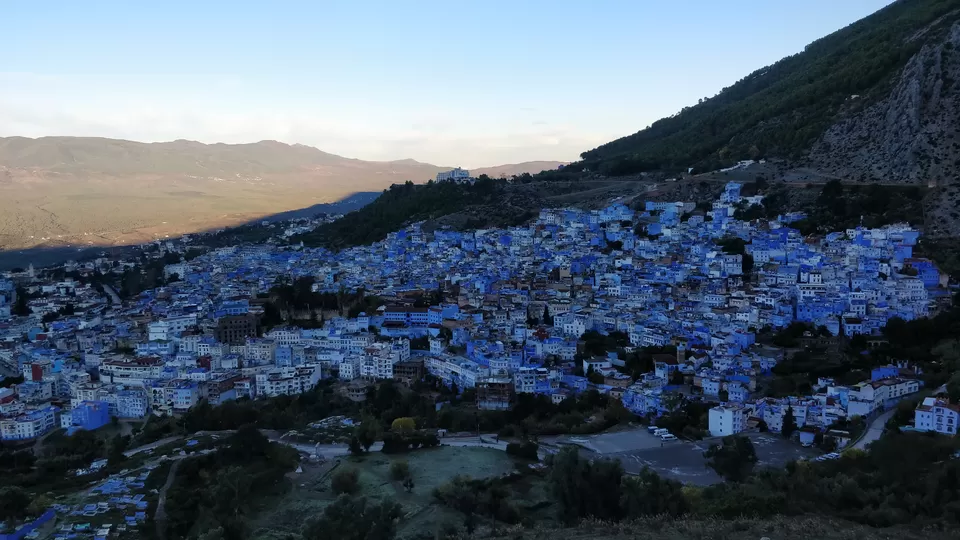 Chefchaouen is a pretty little town nestled in the hills famous for its picturesque houses painted blue in colour. There is Medina area in every town/city of Morocco where the only way to commute is on foot. Medinas are guarded by walls and were the areas where civilizations flourished back in the day. I explored a bit of this town around sunset and headed to a restaurant called OumRabie, where I was to meet my travel mate for the next few days (the Facebook group of Backpackers in Morocco is a great way to meet fellow travellers)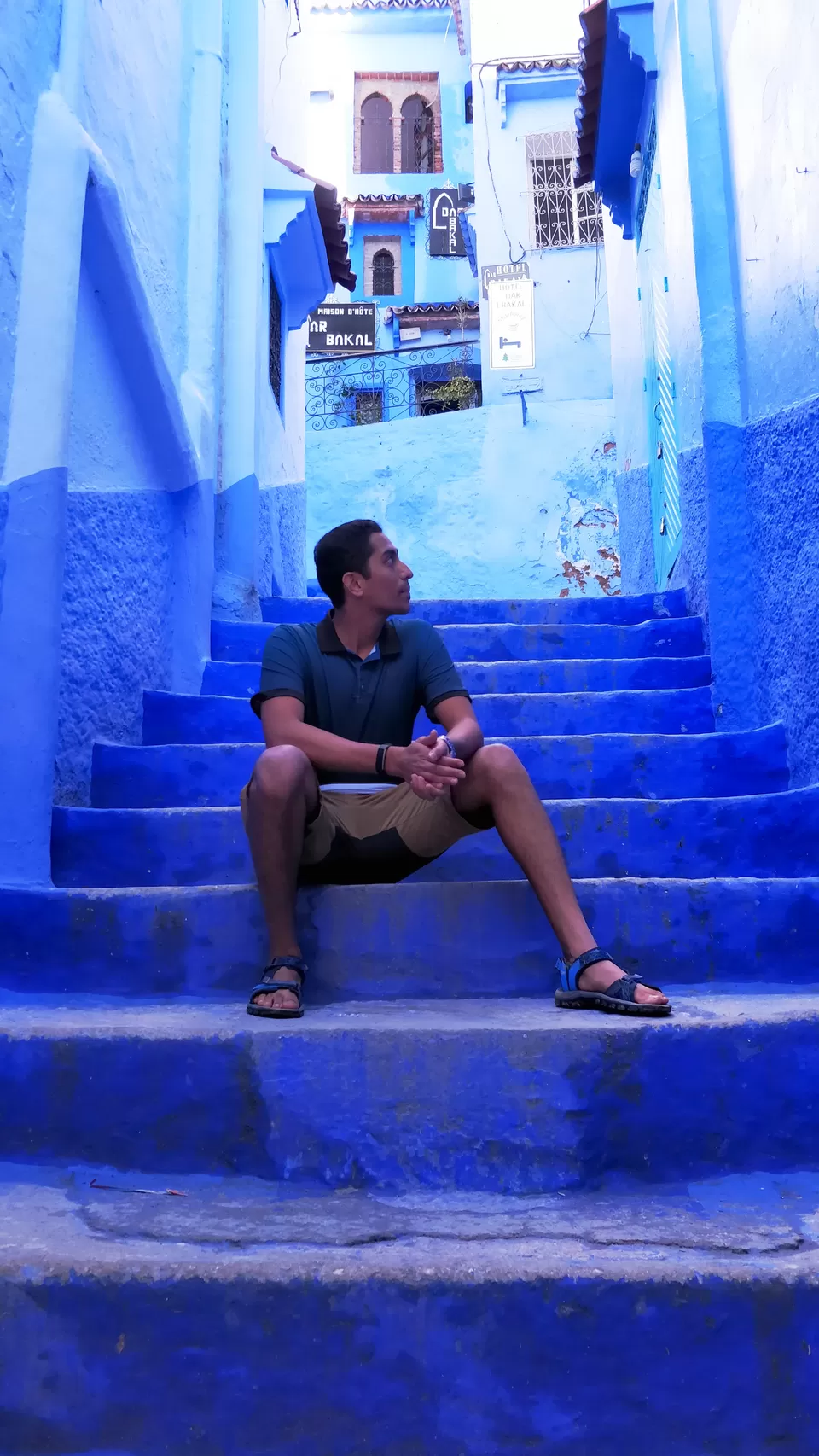 Chefchaouen is also famous among backpackers as the city is a hub for marijuana plantations. It is said that around 80% of weed in Europe comes from Morocco. Just stating a fact and not promoting anything here (peace yo!)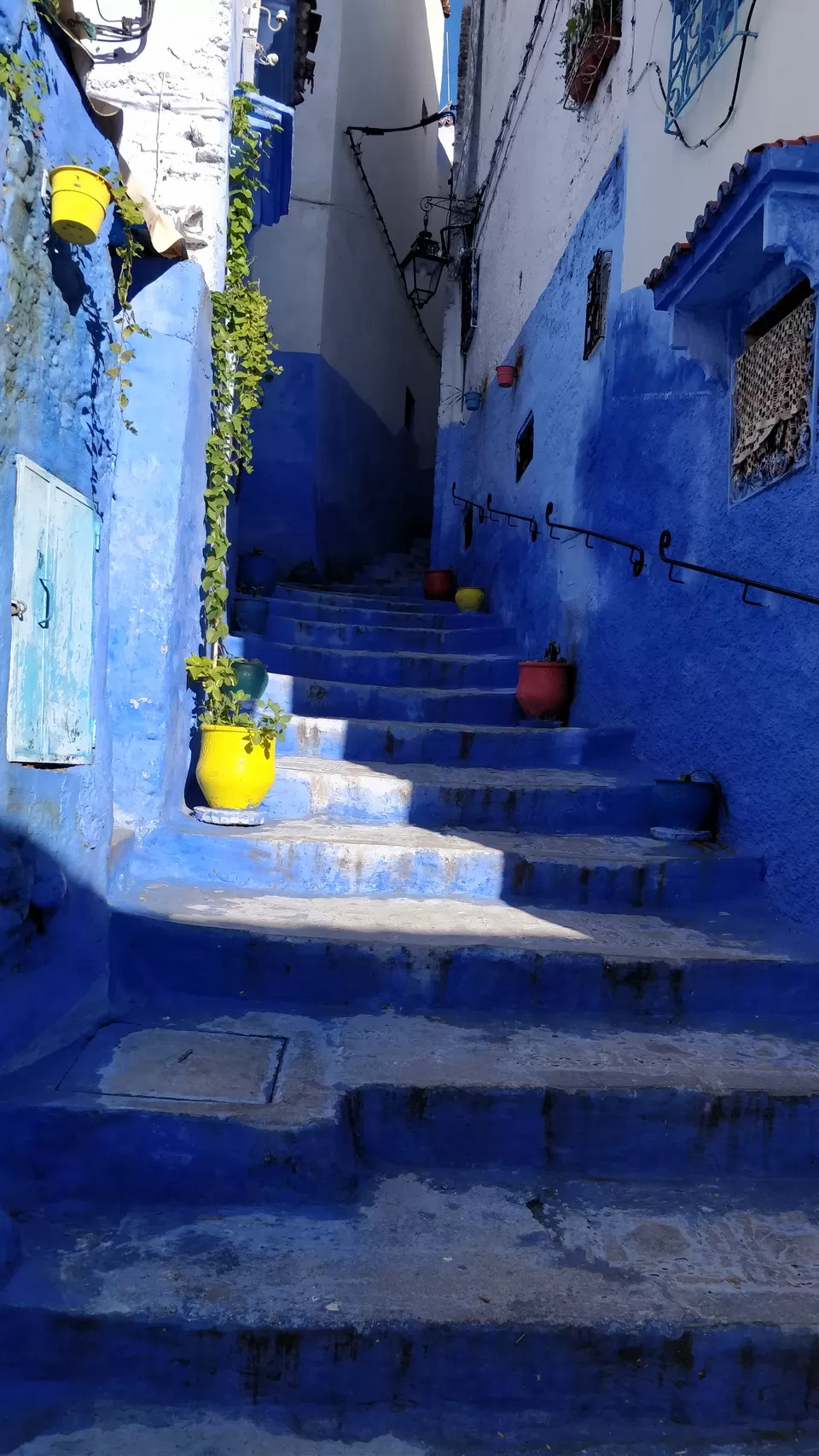 Day 2 (Chefchaouen to Fes)
I wanted to catch the sunrise from a nearby hill which also houses the famous Spanish mosque. The hike to the Spanish mosque takes around 20-25 minutes. Once on top, you are treated to panoramic views of the town and realize how beautiful this place is. There are various theories as to why the buildings are blue in colour – one that it is a sign on good omen, the other to ward off evil spirits and yet another to keep mosquitoes away. Pick whichever you like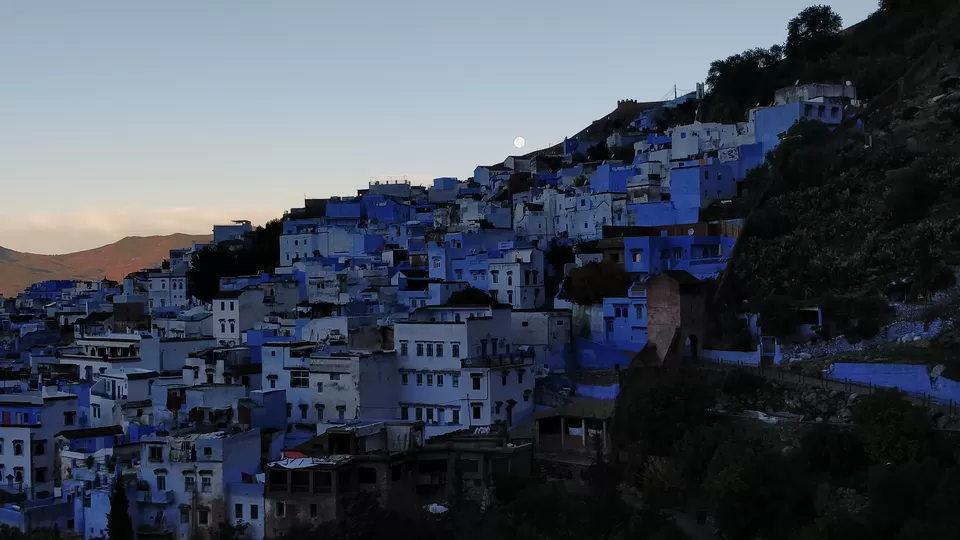 After watching the sunrise, I headed back into the town and explored the narrow streets for a while. You can easily get lost inside the medina but you will realize that one street leads you to something more beautiful that the other. 2-3 hours is a good time to explore the medina.
We then started our journey to Fes, which is one of the oldest cities not just in Morocco, but in the world. We drove straight to a place called Borj Nord (a museum) which overlooks the city of Fes. There is a nice walkway right beside Borj Nord which is a good place to watch sunset over the city. Our hostel Riad Verus was right in the heart of the medina. It can be a bit tricky finding your way inside the medina as the narrow streets really do not appear on Google Maps.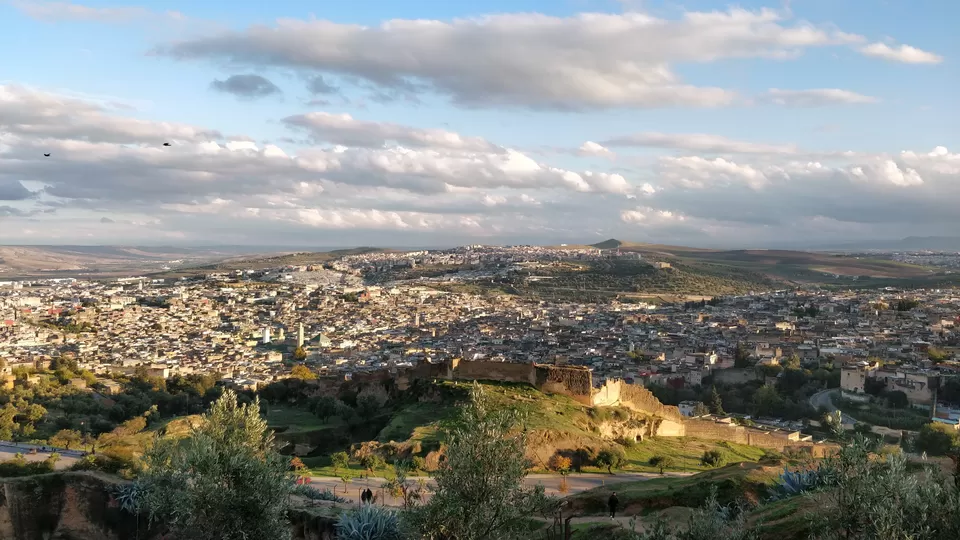 Fes is famous for the tannery. It was around 2 kms from our hostel. We headed to explore the medina and the tannery. Whenever in doubt while finding the tannery, follow your nose. The characteristic pungent odour associated with leather making is sure to guide you in the right direction. After seeing the tannery, we lost our way and stumbled upon a building where some locals were performing the mesmerizing Sufi Zikr dance. I entered the place and realized that non-Muslims are not supposed to be inside. I was politely asked to leave. But what I saw was something super unique and cool.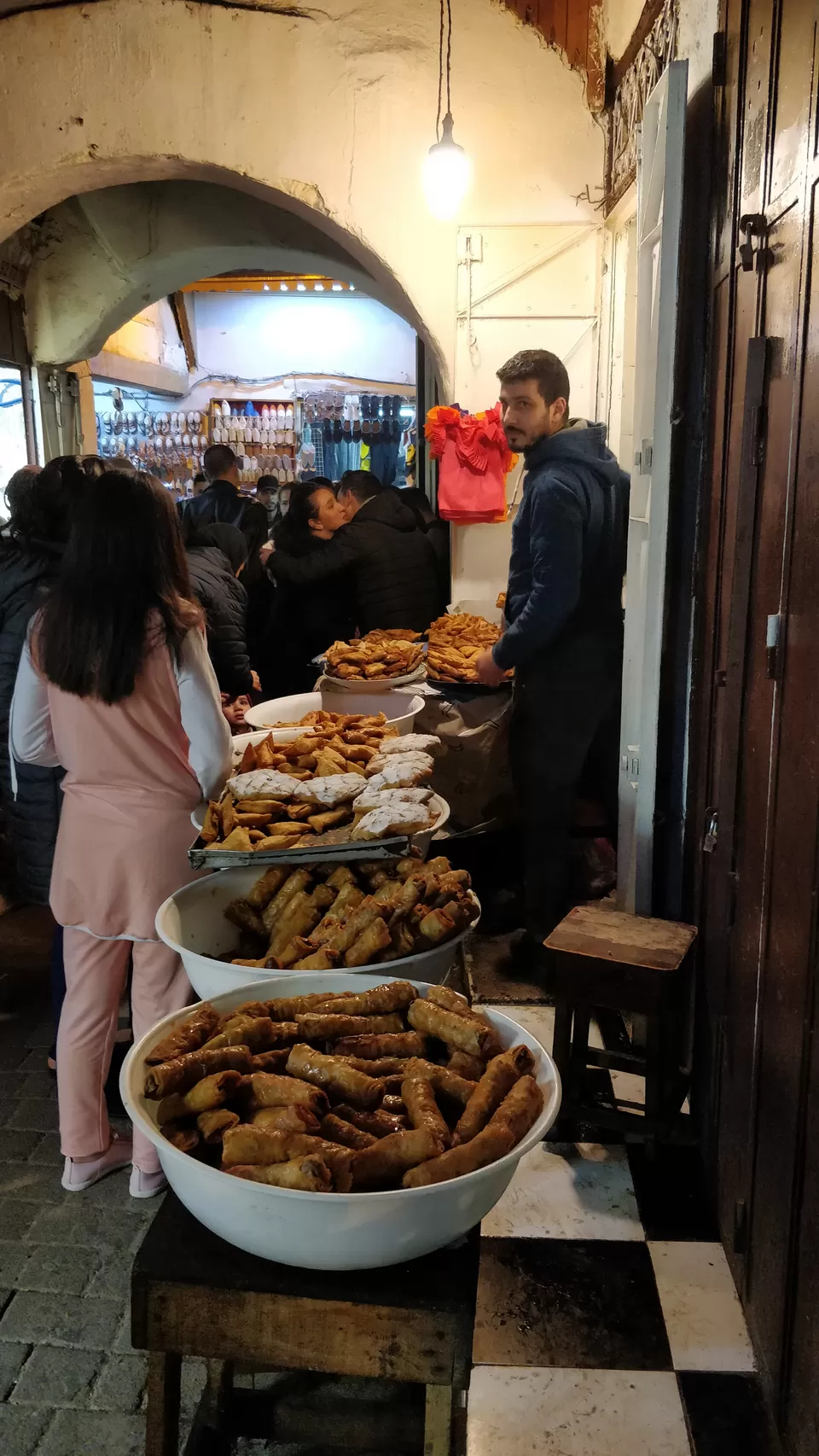 We then found our way to the central market, tasted some local delicacies – like the snails, some snacks which looked like the Indian samosa etc. and headed back to the hostel
Day 3 (Fes to Merzouga)
This was to be the longest drive of the trip – over 450 kms. Merzouga is a little town in the south eastern part of Morocco, around 30 kms from the Algerian border. The town is famous for being the gateway to the largest desert in the world – Sahara.
We stopped at a very beautiful cafe for lunch. This place overlooked the Ziz river valley. For 75 dirhams, we had a sumptuous meal.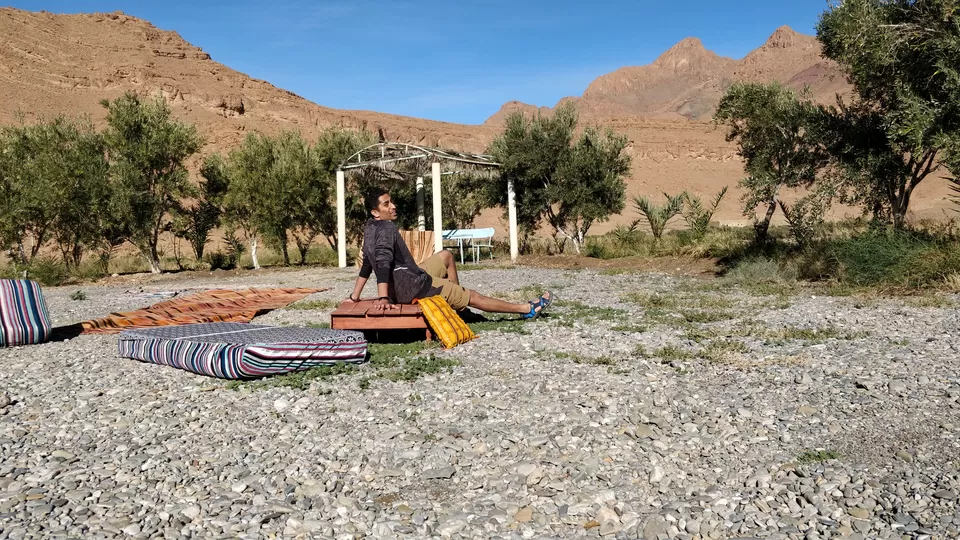 The hostel we chose was Hostel Hassan (or as it called as "Le gout Du Sahara" on Hostelworld). The caretaker, Hassan is one of the warmest person I have met so far. We quickly made friends with other travellers in the hostel and decided to go on top of the Erg Chebbi sand dunes to catch the sunrise the following day.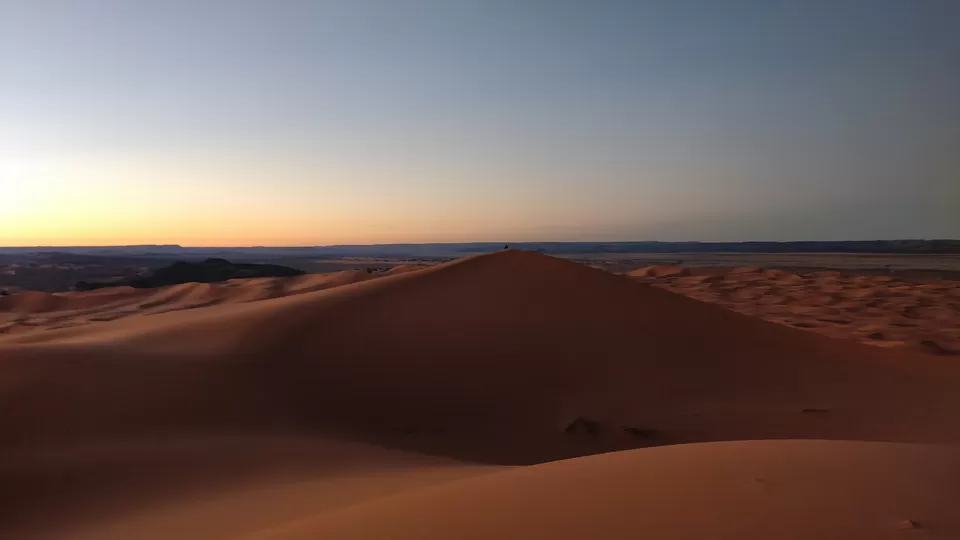 Day 4 (Merzouga)
I consider this as my first legit desert experience. The sand dunes are around 1.5 kms from the town centre. We knew the sun rises at around 7 45 am. So we started walking towards the dunes at around 6 30 am. The highest dune is at a height of around 200 metres. Depending on how fit you are it will take you anywhere between 20 to 45 minutes to hike. Once on top, one can see the vast expanse of desert land and sand dunes. The sand is surprisingly soft as if it were velvet. Sunrise immediately turns the sand golden in colour and it is one of the best sights I have seen so far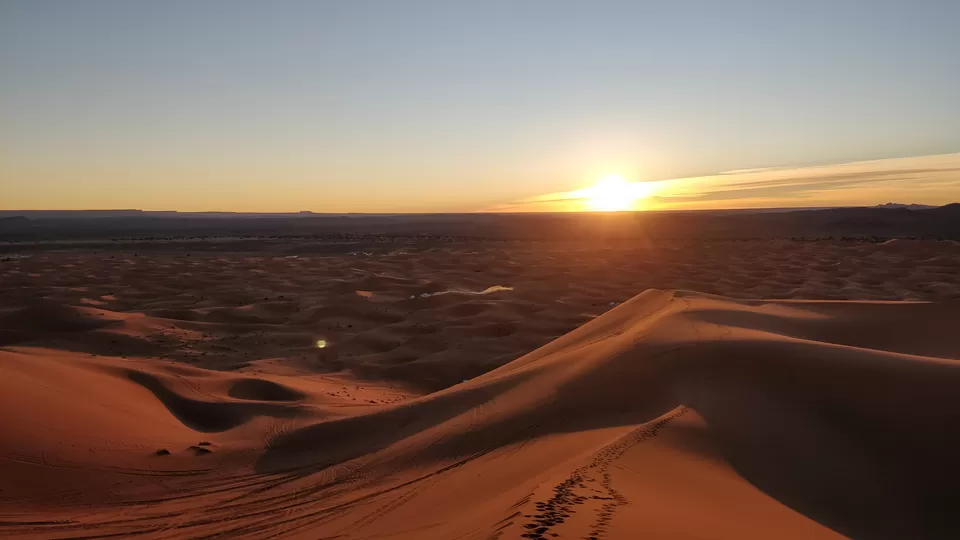 One can also try their hand (or leg) at sand boarding. You can easily rent a sand board for 50 Dirhams a day and head to the dunes for some adrenalin rush. I boarded down all the way from top of the highest dunes. Quite an experience.
There is a huge lake 4 kms from Merzouga. This is also a place of interest for visitors. Also, fossils searching is an activity which people do in this area.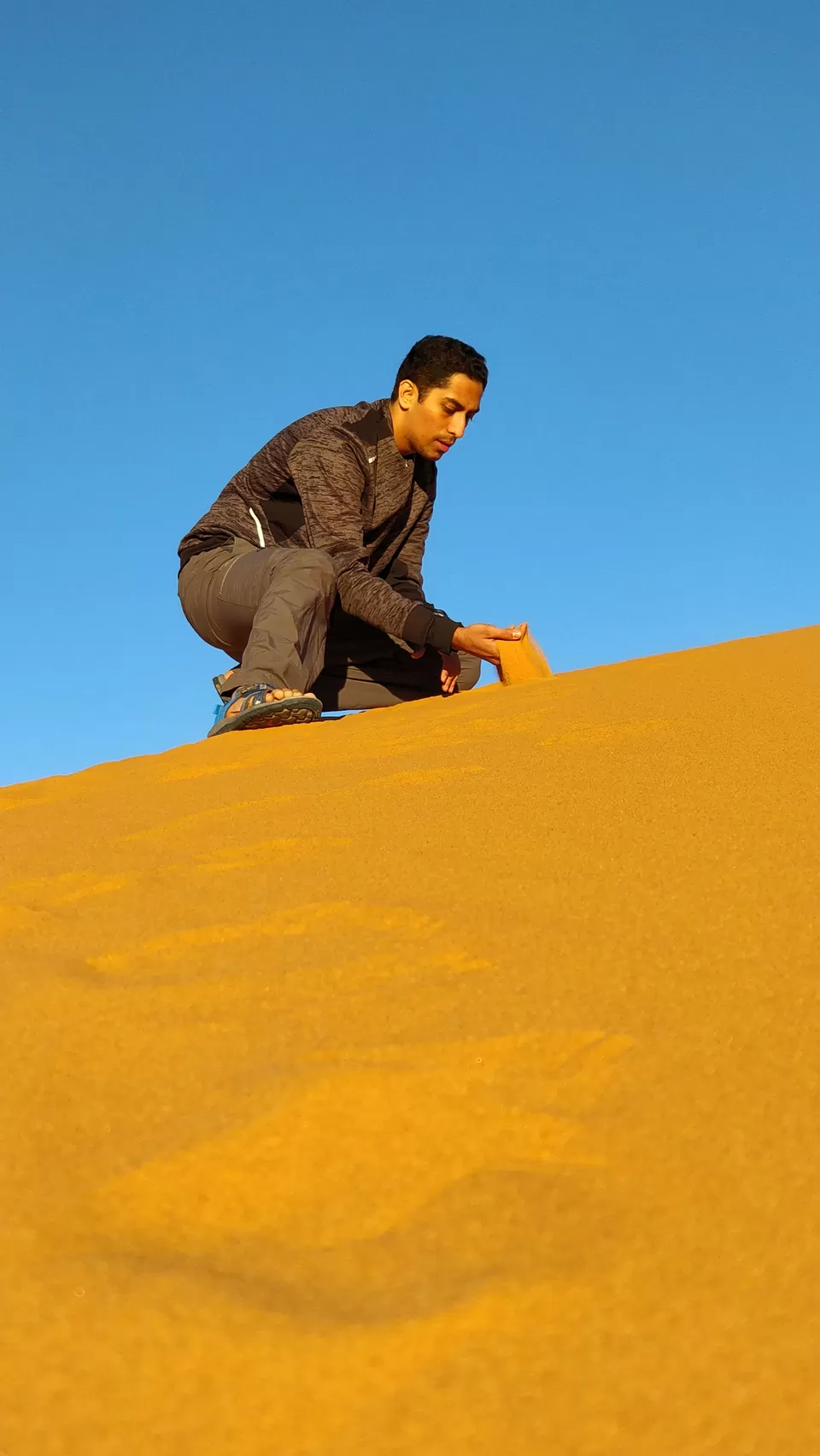 Day 5 (Merzouga to Ait Benhaddou)
The following day I went back to get a glimpse of sunrise from the sand dunes. And then started driving towards a place called Ait Benhaddou around 400 kms away. My travel mates were two lovely people from France. En route one can also stop at the famous Todra Gorge.
Ait Benhaddou is famous as the Yunkai region from Game of Thrones. The Kasbah here is built over a hill and one can get stunning visuals of the same from a nearby hill. The mud houses of the Kasbah provide a very rustic feel to the whole experience. You can choose to stay on either side of the river – either inside the Kasbah or on the other side which has many hostels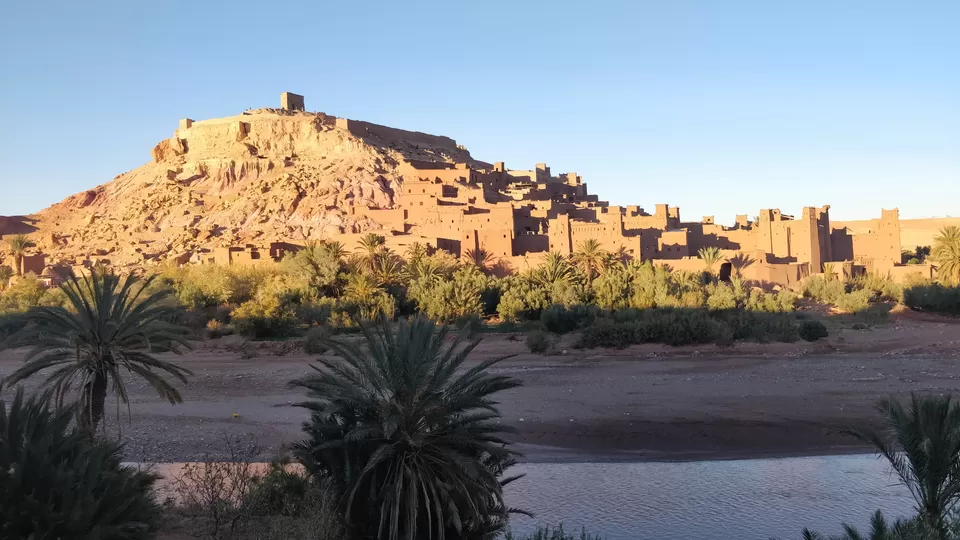 Day 6 (Ait Benhaddou to Marrakech)
I spent some more time exploring the Kasbah in the morning and headed towards Marrakech with my two French travel mates. This drive was supposed to be the most difficult one as it cuts across the High Atlas range. But listening to each other's playlists on the way made the whole experience easy and we reached the fascinating city of Marrakech by 5 pm. We headed straight to our hostel called Riad Dia, inside the medina.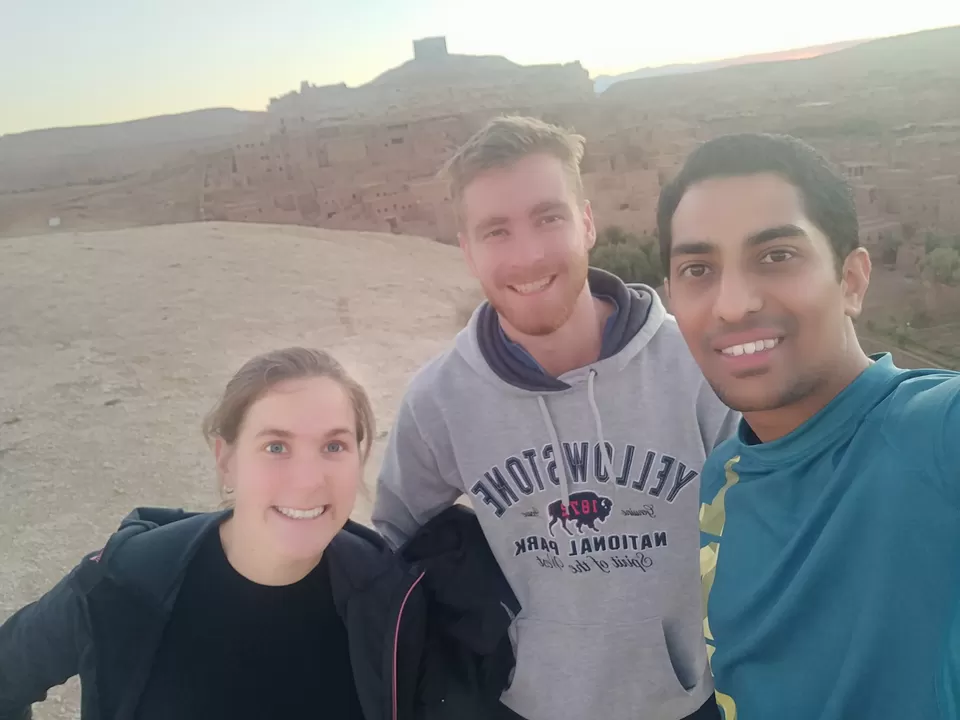 The main attractions in Marrakech are the Central Market (Souk), Majorelle Gardens and the Koutubia Square. The Central Market is a huge area bustling with activity – you will find groups of people dancing, singing, making music, charming snakes, performing acrobatics, inviting you into their restaurants and selling various things. One can also take a walk across the numerous gardens which the city has to offer. You will find that this place is a lot more spacious than Fes.
Day 7 (Marrakech to Imlil)
After bidding farewell to my travel mates, I headed towards Imlil, a tiny little town which serves as the base village for the hike to Mount Toubkal. Mount Toubkal is the highest mountain of northern Africa at a height of 4,167 metres and is usually covered in ice throughout the year. I reached Imlil by 12 noon, rented the crampons, torch and gaiters, and started hiking to Refuge du Toubkal by 1 pm.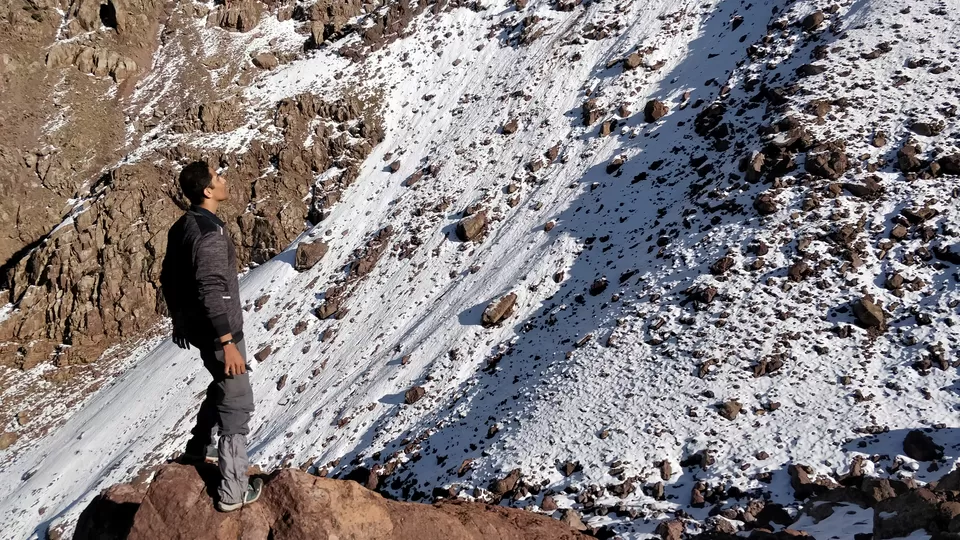 The Refuges are at an altitude of 3200 metres. People usually reach this place on day 1 and go to the summit early morning on day 2. It is recommended that you make your reservation at the Refuges before-hand. I didn't have to because this was the non-touristy season. It costs 200 Dirhams for the night. En route to the Refuges, I bumped into a couple of travellers from Czech Republic and we decided to trek together. We reached the Refuges by 6 30 pm, had dinner and crashed for the day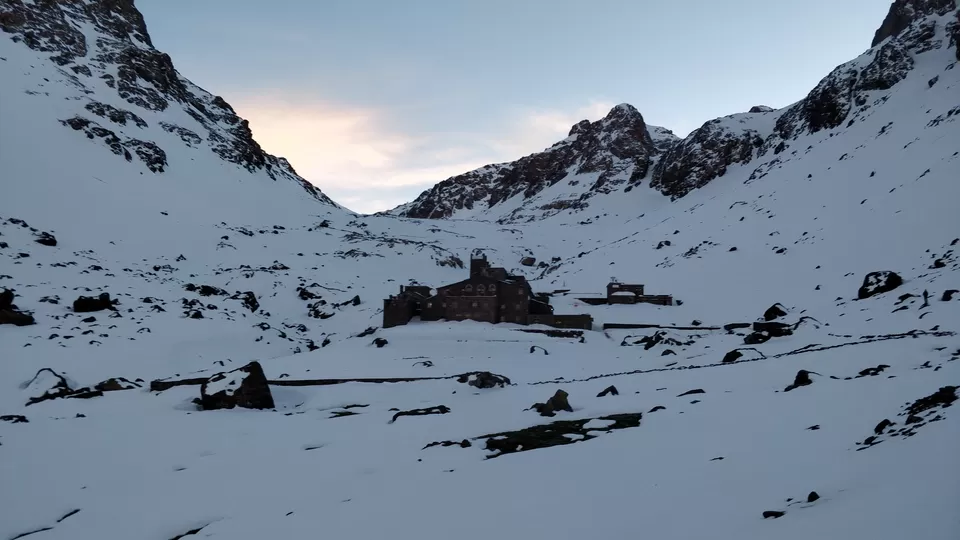 Day 8 (Mount Toubkal)
We woke up at around 5 am, had breakfast by 5 30 and started walking up the mountain towards the summit. The entire route is on ice and it is difficult without the crampons. We reached the summit by 9 am and it was a magical feeling being on top of the highest mountain of the Atlas Mountain Range. On a clear day, one can see as far as till the desert on the east.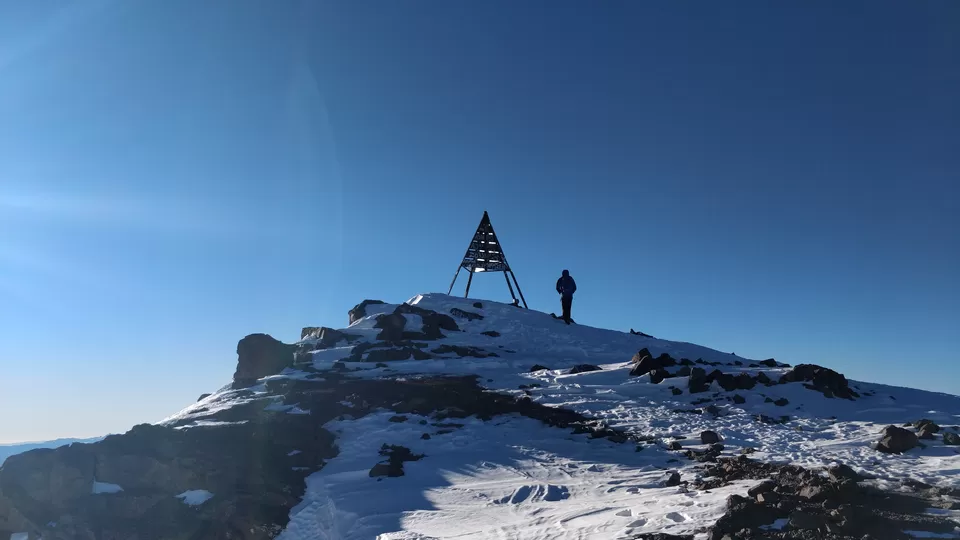 It was then an hour long walk back to the Refuge and a 4 hour long walk back to Imlil. We reached Imlil by 4 pm and headed to the beautiful windy city of Essaouira
Day 9 (Essaouira)
The first board we saw in our hostel (Atlantic Hostel) read "Welcome to Essaouira – the windiest city in Afrika". True, surfing and Kite surfing is huge in the pretty port town. Essaouira has a very nice vibe. One can take a walk through the streets scouting for souvenirs, chill out in the many cafes of the town or simply head down for a dip in the Atlantic Ocean. Perfect place to chill
However, the most famous attraction here is the port area (Harbour Scala) which has a huge fish market and the bay of Blue Boats (an Instagram friendly destination).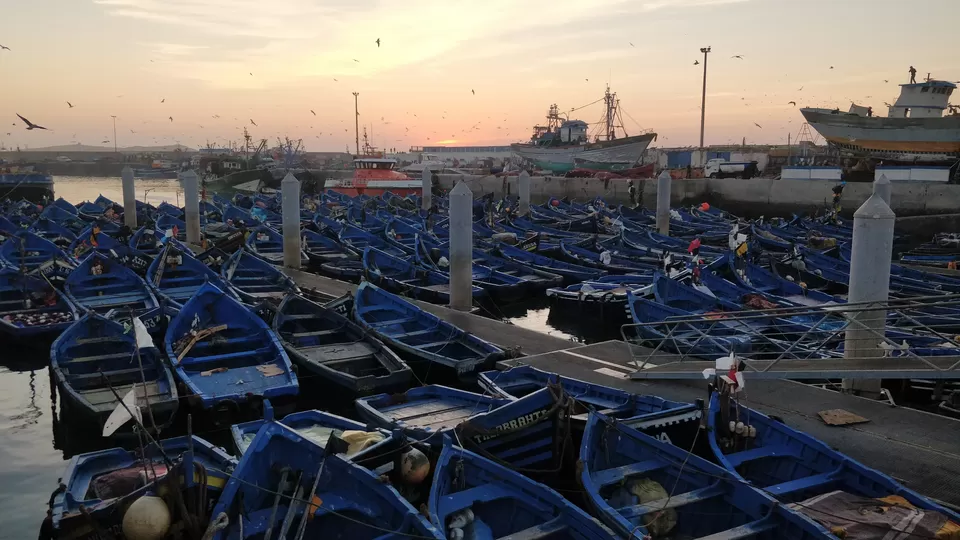 The hostel I stayed in was also the place where I met an Indian person for the first time in my entire trip. This one keeps travelling from one place to another and does what she likes, like a free bird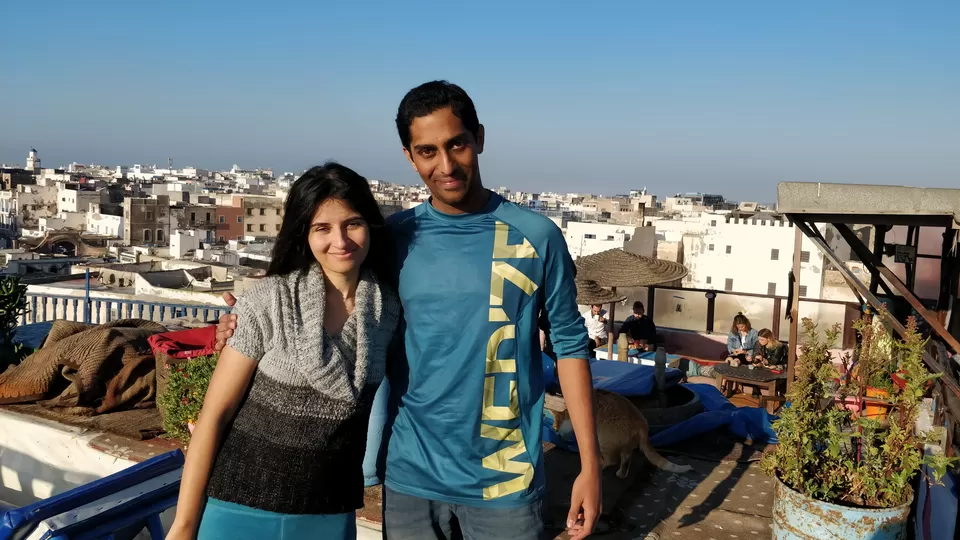 Day 10 (Essaouira to Casablanca)
I started driving to Casablanca post breakfast in my hostel. En route to Casa, I stopped in a lovely town called El Jadida. This town has a Portuguese city and a wonderful water-font. One can spend 2-3 hours exploring this city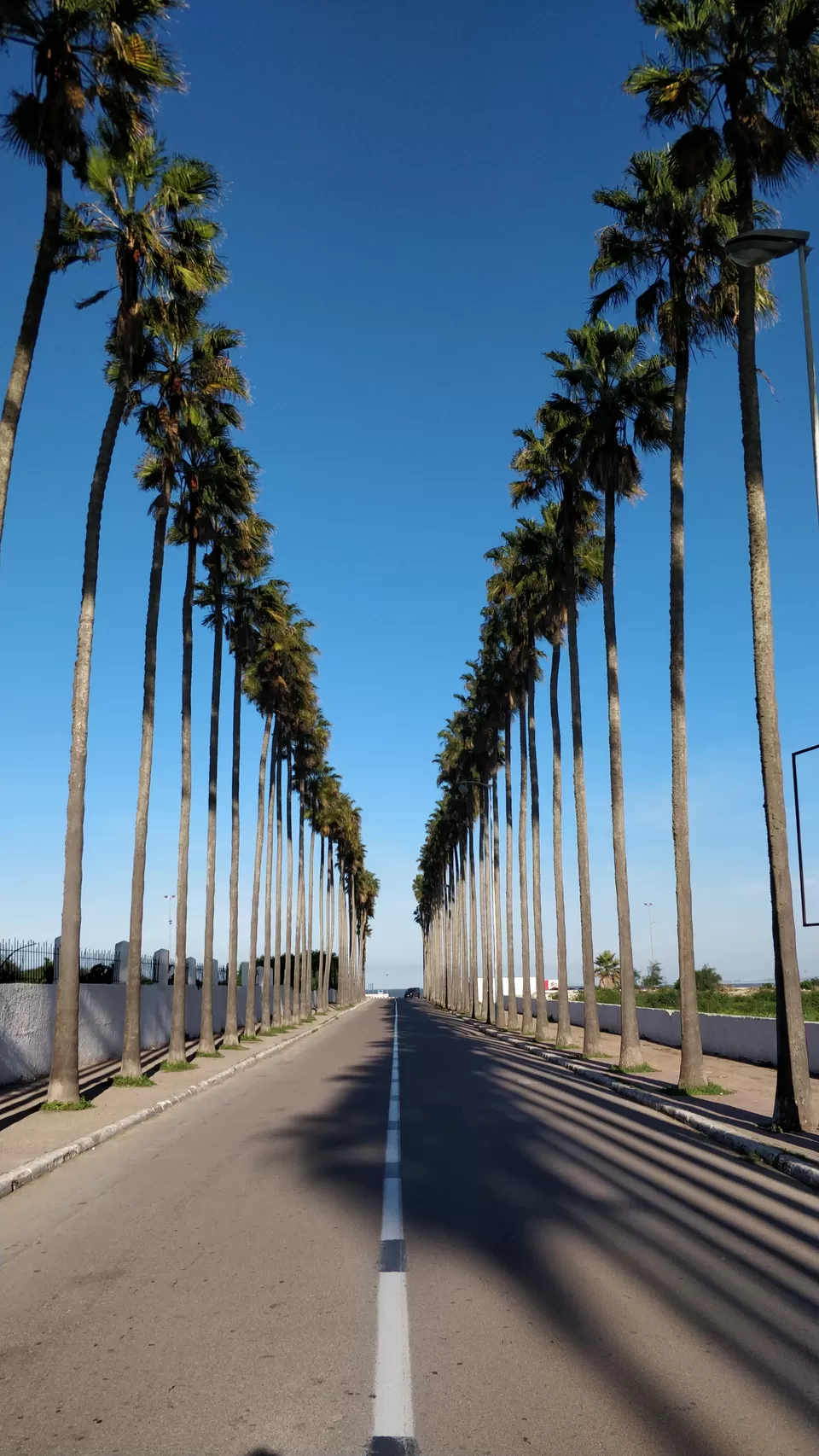 I reached Casablanca by 7 30 pm and checked into just the right place which I needed for the last leg of my trip. L'Hostel a Casablanca is a hostel run by Yves, a friendly person from France and is in a good residential part of the town. Well connected by the tramway, the house was as lovely as it gets.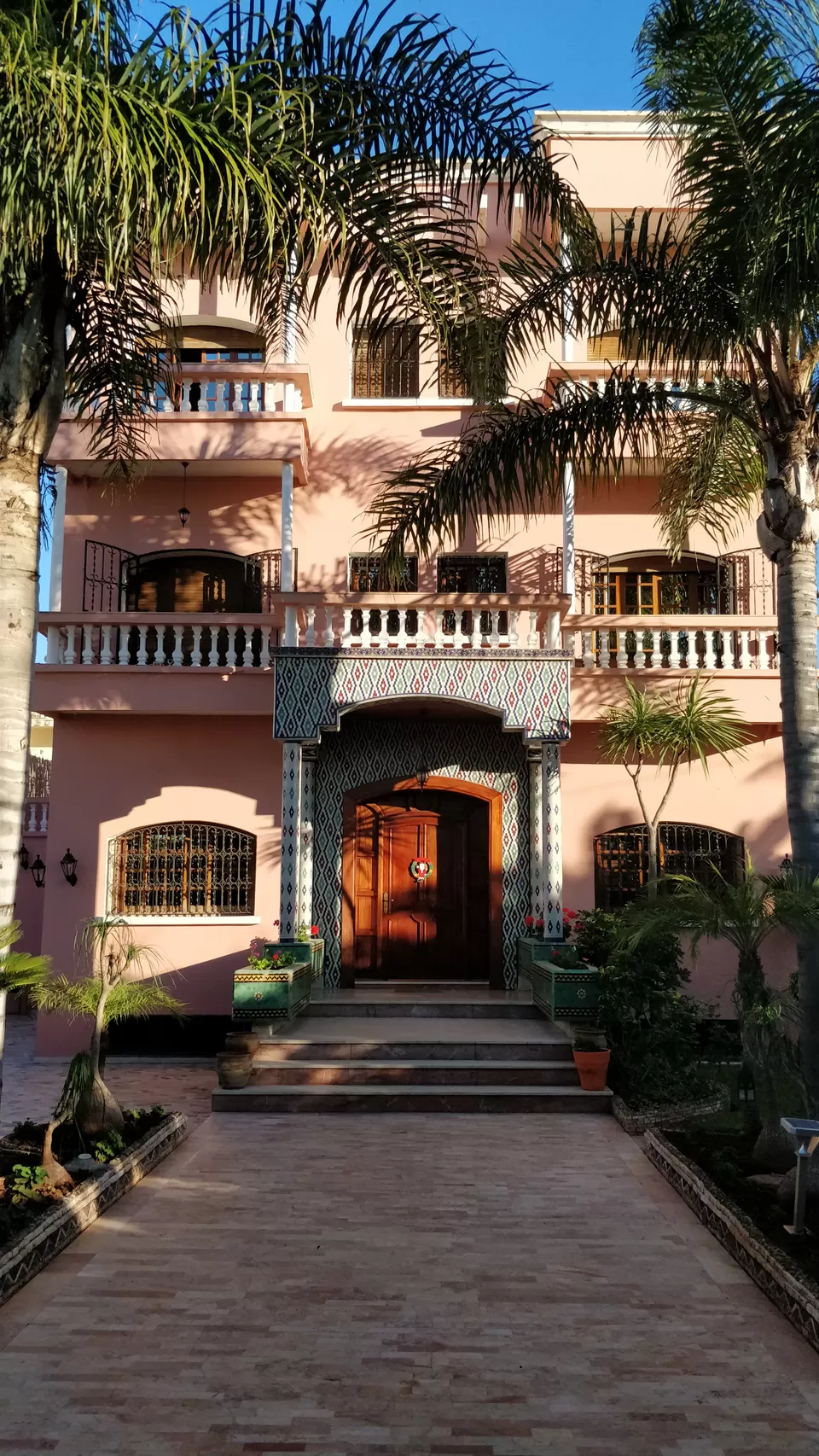 Day 11 (Rabat)
Somebody recommended that I head to Rabat for a day. And as Casablanca is anyways not very touristy, I went to Rabat for a day trip. Frequent trains run between these cities (journey takes an hour). The capital city is very fascinating. It has the famous Hassan Tower, Mausoleum of Mohammed V and the Kasbah of the Udayas. This Kasbah is one of the nicest I have seen in Morocco.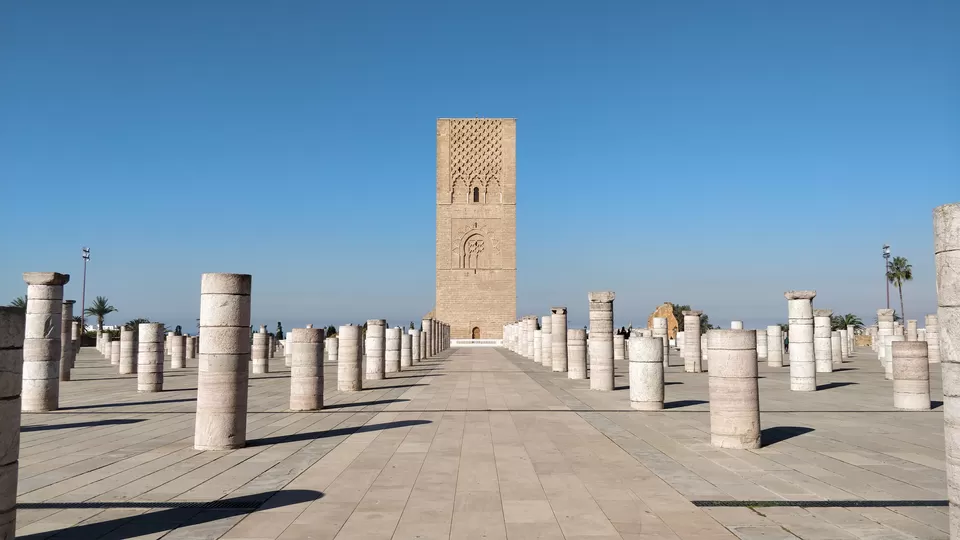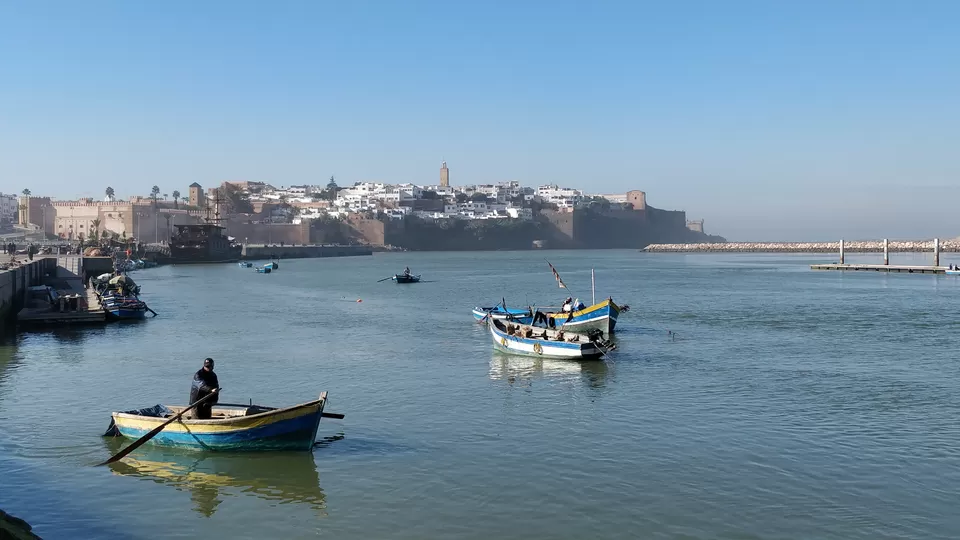 I headed back to Casablanca post sunset
Day 12 (Casablanca)
The most famous place in Casablanca is Hassan II Mosque. Situated by the sea, the imposing minaret is visible from quite a distance. I spent some time admiring the fine architecture of the mosque and headed to Plage Ain Diab – a famous beach. On the way you cross an area where the graffiti on the buildings in quite interesting. This was also my last day in Morocco. I took a train to the airport from L'Oasis, a station close to my hostel (43 Dirhams to the airport)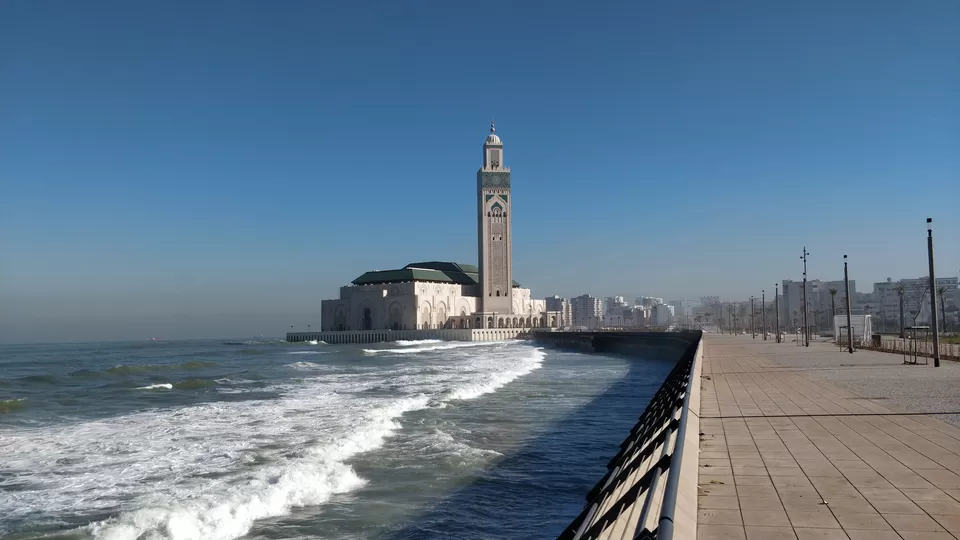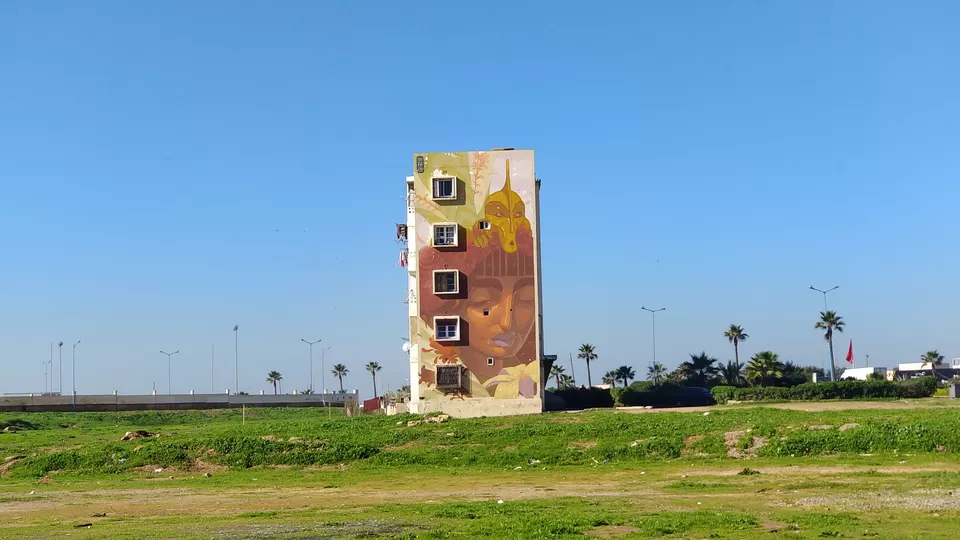 If you are not used to backpacking already, I might not suggest Morocco as your first country for the same taking into consideration the public transport beyond big cities and other infrastructure. Also, as an Indian, the baazaars, crowded roads in big cities are not something which might really wow you. But yes, if rustic charm, beautiful architecture, myriad landscapes are what you are seeking, Morocco is one of the best places to head to.
Pro Tips
a) Knowledge of French will help a lot as it is a widely spoken language (after Arabic); but people in tourist places definitely understand a bit of English – so it shouldn't be a problem
b) Good time to visit the country is beginning of winter or beginning of summer (either October to December or March to May respectively)
c) Must visit places: Merzouga (Sahara Desert), Imlil (Mount Toubkal Hike), Essaouira (great beach and vibe), Chefchaouen (beautiful hill station with blue buildings), Rabat (capital city which has a stunning Kasbah) and Marrakech
d) Optional places: Fes (oldest city in the country), Casablanca (not very touristy), Tangier (port city in the Mediterranean), Ait Benhaddou (shooting location of Game of Thrones)
e) Driving is on the other side of the road as compared to India/New Zealand/South Africa – they drive on the right side of the road
f) There are speed traps at multiple places – be careful especially near the 60 kmph boards as I got a speeding ticket 2 hours into taking my car
g) While entering big cities, watch out for a sign which reads "Halte Police" – you are expected to stop for a couple of seconds, wait for the police guy to give a signal and then drive ahead
h) I took the Maroc Telecom sim card (10 GB data, with 1.5 hours of local calling for around 199 Dirhams at the airport); Network is usually good except inside the Medinas or the desert – make sure you have downloaded offline maps of all places you are planning to visit
i) There is a good train and bus network between the big cities like Casablanca, Rabat, El Jadida, Tangier, Marrakech; beyond the major cities, the way to commute is by taking public taxis or buses which are often not convenient (from what I have heard – I never took that)
j) In big cities like Marrakech and Fes, unfortunately the locals tend to make money off tourists/travellers in unpleasant ways – beware of having dinner in the Central Souk (market) of Marrakech where the restaurant person would insist on giving little portions of several food items and charge you the full portion amount of everything you have had (3 of us ended up paying 500 Dirhams for very little food); and in Fes where it is easy to get lost in the Medina, little kids will ask you for your destination, show you the way and demand money in exchange
k) On the other hand, people in smaller towns like Merzouga, Imlil, Chefchaouen are extremely friendly, helpful and warm
l) Hostels are a good and economical way to travel and meet new people – I ended up travelling with different people I met in various hostels throughout my trip
m) Food options for aplenty for vegetarians – there are veg versions of the most famous food items – the Tagine and Couscous
n) Morocco has the daylight savings time during winters – make sure you adjust your clocks accordingly in order to avoid last minute shocks
Safe travels! Insha Allah!
(*Do let me know if you have any specific queries; will be glad to help)