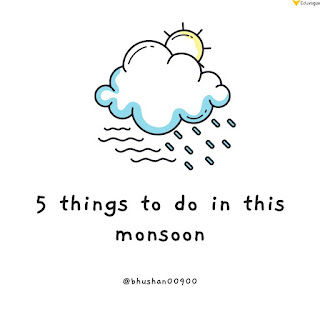 Rain is grace; rain is the sky descending to the earth; without rain, there would be no life.
Its monsoon season in India!! After Great War of human being against Deadly virus, finally we can do all the stuff's we have planned without any hesitation or fear of virus.
Here are some of the top 5 places to visit in India during this monsoon;
Top 5 places to visit in India during monsoon.
It's paradise for people who love nature one can find variety of flora and funa. There are many things you can do when you visit this place like trekking, Coorg, Karnataka Bird watching, coffee plantation tour , waterfall adventures and horse ride
Surrounded by greenery and beauty of Sahyadri range, which is part of western ghat it becomes one of the most famous tourist destination. You can notice many waterfall during your voyage and there are many things to do like boating, horse riding, Mahabaleshwar, Maharashtra : touring local strawberry market and many more.
Here are some of the top 5 places out of India you must visit in monsoon;
Top 5 country to visit when it rains in India world
Japan is superbly beautiful during the month of June with cherry blossoms all around and with the temperature of 30 degree Celsius it rains in japan which make it prefect destination for people to visit hot springs and you can do trekking, cycling, hiking and many more activities.
In the month of June when it's raining in India on other hand New Zealand gets snowfall with temperature 1 to 15 degree Celsius, you can do activities like New Zealand Skiing, cycling, long walk , go on hikes or take dip in naturally heated pools.
It is a country which u must visit during June when temperature is pleasant 15 to 20 degree Celsius, one can explore diverse culture of country and visit world heritage site Machu Picchu and visit breathtakingly view of scare valley and Peruvian amazon.
Mostly associated with its food and architecture, during Italy has temperature 20-25 degree Celsius. One can explore beautiful landscape, food and islands the country is filed with design, fashion and home of well know racing car brands.
Country has 3 sides filled with sea it is culturally diverse nation, one can explore Lake Van, take a hot air balloon ride over famous landscape and enjoy the view and take a sip of world famous Turkish coffee.
Now that you got idea to add some places on you bucket list now it's time to know what you must carry or what is essential whiling visiting places in monsoon season.
Here are some of the topmost 5 essential things to carry this monsoon;
Top 5 things to carry while visiting places in monsoon.
Basic First Aid Kit : Monsoon is full of beautiful rain, nature, climate, landscape and many more things but route gets really wet and slippery which can injured you while exploring places or you might have cold, so that time basic first aid comes handy.
Waterproof Boots As discus in earlier point routes get slippery so to avoid that get yourself good pair of waterproof boots which will protect your feet from getting wet and keep the warmth.
Waterproof Plastic Ziplock As we seen in education blog that how world is getting digital and depended on it. So you need to protect your devices in monsoon from rain to sludge to be connected all the time and navigate yourself out of any trouble.
Waterproof Bag : If we r protecting ourselves as well as our devices why not to keep our belonging dry and protected from rain as they are also important things.
Insect Repellent : During monsoon Flora and Fauna blooms so there are good chance you may encounter bugs so repellent is must to carry so that you will be safe from unwanted friends.
Now we have place to visit and things to carry but what if, your home is also beautiful as any other destination. Why not to enjoy rain from home or places near home.
Here are 5 things you can do to enhance your home stay in monsoon.
Top 5 things to do in home during monsoon.
Host Tea/Coffee part: monsoon is wet and cold, so hot drinks are perfect to calibrate temperature and mood. While cold breeze cools you from outside hot drinks warm you from inside so host tea or coffee party or just take a cup of it and vibe with yourself.
music and rain goes hand in hand play some of your collection and connect yourself your memories with the rainfall and lived all the memories again.
Indoor treasure games: Yes you heard right there is no need to go out and play treasure hunt you can enjoy it indoor with your loved ones by remapping house interior with natural cinematic sound of rain
Try cooking: every drop of water gives rise to new talent in you so why not create something to stop carving try new dishes and enjoy it watching rain.
Hibernation: Haha! don't take it word to word what I meant is take a good nap, let that bear personality in you get its stage to show talent. According to survey people tend to sleep more clammily in nature because sound of rainfall act as therapy. So enjoy it after all it rains once a year.
There is more you can do in monsoon to know it stay tuned I will write about it in part 2