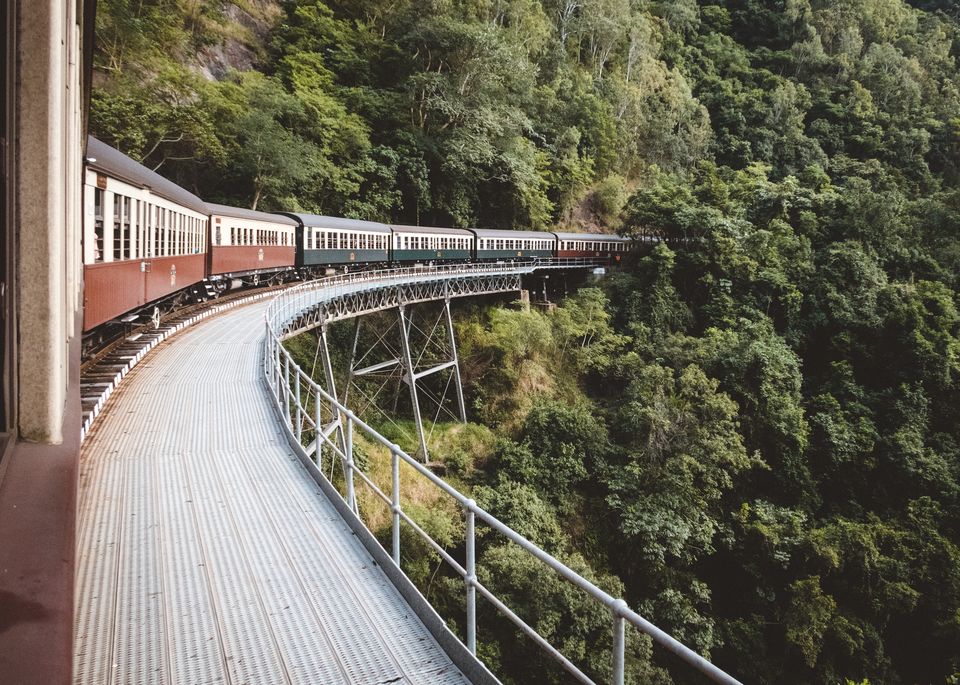 Air travel is boring and tiring unless you are flying for the first time, or really are in a hurry. After all, who likes to endure the hassle of completing numerous airport formalities, sitting the entire journey with nothing exciting to look out of the window! So, we turn to rail travels, for they are known to have a rustic charm of their own ever since our ancestors completed their first ever train journey in the early 1800s.
Taking in the sights of spectacular landscapes and modern marvels from behind the window of a train cabin, while chugging from one place to the other; doesn't it already seem like a script of that once-in-a-lifetime train journey every traveller with a pen, a diary, and love for slow travels has on their bucketlist?
Well, if that triggers the desire to experience it yourself, check our list of best rail journeys in the world before you finally book a ticket and embark on your dream journey.
1.) Trans-Siberian Rail Journey
Six days on a train doesn't feel like eternity when you've got a desire to travel, comfortable cabin, friendly co-passengers from different parts of the world, hearty meals, and the views of constantly changing landscapes that turns your window into a mini theatre screen.
Passing through 7 time zones, the Golden Eagle Trans-Siberian Express connects Moscow in the western part of Russia with Vladivostok in the far east and is the longest train journey in the world without changing trains. During the course of the journey, you get to witness the vastly mysterious and spectacular geography of Russia which changes from Ural Mountains to Baikal Lake. Top choice for anyone looking for once-in-a-lifetime train journey.
Tip: If you have a penchant for really, really long train journeys, you can follow this rail route: London - Paris - Moscow - Vladivostok. That's well over 10,700km!
Total distance: approx. 9,288km
Best time to travel: September to November
Journey duration: 6 days
Country: Russia
Base fare: approx. €300 or ₹25,530. You may check out the official website of Russian Railways for more details.
2.) Journey in Shinkansens - the Japanese bullet trains
Not all train journeys are slow. Some can be as fast as a jumbo jet. To feel the thrill of zipping past the cities and mountains at over 400km/hour, you have to travel in the Shinkansen trains, also known as Bullet Train, at least once in a lifetime. With an average delay of around 30 seconds, be assured that you won't be made to wait.
Once you board the train from a spick and span platform and settle down, it won't be long before you find yourself cruising past Mount Fuji, watching the cities go by like you are travelling on a plane. Definitely a journey of a lifetime for most of those who love trains.
Famous routes: There are multiple routes on which Shinkansen trains operate, but the most popular amongst tourists are Tokyo to Osaka and Tokyo to Nagano.
Best time to travel: March to May and September to November
Duration: approx. 2.5 hours
Country: Japan
Base fare: approx. ¥14,000 or ₹9,181. For detailed information, check out this link.
3.) Indian Pacific Rail journey
With almost all of Australian cities located close to the coast, outbacks have largely remained unseen and out of reach for most travellers. So, what if you want to journey right through the mysterious outbacks of Australia? There are really vast stretches of uninhabited land and you are as good as dead if your car breaks down in the middle of nowhere. Here's what you can do.
Come aboard the Indian Pacific, which operates between Sydney and Perth, and get set for a 3-day rail adventure Down Under that reveals to you the unseen side of Australia. During the epic train journey from the Indian Ocean to the Pacific, or vice versa, witness the Blue Mountains change seamlessly into vast lifeless stretches of Nullabor, spectacular sunsets painting the sky in gold and yellow, and the colourful blooms in the west.
Tip: Do take time to enjoy whistle-top tours of Broken Hill, Adelaide, and Kalgoorlie.
Total distance: approx. 4,352km
Best time to travel: September to mid-December
Journey duration: approx. 3 days
Country: Australia
Base fare: approx. AUD2,600 - 2,800 or ₹1,36,664 - ₹1,47,176. For detailed information, click on this link.
4.) Blue Train Journey in Africa
When it comes to leisure travel, South Africa won't disappoint, even if you are eyeing an epic train journey. True to its pleasant colour, the Blue Train runs between Cape Town and Pretoria–two of the most vibrant tourist destinations of the Rainbow Nation.
With lavish cabins, round-the-clock service, and a wide range of global drinks and cuisines, a journey on this train might be an exorbitant deal, but we are talking about an experience of lifetime! Apart from the lavishness inside the car, the scenes outside are equally alluring as you go past the famous Table Mountain, vast vineyards, wildlife parks, and more.
Total distance: approx. 1,600km
Best time to travel: September to November
Journey duration: approx. 31 hours
Country: South Africa
Base fare: approx. ₹104,366. For more information, click on this link.
5.) Himsagar Express in India
India is a land of vibrant cultural heritage and vivid landscapes, each complementing the other in multiple ways, quite expressively. And if you want to take a sneak peak at the real India, you've got to travel by trains. The longest rail route in India might be the one traversed by Vivek Express (Dibrugarh in Assam to Kanyakumri in Tamil Nadu), but here, we are going to talk about Himsagar Express.
Operating between Katra in the north and Kanyakumari in the south, Himasagar Express passes through 12 states [and Union Territories] and is the second-longest rail route in India. It's your best chance to see how dramatically India changes with every passing town. Definitely an experience to cherish forever.
Total distance: approx. 3,715km
Best time to travel: October to December
Journey duration: approx. 72 hours
Country: India
Base fare: approx. ₹1,000 for Sleeper Coach and ₹2,610 for AC 3-tier. Find more information by clicking on this link.
6.) The Canadian rail journey
Do you fancy a cosy rail journey through snow and pine forests which allows you to gaze at scenic lakes, snowy mountains, and beautiful citylights out of the window while you enjoy a mug of hot chocolate? If yes, The Canadian by VIA Rail is what you need to hop on to.
Unarguably the best way to witness the beauty of the world's second largest country, The Canadian takes you for a journey between Toronto and Vancouver, which they call 'trip of a lifetime'. With the sights of snow-capped Canadian Rockies, expansive prairie fields, serene and secluded lakes, and picture-perfect cities; the train window is no more a usual train window. Extreme hospitality on board just makes sure you keep wishing that this journey never ends.
Total distance: approx. 4,466km
Best time to travel: September to December
Journey duration: approx. 4 days
Country: Canada
Base fare: Starting fare for a seat in Economy Class is approx. $431 (₹24,473) and goes up to $4,156 (₹2,35,994) in the Prestige Class. For more information, click on this link.
That was our list of best train journeys in the world. Let us know in the comments if you have some of yours too. Share your own best travel journeys with us here. Click on this link to watch exciting travel videos.