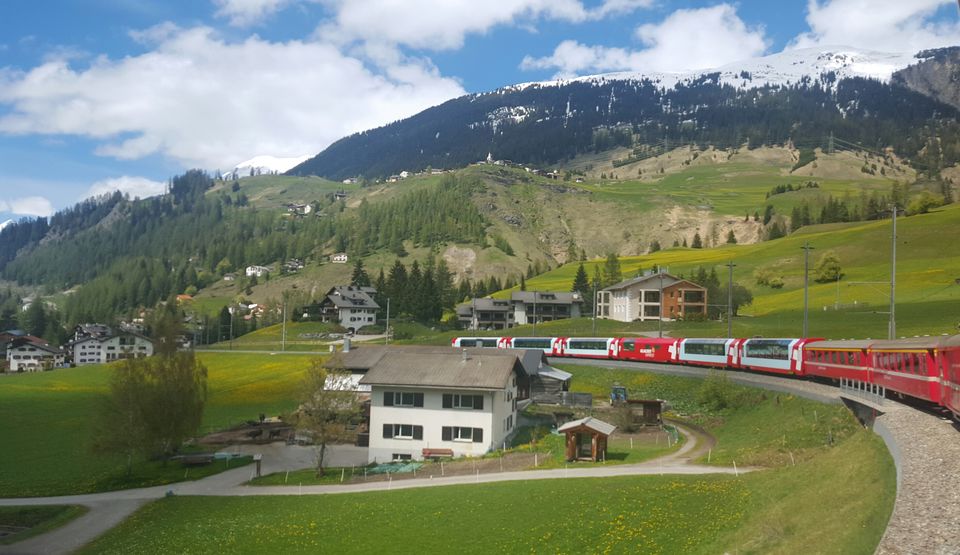 The best way to treat yourself generously to the country of Alps is by train (and their mountain transport) because Switzerland is all about spectacular journeys and not only a means to travel from point a to point b. And therefore it would be unjust to not talk about Switzerland's integrated and high quality public transportation system after having spent a fortnight there. We travelled the local way because there was no better way to do it. We hopped from one train to another like the higher proportion of Swiss population, who rely on the dense railway network for shorter and longer distances. Armed with Swiss Pass, we only had to run and catch the next train; without having to wait in queue to buy point to point tickets and struggle to add up the cents and francs.
Like every other tourist we opted for the scenic rail routes. On our list were the internationally popular Glacier Express (travels between Zermatt and St Moritz), Golden Pass Route (between Lucerne and Montreux), Jungfraubahn that takes you to areas in the Jungfrau region, Gornergratbahn (takes you to the magnificent Matterhorn).
Our first scenic train journey started from Lucerne on the Golden Pass Route and ended in Interlaken in the region of Bernese Oberland. Gently did Switzerland unveil its beauty upon us. Snow-topped mountains made occasional appearances while earthy chalets, misty waterfalls and green pastures reigned over the region of Central Switzerland. You know you're reaching Interlaken when you glide pass the turquois waters of Lake Breinz.
The most talked about Glacier Express
The Glacier Express is on every traveler's must do list. It's a slowest express train that takes about eight hours to reach from Zermatt to St. Moritz (or the other way round). The route is a breath taking one provided one makes the travel on a clear day. Riding the train on a cloudy day means that all that was worth seeing is hiding behind those clouds and you have only enjoyed the luxury and the comfort of the Glacier Express train. As the weather is unpredictable in Switzerland, it's best to check the weather before making the bookings. But it's important that one should book the tickets in advance during the peak season. If you don't wish to spend the money on the train (tickets cost Sfr 149 for 2nd class plus Sfr 33 for reservation, Swiss Pass holders don't need to pay for the ticket but the reservation charges), you can take the same route and travel on their local trains. There is no direct train from St. Moritz to Zermatt, therefore you would have to make several changes.
Read my experience of The Glacier Express here.
You can book your tickets online from their official website or you can also buy the tickets from the railway station.
First Hand Account of Swiss Pass
With Swiss Pass (Swiss Travel Pass), one can travel unlimited within the country of Switzerland on almost every train, bus, boat and there is 50% discount on mountain transportation (cable car, cogwheel, funicular, gondola). The pass also entitles the holder free entry to some 400 museums and free travel on most panoramic routes. For example, the Swiss Travel Pass holder travels for free in the Glacier Express, one of the most popular train journeys in Switzerland (the route between Zermatt and St Moritz). Though reservation charges of Sfr 33 apply.
Swiss Pass is available for 3, 4, 8 and 15 days. We bought our 15 days pass online from raileurope.co.in and paid in INR. The passes were delivered to us by mail and we got print outs of it. The ticket checker scans the barcode that is printed on the paper and sometimes asks for the passports. Be sure to carry multiple copies of the pass.
In some cases, you might be required to make the reservation. Reservation can be free or paid. When we travelled from St. Moritz to Lugano, we had to make two changes. First we had to take the train, then bus and again train. Our bus ride was free with Swiss Pass but it was mandatory to make the reservation. In this case the reservation was free.
Apart from Swiss Pass, many other passes are available to suit the requirements of the traveller like Swiss Flexi Pass (unlimited travel for certain days during one month), Swiss Half Fare Card (the holder pays half the fare in trains and there is some discount on local bus, trams and mountain transport), Regional Passes (valid only in that particular region, they are available from the train station in that region), Junior Travelcard (children aged between 6 and 16 years travel for free and is valid for one year).
The passes are available online and at train stations in Switzerland.
When selecting the pass, you would be required to select the class. Second class coaches are more crowded than the first class. But you'd find many fellow travellers and locals to start a conversation with (we found first class coaches to be awkwardly silent and boring).
Before starting out on any journey on train, we would unfailingly check the timetable the day before. Their ever so accurate online timetable helped us plan our journeys well and never once did we encounter any delay.
Useful Websites: