You may have seen pictures of Hong Kong with its uniform gleaming expanse of skyscrapers; a conglomerate of rising steel and glass structures but the real ethos of the place is realised only once you've visited the place. Hong Kong is a unique mix of old and new – eastern values meet western liberalism and merge to form a sort of avant-garde modernity as well as an old world charm.
The name Hong Kong was derived from hēung góng which translates to 'fragrant harbour' or 'incense harbour'. The name could have been created in order to explain the fragrance of freshwater or the incense which would hang heavy over the harbour owing to the multitudes of incense factories nearby.
Either way, the name has stayed true to the place owing to the different kinds of fragrances it encompasses to create one unique experience – from neighbourhoods which mirror this amalgamation of the old and new, to the abundance of nature present in the form of gardens and hiking trails as well as the food and extravagant festivals which it hosts. It is no wonder then that Hong Kong is a top destination when it comes to travelling. There are several cruises that sail from Victoria Harbour from where you can get a glimpse of the vigorous, sprawled out, glittering city.
Day 1
Explore Hong Kong's neighbourhoods like a local
See Kritika's adventures in the streets of Hong Kong
Old Town Central
Old Town Central, the heart of Hong Kong, with its sloping roads and cobblestone streets accommodates both the old and new. Old temples stand in the same row as posh rooftop bars, tailors sit in the midst of luxury brands – the neighbourhood defines almost tangibly the personality of Hong Kong.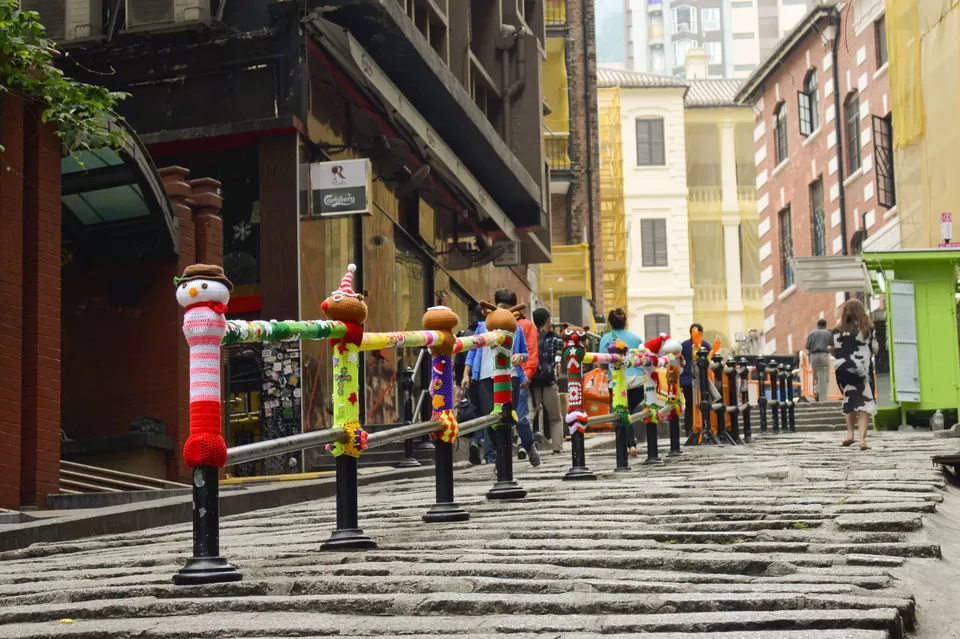 In the chaotic and colourful whirl of Old Town Central, the past and the present collide and merge in the form of crowded tea houses, fancy art galleries, small street stalls with fresh, sizzling delicacies, glitzy rooftop bars and old temples.
The best way to submerge yourself in the feel of the place is to start off on foot from Possession Point where the British flag was hoisted to mark Hong Kong as a colony under the Imperial Empire in 1841.
Turn on to Hollywood Road and you'll come across the Man Mo temple bearing witness to the change which hasn't touched Hong Kong's traditional values since the 1800s. The temple was built to pay homage to the God of Literature, who stands holding a writing brush and the God of War, who sports a sword. The temple houses other gods as well and has a serene and tranquil atmosphere scented with the giant coils of incense hanging overhead.
Hollywood Road is like nirvana for an art connoisseur. The walls are splashed with vibrantly coloured murals, street art and graffiti makes an appearance as you walk by and various posh art galleries are present for you to gape at. Be prepared to find some Bruce Lee murals peering at you as well.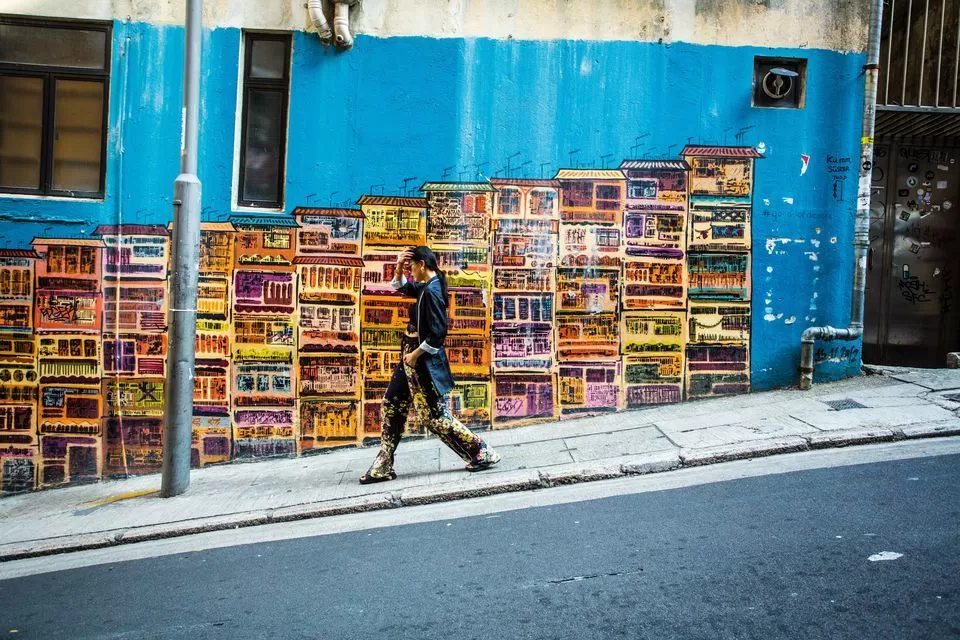 The chic intellectual would definitely enjoy the art scene here as there are poetry readings and performance art to tickle your brain at the orange and white striped Fringe Club.
Old Town Central houses a veritable wealth of antiques which you can take home for some serious eyeballing by guests. It's best that you start your treasure hunt from Upper Lascar Row where you'll lose yourself in a myriad variety of antiques, traditional Chinese Calligraphy, local art and even vintage clothing and furniture. Tai Ping Shan street has a chill vibe to it with corner cafes, bohemian tea-houses and boutiques lined up. Make sure you drop by Blue Clad Vintage which keeps vinyl records, film posters and other vintage treasures.
Take a break to cool off with leung cha (cooling tea) which treats various ailments at Kung Lee on Hollywood with a décor right out the 1950s and 60s.
Day 2
Find Cheap Thrills on the Streets
Sham Sui Po
Sham Sui Po is where you can find more pragmatic goods. Electronic goods, computer parts, mouth-watering food and equipment are available in this area fenced in by old Chinese houses and crowded lanes.
If you're hoping to pick up some cheap computer-related goodies, Golden is the place you should head to which is now eponymous as a computer hub in Hong Kong. Computers, computer systems, and video games are all available here.
Yen Chow Street has the Dragon Centre, a nine-storeyed mall with a myriad variety of jewellery, clothes and health stores. Dragon Centre's USP is that it also holds an ice-skating rink and a 90s style video game arcade on the upper floors of the building. Step in for some freestyle skating or a video game marathon.
If you're one of those who scream for ice-cream then you cannot miss out on Tian Tian Di, a Taiwanese style dessert house which serves luscious fruit flavoured ice shavings. The mango ice shavings come with juicy mango pieces for you to cool off with.
Those addicted to the Pinterest DIY section can't miss out on Yu Chau Street with rows of boutiques selling feathers, semi-precious stones, pearls, fabrics, rhinestones, beads and buttons for your next designer outfit. Fashion savants will find their haven in Cheun Sha Wan, full of stalls overflowing with clothes. Keep your eyes peeled for some bargain buys!
Sham Shui Po Street Food
All that haggling can give anyone an appetite and if exotic kinds of food are one of the things on your to-do list then Fuk Wa Street with the tantalising smell of street food will guide you in its direction.
Rice spring rolls with peanut sauce, lung so tong, a dessert made out of sugar strands twined around chopped peanuts which has a sweet, marshmallow like taste, grilled squid tentacles or curry fish balls might help you experience flavours that you might never have tasted before. For the more adventurous kind there's ngau zap (braised cow offals) and zaa dei cheung (fried pork intestine) marinated in delicious sauces.
Experience the dazzling nightlife of Hong Kong
As dusk settles comfortably over the fragrance harbour, head towards the shining entertainment and dining district south of Hollywood Road, SoHo. The place is always geared up for a good party and is choc-a-bloc full of swanky restaurants and quirky nightclubs. There are all kinds of places here – the-burn-your-credit-card kind and the reasonably-priced kind as well.
Duck in to give your eyes a treat at the eclectic and colourful Club 71 as you chug down a drink or two. If you've dressed up all classy then James Suckling Wine Central should be your next watering hole. The place is elegant and economical on the pocket with attractive by-the-glass offers. Once you've swigged your glass of Merlot, direct your pleasantly tipsy legs towards Sense 99, a friendly club where you can mingle with the locals to see how they drink and unwind.
After all that booze, the heart wants some food and 121BC on 42-44 Peel Street is perfect for some major foodgasm. The place is an Italian osteria run by an Australian which focuses on using organic produce and fresh seafood and meat paired with organic Italian wines. Make sure you sit by the window to look out at the glittering nightlife as you dig in.
Day 3
Lose yourself in Hong Kong's Great Outdoors
Hong Kong is not lacking in beauteous nature as Sai Kung known as the 'Back Garden of Hong Kong' will prove in terms of its stunning hiking trails and shorelines. It boasts of country parks, rugged peaks, rich geodiversity, pristine beaches and UNESCO Global Geopark. There are over 70 islands to explore here so it comes as no surprise that tourists and locals love revisiting the place.
UNESCO Global Geopark
UNESCO Global Geopark is blessed with some truly awe-inducing rock formations which are a result of volcanic eruptions that took place 140 million years ago. The Geopark was started to preserve these honeycomb-like basalt formations. You can opt for a half-day tour to explore the place. Marvel at the sheer size of the great rock formations. Sit on one of the columns overlooking the turquoise expanse of the ocean – dangle your legs and leave your worries behind.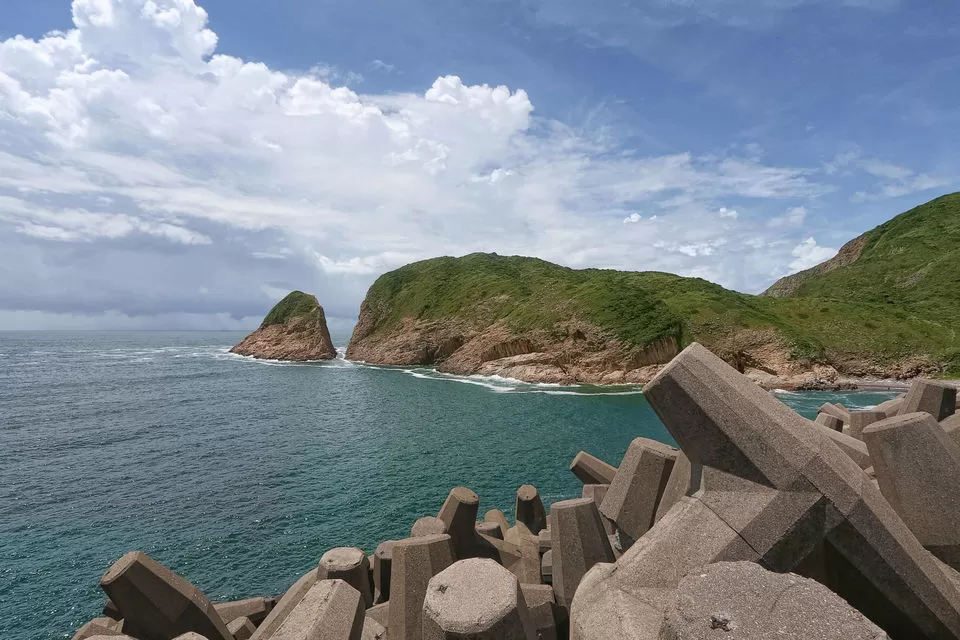 If you're more of a hiker, then you won't leave Hong Kong disappointed. This side of Hong Kong reveals there's more to the place than just skyscrapers.
Maclehose Trail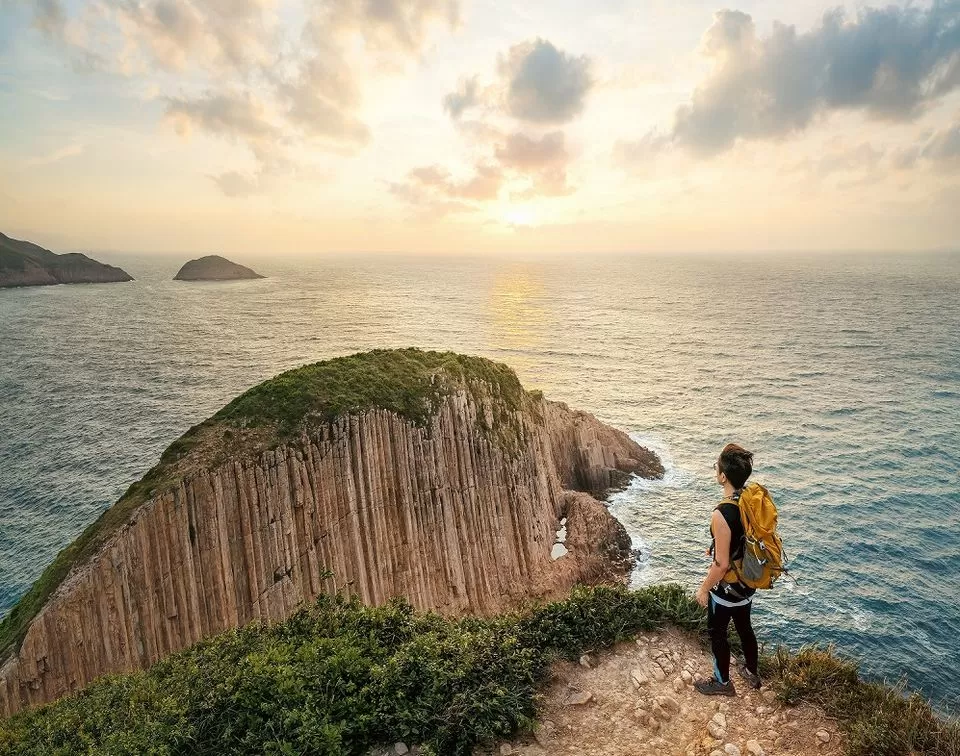 Cited as one of the world's 20 dream trails, the route shows off the spectacular coastline of the eastern peninsula in Sai Kung. The trail is full of natural wonders; sea caves, hexagonal rock columns, sea stacks and sandy beaches with crystal clear waters. The first two stages of the Maclehose trail are worth exploring.
Dragon's Back
The Dragon's Back Hike has been voted the Best Urban Hike in Asia because of how close it is to the city. Once you're there however, the hike seems like it's a world away from the hustle and bustle of urban life. Once you clamber to the top, you get a bird's eye view of Shek O beach, Big Wave Bay Beach and the Shek O Golf Course.
Start with high spirits on the undulating back of the ridge until you reach Shek O Peak. At 284 metres high, the view from the peak will you stop and gaze over Shek O and the Big Wave Bay. You can take a bus after this to Shek O Beach to luxuriate in the sun or you can choose to hike on for 2.5 hours to the Big Wave bay. The trail is easy and you'll arrive in style with a sense of accomplishment.
Bag some bargain buys at street markets
Though your soul may have reconnected with nature to shun all pretentions, it's time to steer towards some materialism. Start with Temple Street Night Market for some casual browsing.
You'll get a taste of culture if you go during early evening to the Cantonese opera happening near Tin Hau temple. There are lots of stalls with palm-reading and tarot-card reading to inform you of your destiny.
About 1.5 kilometres from Temple Street lies the Ladies Market which will make you experience what a real Chinese local market is like. The market is full of curios and feminine clothes though men's clothes are sold here as well. Drive a hard bargain for some great outfits and keep an eye open for fakes.
If you're craving some of that famous Hong-Kong seafood, there's a seafood market between Queen Street and Centre Street. There's a variety of seafood available from all over the world – dried abalone, dried shrimps, dried fins and even edible bird nests are available here. Bird nests, anyone?
After working up an appetite at the market, you can head to indulge in some serious street food. You might see a lot of items which will make your eyebrows shoot up into your hairline but since you're here, it's worth a try.
Egg waffles are one of the most popular street snacks there. The waffle is covered with a crispy egg coating to reveal a soft, egg center. You can pair them with chocolates, sprinkles, fruits, nutella and even savoury items such as bacon or sausage. Head to Lee Keung Kee North Point on King's Road for the most famous waffles in town.
Pick up some curry fish balls that you can eat on the go. These delectable balls of fish with batter are deep fried and then soaked in a spicy curry so expect your taste buds to go into overload.
If you're feeling adventurous go for stinky tofu or organs in a pot. Organs in a pot holds offals and other entrails of cow or pig which is mixed together with radishes, peppers and a tangy sauce. It may not look appealing but it's got a lot of takers.
Round off your meal on a sweet note with fired chestnuts that a lot of hawkers will be pushing at you. Pair them with a mug of hot chocolate and it will begin to feel a lot like Christmas!
Day 4
Revel in Hong Kong's festivals
You'll come to realise once you take part in one of Hong Kong's festivals, that the place with its numerous festivities has a carnival-esque atmosphere most of the time. There are festivals galore that you should experience to grasp at more of Hong Kong's culture.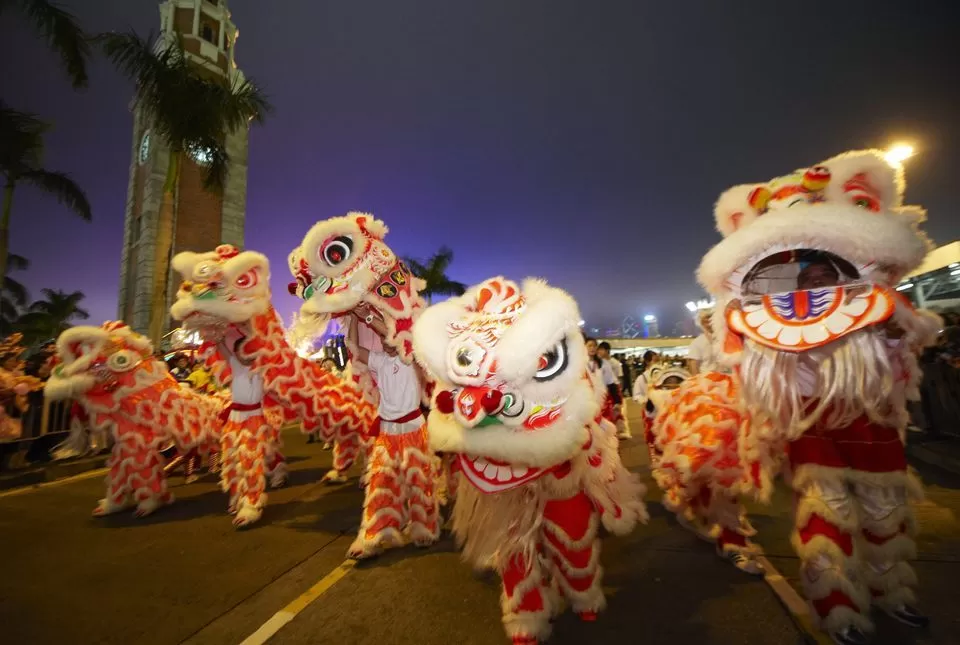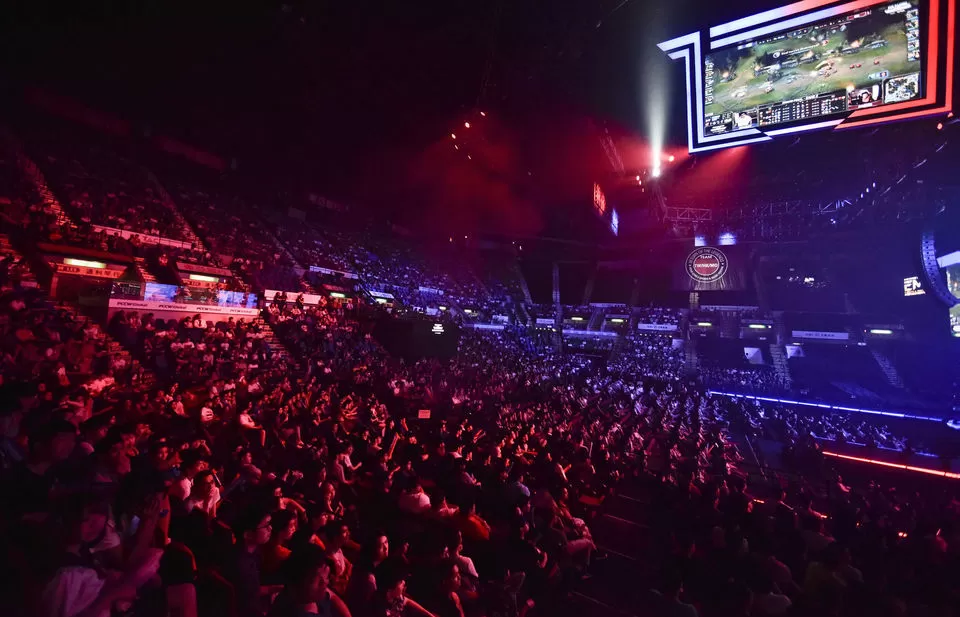 Hong Kong celebrates the onset of summer from 1st July to 31st August. You'll be spoilt for choice when it comes down to the array of activities available. Gamers can join other pro gamers at the e-sports and music festival while others can go down to neighbourhoods for food and games. There are special events, pop concerts, food expos and book fairs happening all over town with fantastic deals to make you have fun without going broke.
Wine and Dine Festival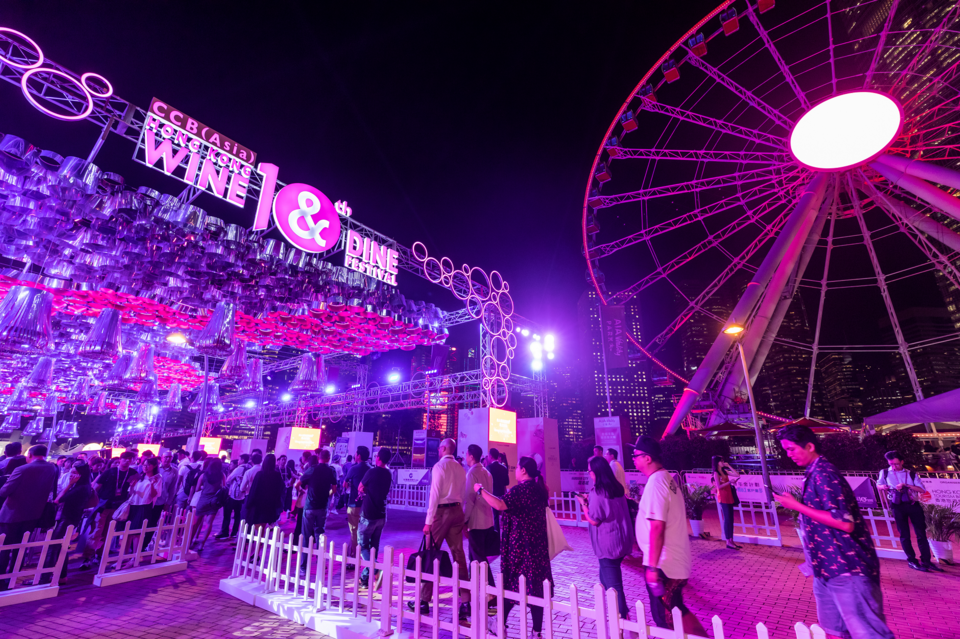 The CCB (Asia) Hong Kong Wine and Dine festival is serious business. We're talking world-class food,If it's fireworks you want, it's what you'll get at the Victoria Harbour as it readies itself for the countdown to midnight. The sheer complexity and sophistication of fireworks there are mesmerising and that paired with LED and laser lights choreography just crosses over into the realm of spectacular. Pyrotechnics, music and lights with the fireworks make sure that your new year won't be a dull one. Secure a spot at the harbour or on top of a tall skyscraper to watch the night sky light up with sparks.
New Year Countdown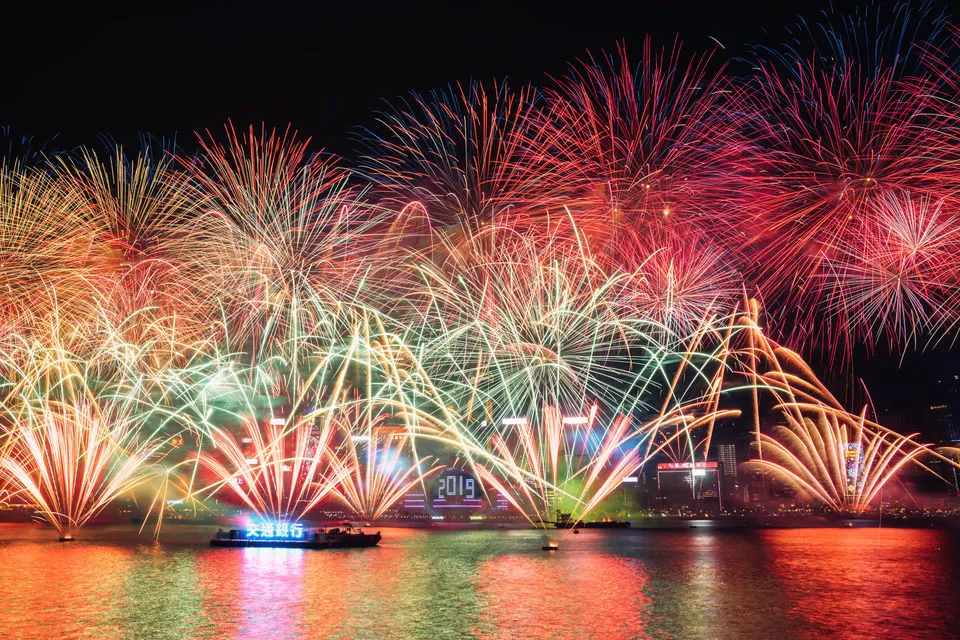 If it's fireworks you want, it's what you'll get at the Victoria Harbour as it readies itself for the countdown to midnight. The sheer complexity and sophistication of fireworks there are mesmerising and that paired with LED and laser lights choreography just crosses over into the realm of spectacular. Pyrotechnics, music and lights with the fireworks make sure that your new year won't be a dull one. Secure a spot at the harbour or on top of a tall skyscraper to watch the night sky light up with sparks.
You can't leave Hong Kong without relishing some of its dim sums. There are a variety of dim sums available at street stalls as well as at Michelin starred restaurants. An order for dim sums will come to you on bamboo steamers.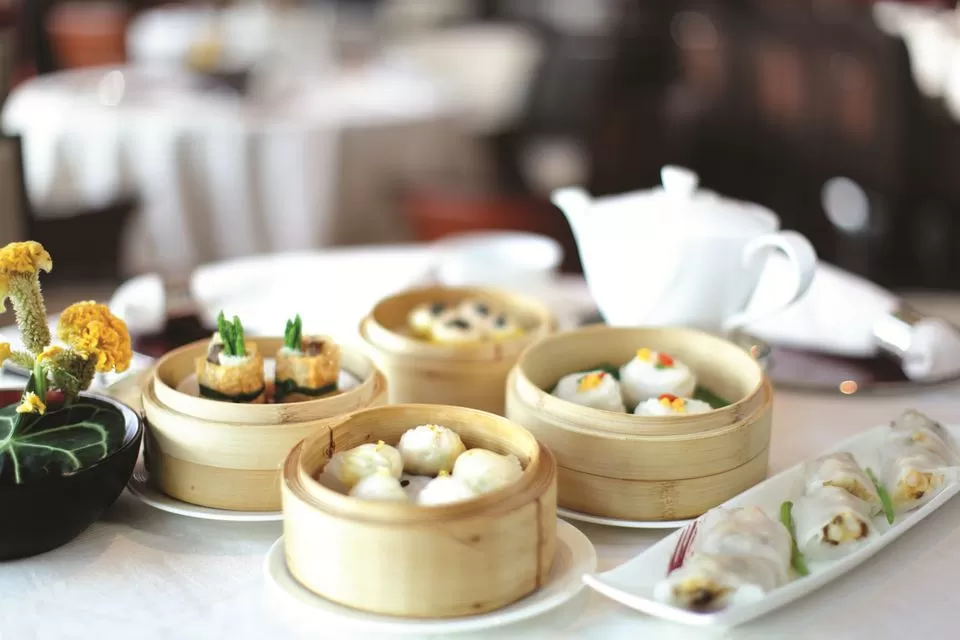 Sample the steamed siu mai (pork dumplings), har gow (prawn dumplings) and sink your teeth into soft barbecued pork-filled buns called char siu bao. Tim Ho Wan, a Michelin starred restaurant has perfected the dim sum art and dishes out steaming dim sums at affordable prices.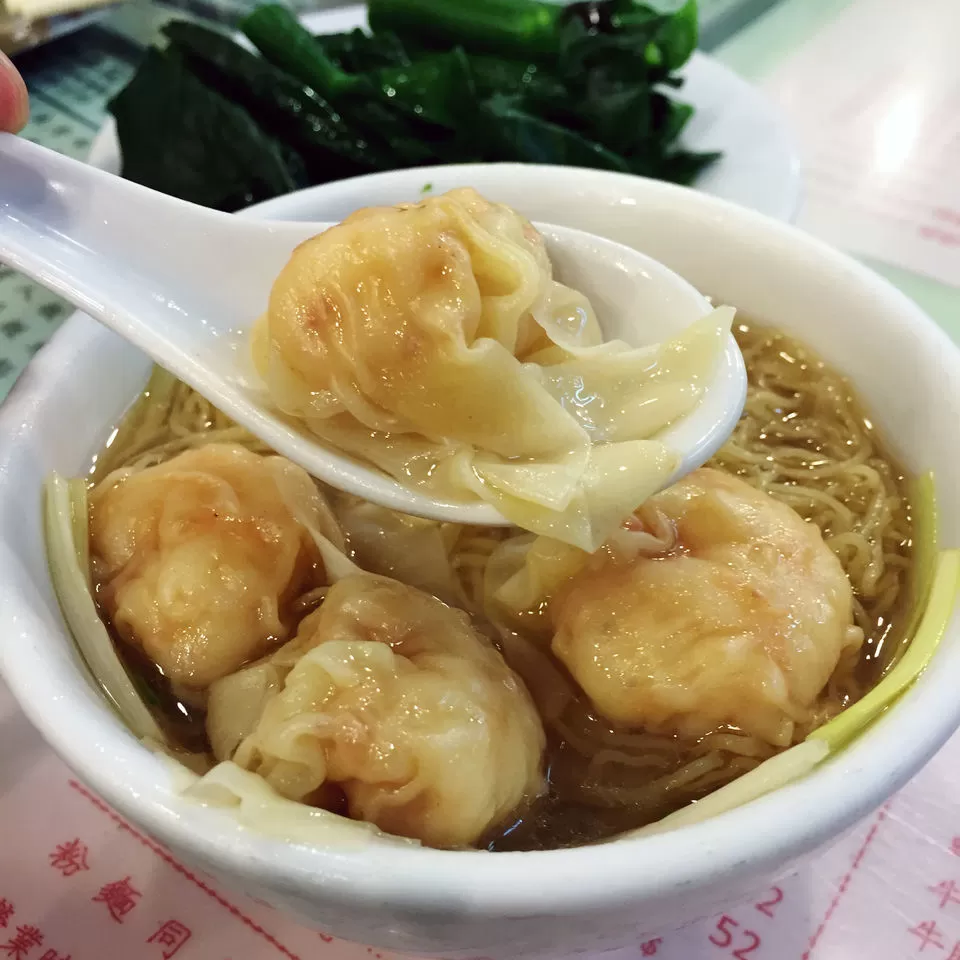 Pair the dim sums with some delicious Wonton noodles served in a delicate and light soup. Thin egg noodles are paired with prawn filled wonton dumplings in velvety wrappers and garlic chives for that mouth-watering smell. Get yourself a bowl at Mak's noodles to relish the best.
See Kritika trying her hands at dimsums:
Day 5
Cruise on the South China Sea
Channel your inner sailor and get aboard a cruise. The smell of salt in the air, the wind on your face and the smooth edge of the cruise cutting across the turquoise waters will be an invigorating experience. Opt for the World Dream cruise organised by Dream Cruises for 2 nights. Take the cruise from Hong Kong and glide on the South China sea and back while kicking back and indulging in the many activities on offer aboard.

Pick from 35 restaurants and bars dishing out the finest Asian and international cuisines. Get thoroughly entertained by the number of shows put on by experienced actors and dancers. Wander up to the rock climbing range or just put on your bathing suit and run towards the waterslide park. If you're looking to experience high-octane activities without lifting a finger, you can use their virtual reality based high-speed driving simulators. If all these fun activities leave you exhausted, opt for a Western, Asian or medical spa which will leave you rejuvenated for more. As night falls and the party picks up, sit in style in a club with a drink in hand, looking out over the gleaming water of the South China sea.
Clearly the 'fragrant harbour' fills your senses like a fragrance and overwhelms with its variety. Explore Hong Kong to make it your own. You'll find yourself lured back to the culture, fun and spirit of the place.