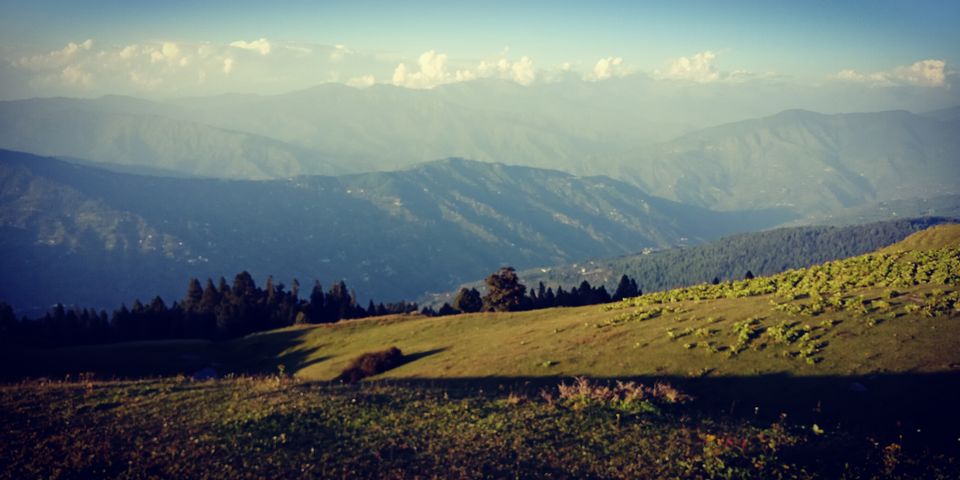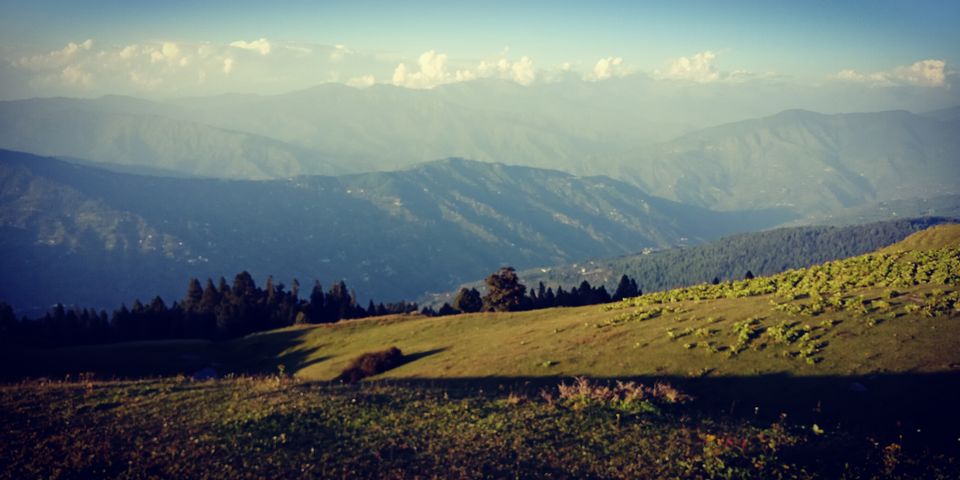 It's rightly said that the world looks different when seen from the top. Here I am quoting the same after reaching on top of the Giri Ganga range of inner Himalayas.
It had been a few months since we headed out for any adventure activity anywhere. This year we did not plan even a shorter trek and it was September already. Taking our craving in consideration for fresh air and some mountain soil we planned a moderate trek to the scenic location of Giri Ganga followed by Kuppar.
Giri Ganga and Kuppar is located in the Pabbar valley, which is in Himachal's southeast corner. Although none of us were aware of the track or even the location where we were headed but we had heard a lot about this location, so we thought of giving it a shot.
After a short planning among ourselves we took along 2 more people for this trek. Ashish and Arjun had already accompanied us on one trek earlier to Churdhar Peak. We took off at 3 AM in the morning towards Shimla from Delhi. While maintaining a steady speed and enjoying the drive we headed towards Chandigarh to pick Madan (a.k.a Maddy), one of our expedition partner. We managed to reach Chandigarh only at 7 AM and after a short halt we continued towards Shimla, our next stop for collecting our food supplies and tents.
Himachal has always been my favourite destination because it allows you a to pitch your tent anywhere without restrictions or without need of a permit. Although sometimes you just have to ask the locals to permit use of their land but that's not a problem as they are really accommodating until you do not spoil their surroundings. So, having tents and food supplies of our own made us overlook the need of hotel and just focus on scenic drive on well maintained State Highway to Rohru.
In order to reach Giri Ganga one has to drive towards Kharapatthar a small town around 80 kms from Shimla. On the way to Kharapatthar you have to cross places like Mashobra, Kufri, Theog (one of the oldest Riyasats of HP) and Kotkhai. The drive is really beautiful as the road is well maintained and lined with high treeline.
After a drive of 2-2.5 hours we reached Kharapatthar and stopped for a while to enquire about the place we were heading towards. Believe, locals will tell you things that you won't find even on Google and once again local dhaba guy gave us all necessary details of Giri Ganga.
It was already 8 PM and we decided to trek to Kuppad the next day so our next and final step was supposed to be Giri Ganga Temple. We were told that just after a KM on Kharapathar-Rohru highway there is a small link road towards Giri Ganga Mandir however the road is in ill condition and there have been many instances where vehicles plying on the road has been grounded due to rocks hitting the floor bed and damaging some vital components. But we thought of plying on the road as we have drove on some of the worst roads in the Himalayas and I was confident because of navigation skills of Madan and Susheel on these roads.
When we started to drive on this link road we were relieved to see that it was a wide track with a very gradual gradient. But as we trudged up the road was less of a road and more of a puddle because of the heavy downpour for last 2 days. It was a mix of mud and rock pointing upwards. But what a trail it was! Mostly shaded by large Deodar trees and lined with green meadows with views of the valley below (which we realized while driving down after the trek), it was completely dark. We carefully maneuvered our car to reach the Giri Ganga Temple but it wasn't our day at all. We realized it when our car was stuck in a deep puddle. Although I was able to drive it out with sheer help of all my fellow travelers but we decided to pitch our tent there itself as our body was really strained due to long drive and the condition of the road was not good to drive (specially if you have a hatchback).
It was 9 PM already and after parking my car at a safe place (by safe place I mean a place where it doesn't disrupt any traffic because any which way your car is safe in Himachal from burglary and theft) we set up our camp in the nearby jungle, lit fire and relaxed for the night. We dozed off as soon as we settled in our camp.
It was the morning of our trek to Kuppad, a meadow with a scenic 360 view at a height of 10,600 Ft (3250 m). After dismantling our camp we headed towards Giri Ganga Temple, the source of River Giri Ganga. We realized how beautiful the surrounding was. A dense forest with high lines of Deodar, herbs, shrubs and wide variety of Fauna. After a trek of around 15-20 mins we reached Giri Ganga Temple. Giri Ganga temple complex consists of three shrines and almost ruined lodges (Sarai). The main shrine is a simple, square, stone structure with a curving, conical roof. This shrine is dedicated to Goddess Durga. The interiors are dark except for the dim light of the. The other two shrines are placed above the water tank with River Giri Ganga flowing right into it, facing each other. One of them has the idols of Lord Ram, Laxman and Sita, while the other has a large, marble Shiva Lingam.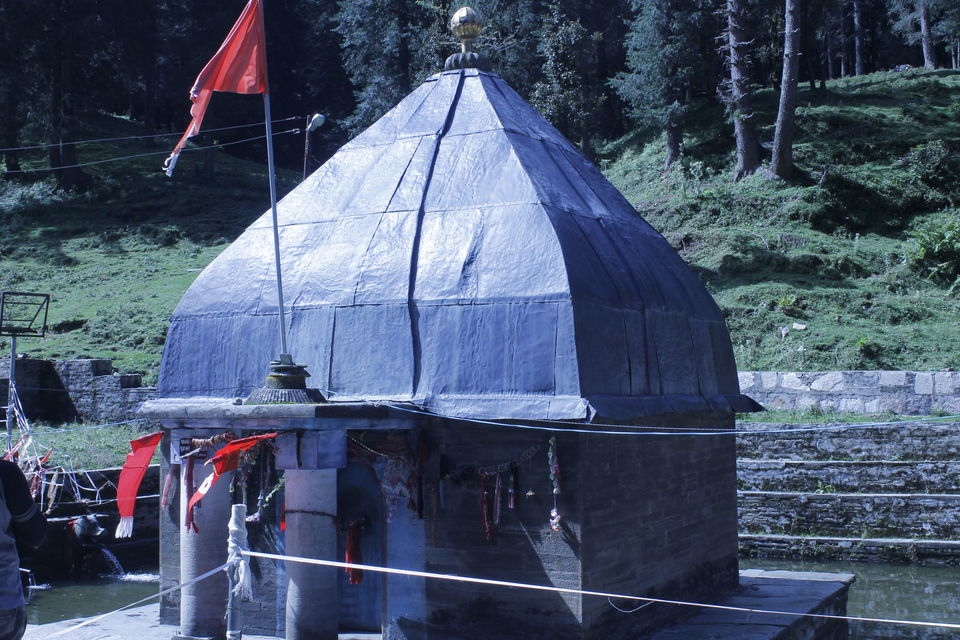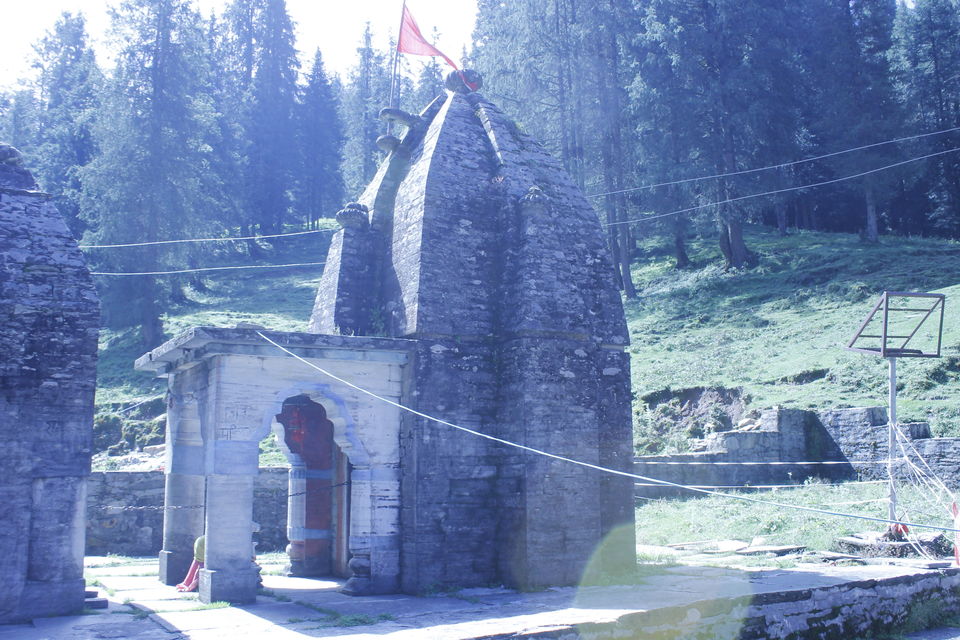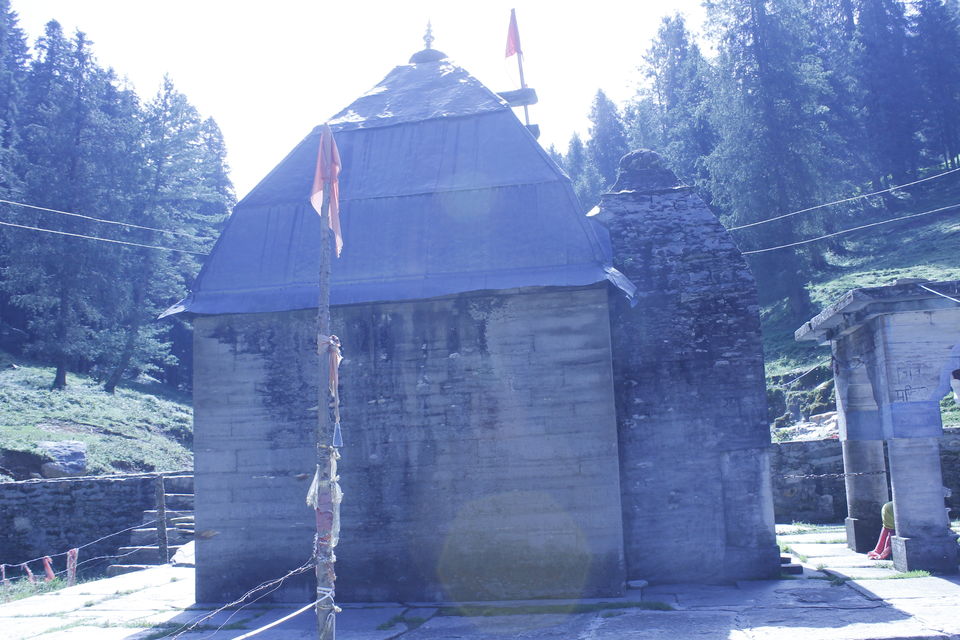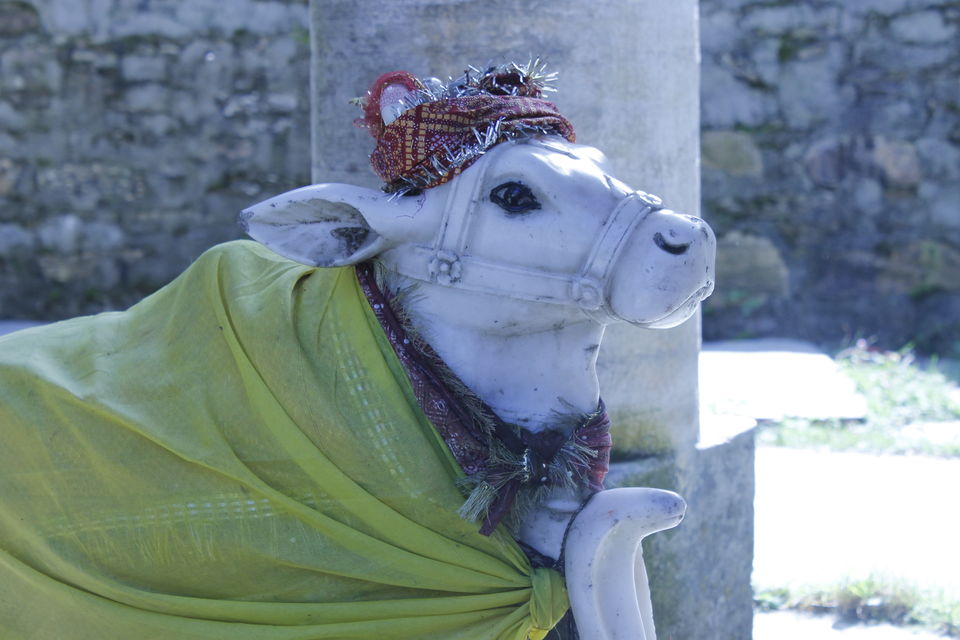 After some clicks and darshan we moved towards Kuppad Peak. We did get some intel from the Shepherds who were wrapping their belongings to get back to low lands as it's the time when it starts to snow there and the shepherds carry their flock to low grounds in search for Pasteur. Anyways, after some detours we came back on right track which followed the stream of River Giri Ganga and the trails created by the footprints of cattle as well as shepherds. The trail leads to a valley with large open ground with a small stream of river flowing downwards. You can see the meadow of Kuppad at a height from this valley.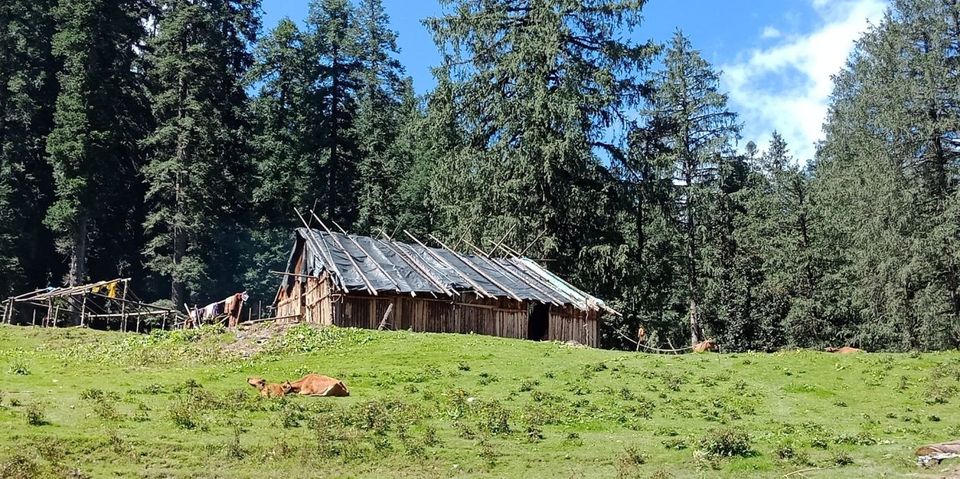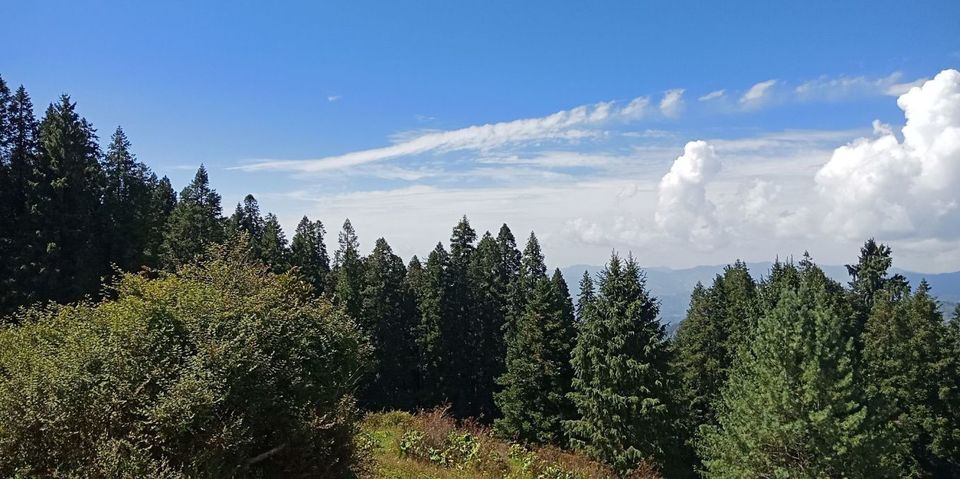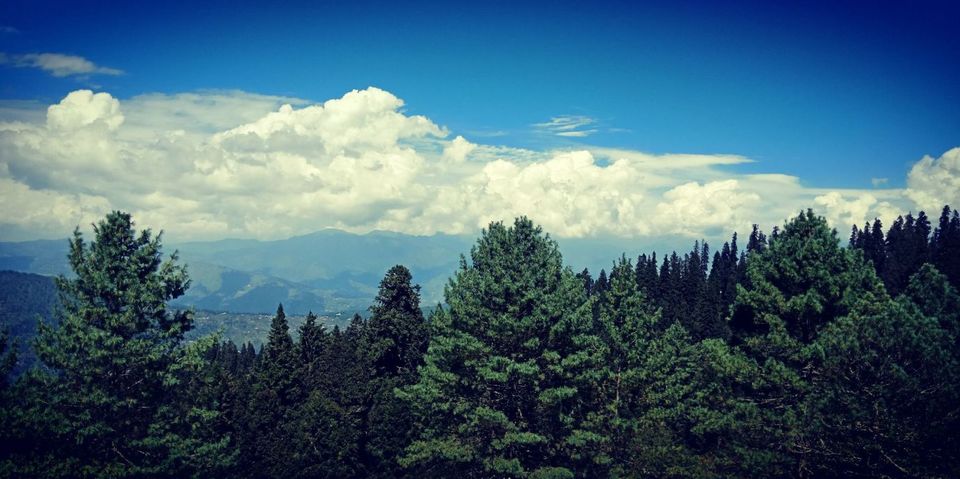 From here the trail is 70% steep and it gradually navigates in midst of dense forest and some cleared grounds protected by Forest department. Here we left the stream and started climbing up following the trail. We can feel the height now. Although we were not gasping for breath because the vegetation was really good, but the pressure and cold wind did make our muscles tight. After a gradual climb of an hour we reached another open ground, the place for last push to the final spot.
We don't know the name of the place but it had a small water tank in which the water was seeping from the ground. It was a miracle for me and as it was the only water source that we saw after 2 hrs and from the time we left the stream to climb up.
Ashish and Arjun were really exhausted and they were in no mood to climb up to the top however after a little push they did climb. It was a mere 10 min steep climb to the top where there was nothing but a small house with stone walls and tin roof which acted as a resting point and kitchen for shepherds. It had nothing but some left overs like wood, some masalas, a soap and some beddings. Believe me it was the first establishment that we saw after Giri Ganga temple.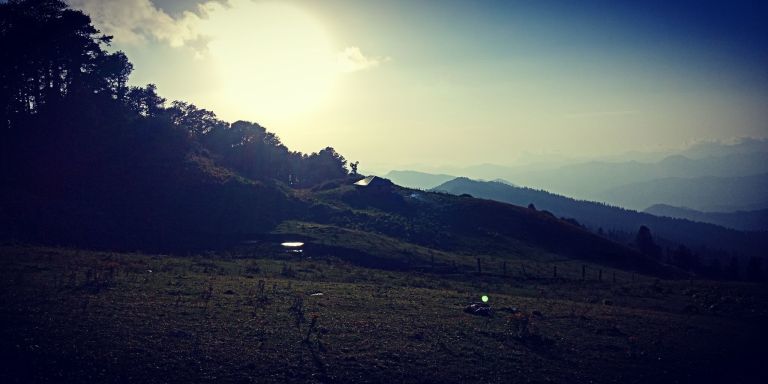 After admiring the beauty of view for a moment, we set up our camp, arranged wood for camp fire and set up a makeshift stove from stones. Susheel is our expedition chef hence he sat down to prepare Maggi for the lunch. After having maggi for the lunch we settled down and enjoyed some nice talk over few drinks and watched the sun going down in the horizon. It was one of the best sunsets I ever saw. Our conversation continued over wide topics and it only stopped by another sumptuous meal prepared Susheel. Our body was totally drained and headed to our tents. We dozed off as soon as we lied down.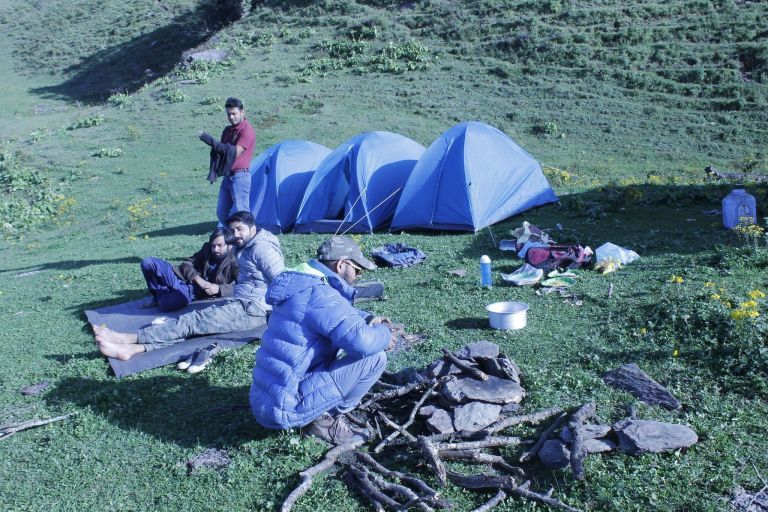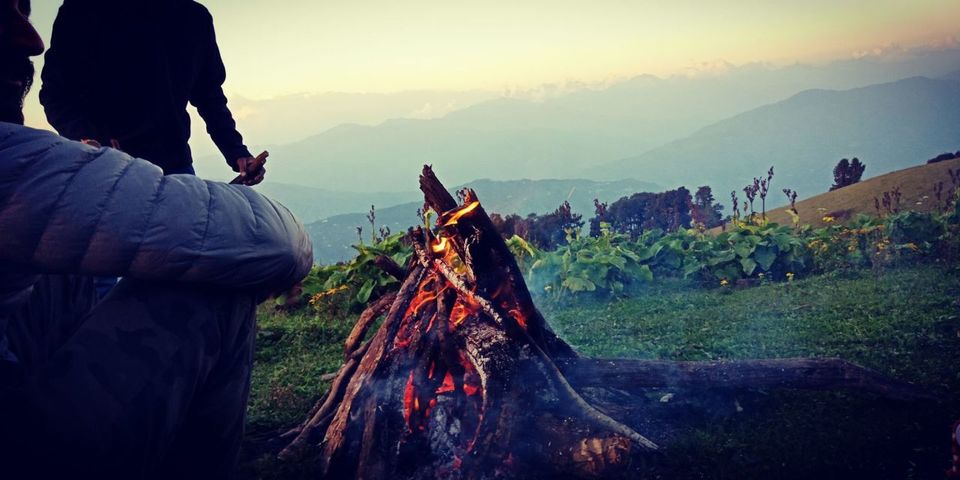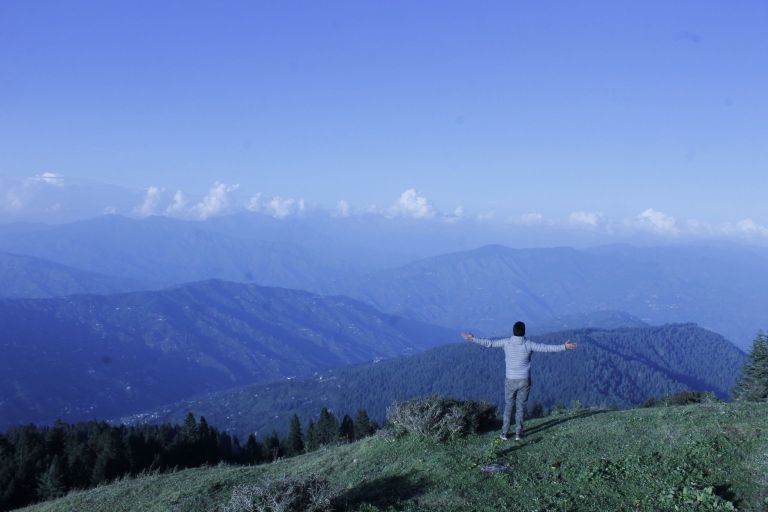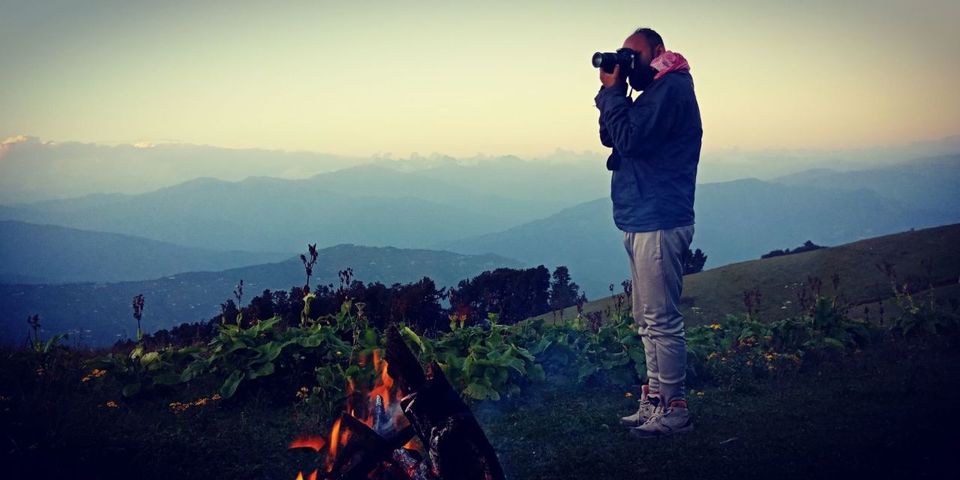 Another day and another beautiful sunrise. It's the day when we were supposed to say adieu to one of the best places in Himalayas. No tracks of tourists, no hustle and bustle, no restrictions and complete serenity. We left the place but before that we left our ration in the house as a gesture of gratitude to people who stocked wood and other things for people visiting that place. We started our descent and within no time (exactly 1 hr) we were back at Giri Ganga temple. We headed towards our vehicle and started off to Delhi.
This is truly a hidden gem in the lower Himalayas. Bear that unbearable cold, fill your eyes with incredible scenes, challenge yourself, laugh with your friends or just take it all in solo. The lofty hills will lift your mood and remind us how tiny we are as compared to this marvelous nature. That's the beauty of it! Kuppad it is my dear friends.