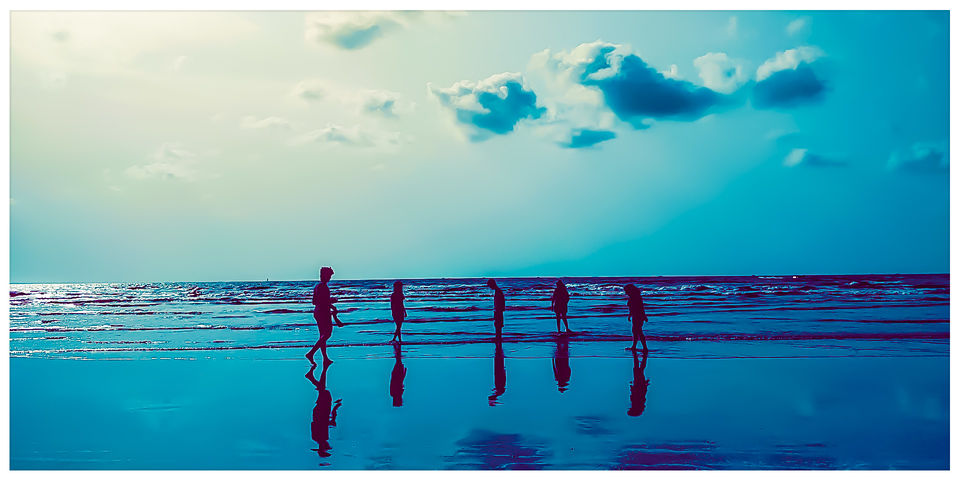 Photographs by SAKET CHAUDHARY
TALE OF A SOUL-STIRRING TRIP TO THE LOST WATERS WHICH BROUGHT FRIENDS CLOSER THAN EVER
I have personally always struggled between my two contradicting views about living in Mumbai. There have been days when I have chanted the slogans like "Yeh Hai Mumbai Meri Jaan!" alongside my fellow city mates and at the time I did think I meant them. But then came that universal phase in my life everyone goes through. The time of your life when you realize everything is never as it seems. Black and white is a thing of the past. We're living in a time when we can embrace every hue of our thought and manifest it into a kaleidoscope for each his own.
This realization made me look at the city lights with a novel perspective. Yes, I still believe Mumbai has a certain pace to it. It has a social life and a highly connected professional one as well. Mumbai will always be the city that I've experienced the most of my life in. It has taught me some really important lessons that I will probably abide by all my life. But the one thing it has not been able to give me personally is a sense of belonging and tranquillity.
The rousing road to ALIBAUG
Having said that, none of this was on my agenda when me and a few of my friends buckled up for a short trip to Alibaug. Located at 4-hour drive from Mumbai, it is a quaint town with fishing as it's historically major occupation. With time though, the major share of the town's livelihood comes from tourism which again goes to show not everyone living in Mumbai loves it enough to not take a break from it every once a while.
We settled into the house we were going to live in and set out to find a place to eat. We found one just a few blocks away called Annapurna Hotel. It was a small-scale lunch home where we had Prawns Masala and Solkadi. The food was good. Our house was located in Nagaon which is just a short drive ahead of Alibaug city. It was neighbourhood surrounded by tourism cottages and coconut trees.
Merriment begins in salty water
Our visit to the beach on the first day got everyone in a light, summer mood. I walked on the sand trying to leave behind footprints but failed to because the sand was just too coarse. Water splashing, photo-shoots, cartwheels and a walk through the coconut tree woods helped us forget the fact that we still had one end semester exam left back home as evident from the extremely timely and peaceful sleep us chronic insomniacs had that night.
We spent a few hours on the terrace after washing up simply soaking in the serenity and poise around us. Grabbing a quick dinner, we set out to find the Korlai fort lighthouse. We failed in our quest but did ended up on an eerily isolated yet beautiful beach. The waves almost luminescent under the moon light thrashed against the stones in the silence of the night giving the impression of a low pitch howl. Two of my friends said they saw someone there but when we flashed our lights, there was no one. (Typical. I'm about 98% sure they were kidding around; D).
The next day started with us packing up for the return trip. We cleaned and organised the house and made sure we took everything. We made some Maggi. My tea-addicted friends sipped away while I made some lemon juice for myself with the lemons I had carried with me in my bag (Yes, I did). We stuffed the car and buckled up for the trip back home. I did have a slight pang in my heart that was urging me to stay back that I somehow suppressed.
Temple and beach that brought peace of mind
On the way back, we stopped at Birla Temple which was one of the best temple I ever visited. Built so artistically and maintained beautifully, the temple had views that could easily mesmerize even the most stubborn city hounds. We also made a quick detour to the Revdanda sea fort. One thing I noticed right away was how isolated and clean it was. We were practically the only people on the beach except for the few guards that lay resting under a temporary thatched shed. Once we were done breathing in the watery air and writing our names in the sand like little lovestruck kids, we went to have lunch at 'Phulora restaurant'. The food took a considerable amount of time to arrive so we gobbled it down like turtles. I had clams there after years and I was glad that I still loved them the same.
The return journey was pretty uneventful. We passed a lotus farm, a steel plant and countless farms. The only thing I do remember distinctly is the traffic getting worse as we got closer to home. It just served as another indication of why we needed this de-clutter. The city will always keep you on your heels. It will always push you to make bigger strides but really genius is the one who find a way to get away from its clutter while still being in it. I, clearly not being one of them, was silently thankful for this much needed short breather with my chums.