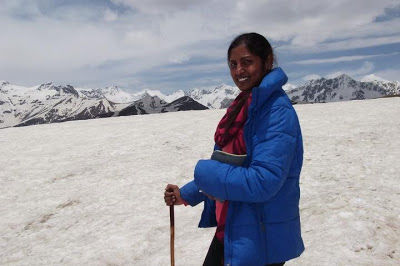 I never imagined that I can trek for 80+ km and survive in such low temperature in Tents. Not sure how I survived without junk food, TV, phone, Facebook and the most critical thing MIRROR(Imagine girls without mirror :D)!!!!!! All these in ELEVEN days.
Initially I was excited and slowly began to worry about the adventure, however as I was determined as this is a once in a life time opportunity. All went well as I was blessed with good friends, no issues getting leaves, no resistance from family members and finally went with a healthy mind and body. I could accomplish all this purely based on my determination and with a mindset to take up any challenge that comes my way.
Day One – At base camp, was so excited and anxious which lead to asking everyone there if anyone had a clue of what we were getting into, whether it was worth it.
Later, guides took us to nearby mountain for around 2 kilometers carrying luggage weighing 4 kilos, to check if anyone was scared of heights or high sickness.
I struggled during the trek and was feeling low and was worried sick of the thought of actual trekking. Had to take pain killers that night :).
Day Two – They took us to a nearby rock and engaged us in repelling for the first half and Rock climbing later. Was scared but had a fighter in me who kept saying never give up, so was the first one who completed the task among the other females. These are not as easy as they seem. Try it to believe it!!
As oxygen levels reduce as we go up, we see the difference in plants as in when we reach 10000 ft, we only see grass and no trees.
Every day after reaching the camp, we used to check the tents, surrounding for scary spiders, Scorpios etc . Usually girls are scared of cockroaches, surprising girls took it so lightly and killed them and adjusted. Sipping hot tea at those cold and scenic locations was unforgettable and most enjoyable moment of my life :-)
After 5 days trekking, sixth day was when we reached Saurkundi mountain top. This was the most risky, painful trek compared to all. We have been through 90 degree trek, rocks and ice. Every way was scary and we struggled, finally reached the mountain top. It was wonderful experience and it's so vast that our eyes aren't enough to view the surroundings. Everyone was busy in taking pictures with various angles. People started to realize their dream came true as one guy's dream was to light a cigarette in Himalayas, one girl wanted a mediation angle where as my dream was to take a nice picture for facebook cover photo J. Each time after reaching a peak area, if you look back, feels like you achieved something. I loved that feelingJ.
Above all, I have seen people being co operative during the trek as they felt that this is one family and that they have to support each other. If anyone fell sick, all helped to carry their bags, giving medicines and waited for them when they are unable to walk. I really liked how everyone really cared, respected, and loved each other.
I Trekked to learn endurance, patience, People, varied magnitude of happiness & pain; meal on the hill facing snow-clad mountains; roll down the hill slopes; climbing rocks; natural medical remedies; ice slides; feel of being reborn; where will you get this in our daily routine?
I strongly recommend it's a life time experience and that everyone should try it at least once. Even now I wonder if it was me who did all this.
RELISH TODAY AS THERE IS NO TOMORROW, NO FEAR COME NEAR YOU.