Would it be a life changing experience to get there? How beautiful is the view from world's highest village? or is Reckong Peo as beautiful as shown in the movie Highway? These were the thoughts in my mind leaving Delhi early morning on a chilling weekend of January.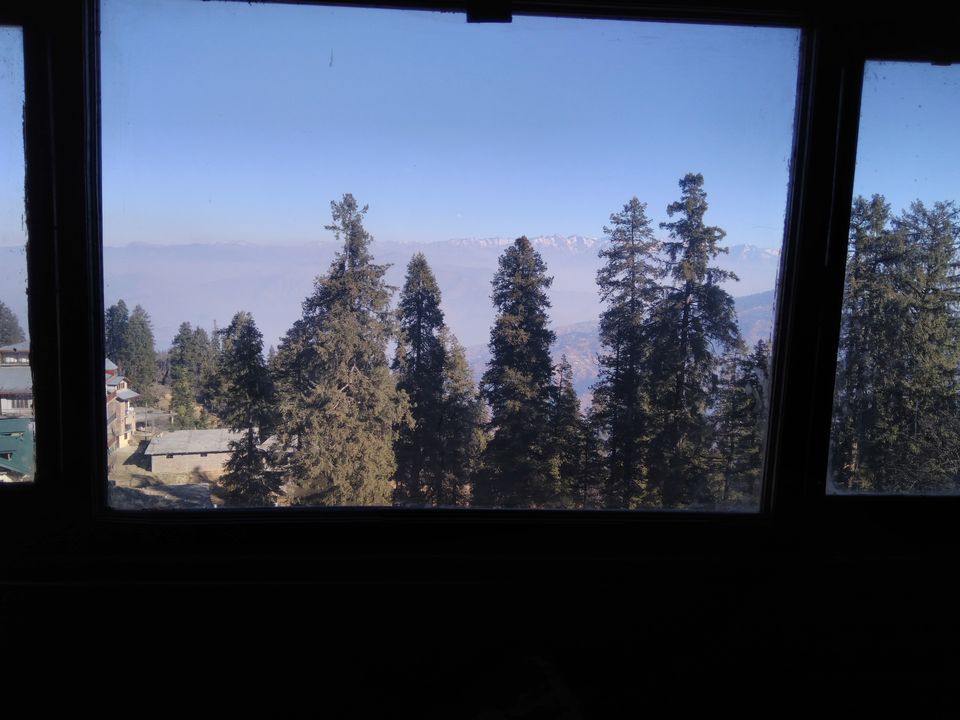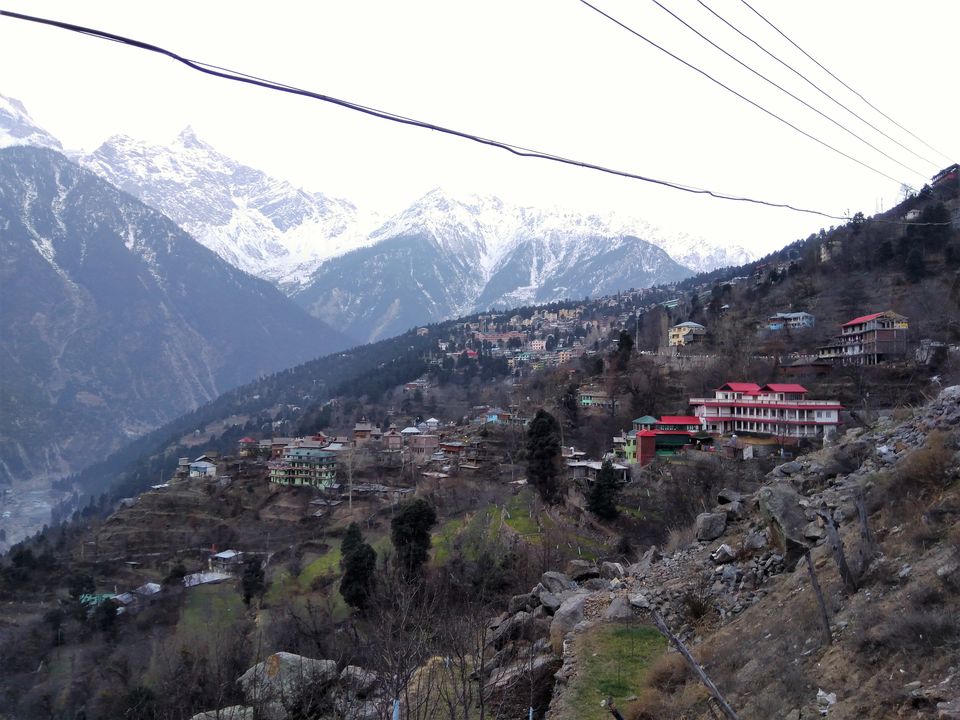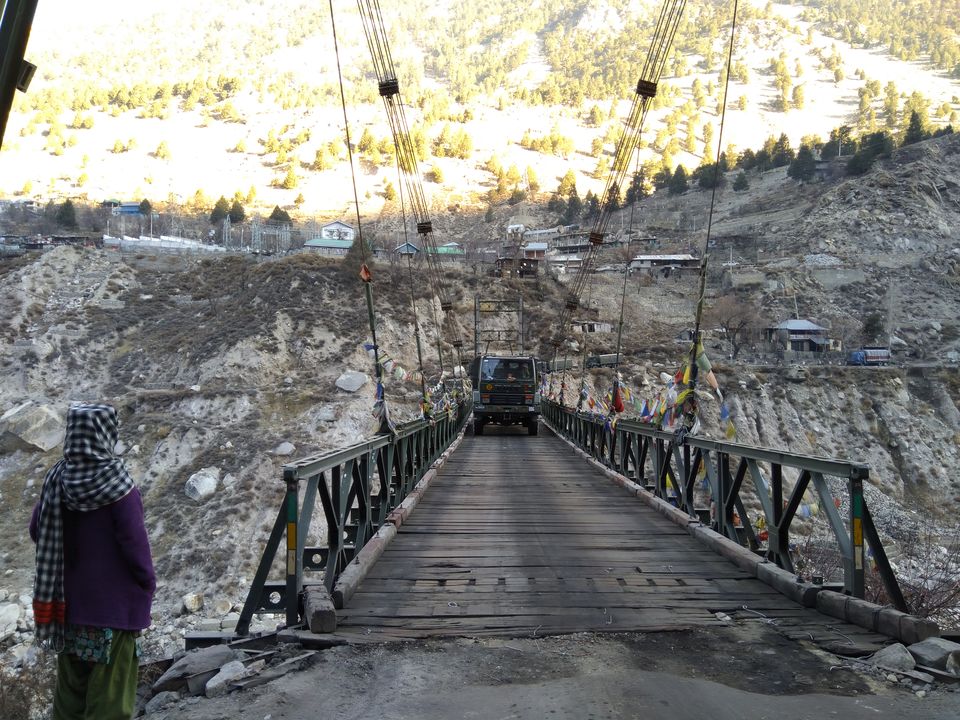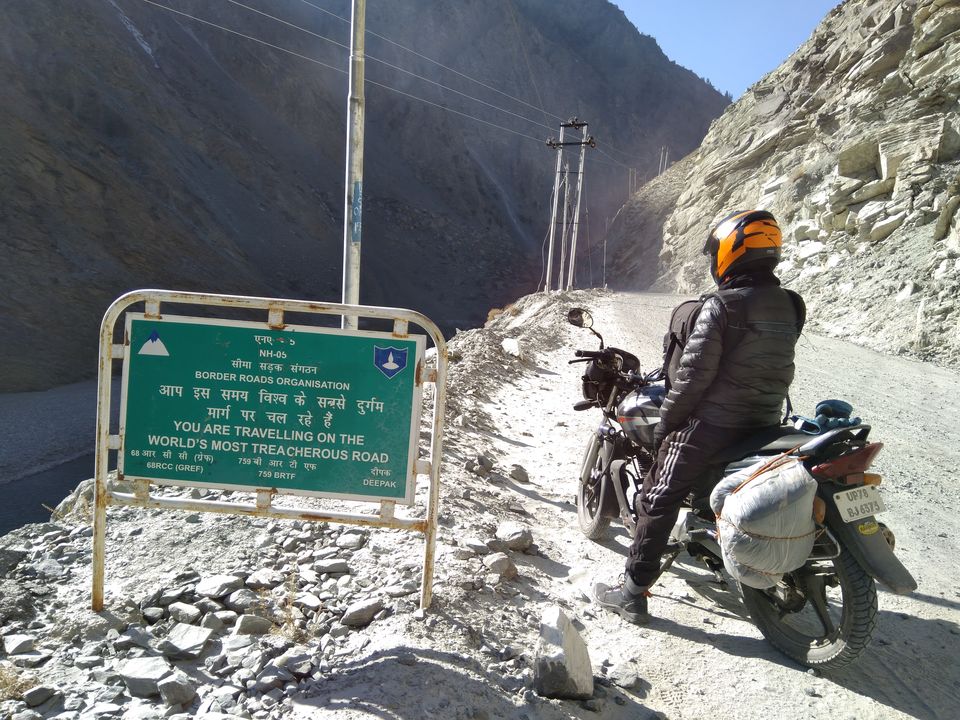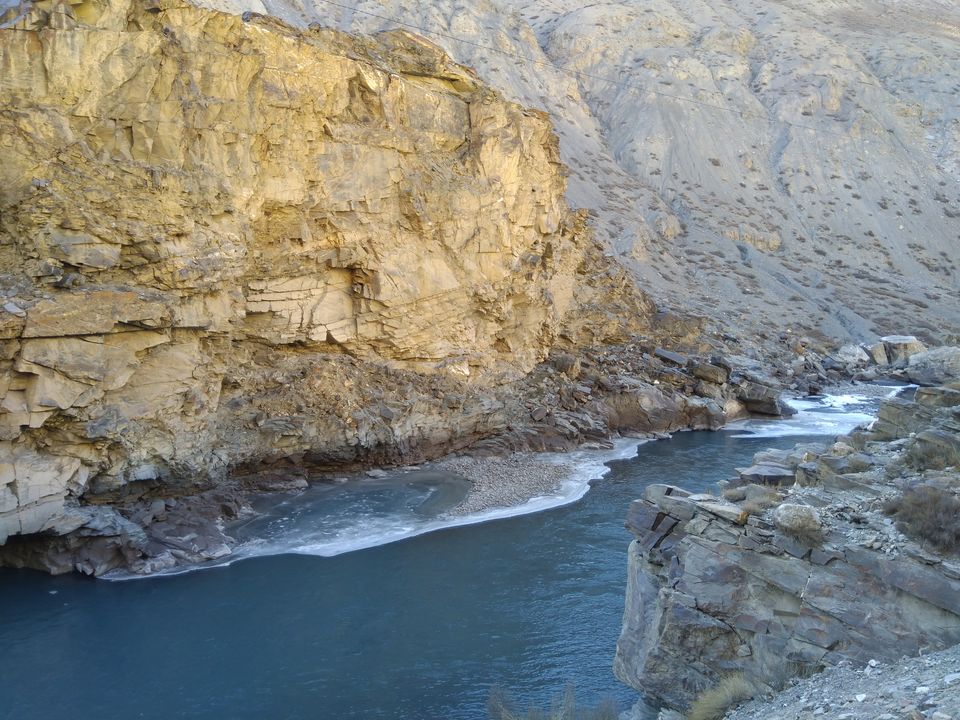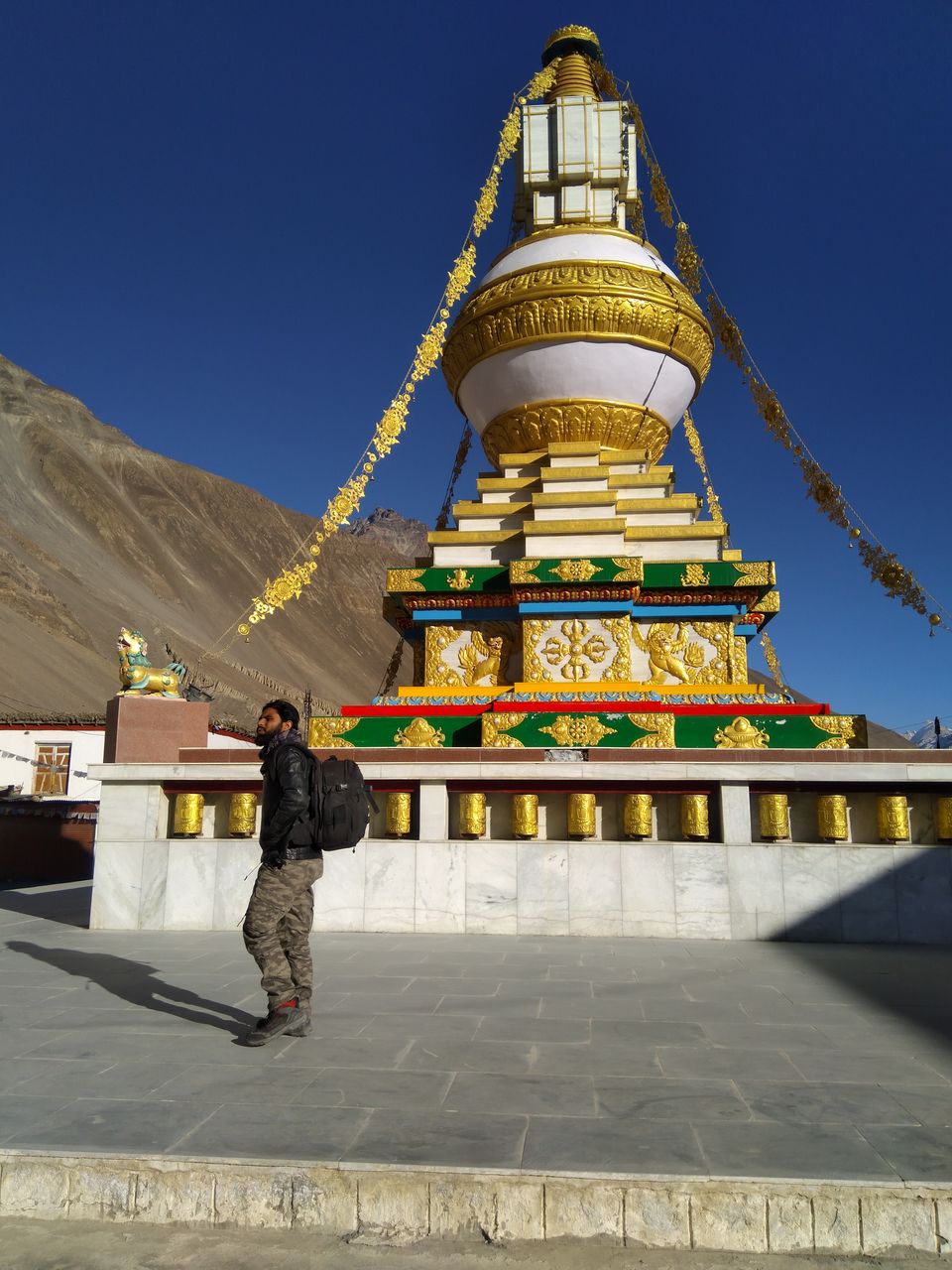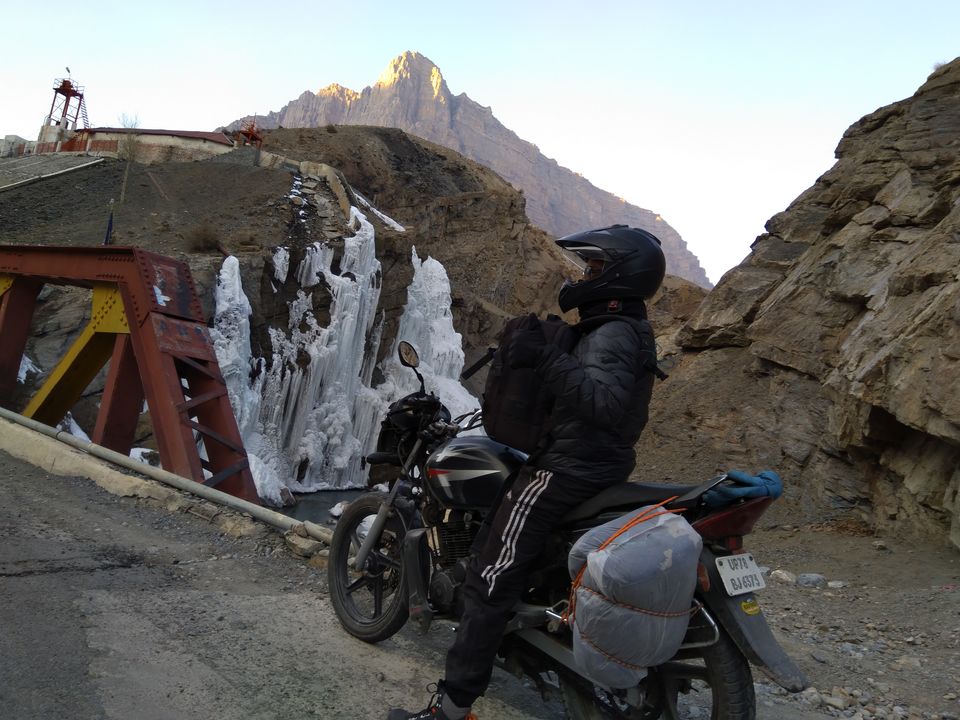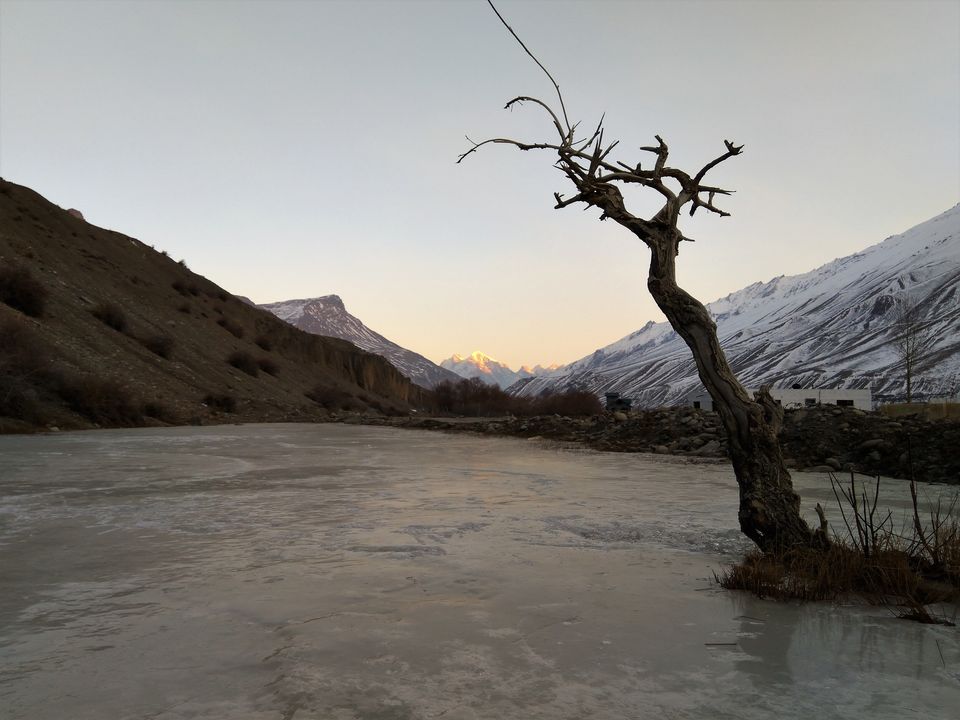 It is peaceful to leave Delhi early morning and Shimla is an achievable goal for the end of this day unless you don't kill much time sitting on tempting Dhabas on the way. The first change of terrain starts feeling just passing by Chandigarh, it breaks the boredom of continuously driving straight with 90 km/hr average. Afternoon same day, I was going 70 km/hr average but the rush was being felt in a rider's heart, these turns were giving excitement. The road between Chandigarh to Shimla is under construction, requires extra care and time to drive.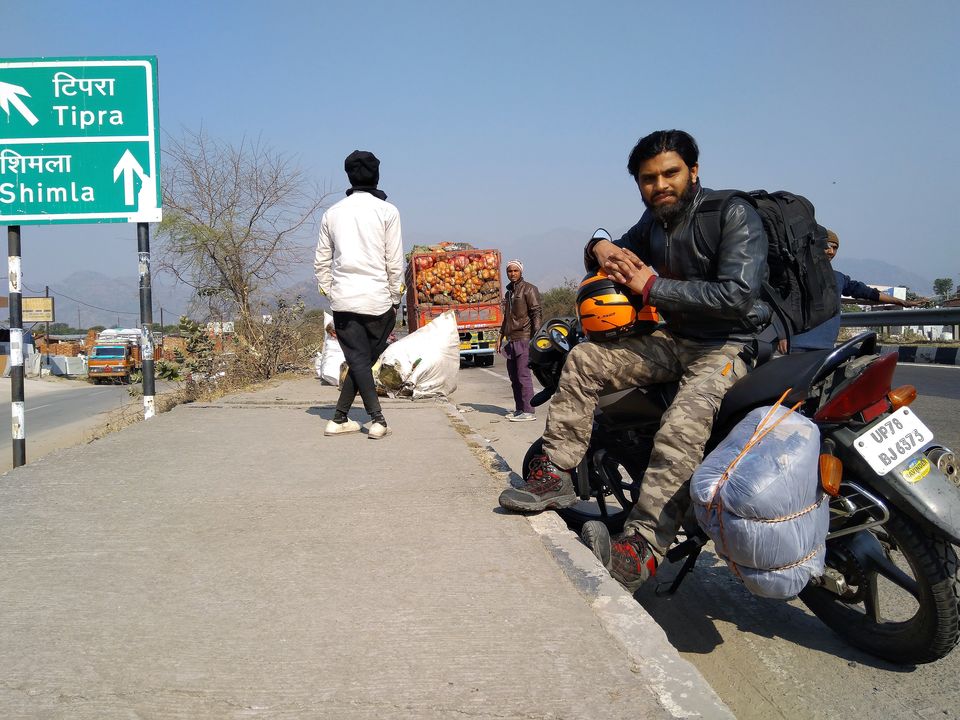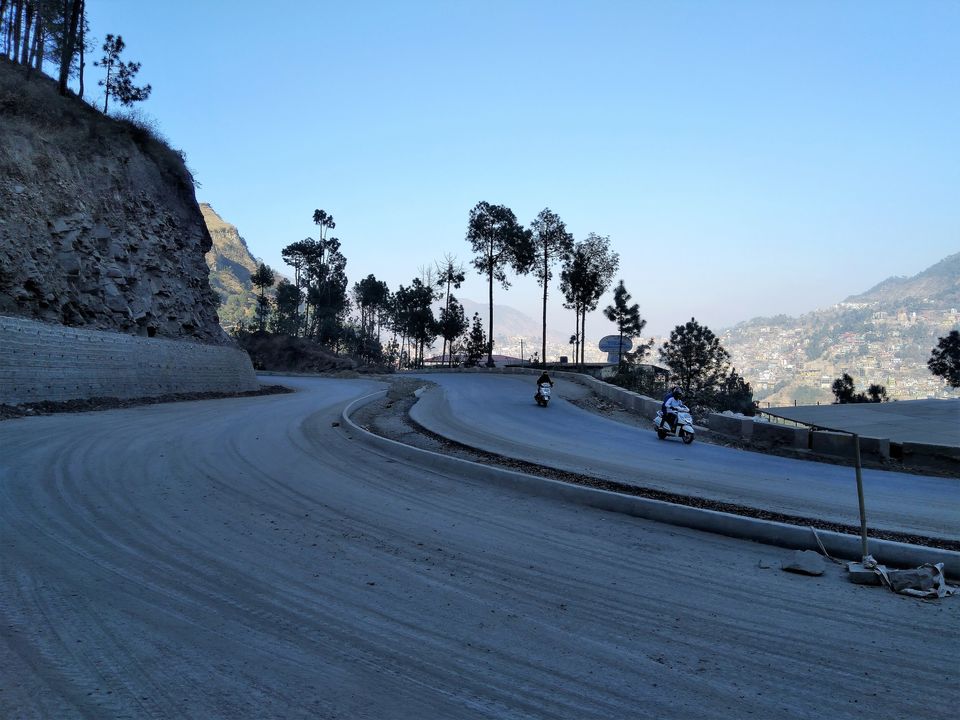 There could be traffic jam entering Shimla, first thing you would be searching is a room to unbind the luggage on you and your bike. As budget traveler I prefer dormitory but luckily found a room in the same budget this time. An evening in Shimla could make you forget all the tiredness or stressed life which is throttled behind this morning.
This evening could be a chance to explore the unexplored Shimla, like local markets, or searching stories in tunnels or finding a perfect click if that's your passion. In my case, I found a Kabul within Shimla read that story here on the link follows: https://danishkhanabadosh.wordpress.com/2018/03/03/travel_story_002/
The first thing you would search for in the morning is a petrol pump, however the more important thing was to find a bike mechanic on last evening in Shimla for just quick inspection of the bike. So, again tanks are full and road is awesome towards Narkanda and riding with beautiful sunrise from the scenery we touched 90 km/hr on some stretches approaching Reckong Peo.
After speeding for some more hours, I am entering in Kinnaur district of Devbhoomi Himachal. The roads are somewhere dangerous now, and near Pooh town it start getting worse with landslides and sharp , blind turns.
At some moments, you would be driving on no road, but stones only with such scenes beside you.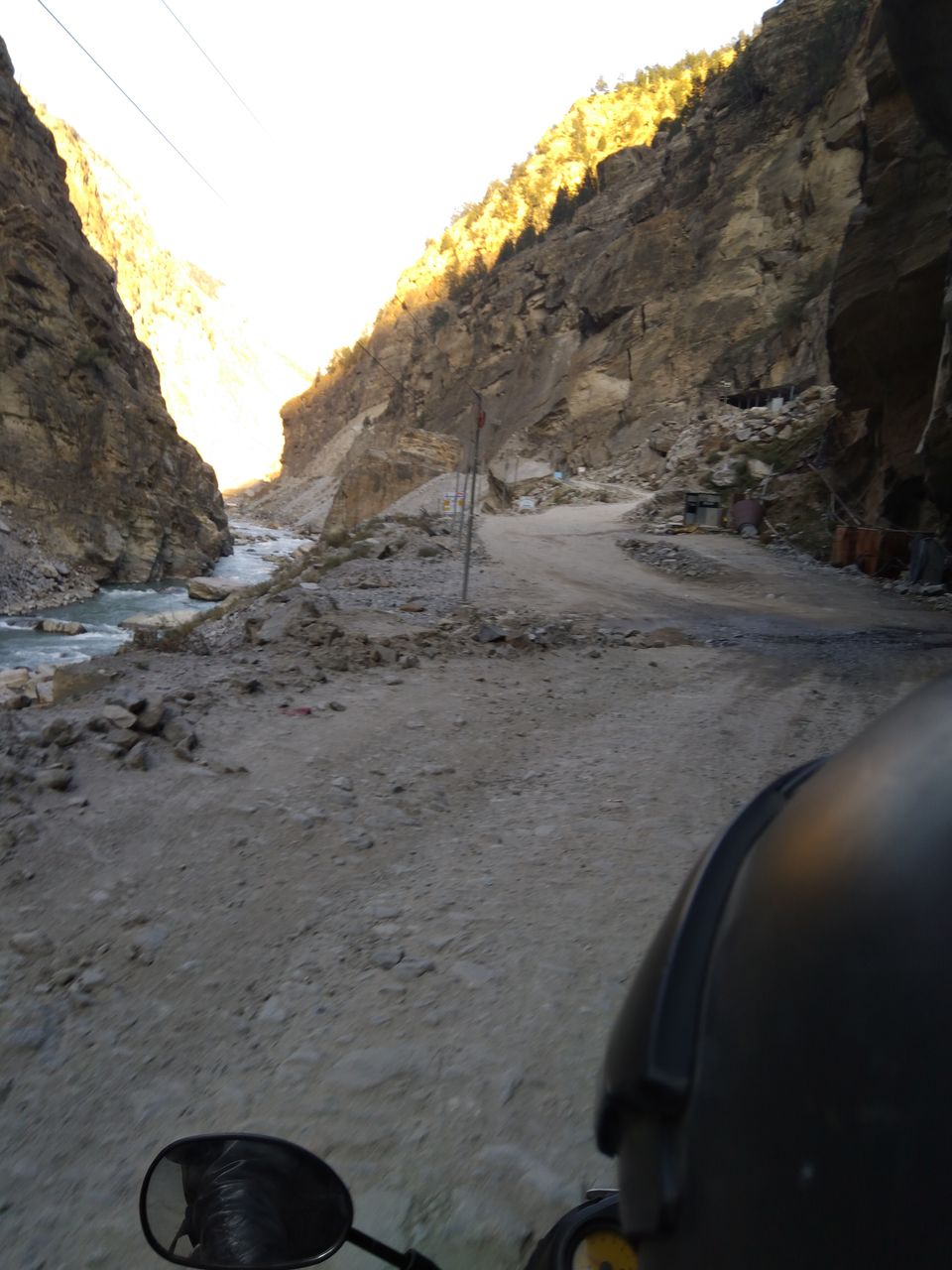 It starts feeling different now, more into culture, small places to eat and a pinch of happiness seeing the success you have made as a traveler. Most doubts are washed away in the air that you felt while riding. With little philosophy in mind, and getting amazed about Himachal bus driver's skills, when I detoured 6 Kms to stay at Reckong Peo, it gave me a chilling cold sunset.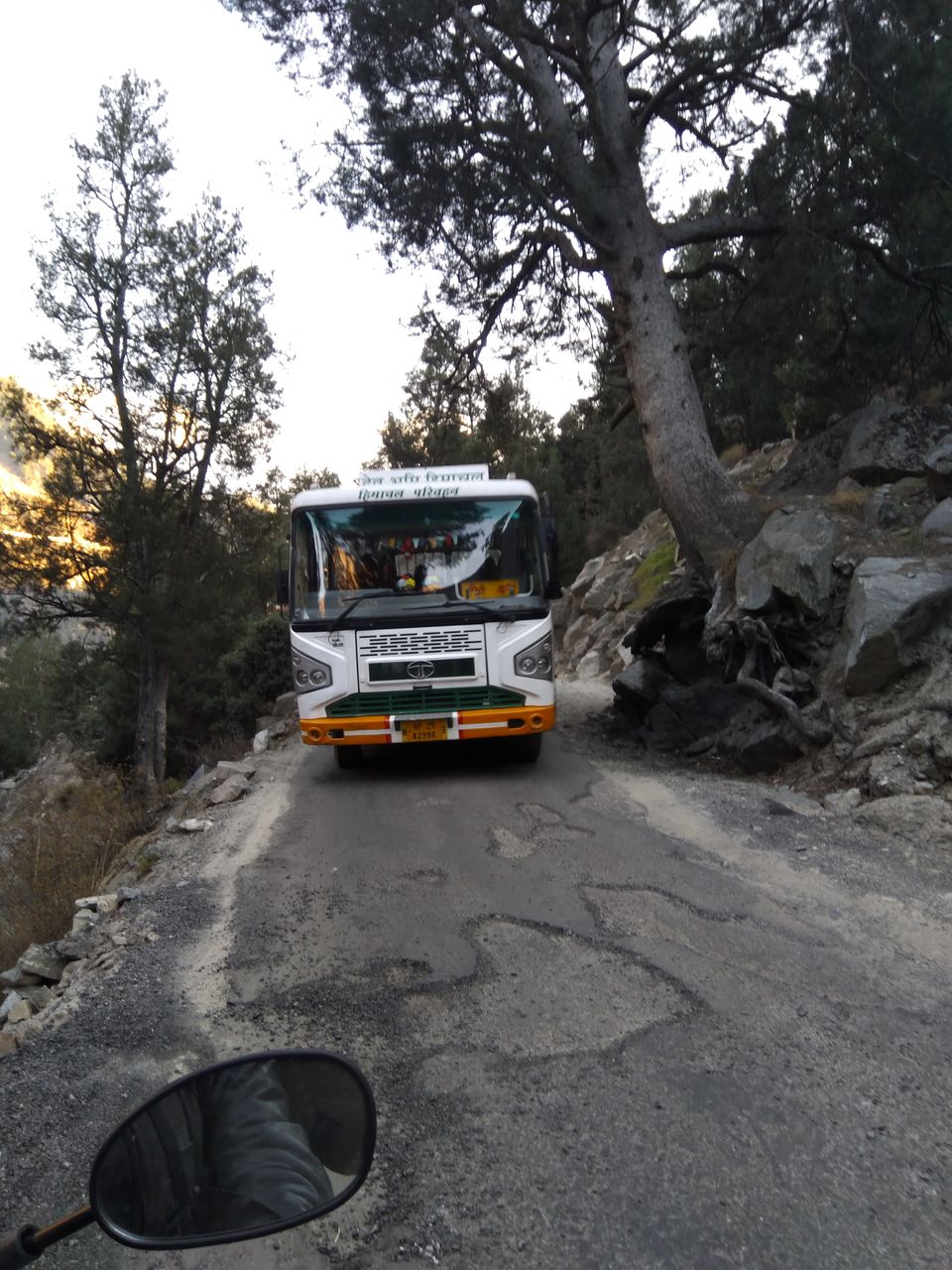 I am traveling with a professional photographer friend, so instead of just sleeping in our cheap room, we are wandering in Peo to find frames. It was my first such experience, finding the darkest place to set up camera and getting stars clicked after dinner. This small town is stunning and probably the last place towards Spiti where there are traffic signals.
Next day was bringing everything new for me, it was the road like I have never rode on before, bridges giving proud feeling to cross, and children waving hands at some biker. At the end of this day we would be at Kaza, at least we thought so.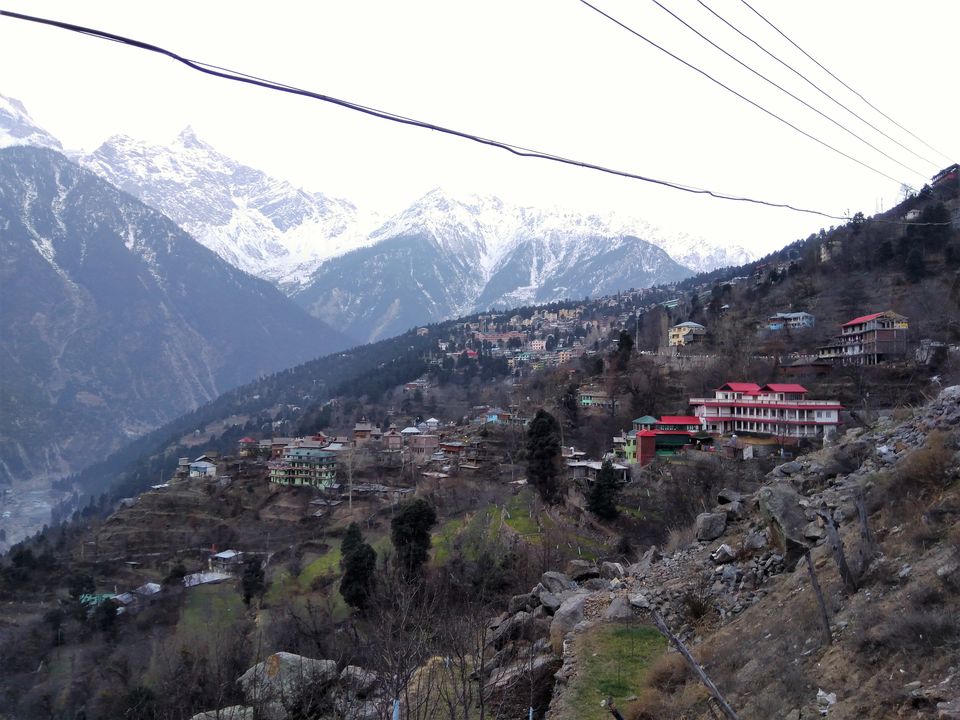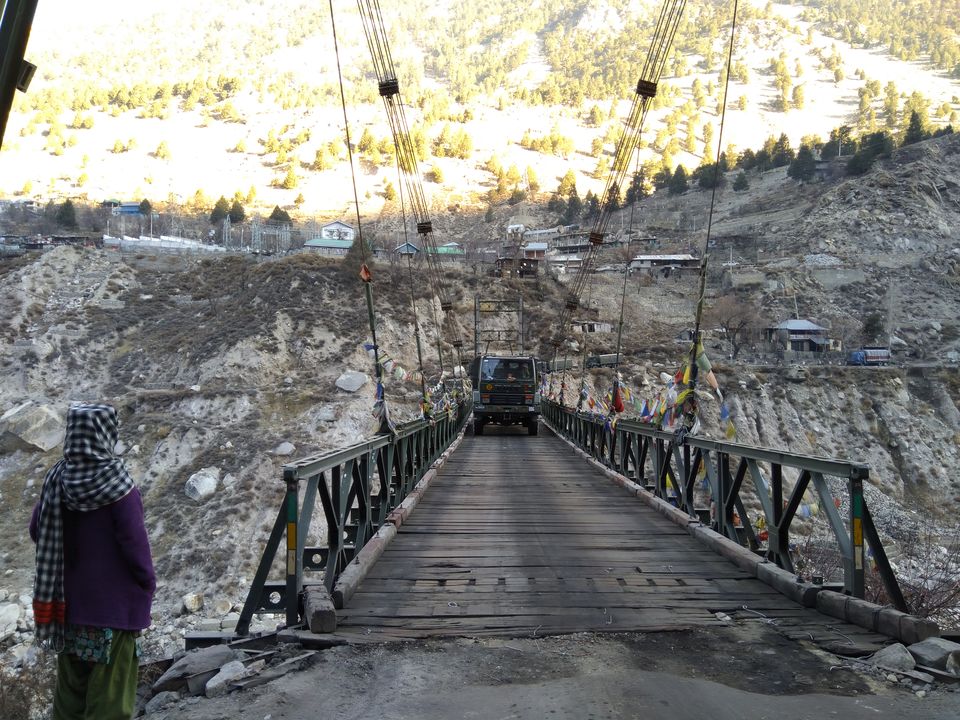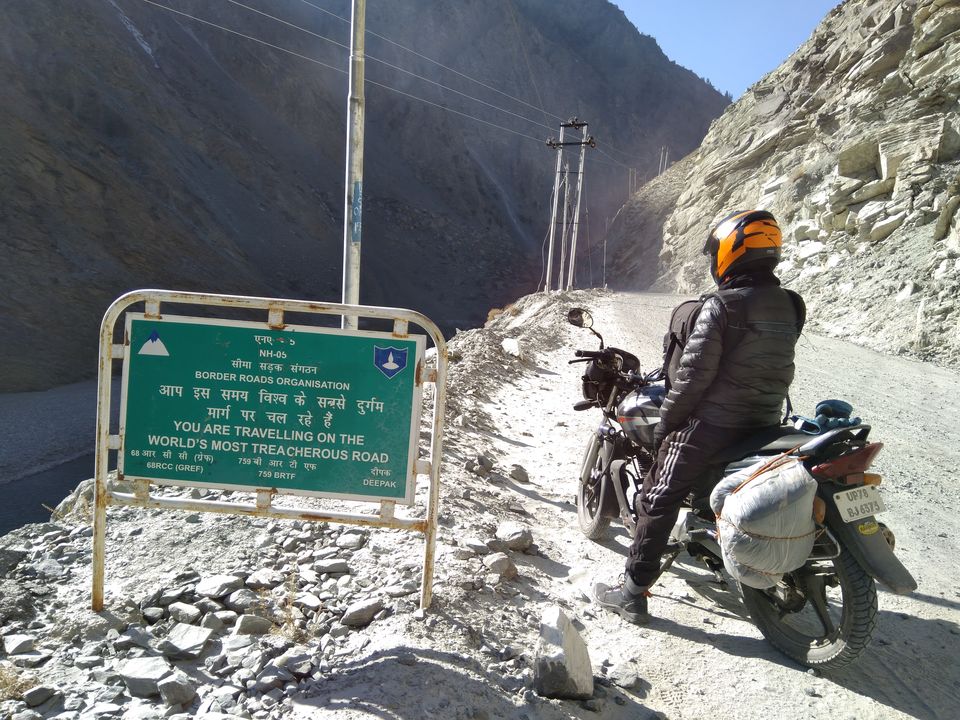 Before having lunch at a village, the drive was speechless. The land was a cold dessert , and we were approaching height with bike climbing on hairpin bends. It would be long and quite ride before stopping for registration at Sumdo check post, the gate to Spiti valley.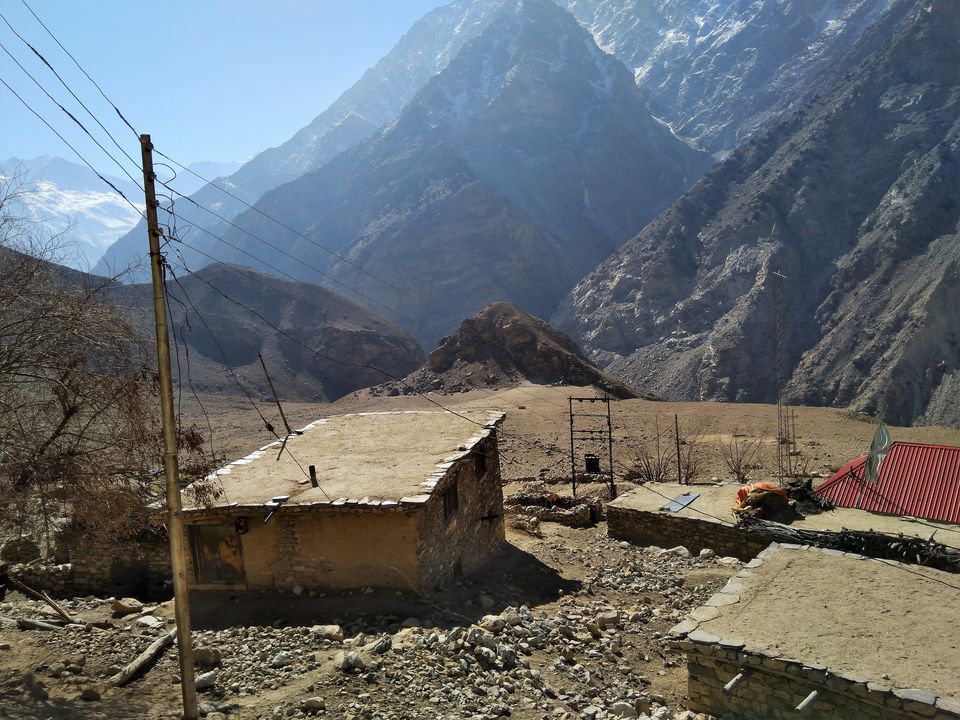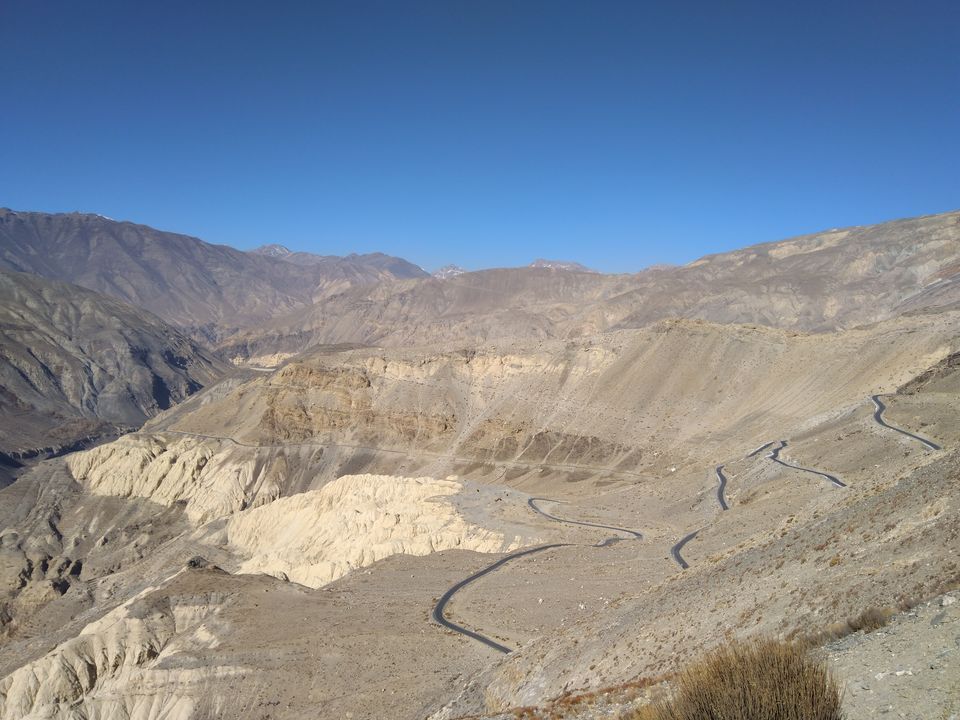 Ahead is the experience that most people are not having in this life. River started freezing, waterfalls became ice-falls and I felt like a movie star driving fast on a straight long road in the valley surrounded by snow-peaked giants. The next destinations on the way to Kaza could be Nako (famous for a lake there) and Tabo (with the oldest monastery). We wanted to get to Kaza first, would have been made it before sunset if that perfect picturesque point hadn't stopped us just 6 Kms before it.
My motorcycle made me proud by just getting here, this journey itself was a life changing experience. How 48 hours before, you were stuck in signals and thinking about sucking job of yours and now only question remains is to live, to live in -29 *C, doing only the necessary. So get out of your cocoon to not live same year again and again, not got a motorcycle, stop excuses: take a bus to shimla, then to Reo, then to Kaza. Just don't forget to carry 4-5 warm layers and a curious soul. I would be talking more about this trip in next posts, please follow.
Also, I would be happy if I could be any help for fellow travelers:
https://www.facebook.com/Danish.traveller , my profile
https://www.facebook.com/RidingMotorcycle/, my page
For more travel stories, visit my blog:
https://danishkhanabadosh.wordpress.com/