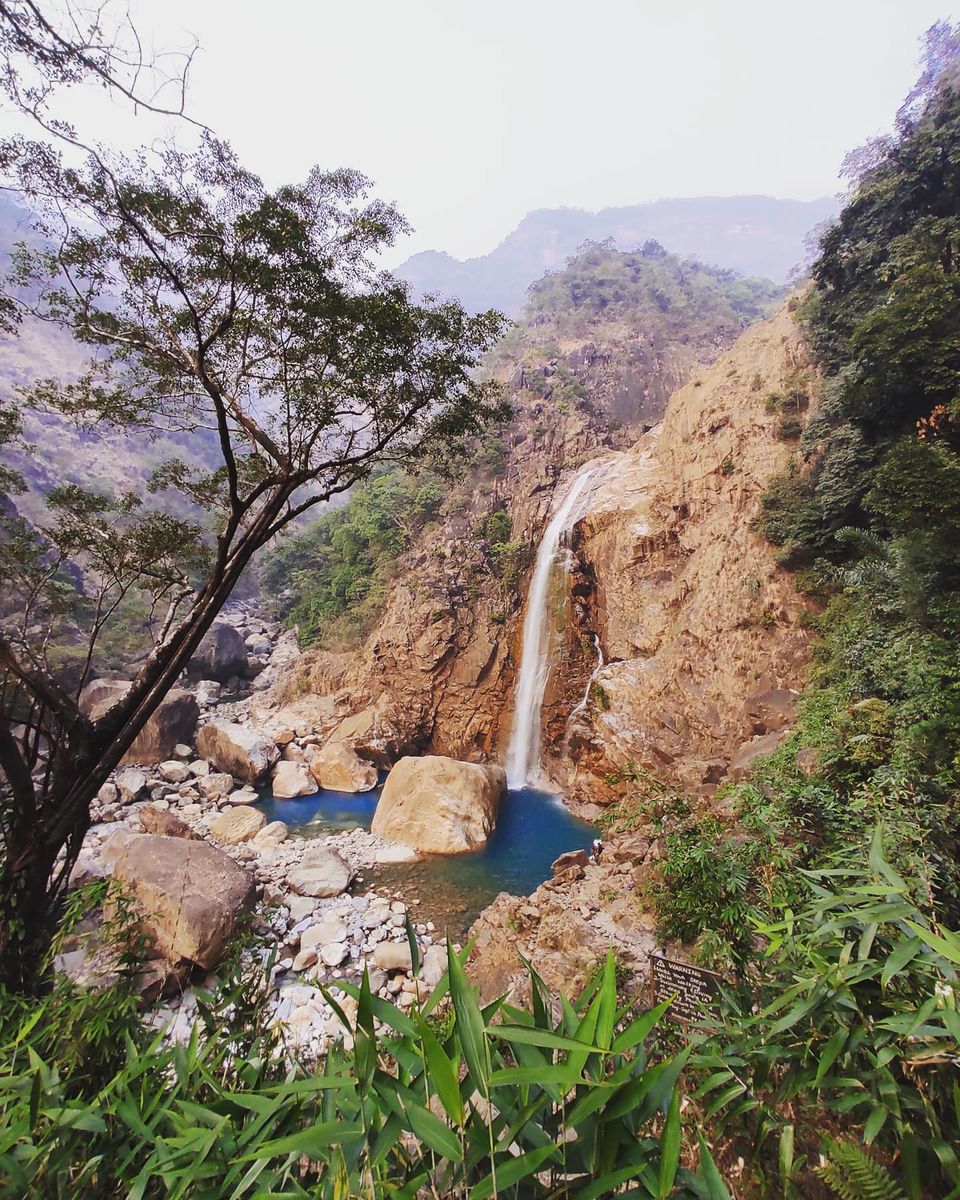 1300 hrs: We started our trek from Tyrna for the Double Decker Bridge, which was 3500 steps downwards(descent 2400feet). These steps were blessing for us(last night we were stuck at undefined jungle trails during Nohkalikai waterfall trek🥴). But at some points, the steps were too small that we were able to put only one step that too sideways(& the slope was close to 45°😪). The view was mesmerizing and it kept motivating us as we moved forward (actually downwards😅).
1430hrs: After a hike of 90 minutes, we reached the Double Decker Bridge Deep in the dense tropical forest of Meghalaya.
We took a break for 70 minutes there. We sat there and witnessed some astonishing man-made natural wonders,the "holy grail" of root bridges, the unique 20 meter double-decker root bridge.
We needed to trek further to reach the waterfall, so we had as much calories as possible- Maggie, Omelette, Sprite(there was a small eatery near the bridge).
1540hrs: We started to move towards the waterfall(Vishal decided to stay back at the bridge ).The hike was relatively easy compared to last day. But, we knew it was going to get a little tough on our way back(darkness after the sunset).
We crossed some root bridges and a suspension bridge on our way.You won't feel exhausted once you get in sync with the frequency of nature there.
1620hrs: So, as per the plan, we took 40 minutes from Double Decker Bridge to reach the majestic Rainbow waterfall. It was so peaceful to watch the water falling and making it's way through the rocks. Such places definitely has something to tell you (if you want to listen). We sat there for an hour refreshed by the energy over there.
If you've spent time in woods, it's easy to close your eyes and place yourself back there.
1720hrs: The water was crystal clear, we filled our bottles and started our trek back to the top. After a while it was all dark, things started to repeat like the previous day. But there was a trail(thank God and the people who made it), so we followed it and reached back to the Double Decker Bridge(again ate at the eatery- much needed).
Vishal was already stuck there, we regrouped and started to move upwards.
Like last day's trek, we were the only one in that jungle, trekking. The forest was teeming with animals and insects, we heard a concert of humming, thrumming, buzzing and chirping, even a little disturbance in the bushes caught our attention. But, we needed to keep moving (we didn't have any choice).
2000hrs: Yes, we(Satvik & I) reached safely to the top.
It was cold and we were sweating, so, we got into the car(blower ON🥶).
As soon as the other two (Vishal & Sumit) reached,we started our journey to Dawki.
On our way to Dawki, we drove close to India-Bangladesh border, reached our camping site after a 4 hour drive(90kms), around 0000hrs.
(Slept like a baby😴)
Peace☮.