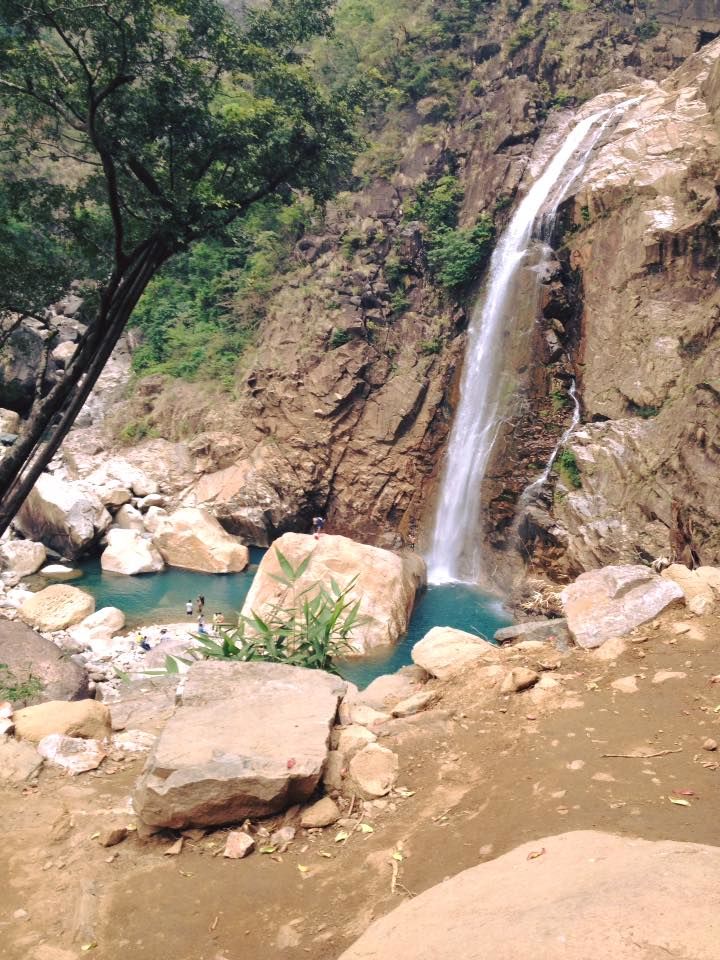 Well , This might look as a simple waterfall , with the bluest of water I have seen here in Meghalaya , but reaching here was not that easy for us. Of course for professional trekkers this may seem easy peasy , but for us it was hard. Pretty hard.
The trek started from a Village called Tyrana . It is approximately 80 kms from the village we were staying in (Mylim). So we started early and reached Tyranna by 8.30. We were one of the first few travelers for that day who attempted this trek that day. Hardly 5-6 cars were there in the Parking Lot. Guides were there , Charges were 600 upto double decker and 1000 upto Rainbow falls. We were poor and informed enough not to take a guide as we knew it is a straight pathway towards double decker. The journey Began.
We did stumble at the first few steps as there were three or four directions where the stairway was leading to. But noticing a few villagers and asking them made it easy for us. It was a straight climb down stepping with small steps. Looked easy. You will find a couple of shops enroute that provides water , Amul drinks and fruits such as pineapples , cucumbers. Price is reasonable. After walking down approximately 40 minutes , the stairs started to vanish. En route we met many villagers who greeted us , few bag packers who were returning from the trek. They were exhausted obviously because they were climbing upwards. After an hour we reached the end of the mountain and had to cross a wire bridge. This bridge was strong enough to hold multiple passengers. The river below was splendid. We did spend some time in the river only to realize that we were getting late. But what to be done , the journey , the river , the clear water , the sounds of cricket everything seemed so heavenly. Anyways we started again. Encountered another bridge and another mountain , this one was even stronger and higher . Just after crossing this we reached The Single Decker Root Bridge. We all were damn hungry but only one of us decided to go for it and have the widely available lunch there , Maggi. We sat there for good ten minutes watching the Single decker . Then we started and withing 10 minutes we reached Nongrihat Village , where the double decker is located. Just by the side of the root bridge , you will find a natural swimming pool. We had our swimming clothes with us and decided to jump in.
It was wonderful. The chilly clean water , the fishes kept tickling us , and we were having the time of our lives. Seeing us other travelers got inspiration and jumped in too. We completely lost the track of time till one of us reminded us that we have miles to go. So we got up and started trekking again.
This is where things get exciting , the walk able roads were vanished by now , mostly we were walking on uneven soils or climbing rocks . Another wire bridge came en route. I happily stepped in only to realize that this was much different than the previous two. Immediately asked my friends to stop and come one by one. As I walked in , the bridge started shaking with the minimum wind blow that was there , as I stepped ahead I saw many iron wires were replaced by mere bamboo sticks and in some places I had to jump as wires were completely missing at the footrest places. After about 80 meters I reached the other mountain. It was scary , Then there was another small but firm hanging root bridge we had to cross to move forward. It was easy , but right after crossing that we saw a plain road , the only difference was that it was much narrower and I actually had to close in my feet to accommodate myself in the lane and to move ahead. By my side was deep valley downwards. I was afraid and thought of giving up. But decided not to. It is true that mountains teaches you things that classrooms can never do. Never giving up is a lesson I was taught again and in a much better way. I moved ahead. By this time I lost my friends who were behind me. I waited for 20 minutes but saw no trace of them , hence started moving again. After few minutes saw a beautiful waterfall by my side and thought of that to be the rainbow falls. But I was mistaken this time. Decided to wait there for my friends , after about half an hour they joined me. We again started walking. Reached what looked like a dead end this time. A bridge and ahead of it a straight steep mountain that seemed not possible to climb. But we did see a traveler coming down from there and a arrow sign signaling the rainbow falls ahead . With heads held high we started. This time we could not walk , literally had to climb every 5 minutes to move ahead , it was about one hour of climbing up and down later I reached to the view point from where this photo was taken. I have reached the rainbow falls. Friends were a bit behind again. But this was not the end of it , climbing down to reach the falls was challenging too. However seemed easy for us. Then we reached the bluest and cleanest of waterfall we have ever seen. There is a rock and a ladder , you have to climb the rock to see the rainbow crossing the falls. It was heavenly to witness. All this effort seemed worth it. We stared an stared and wished that the time would stop. We had the greatest time bathing in the falls , swimming and splashing water on each other.
We realized that we have to return only when clouds took over and it seemed that it will rain heavily . We started heading back , one of our friends had lost his footwear and was walking barefoot , it was very brave to say the least. Heavy rainfall started , now you can realize how hard it was to return the same way with pouring cats and dogs. I shared my slippers with the friend was was barefoot for time to time. All the travelers who were returning with us decided to stay back in the Nongrihat village , but we four decided to climb all the way up to our car. Rain soaked soils , leaf covered surprising rocks , and those weak wire bridges made it very tough , but we made it through , we were exhausted to the core but did not give up and returned to our car by 6 in the evening. It was a memory I will cherish for lifetime.