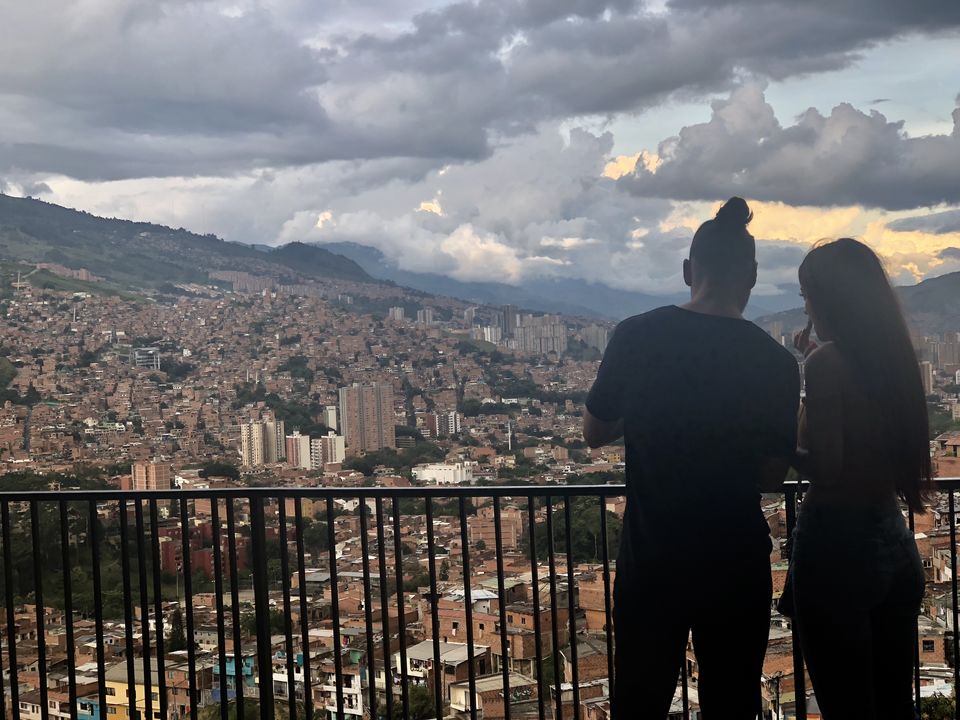 Before venturing to Colombia, I was super excited to do the Pablo Escobar and Narcos tour. After watching all 3 seasons on Netflix I was looking forward to this trip like nothing galore.
Yet when I reached Medellin I realized that Colombians hate the infamous Druglord and are repelled by tourists who endorse these tours. Every tour operator I met looked at me with disdain and said 'Escobar is not someone who represents Colombia or our culture.' Soon, I realized that I'd become a 'Dark Tourist.' Dark tourism is essentially travelling to places that involve death and suffering. This includes prison cells, concentration camps, graveyards, abandoned laboratories and any place that's associated with some macabre, tragic or morbid past. Once the murder capital of the world, Medellin is a reformed city today, but signs of the past, especially the history of violence are still visible.
In Colombia it takes a whole new dimension due to the long waging war against drugs and the never-ending battle between rival cartels. It's all put in the past now and Medellin is a transformed city today yet tourists flock to this hub to take the Narcos tours and revel through the morbid experiences of pop culture icons. The Pablo Escobar tour in Medellin is pretty extensive.
Pablo and Narcos Tour
It's a full day tour that includes a visit to his building Monaco (that was bombed in the late Eighties), the famous prison La Cathedral where he built his own nightclub, the spot where he was shot and the cemetery where he was finally laid to rest.
Our guide kept ranting 'we hate gringos who take pictures.' She seemed upset at every step. Later she told us that everyone in Medellin had been affected by the drug wars. 'It's a cruel and bitter past to forget.' I quietly nodded my head and didn't take a pic of the building Monaco. It was anyways a shoddy abandoned building in a plush neighbourhood that's ostensibly being made into a public park someday; though I clicked a picture of the spot where he was shot.
The wall was covered with posters saying' WE love you but we hate Escobar'. It was a snarky comment on tourists almost implying that we are stupid to undertake this tour. I do recommend this tour but it would be wise to respect the sentiments of the local citizens too.
Comuna 13
Some cities have history, I'd say Medellin has 'emotional' history. It hits you even more when you visit Comuna 13. Comuna 13 is an over populated, low socio -economic zone almost like Dharavi. It was an axis point for paramilitary, guerrilla and gang wars. Once known as the most dangerous neighbourhood in the world, the hood is a reformed place today.
Our guide a young twenty-year girl took us around what is probably one of the largest slums in South America. After being there for a few minutes, I realised it is one of the most vibrant neighbourhoods I have been too. The guide then took us to her humble dwelling where a picture of her father stared down at us. She then went on to explain how her father was murdered during the drug wars of the nineties. The image of her father still haunts me and I can't get over some of the faces that I came across. WE soon realised that more than half of these people especially the older generation have gone through hell and beyond, fighting off local and international goons. There was so much pain in their eyes. Though over the years, graffiti artists have coloured the walls with interesting murals and the government has done its best to rehabilitate the place and its residents. Smiling faces greeted us everywhere and none of us felt unsafe or threatened at any cost. After the walking tour we were taken to a café where we were treated to some homemade empanadas.
Much later I realised that Medellin also included a tour through a cemeterio where child mercenaries had been laid to rest. During the drug wars, plenty of children and teenagers were handed guns to shoot rival gangs and inevitably most died due to callow behaviour and obvious inexperience.
El Poblado and Downtown
As a city Medellin has lots to offer and most travellers end up staying at the tourist hub of El Poblado which has a good selection of hotels, clubs, hostels and a thriving nightlife to boot. Five to 7 days are good enough for Medellin though I met plenty of tourists who stayed over two weeks. A natural landmark wonder Guatape just few hours outside of Medellin is also a favourite amongst tourists. Also, downtown Medellin is amazing for some cheap shopping and general people gazing. The Botero outdoor museum is yet another attraction and highlights the work of the famous sculptor, Fernando Botero. I just loved the day tripping vibe in downtown Medellin, maybe because it kind of reminds me of markets back home in India.
Nevertheless, Medellin is fantastico as a metro and I had the best time there. It's NYC meets Berlin meets Istanbul!
I left Medellin with many mixed emotions and hope to go back there some day.