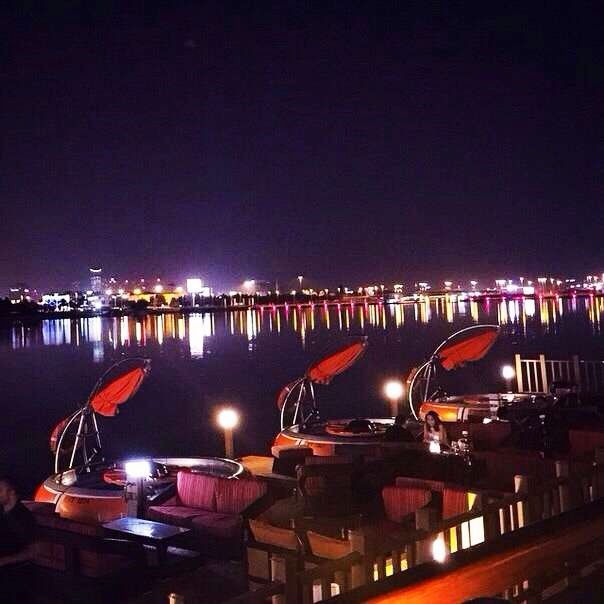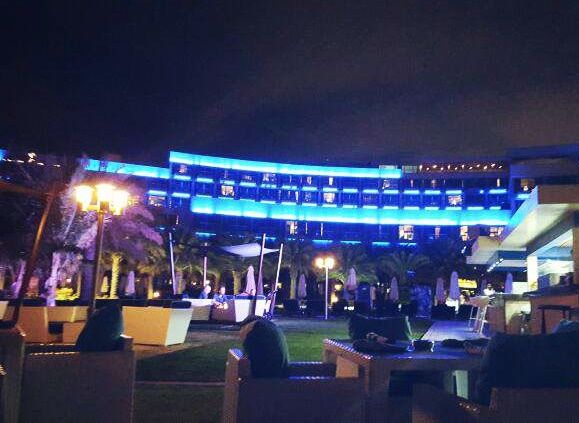 Dubai is undoubtedly one of the most cosmopolitan cities in the world and rightly so. Known as the entertainment capital of the Middle East, it ensures that your palates are given the royal treatment (pun intended!). If you ever find yourself in Dubai you would come across the familiar top category hotels harbouring their expensive bars, restaurants and clubs. But if you want to mix it up and enjoy all the city has to offer up on a platter, try these –
1. Barasti Beach Bar – I landed up here the very next day of my visit to Dubai. And my friends informed me that as per Dubai's usual weather standards it was great weather to be here. Breezy and your typical beach weather as the name suggests. Barsati is all about space. From the rooftop garden to the middle deck to the beach which offers a splendid view of the Dubai Marina, you could come here over and over again and find yourself seated at a different spot with an altogether different vibe.
Known for delicious cocktails (happy hours alert!) plus continental and Mediterranean cuisine. The place to be for a laidback lunch or drinks around sunset for the killer view and a happy high. The energy is all about fun and celebration and having a great time with your crew. USP – sports bar.
Must try – Barasti Beef Burger, Smoked Salmon Pizza, Onion Rings with Honey BBQ Sauce. If gin is your sin do try the Barasti Blossom.
Address: Dubai Marina – Le Meridien Mina Seyahi Beach Resort & Marina, Al Sufouh Road, Dubai Marina, Dubai
2. Moroc Lounge Bar – Whether you wish to be indoors to throw back a couple of drinks and good grub or at an open air lounge, you should head to Moroc. Providing the best of both the ambiences you are guaranteed to have your mood elevated. The outdoor seating area provides a distinct view of the Ibn Battuta Gate.
Known for shisha and finger food. The outdoor seating area provides a distinct view of the Ibn Battuta Gate.
Must try – Lamb Kebbeh Tapas, Moroc Salad. For a drink out of the ordinary try the Date Explosion if rum and a sweet tinge works for you.
Address: Movenpick Hotel, Ibn Battuta Gate Dubai, Ground Level, Next to Ibn Battuta Mall, Jebel Ali Village, Dubai
3. Awani – One cannot be in Dubai and not head for the Jumeirah Beach Residence Walk or simply known as the JBR walk. The entire area covers every possible restaurant or café but if you are aiming for one by the sidewalk with a fantastic view of the beach, head to Awani and park yourself at the seating area upstairs. It ensures a quiet meal without having the crowd walk by your table. If that isn't a concern the open seating area at the entrance would work too.
Known for Arabic and Middle Eastern cuisine. It's the place which makes you feel that you are in fact able to experience a taste of the Middle East in more ways than one. For all the cafes that offer what we usually lunch or snack on, Awani is a window to the flavours of this city.
Must try – Hummus Bekmaz, Othmaliya Chicken Balls, Chef's Msakhan. Try the Awani Special Cocktail or the Mango-Strawberry Smoothie to bring out the flavour of the food.
Address: JBR, The beach (beach facing side), Dubai
4. McGettigan's Irish Pub – Thinking date night? Or an evening filled with warmth amidst the cool Dubai air? Head here without a second thought. So my friends, now assured of my love for open air places, suggested the Irish Pub. Add to that the sports bar and live music and you are sorted. Do check the line-ups before heading there to be prepared for what is on for that particular evening.
Known for Irish cuisines. It's a tiny glimpse into the Ireland way of a watering hole, neatly tucked away in Dubai.
Must try – Fish n Chips, Irish Stew. As a sports bar your choice for booze is varied.
Address: Jumeirah Lake Towers, Lobby Level, Bonnington JLT, Cluster J, Dubai
5. QD's – To be amidst the lively dinner crowd and music and laughter, book a table at QD's, preferably the creek side seating area which offers a gorgeous view of the city, all lit up. The waterfront view makes you forget all about time and you would find yourself lingering over your meal in order to soak up as much as you can of such an afternoon or night. It is advised though that one isn't in a hurry at a place like this as the service due to its sheer occupancy size may be awhile.
Known for Mediterranean, Middle Eastern, Arabian and Continental cuisine. For a family get together or with a group of friends, this is the place to be. Though date night can be quite easily achieved here too, gazing at each other and the night lights together!
Must try – QD's special, Quattro Formagi, Fried Calamari. Try their QD's Punch or QD's Sangria
Address: Dubai Creek Golf and Yacht Club, opposite Deira City Centre, Garhoud, Dubai
6. Malecon – For the love of salsa! The list would be incomplete without a mention of this bar. Cuban vibes and some serious dance moves. Whether you enjoy dancing or not, you would surely fall in love with this place. No matter what the mood, the exhilaration upon entering this place is unparalleled.
Known for Cuban cuisine. Stop over post dinner if all you want to do is dance or toss back a few here and join in the fun. And this is on till 3 am!
Must try – Quesadilla De Carney Queso
Address: Dubai Marine Beach Resort and Spa, Jumeirah 1, Dubai
7. I-Chill Beach Lounge – For my last night in Dubai, I headed to this lounge at Rixos The Palm Dubai. The drive towards The Palm is quite heady with the best of hotels located in one strip. But to end up at this beach lounge around sunset is what holiday goals are made of. Sandy beach and white shacks make for a perfect setting to bid adieu to Dubai. And this place makes you want to come back and revel once again in the magnificence of the city.
Known for mostly finger food with appetizers. Walking barefoot along the beach area with the night sky overhead makes this place one that would be a mistake to miss.
Address: Rixos The Palm Dubai, Beach Side, Palm Jumeirah, Dubai
Frequent searches leading to this page:-
Dubai tourism best places to visit, Dubai tourism best time to visit, Dubai tourism honeymoon packages from India, Dubai holiday packages for family, cheap Dubai tour packages, how much does a honeymoon in Dubai cost