Very warm Welcome and Thanks for stopping by my blog and yeah I'm a traveler not a writer please ignore grammar and Spelling mistakes: P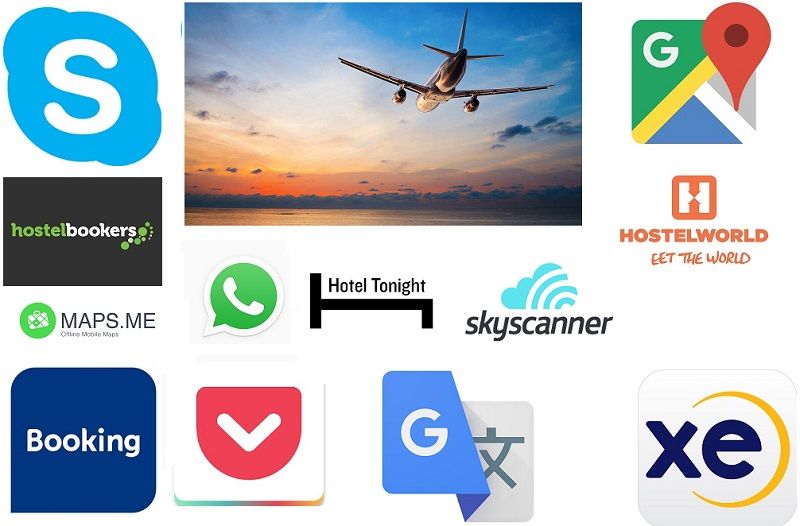 The following apps are especially useful if you're going backpacking, if you're travelling through multiple countries, or won't have mobile data everywhere and people who like to travel on a low budget Use this apps definitely it will help you.
Accommodation
Booking.com

There is more than 1 million Hotels, hostels and apartment available in Best price. You can make most of a reservation without paying in advance.

Hostel World
It's the top 10 Travel Apps for the backpackers around the world. Hostel world Group is the largest online hostel-booking platform, sparking social experiences around the world. Hostel world has over nine million reviews across 35,000 properties in more than 170 countries.

Hostel Bookers
Alright, so this is a little bit of a cheap plug… but it does make booking the best budget accommodation even easier than it was before. The HostelBookers app has the same complete range as the website, only now it's easier and quicker to book using the apps simple interface. No more waiting for the mobile browser to load.

Hotel Tonight
Hotel tonight helps you to find & Book last minute hotels at Great Price

Airbnb
One of the best app Access unique homes, experiences, and places around the world. You can find many cheap home stay through Airbnb

FLIGHT
Sky Scanner

Backpackers circumnavigating the globe aren't going to find a better app than Skyscanner. This lets you compare countless flights from all the biggest airlines around the world. Not only can you do it on the move, but you no longer need to scour all those annoying flight comparison sites. All you need in one handy little app.

Hoppers
If you are flexible with the travel dates, Hopper is your best choice for cheap flights. All you have to do is put the source and destination, and it will crunch the data to let you know the day you can get the cheapest flight. The app will also tell you whether the price is expected to drop in future or not.

Fareness
Fareness is a great flight search app for spontaneous travelers. If you want to get away but can be a little bit flexible about your dates and destination in order to get the lowest fares, then Fareness's iOS app is perfect for you. In order to offer you the best cheap flights you can build a vacation around, the app asks you to think in broad terms

FlightStats
FlightStats is a free real-time flight status and airport tracking application. Quickly access worldwide flight status by flight number, airport or route, Watch flights as they move across the world on our gorgeous flight tracker

MAP
Google Map

Google Maps is about as good as it gets in the navigation app and GPS app space There is also live traffic updates,. You can also download offline map its can helps u when there is no internet in your phone

Maps.me
MAPS.me is an awesome maps app that lets you download map data for a country or region so you can use it even when you have no data connection. If you don't have internet while travelling, it's not a problem.

Currency Converter
XE Converter

All the world's currencies at your fingertips. One of the most important things on the trip is knowing what you are paying and not getting scammed in an unknown country. XE converter is light app and very useful for tracking the real-time conversion rates.

Phone Calls
WhatsApp

You can message and call friends and family easily with this app. It will work great even in same remote Area where internet connection is poor.

Skype
You can Make Cheap Call and Video Call to the any number with this app to your friend and family while travelling. Its required good internet Connection

Budget Tracker
Trail Wallet (IOS only)

This app makes it easier to track your daily travel budget and expenses. Supports 200+ local currencies, daily budget targets, spending categories, and much more.

Pocket
Pocket lets you save any webpage for later reading. Just hit the share icon and select the Pocket icon, and you'll be able to pull up this article or blog post from the Pocket app later. This is absolutely brilliant for stocking up on reading material before a long flight or bus journey

Translate
Google Translate

Not only can you translate text by manually typing it in, it can instantly translate a conversation, or render translated text on top of a camera picture.