"Chiang Mai? Why are you going to Thailand now?" My friends are often curious about my motivations to travel. When every country in the world is on your bucketlist, how do you decide where to go? In comes the Skyscanner app!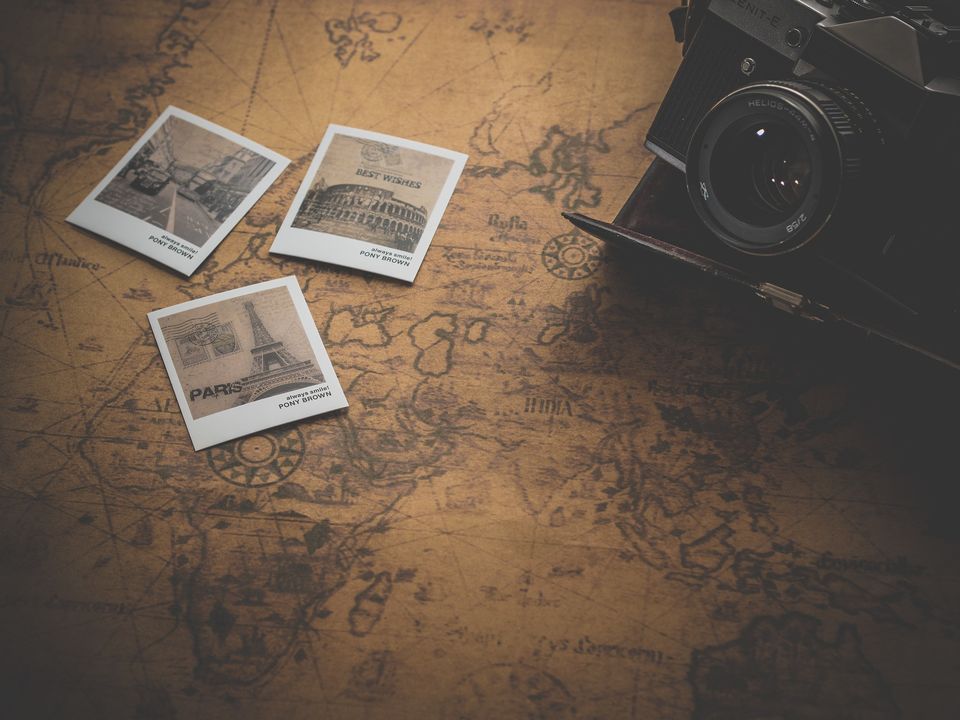 Two words – cheap flights
Flights can take up more than half of your budget on any trip and an expensive flight is often the biggest deterrent to visiting a new country. If only there was a way to find the cheapest place in the world to fly to, at any given time.
There is.
There is a website as well as an app where you can not only find the cheapest destinations to fly to during any given month, but also see which airport in your country offers the cheapest flights to any place in the world.

It was the first week of October and just like everyone else on the planet, I was hit by that baffling question – where should I go to bring in the New Year?
The Skyscanner App: The best way to book flight tickets
Skyscanner app is the place to find real answers to such open-ended queries. About 15 minutes of crunching numbers on Skyscanner was all it took for me to lock the perfect destination. I will be off to Chiang Mai in a few weeks.
And guess how much I paid for it? Rs. 9,800. Return.
Cheapest flights to "Everywhere" in the world
Most meta-search engines do a great job of finding the best flights on the Internet, but you are always limited to how flexible your searches can be. On Skyscanner, no permutation is out of reach and you can customise your flight search to a degree never seen before. Here's how to find the cheapest tickets on the Internet.
If the world is your oyster, select 'Everywhere'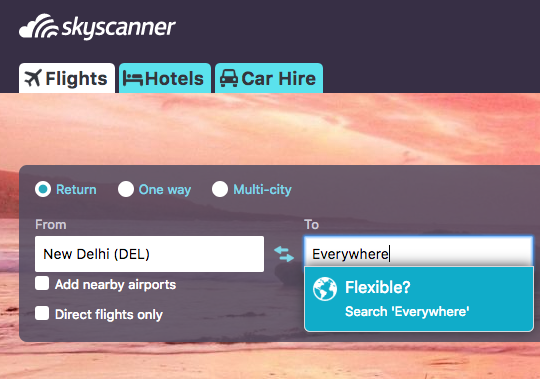 And 'Everywhere' literally means everywhere. Sorted by price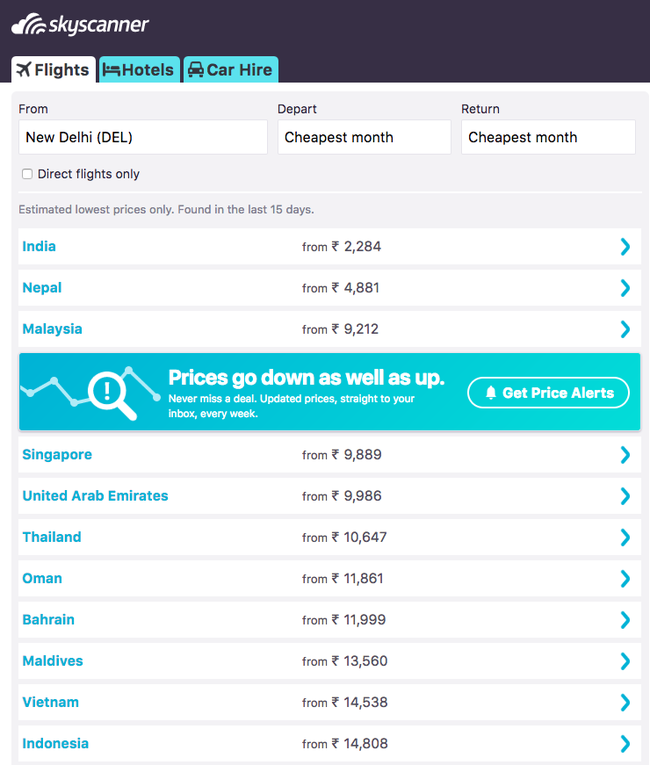 When I was researching for options in October, I did a quick search for flights to 'Everywhere' and realised that Thailand was a great option. Because the countries are sorted by price, it was quite easy to make that decision. I clicked on Thailand and saw that flights to Chiang Mai were only Rs. 700 more than flights to Bangkok.
Then I did a quick search for flights to Chiang Mai from all the airports in India (Just select 'India' as your departure airport.)
I realised that I could save over Rs. 6,000 if I flew from Kochi or Chennai, instead of New Delhi.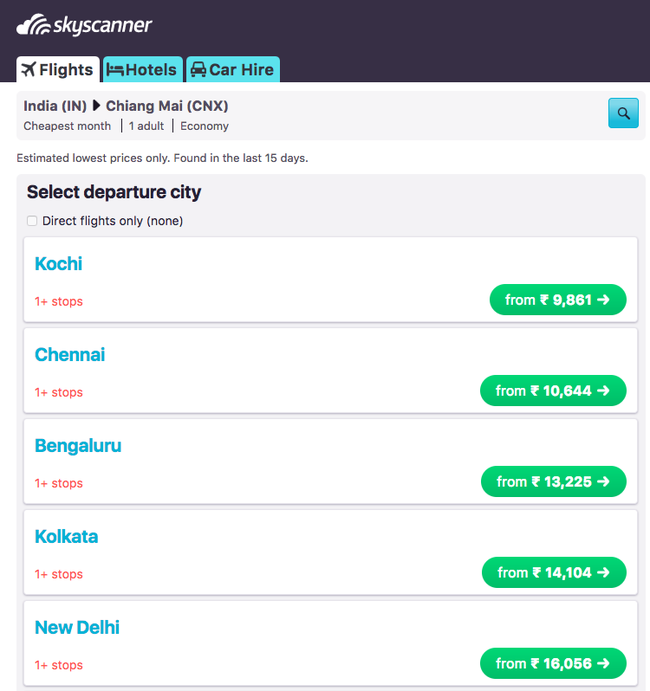 This level of flexibility is nothing short of a travel aphrodisiac. On any other website, it would have been next to impossible to find the cheapest date to fly to the cheapest country, and the cheapest airport in the country to fly from.
Cheapest month to fly to 'Everywhere' in the world
Not sure of your dates? Flexible on Skyscanner does not mean +/- 3 days. You can search for the cheapest dates in the whole month.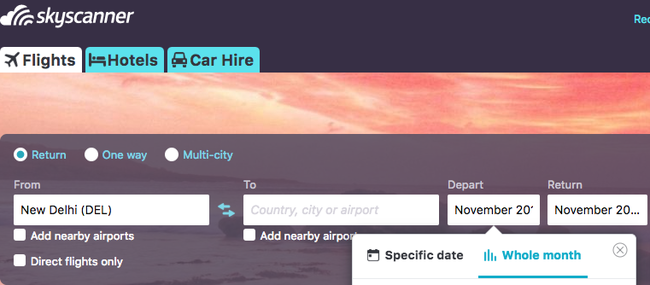 Or take it a step further and search for the cheapest month to fly in the entire year!
When you select 'Cheapest month' or 'Whole month', Skyscanner shows you a calendar of flight prices for the entire month. You can choose the cheapest dates for both outgoing and return flights to get the best possible deal on the Internet.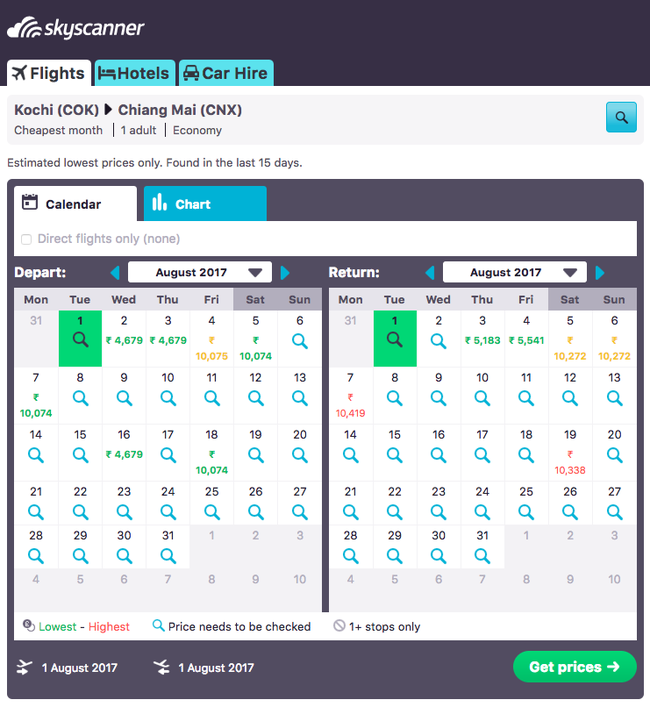 Once you've selected your dates, Skyscanner searches all the other search-engines and travel-booking portals to find the cheapest tickets on the Internet. If you can't make up your mind at the time, one of the best things to do on Skyscanner is to set up a price alert so you don't miss out when prices drop. A cheap flight is the smartest excuse to travel.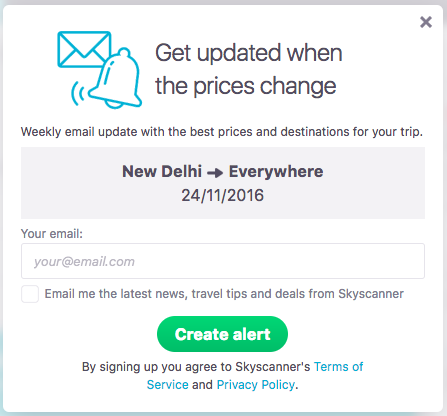 A snapshot of the world at your fingertips
Skyscanner's map is another fantastic way to find some real travel inspiration. Discover all the flights within your budget range, from any airport in the world. Just select your preferred airport to fly from (I selected Kochi), your departure dates and your preferred price using the nifty little price-range slider (click on price: any) and voila!
A few minutes on Skyscanner can get you the cheapest tickets to the cheapest destinations from the cheapest airport in your country. For people with a tendency to make last-minute travel plans, this is an absolute lifesaver. For everyone else, Skyscanner is the absolute gold-standard for flight search on the Internet.
Have you used Skyscanner app before? Share your insights on Tripoto.
In association with Skyscanner.
Frequent Searches Leading To This Page:-
skyscanner app google play, skyscanner app download